I was looking for a fixed departure package, as usual to visit rural parts of Himachal Pradesh because it is safe and free of tension as the tour operator takes care of everything. And I booked it with a reputed travel agency through online search, during Durga puja in 2017.
Pick-up and drop point was Shimla and Manali respectively. As I'm from Kolkata, so Kolkata to Shimla and return ticket from Manali to Kolkata was booked by me on my own. I was very excited to visit this part of Himachal.
Almost 15 days before the scheduled date of journey, when I called up the travel agent to know about the pick up point in Shimal, I got to know that there's no place for a solo traveller in the group as this's a festive season and all the seats had already been booked. The advance would be refunded in full. What a disappointment!! They didn't even bother to inform me earlier.
Anyway, there are only two options left for me, one to cancel all the train and bus tickets that I'd booked myself or go for a solo trip to visit Shimla - Manali. Because Durga Puja is one of the biggest festivals of Bengali's and during this festive season it was just impossible to book any package trip with any local travel agency adjusting my dates of journey within this short period.
I thought Shimla - Manali is a very popular tourist destination and well connected by overland too. I had been there before also. So I thought, if I go solo this time, I can choose everything i.e. accommodation, meals, sightseeing and at the same time, I was feeling nervous considering that what would happen if any health issues develop, travelling alone would be safe or not.
But, despite all that negative thinking, I decided to go for a solo trip. Luckily I was able to book hotels in Shimla and Manali at reasonable price too.
Itinerary

Day 1 : Howrah/Sealdah to Delhi by Rajdhani Express
I Left for Delhi by Sealdah (SDAH) - New Delhi (NDLS) Rajdhani Express on 26th September,2017.
[ Train No. 12313 , leave from Sealdah railway Station at 4.50 p.m., fare 2,280/- (AC 3 Tier )].
Day 2 : New Delhi to Kalka by Delhi –Kalka Shatabdi Express
Reached New Delhi Railway station around 3 p.m. as the train was running late by 5 hours due to some technical work on the railway track.
Schedule time of arrival of Rajdhani Express at New Delhi railway station is 10.30 a.m. whereas my connecting train was at 5.15 p.m. after a gap of more than 6 hours. Hence I'd booked an online 'Executive Lounge' at New Delhi Railway station in advance for staying. I dropped there, left my luggage, freshen up, had my lunch and relaxed for some time.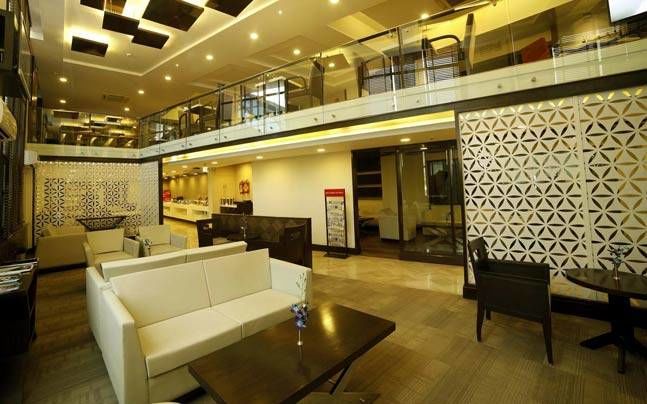 Executive Lounge: It's a fully air-conditioned facility where railway passengers can stay while waiting for their trains. It is located at the concourse of Platform No. 16, New Station Building, Ajmeri Gate Side. It can be booked in advance through the following websites :
i) www.irctc.co.in ii) www.irctctourism.com &
iii) www.irctc.com
Entry Fee for the initial 2 hrs. is Rs. 150/- per person inclusive of all taxes.( Cost may be increased now). It offers vegetarian and non-vegetarian buffets cost Rs. 300/- max.
Boarded New Delhi –Kalka Shatabdi Express in the afternoon.
[ Train No. 12005 leave from of New Delhi railway station at 5.15 p.m., Fare Rs. 550/- (Chair Car)]
Reached Kalka by 10.45 p.m. and checked – in a hotel near Kalka Railway station( Hotel Lotus), (Walking distance). There is a good restaurant just next to the hotel. I had my dinner there and retired to bed.
Day 3: Kalka to Shimla by Toy Train Shivalik Deluxe Express
[ Train No. 52451 scheduled time of departure is 5.30 a.m., fare Rs. 420/- ]
I woke up early in the morning and reached the Kalka station by 5 a.m. to catch the Kalka Shimla toy train "Shivalik Deluxe Express" . It was still dark. I was excited that for the first time I would be travelling by Toy train.
As soon as I entered the station area, I heard the announcement that the train was late by 2 hours. I slowly moved towards the platform. Shivalik express was standing in the Platform No.1 . I sat on a bench just in front of my compartment and kept my luggage beside the bench. Two more families who were accompanying me yesterday in Shatabdi Express also there. Oldies were sitting on the bench and younger ones were pacing up and down the platform. As dawn broke, the platform started waking up slowly. Small vendors started opening their shops. I finished my breakfast with cakes, eggs and biscuits from one of those shops. I took some photos also. Then, another announcement came that the train would depart at 8 a.m. and finally train departed by 8.30 a.m. Later I came to know that Shivalik Express is connecting train of Howrah Kalka mail( Scheduled arrival time 4.30a.m.). On that Day Howrah –Kalka Mail reached by 8.15 a.m. that's why the Shivalik express delayed.
Toy train journey :
The Kalka Shimla Railway is a narrow-gauge track. It's been granted World Heritage Status by UNESCO.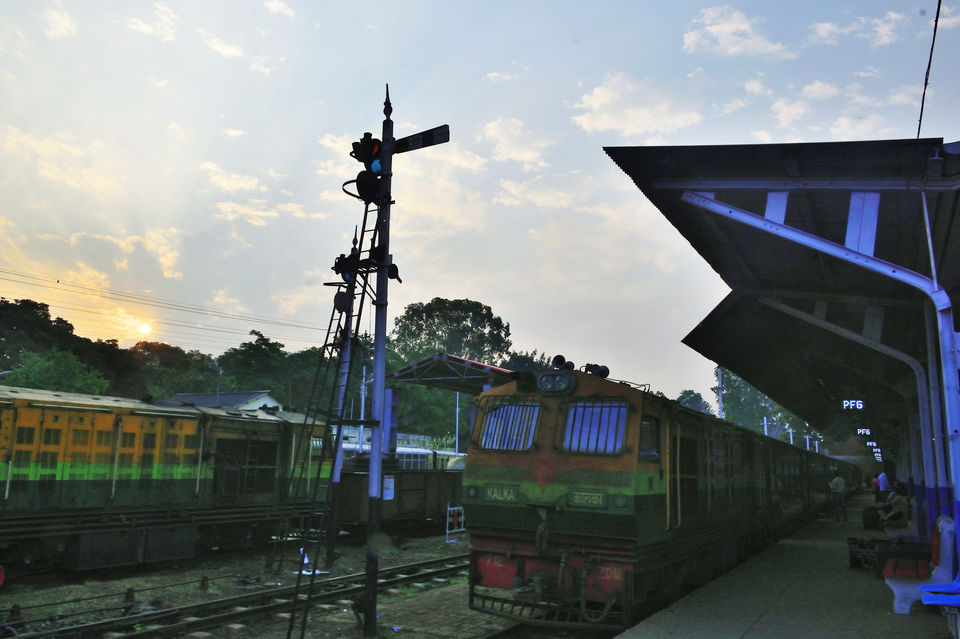 The train started moving through many small towns and hamlets initially and then through pine forests. The scenic beauty was thrilling and wonderful throughout the route.
On the entire way, the train crossed 103 dark tunnels, 800 bridges, numerous small stations, incredible steady curves and arched viaduct. It stopped only at picturesque Barog stations for 15 minutes for providing breakfast(Veg and non – veg). The journey was enjoyable and facing to the engine of the train, the view is better on the right-hand side.
After almost 6 hours, the train finally reached Shimla Railway Station by 2 p.m.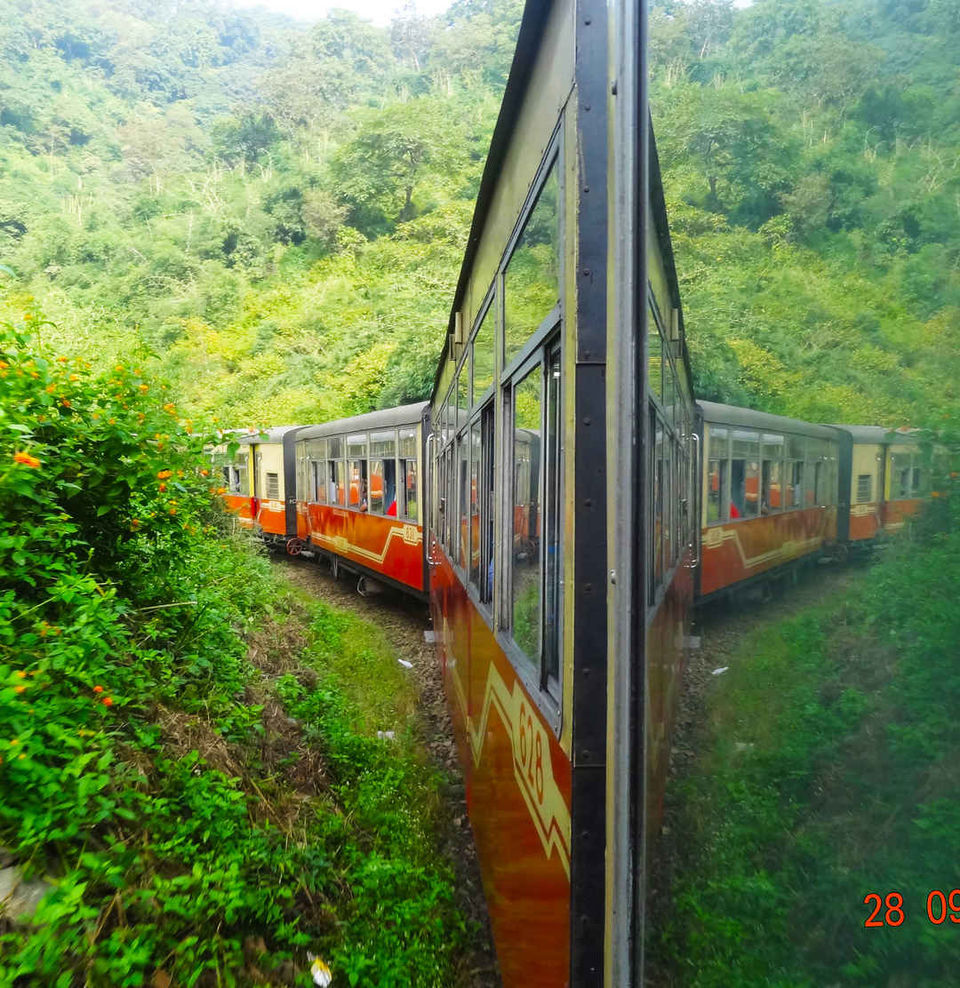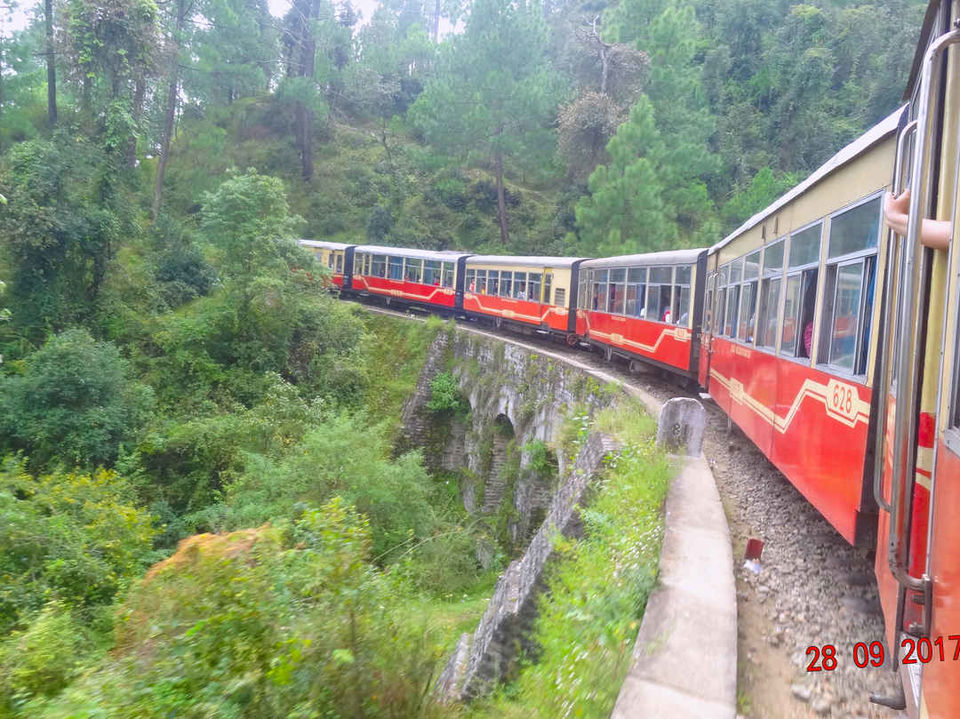 Shimla has a very small railway station at an altitude of 6,808 ft. I booked a cab from outside the station that dropped me at my pre-booked Hotel.
Where to stay in Shimla :
There are so many hotels in Shimla near Mall road area. You can stay at Kalibari too but previous booking is required for that.
My hotel was just behind the famous Christ Church, Shimla. After checked – in, I got fresh and treated myself with a plate of egg chow min followed by a mid-day nap.
Shimla Mall :
I went to visit the beautiful Shimla Mall in the afternoon. The sky was overcast with cloud. Soon started drizzling and then it turned to heavy downpour. People got stranded. I also took shelter under a shade by the Mall. After a spell of shower, the scenario of the mall area changed dramatically. The glorious structure of the Christ church covered with fog. Tall Hanuman statue high above the Jhaku Hill suddenly disappeared behind the cloud.
But, surprisingly after a while, the weather became improve. The mist cleared up, the cloud opened up, the sun started peeping through the cloud and made a dramatic sunset. There was a Cycle Race event to be held on that day by Hero MTB Himalaya, Shimla. Many riders assembled in the Mall to participate. Soon the competition started.
After watching the event for some time, I went back to the hotel, had early dinner and slipped into bed.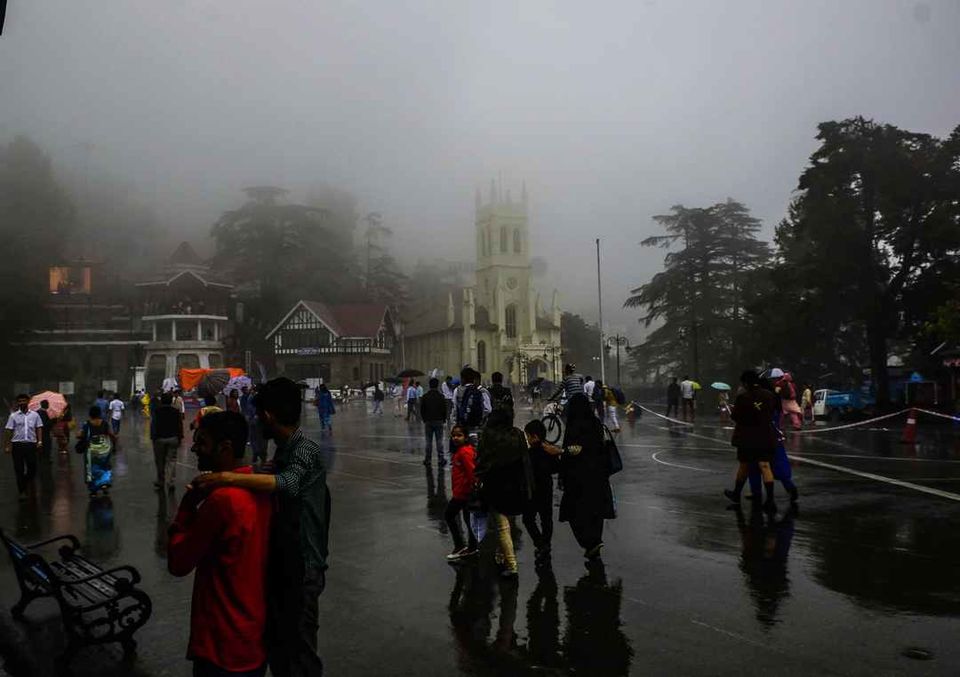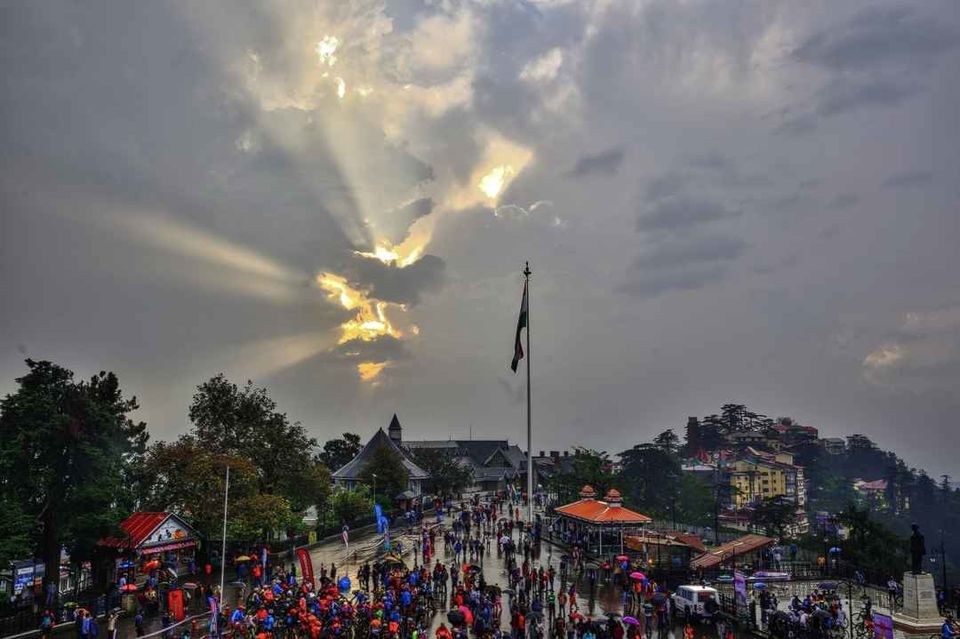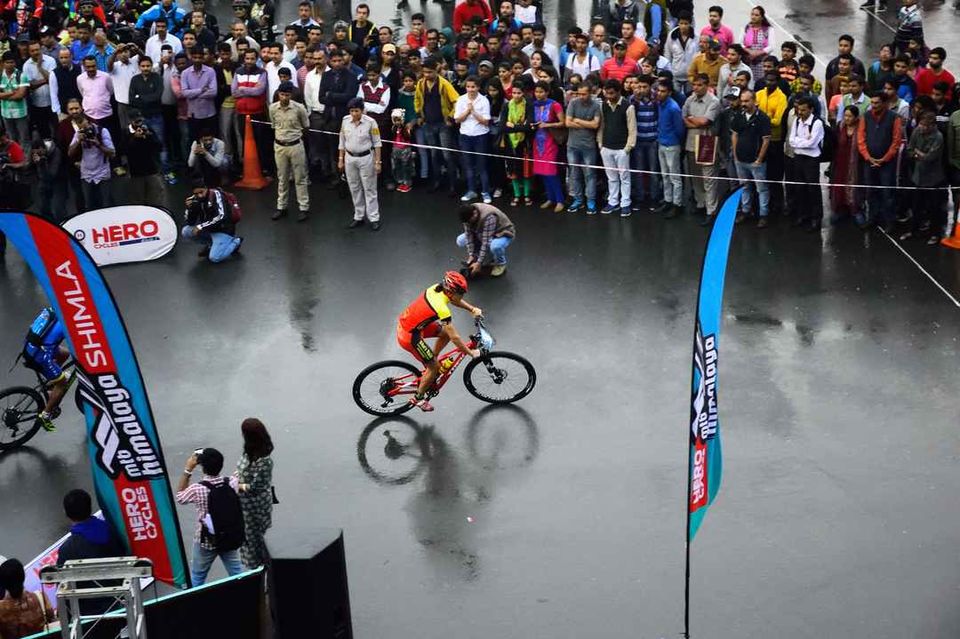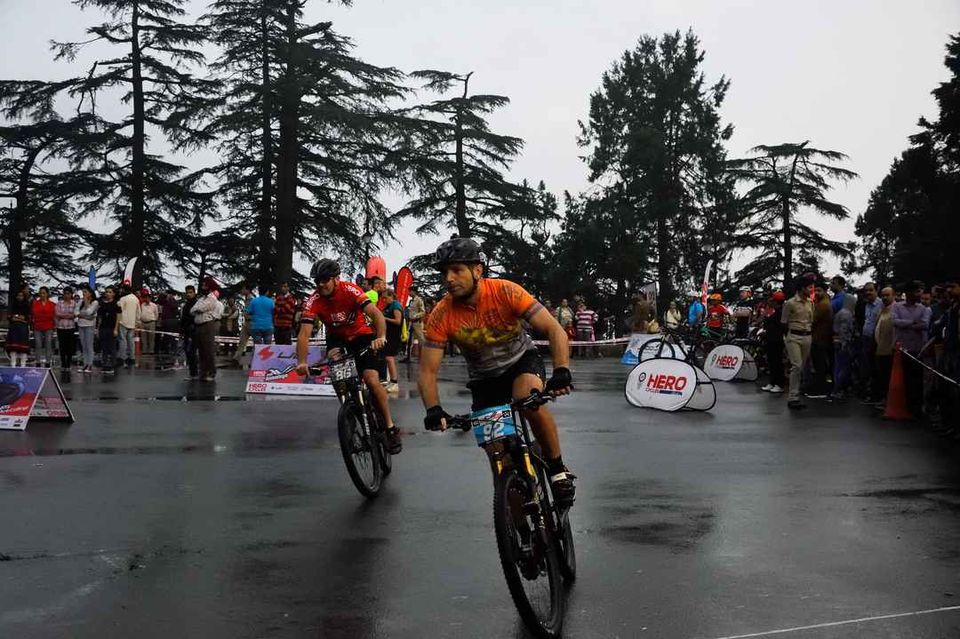 Day 4 : Shimla sightseeing
The morning was sunny, pristine blue sky came up with floating white clouds. There was no sign of the previous evening's rain clouds. Although light woolens were required in the morning also.
The 'Queen of Hills' – Shimla has the following tourists attractions:-
1.The Mall Road
2.The Ridge area
3.Shimla Kali Bari
4.Kufri
5.Jhakoo Temple
6.Indian Institute of Advanced Studies
7.Annandale
8.Shimla State Museum
9.Naldehra
10. Arki Fort.
As I'd been in Shimla earlier and visited most of the spots, so I skipped sightseeing this time. I decided to go to Shimla Kali Bari across the Mall. While going, I noticed many participants assembled in the mall area, the race might be continued for that day also.
Shimla Kalibari houses a captivating idol of Goddess Kali beautifully adorned with jewelery and colorful flowers. I Offered Puja and took some photos. The temple courtyard offers magnificent views of the Himalayas.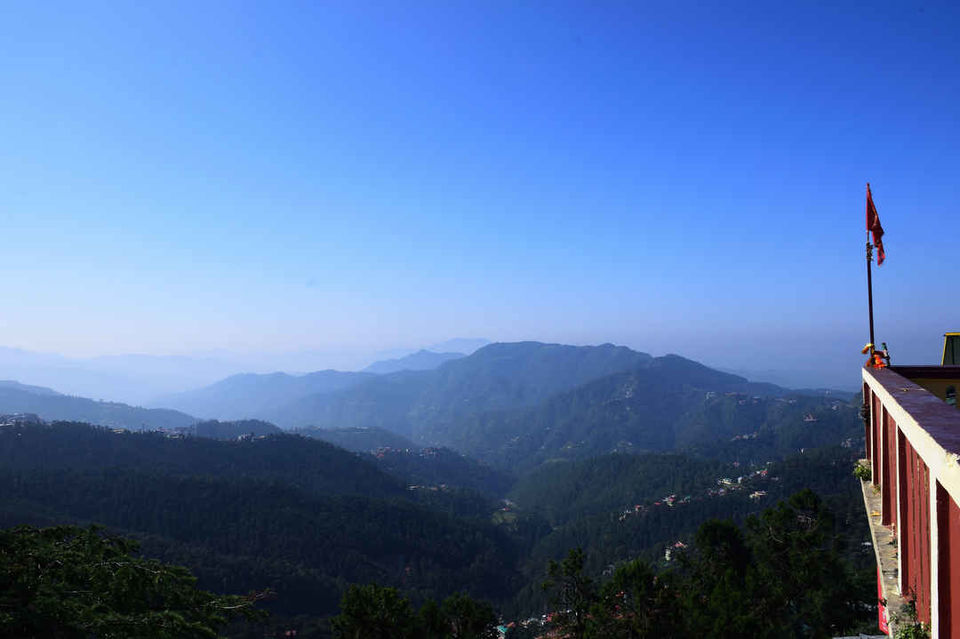 It has a canteen that serves delicious food at a very low price. I had my breakfast there and took coupons for lunch and dinner too.
I stepped out to the bustling market of Shimla and started roaming around lower Bazar, upper Bazar and Ridge area, took some beautiful photos, do some shopping and came back to the hotel after having lunch at the Kali Bari. Food was delicious and quantity was good.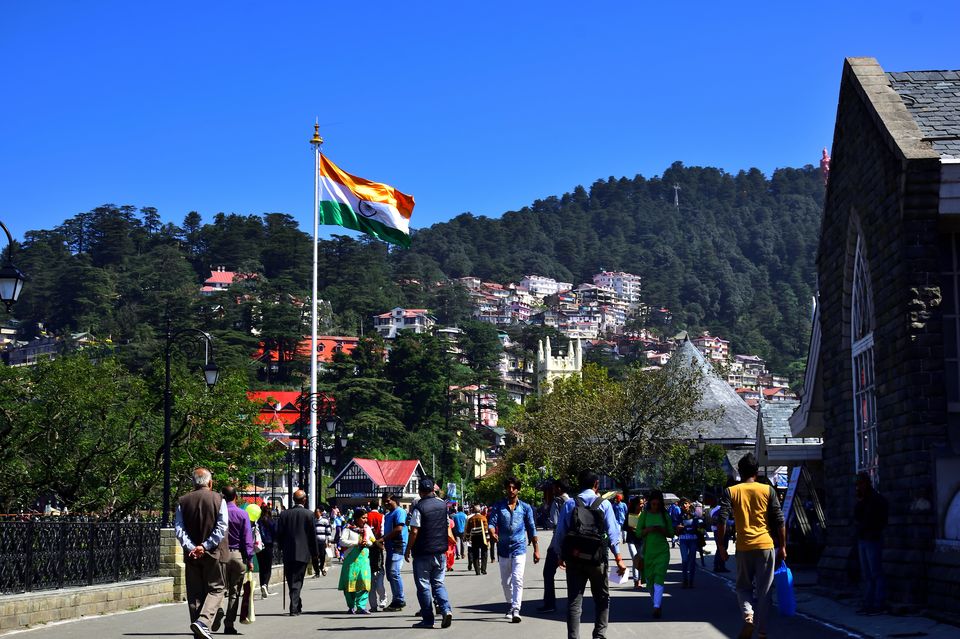 Himachal Pradesh Tourism Office, Mall Road, Shimla
I paid a visit to the Himachal Pradesh Tourism office, situated in Mall Road, Shimla in the afternoon to confirm my bus booking as I'd already booked a ticket to Manali in the HPTDC bus. The bus was to leave from Victory Tunnel on the following day and they suggested that I, may take a porter from the hotel ( Porter is easily available in Shimla for carrying luggage) as he would take my luggage and also guided me up to the pick-up point
Next I headed to Jakhoo Hill as I had missed it the first time when I visited Shimla back in 2014. One of the most famous attractions of Shimla is Jakhoo temple located atop the Jakhu Hill, the highest point of Shimla. The hill is situated 2.5 km from the Ridge at an altitude of 2455 M. Previously, the tourists have to walk down or a ride pony to reach Jakhoo temple but now, there's a rope-way in operation that took the tourist to the temple only by 6 minutes from the Ridge area. Two –way journey is cost Rs. 500/- only. Each rope-way coach takes only 6 travelers.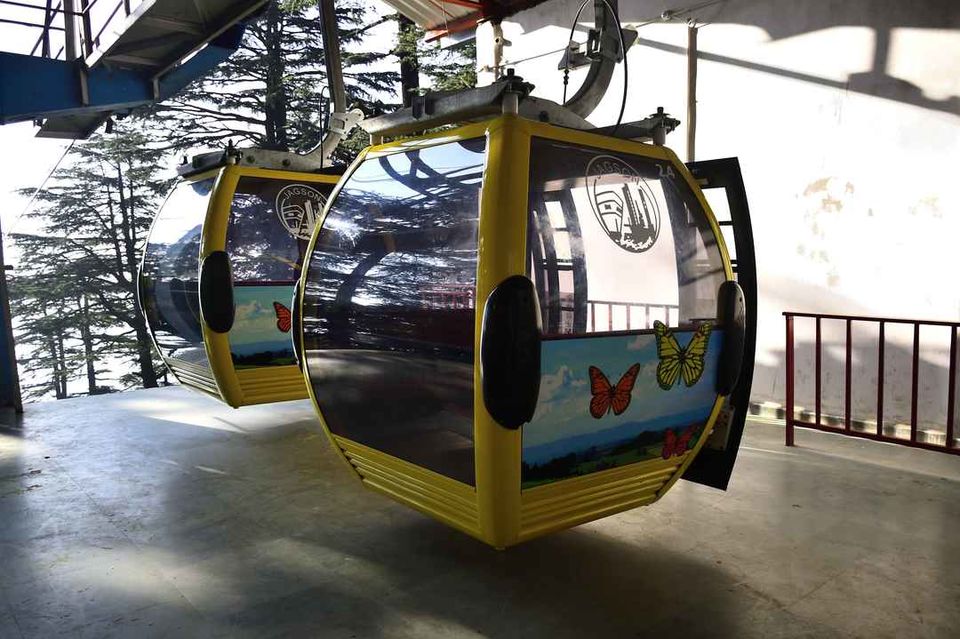 I took this Gondola ride (Jakhu Ropeway) to visit Jakhu temple. Rope-way gives a breathtaking view of the Himalayan Hills and Shimla city.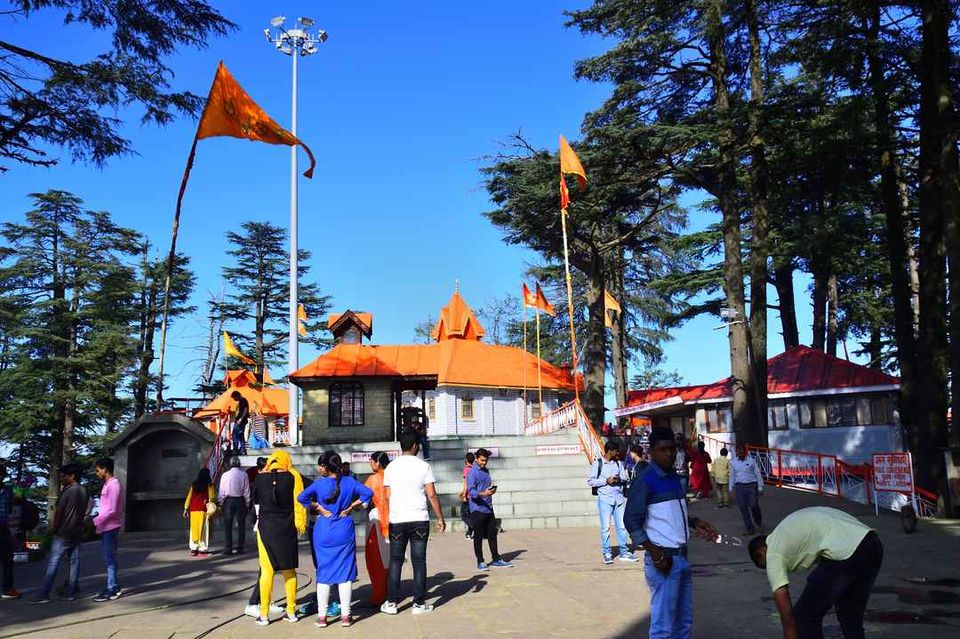 The temple is dedicated to the Hindu Monkey God- Hanuman Ji. Although the main temple is small but 108 feet tall idol of Hanuman Ji located atop the hill is a big attraction for tourists. At the entrance, there's a troop of monkeys that guarding the premises all the way to the temple.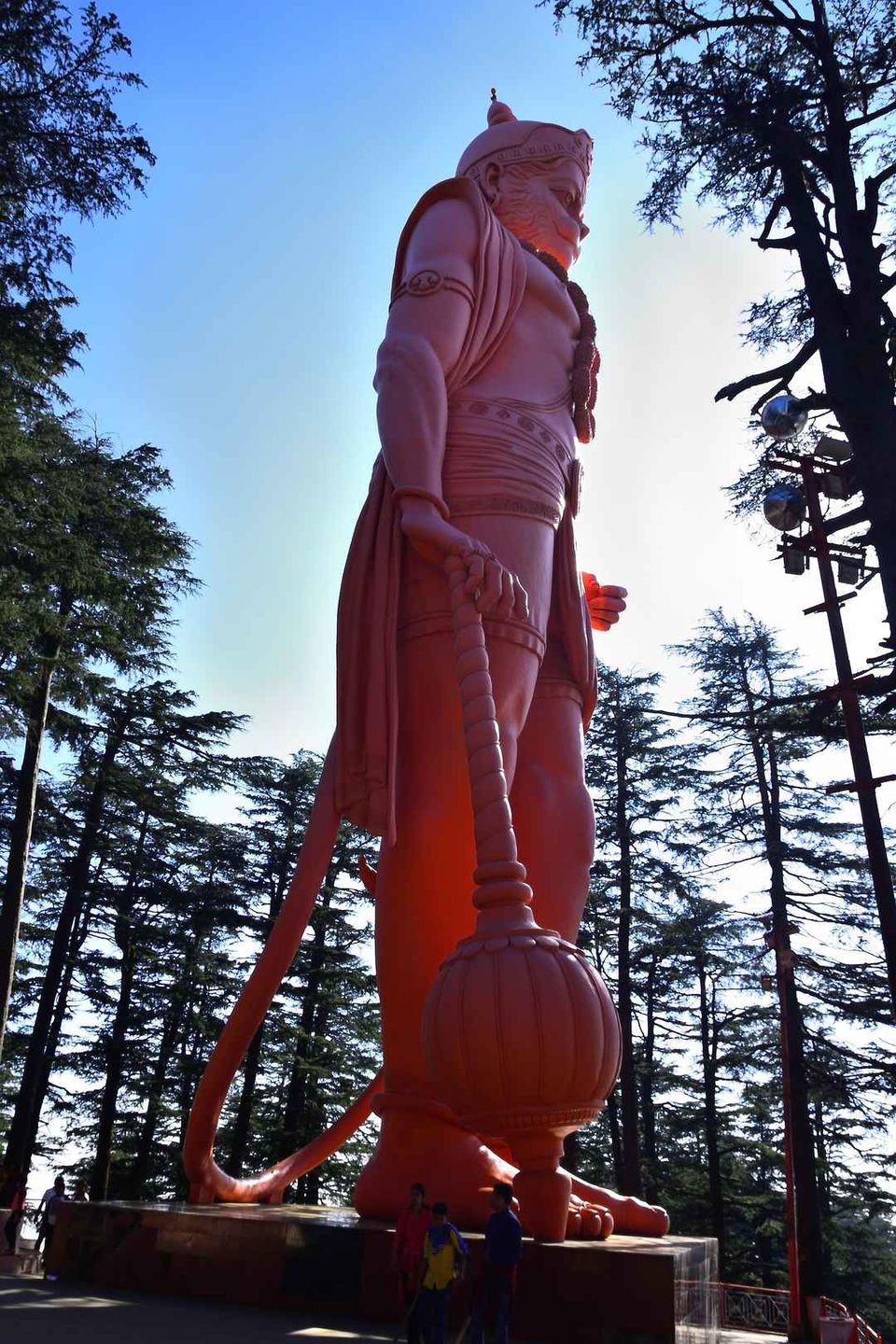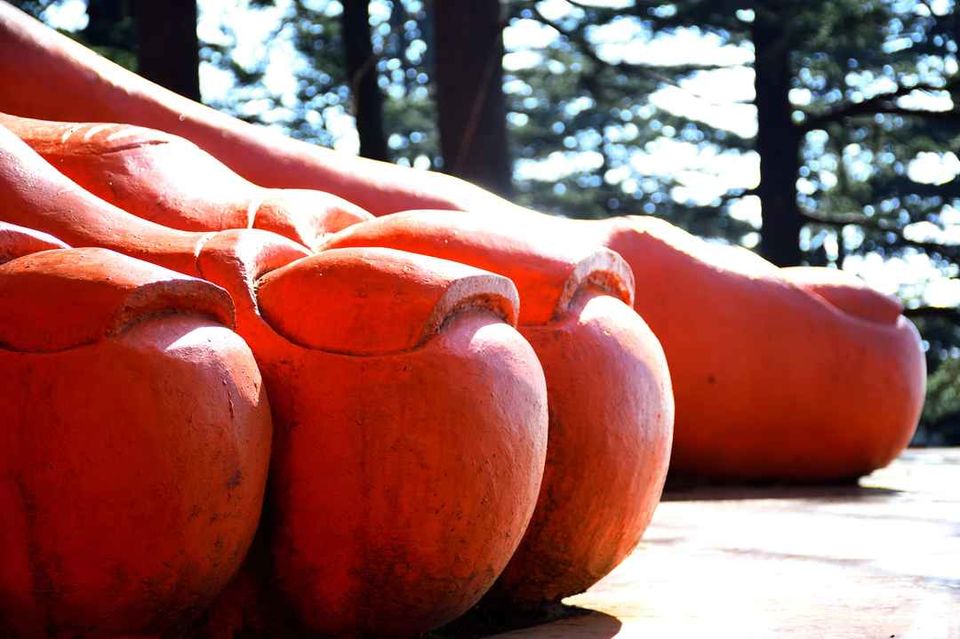 Caution : Beware of the monkeys here as they were always trying to snatch away the free hanging objects from people.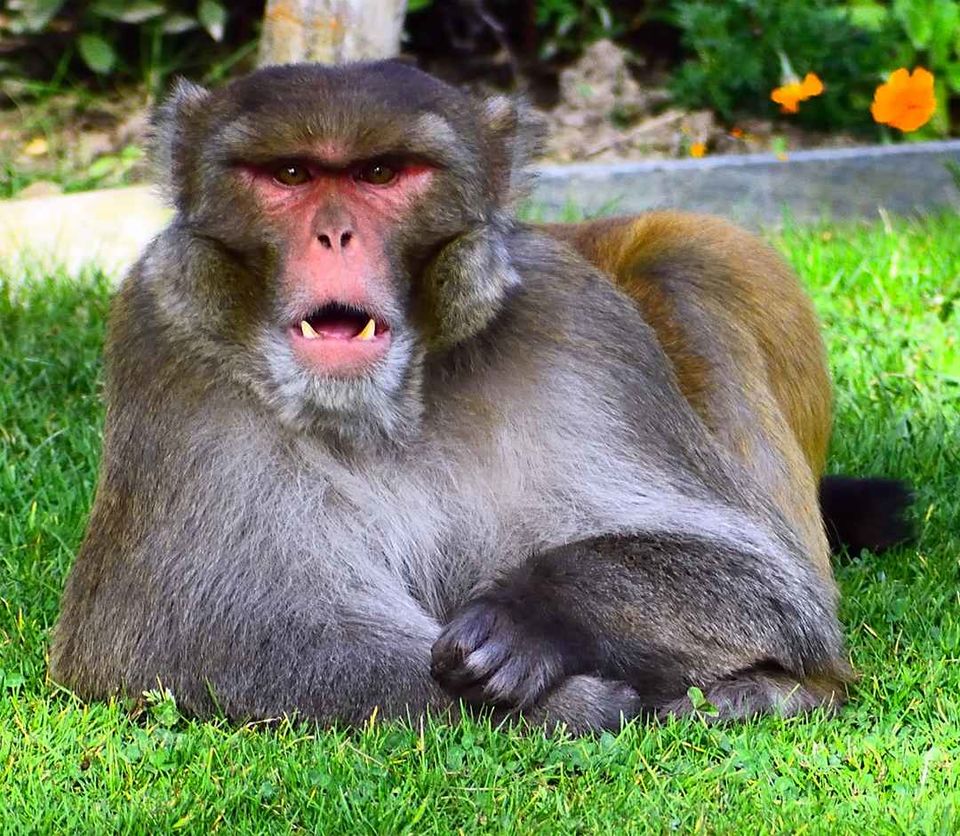 Day 5: Shimla to Manali by HPTDC Volvo Bus
The next morning, I started for Victory tunnel along with the porter who was carrying my luggage across the Mall area on foot. I took a small stop at Kalibari for darshan. The HPTDC bus leaves from Victory Channel at 8 a.m.[ You can book it in advance from www.hptdc.com ]. It stops twice, once around 10.30 a.m. for breakfast and another at 1.30 p.m. for lunch.
Shimla Manali highway is one of the most picturesque roads. Shimla to Manali travelling distance is 270 km. The entire route is very scenic and beautiful with majestic mountains on one side and lush green deep valleys on the other side of the road.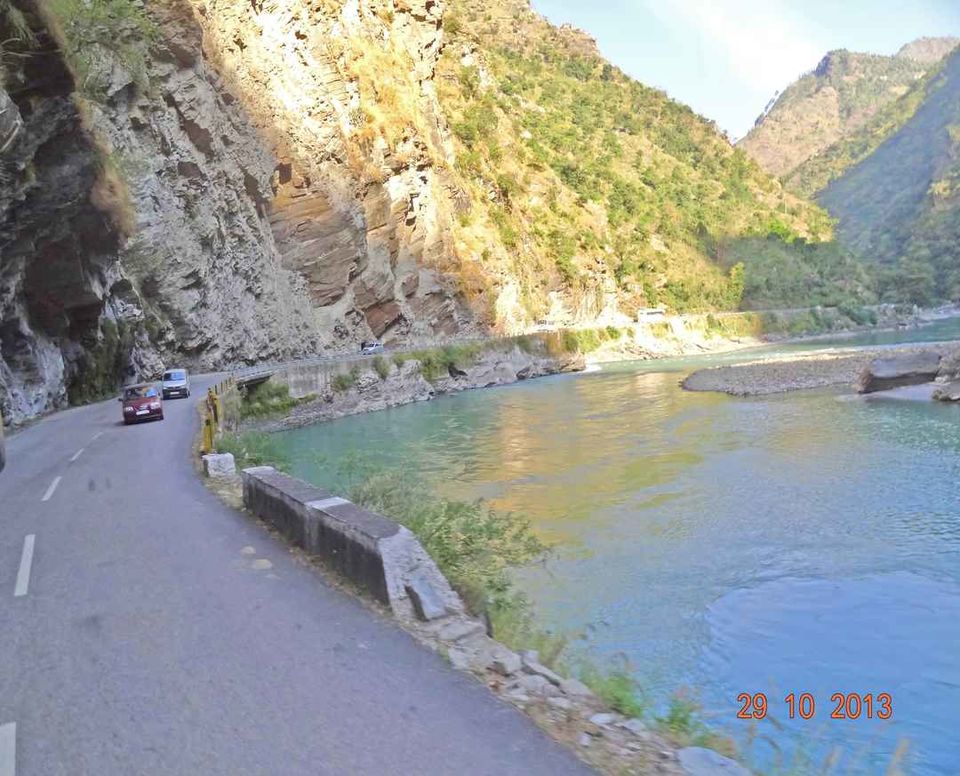 After some distance, the road starts running beside the river Beas and it continues for the rest of the journey till Manali. We reached Manali bus stand by 5.30p.m. You can take an auto or cab from the bus stand to reach your hotel.
Day 6 : Manali in & around.
The next morning, after breakfast I went straight to the HPTDC Booking Counter, in the Mall to book my sightseeing. i) Rohtang top and ii) Solang Valley for the next two consecutive days. Then went out for Old Manali.
Old Manali is a beautiful picturesque quiet place. A bridge over the Manalsu river is the gateway to Old Manali.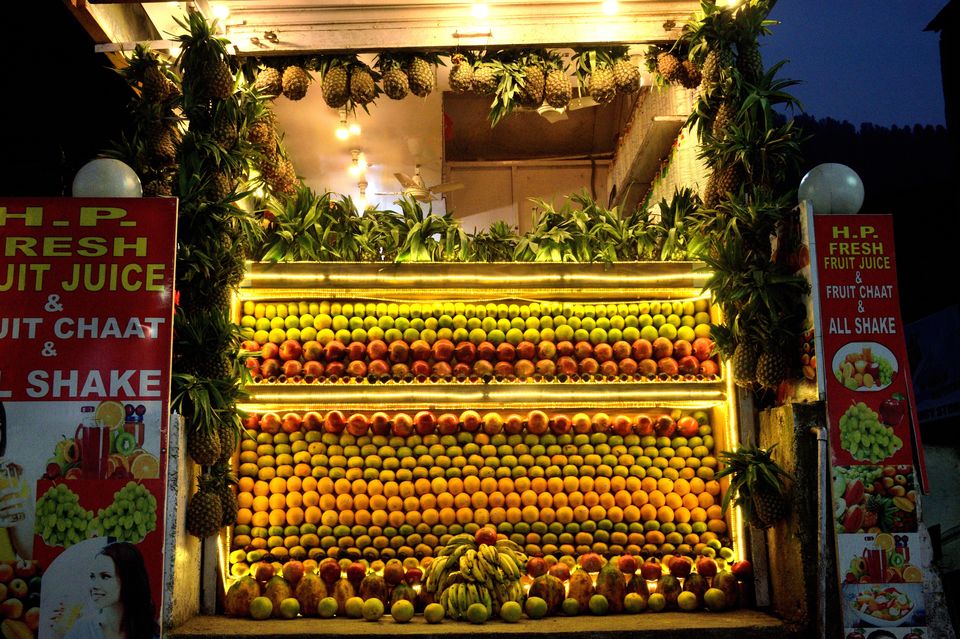 Day 7 : Rohtang Pass
Rohtang Pass is the high mountain pass at an altitude of 13,054 ft. Distance from Manali is approx. 52 km and it took almost 5 hours. Roads are tricky and we faced traffic Jams a number of times but it was one of the best road journeys. The permit is required to visit Rohtang Pass but if you book the trip with HPTDC, they will take care of everything.
I got ready with heavy woolens and jacket for the Rohtang trip. The HPTDC bus was to depart at 7 am. After having breakfast from one of the shops on Mall Road, I boarded the bus.
The narrow windy roads, high mountains, beautiful valleys, clear sky with floating white clouds made the journey awesome. We reached around 12 p.m. As soon as I got off the bus, cold wind slapped my face. I equipped myself with a sweater, padded jacket, balaclava even woolen hand gloves to beat the cold.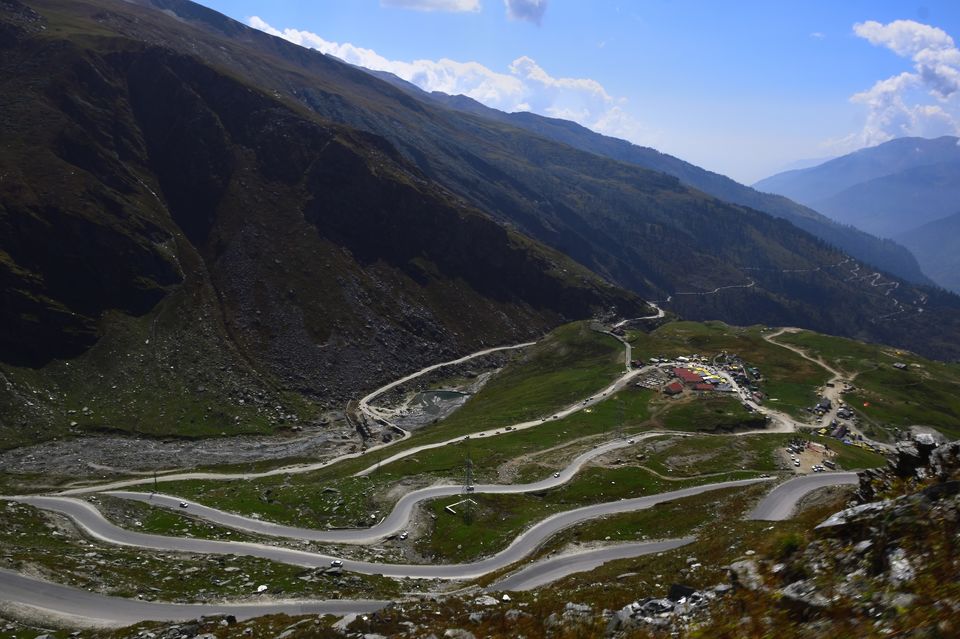 It was a bright sunny day. The views were breathtaking. Earlier, when I'd been in Rohtang, it's snowing then. After a couple of hours, we boarded the bus again for the return journey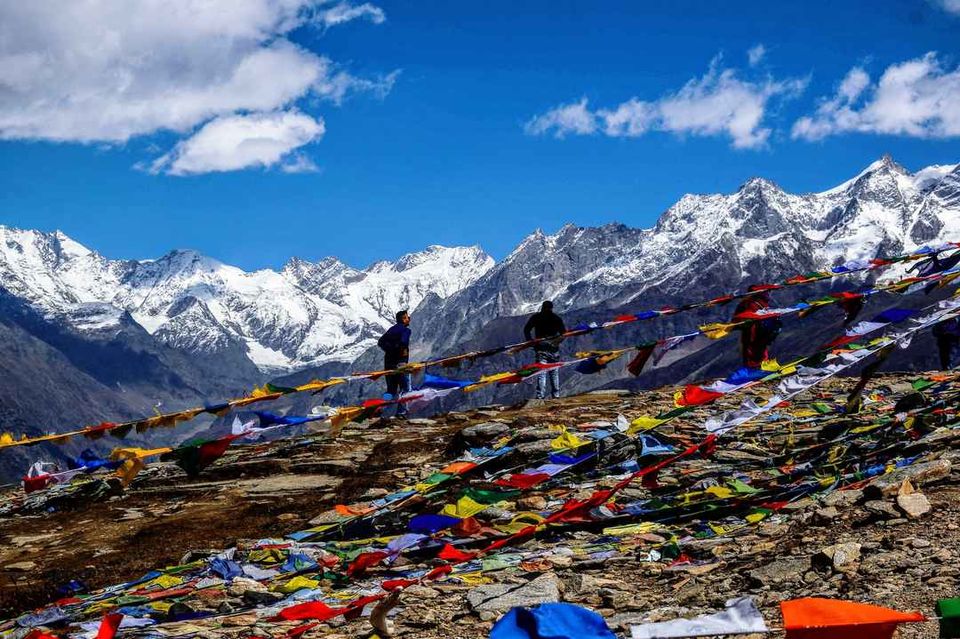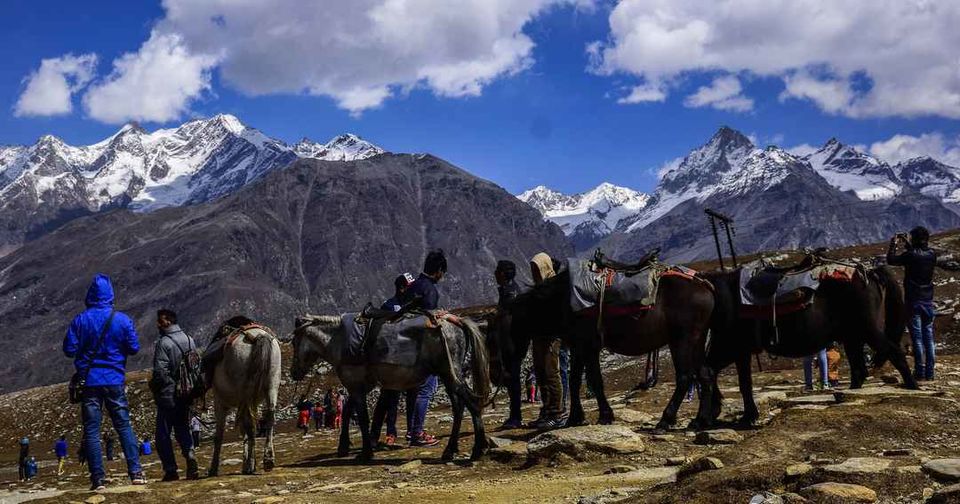 Day 8 : Solang Valley and Naggar Castle.
The next morning, the bus departed by 8 a.m. for Solang Valley. It's one of the most gorgeous and adventurous places to visit in Manali.
It's famous for Paragliding and other sport activities. For Paragliding, it's two jump stations- one on a low and the other on a higher level. Gondola or Solang Ropeway ride takes you to the mountain top – the higher-level jumping station for paragliding. It costs Rs. 3000/- including the costs of gondola ride(Rs. 600/- for both ways). Paragliding from lower-level cost Rs. 1000/-.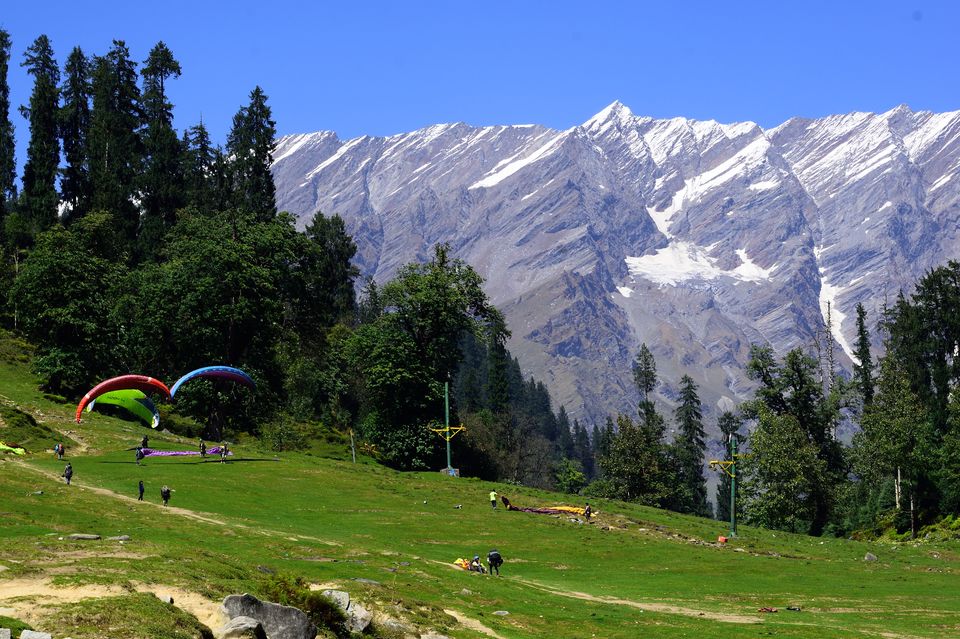 It's a heritage site now handed over to HPTDC to run as a hotel. It's situated on the left bank of river Beas. From the restaurant of this castle, the view of snow-capped peaks and open valley mesmerized you. We had our lunch here. The preparations were mouth-watering. After lunch, we started for Manali and reached the bus stand by 5 p.m.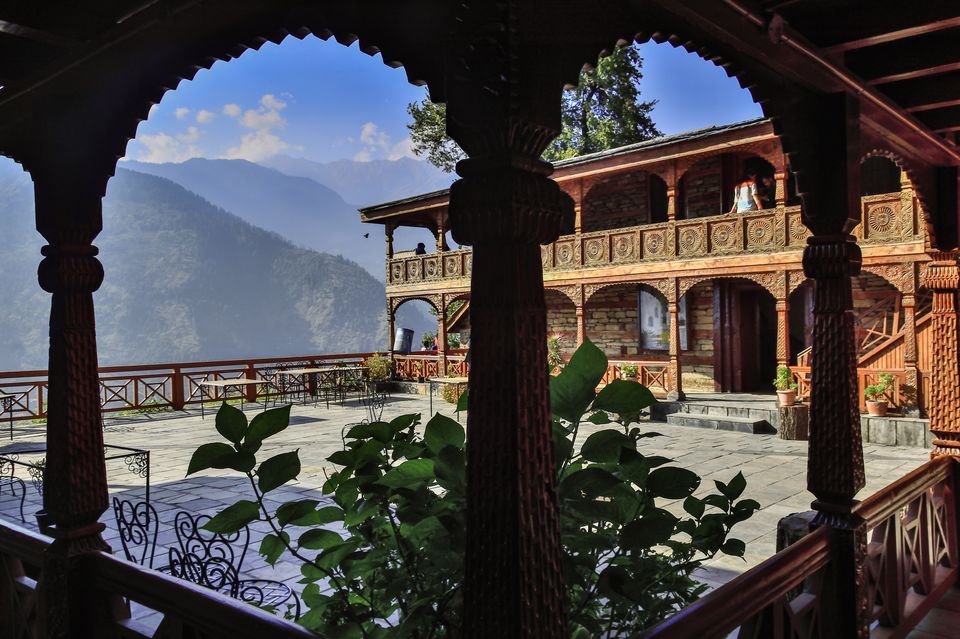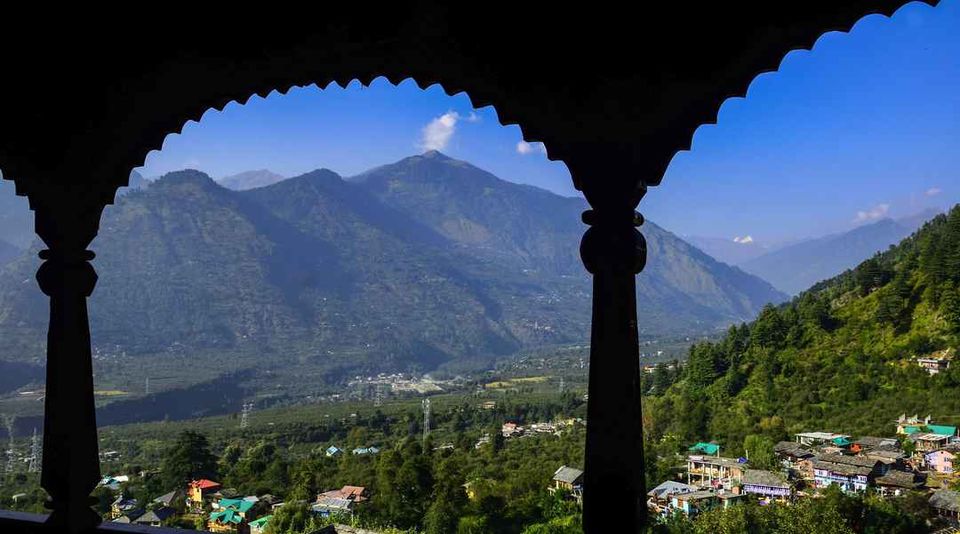 Day 9 : Hadimba Temple and Manu Temple
The Hadimba temple is a unique shrine dedicated to Hadimba Devi, the wife of Bhima. It's situated in the woods. It's a four- storey structure. It's one of the most popular temples in Manali.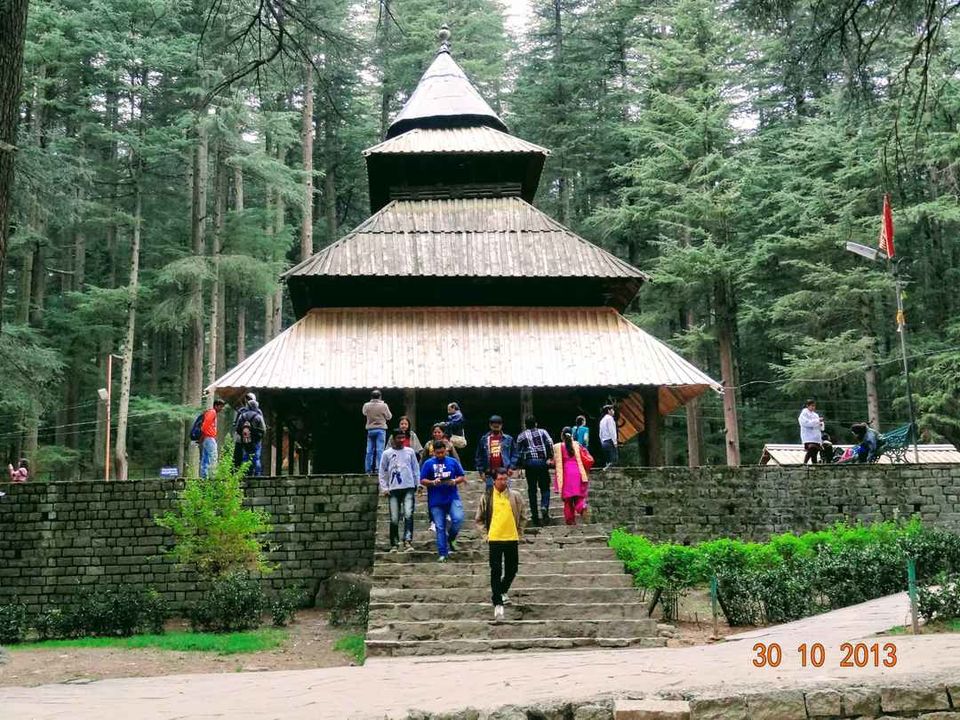 This magnificent temple is dedicated to the sage Manu, who is said to be the creator of the world. The Manu Temple is located in old Manali, at a distance of three kilometers from the main market.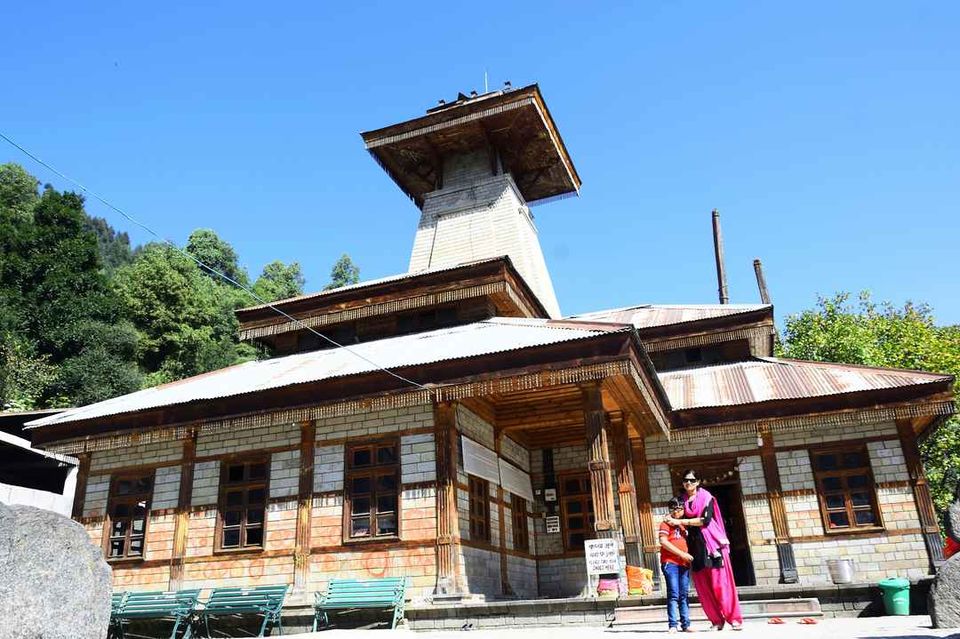 In the evening, I went to explore Tibetan Buddhist Monastery near the Manali Bus stand. It's one of the oldest and famous places in Manali. The Monastery premises is surrounded by small shops of different kinds.
There's a Gurudwara within a 500 m distance from Mall area. You can pay a visit to this serene place.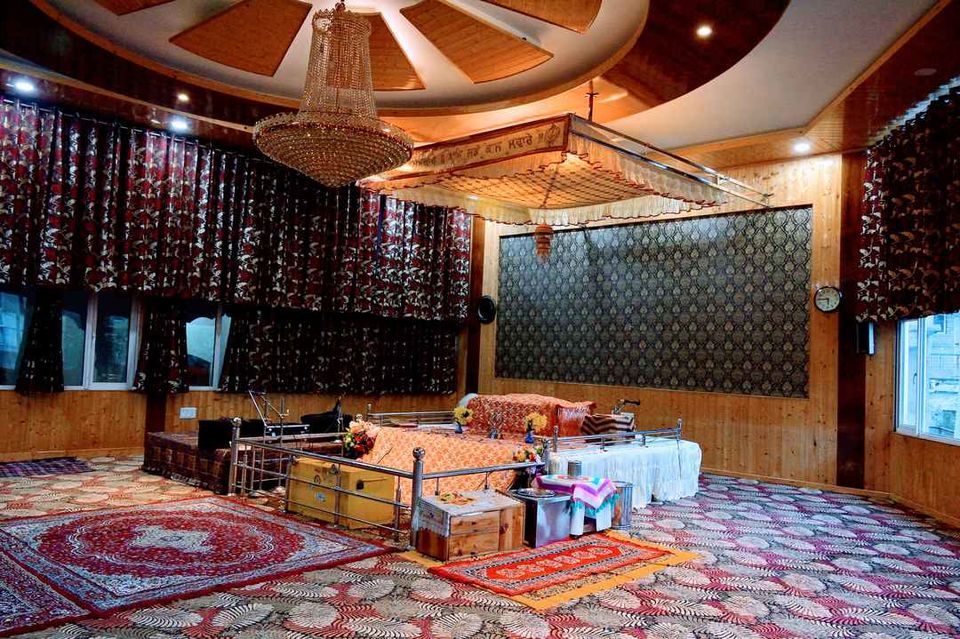 Day 10 : Day of departure.
The Volvo bus of Himachal Road Transport Corporation would be departed at 8 p.m. Tickets was booked online. The bus departed at 8 p.m. and reached at Kashmeri Gate bus terminus at 9 a.m.
Boarded Delhi - Howrah Rajdhani Express in the afternoon and next day morning reached Howrah.