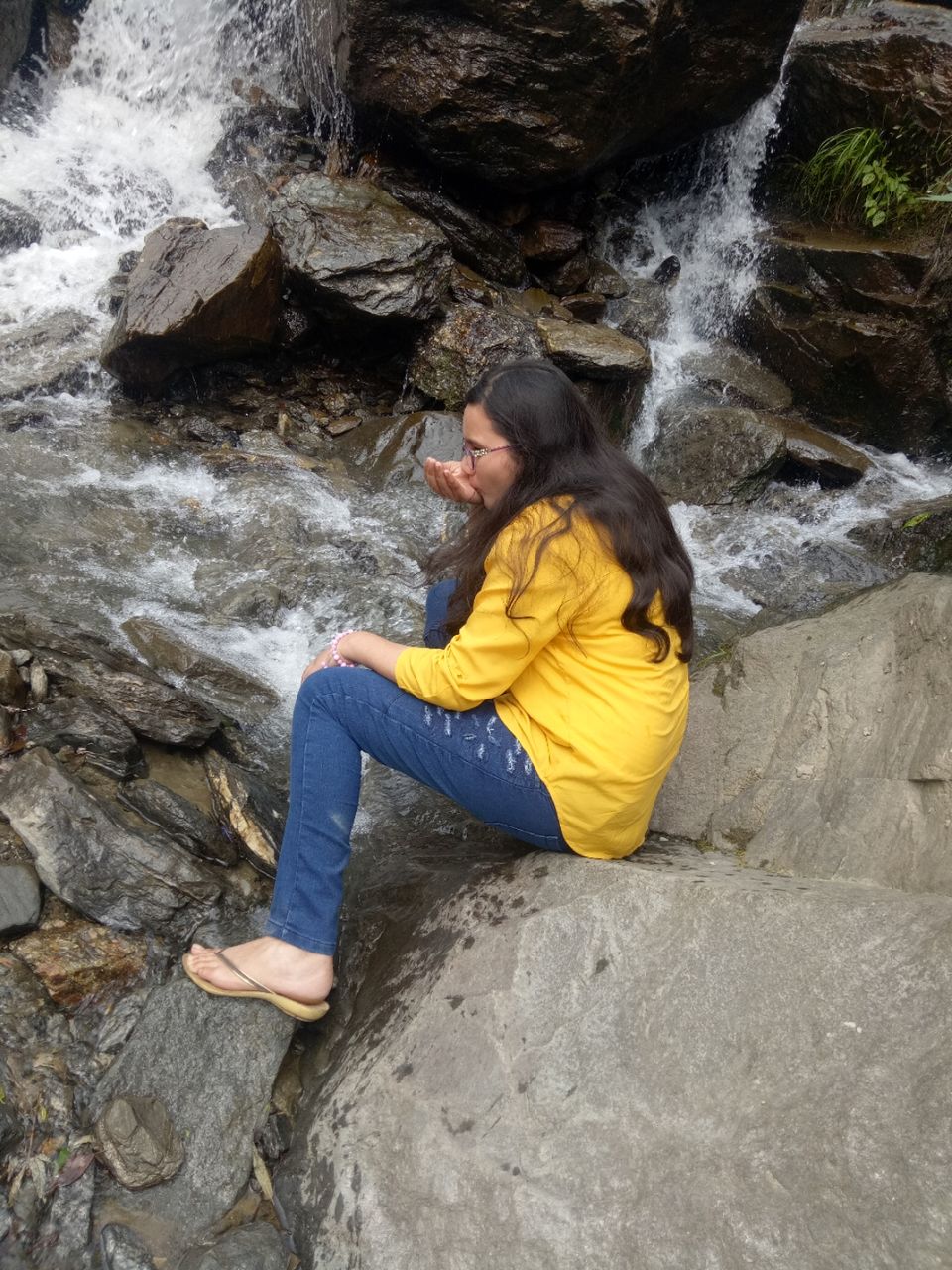 As we all who likes to explore get more excited when the month of June and December comes.This is exactly happens to me. This year in June ,I decided to explore a new place.The place could be any. I talked to my friend from my school to go somewhere.And she suggested me to go to Manali and Rohtang pass.And we started planning.For that we contacted to a travel company.and after a long and long planning(can't believe it took more than a month to decide the date)we decided the day i.e.12 th June.
Before this I want to tell that first time ever I travelled alone out from Meerut.As my friend was already in Delhi ,I reached Delhi from where we had to take our bus i.e. R.K.Ashram metro station.My friend had come after sometime and we searched our bus.As there are so many buses in queue.After the running of 15 minutes got our bus and settled down.The journey started at 7:00p.m.
We reached Manali in morning at 7:00a.m.
The cab from the travel agency was waiting for us.We sat there and started our journey towards hotel.
But due to a lot of traffic,we reached out hotel at 1:00p.m.(and I was cursing myself for my trip)
After reaching hotel,we got fresh and move to look this beautiful Swiss village.
We went to Dhungri Van Vihar which is full of lush green trees.I felt cold there.We paid 30 RS per person to visit there.We stayed 2 hours there as we were enjoying a lot there. We clicked pics in pahadi costume too.
After that we went to the famous Hidimba temple.This is the very place which one must visit who wants to see the glory of this wooden temple standing still from thousands of years.
There was a long queue to see the temple.
This temple is situated in old Manali.
And after we took the look of all around .We back to our hotel. We had yummy dinner and off to bed.I was not feeling sleepy because I was so excited to go to Rohtang pass. At night 1:00a.m.,we started off my journey to Rohtang.
And I was so shivering in June as I had to wear my woollen jacket.
We purchased jackets,shoes for rohtang pass from the way.It cost around 200/-. We reached at gulaba post at 3:15 a.m.And there was already a long queue of cars. The post opens at 4:00a.m. So,we waited there till then.We were enjoying the cold breeze of hills. As in daily,we have to face so much pollution.
As we got permission soon , started our journey towards Rohtang pass.
The excitement was on another level as we were going through the hills which were ladden with snow. We were watching snow all around.After around 45 minutes we reached to Rohtang pass.I was so excited.
We got down from car.And experienced the fast bolwing wind.It was so fast that I can't even stand.
We reached as early morning so we watched the sunrise there.And I must say one thing that sunrise on hills is damn beautiful. I tried hard to take a picture but due to cold I couldn't take out my hands from gloves.
I was just lost in the beauty of sunrise .
We did skiing there which was around 800 each .There was no any time limit. So we stayed there 3 hours.We moved back to Manali.
We faced a lot of traffic. At 1:00p.m. we reached at our hotel.
We had our lunch.
We was very tired so after took bath we went to sleep.
At evening ,we went out to see nearbouts of our hotel. We had waterballs there.
We checked out from hotel at 9:00a.m. First we went to monastery named Himalayan Nyinmapa Tibetan Buddhist monastry. It was so colorful and full of peace.I was very happy because I have visited monastry to first time. We went mall road then.It was crowded. But i found it beautiful.I ate there Maggi which was around 30/- each.It was very yummy. We sat there for a while .
We went to Nagar castle which is 20 km from mall road.It is the place where a Bollywood movie song(vari javan) has been shot.It is such an attractive wooden building. We spent around 30 mins there.
Then we back to kullu.
At kullu ,we went to one of the biggest monastery of Kullu named Dhakpo Shedrupling Monastry.It was very unique feeling.We stayed around half an hour there. It was such a sole-soothing moment.
As we know that kullu-manali is famous for adventures besides its natural beauty.
So my friend wanted to do river rafting but I was not.But at last I agreed because I didn't want to regret later on that I had a chance.
So the cost was around 1000 RS per person.
I was very nervous. As we reached in mid of Beas river,it started raining.
There was high waves in River. Our raft was flowing with waves, sometimes up and sometimes down. I was crying aloud while rafting but when we get back,I was feeling that it was such a amazing experience in my life which I never forget.
At 5p.m. we reached to our bus stop. And at 6p.m.,we depart from Manali to Delhi.
We reached at 9a.m in Delhi.
Total cost was around 15K.