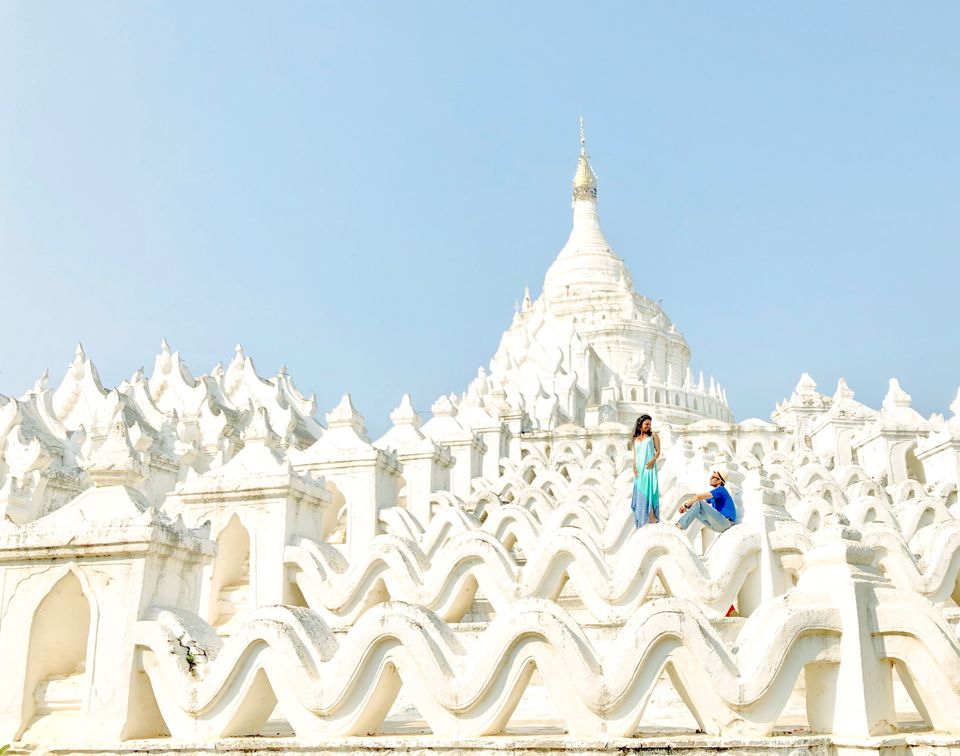 Things to do Mandalay – 3 day itinerary
The second largest city & the ancient capital of Myanmar is one of the cities you should miss on your Myanmar itinerary. Do not expect the flamboyance of the European towns or the liveliness of other Asian cities like Bangkok or Shanghai. But, there is some calmness in the rural feel of this city that you must experience & obviously the ever so lovely pagodas here which are so diverse from the ones you see in the other parts of Myanmar. We recommend a minimum 2N-3D stay here to explore the town.
How to reach here:
You could fly down from your country into Mandalay. However, the Mandalay airport is not as big as the Yangon international airport & we chose to get into Myanmar through Yangon. Or else you can come in by bus or flights from other cities like Inle or Bagan. We arrived in Mandalay by an overnight bus journey from Inle Lake.
Where to stay in Mandalay:
A good location to stay is somewhere in central Mandalay or near the Mandalay Palace as its closer to most of the viewpoints/tourist locations. We stayed at the Hotel Marvel & would recommend for budget stays
Getting around the city:
You can download the app 'Grab' (similar to Uber) which works out price effective for booking tuk-tuks as well as taxis. If you prefer commuting without Grab, make sure you bargain well with the cabbie & fix a price before you sit in the vehicle.
3 Day Itinerary
Day 1 - Mandalay Palace, Shwenandaw Monastry, Atumashi Monastery, Kuthodaw Pagoda, Mandalay Hill
Day 2- Day trip to Mingun region, Sagaing, Inwa & Amarapura
Day 3 - Day trip to Pyin Oo Lwin
You can chalk out you own itinerary if you wish as per your schedule but here are a few things we feel should definitely include in your Mandalay bucket list!
10 Best things to do in Mandalay:
1. Mandalay palace

The royal Mandalay palace, consisting of more than 40 beautiful timber structures, lies in the heart of Mandalay city. There's a special entry gate for foreigners as opposed to the locals, so you make sure your taxi/ tuk tuk drops you off the right gate. Also, please note the authorities hold back your passport at the entry & return it to you only once you're out of the palace. Be rest assured they keep it safely, giving you a reference tag.
Entry: 10000 kyat per person OR $6.5 approx. Pls note this entry fee is valid for 5 pagodas in total – 3 in Mandalay( Mandalay palace, Shwenandaw Monastry & Atumashi monastery) & 2 in Inwa.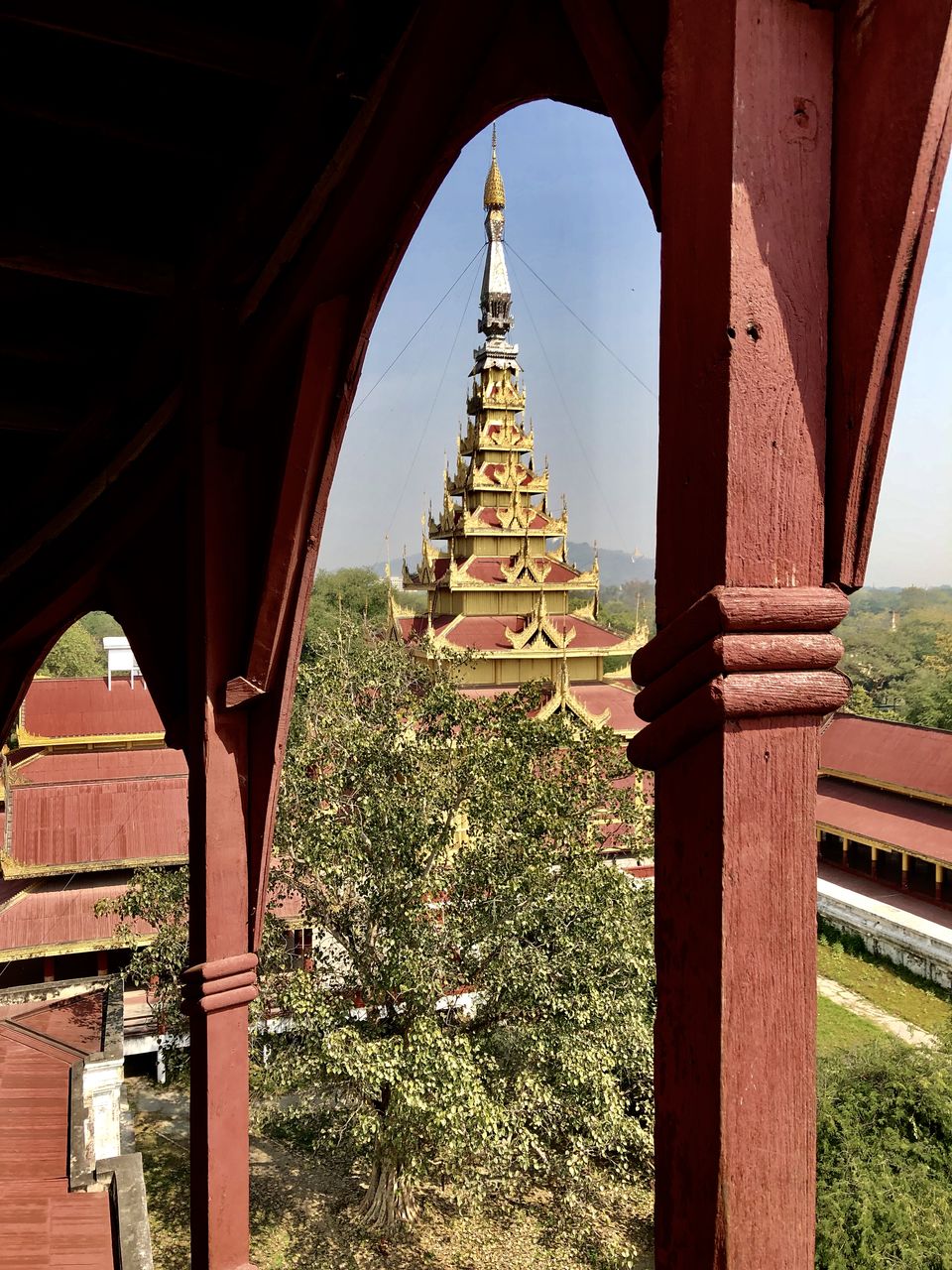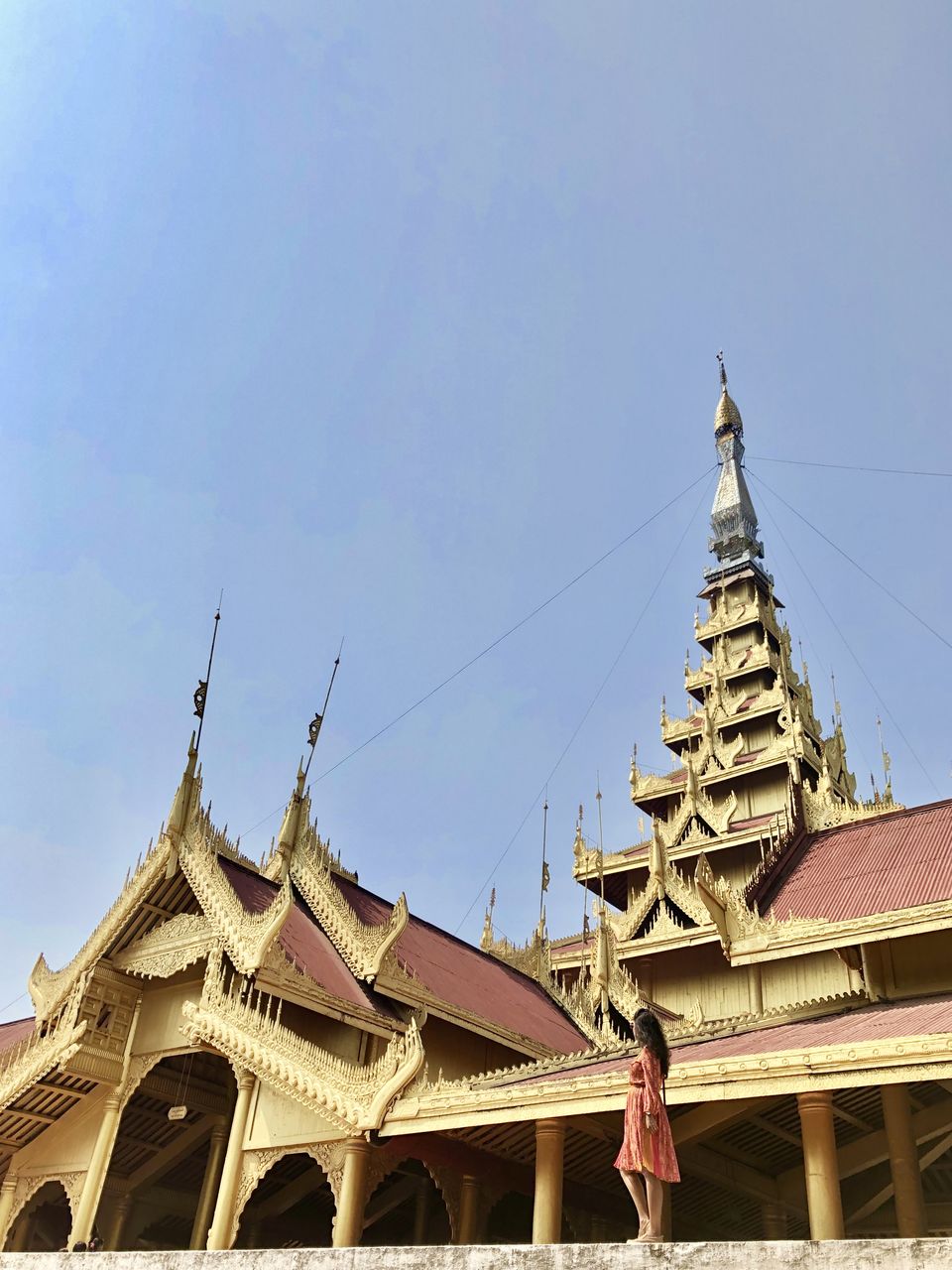 2. Shwenandaw Monastry

This ancient monastery is a rebuilt structure by King Thibaw Min. It was originally part of the royal palace at Amarapura which was later dismantled & reconstructed in Mandalay.
Entry – As mentioned earlier above, the entry fee is included in the 5 pagodas that you pay for at the Mandalay palace.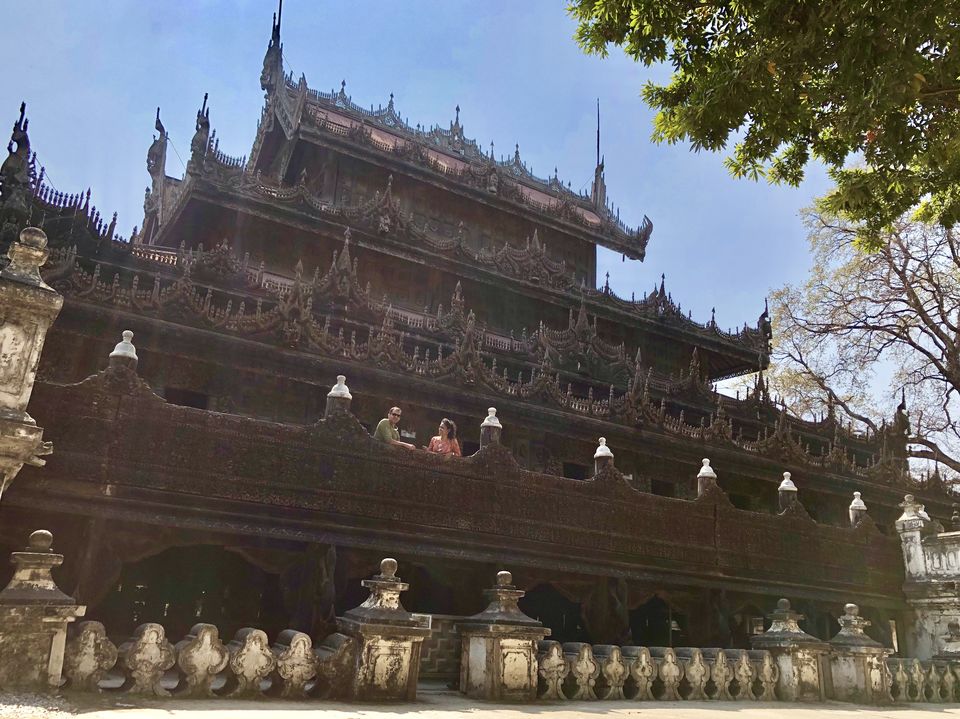 3. Atumashi Monastery
Atumashi Kyaung' meaning 'Incomparable monastery' is right next to the Shwenandaw Monastery & also close to Kuthodaw Pagoda. The aesthetically carved out golden doors of this monastery is what really attracted us.
Entry – As mentioned earlier above, the entry fee is included in the 5 pagodas that you pay for at the Mandalay palace.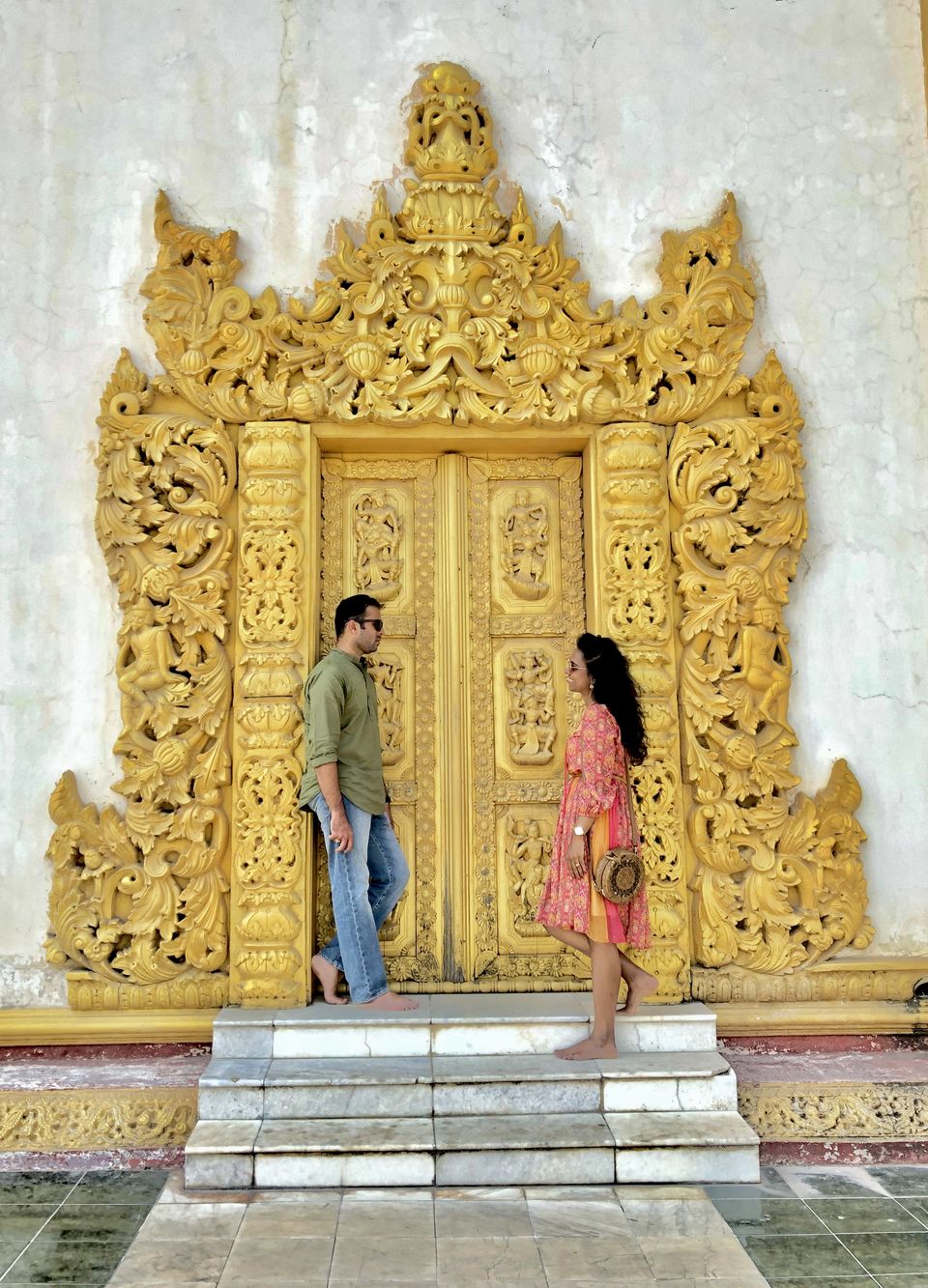 4.Mandalay Hill
I fell in love here. The mirrored walls & colourful tile work at the Sutaungpyei Pagoda at the top of hill was my fav part. The Mandalay city takes its name from this hill which offers gorgeous cityscapes especially at the backdrop of the setting sun. Your taxi/tuk-tuk can drop you till the base of the hill from where in you can take the elevator or the escalator to the top. Recommended for sunsets!
Entry- There's no entry to climb the hill however, it's 1000 kyat per person to enter the Sutaungpyei Pagoda.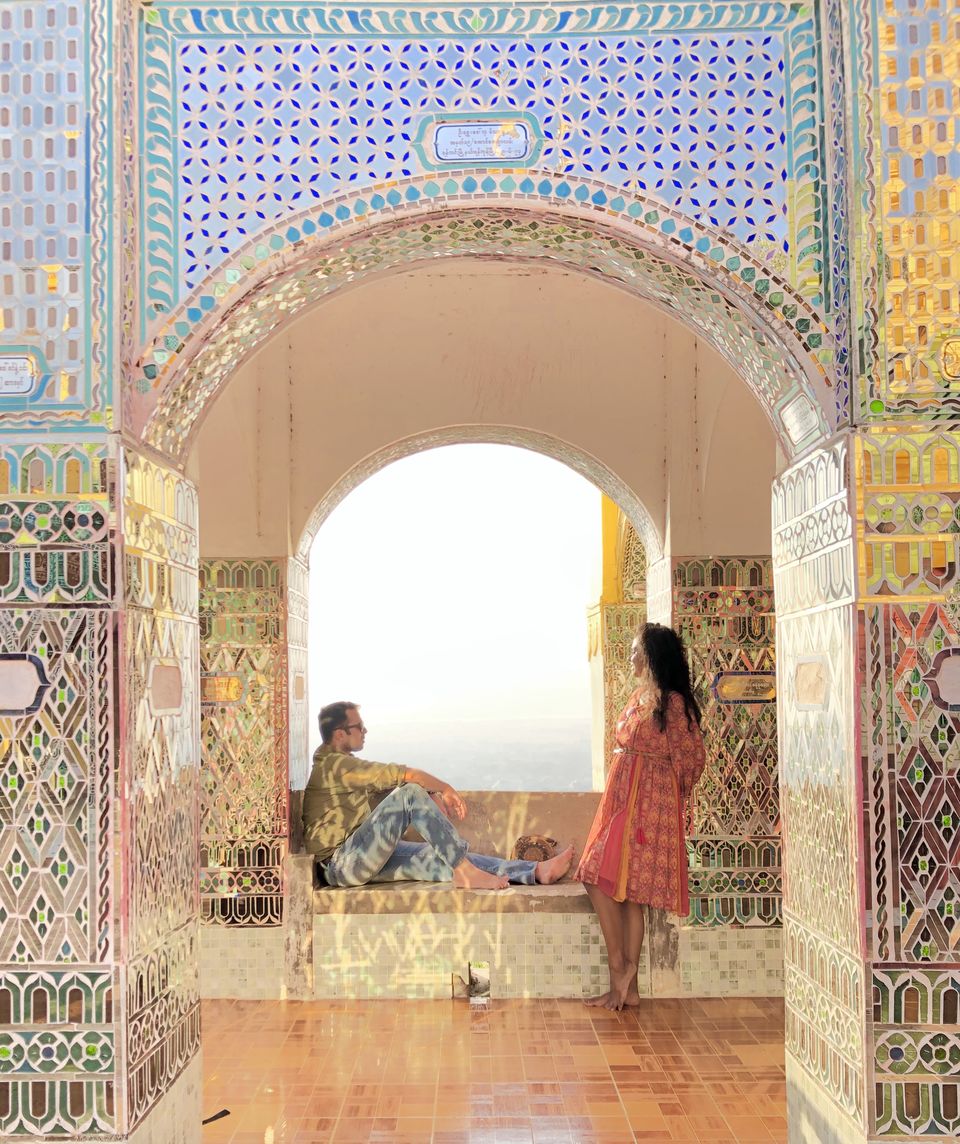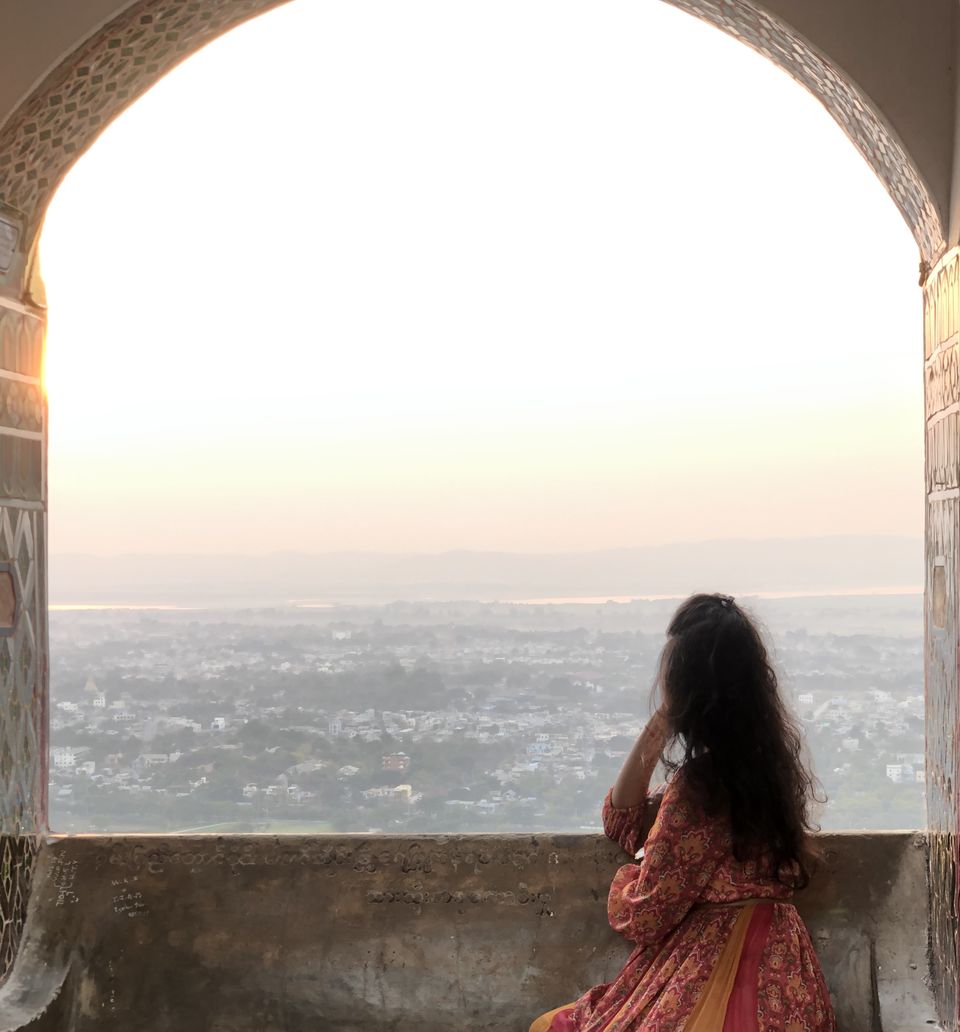 5. Kuthodaw Pagoda
This Buddhist Pagoda which lies at the foot of Mandalay Hill, is surrounded by 729 white shrines each containing an inscribed marble slab in Burmese script. Together these slabs are called "the world's largest book".
Entry – Free
6. Mingun Pagoda
This enormous unfinished pagoda located in the Mingun region of Mandalay is an unusual structure like never seen before. The huge cracks formed in this pagoda due to the earthquakes makes this pagoda look even more stunning with its imperfections.
7. Hsinbyume Pagoda OR Mya Thein Dan Pagoda
I call it "the castle in the clouds". This gorgeous white pagoda is also located in the Mingun region & is few minutes away from the Mingun Pagoda. This was one of the main reasons why we added Myanmar to our bucket list.
TIPS- You can either take a jetty from Mandalay to Mingun region which takes approximately 45mins to an hour OR book a taxi or tuk-tuk(not so comfortable for a day ride) for your day trip wherein you can cover Mingun region, Sagaing, Inwa & Amarapura. The boat ride starts at Myan Gyan Jetty in Mandalay at 9am and drops you of at Mingun & the return boat to Mandalay leaves at 1pm. The cost of a return journey jetty ride is 5000kyat (approx. $5) per person. A day trip by taxi (covering Mingun region, Sagaing, Inwa & Amarapura) should be not more than 55000kyat (approx. $36)

Entry to Mingun region- 5000kyat($ 3.5 approx.) per person.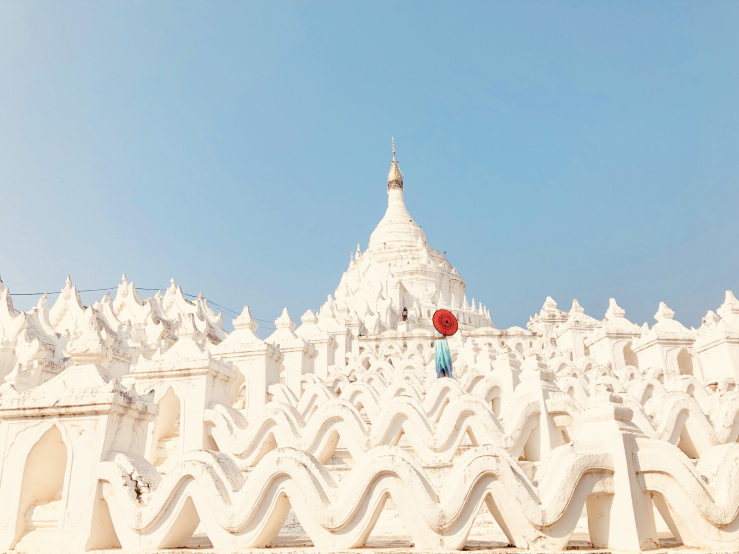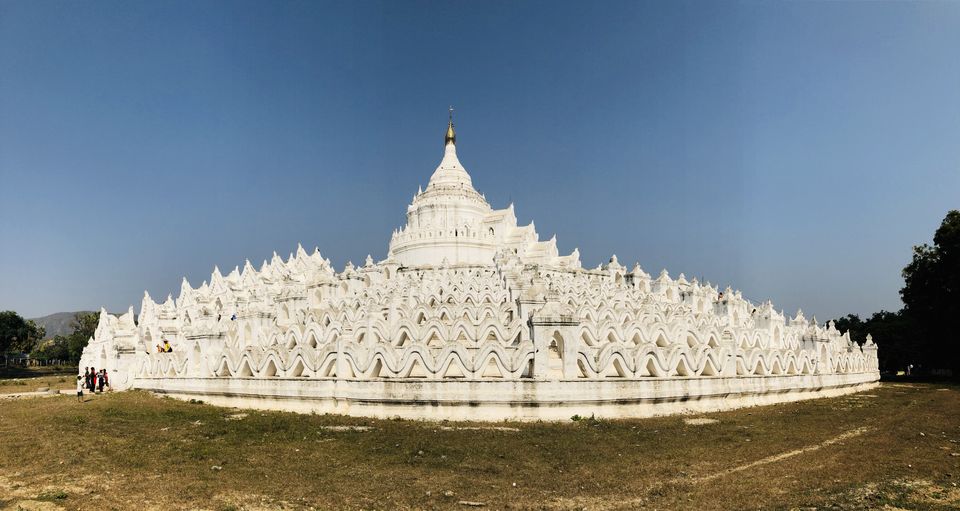 8. Umin Thonse Pagoda OR 30 caves Pagoda
Located on the Sagaing hills, this pagoda has 45 buddha statues sitting in crescent shape inside the pagoda. There are 30 entrances to this structure & hence it's called the 30 caves pagoda.
Entry- Free
9. Sunset at U-bein Bridge
The longest & the oldest teak-wood bridge stretching 1.2 kms over Taungthaman Lake in Amarapura was built approximately 150 years back. The shades of setting sun in pink skies with the outline of this bridge in the fore-front is a treat to the eyes. There is a small sunflower enclosure near this bridge which can be explored during the season. You can also take a boat ride in the lake for your sunset photography.
Entry – entry to U-bein Bridge is free
200kyat to the sunflower enclosure
Boat ride - 4000kyat ($3 approx.) to 8000($5.5 approx.) for two people. You can bargain here for a good deal.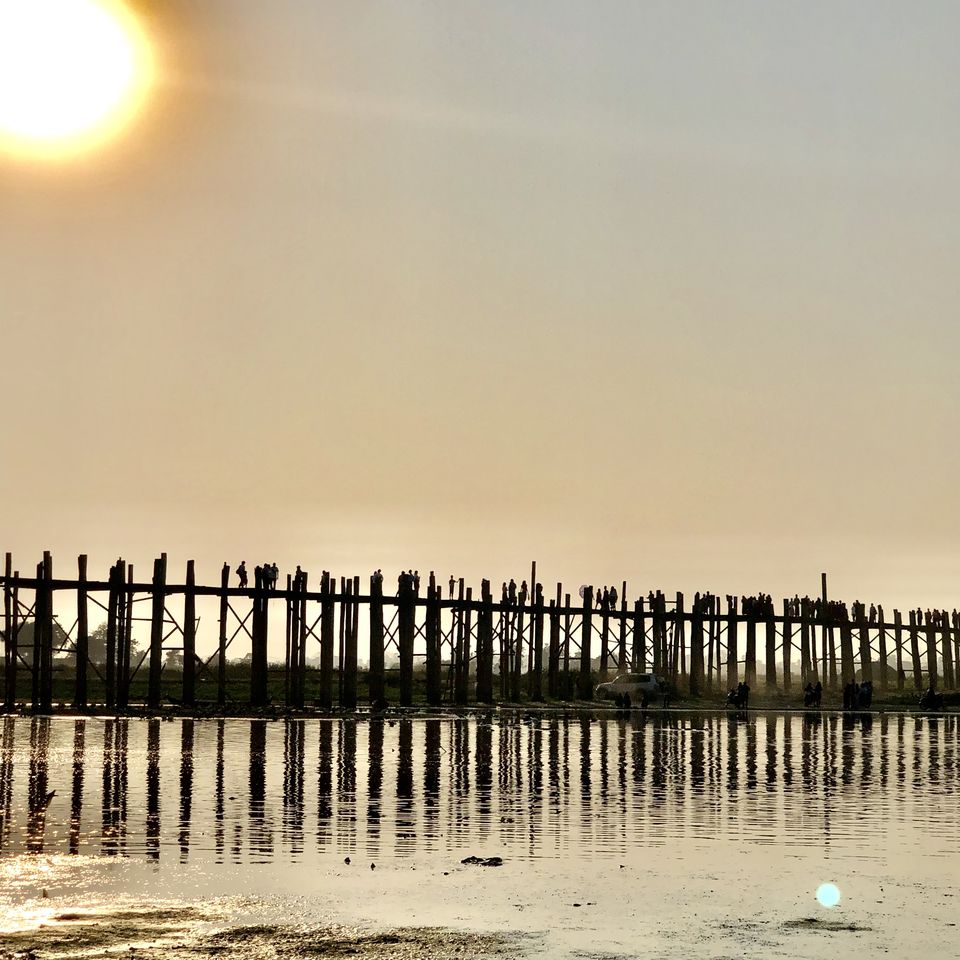 10. Day trip to Pyin Oo Lwin
A break from the pagodas & temples, you can plan a day trip to Pyin Oo Lwin. Also known as Maymyo, it's a scenic hill station located approximately 2 hours from central Mandalay. The best time to visit here is December when the sunflower season is in full bloom. However, if you have a day's time in Mandalay we recommend you shouldn't miss it. Maymyo botanical gardens, the Htoo orange farms & a trek down the hill to see the gorgeous Anisakan falls are things not be missed here.
The Taj restaurant here is something we would want you'll to experience for food as well as the gorgeous lake-side view.
Cost- 75000kyat ($50) for a taxi ride to & fro
Entry- Maymo Botanical Gardens-7500($5) kyat per person
Htoo Orange Farms – 2000kyat ($1.3 approx.) per person
Anisakan Waterfall- 1500($1 approx.) kyat per person for view point + 1000($0.6 approx.) kyat per person to hike entrance.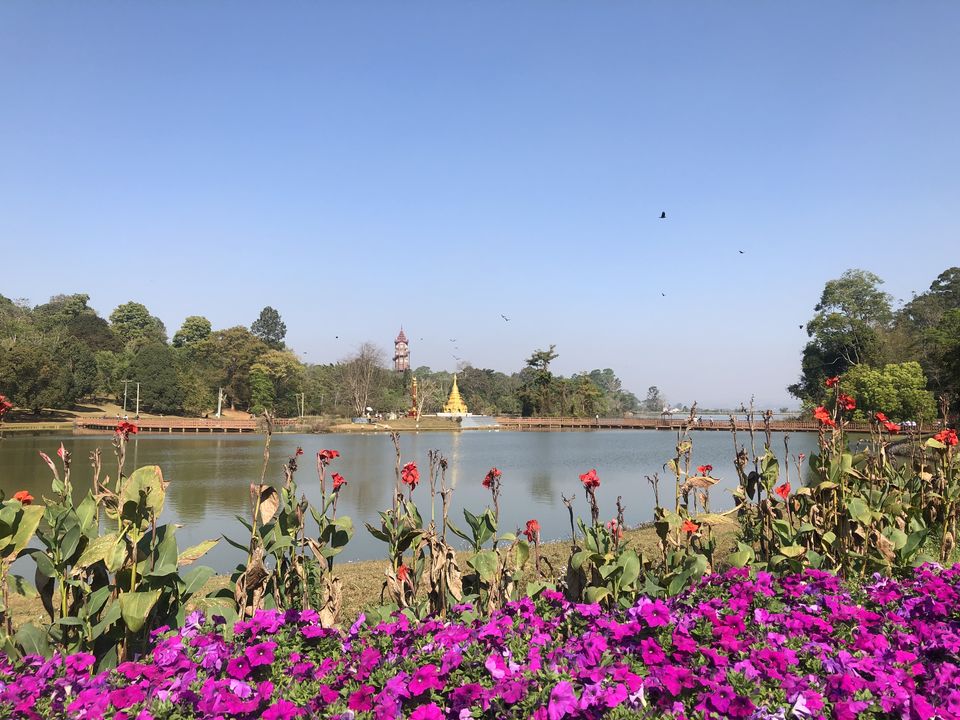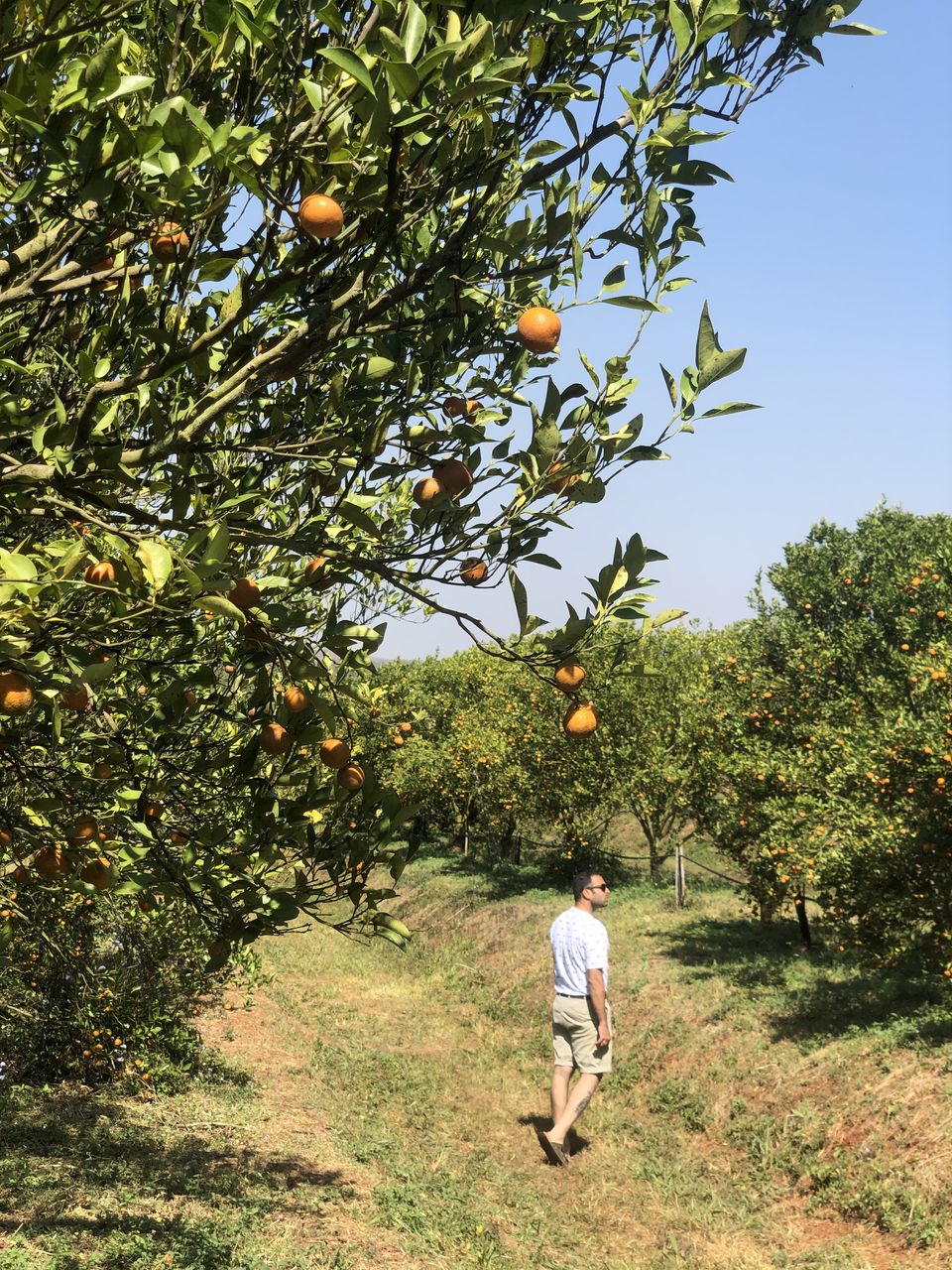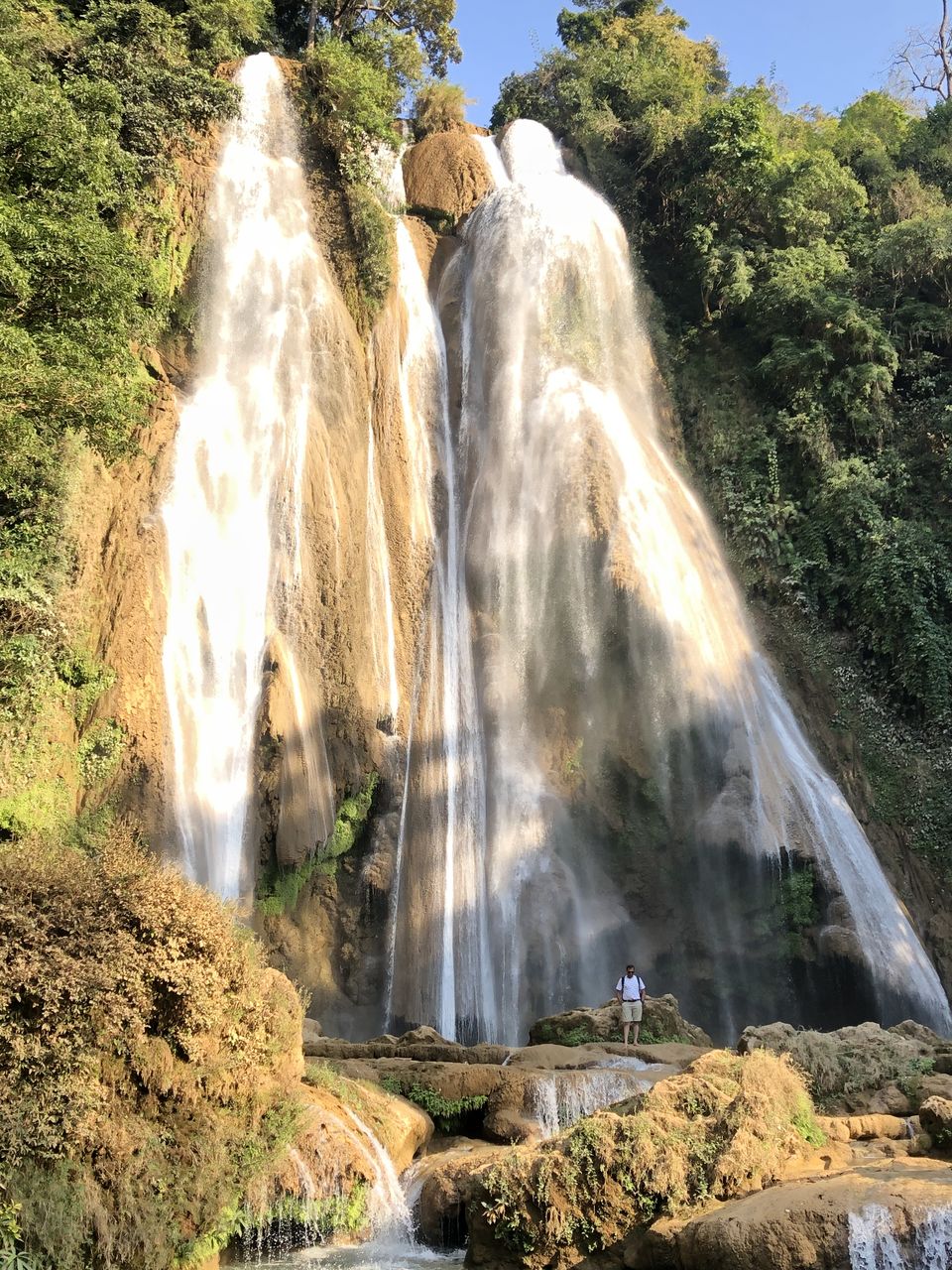 WORKSHOPS
If you are an art lover & you have the time on you, you can visit the numerous artisan crafts workshops. The list of workshops in Mandalay include teak wood, marble, tapestry, gold & silversmith.
How to go about Day trips in Mandalay
Below mentioned are few options to book your day trips in Mandalay:
1.Firstly you could check with the hotel for deals they are offering for day trips like Mingun & Pyin oo Lwin.
2. You could check with local taxis & you can bargain with them for a good deal.
3. You can rent a motorbike for a more adventurous experience.
4.Book your day trips with Grab cab, but let me warn you this costs you a little more than above mentioned options.
Things you can miss:
Inwa is one thing we did not really enjoy. Inwa was included in our day excursion & it takes like 2 hours to explore the Inwa region. The pagodas & temples that we saw in rest of the Mandalay were much more than our expectations than what we saw in Inwa. Maybe, that's the reason why Inwa doesn't hold place in our recommendation list.
Best Restaurants in Mandalay:
1.Mingalabar - Good for authentic Burmese food but not flattering to our taste buds. It's still a very highly recommended place for foreigners for an experience.
2.Bistro82 - Great for Italian/European cuisine.
3. Nova coffee - Recommended for fast food & amazing coffee 4.Mangia - Recommended for Italian cuisine.
5. BBB European restaurant - the name says it all. However this one is a little heavy on the pocket.
Dress-code Tips
Pls carry shoes that are easy to remove. You need to take off your shoes before entering all the pagodas & temples in Myanmar. Strappy garments & outfits above knee length(shorts or short dresses) are not allowed inside either.
For further explorations in Myanmar, do follow the below mentioned links:-
Ngapali Beach - Myanmar's best kept secret.

Any further queries welcome!
Do follow our page on Instagram - abagfullofmaps & Facebook - abagfullofmaps