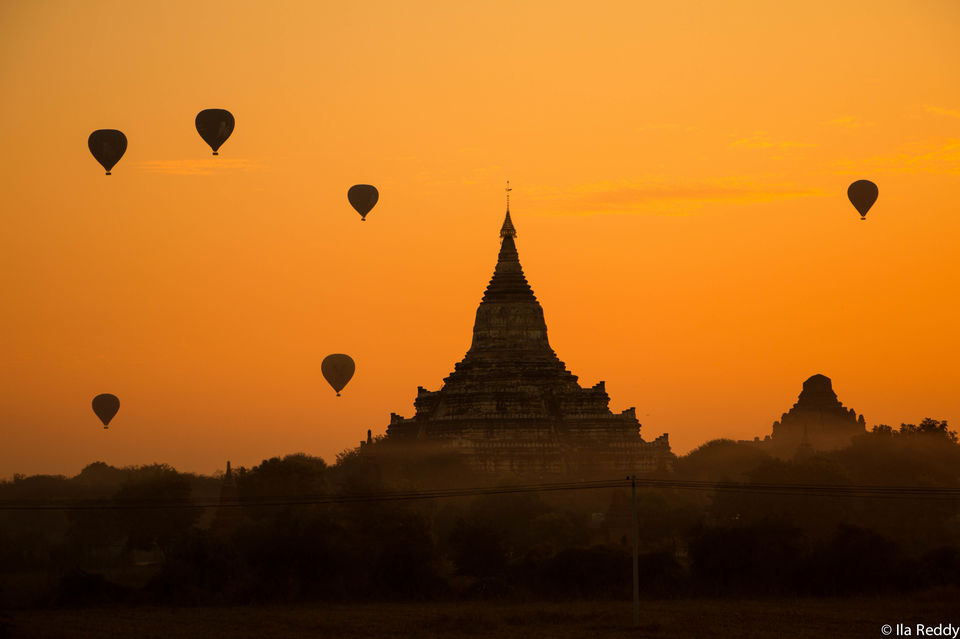 Mingalaba!
Last year, I was fortunate to visit one of the most underrated countries in South-East Asia: Myanmar.
With its rich history and traditions, deep-rooted spirituality, myriad tribes and cultures, delicious food, and breathtaking landscapes – I was convinced in no time that Myanmar was my favourite travel destination of the year!
TOUCHDOWN YANGON
My journey began in Yangon (earlier known as Rangoon), where I stayed at a lovely hostel run by local Burmese youth undergoing vocational training in hospitality. I explored downtown mainly on foot, walking past old colonial buildings interspersed with traditional architecture; narrow lanes cutting across wide modern roads. Street-side food stalls with plastic stools laid out on the pavements served freshly cooked food, while most streets were lined with tiny stores selling electronics, books, groceries, mobile SIMs, and the like. In many ways, it felt like an interesting mix of familiar places in India and Thailand.
With a little over two days at hand, I visited the famous Shwedagon Pagoda, National Museum of Myanmar, Bogyoke Aung San Market, and the Secretariat. I also managed a ride on the Yangon Circular Train and gorged on yummy Shan food.
Glistering in gold under the morning sun, the Shwedagon Pagoda was stunning! Many countries have fancy Buddhist temples, but there was something different about Shwedagon Pagoda. It was grand, yet intimate.
I spent a few hours exploring the temple complex; there was plenty of room to find a corner to sit and observe people, or simply admire the beauty of the temple complex from different spots.
The National Museum was educational and provided a brief introduction to the history and cultural context of Myanmar, including a glimpse of the various tribes and their culture, traditional musical instruments, hand-made puppets and handicrafts, paintings depicting Burmese life, and facets of Myanmar's political history.
The Bogyoke Aung San Market is a famous market complex in downtown selling everything under the sun: souvenirs, eatables, cheap clothes, toys, you name it. I didn't have much to buy, but I loved walking through the market, admiring the beautiful weaves on the longyis (traditional clothing worn around the waist; very similar to lungi or sarong but with a unique way of tying it) and chit-chatting with the shopkeepers.
A trip to Yangon is incomplete without a ride on the Yangon Circular Train. The train connects neighboring villages to the city center and is used daily by locals to get to work in the city. The 4-hour route is circular (hence the name) and starts and ends at Yangon Central railway station.
Finally, the Secretariat, or Minister's Building, is where General Aung San (known as the father of modern Myanmar) and six other cabinet members were assassinated. I couldn't catch the hour-long guided tour (costs 15,000 kyats and typically in the evenings) I managed a quick stroll around the administrative complex.
If you know me, you'd know that my favourite activity while traveling is exploring local cuisines. Myanmar surely didn't disappoint!
My exposure to Burmese food was limited to Khao Suey until my trip to Myanmar. In Yangon, I got to eat traditional Shan food at Shan Yoe Yar restaurant and Shan noodles at 999 Shan Noodle Shop.
CULTURAL IMMERSION AT INLE
An overnight bus ride from Yangon brought me to Nyaung Shwe in the Shan State of Myanmar. After the hustle and bustle of the city, it felt great to be in the Burmese countryside. I had two full days at hand, so I decided to explore the countryside on the first day and floating villages on the second day.
I set off on a day hike with my local guide. We walked through villages, corn fields, and tobacco farms, while she told me more about herself and the region. She was chatty and loved her paan, while I loved her company.
The highlight of the morning was stopping for a home-cooked meal at one of the villages. Our host was a former teacher at the village school. She whipped up the most delicious meal with instant noodles and fresh vegetables from her farm. It was like nothing I've had before, and it felt wonderful to sit in her kitchen and spend time with her.
I loosely knew what my itinerary would be like at Nyaung Shwe and Inle, but I never imagined stumbling upon a horse farm, a coffee bar, and a vineyard! All within walking distance from each other, with equally stunning views of the sunset.
On my second day, I explored Inle lake, a freshwater lake consisting of floating farms and settlements. We set off on a long-tail boat and whizzed past floating lotus and tomato farms and houses on stilts. Every now and then, we spotted birds, frogs, fishes, snails, and dragonflies. In the wee hours, we also crossed fisherman scouting for fish the traditional way – balancing on the edge of the boat on one foot, with a bamboo stick in one hand and a fishing basket in the other!
The floating villages contain bamboo houses on stilts and each village practices a different handicraft – silk-weaving, lotus weaving, silver jewellery making, gold-plating, paper umbrellas, cheroot making, the list is endless. While some activities take place within people's homes at smaller scale, others are at community handicraft centres where artists from different households gather. These centres are open to tourists and offer great insight into the method behind the craft.
I also visited villages on other sides of the lake, such as the Pa-oh village of Indein that has ancient stupas dating back to the 14th century! Not to forget the best meal of my trip: stuffed fish, avocado-tomato salad, prawn crackers, and espresso.
TEMPLE HOPPING IN MANDALAY
The next stop was Mandalay, located on the east banks of the Irrawaddy River, and the second largest city in Myanmar.
I started my excursion with an early morning visit to Mahamuni Pagoda, where I witnessed monks performing the idol-washing ceremony that takes place at 4.30 AM every day. Senior monks wash the 3.5 meter-high statue of the Buddha, lovingly cleaning the face with rose water and tanakha (a cosmetic paste made of ground bark). Few tourists know about this ritual and is mostly attended by locals.
Next up, my guide took me to the Mahagandayon Monastery to witness the daily alms collection. Monks of all ages line up with the alms collected that morning (mostly donations of food, clothing, and money) to deposit with the monastery, before proceeding for breakfast. It's a fascinating process and tourists line up hours before to witness it.
Post this, we proceeded to explore the former capitals of Ava, Sagaing, and Amarapura. The journey included a commute by car, followed by a short ferry ride and a horse-carriage ride!
Looking at the day's agenda, I thought I might feel temple-fatigue within a few hours, but each ancient temple I visited in Mandalay caught me off guard with it's unique design and vibe.
I explored the 200-year old U Bein bridge (also the world's longest teak bridge), the intricately carved Bagaya monastery, remains of the Royal Palace, pagodas atop Sagaing Hill, and the local markets along the way.
MYSTICAL MORNINGS IN BAGAN
I'll admit- I was most excited about the last leg of my trip. Bagan is perhaps the most popular tourist destination of Myanmar, and the picturesque temples, stunning sunsets and hot air balloons in the sky are a familiar visual on most postcards and travel photos from Myanmar. In addition to being a sucker for sunsets and sunrises, I had arranged to participate in a meditation session at a monastery in Bagan and I was eagerly looking forward to experiencing this.
My local guide here greeted me with her bright smile and took me around the lesser-known parts of Bagan. We began the day with a visit to an ancient pagoda from where we could see the sun rise (without any tourists around). We then headed to a nearby village for an outdoor breakfast amidst fields, followed by the local market to pick up flowers for the monastery.
Our host monastery was a small one, with just a handful of senior monks residing there. I got to interact with them for a bit, after which we went into a meditation cave where we practiced breathing exercises.
After a scrumptious lunch at a local restaurant, we visited another market (primarily selling vegetables), and also managed to partake in a novice monk ceremony at a nearby village. The ceremony is in the form of a procession from the village to the monastery where novice monks enrol for training. The kids of the village dress up and ride on horses to commemorate the occasion, while the adults sing along and play instruments.
The most breathtaking experience in Bagan was witnessing the first sunrise of 2020. Little did I know what the year had in store, but at that moment, I was grateful to witness such mesmerising colours in the sky! No amount of photos can do justice to the real views, and never have I been happier to wake up at 5 AM to catch the sunrise from as many spots as possible on consecutive days.
Each temple in Bagan offers a unique perspective, and though I had four full days in Bagan, I barely covered twenty such spots. For context, Bagan has over 5,000 temples (many of them in ruins). I didn't want to temple-hop for the sake of it, so I took it easy and explored a mix of popular and offbeat places during my stay.
Bagan also has a variety of delicacies on offer (being a tourist hub) and every meal was a delight. Mohinga, lunch platters, tea leaf salad, the list goes on and each restaurant with its own variations.
The strong flavours reminded me of Naga food (fermented vegetables and beans, dried fish, and the like) – although my favourite dish was the simple tea leaf salad. I had never heard of this before, and one bite and I was in love!
Myanmar has long been undermined as a travel destination in Southeast Asia, mostly because of the ongoing Rohingya refugee crisis. Tourism opened up as late as 2012, although it is fast picking up.
While the 'Golden Kite of Burma' trail is easy to embark on as a tourist, thanks to decent public transport, hotels and hostels for all budgets, numerous tour operators, and friendly locals, the other parts of Myanmar are more rustic.
Out of all the places I visited last year (which includes 5 countries and 9 states of India), Myanmar blew my mind for several reasons- but most importantly, for its understated charm and warmth. The simplicity of daily life, authenticity of the people, deep-rooted culture and traditions, close-knit communities, underrated craftsmanship, and unique cuisine – all found their way into my heart, fulfilling most things we seek out of travel: escape, education, reflection, and connection.
Nout ma thway mae, Myanmar!
PRACTICAL INFORMATION
I did day tours with Beyond Boundaries Myanmar and Three Treasures Myanmar at Inle, Mandalay, and Bagan in order to make the most of the time I had at hand and explore places only known to local people. I would recommend both these companies as they abide by responsible tourism practices and curated excellent offbeat experiences for me. I particularly enjoyed the companionship of the local guides I was allocated (two of whom I'm still in touch with).
I made all bus bookings with JJ Express, a reliable bus operator for inter-city travel.
I stayed at the following hostels and all of them were comfortable:
HOOD hostel, Yangon
Ostello Bello Nyaung Shwe / Inle Lake
Ostello Bello Mandalay
Ostello Bello Bagan
Yangon is quite walkable if you're staying downtown, and Grab taxis are easily available for places that are further off. The easiest mode of transport in Mandalay were auto-rickshaws or tuk-tuks. In Bagan, e-bikes and tuk-tuks are easily available (though it is best to rent these for the day).
My NiYo Global Card came handy to withdraw local currency from ATMs (at a nominal charge). You can use my referral code to sign up: ILAR68N.
Originally published here.
For behind-the-scenes content from my trip, follow me on Instagram.