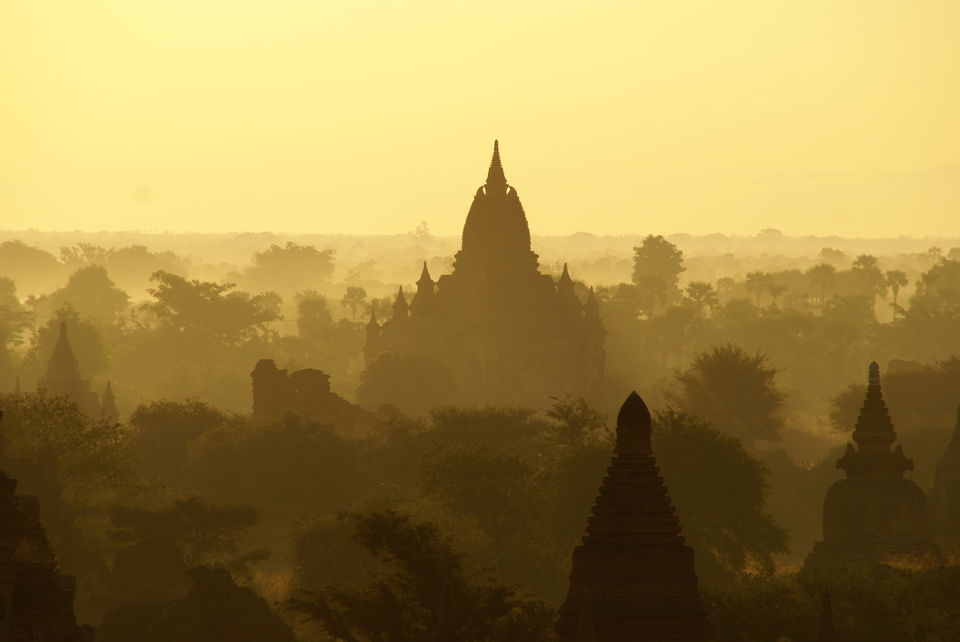 Whenever one ponders over travelling to a Southeast Asian country, there are more probabilities of inadvertently thinking about the usual suspects such as Philippines, Thailand, Malaysia, and the likes. What most of us unfortunately forget about is the existence of a far more gorgeous and far less explored nation further up, Myanmar, which doesn't lack anything that the above-mentioned countries offer. Beaches, nightclubs, hotels, a healthy mix of urban and rural life – Myanmar is everything a seasoned traveller seeks in a new country. If at all, it only offers extra, and that too at a far cheaper cost. Hence, it's time you pinned Myanmar on your world map to start thinking about the Golden Land more seriously.
For starters, let me tell you more on how to plan a week-long itinerary to the Republic of the Union of Myanmar.
How to get a visa to Myanmar from India?
Getting a visa to Myanmar was already easy for Indian travellers, but with the recently announced visa-on-arrival facility for Indians, it has got even easier! This soon-to-be-launched facility will enable all Indian tourists flying into Myanmar through Nay Pyi Taw, Mandalay, and Yangon airports to get a visa on arrival. This will cut down the 3-day processing time taken for a regular tourist visa.
For more detailed information regarding the visa-on-arrival facility in Myanmar, keep checking the link www.myanmarvisa.org.

How to enter Myanmar?
Your entire trip budget revolves around how you choose to enter the country. There are three ways – one directly via road, one directly via flight, and the last one is a mixture of the two. Let me explain all three so you can act judiciously.
Directly via road: This is the best way to get to the country if you are on a budget, and not pressed for time. You can cross over from India to Myanmar directly via road from Imphal, the capital city of the state of Manipur. The two connecting villages are Moreh (on the Indian side) and Tamu (on Myanmar's side). You can hire a local taxi from Imphal till Moreh and then cross over to Tamu by walking. Once in Tamu, you can catch a local bus to the nearest major city of Mandalay.
Directly via flight: There are direct flights between Delhi and Yangon which can be booked for as less than Rs. 9,000 per head if you plan in advance.

Partially via flight and road: This option can be chosen if you want the best of both worlds, i.e. you want to save time and money and also explore another major city in the process. The flights between India and Bangkok are considerably cheaper than direct flights to Myanmar. Hence, it is recommended that you take a direct flight till Bangkok first, stay there for a day or two, and then cross over to Myanmar via road. For this, you can take a bus from Bangkok till Mae Soot (on Thailand's side), cross the borde to Myawaddy (on Myanmar's side), and then take a bus to Yangon.
Once you're in Myanmar, you can follow this week-long itinerary to extract the most pleasure out of this beautiful country.
Day 1 & 2
Start your Myanmar expedition in its largest city, as well as the most important commercial centre – Yangon. What immediately strikes you is the omnipresence of buildings from the colonial-era. The entire city seems to have been planned around the 2,000-year-old Sule Pagoda, which acts as the commercial core. There is a big Indian influence visible throughout because the city was a major business hub during the British rule in India. If somebody there told me that it is still circa 1947, I wouldn't mind believing it because Myanmar doesn't seem to have developed much since. The ironic part is, Yangon is still the most happening place to be in Myanmar.
Things to do in Yangon
Since you will spend a lot of your first day in Yangon trying to understand the mannerisms of a new country, it's important that you spend at least two days here. Here are some of the best things to do in and around Yangon during this time:
1. Visit the Shwedagon Pagoda – The most sacred Buddhist Pagoda in Myanmar. Believed to contain relics of four previous Buddhas, including strands of hair from Gautama Buddha's head.
2. Visit the Sule Pagoda – More than a religious symbol, it is an iconic structure for Yangon and Burmese political changes over the years.
3. Visit the Kandawgyi Lake – Literally meaning the "great royal lake", it's a 150-acre large fresh water lake surrounded by the Kandawgyi National Park. This acts as a nice picnic spot for families in the evenings.
4. Visit the pristine white beaches in Ngwesaung. It is a 15-km long beach resort located at a 5-hour drive away from Yangon. You can even spend the night here if you wish.
In order to be better prepared to explore Yangon you can read this detailed piece on Yangon. You can even book hotels in advance to prevent the last-minute rush.
Day 3 & 4
Your next stop in Burmese education is the magnificent temple town of Bagan. Located 800+ kilometres from Yangon, you can either catch an overnight bus or an early morning flight depending on your budget. If you thought Yangon was an "old city", you'll be blown away by setting foot in Bagan. Having been the capital of the Pagan Kingdom till the 13th century, the town will instantly take you back several decades courtesy of its primitive architecture and culture. The main tourist attraction of the city is the surviving remains of over 2,000 Buddhist temples, monasteries and pagodas everywhere. Although you'll find all basic amenities in this sleepy overgrown village, but if you're in Myanmar to party at night, this is not the best place to be. But if cultural and mythical satisfaction is what you crave, Bagan is as important as India's Taj Mahal.
Things to do in Bagan
1. There are several significant temples and monasteries to visit in Bagan, such as Ananda Temple, Shwezigon Pagoda, Thatbyinnyu Temple, Dhammayangyi Temple, Sulamani Temple, and others. All these display scenic views and elaborate carvings.
2. You can even visit the Popa Mountain National Park, which is a sprawling green land surrounding the holy Mount Popa. Mount Popa is also known as a pilgrimage site with many relics and temples on top of it.
It's time to travel to the cultural capital to take this culturally profound country head-on. Mandalay is just 180km away from Bagan and a comfortable 4-hour bus ride should get you to this place. It is the second-largest city in the country where you can immediately expect the hustle and bustle of a regular Asian metropolis, but if you have time to deep-dive further you'd realise that it is everything that an innocent sleepy town should be. There are plenty of teahouses and workshops where old Chinese immigrants sit together and discuss the times of yore; there are infinite number of monasteries and pagodas that ensure that the city remains culturally wealthy; and then there are the citizens for whom the newfound freedom is bigger than any riches. Mandalay is Myanmar in a nutshell.
Things to do
1. Visit the 790 feet tall Mandalay Hill that is what the city derives its name from. It's a very important pilgrimage site for Burmese Buddhists.
2. Visit the Shwenandaw Monastery – It is a historic Buddhist monastery that was built by the then national king in the memory of his father. It is the only remaining original structure of the Royal Palace in Myanmar.
3. Visit the Yadanabon Zoological Gardens – The famous zoo has over 300 animals that include elephants, leopards, tigers, and the highly endangered Burmese Roofed Turtle.
Your Burmese education can never be complete without a trip to Mandalay. Read this fantastic piece before booking a hotel in the vibrant city.
Day 6
Time for your last stop, but definitely one of the most important – the Inle Lake area. Catch an early morning or late night bus from Mandalay and you will enter the Inle Lake territory within approximately 5 hours. The picturesque region is one of the most hyped tourist destinations in the country, and it does not disappoint at all. With an area of 45 square miles, the lake is full of floating gardens and underwater Buddhist temples (some of which rise above as well). Besides its aesthetic appeal the freshwater lake of Inle is home to numerous endemic species, many of which are not available anywhere else in the world. Phew!
Things to do
1. There are plenty of unreal things to be experienced while here, namely the floating gardens, fishing villages, hot springs, and local wineries.
2. You can also visit the nearby handicraft villages to buy indigenous souvenirs as gifts or memory.
3. The collection of temples in this region is In Dein, which are partially restored to serve as tourist attractions.
This place is a must-visit on your Myanmar visit, and hence I strongly recommend that you do further reading on Inle Lake beforehand. Accommodation can be found in the nearby Nyaungshwe.
Day 7: Back home via Yangon
Well, it's finally time to bid goodbye to the Golden Land but not before the last hurrah. An overnight bus from Inle Lake will ensure that you reach Yangon by sunrise. And since you definitely need to come back to Yangon to head back to your next overseas destination (which could be your home or any other place), it's mandatory that you revel in the local culture as much as possible. For that, I personally do not know a better way to do that than trying the variety of local dishes on offer.
Besides being the former state capital, Yangon is also the culinary capital of the nation. Hence I suggest that you try these five dishes before you say goodbye to the Burmese borders for good:
1. Shan-style rice: Also known as fish rice, this rice is cooked with turmeric and the garnishing is done with garlic oil and freshwater fish. You can combine it with Burmese Curry.
2. Tea shop meals: Remember I talked about teashops in Mandalay? Well, they are great places to strike a conversation over milky tea, meaty buns and deep-fried savouries. You can also ask for potato curry.
3. Nangyi Thoke: It's the most delicious dry noodle dish with chunks of chicken, fish slices, and hard boiled egg inside. Heavenly!
4. Shan-style tofu noodles: It includes thick yellow porridge over rice noodles and marinated pork or chicken. It is also topped with plenty of veggies, spices and chilli oils.
5. Mohinga: Mohinga is a tempting local dish, whose base is round rice noodles. It's often served with banana pith, which is crunchy in nature. Since it's not too heavy on the stomach, it is preferred for breakfast or evening meals.
Once you try out most of the above-mentioned dishes, I can promise that you'll leave Myanmar with lots of tasty memories and a happy tummy.
Myanmar is one country that should not be ignored anymore. And with the current monetary conversion being 1 Rupee = 21.13 Myanmar Kyat, I suggest you take the well-awaited trip as soon as possible. Follow this itinerary and make merry in a very hospitable neighbouring country.
If you have been to Myanmar already, do share your experience on Tripoto with the 25 million fellow travellers in the community. Here, travel is the only religion.
With useful inputs from Trisha Singh.
Frequent searches leading to this page:-
Thailand tour package from Chennai, Thailand tour package 3 days 2 nights, Thailand tour package from Delhi, Thailand tour packages