Mauritius is a beautiful island nation which is best known for its sandy white beaches and azzure colored water. And due to the abundance of luxurious resorts and fancy places, it is a popular honeymoon destination for people all around the world.
But that doesn't mean that you can't go here solo or cannot enjoy with your friends here. There are so many amazing hikes, activities, etc. which you can indulge in here and one such interesting excursion is the Glass Bottom Boat Tour at the Blue Bay Marine Park.
About Blue Bay Marine Park
Located on the South East coast of Mauritius, close to the Mahebourg village is the Blue Bay Marine Park which is said to be the best spot for exploring the marine life in Mauritius.
In this park, you will witness an ocean so blue that you would forget every other scuba diving/snorkeling trip that you have ever been to. There are so many shades of blue in the park and the water is so clear that you can easily see the corals and the fishes which make this place so popular.
And you have an option of watching the underwater world from the boat or jump in the water to experience it first hand.
Here, you will find a variety of marine organisms, corals, sea grasses, and so on. There are also numerous fish species that can be found here like pipefish, butterfly fish, trumpetfish, damselfish, and so on.
So, if it is your first time snorkeling or if you are in love with the underwater world, Glass Bottom Boat Tour should definitely be a part of your Mauritius experience.
How to Reach Blue Bay Marine Park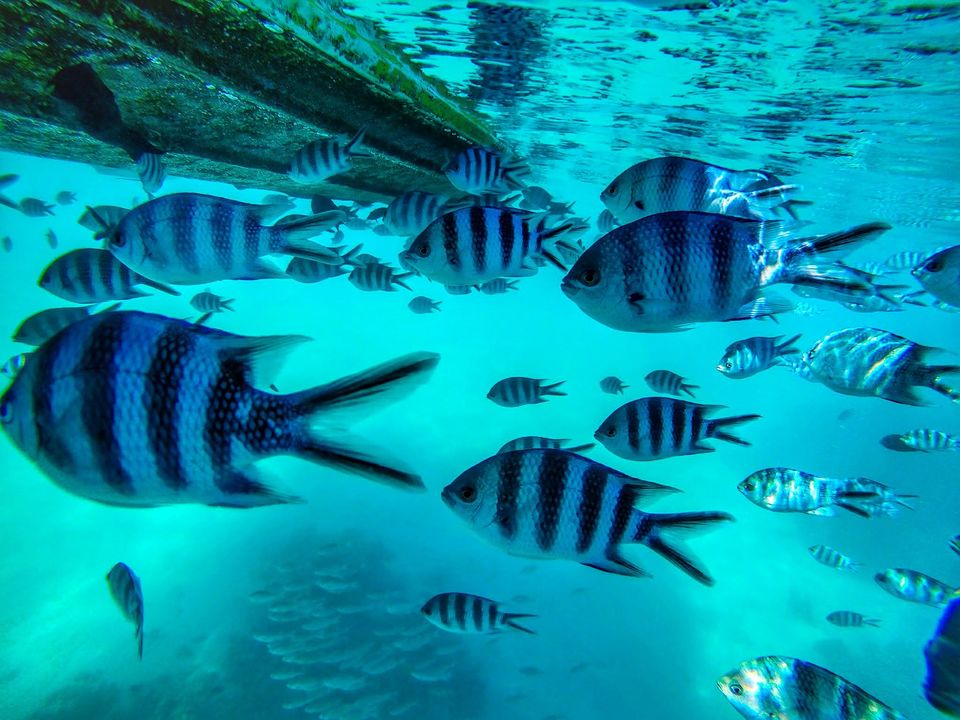 It is quite easy to reach the Blue Bay Marine Park since it is such a popular attraction on the South East coast of Mauritius.
By a Rental: If you have rented a car/scooty, then you can reach this place in 45 - 75 minutes, regardless of where you stay. There are many highways which allow you to avoid the small cities and towns and save time when reaching Blue Bay Marine Park.
You will first need to reach Mahebourg village and then you can drive to Blue Bay Marine Park which is just a couple of minutes away.
By Bus: For people who don't have a rental, the best way to reach is by taking a bus to Mahebourg. You will get direct buses to Mahebourg village from Quatre Bornes or Curepipe.
Once you have reached the village, you can choose to take a taxi which will take a couple of minutes or walk along the coast for 45 minutes.
Where to Stay in Mauritius
The best thing about Mauritius is that it is such a popular tourist destination so you have several hotels, resorts, Airbnbs, etc. lining up on this coast.
You can also get a nice Self-Catering appartment if you are here in a group or with your family. You can check out websites like Booking.com, Airbnb.com, etc. to find the best-suited place for you.
In terms of easy access, if you are planning to check out Blue Bay Marine Park then stay in the center of Mauritius or in the east coast.
Price and Duration of the Glass Bottom Boat Tour
The Glass Bottom Boat Tour can last anywhere between 1.5 - 3 hours, depending on your group. The park opens up at 8:30 a.m. in the morning and stays open till 4:00 p.m. in the evening so plan your outing carefully.
The cost of the tour for two people is 600 MUR and 1000 MUR if you hire the entire boat.
Things Included in the Glass Bottom Boat Tour
Here is a detailed break down of what to expect in the Glass Bottom Boat Tour at the Blue Bay Marine Park.
Watch the Exotic Corals and Marine Life from Glass Bottom Boat
On the tour, the guide will point you towards the different types of fishes and corals that are found here. One of the major attractions of the Blue Bay Marine Park is the brain coral which is 1000 year old and 5m in diameter.
There are almost 38 species of corals found here including fire corals, table corals, rose-shaped corals, and so on. And there are more than 72 species of fishes which includes clownfish, parrotfish, cometfish, and so on.
So, you will have a blast learning about the exotic marine life here while on this boat tour.
Feed the Fishes in Blue Bay Marine Park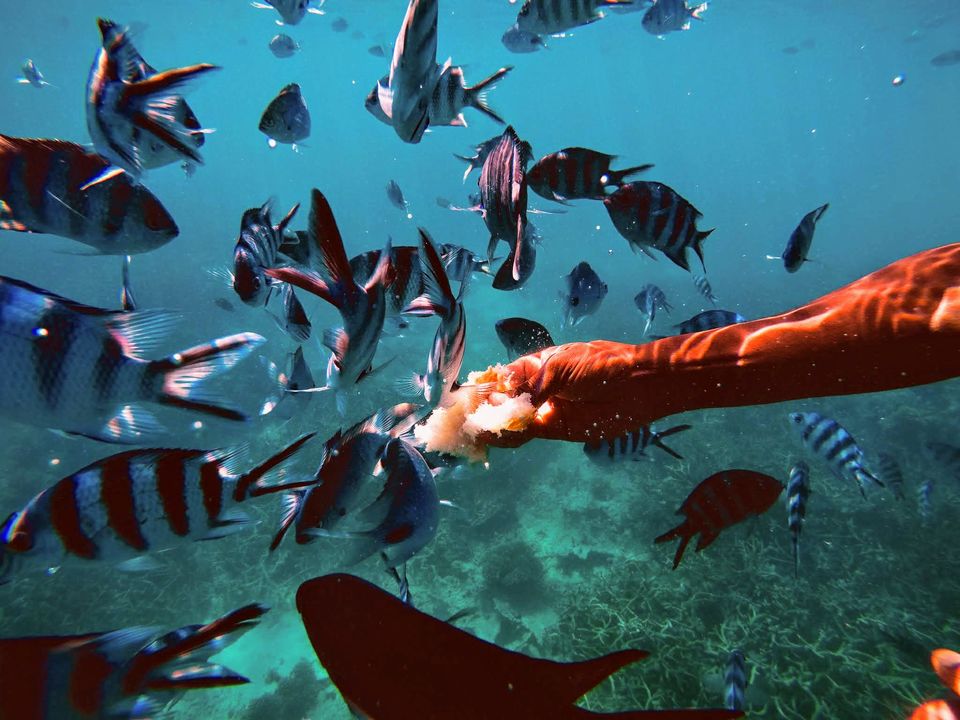 One of the most interesting part of this tour is that you can feed the fishes bread which the tour guide provides you. This will allow you to bring the fishes closer to you for a better look.
And, in the end, the guide also takes a bread in his mouth and goes directly beneath the glass of the boat for you to get a look at the fishes eating the bread.
Snorkel or Swim in the Blue Bay to Explore Marine Life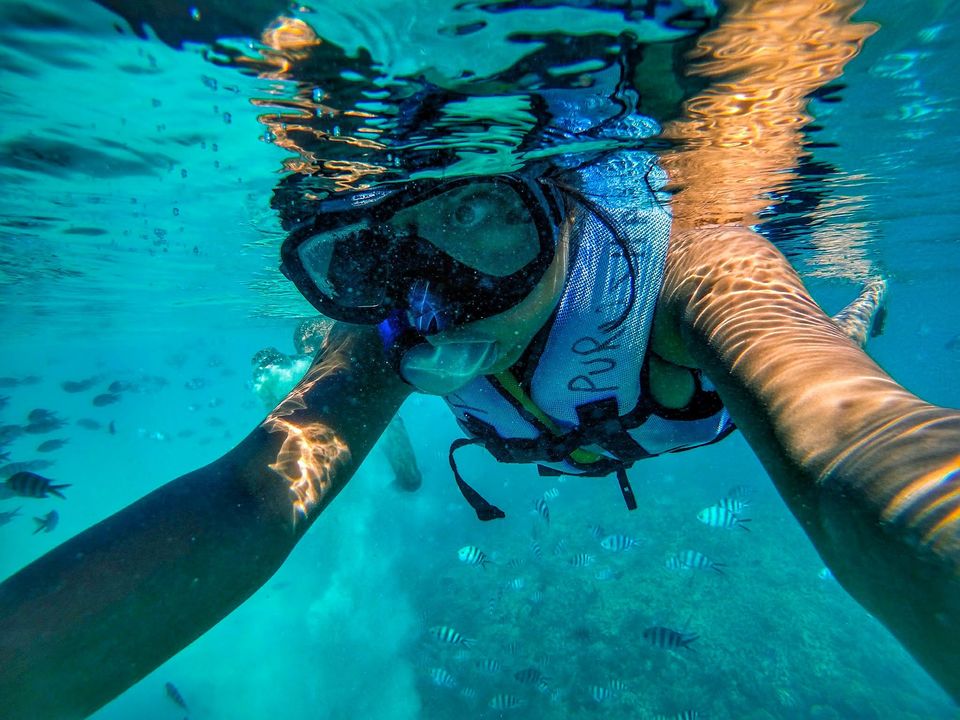 Undoubtedly, Blue Bay Marine Park is the perfect place for snorkeling and it is quite affordable as well. And the abundance in the variety of marine life found here will certainly make it worth all the effort.
So, do swim or snorkel here for a while. If you are scared of water then just wear a life jacket but do go under the water.
Take a Stop at the Nearby Island for Chilling
Blue Bay Marine Park is huge and there is an island with a resort, Ile Des Deux Cocos, near the reef where you can stop to spend more time here. However, you would need to take a private boat to go there and would need permission from the resort to spend time on their beach.
But it would be a great idea to have lunch on this island after an exciting diving/snorkeling trip and then resume your journey back to the shore.
My Experience at the Glass Bottom Boat Tour
Honestly, I was scared of snorkeling before Mauritius because I have a fear of touching the fishes. So, I wasn't sure if I would particularly enjoy snorkeling in the marine park here.
But then, when our tour guide started showing us all the corals and colorful fishes inside the water from the boat, I became a little intrigued. It was such a magical feeling to observe the marine life from the boat through a glass and the tour guide described the different types of fishes and corals to me which made this tour even more exciting.
After he showed me the different types of corals, he parked near a space which was perfect for swimming and snorkeling. And then he gave me a life jacket and face mask to make me feel comfortable.
So, I got ready for entering the water and stayed close to the boat to get acclimatized. Then, the tour guide guided me inside the water and showed me all the colorful marine animals inside. It was a little scary in the beginning but after a while, I floated effortlessly and started to actually enjoy it.
I saw so many colored fishes in groups and lone swimming past me and also fed bread to them. Trust me, if you are scared of the water then Blue Bay Marine Park is the best place to get rid of that fear.
I snorkeled near Flic en Flac but the water there isn't as clear as Blue Bay Marine Park so don't skip this amazing activity here.
Frequent searches leading to this page:-
Mauritius 5 days package cost, 5 star Mauritius holiday packages, how to go Mauritius from India, Mauritius sightseeing packages, Mauritius family tour, Mauritius honeymoon package from Delhi, Mauritius honeymoon packages all inclusive from India, Mauritius tourism best places to visit