Known for its amazing coral reefs and sandy beaches, Koh Rong is one of the best islands to visit in Cambodia. This island has a dense forest and is surrounded by gorgeous waterfalls and coconut palm trees which makes it quite unique and exciting to visit. And the water is pristine near the beaches so you can enjoy swimming or snorkeling here.
In fact, one can also see the water sparkling at night due to the presence of bioluminescent planktons. So, when you move through the water, you can actually see the water sparkle at night which is one of the most magnificent experiences ever.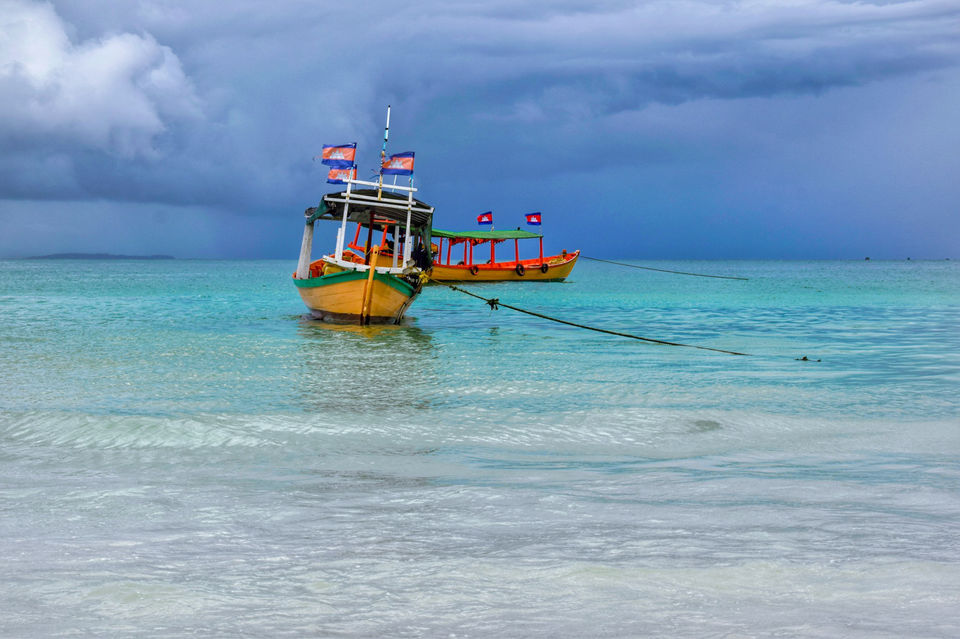 Also, Koh Rong is the second largest island in Cambodia and is quite popular for its all-night parties and boat tours. Although you have other islands to explore in Cambodia, Koh Rong tends to be one of the most budget-friendly ones as well which is why it is such a popular tourist destination.
In this guide, I will tell you how you can enjoy a 1-day boat tour in Koh Rong to see the actual island and make the most of your stay here.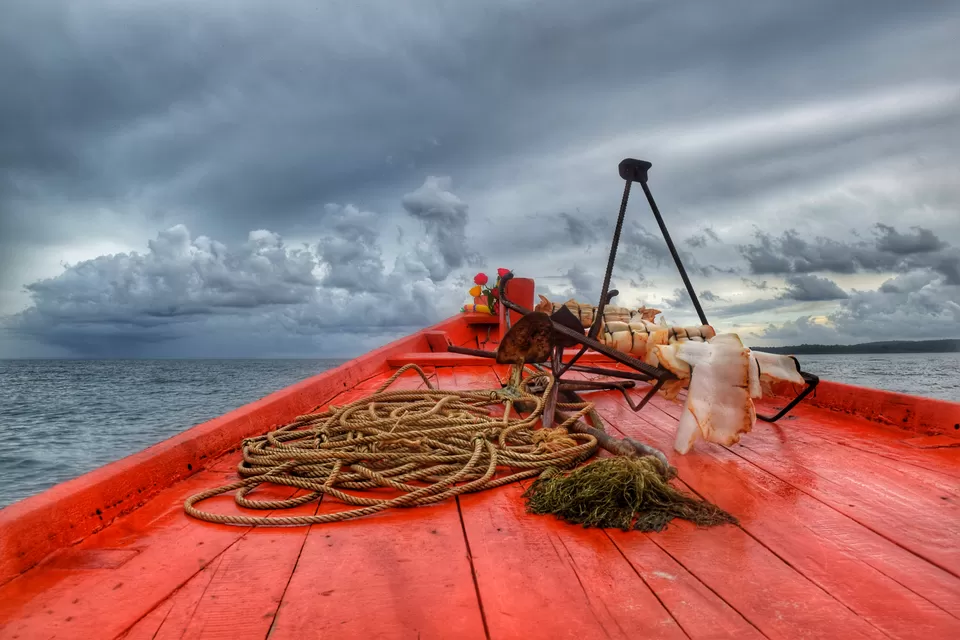 The only way to reach Koh Rong is on a ferry or a boat. You get several speed boats and slow ferries from Sihanoukville which can take anywhere between 45 - 90 minutes to reach Koh Rong. A roundtrip ticket for a fast speed ferry service costs about 30 USD and takes you about 40 minutes to reach the Koh Touch village.
Some ferries also have a second stop but you would need to check with your ferry operator before booking.
Where to Stay in Koh Rong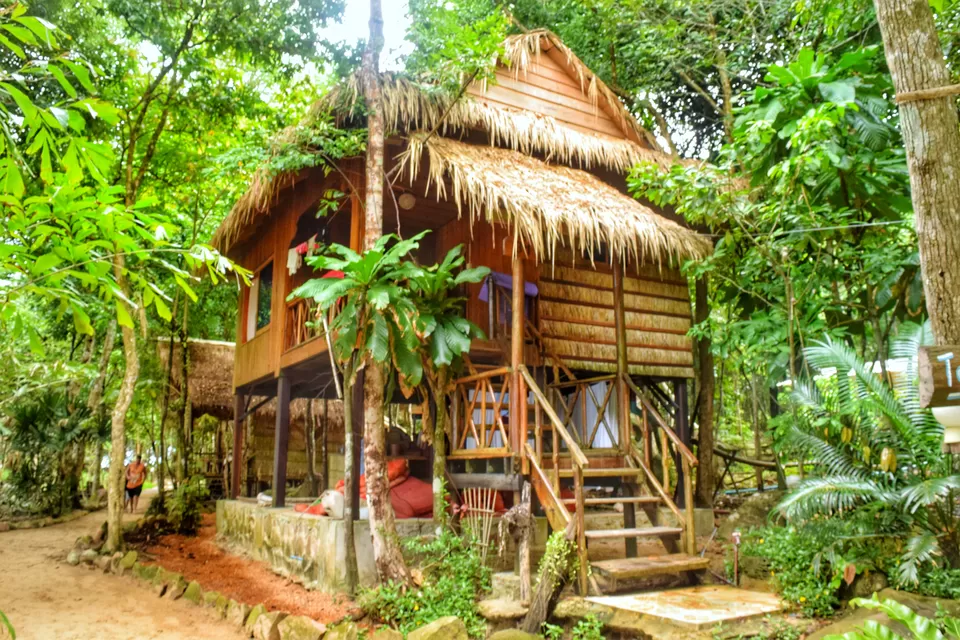 There are a lot of hostels and tree houses in Koh Rong where you can stay for the night and party on this island. For hostels, you can refer to Hostelworld app and find hostels for 3-4 USD for a night.
For tree houses, you can contact the locals here or you can search on the booking.com to find the best tree house for yourself.
How to Find the Best Boat Trip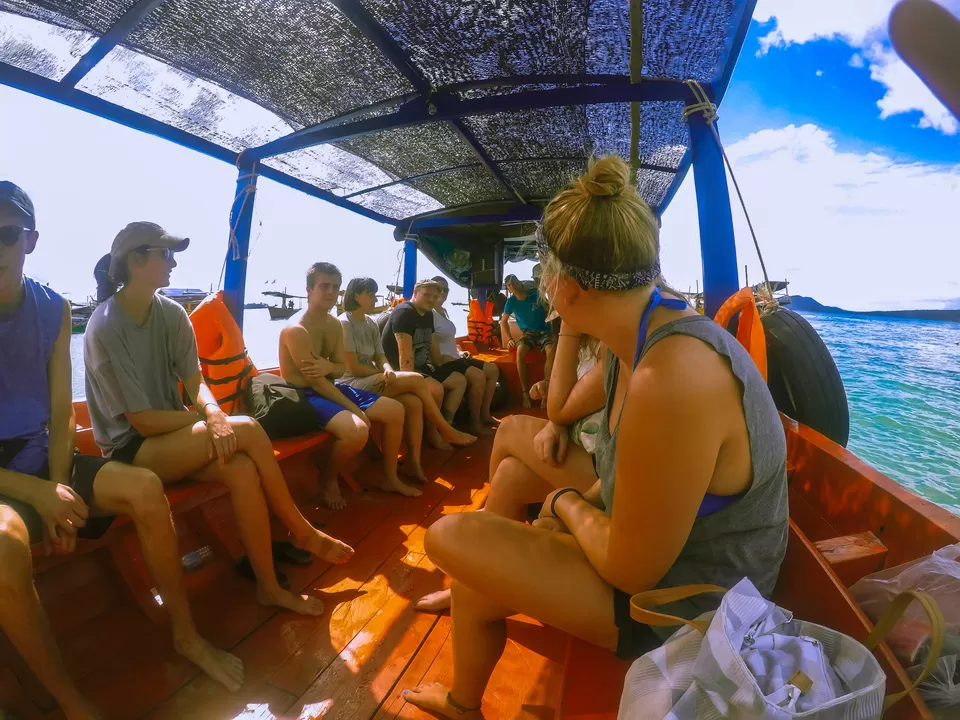 You can do a lot of things on Koh Rong, including but not limited to partying, relaxing on the beach, water adventures, island hopping, and so on. In fact, there are so many waterfalls and villages around to explore that you might need to do a few boat trips to actually see it all.
So, one of the best things to do when trying to explore Koh Rong is to take a full-day boat tour. This boat tour includes snorkeling, fishing, local village tour, and so on. Now, you might be thinking how you can find a good boat tour to explore the Koh Rong island?
Well, you have two options. You can either search online for a boat tour operator like I did. And I found Adventure Adam which is a local boat tour company and is a good one too. They offer a boat tour on specific days which usually lasts from 9:30 a.m. in the morning to 7:00 p.m. in the evening. This tour includes lunch, snacks, fishing, snorkeling, 2 Cambodian beers, cold drinks, water, village tour, bornfire, marshmallows, and swimming with the glowing planktons. They also provide all the equipment for snorkeling, fishing, etc. and charge just 25-30 USD for the boat trip.
However, you don't have to choose this boat tour if you have a few days with you. You can reach the island and then explore to find a suitable boat tour for yourself. In Koh Touch village, you will stumble upon several such boat tours which you can choose for yourself.
Things Included in the One-Day Boat Trip
Here are a few things to expect from full day boat trips in Koh Rong:
Snorkeling to Observe the Magnificent Coral Reefs
The first thing that you can expect in the boat tour is traveling to a good snorkeling spot away from the inhabited land in Koh Rong. Usually, this spot is around 30-40 minutes away from the Koh Touch village and one can see sea urchins, catfish, and some other exotic fishes in the area.
The tour guide provides you with adequately sized snorkeling gear and then helps you in getting acquainted with the water. You also have a lifejacket to keep you safe so, there is literally nothing to worry about.
Over the course of the entire day, you can enjoy snorkeling at 2-3 spots depending on the weather. So, this is definitely a great experience for all the snorkeling enthusiasts.
Small Tour of the Traditional Local Village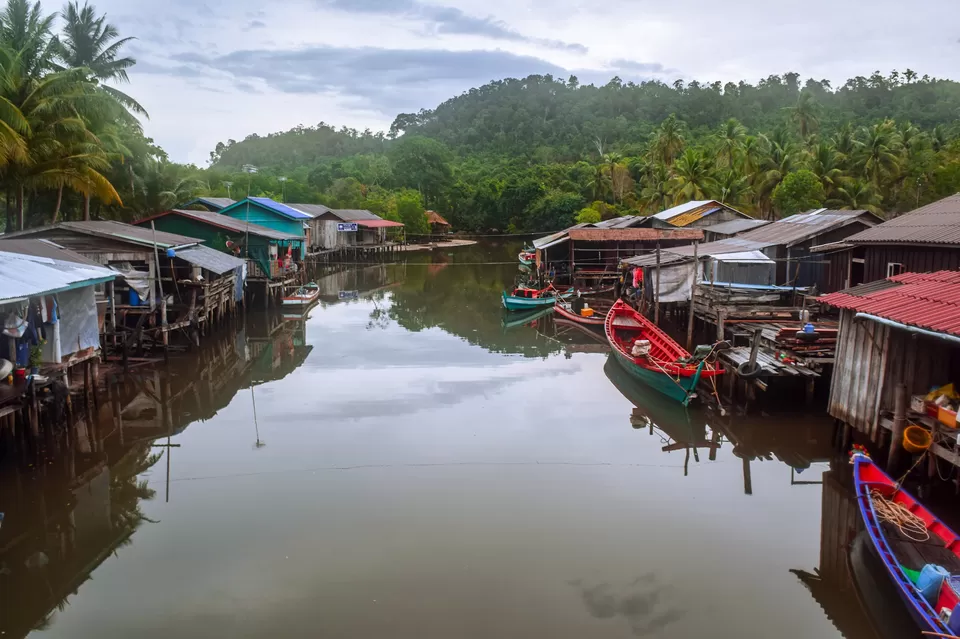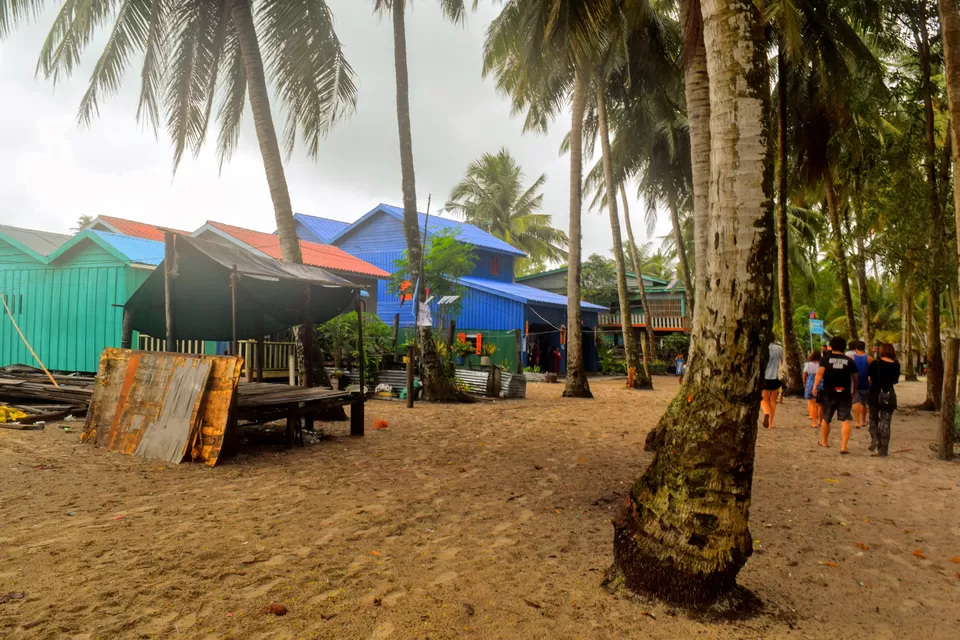 After a short snorkeling trip, you are taken on a local village tour where you get to interact with the monks and the villagers. Here, you can buy the local coconut oil which they usually sell and can enjoy a few local snacks too.
If you wish then you can also stay in this village to help them out or you can purchase a souvenir from here to take home. To reach this village, you have to walk on the beachside in water and also have to cross some muddy pathways so wear a pair of flip flops and not shoes while on this boat trip.
Hand-Line Fishing in the Middle of the Ocean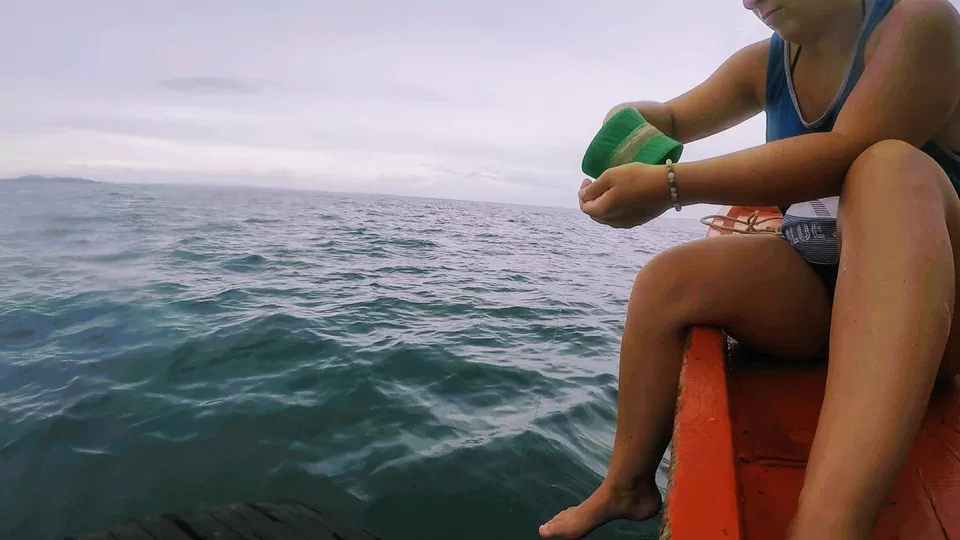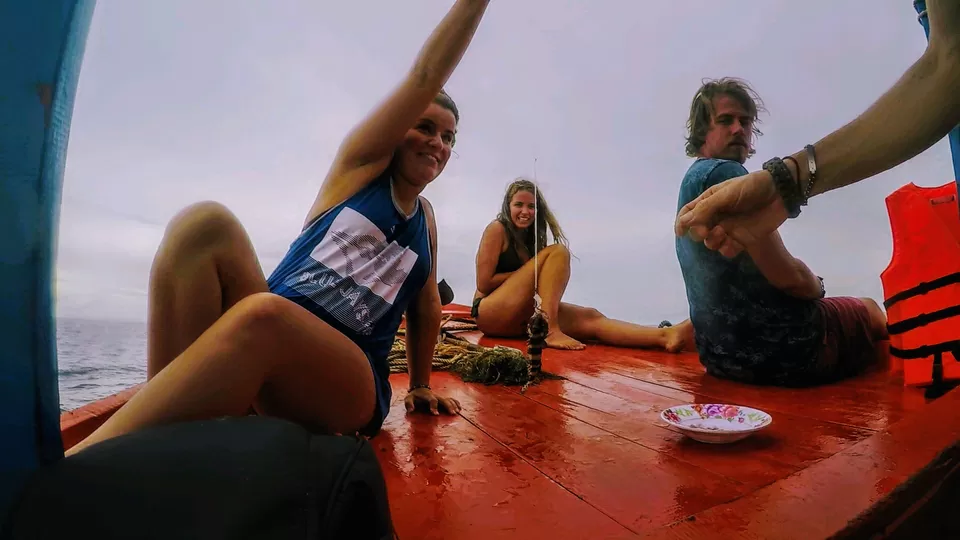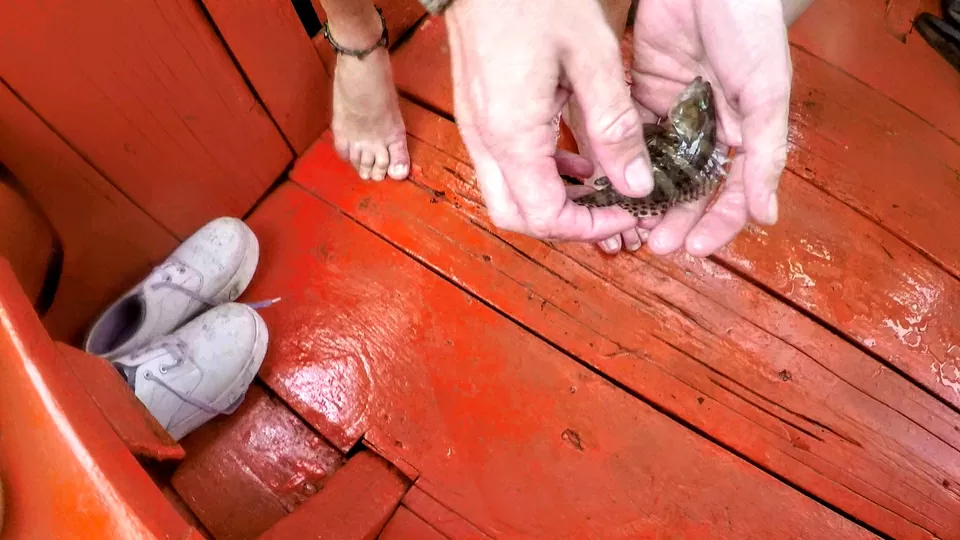 After the village tour, you get back on the boat and then it is time to do some hand-line fishing. The tour guide navigates to an ocean spot where there are more fishes and then stops the boat for a while. You are then taught how to attach the bait to the fish line and then throw the line into the water.
Once you feel a tug, you reel the line in and then you might turn out lucky enough to catch a fish. However, since we weren't going to eat the fishes, we threw them back into the water after catching them.
Enjoying a Bornfire and Eating Marshmallows
You also have a stop at a secluded beach which gives you the best view of the sunset. Here, the boat is stopped for a while, an hour or two so that you can play and enjoy on the beach. You can also snorkel in this area to see more coral reefs and fishes or you can simply sit back or lay down on the beach.
Once the sun starts setting, a bornfire is started on the beach and all the guests are handed marshmallows on a stick. So, you get to taste sticky, delicious marshmallows while enjoying the warmth of the bornfire. After the sunset, it becomes completely dark and everyone is directed back to the boat for the final adventure.
Swimming with the Bioluminescent Planktons
Once it is dark, everyone gets back on the boat and then the boat makes way back to the Koh Touch village. Just 30 minutes before the village, the boat is stopped in the middle of the ocean so that you can swim with the glowing planktons.
This is particularly great on a new moon night as the darkness makes it easier to see this glowing light. So, you can wear your lifejacket and snorkeling gear and get down the boat to swim with these magical planktons.
My Experience of the One Day Boat Trip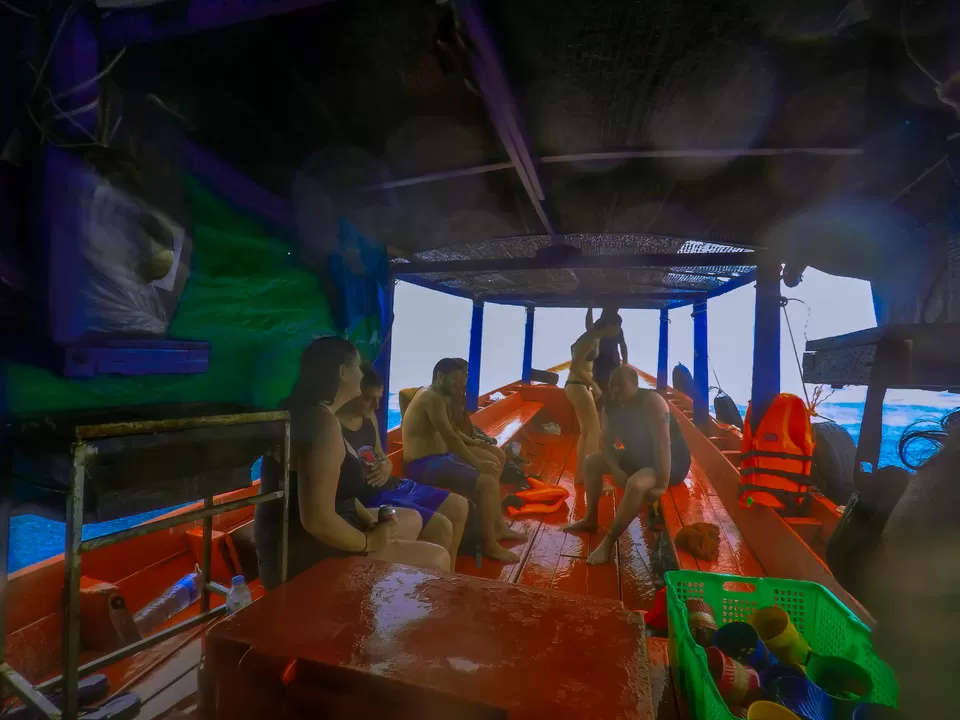 Honestly, this is one of my most memorable moments in Cambodia. I made friends with other guests on the boat and enjoyed a lot on the way. We also experienced a storm while on this boat trip which was slightly scary but thrilling at the same.
And watching a sunset with new friends from different countries followed by a bornfire and marshmallows certainly made the whole experience worth it. And watching the glowing planktons was certainly a dream come true for me. Overall, I think this is certainly a tour that everyone should experience if they want to explore the true Koh Rong.