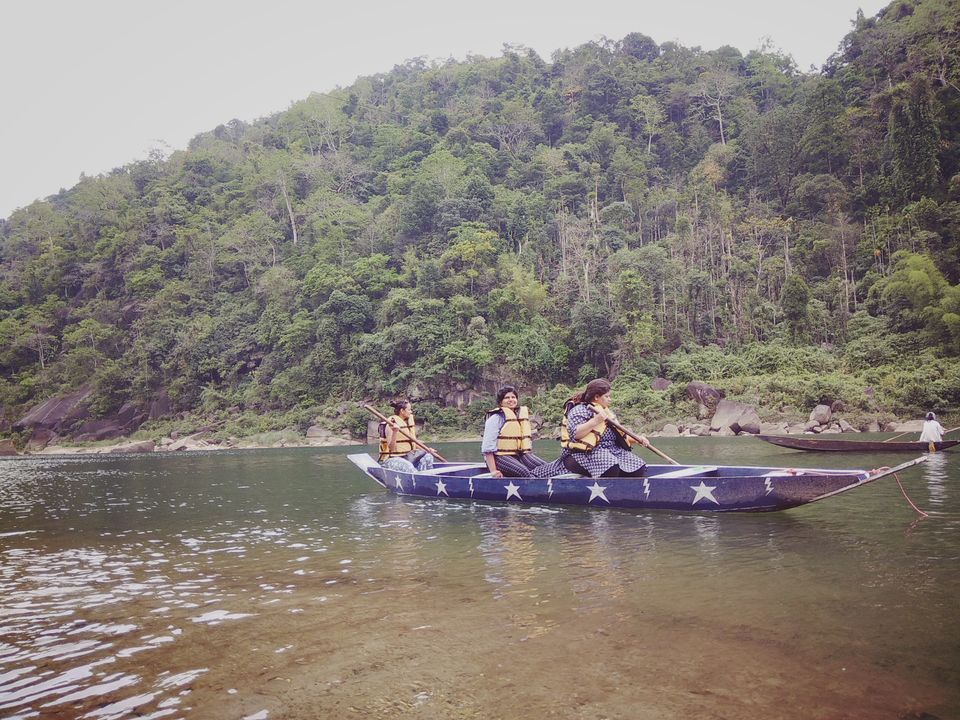 After soaking in the beauty and serenity of nature's wonder Majuli, we moved towards our next destination Shillong. There are many ways by which you can get to Shillong from Guwahati- by bus, a shared taxi/van or private taxi. Luckily, we got a cab with a single female passenger hence we could travel with leisure and in a cost effective way. The entire route to Shillong charmed us with the smooth roads, the nature's love and the pleasant weather, which left us wondering if the journey is so amazing how it would be to experience the charisma of Shillong!

On our way to Shillong, we stopped by to experience the surreal Umiam Lake, a man made reservoir surrounded by East Khasi hills making it a picturesque location for nature lovers. This is also a hot spot for picnic, boating and various water sports, however we didn't had much time so we were back on the roads. It started raining before we could reach Shillong and that just made our journey even more enticing.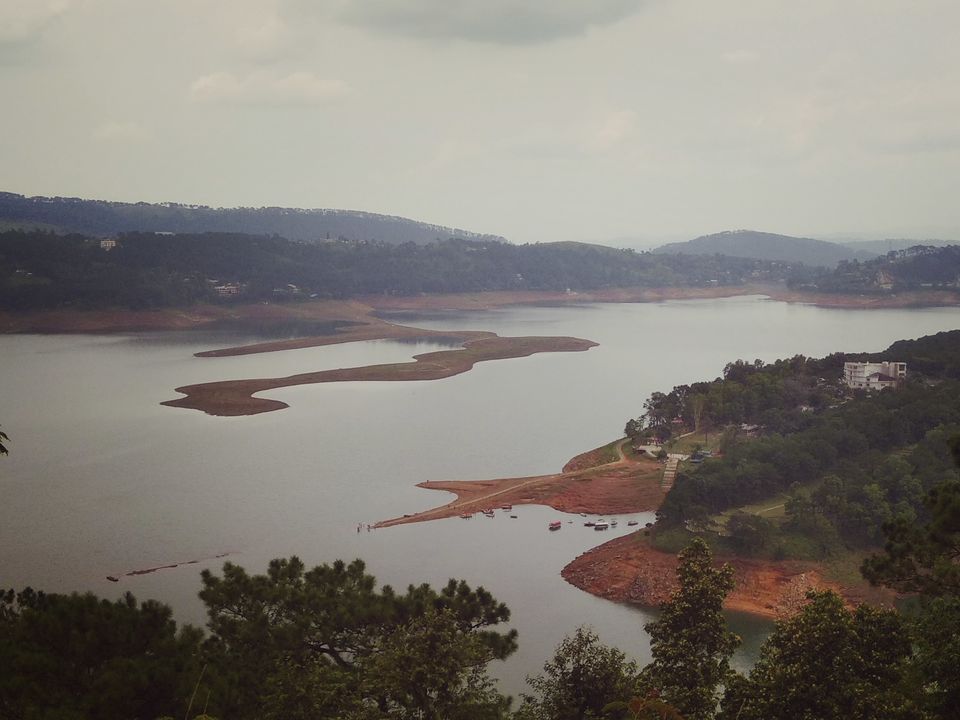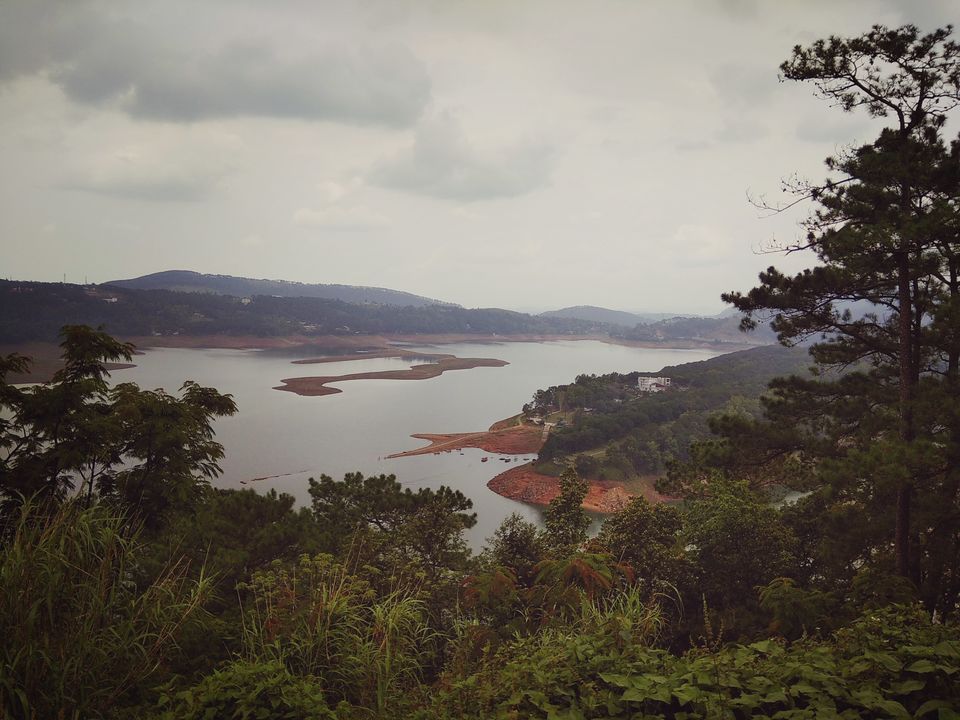 We got a hotel to stay in the Police Bazaar market, where we rested for a while because we have been traveling overnight. In the evening, we thought to explore the surrounding area, like a typical tourist place- it was crowded, lot of cabs parked on the roads and number of tourist agencies and at that moment I wondered if we could have chosen to stay somewhere at the outskirts of the city. We found an amazing café 'Grove eatery' – it had pleasant aura, cozy settings and definitely much needed coffee.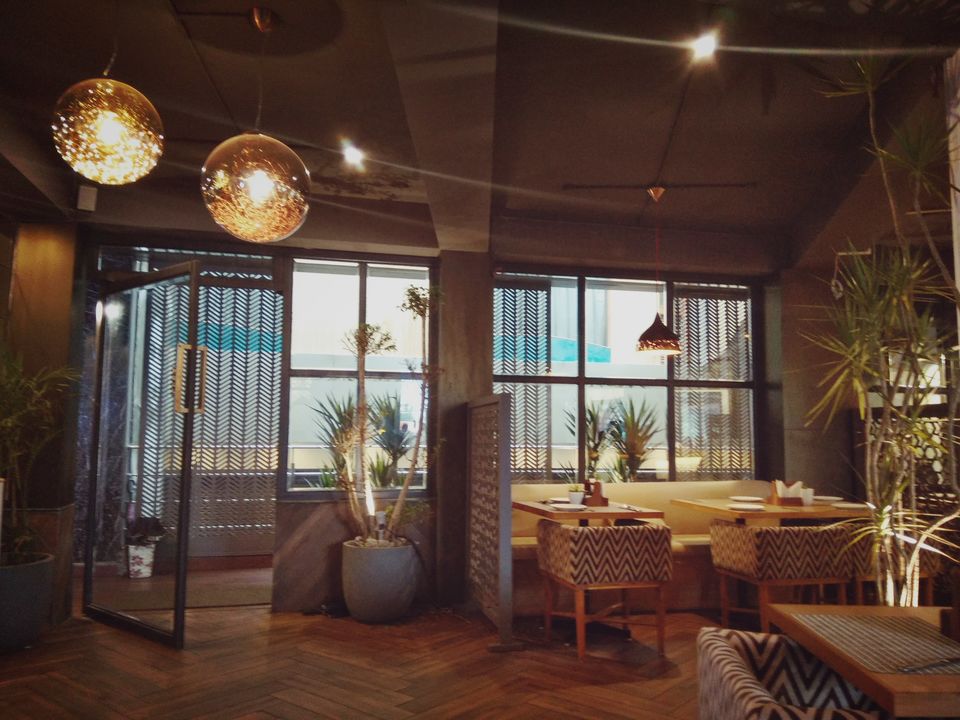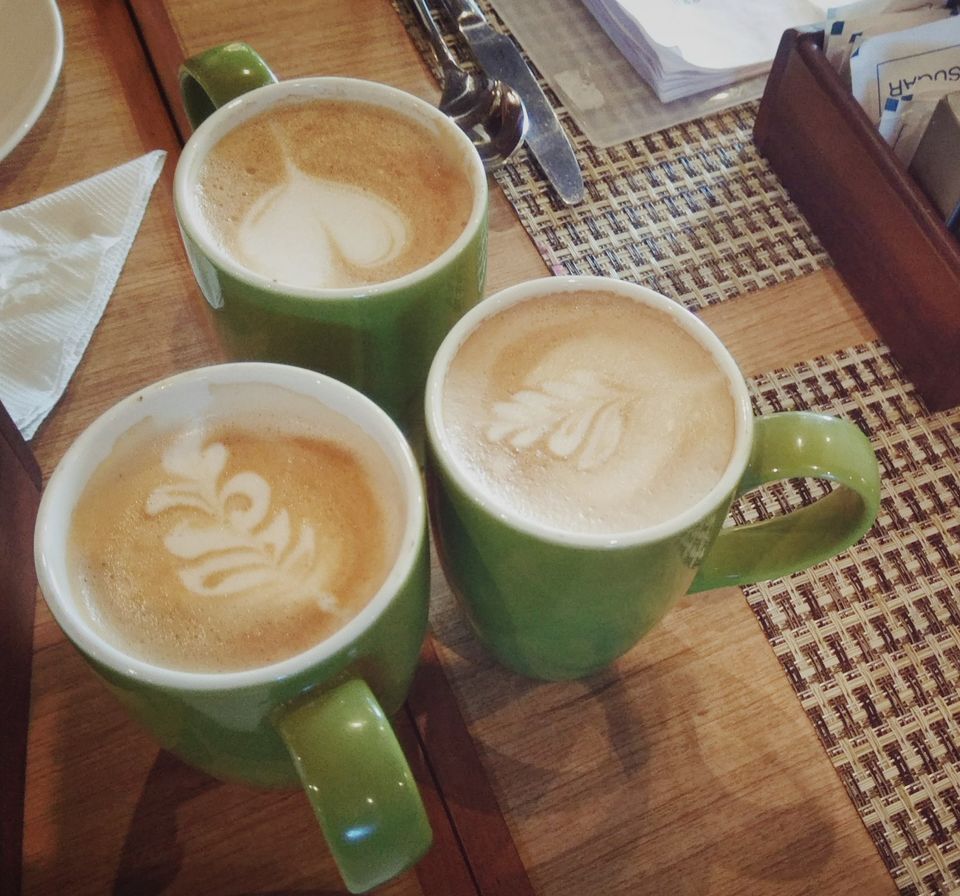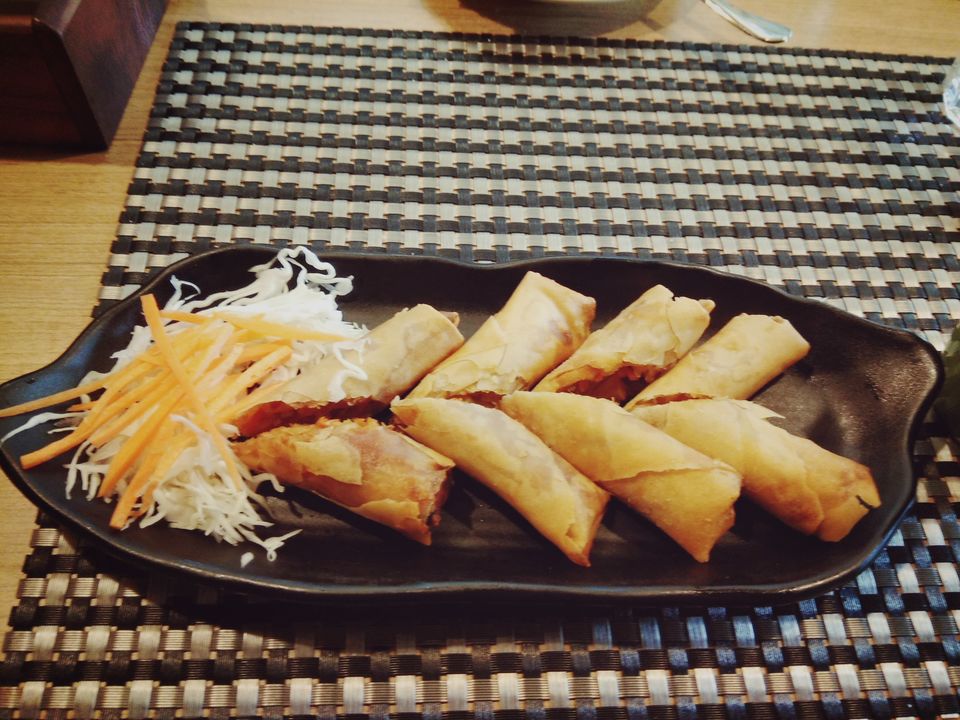 Three of us divided ourselves so that we could find out best way to explore Shillong in 2-3 days in least tourist style, while 2 of us were hopping around various travel agencies, one friend of mine spoke to a cab driver who gave us a better deal in terms of money and places. Once the plan was settled we went back to hotel to get much needed sleep.
We were supposed to start early by 7.30, so we grabbed chai, muffin and delicious samosa from a very cute and tiny shop that was just opposite to our hotel. In an interesting turn of events, our designated driver send someone else for the 2 day extravaganza, though it felt weird at that moment but what we didn't know was that we were getting a travel companion who is exactly on the same page for travel as we are.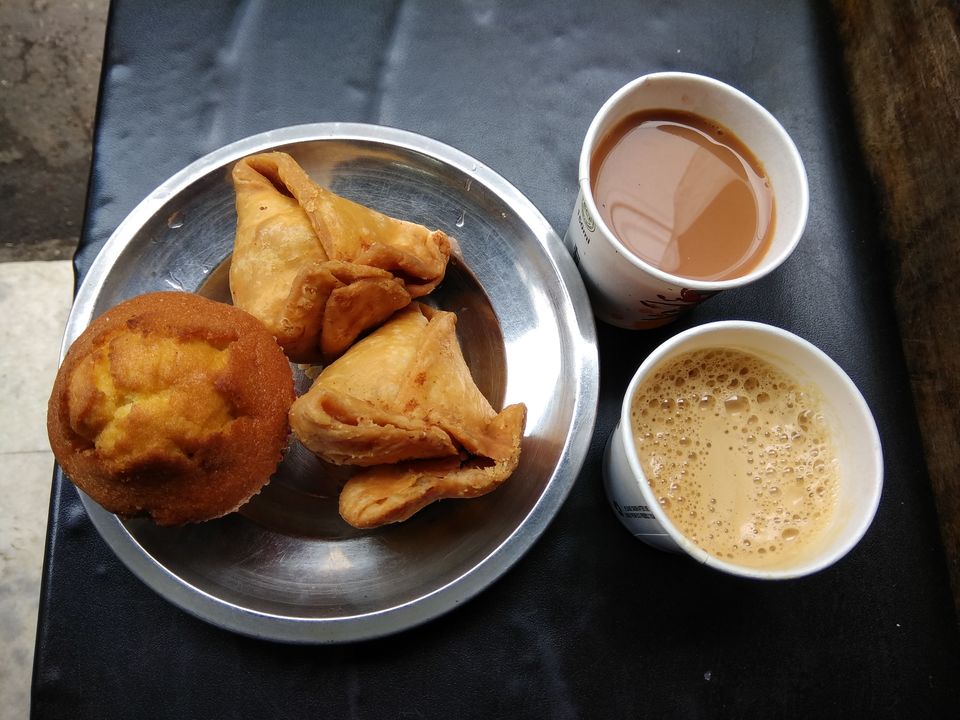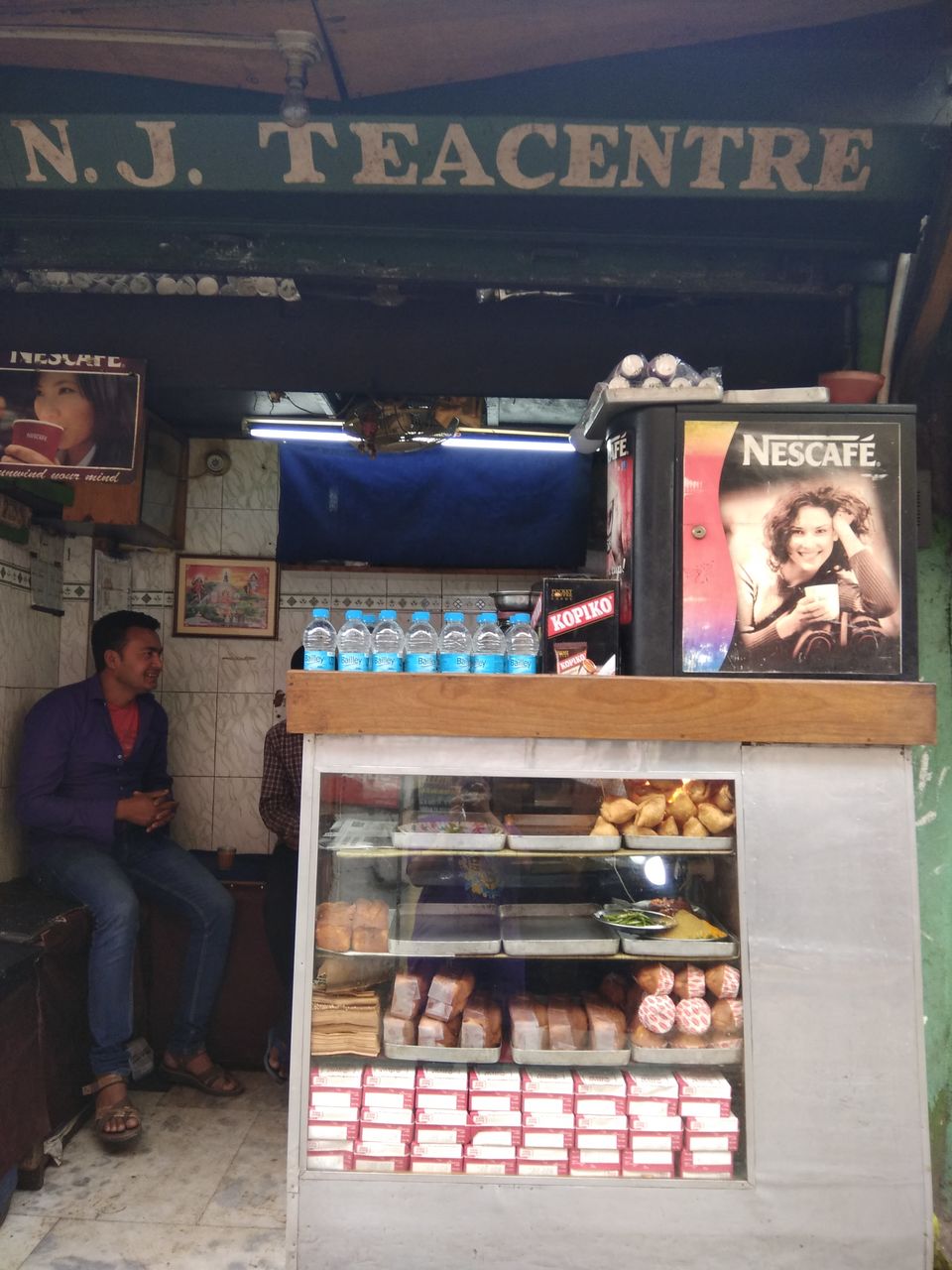 I will be mentioning the names of the place as they are referred by local Khasi people because that means a lot to them, also this is fulfilling one of the promises that I made to our travel companion aka guide.
Our first destination was 'Ka kshaid lai pateng khohsiew' which also means 'The Three Step Waterfalls', as these consist of three mesmerizing falls in succession. When British people came and found the waterfall, they named it as 'Elephant falls' so owing to the presence of an elephant-shaped rock on one side of the fall. However, the stone disintegrated and was washed away due to an earthquake in 1897. At Elephant Falls one can get very close to the falls and enjoy its serenity and might, that's one of the reasons why it draws so many tourists.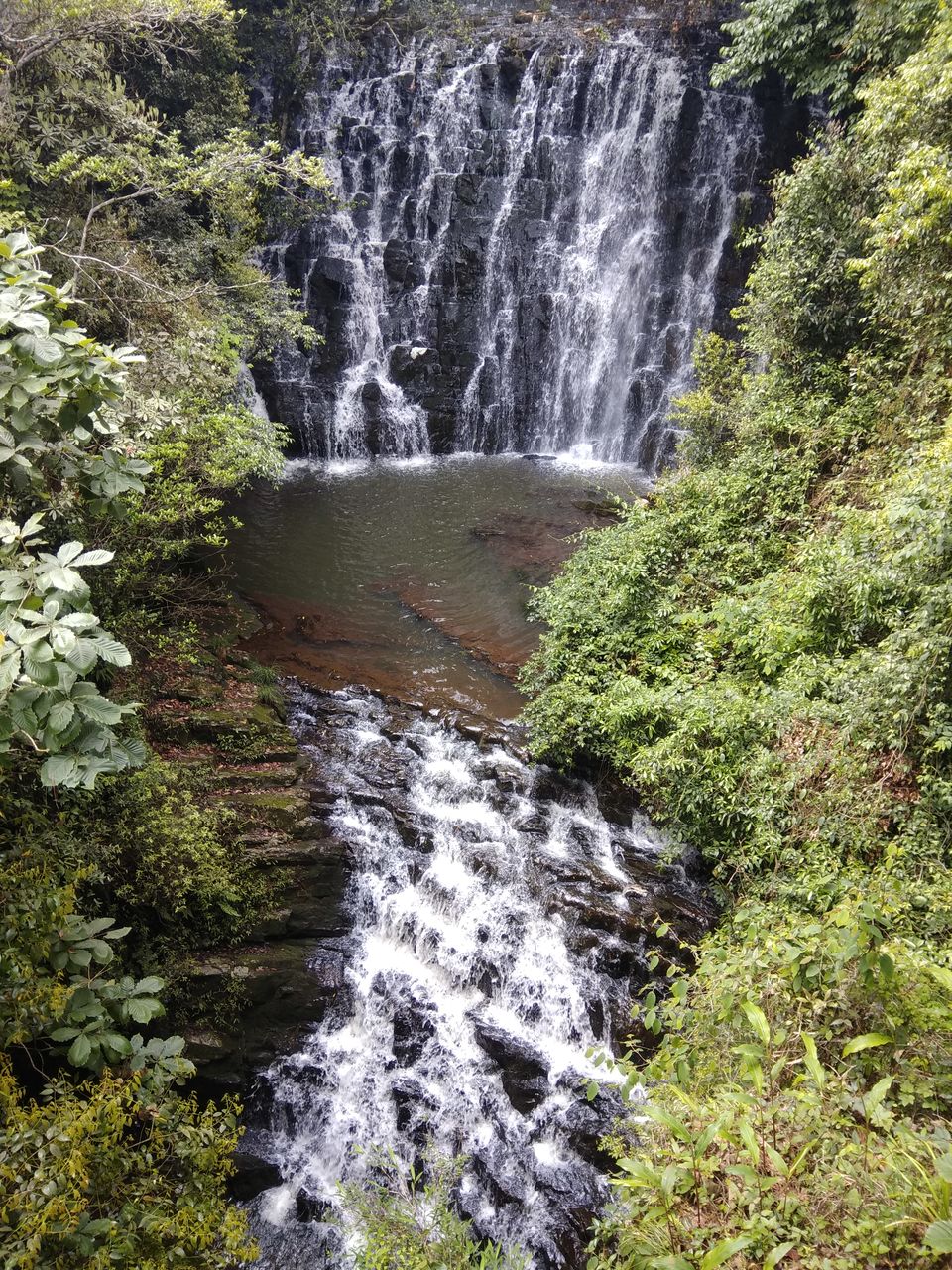 As we entered the Sohra tourist circuit, we stop just after crossing the 'Duwan Sing Syiem Bridge' where the forest department has made a view point known as the Mawkdok Dympep Valley View. It's rare that we could witness a clear and enticing view of the valley which is most of them covered with the clouds.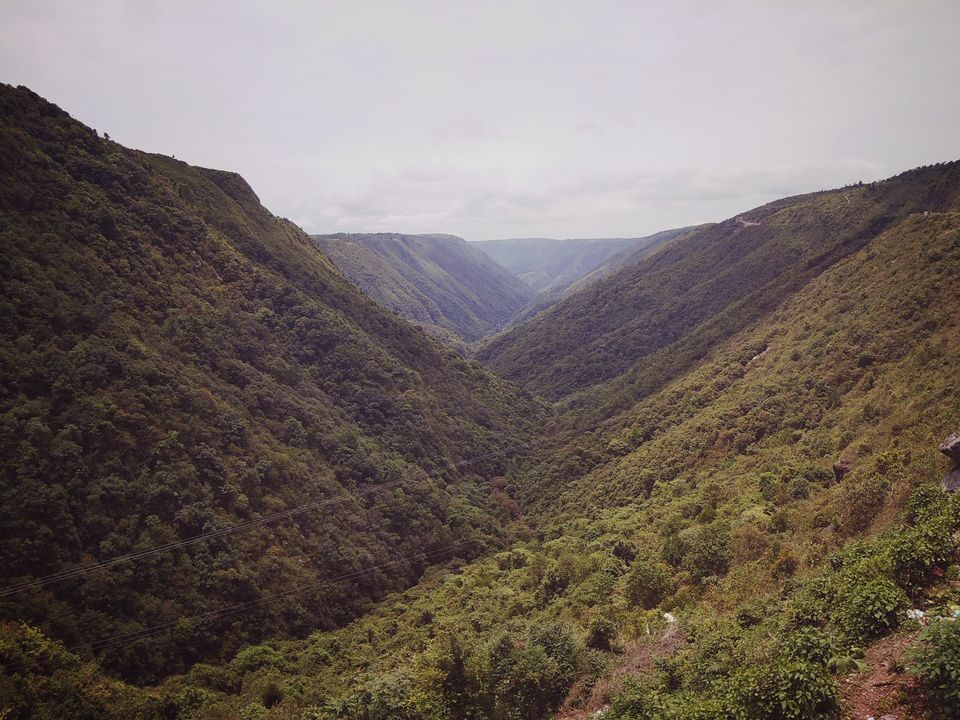 Close by, we saw 'Pioneer Adventure Tours' board that said 'Zip lining', we couldn't hold our excitement and got hold of the tickets for the first route which was between the two points of the same hill. The experience of zip lining was exhilarating and worth the shot, it was one of the best way to enjoy the beauty of nature so closely and with different perspective. One of my friend who really enjoyed the first route, took the tickets for the second route as well which was between the two hills and the longest one- the adrenaline could be experienced by doing it because words seems to betray the true essence of ecstasy.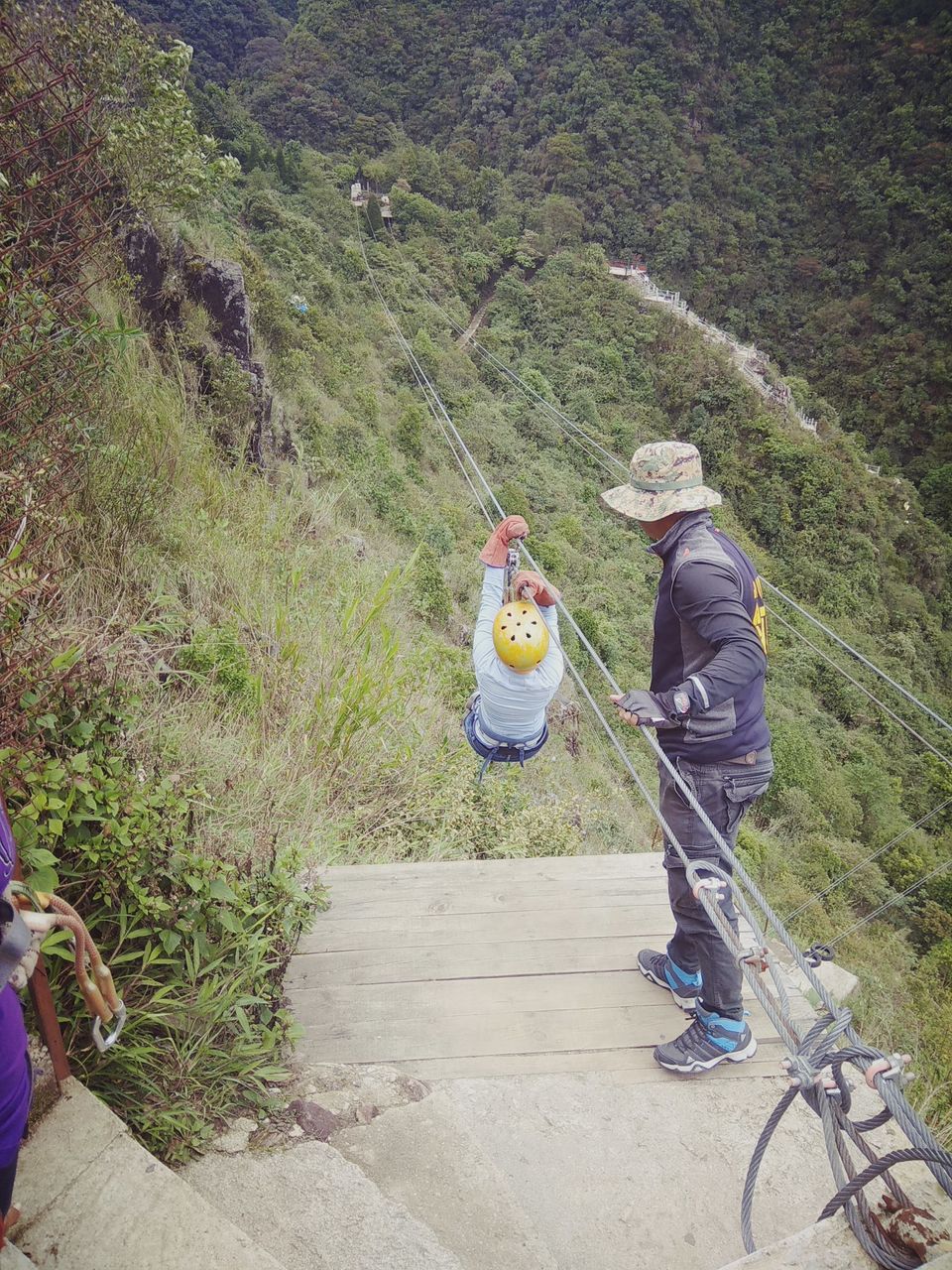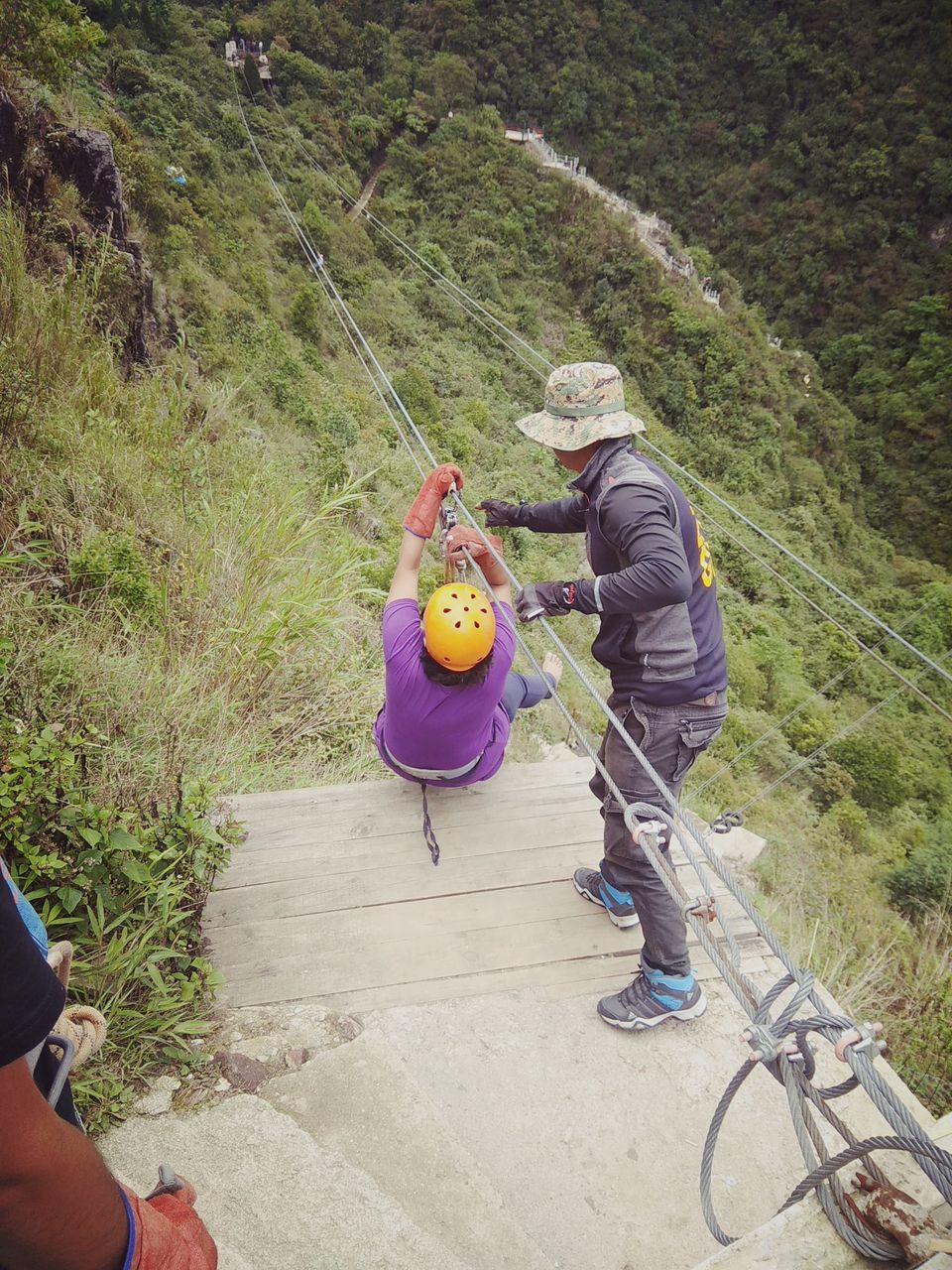 We then moved towards Sohra which is known popularly as Cherrapunji. We all have read about it as the place with the maximum rainfall on the earth, so it felt very different to be able to visit it. The best part of exploring Shillong is not its waterfalls, caves, or peaks but the journey to reach these various points because nature seems to have blessed the entire place with so much greenery, bliss and serenity that at one point I just wanted to get out of the car and soak in the peace being offered not even caring where we were going, or where we stood, it was more like enjoying the very moment.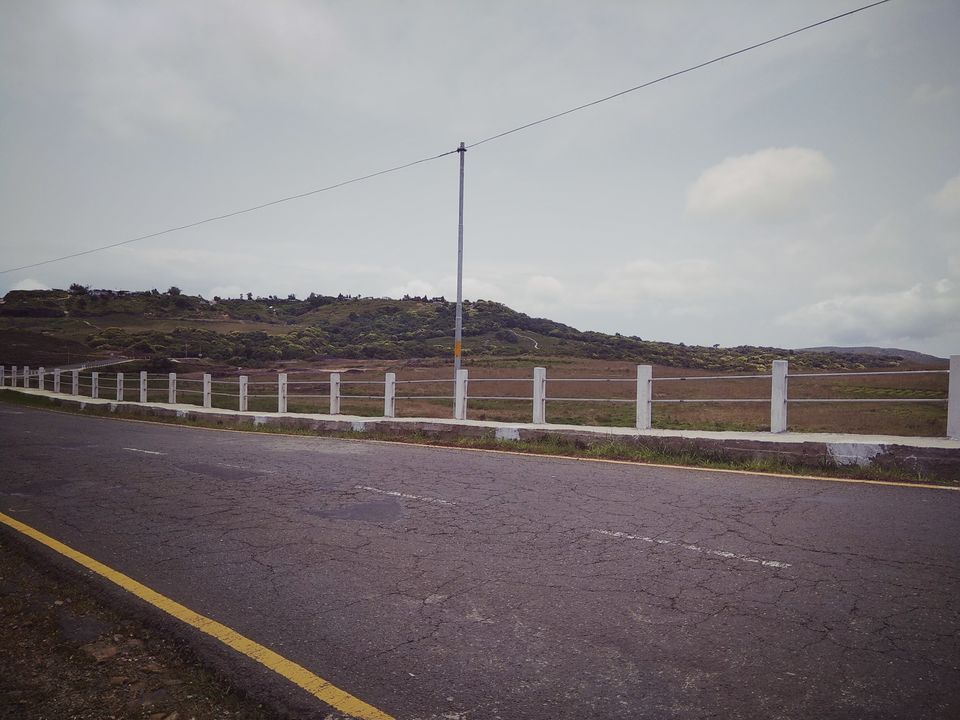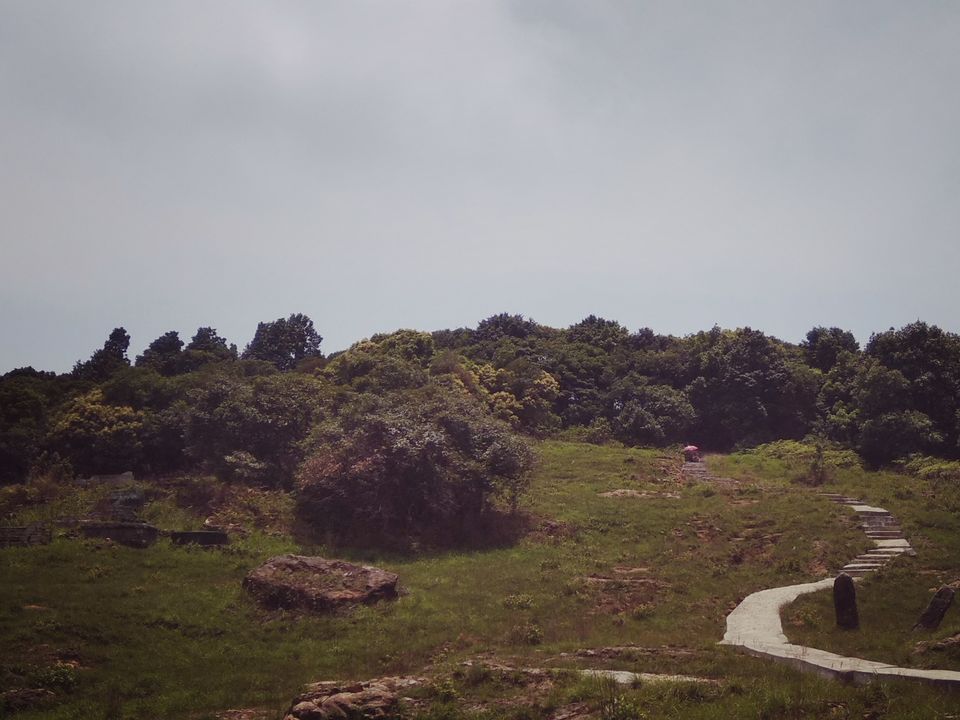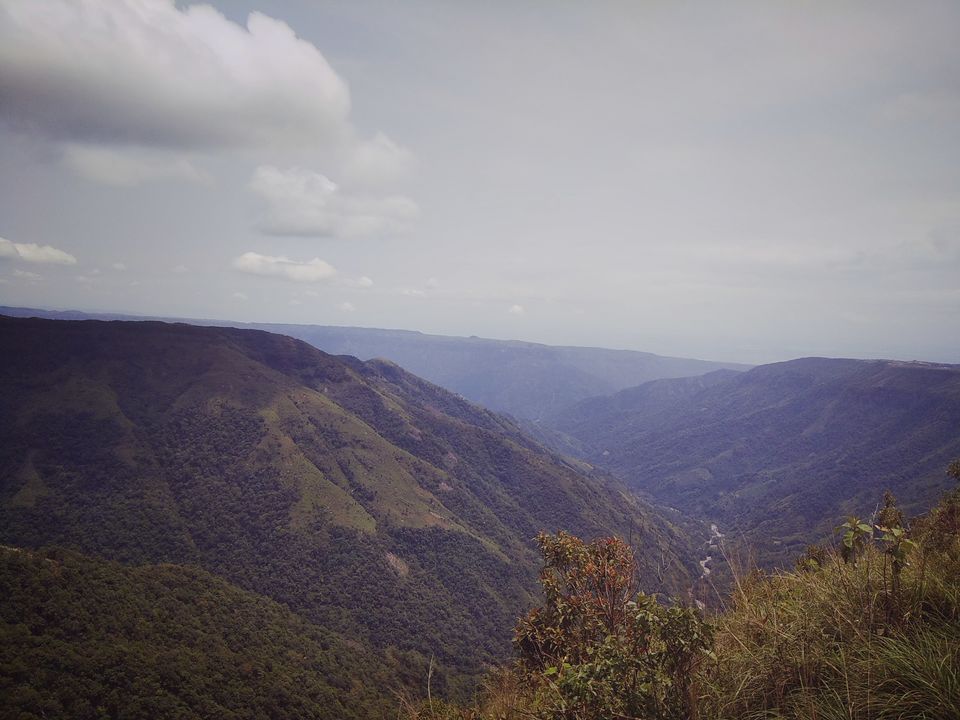 Just before reaching Sohra, a road to the right, leads one to the falls which is 5 kms away. Among the many falls that Cherrapunjee boasts of, Dain Thlen Falls is also one of the famous falls. Many tourists flock the falls especially as it has an interesting legend associated with it. However exactly opposite to the way that most of the tourists follow, our guide took us to the place absolutely close to the falls.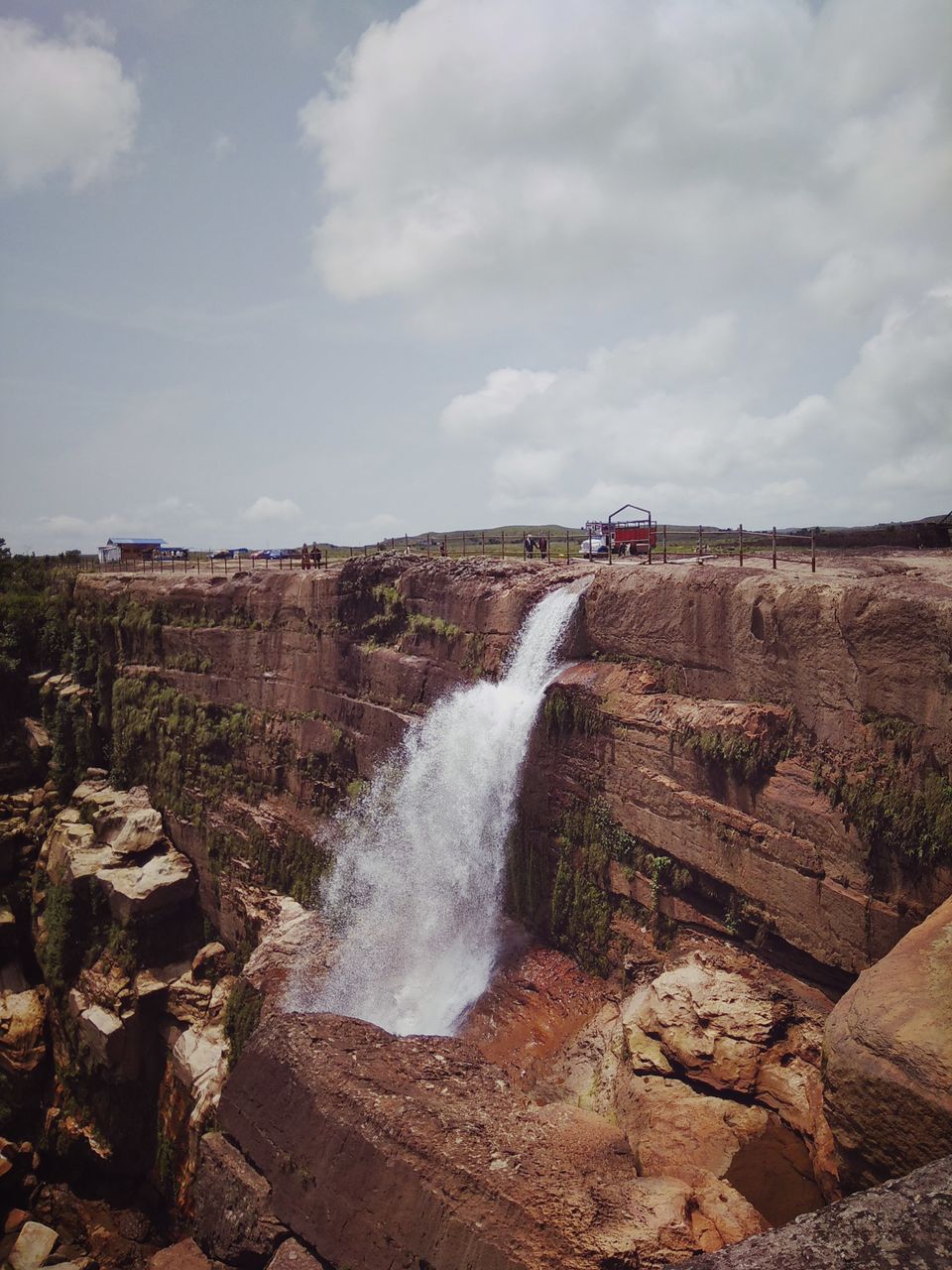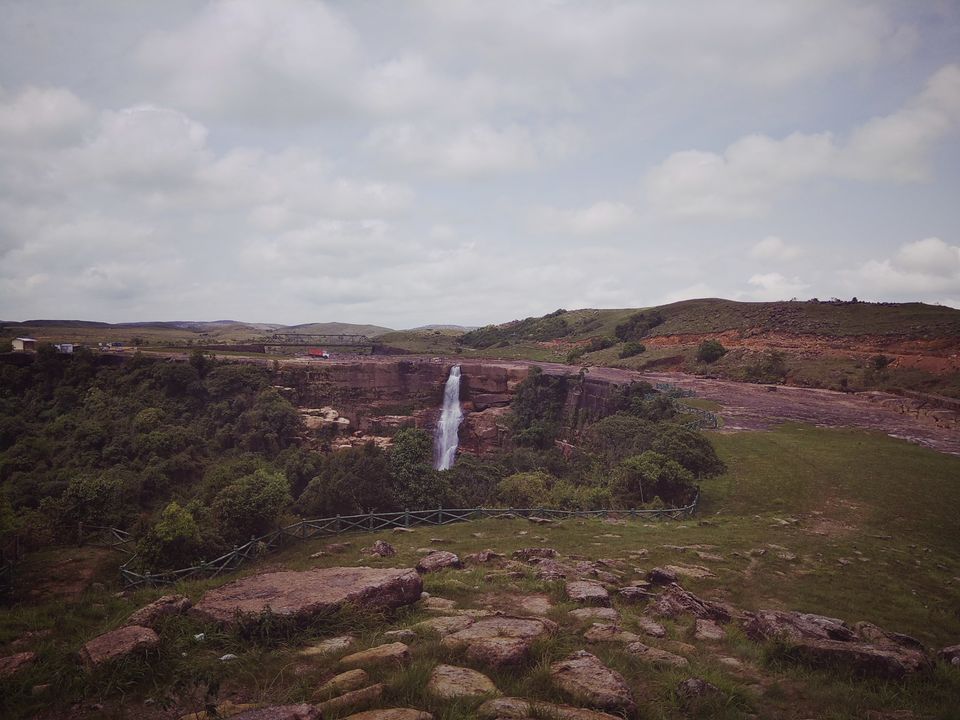 We sat keeping our feet in the water little far away from the head of the waterfall soaking in the nature's calmness and be wilderness.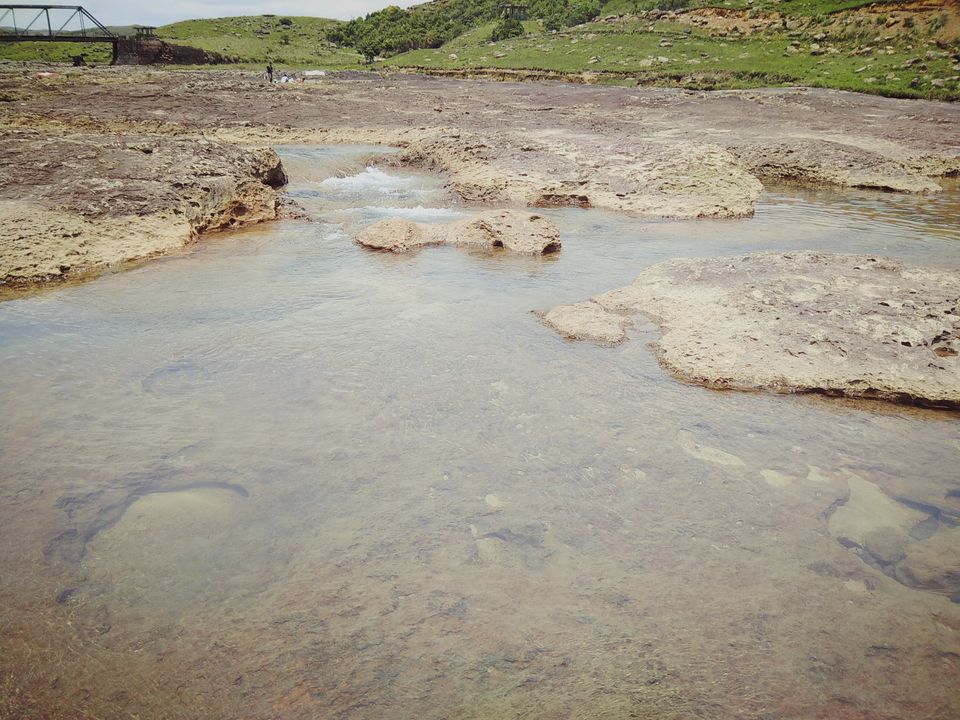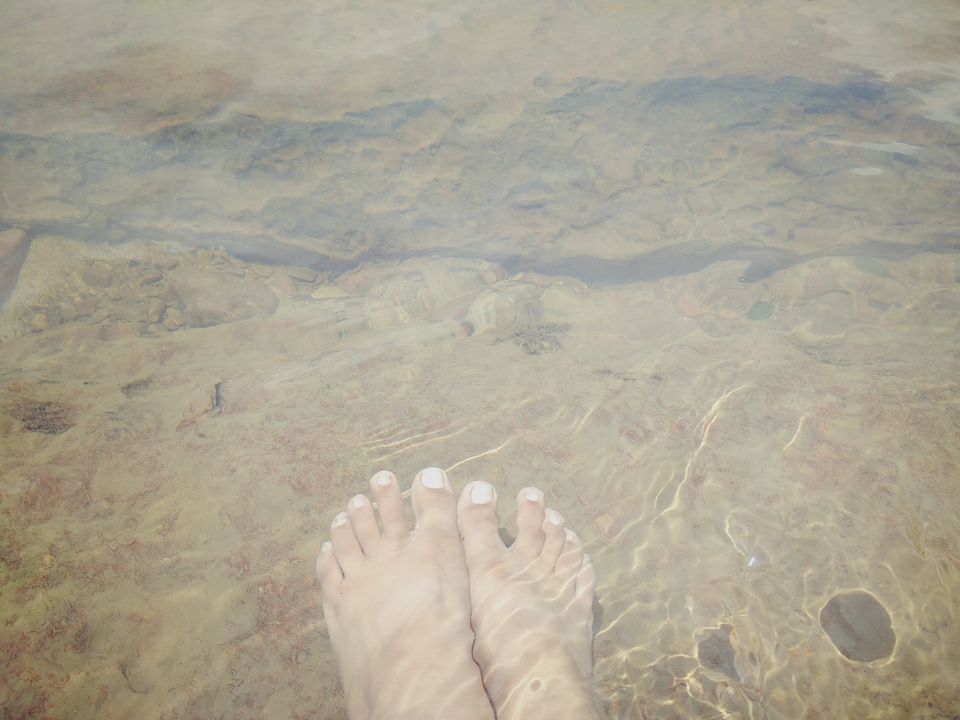 We then walked towards the lush green plateau facing the fall, only sound that could be heard was the sound of water from the fall and the hustle of the wind. It was unimaginable to believe that such a place exists in our country!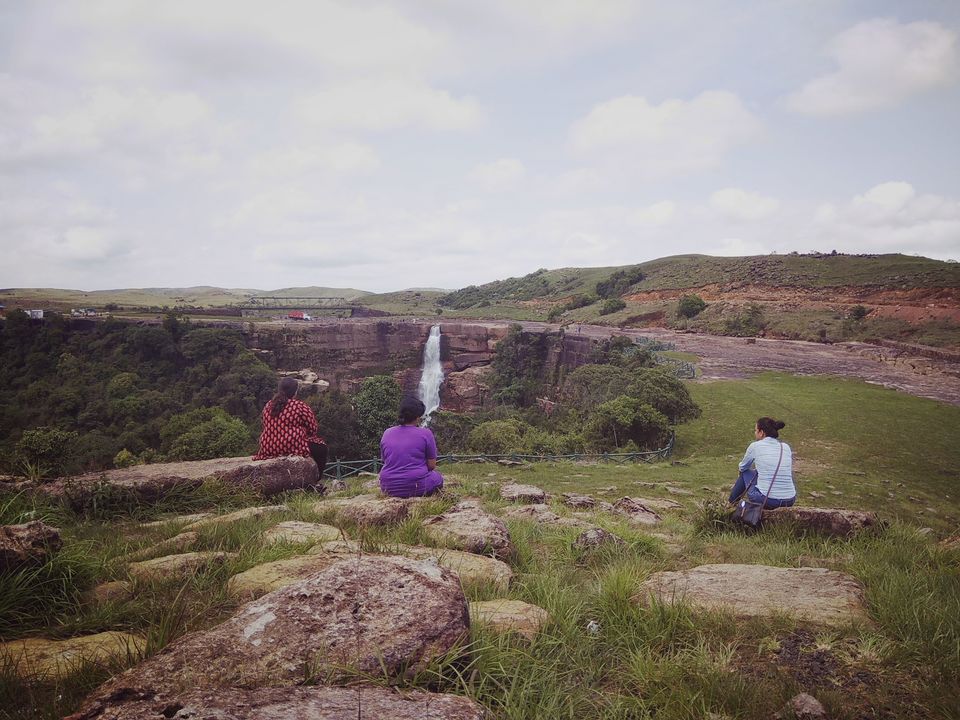 There was just one shop near the Dain Thlen Falls, we stopped by to have coffee and some snacks.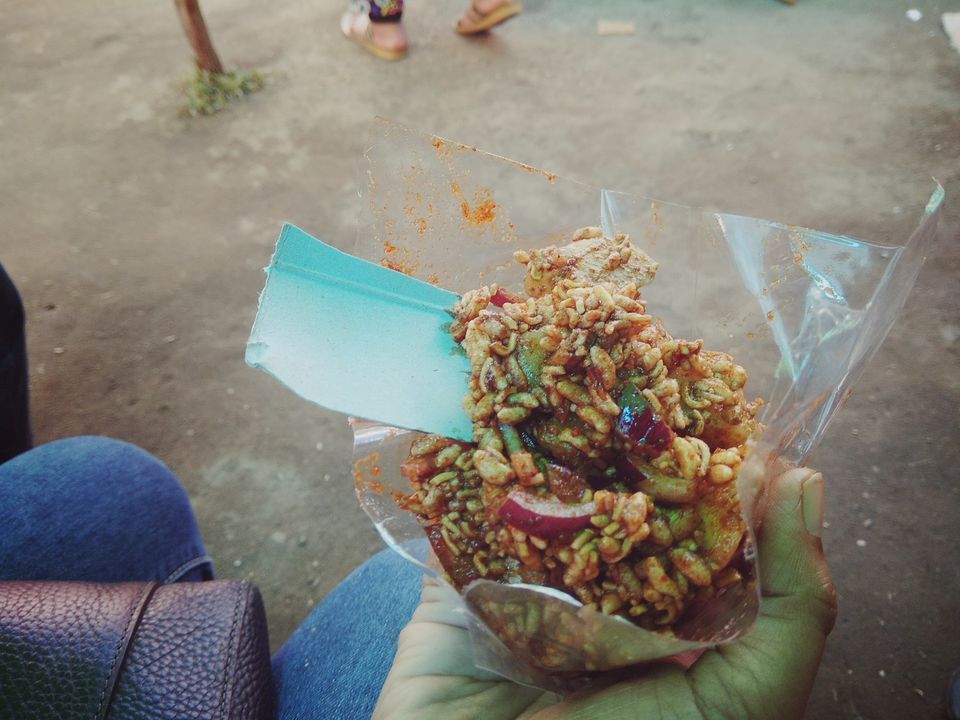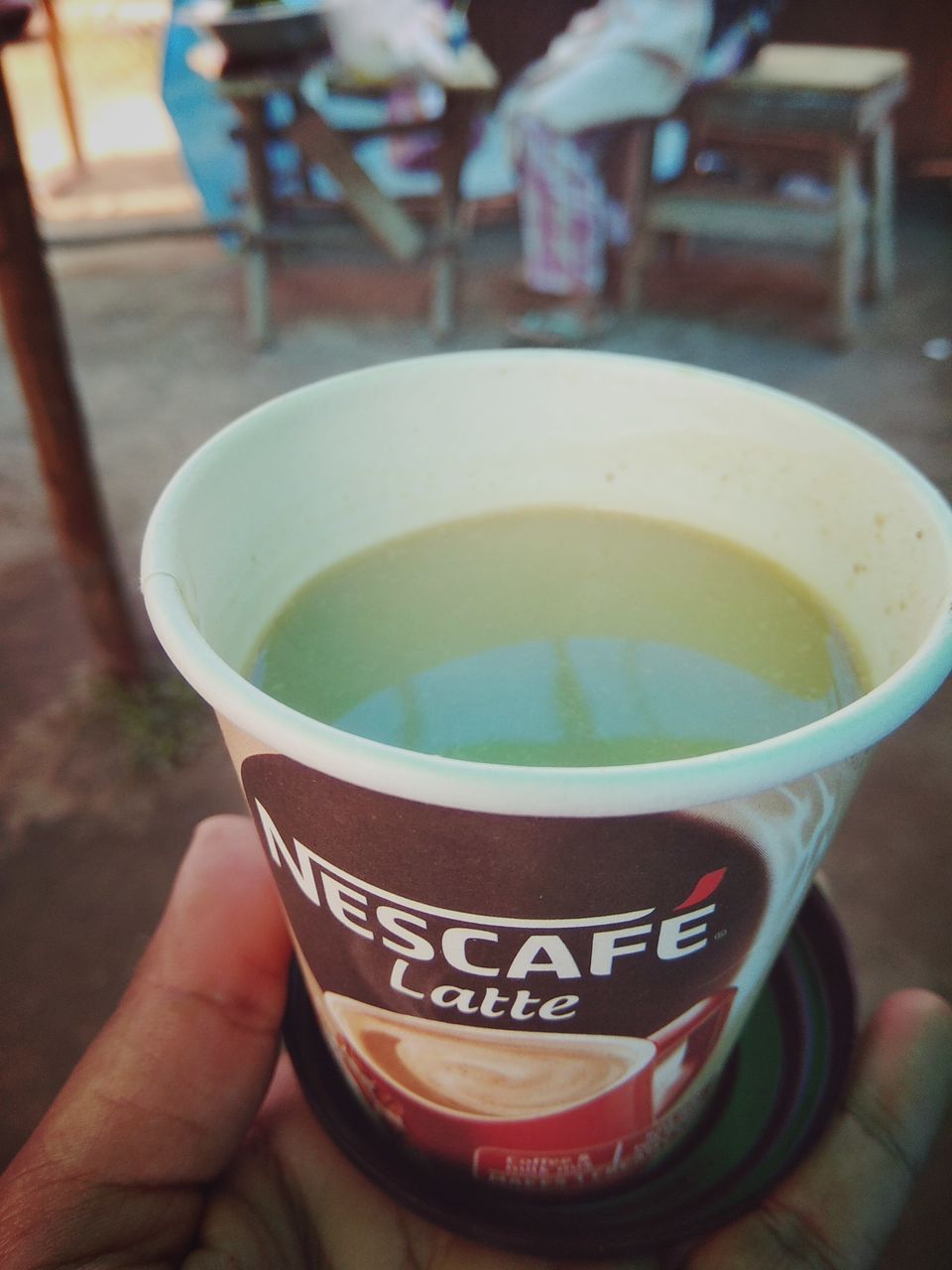 On our way to next destination Nohkalikai Waterfalls, our guide shared about the sad legend behind the water fall - Noh Ka Likai means "the leap of Likai". As per the legend, a young woman named Ka Likai, who had a daughter from her earlier marriage remarried. Her new husband loathed his step daughter as he was not in favour of girl staying with them. Out of jealousy, he decides to kill her. When Ka Likai was away working, he slaughters the girl and uses her flesh to cook a meal. After returning home from work, Likai was surprised that her husband had prepared evening meal for her. She ate the meal without suspicion and had no inkling about the gory act her husband had conducted. However, she later discovered her daughter's fingers in the betel nut basket. Distraught with grief and remorse, she rushed to the nearby cliffs and threw herself over the precipice adjoining the waterfalls. The fall has ever since been known as Nohlakikai.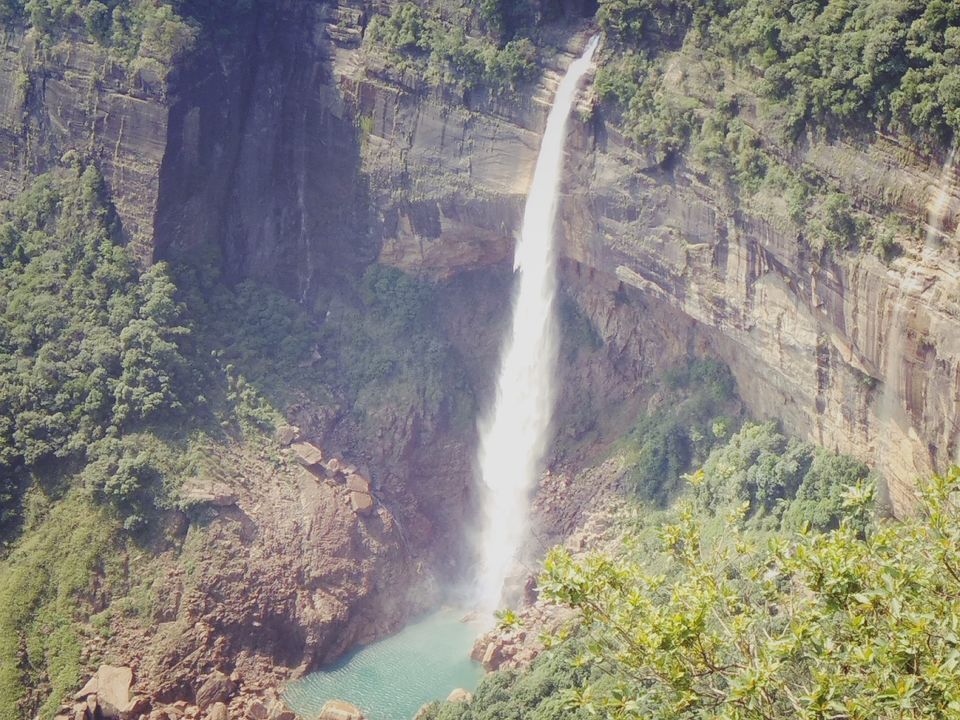 Apart from the absolute beauty Nohkalikai Waterfalls is the fourth highest waterfall in the world. The water falls in the straight line and with a huge force which could be easily seen from the view point. It was interesting our guide was a true traveler at heart that's we never just stopped at the viewpoints where tourists were crowding the space, instead we kept walking towards the plain land with vegetation – he shared a lot about trekking where he mentioned that down the hills there is village where each child has his unique sound because the name might get lost in the forest but the unique sound can help identify the person. We reached at the end of the hill, across which we could see the Bangladesh border at remote distance, again the place was serene, peaceful and absolute delight for people looking for nature's solace.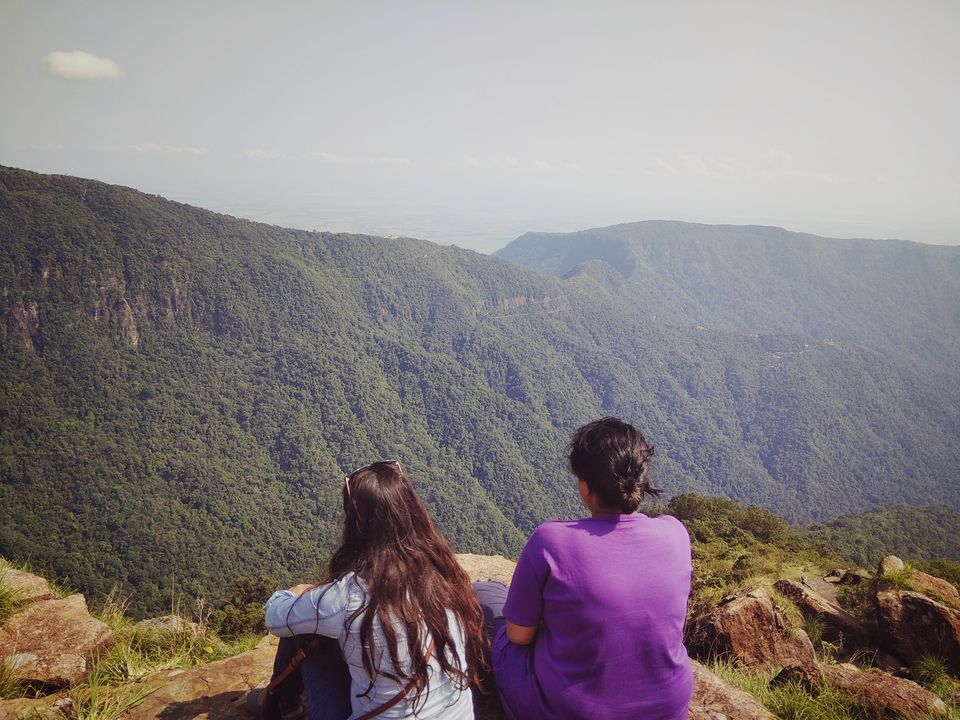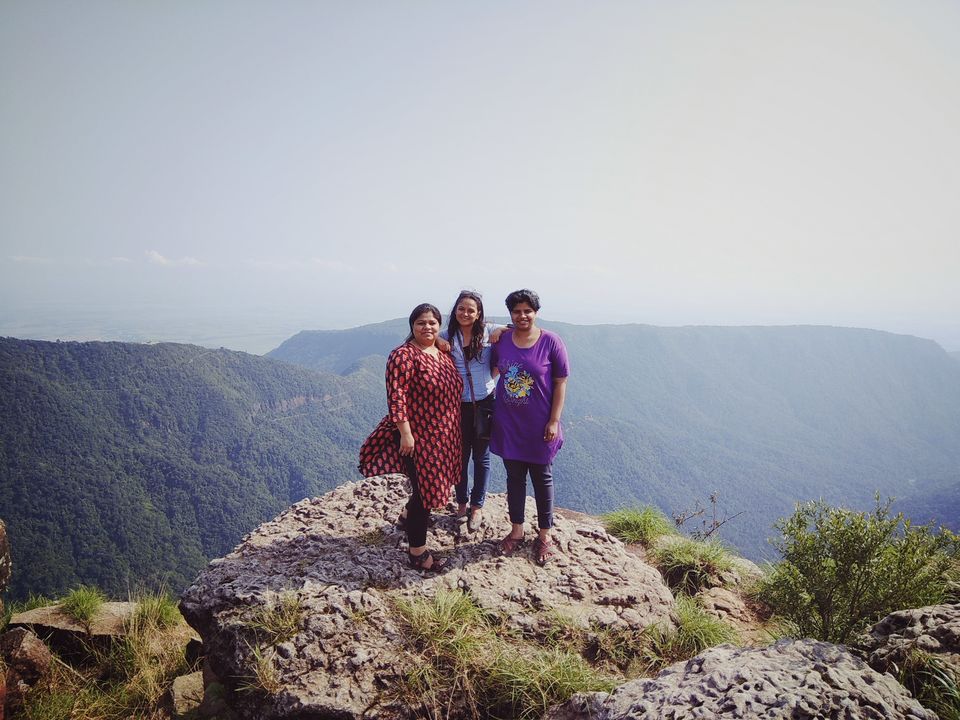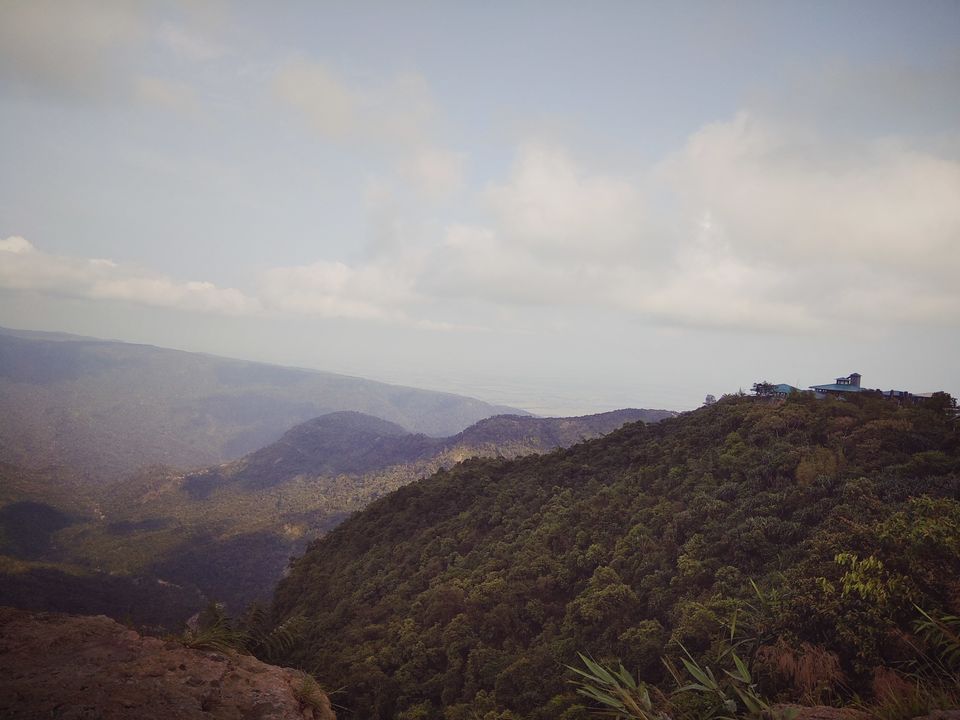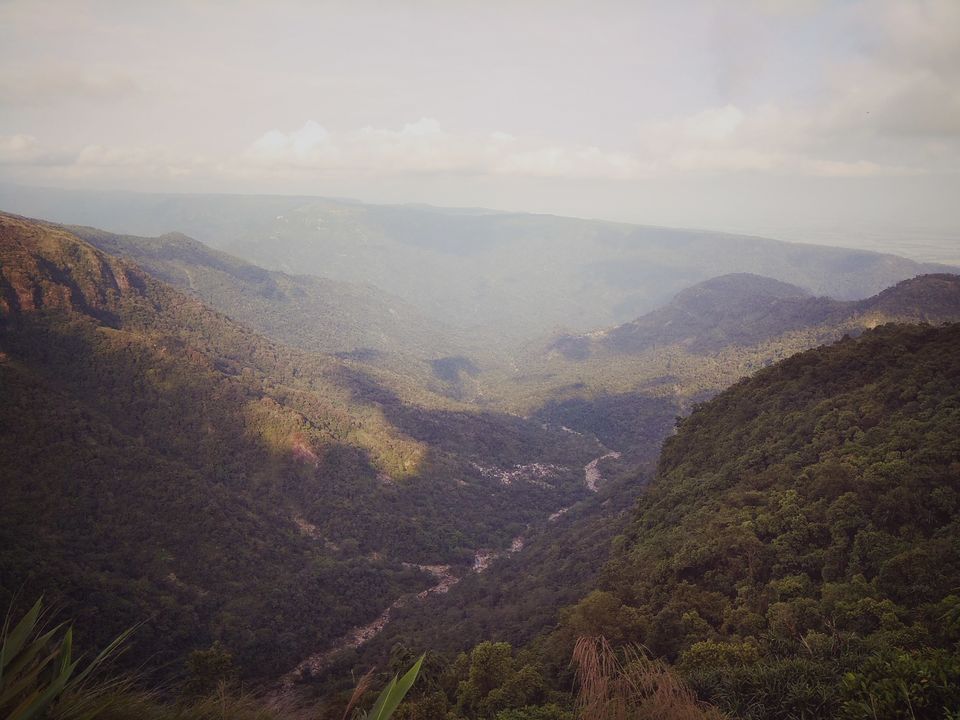 Then we went to the Nohsngithiang Falls which is also one of the most popular tourist point located just few kms away. This waterfall is also known as Seven Sister Falls or Mawsmai Falls, the latter being the name of a village The Seven Sister Falls derives its name from the seven streams that flow down the plateau like feature, which is more evident during the monsoons.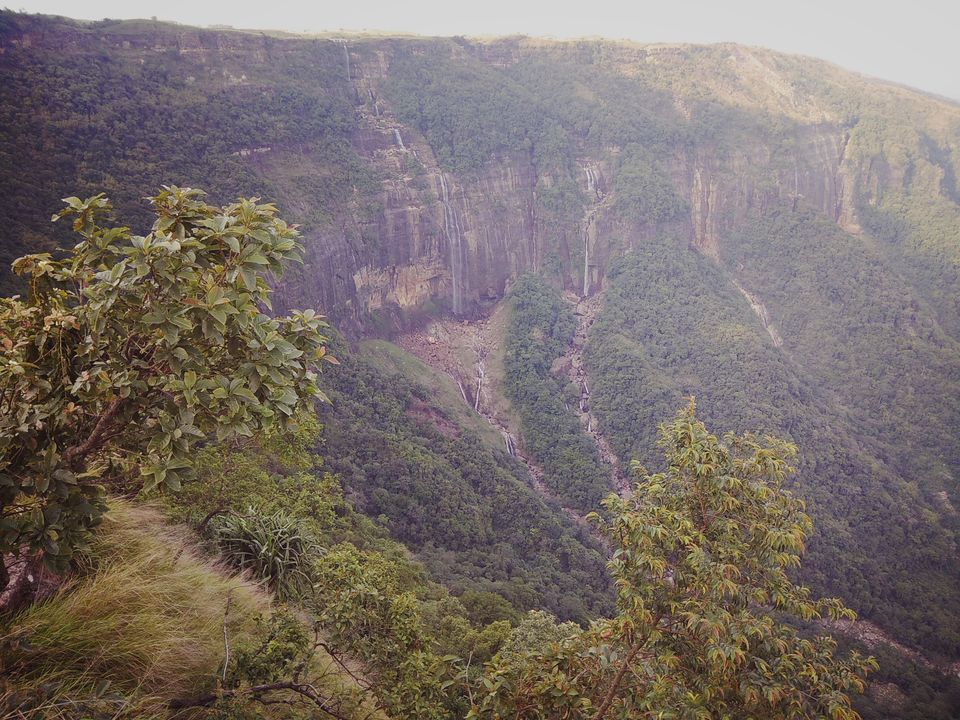 The last destination for the first day was Mawsmai Caves, the highlight of them being the only caves in Meghalaya that are lit enough to enable tourists to enjoy the natural formations in awe. It was intriguing, fascinating and intimidating at the same time because the insides had water all over making it difficult to walk, slippery rocks, and pathways with uneven head space. The most annoying part was that in spite of very little place people couldn't stop clicking pictures at each point making it difficult for others to walk by or simply enjoy the beauty of various rocks!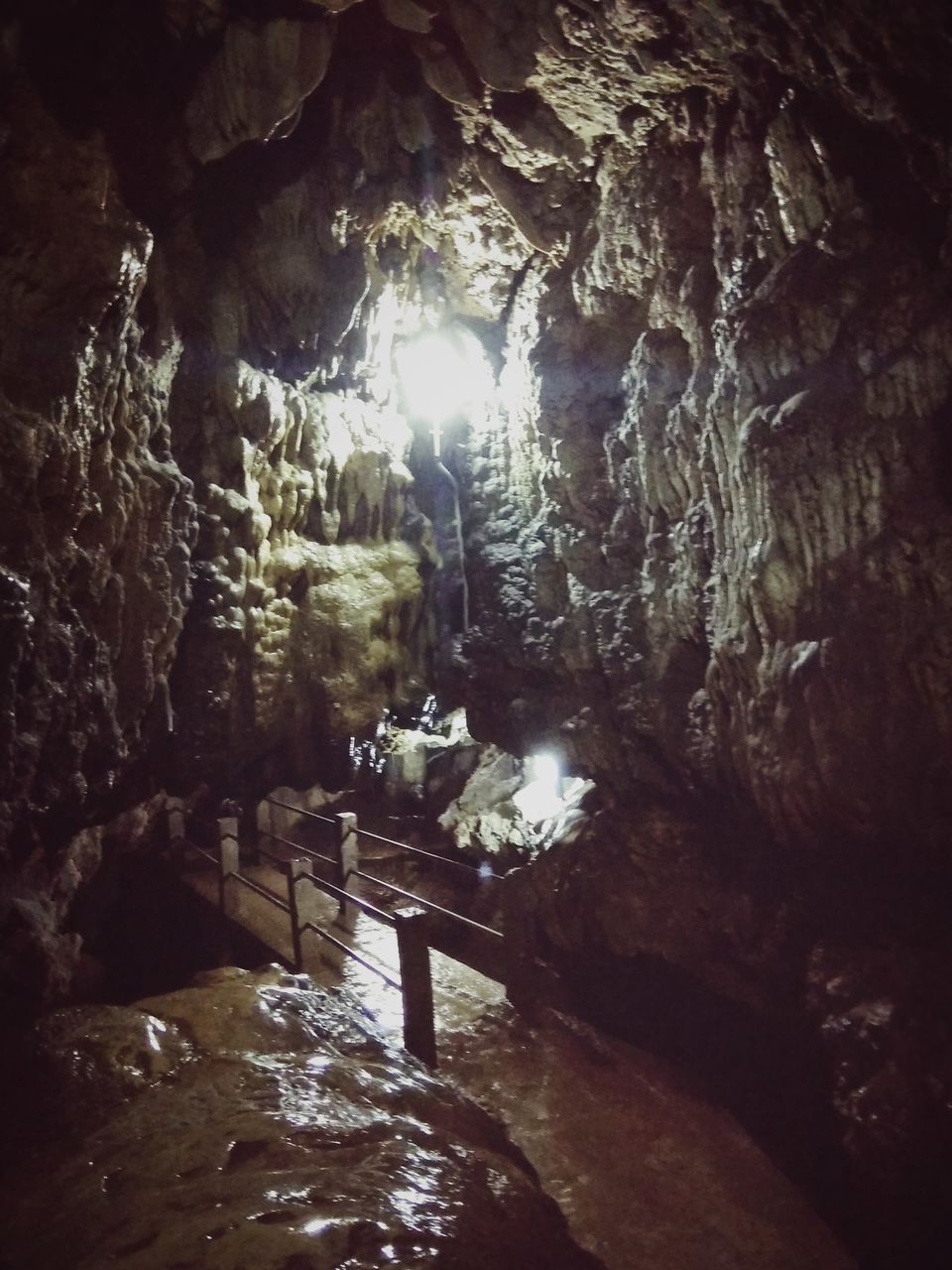 Next day we started little early because we were supposed to visit the cleanest river and cleanest village, and if we really wanted to enjoy both of them we would need enough time. I have been hearing a lot about going to Dwaki because it's known for the cleanest river. But then our guide who is native of Khasi told us that the place has actually become very popular, so its crowed and you would be hogged by people offering you boating and this is all because of tourist agency, so instead of Dwaki, he told us that we would going to Shnongpdeng village to witness the stunning beauty of Umngot river (cleanest river).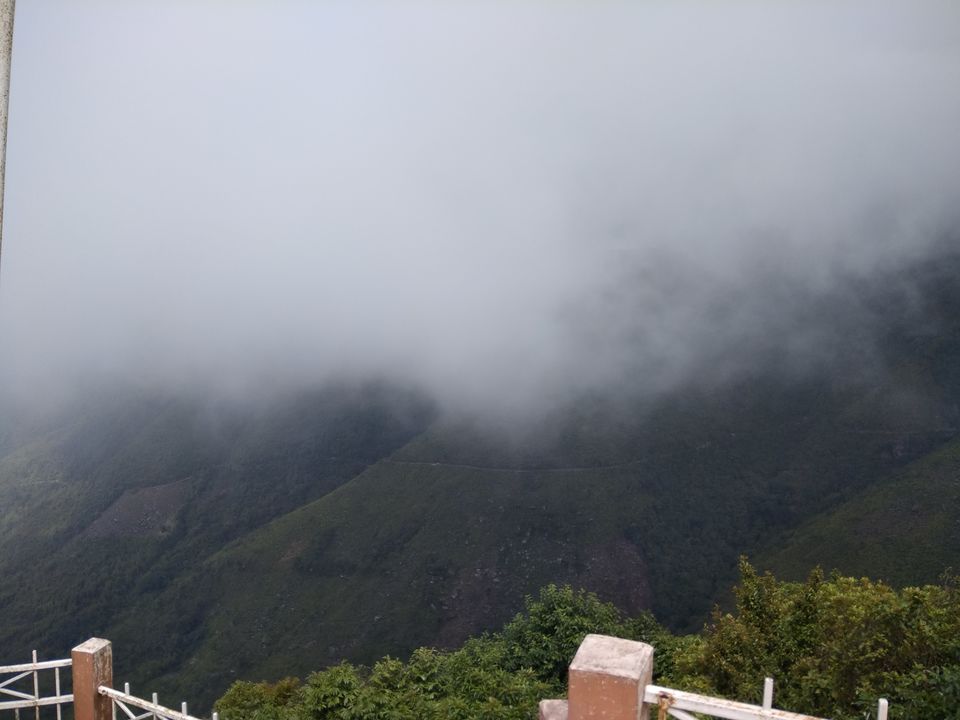 The weather next day was amazing, it was raining initially and then the entire route was covered with the clouds. Our guide was competent driver, so we literally enjoyed the drive where we couldn't even see what was ahead of us. The first destination was Mawjngih Lapynshongdor view point – it was cold, and when we stood at the top, all we could see was a beautiful lush green valley cluttered with dense clouds. Mesmerizing indeed!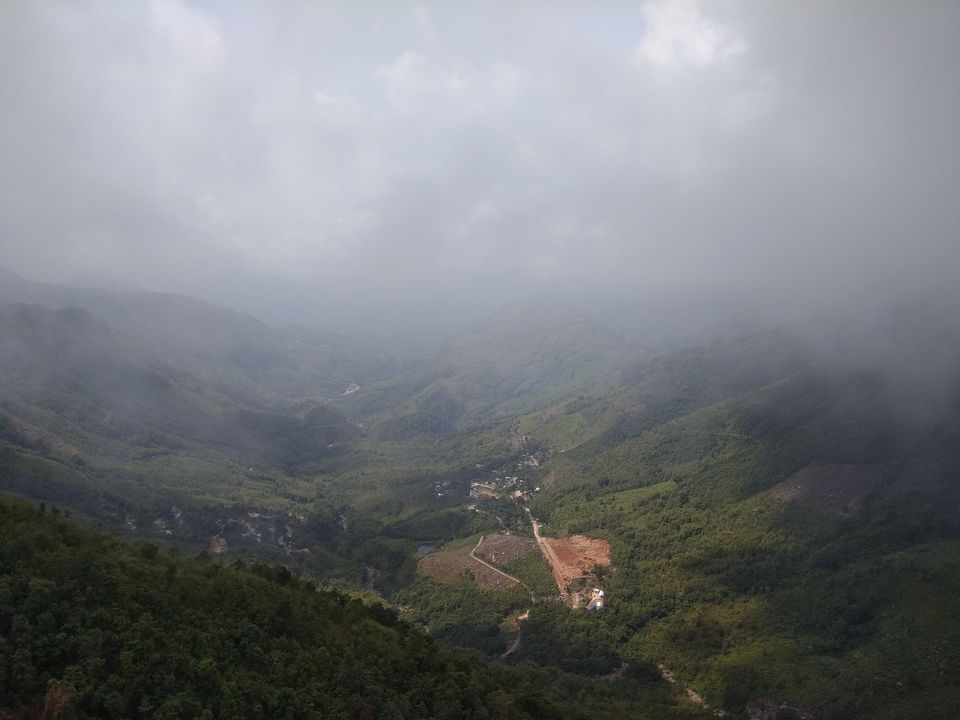 Our travel companion was right when he said, "You can experience four seasons in one day in Shillong especially in Khasi region" and yes we actually did it because it rained first, then there were clouds everywhere followed by extreme cold, then windy and as we were reaching to the BSF post for Indo-Bangladesh border, it was hot and humid. It took us more than 4 hours to reach Shnongpdeng (located in west Jantia hills).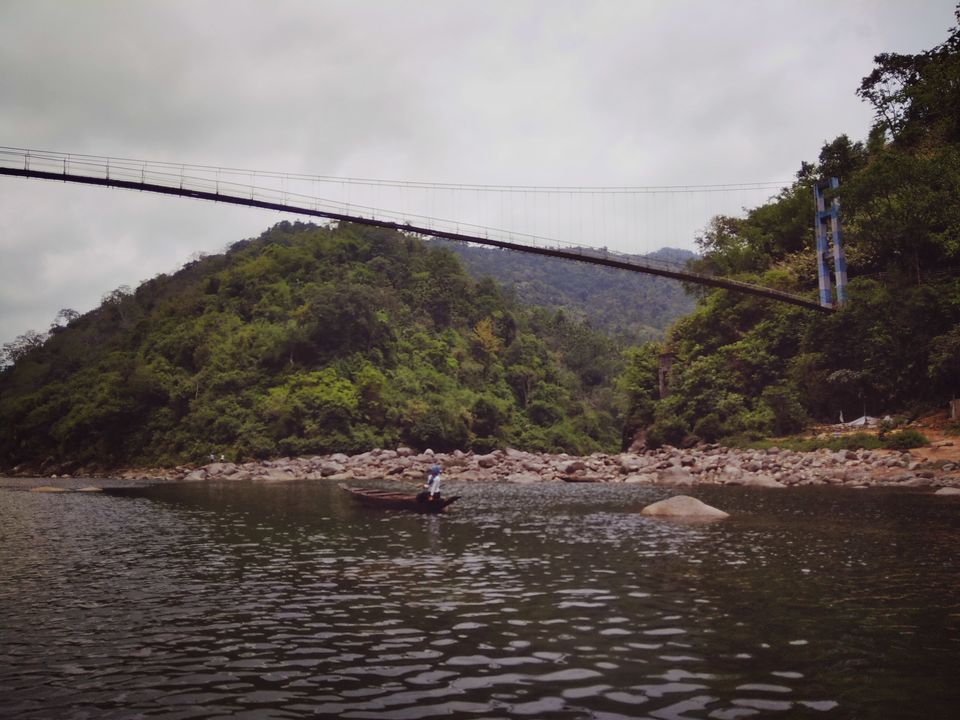 The moment we saw the Umngot river, we were dumb stuck, none of us has ever witnessed such a beautiful sight. The free flowing river was surrounded by forests on both sides embracing the huge rocks sideways, many boats stood stationed stationary in the river probably catching the fishes, the water being crystal clear- at that moment I couldn't believe my eyes that I am standing here!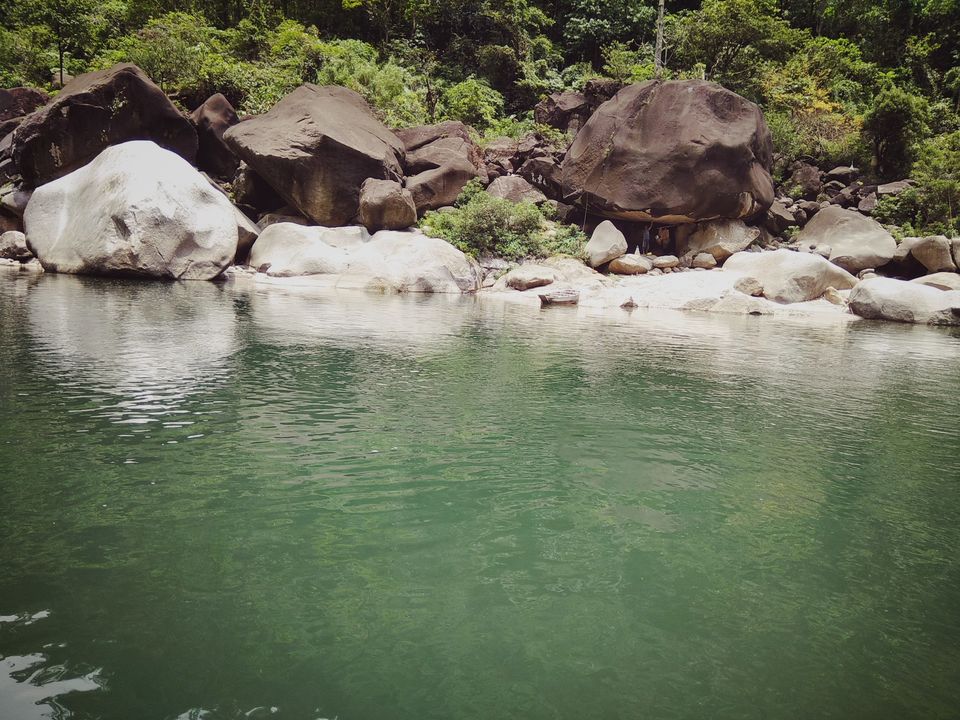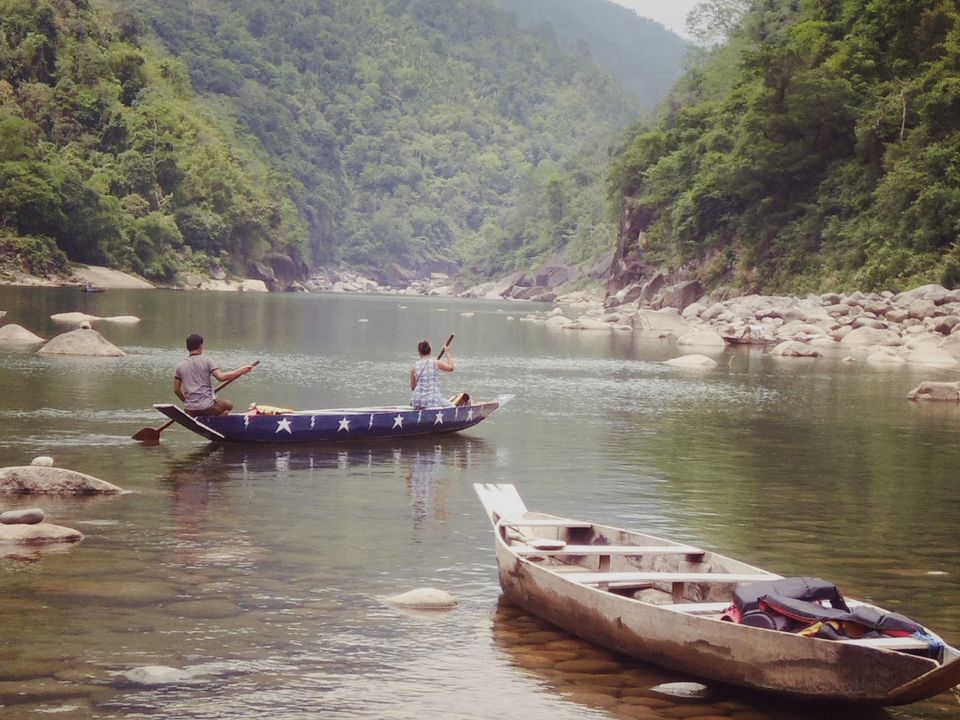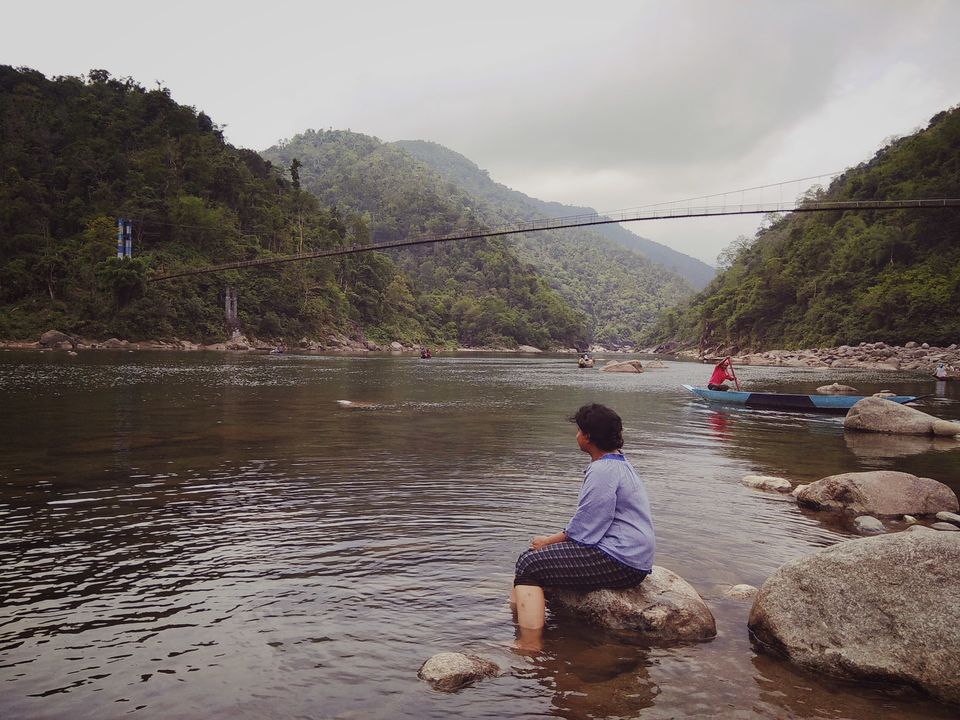 Trust me Dwaki is way overrated, if you really want to enjoy clear water and the nature beauty without the hustle bustle of tourists, Shnongpdeng is the right place. We then went for boating, if standing close to the water or sitting with our feet in the water was mesmerizing, boating was altogether a different exhilarating experience. Our guide also knew boating so both the owner of the boat and our guide swirled through the river in a very swift, slow and calm way giving us all the moments which would be saved forever in our memories. As I am writing about the experience, I can feel the water around me, the waterfall to which we went close by to experience the flurry of river and how fascinating it was to hold the chaku to drive the boat, I am forever indebted for that beautiful and soulful experience.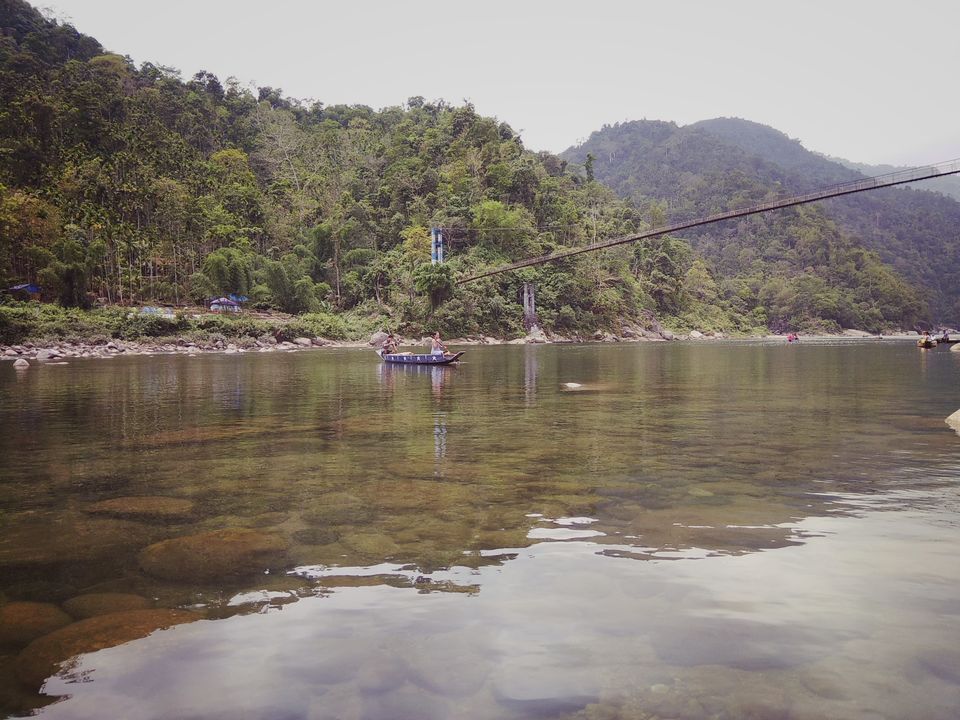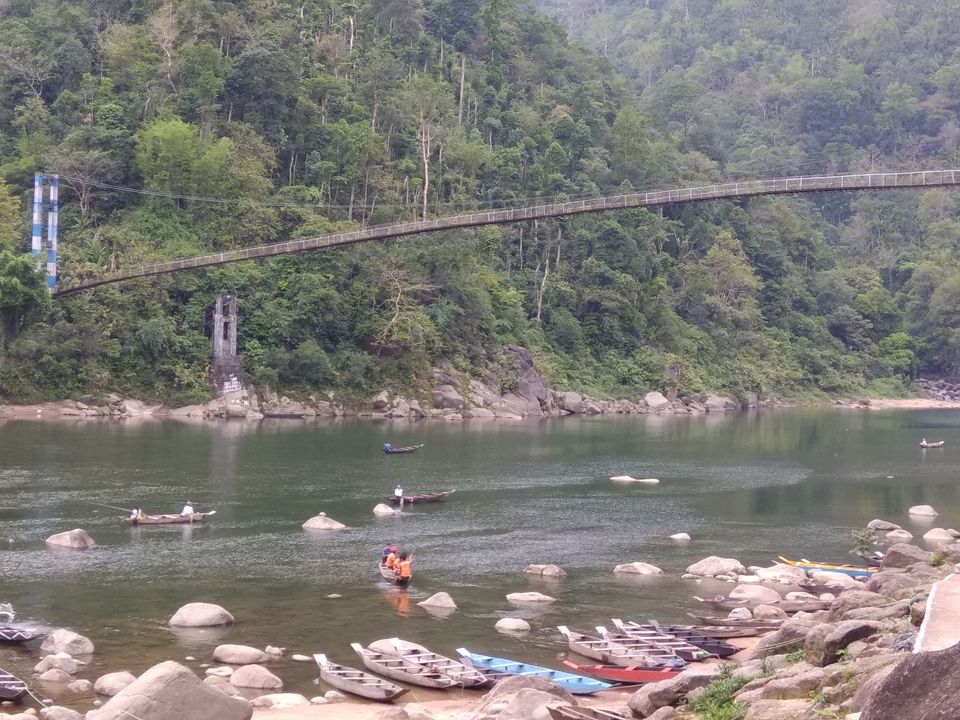 We also went to the suspension foot bridge that covers the river held firmly for years, constructed by army. On the opposite hand, there are many homestays where one can stay for a day or two, engage in camping or even adventure sports.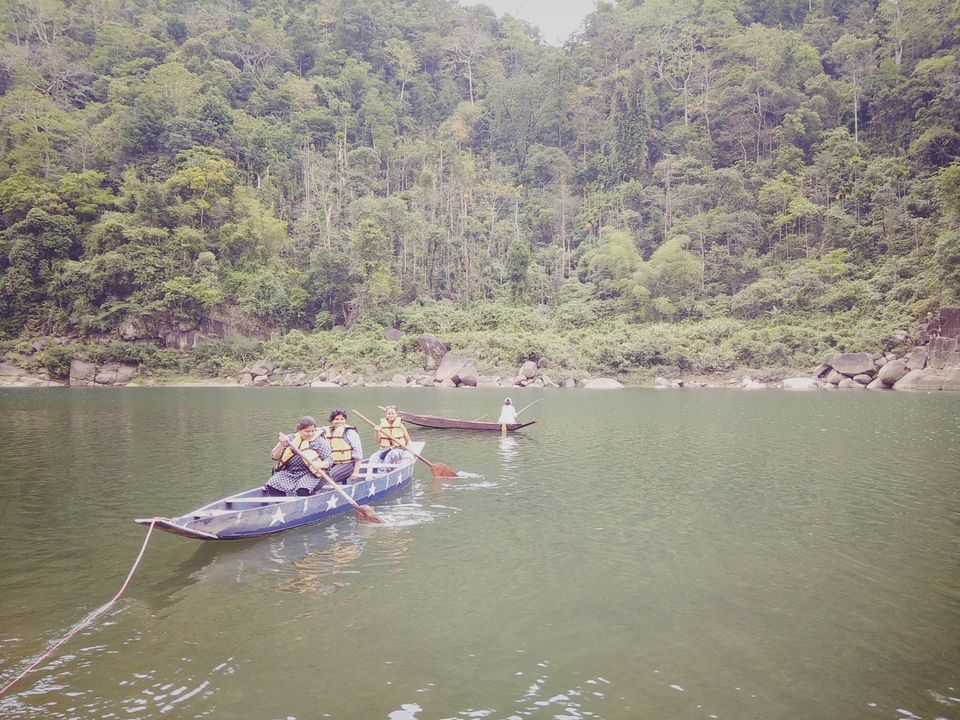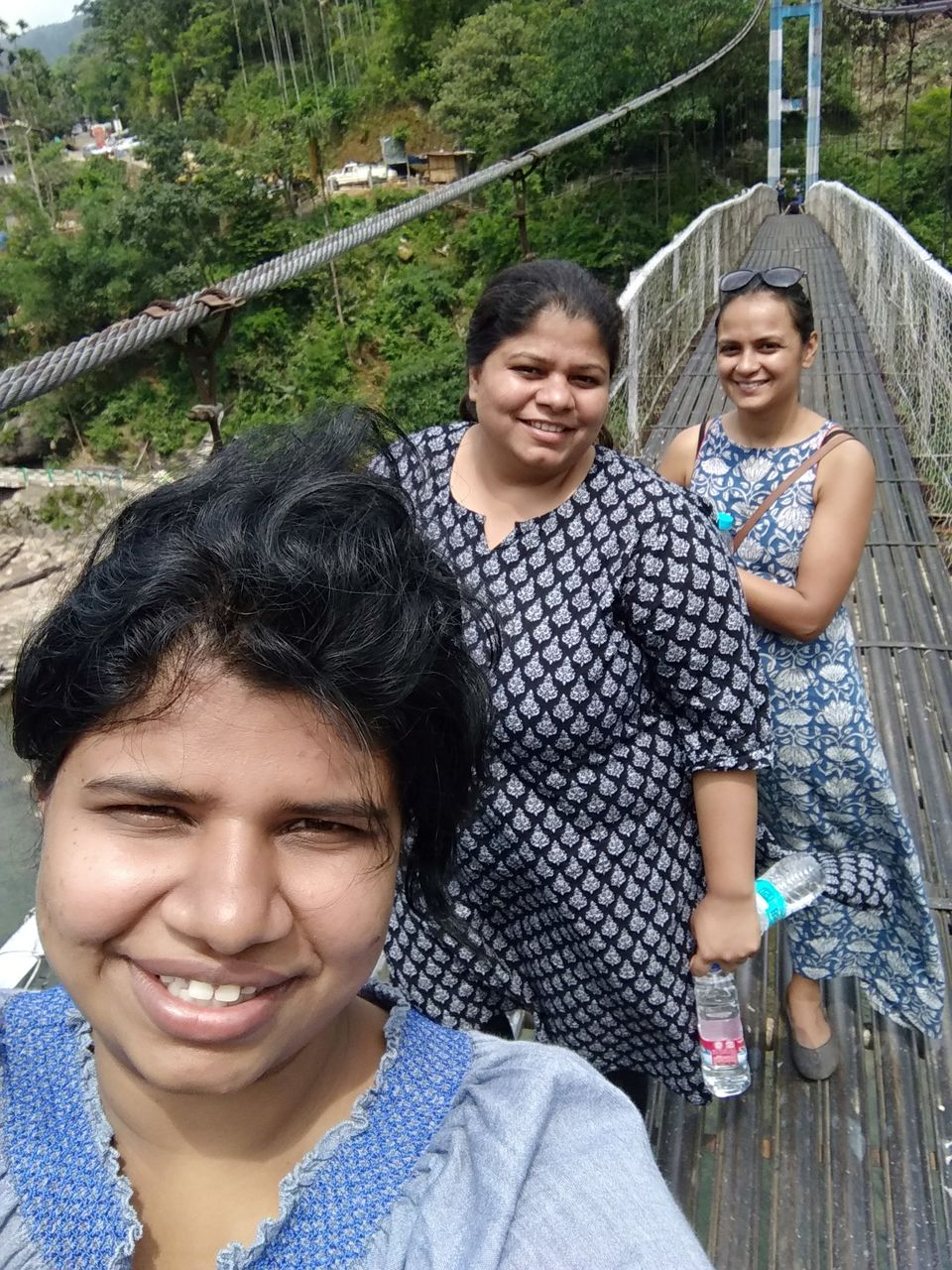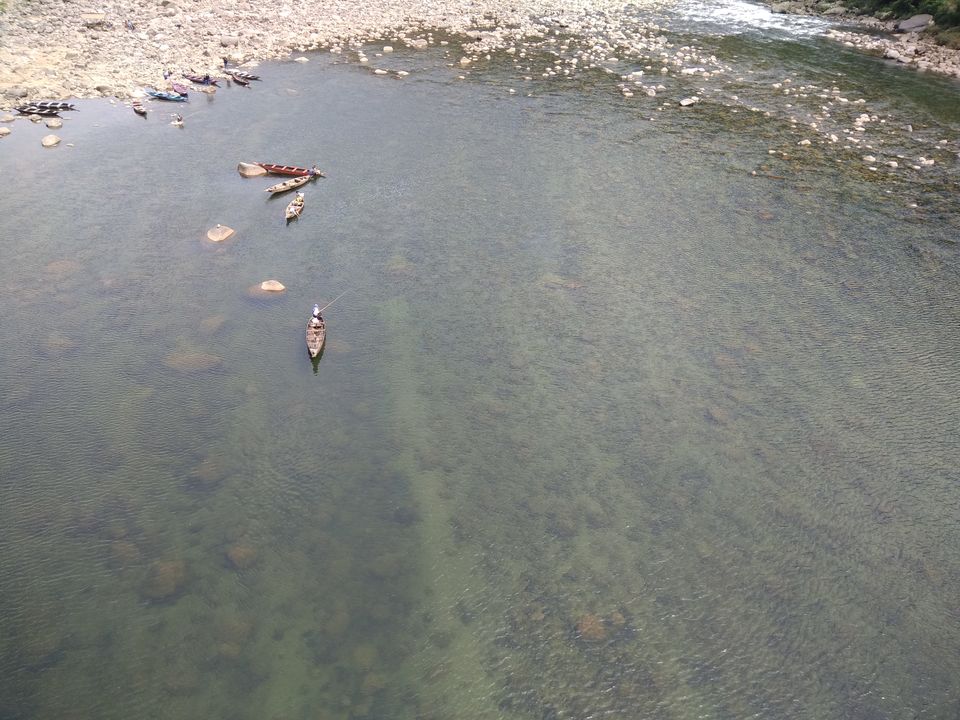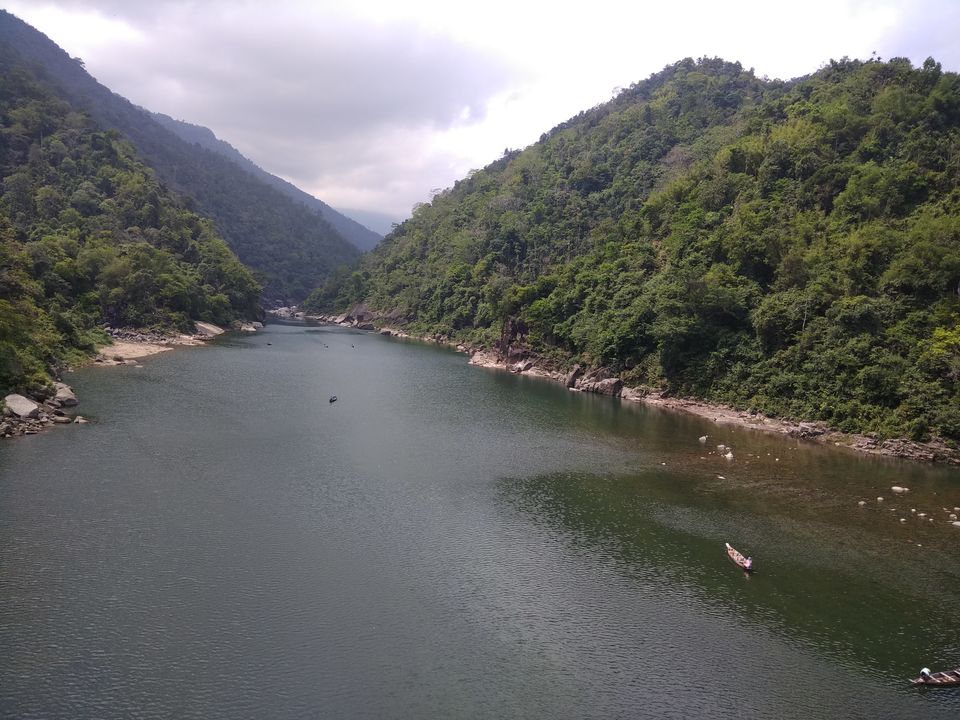 We were short of time otherwise we would have definitely stayed for at least a night. Also it is very cost effective with the world class experience! Before leaving we had lip smacking paratha and aloo-puri.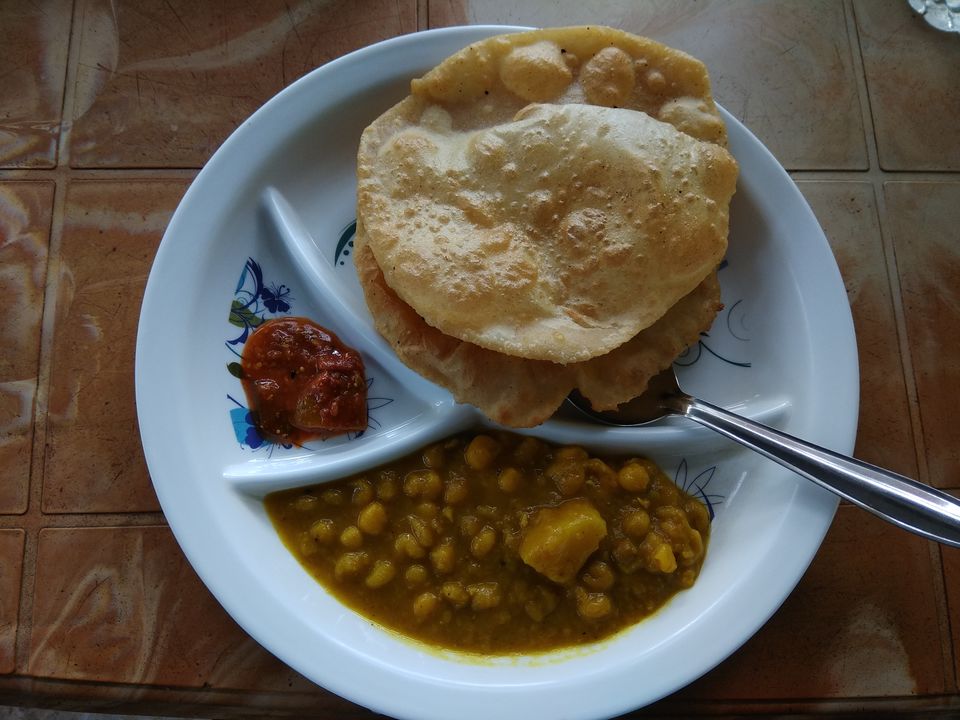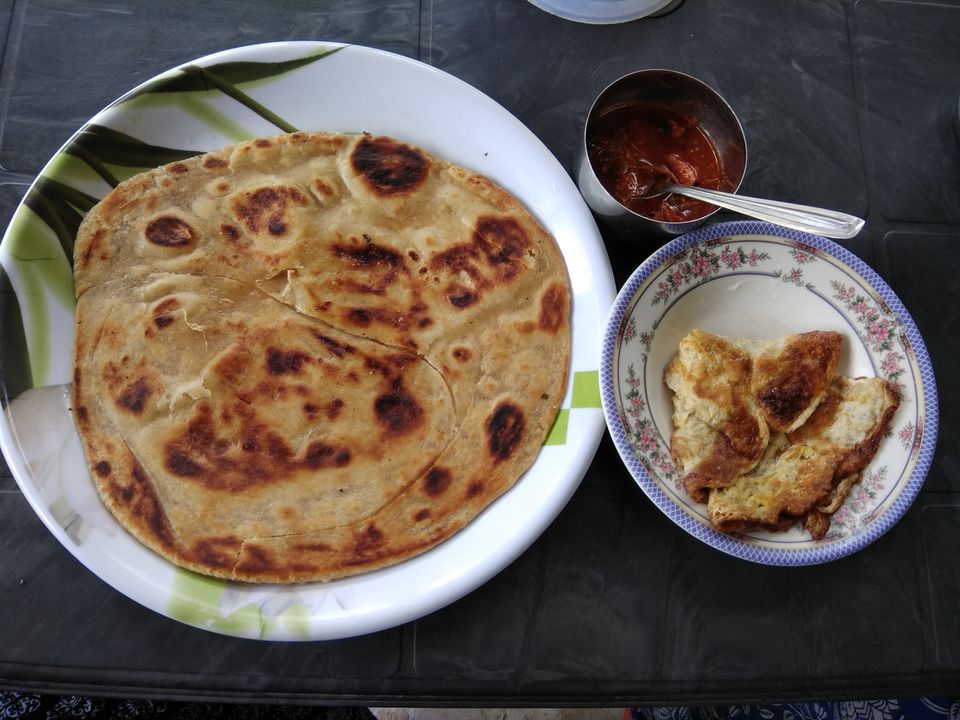 Post our epic tryst with Umngot River, we then drove to Nohwet viewpoint – to our understanding it would be another scintillating point from where we would be able to see waterfall or lush green deep valley but we were stunned again because Nohwet viewpoint also known as Bamboo sky walk of Nohwet is constructed atop of tree roughly four storey above the ground – like a hanging park with bamboo seats, you can actually see the valley beneath and absolute mesmerizing view would get onto your nerves.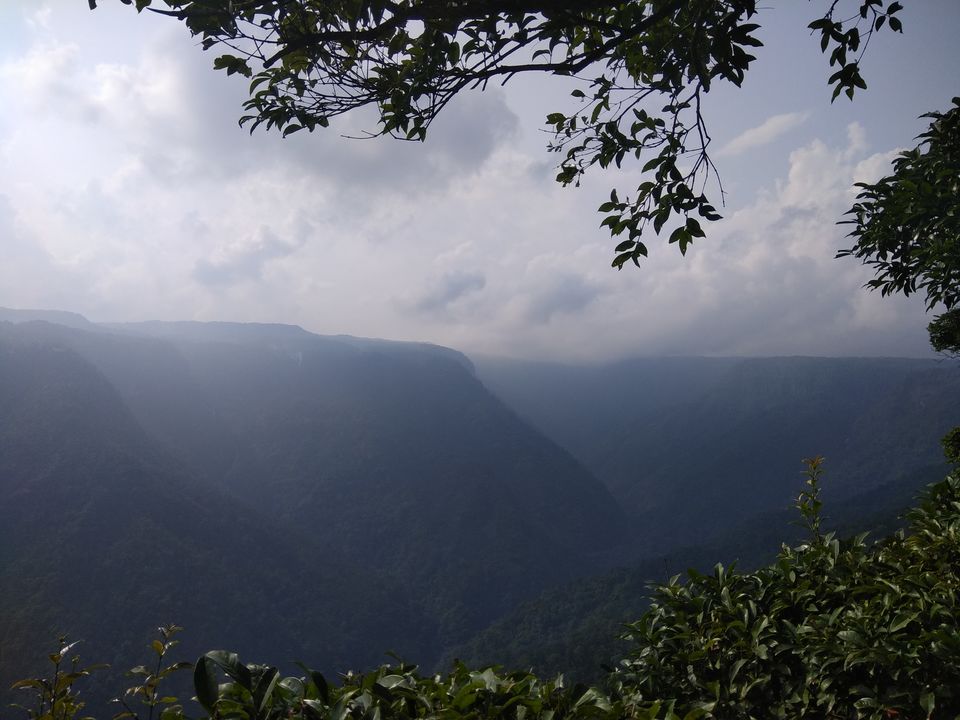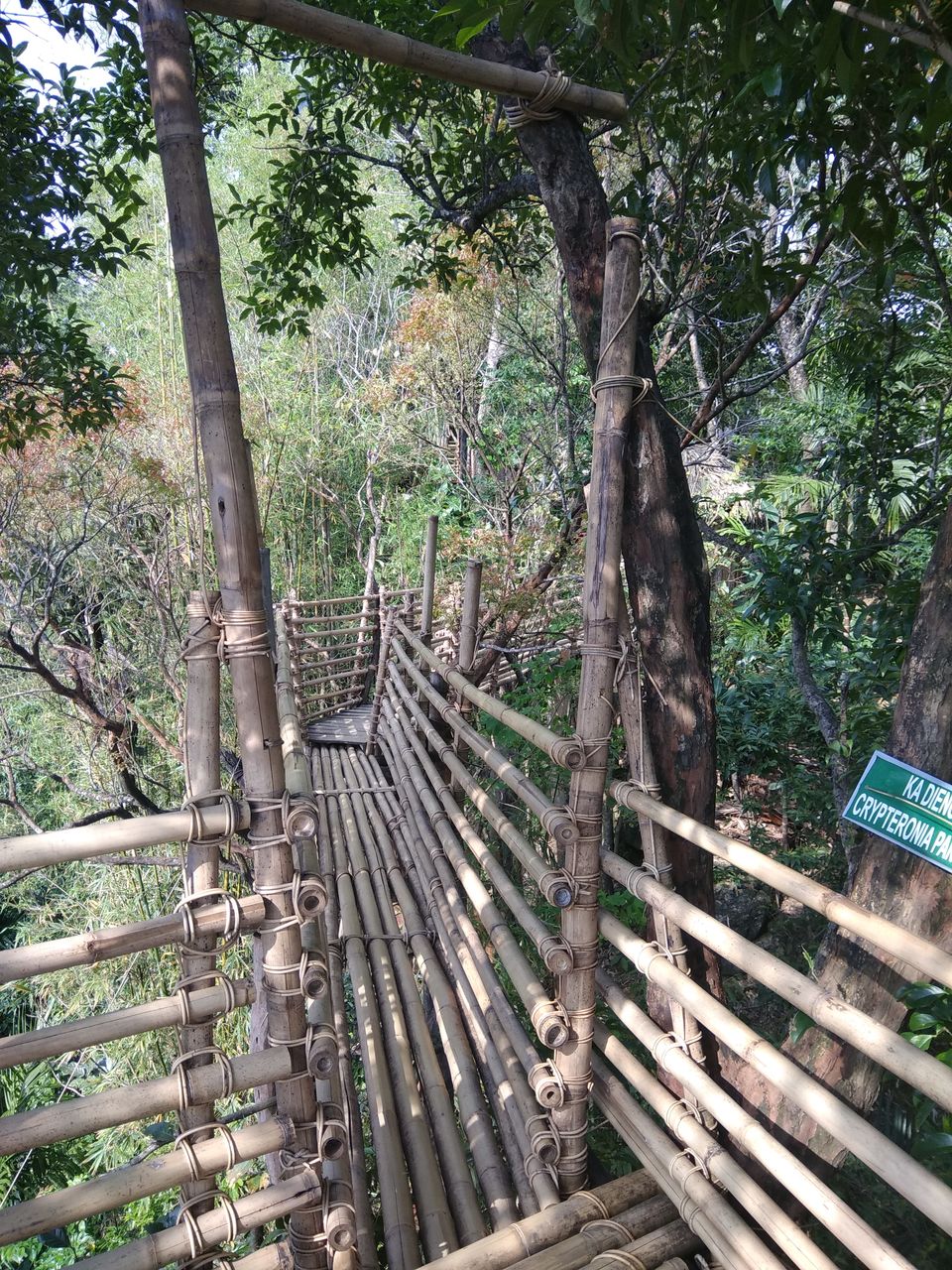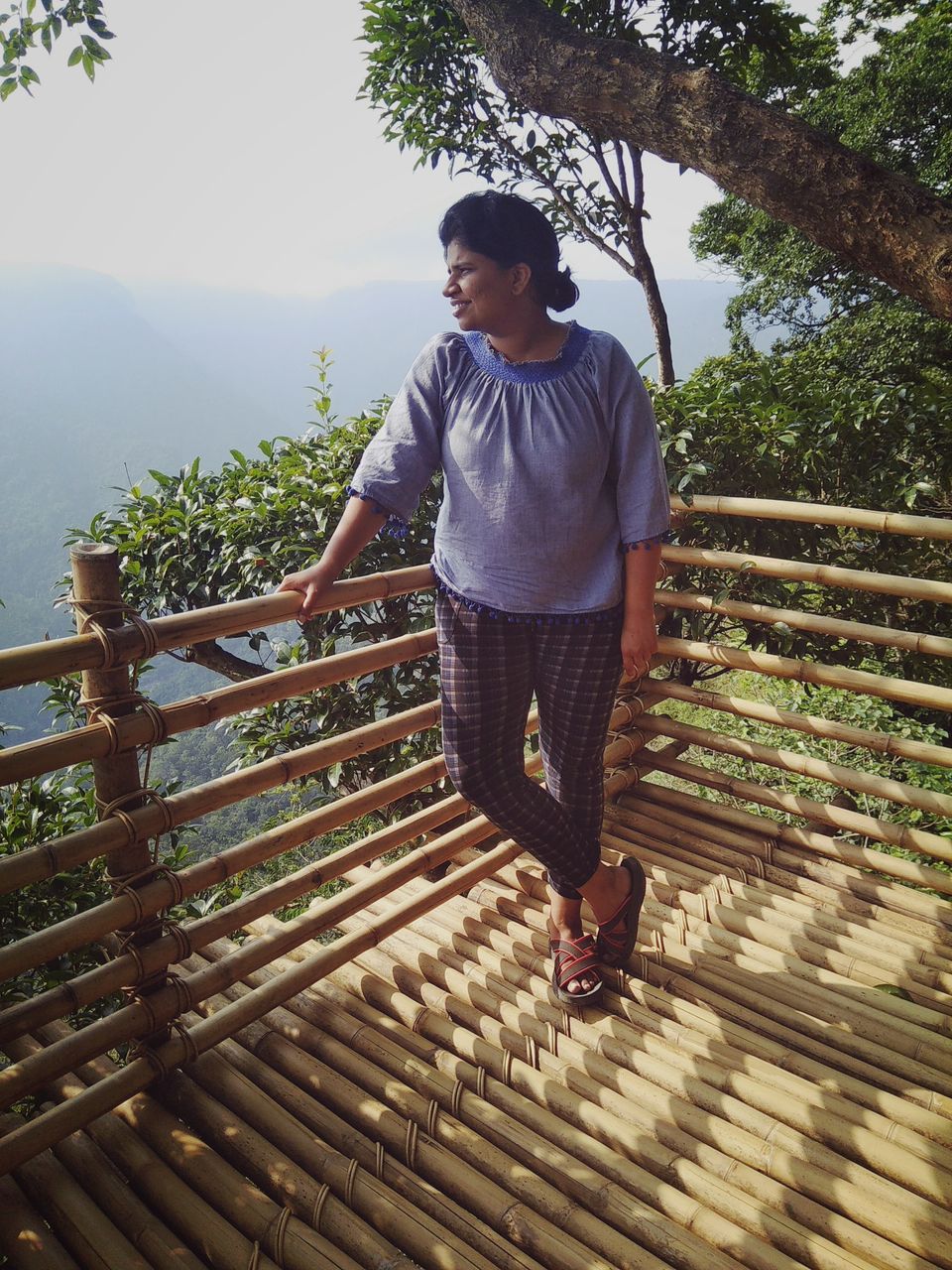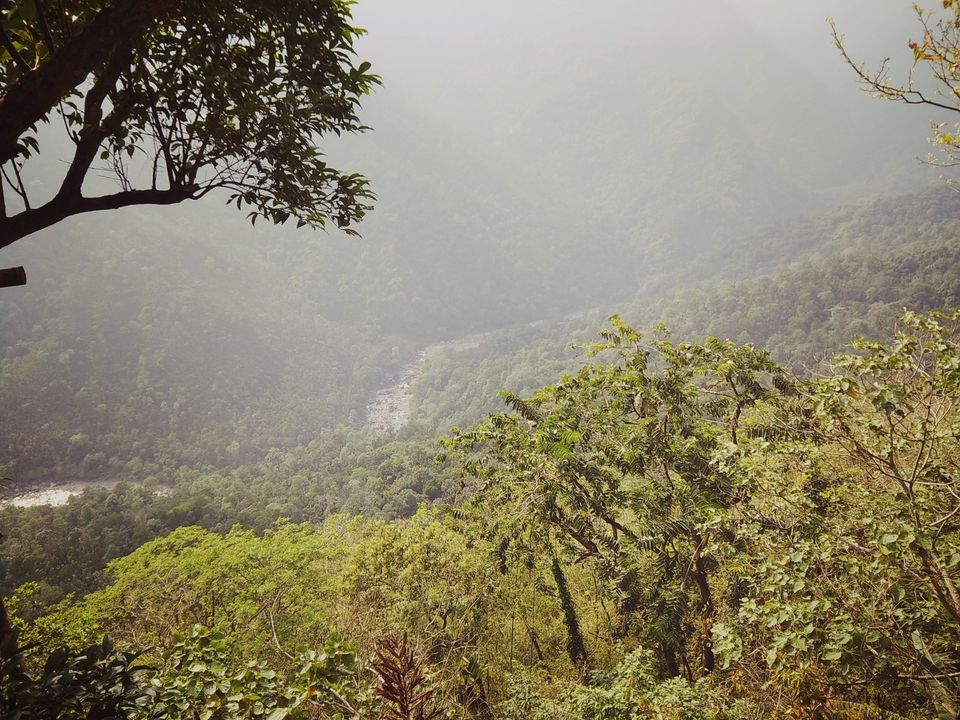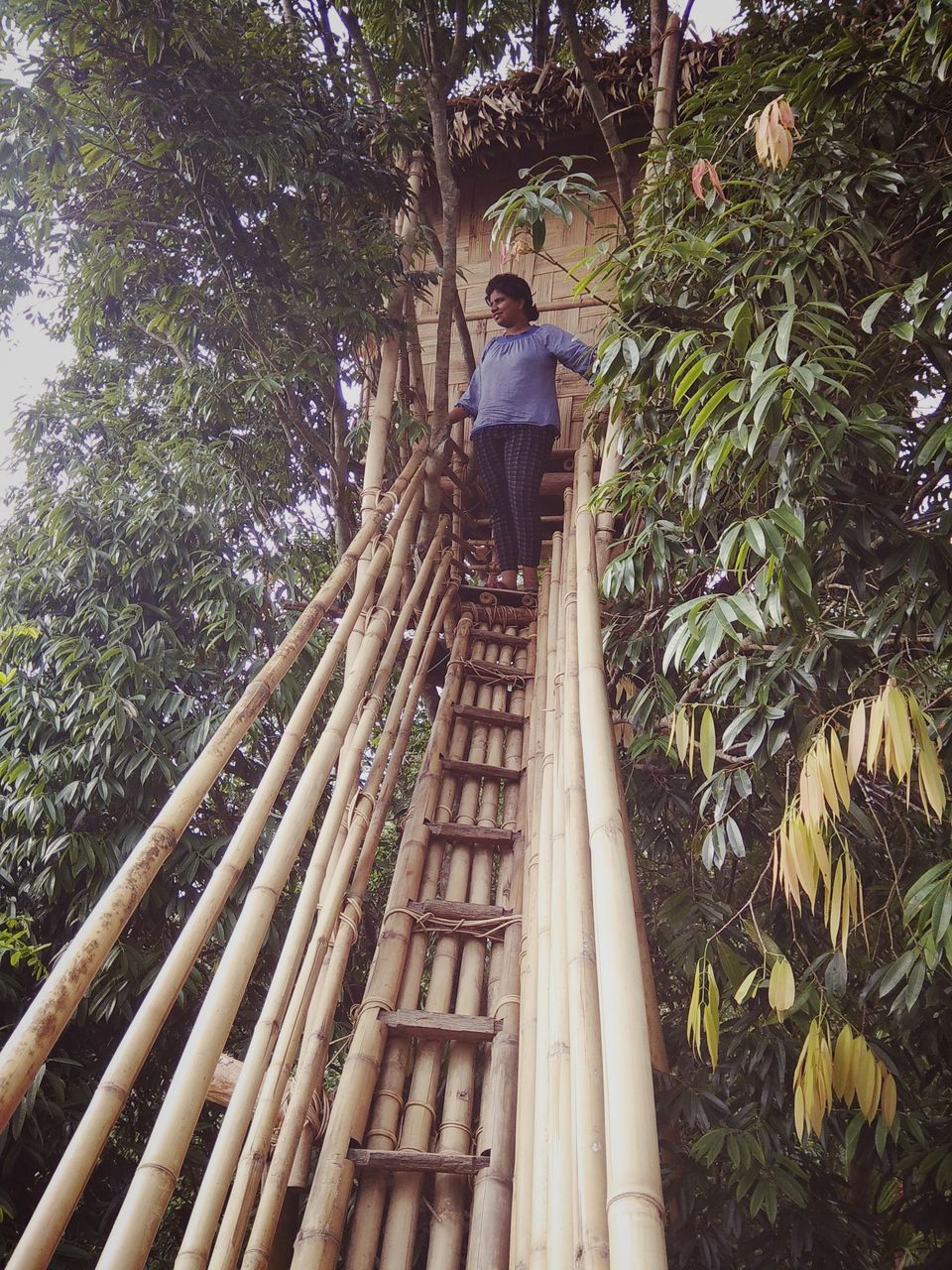 Closer to it is the tree house with the stairs – all of it being constructed with bamboos. It amazed me how sturdy this architecture is that can hold 10 people at one time without breaking down. This whole view point has been constructed by the two brothers who live in this village. Their innovation, dedication and architecture commands respect and inspire people.
After few minutes of drive, we reached a place which is famous for Living Root Bridge.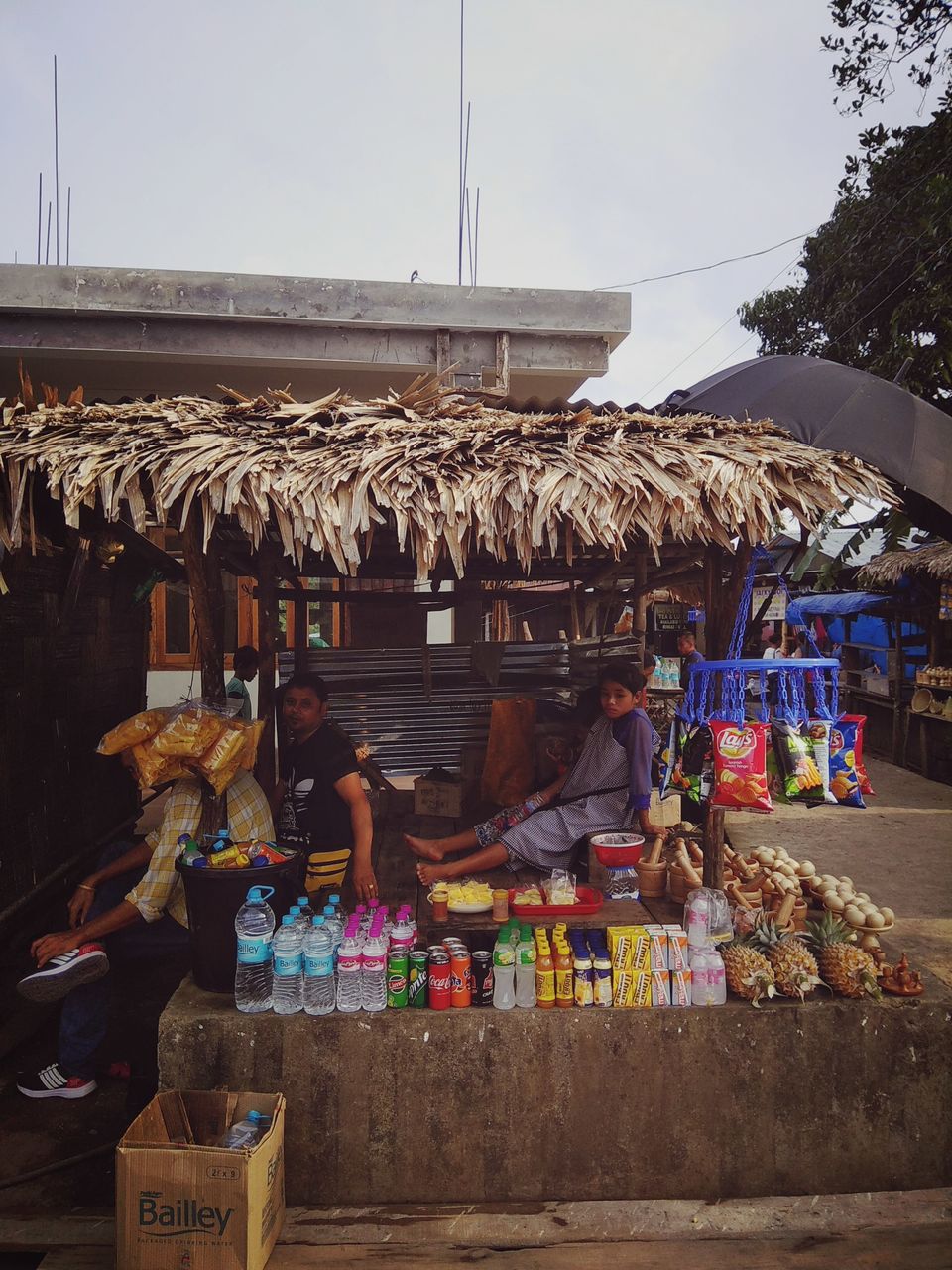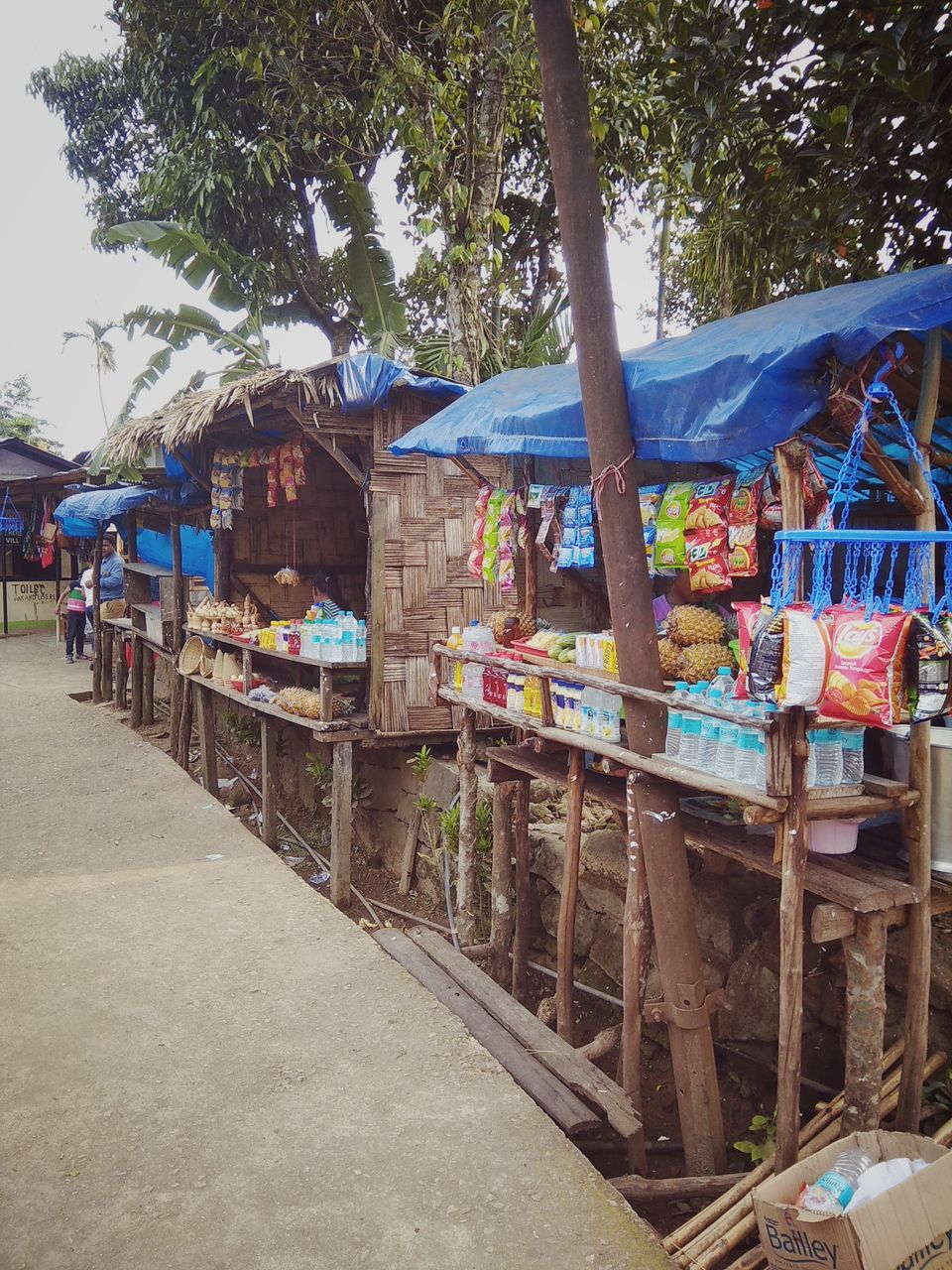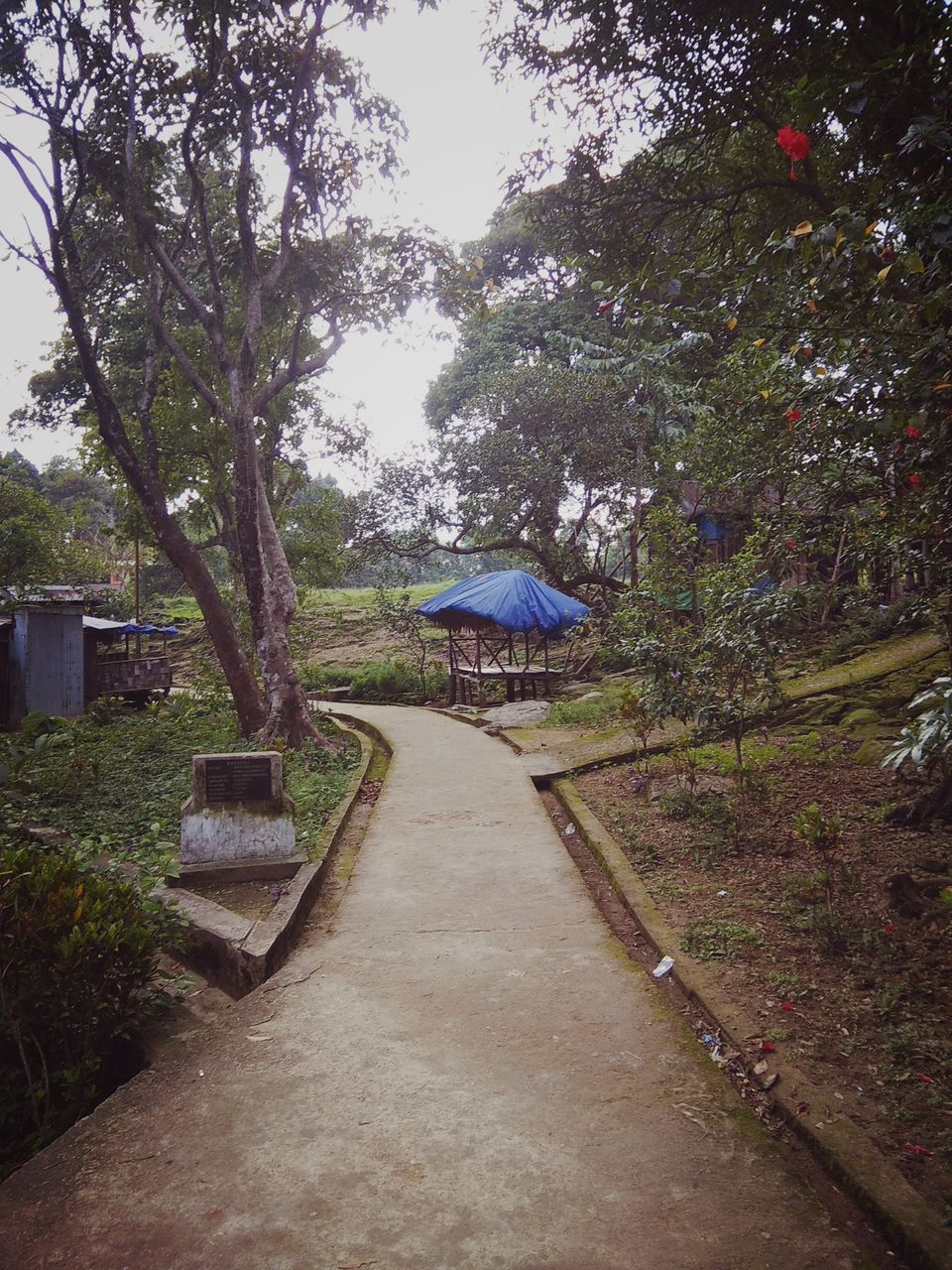 But it wasn't a walk of cake, we had to climb down to the river along the natural stairs that were made by roots of the trees with broad stones for stability. There were bamboo banisters for support here and there which made the walk little easier. When we reached the Living Root Bridge, and as we walked over it – yes it was worth the effort. There was something surreal, artistic and riveting about it, the free hanging root hairs, the entangled tree trunk and a river flowing beneath that! We went down and sat on the stones near the river, it was peaceful even in the chaos of people. We could see people striking poses on the bridge, some people standing in the sides of river clicking the bridge through various angles and some students enjoying splashing water over each other.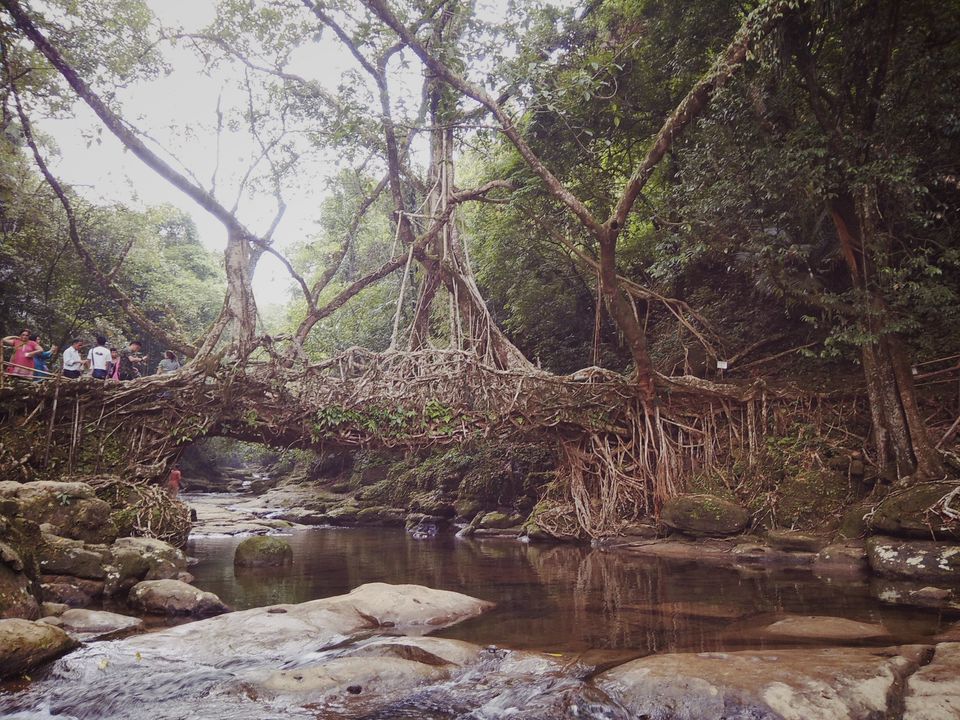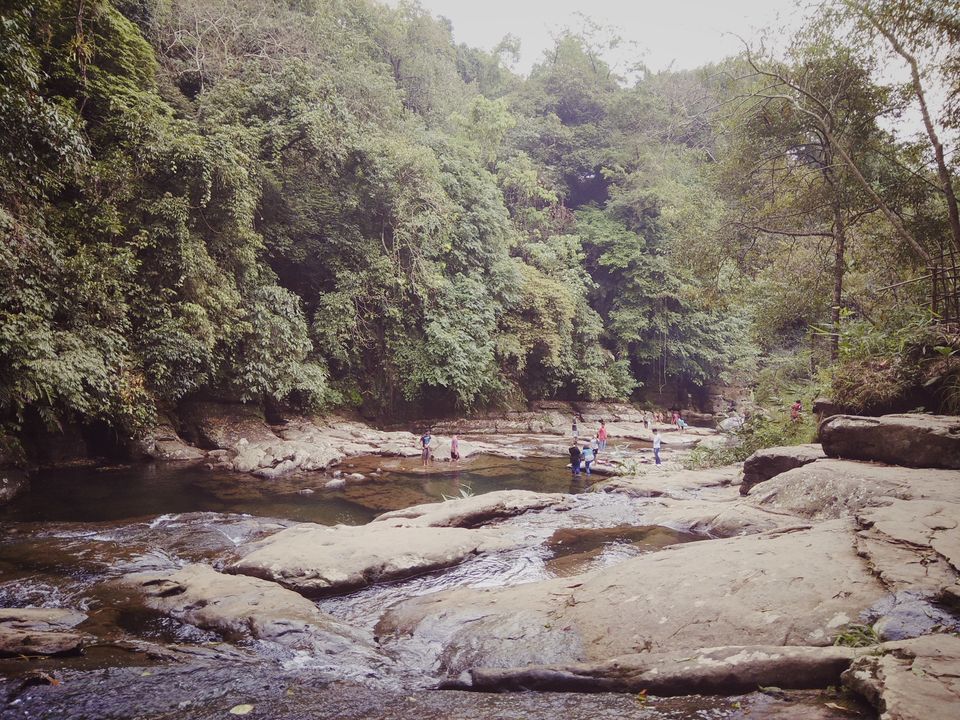 The last destination of our trip was Mawlynnong Village, also referred as 'God's own garden' and popular as cleanest village in Asia.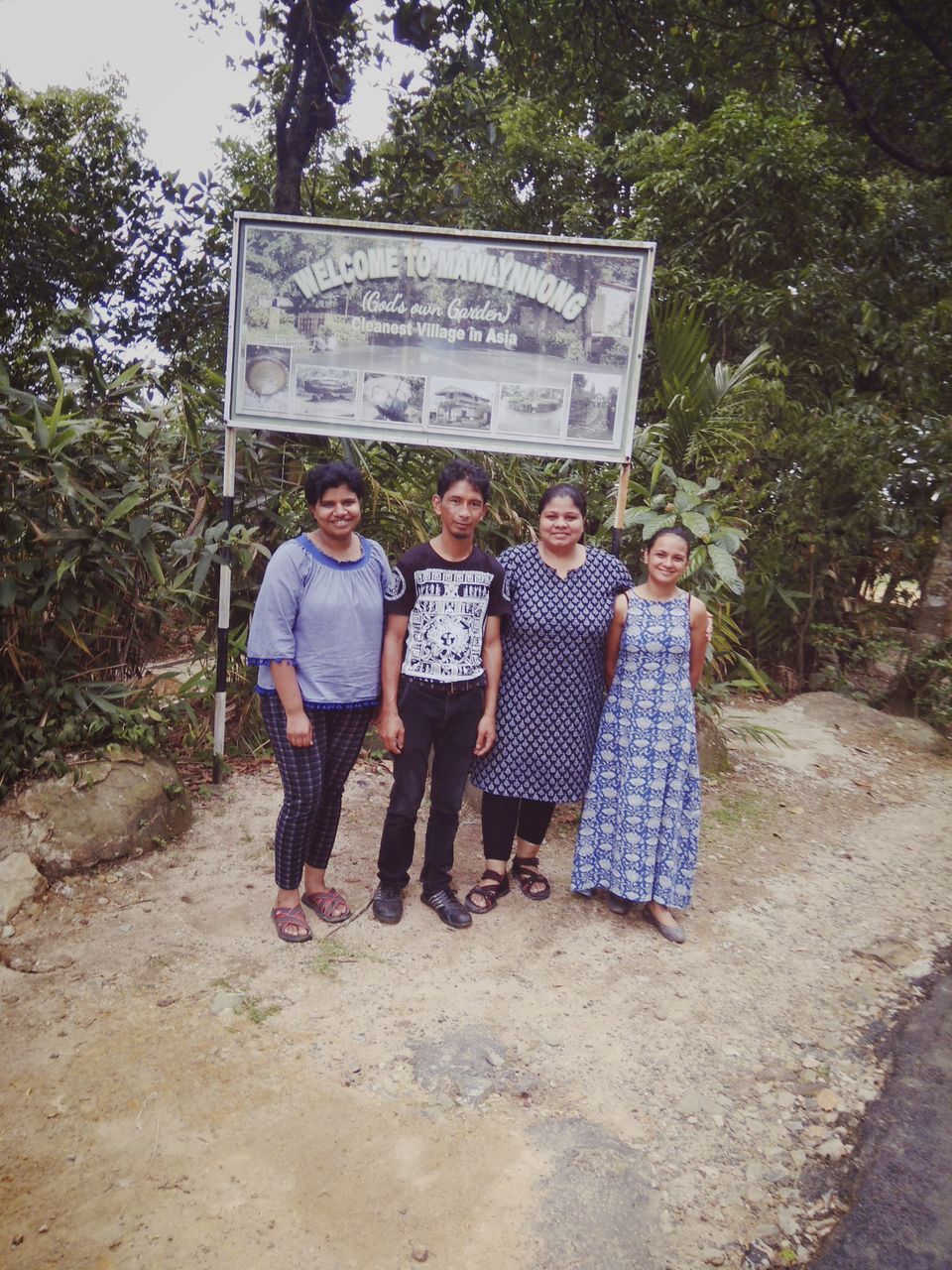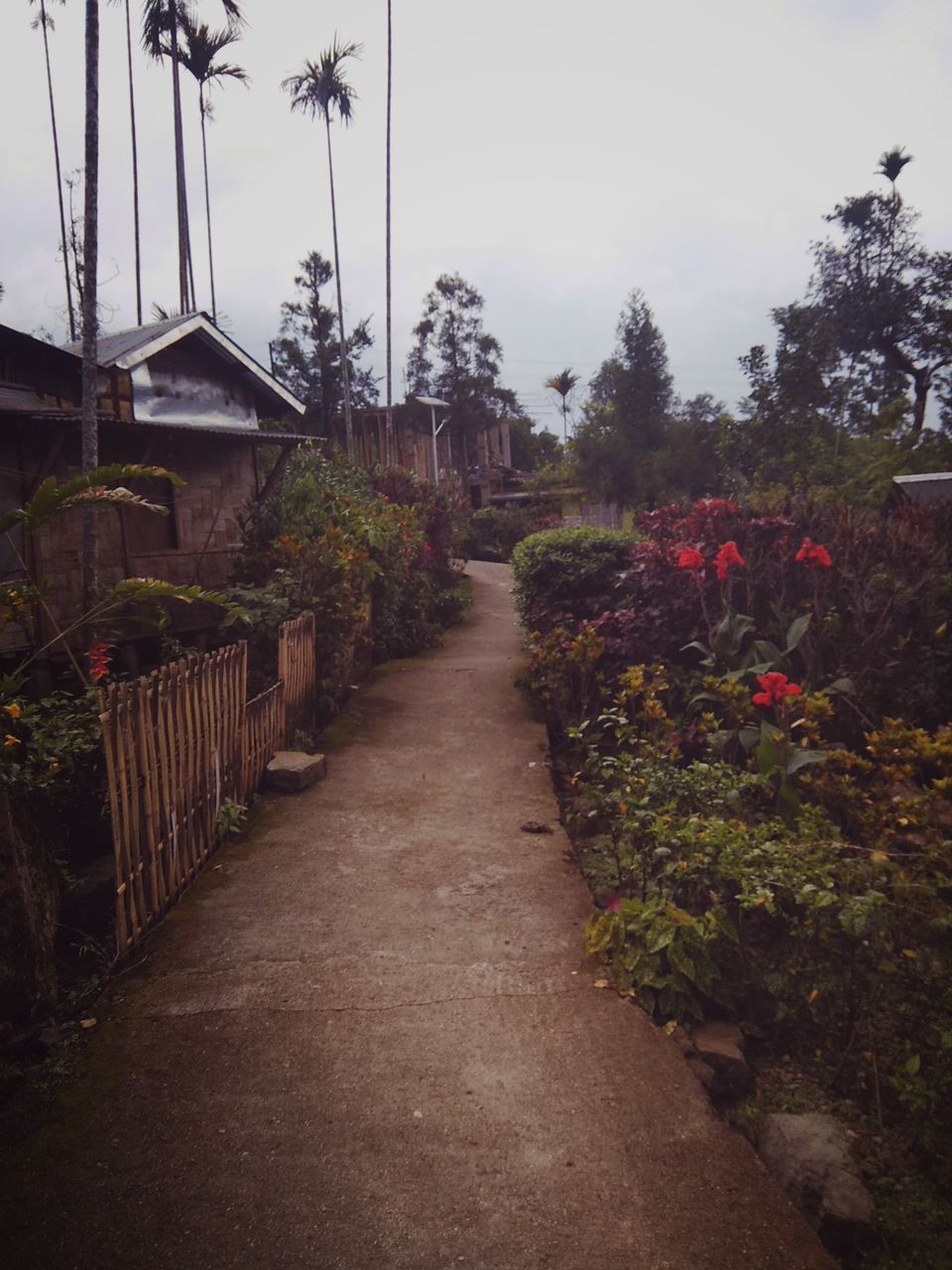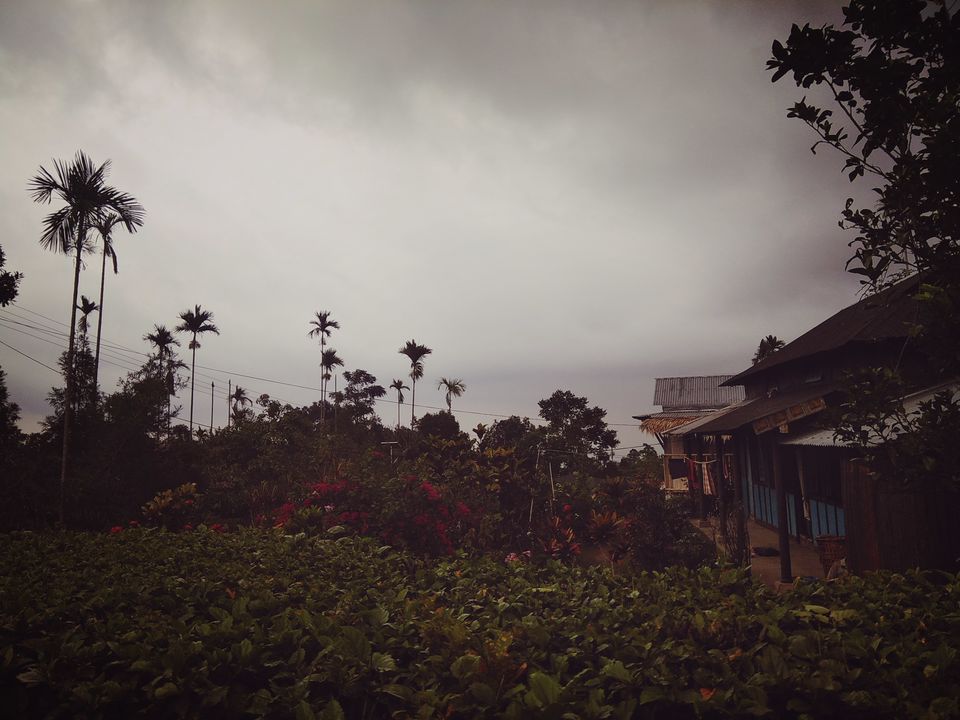 The village was beautiful as if people have decorated it with lush greenery, different flowers and equally beautiful houses and yes absolutely no littering anywhere! It was evening, so we were leisurely walking around the village, stopping here and there to observe the construction and architecture of the houses, all of them had gardens and for a moment it felt like we could just stay here. We, then spotted a small café, where we got red tea since it was their closing time, and just then it started raining heavily.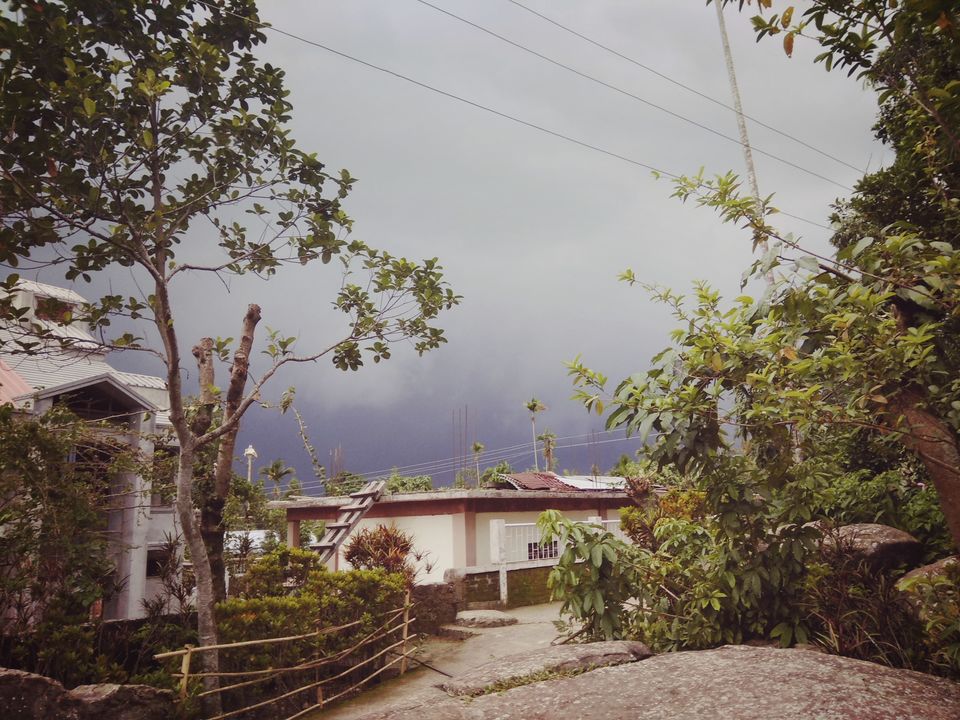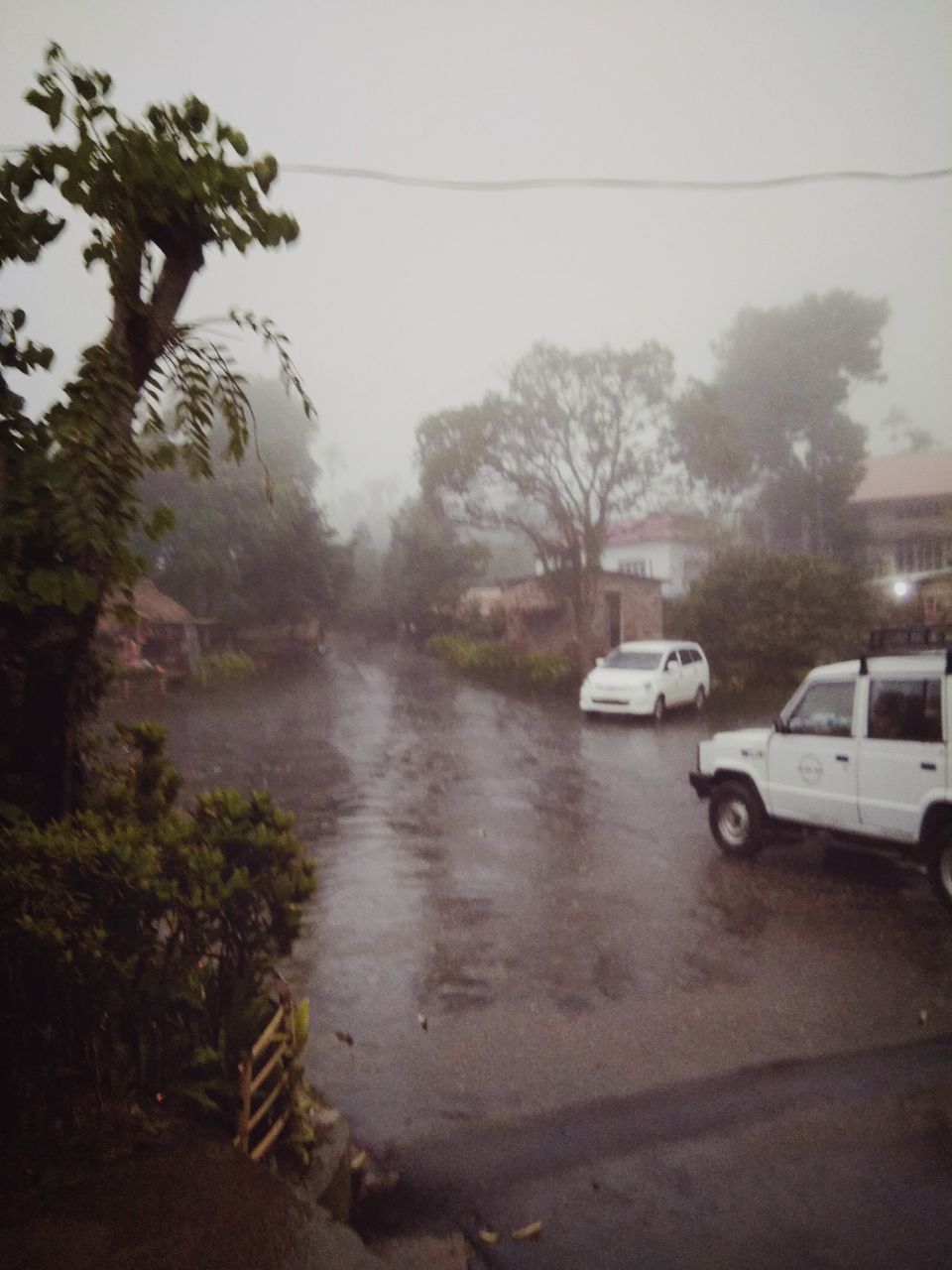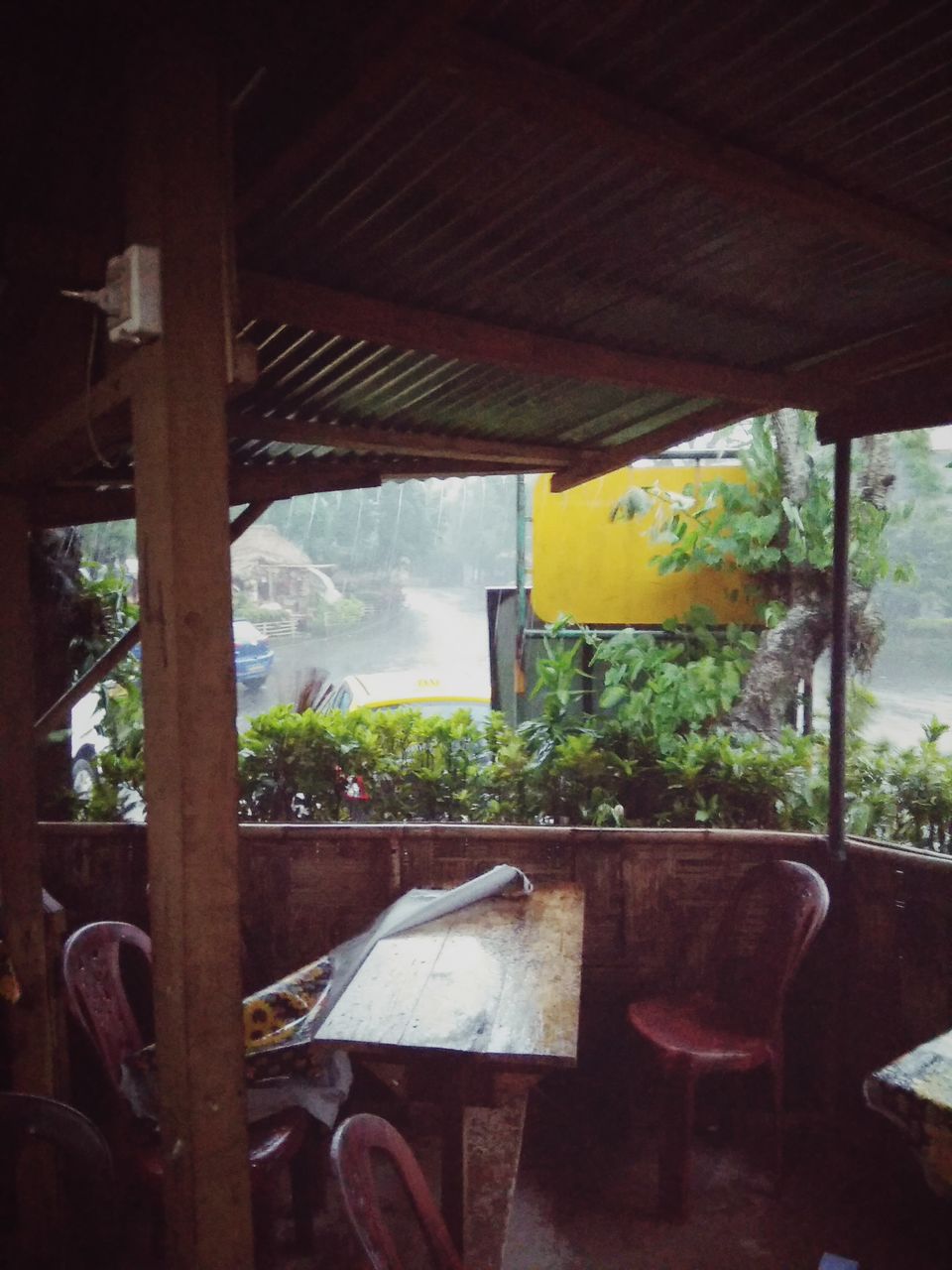 Oh my god! This was picture perfect scenario, sitting in a semi open café with tea in the most beautiful place and it's raining. Nothing could have been better than this. Since we knew the rain won't stop in any time soon, we hopped in the car to go back to Shillong.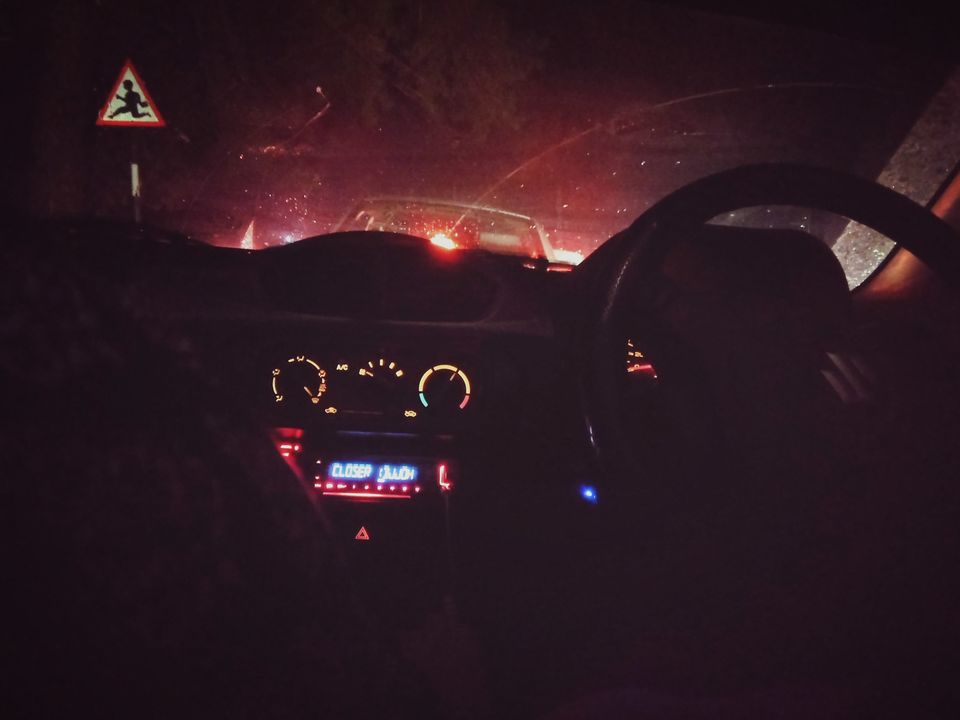 There was comforting silence during the entire drive with just music being played softly, we were soaking in the experience that we had in these two days! It was intense, overwhelming, beautiful and breathtaking not just because it's Shillong but because we had local Khasi person introducing us to the beauty of the place he is born in
"For me, money is not important; I want you to know Shillong as I know. It's crucial for me to make you feel what I feel for Shillong"
And yes he succeeded in that :-) So if you ever plan to visit Shillong, don't go to travel agency instead find a local Khasi person and let him lead you to the journey of serenity called Shillong.