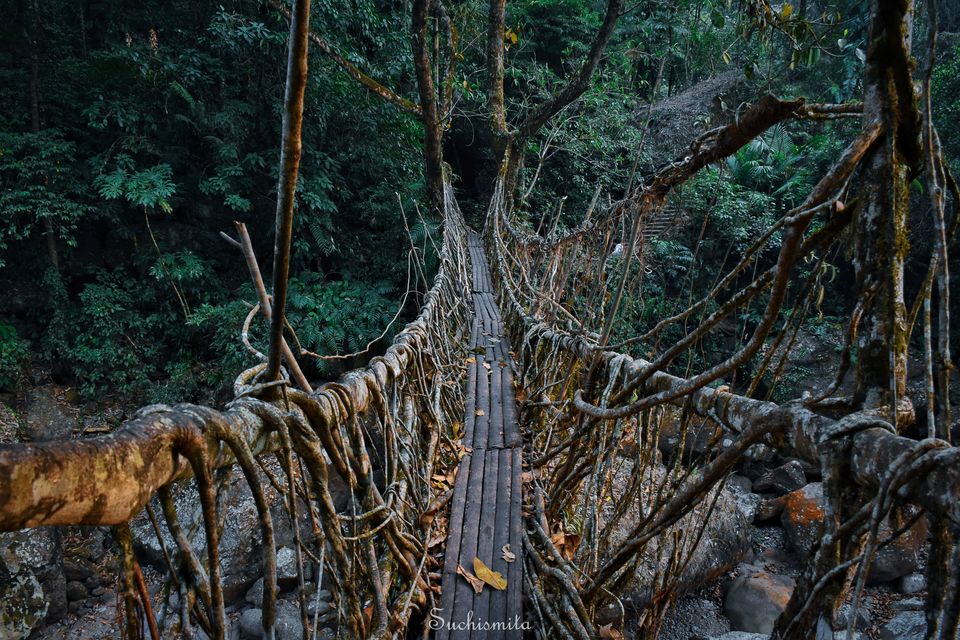 After travelling to really rugged mountains like Spiti, Silk route and Ladakh, I had really been craving for a pretty, green hill station. So there it was, a plan for Meghalaya! From searching locations on Instagram to googling all the touristy and non-touristy spots of the state, I had customized a list of places in my mind. A convenience of travelling to Meghalaya was that when I was in kindergarten, my parents took me to Cherrapunji and Shillong for 2 days because my father had 2 days off time while working at Guwahati, and it was the rainy season and back then in 2003 or 2004 it really rained nonstop for days on end!
On the 13th of February, I took the 9a.m. flight to Shillong. By 12 I was already at the Umiam Lake, locally called Baraa Paani, 30 minutes away from the Shillong airport. As we approached the lake, a humongous water body started appearing along the road that seemed like a river, but the local driver said that this was the 220 square kilometres large Umium lake. I found a very empty small bridge at the end of the park around the lake and enjoyed the afternoon breeze, boats speeding up and down the lake like it was a river. This lake is actually an artificial manmade lake that dams the Umium river. Maybe that's why the lake resembles a river.
By 6:30 I was at 7 Sisters Falls View Inn, an awesome location, exactly on the cliff opposite to the Seven Sisters falls. The dining area of the building has a huge glass window along the wall through which the falls are directly visible. The day ended with a soft rain and a warm dinner.
The next day was 14th of February and I woke up early to visit the Mawsmai caves. The entrance of the caves is marked by 2 monolith rocks on either side. The monoliths seen in Meghalaya are a symbol of remembrance. The site was absolutely vacant and I was really excited to venture though an uninhabited cave. Rocky and uneven with extremely narrow passages the cave walls actually look beautiful with the aging of years. Water dripping from the roof of the cave for years and maybe decades cut the rocks into beautiful textures and shapes. It's really thrilling to venture through a dimly lit rugged cave with nothing but the sound of dripping water and your own footsteps and some bats seldom flapping their wings!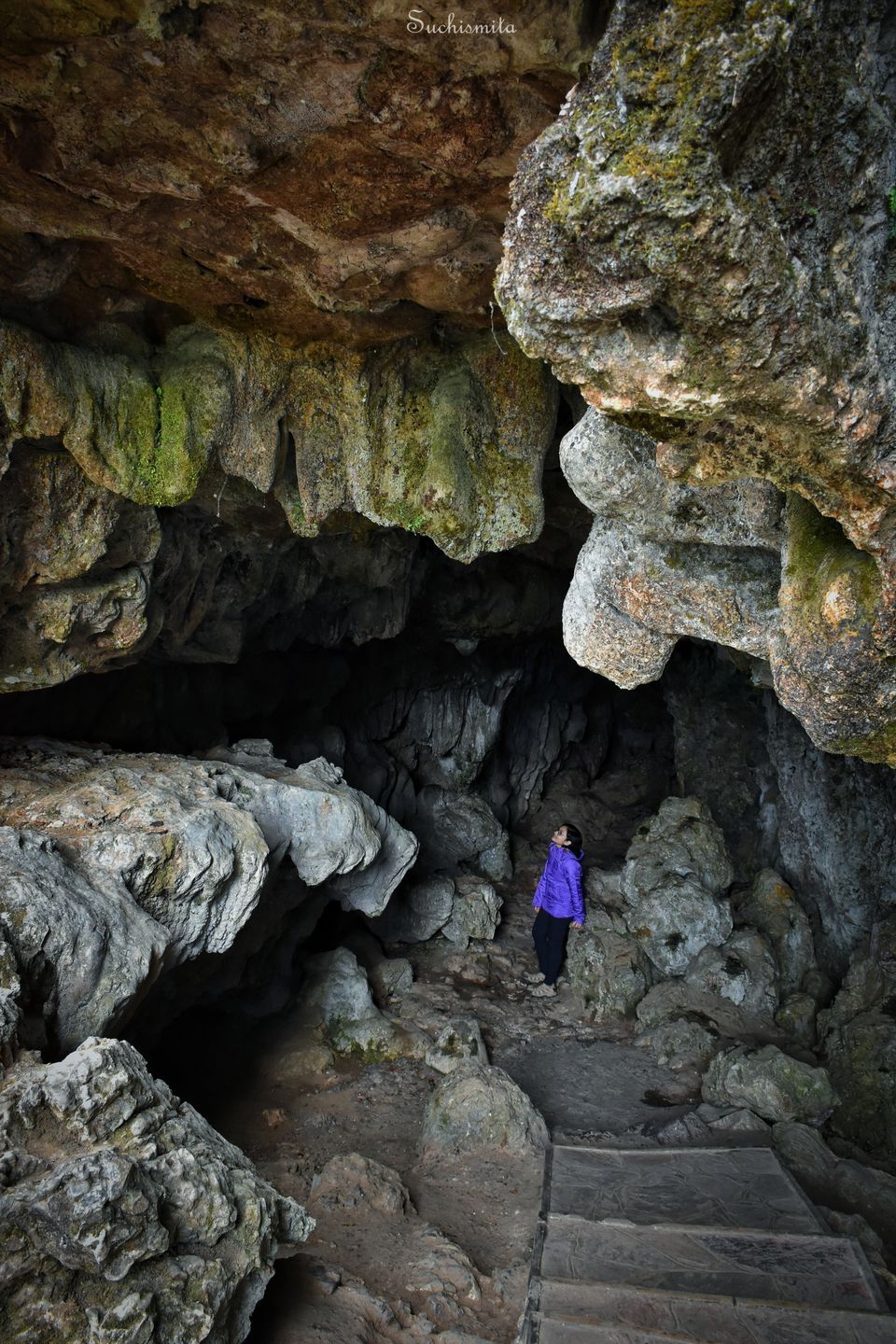 By 10 in the morning we had reached the starting point of the trek to the root bridges. The trek to these root bridges involve climbing sets of over at least 4000 stairs and a lot of other bridges and easy rock climbing, sometimes jumping over boulders in the river when some bridges are under repair. The route goes through dense green woods, a few small villages, and a river. I used to think climbing downstairs is so easy; but doing it for continuously 2 hours at a stretch feels like a nightmare to the legs!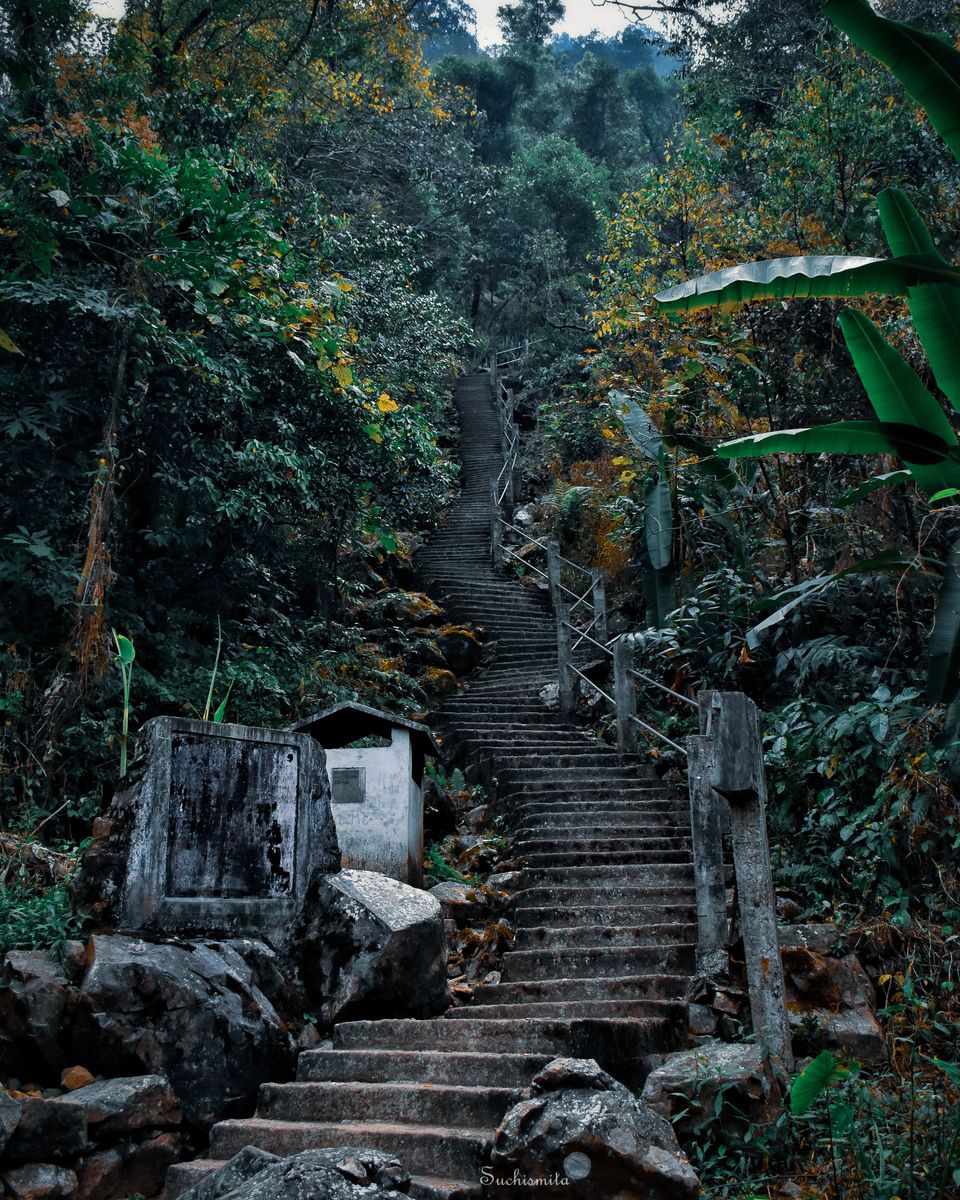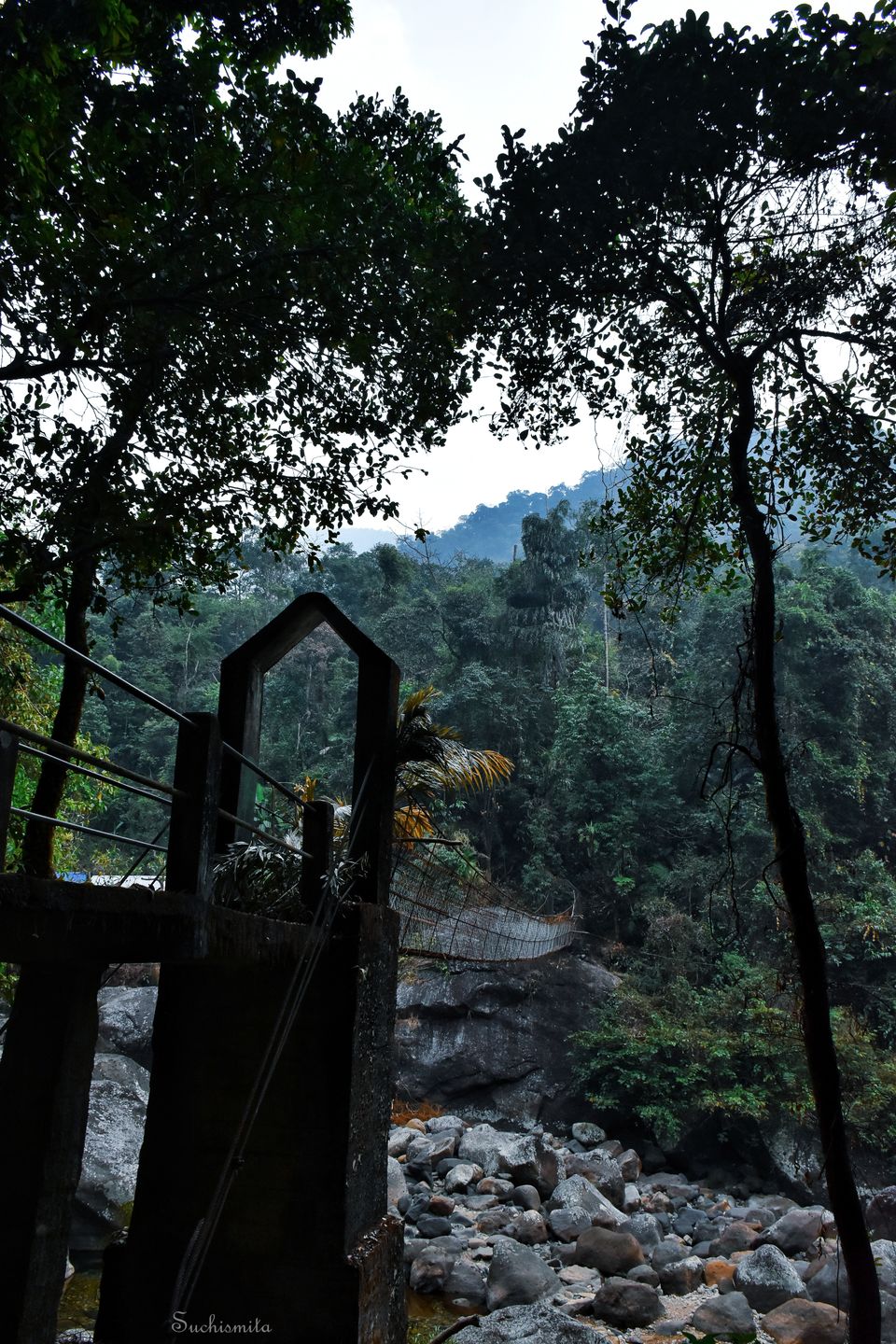 On exiting the park and walking up the main road a little distance away there's a viewpoint for the gigantic lake, where many small islands in the lake are visible. After spending some time at the lake within an hour we stopped at a dhaba to have lunch and again set off for Cherrapunji.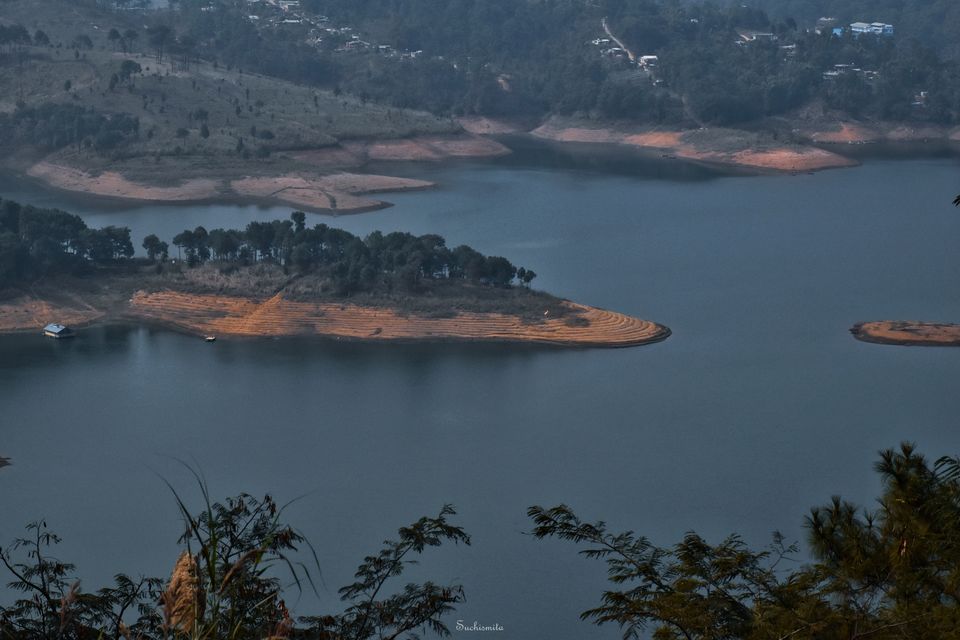 On the way the sky gradually turned from blue and white to a light grey and soon a darker shade of grey as we ascended into the hilly patches. Soon enough the road looked like it was afloat amidst grey and dark blue clouds; even the mountain right next to us wasn't visible anymore. That's when I knew we'd entered the territory of Cherrapunji, the world's wettest town, also known as Sohra and located in the East Khasi hills.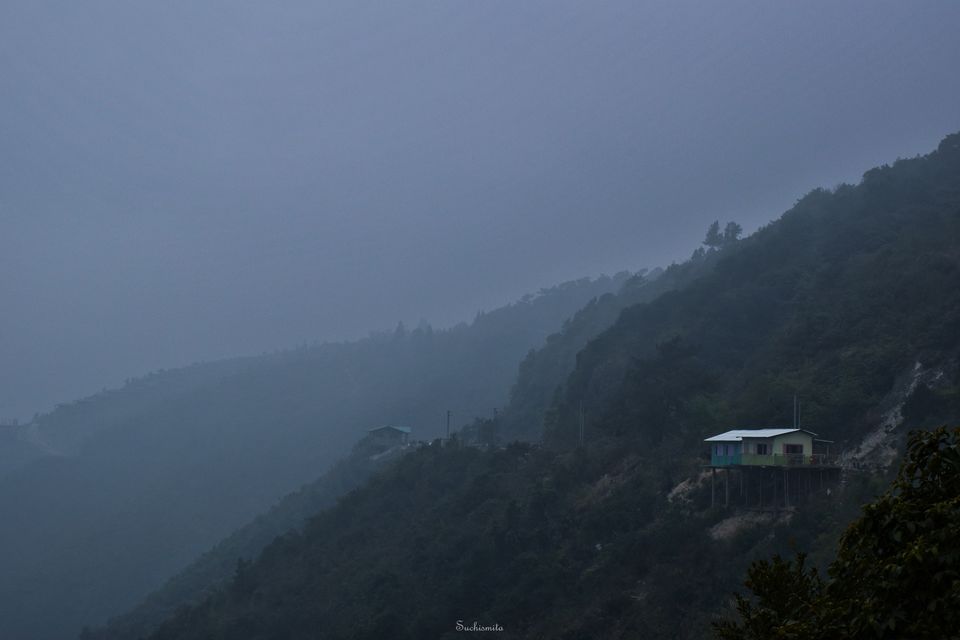 Went to the Ramkrishna Mission Ashram of Sohra, to visit their museums where there's detailed information about the different tribes living across the Garo, Khasi and Jaintia hills. A gradual drizzle had begun and it was already 6 in the evening.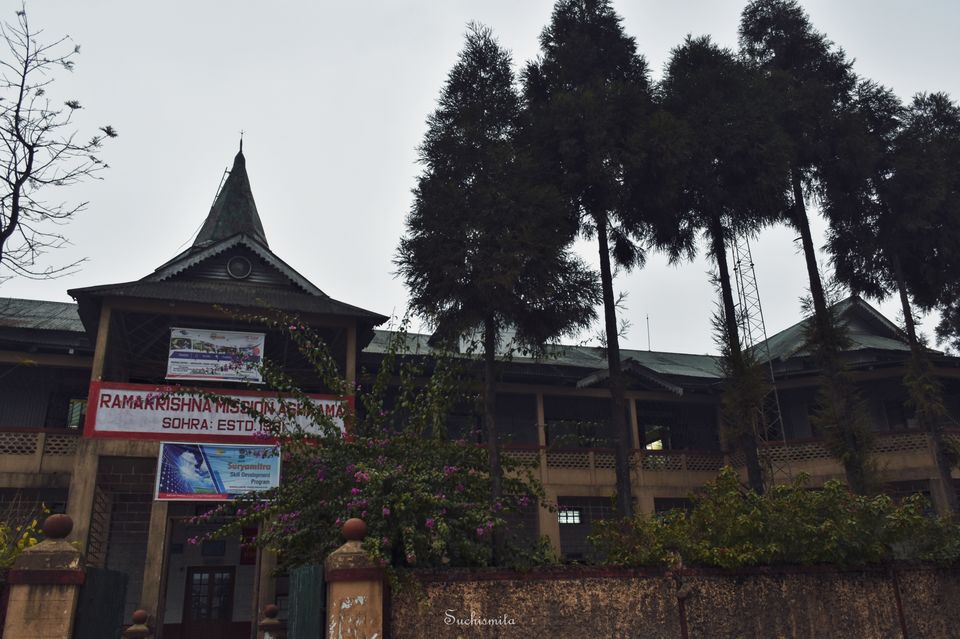 It was also getting dark quickly, so we went to NohKaLikai falls, which was close to the place we were about to stay at. There's a gruesome legend about the NohKaLikai falls that goes; there was a woman named Likai living in a nearby village and her husband had passed away, leaving her with her newborn daughter. She had to resort to labour work to support their living and remarried because she realised her daughter needed both parents since she was working most of the day. However the husband grew hatred towards her infant daughter as Likai would focus all her attention towards her daughter whenever she was home. One day the husband killed the infant and threw away her severed head and cooked her flesh. When Likai returned home from work she found the house empty but a meal prepared for her. Famished from working all day she had the meal, but found a little severed finger on the floor, which made her realise the harsh reality. Mad with grief and anger Likai ran through the village and jumped to her death from the cliff where the NohKaLikai falls appears today. "Noh" means the dipping of sun rays in water, "Ka" is the way a female in Khasi is referred to, and "Likai" is the ill-fated woman's name. The cliff had become so cloudy by the time I reached that the falls wasn't clearly visible but listening to the story from the locals definitely brought chills down my spine because the weather really enhanced the grimness of the story.
From the caves we were supposed to go for the Nongriat double decker living root bridge trek, so we left the caves and had our breakfast. So far Cherrapunji was giving me a hauntingly beautiful vibe. The overcast skies, the caves, the monoliths standing tall, the vast fields of long grass turned yellow by the winter, the occasional appearance of cemeteries on the hill tops, clouds covering the cliffs; it felt like I was in the perfect setting for a gothic horror movie!
There was one metal bridge which was incredibly long and even more wobbly. After a lot of continuous stair climbing, our guide made us halt at the only stall on a cliff and I had some lemon juice to refresh myself.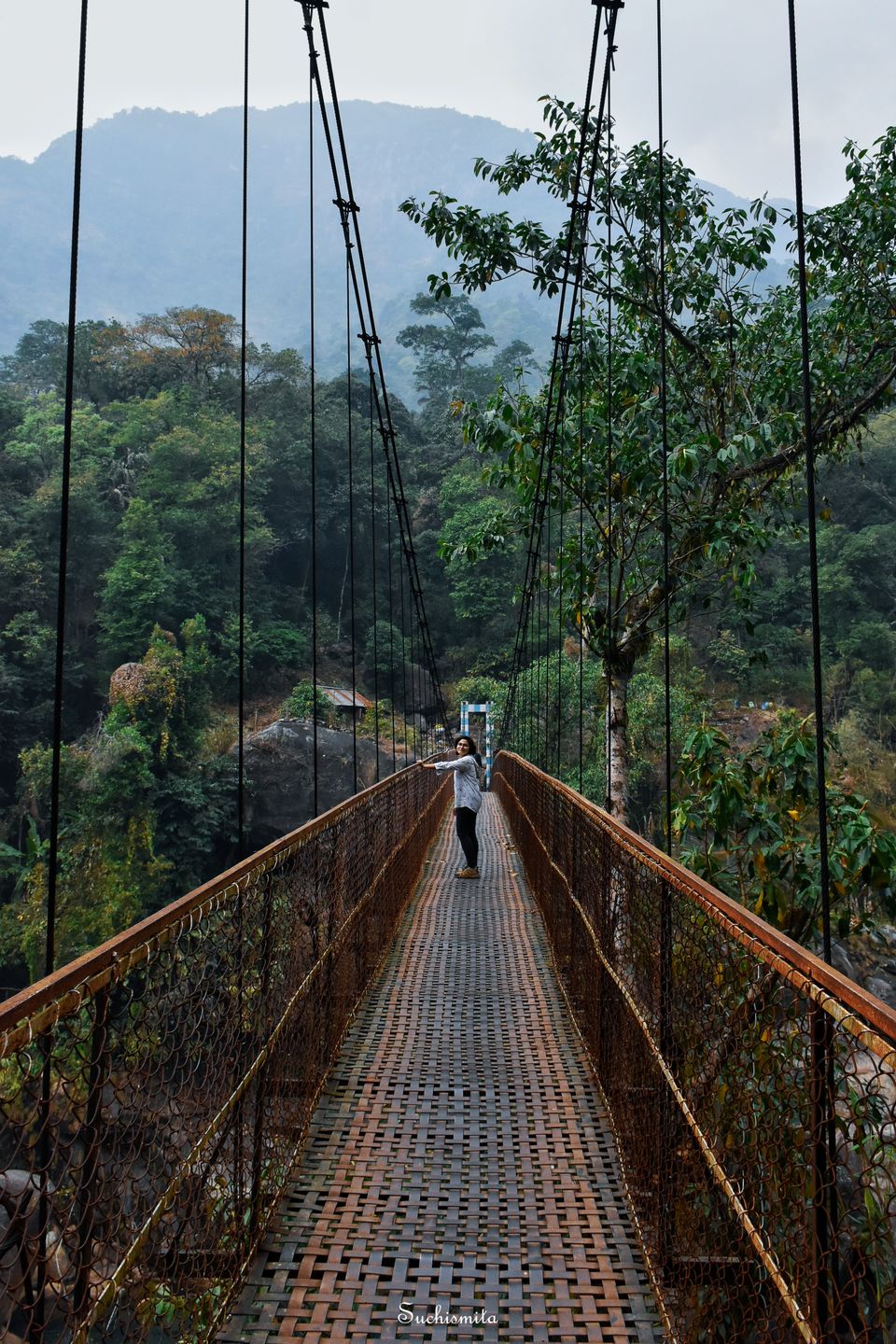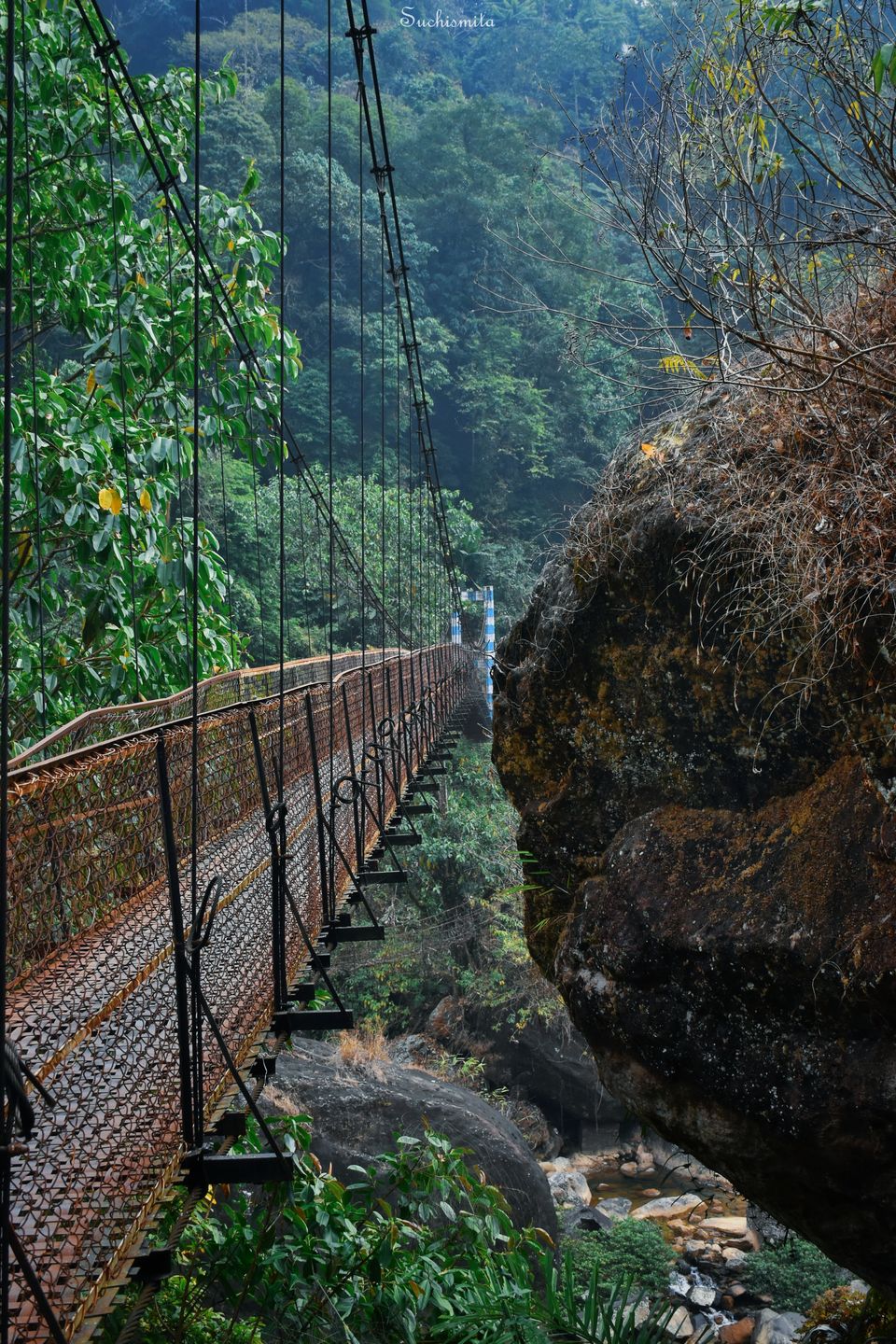 Within the next few minutes, when it was about 12:30 in the afternoon, we reached the double decker root bridge of Nongriat. By the time we reached, we were drenched in sweat. The region of Cherrapunji is famous for its living root bridges, and when I saw this double decker root bridge for the first time, I was stunned! The roots of a few rubber plants just naturally twist and join and connect two hills together, forming natural bridges. Nature is such a wonder, these rubber plants made their own bridges that have helped humans cross the river for ages! Not more than 3 people were allowed to be on each bridge at a time. To one side of the bridge was a smooth waterfall mid-body to the river. I came to know that this river becomes monstrous during the monsoons, but since it was late winter, water just flew gently.
In the calm pools that were formed in the crevices of enormous boulders of the river bed, I noticed that when fellow trekkers dipped their feet, flocks of little black fishes appeared to glide all over and around their feet! Someone said it's a natural pedicure, and I found it as a very surprising sight to see! So I dipped my hands to see if fishes come or if it's only the feet, and they did come! After a few hours of very peaceful time of sitting on a rock by the waterfall, my guide asked if I'd like to go to an off route place which might be interesting for me, not a tourist spot but a just a beautiful place amidst nature.
I have seen this weird coincidence almost everywhere I go, the locals somehow already guess that I'd be ready and fit enough to go to some challenging place, and I'm so thankful they guess so and suggest their ideas, because as you already know, I like hidden gems, tourist spots don't really vibe with me. Another amazing point was that it was an off season for tourists so most places were vacant or had maybe one or two families residing in Shillong or Cherrapunji drive in for a day's outing. So when the guide suggested this rarely suggested spot I knew my legs were already shivering in pain but I still jumped into agreement. Standing up after sitting down for an hour was like a blast of pricking pain through the legs. There's another waterfall a little distance away from the root bridges, called the rainbow falls, which is beautiful during the monsoons, but winter leaves it a little dry so we went on a separate route towards the lagoon the guide had suggested. There wasn't any trail through the forest anymore because we had jumped off into the woods once we crossed the root bridge. Only if I could describe it in better words but I'd absolutely forgotten my legs were dying from pain and it had converted into a whole rock climbing situation rather than just trekking. This part of the journey was so intriguing because there were just us in the dense woods, and I was already on my all fours trying to climb down without crashing into the rocks below! Within about 30-40 minutes of climbing downhill we finally reached the suggested lagoon. It was a region along the river where the water's trapped among huge rocks and boulders, forming a pool beside the original river. What makes the place so beautiful is the extremely surreal blue of the pool water! This place looked like the feet of many hills merging together to form a low bed through which the river flows, dense forest on every hill around us and I'm sure this place overflows with water in the monsoons. Bird chatter echoed around through the forests accompanied by the sound of water gushing down boulders. A very calming sensation passed through my extremely tired body.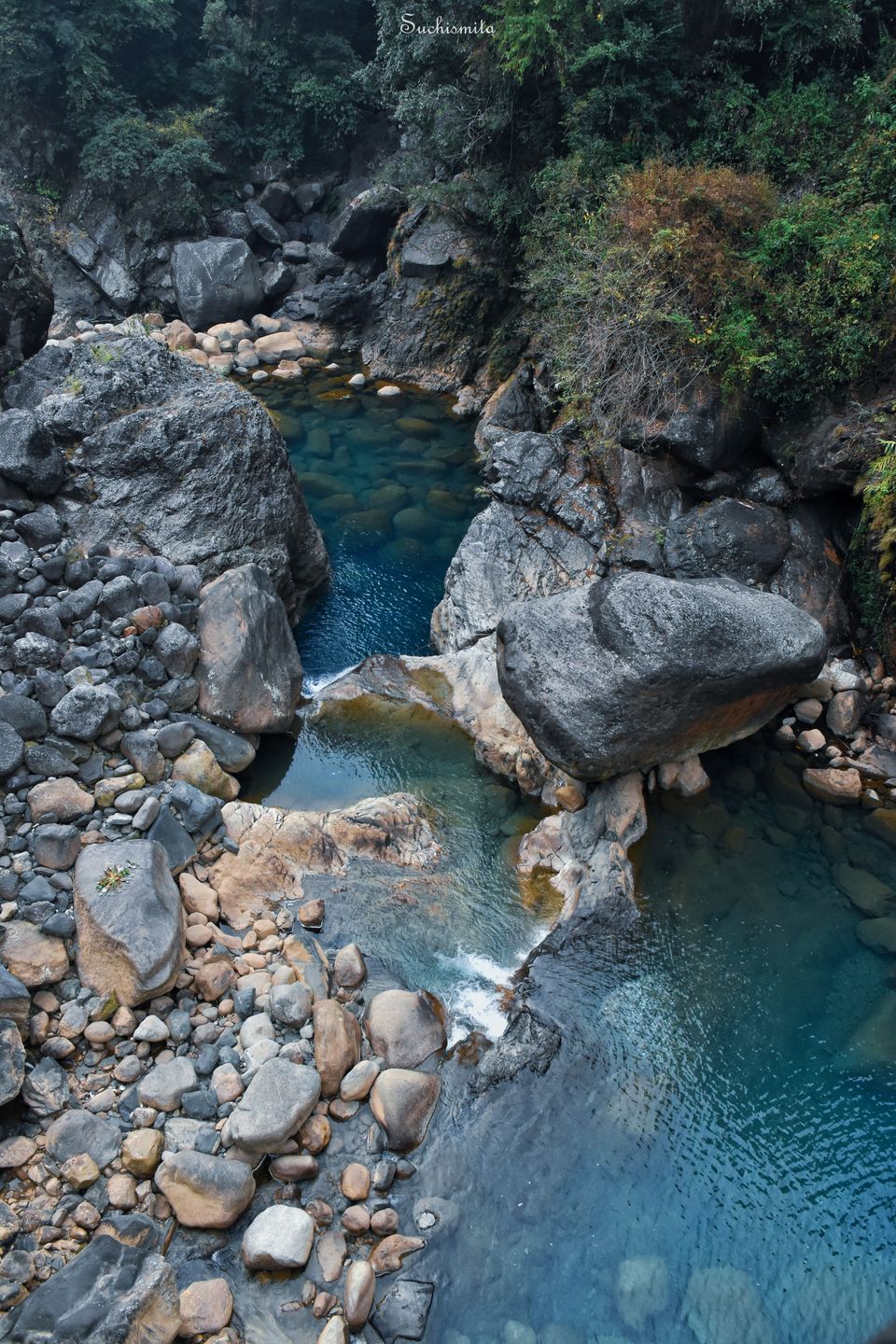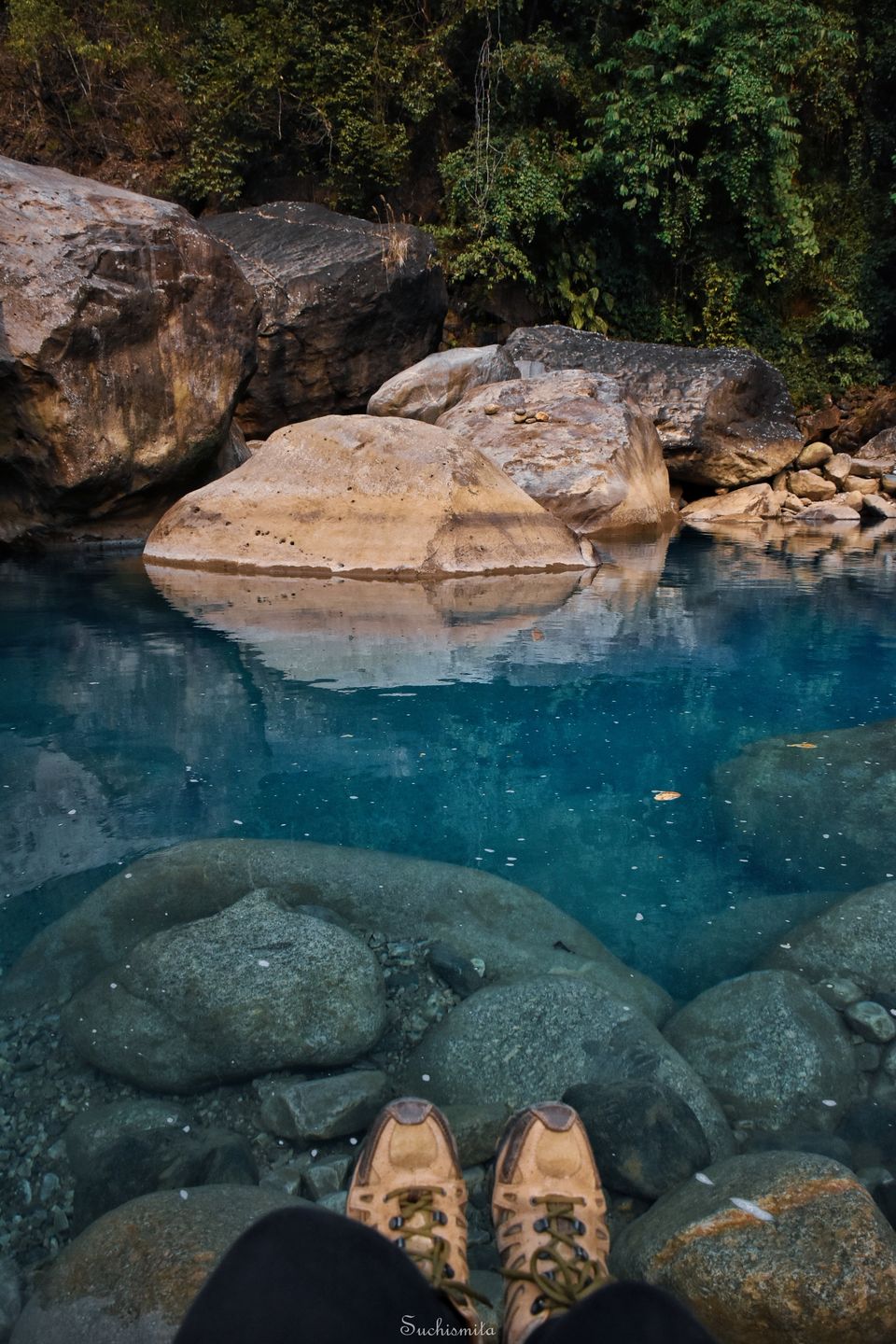 All the effort was worth it, trusting these local guides was worth it! Spent another hour just gazing into the crystal clear blue waters, whose bottom was visible from the surface and my guide asked once more if it would be possible to go to the single living root bridge. I knew my legs would keep bothering me for the rest of the trip, but of course I couldn't say no, I need to see it all! So at around 4 we reached the single root bridge and this one seemed less used up than the double decker one and was in a denser thicket area.
It was time to return now as the dusk had started creeping in. I can just say that this return journey felt like an eternity of stair climbing! Long trek routes are fine, rock climbing is fine, but stairs…something that I just can't be at peace with! Meanwhile the local guide started talking about times when one or two inactive tourists had come and were carried back up by locals and were charged 8000 rupees for the inconvenience and that not everyone can make through this trek; I just quickly gulped my Maggi and started climbing again. Besides my eternal war with stairs, as we crossed through villages children were out playing football, small stalls were selling pineapples and honey and lemon juice, some foreign tourists were wrapping up their day's trek and hostels were collecting their restock of water supply.
I generally don't like to thrust my camera into the faces of the locals because I've seen people push money into the hands of little children as an exchange for being photographed, and I've despised this human behaviour, so much so that I don't even try to bring out my camera in front of villagers or locals! Yet in this little Meghalayan village, I stopped in front of the front porch of a house in the village, where the little one had caught a humming bird in his hand and his elder brother took it away and freed it. I had stopped to see what the children were holding in their hands and standing to the side of the porch was their mother, who smiled at me, pointed at my camera and nodded her head.... I was hesitant, very hesitant; but she was expecting me to click a photo, so there I was, stepping out of my comfort zone to capture her children's emotions...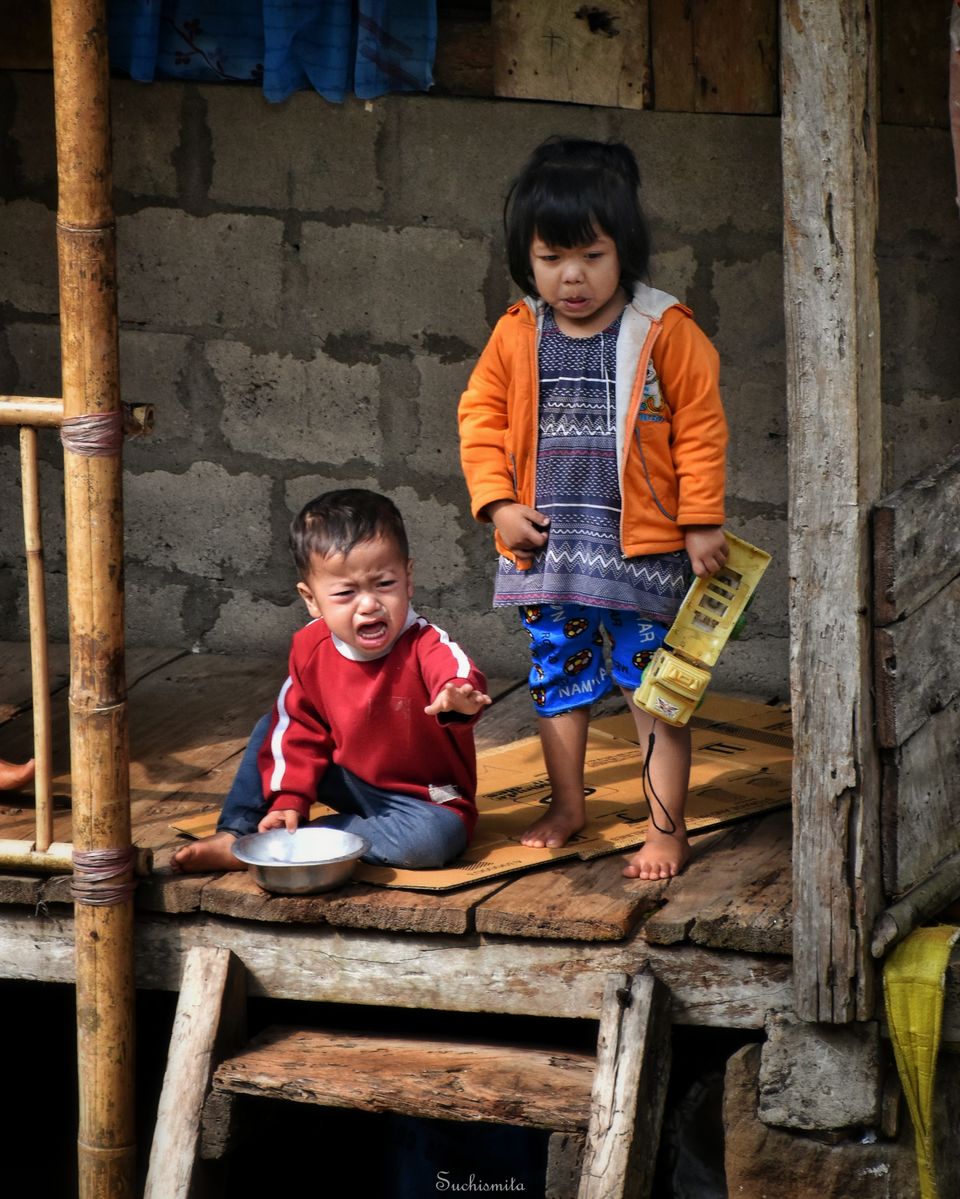 It was the end of a day and when I stepped onto the main road, I felt like a sense of accomplishment go over me, as my most awaited trek to the living root bridges was finally over; definitely a trekker's paradise! I drank maybe 5 bottles of water on the way back to Cherrapunji!
(the rest of the three days I will be posting later in a separate blog because as you can see, writing about Meghalaya gets lengthy!)
Frequent Searches Leading To This Page:-
meghalaya destinations, affordable meghalaya tour packages, tourism in meghalaya, best time to visit meghalaya, meghalaya weather