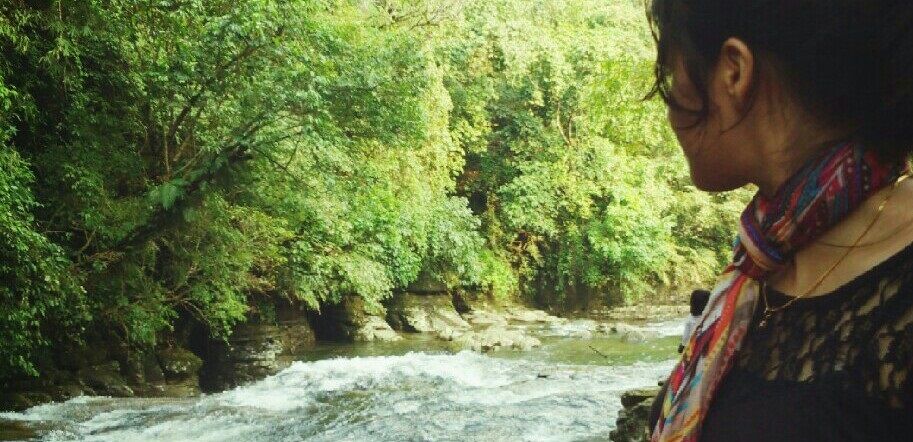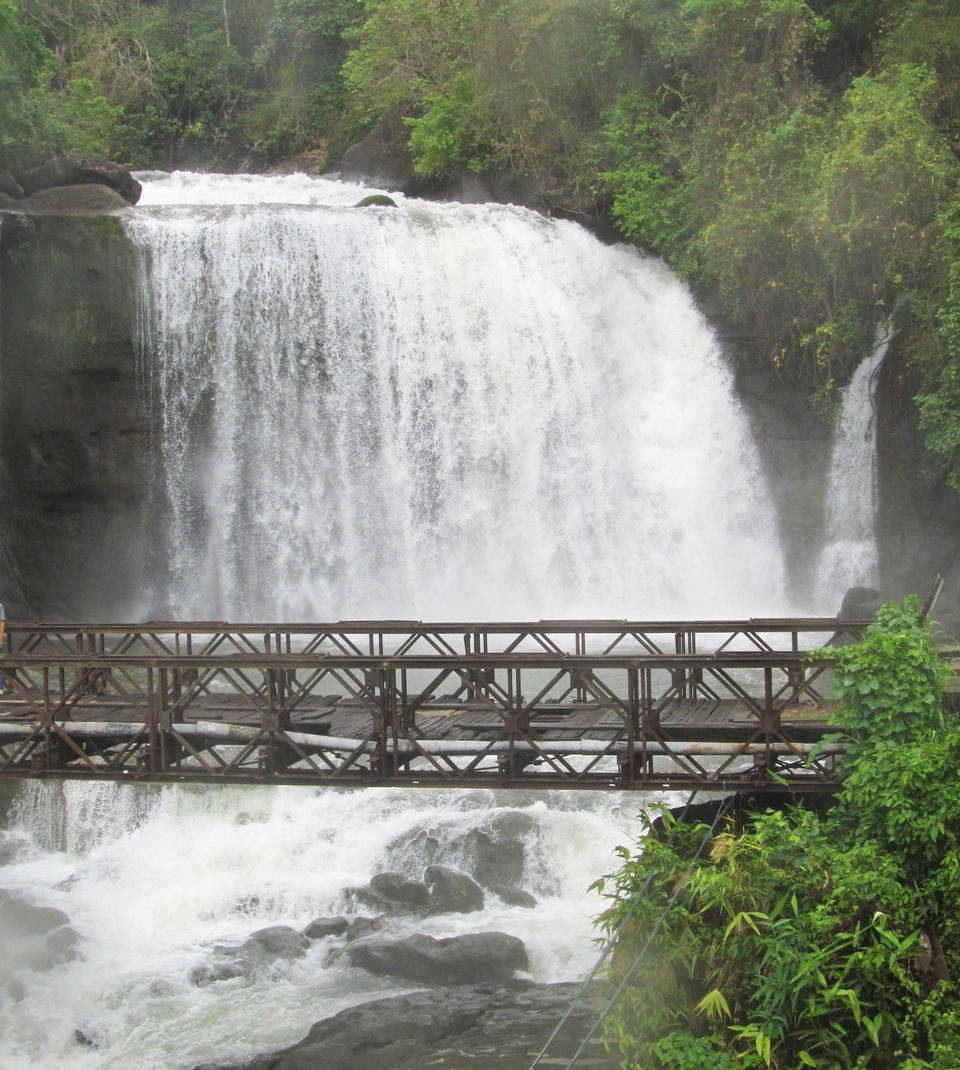 While nature leaves us spellbound each time, there are some places are that so magical and out of the world that it's impossible to keep your eyes off them. If you are fascinated by the incredible beauty of mother nature, then you should definitely add Meghalaya to your bucket list. Meghalaya, which means "the abode of clouds " in Sanskrit, is a beautiful tourist destination endowed with incredible natural beauty
Being an Assamese, I am lucky enough to get multiple opportunities to visit the Meghalaya as Meghalaya is a neighbour state of Assam. I last visited Meghalaya in April,2016 with my family . That trip was of 3 days duration and during those 3 days, we covered Shillong, Cherrapunji, Mawlynnong and Dawki . This was my first visit to Mawlynnong and Dawki and the incredible beauty of these places left me spellbound.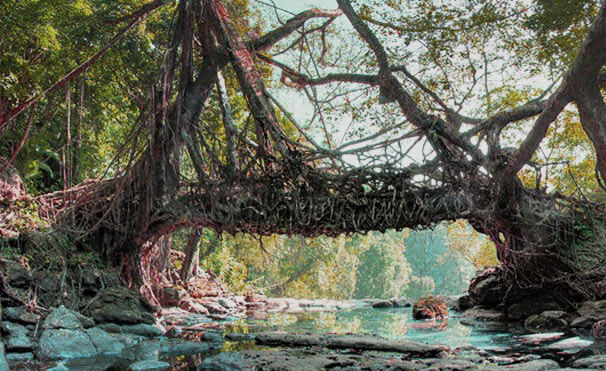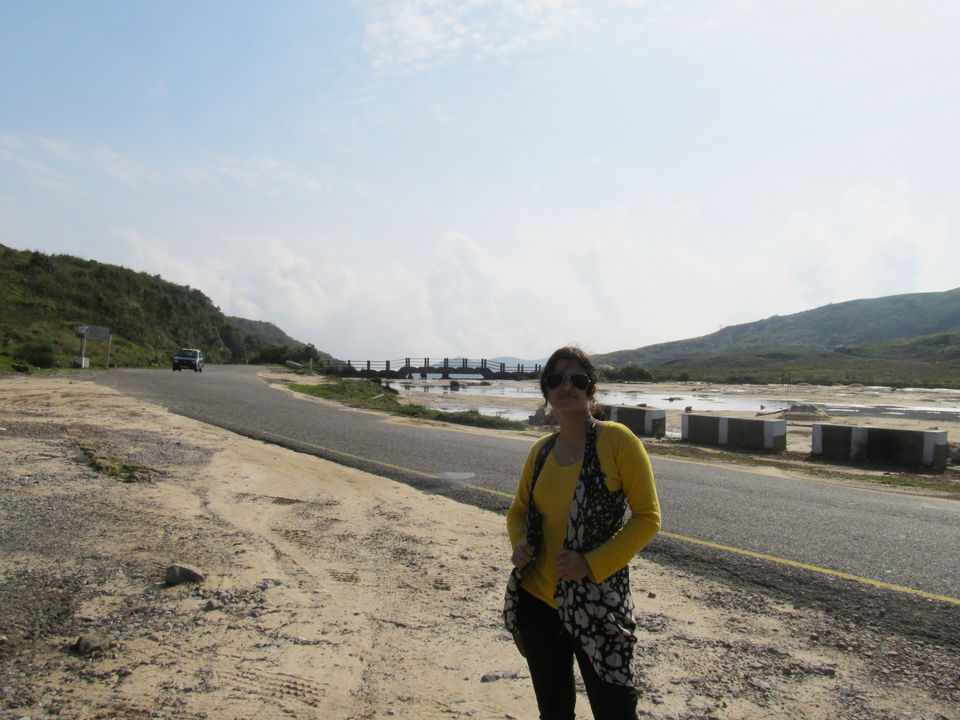 Where To Stay:
In our last trip, We booked a hotel named Hotel Center Point situated in Police bazar, Shillong through a online website. Hotel Center Point is one of the best hotel in Shillong and it truely justifies its name as it is located at the heart of the city.
Police Bazar is the biggest market for every kind of tourist visiting Shillong. It offers several kinds of opportunities for shopping and entertainment. There are facilities for leisure seekers, shopping enthusiasts as well as food lovers. There are many hotels in this area with all the modern facilities. If you prefer to stay at heart of Shillong, then Police Bazar is the best option for you.
If you are looking for shelter nestled amidst nature , away from the hustle and bustle of the market area, then these are some perfect resorts nestled amidst nature, with breathtaking view:
How To reach and explore Megahalaya:
The nearest airport/ railway station is : Guwahati, Assam
The distance from Guwahati airport to Shillong is only 114 km ( 3 hours drive) and taxis are very easily available ( Ola outstation cabs are also available from Guwahati to Shillong ). You can also call your Hotel management to arrange a taxi for you.
In our last trip, we (me and my hubby) took a flight from Mumbai to Guwahati (as we live in Mumbai). My parents had arrived Guwahati the day before and hired a taxi from Guwahati to Shillong (with the help of local contacts). For the sightseeing tours in Meghalaya, we had already contacted our Hotel management and they arranged a taxi for us.
In our last trip to Meghalaya, we explored many new places nestled in this pristine paradise and I have mentioned below 10 amazing places in the Khali hills, that you should never miss during your trip to Meghalaya:
1) Mawlynnong, the cleanest village in Asia
Mawlynnong, also referred as 'God's own garden'(about 2 hrs drive from Shillong), has won the acclaim of being the cleanest village in Asia and cleanliness is a way of life in Mawlynnong. The waste is collected in the dustbins made of bamboo, directed to a pit and then used as manure. A community initiative mandates that all residents should participate in cleaning up the village. Smoking and use of polythene is banned while rainwater harvesting is encouraged. This green and pretty village offers picturesque natural beauty. The village also offers a sight of natural balancing rock, a strange natural phenomenon of a boulder balancing on another rock.
Deep in the dense tropical forest of Meghalaya, there are some astonishing man-made natural wonders. Known as living root bridges, inventive members of the Khasi tribe have trained them to grow from the roots of ancient rubber trees, native to the northeast region.
In meghalaya, there are many living root bridges and some of them are double decker. There are two living root bridges near Mawlynnong, one of them a single root bridge and the another is a double decker root bridge. We decided to visit the single bridge as it is easily accessible compared to the double decker root bridge. You need to climb down few hundred step to reach the single root bridge and to reach the double decker one, you need to climb down almost 3000 steps.
You just need to walk down the hill about 400 meters to view this magical place with a feel of fairy tales. This natural bridge is formed across a fast flowing river and almost hundred people can stand on it stands without any problem. Nestled in a quite paradise, this exquisite gift of nature is must visit place in Meghalaya and I highly recommend everyone to visit this place during your trip to Meghalaya.
3) Mawlynnong Waterfalls
Mawlynnong boasts of numerous breathtaking attractions, one of the most popular is Mawlynnong waterfalls. Thrusting its way through the dense, verdant greenery of its environs, the waterfalls, with its enormous roar and majestic volume is a sight to behold.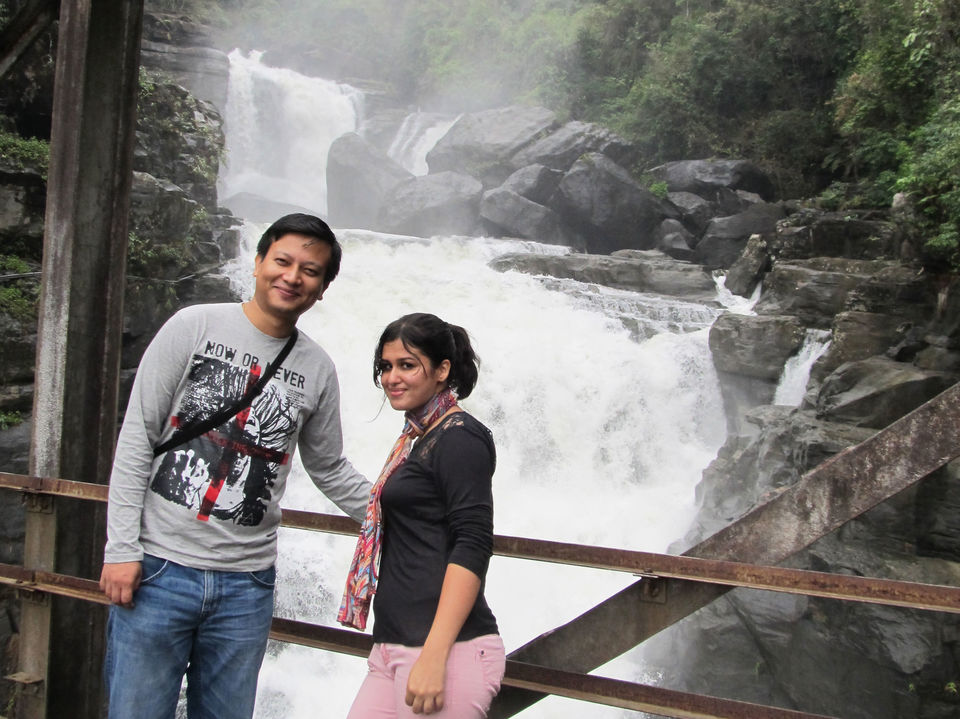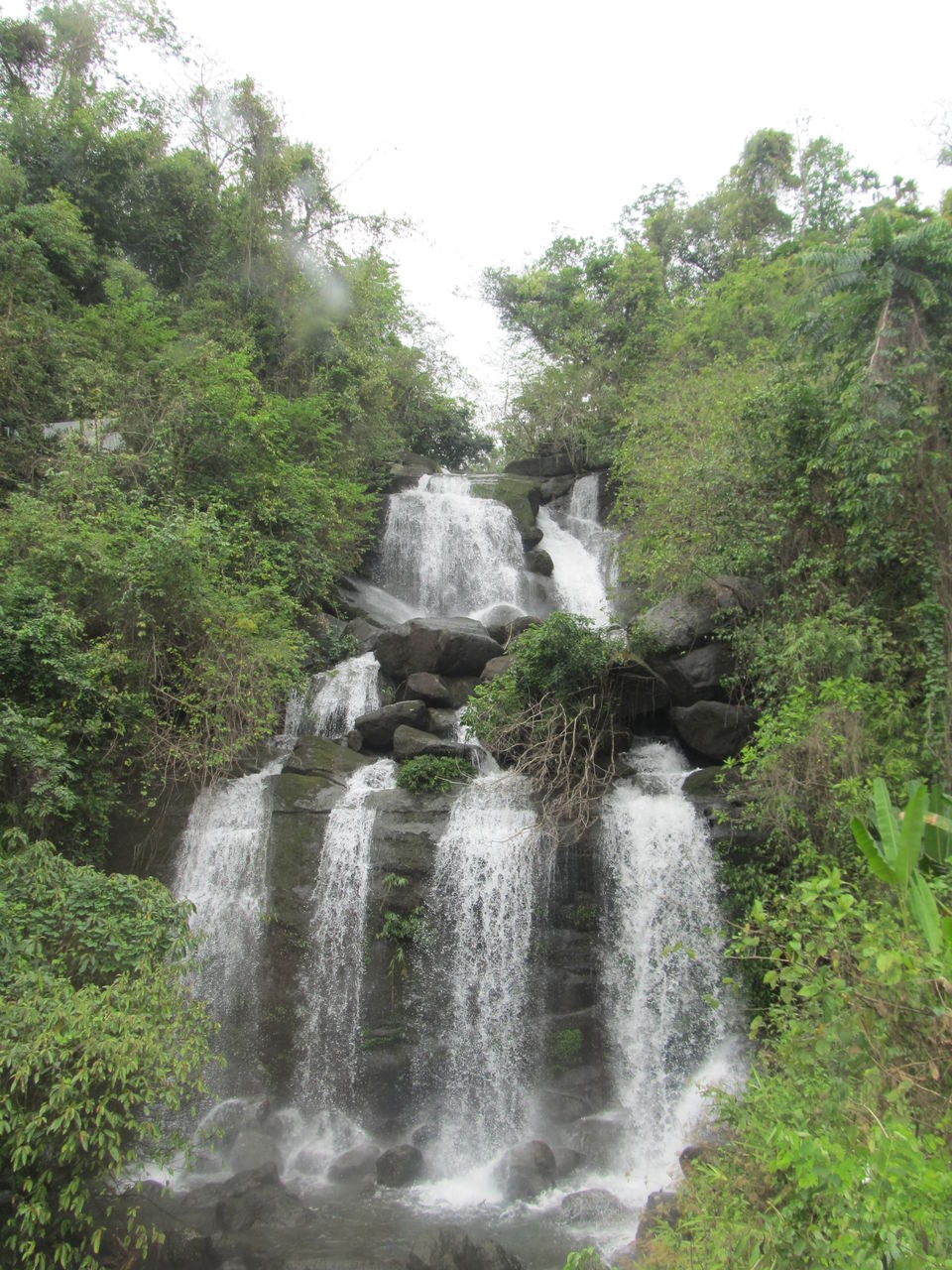 Dawki is situated at a distance from 34 km from Mawlynnong and 83km from Shillong. Dawki is a small border town in the Jaintia Hills which is sandwiched between India and Bangladesh and is a major center of trade between India and Bangladesh.
Umngot river in Dawki is a pristine river with crystal clear water. The surrounding greenery, the cold water of the river and the beautiful suspension bridge on the River Umngot make Dawki a place worth a visit. Before my visit to Dawki, many friends suggested me not to miss the boat ride on Umngot river as it is a wonderful experience. But unluckily, we had to drop the boating plan due to the rain.
If you are in Dawki, then don't forget visit the India Bangladesh border. This a very friendly international border and a very pleasant place to be.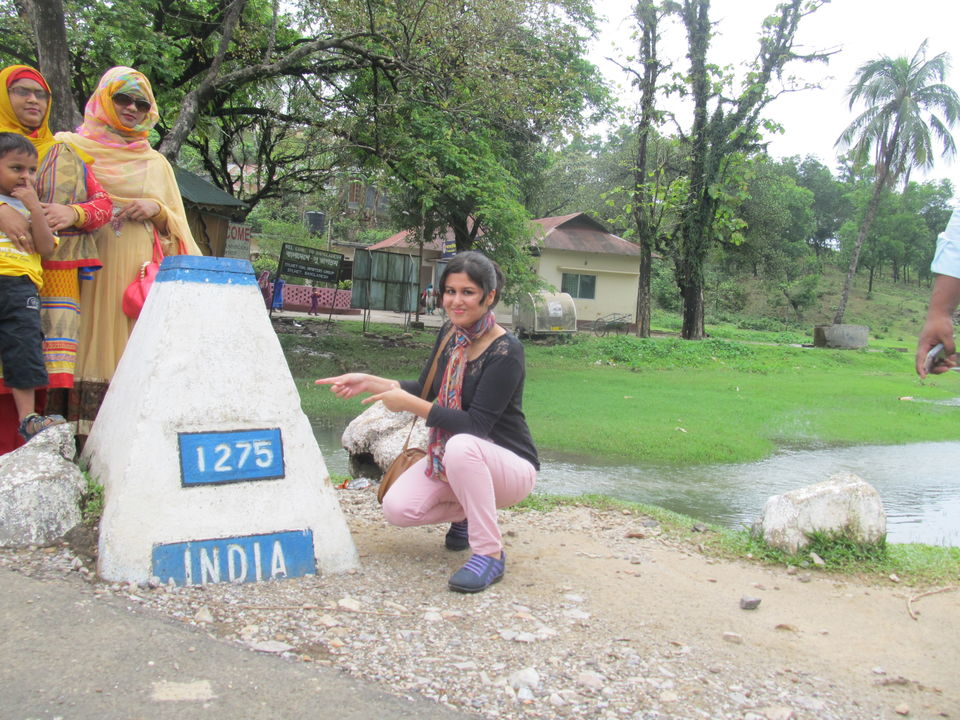 Meghalaya is home to some amazing and mysterious cave systems and Mawsmai Cave is by far the most popular of the lot. Located just 6 km away from the heart of Cherrapunjee, Mawsmai cave is a breathtaking maze of caves in the East Khasi Hills of Meghalaya. Of all the caves in Meghalaya, including the longest cave system of India are situated in the Jaintia Hills, Mawsmai cave is by far the most accessible cave for many travelers as it is one of the few caves one can explore without a guide. This limestone cave offers a fun packed thrilling adventure of cave trekking.
This pristine cave has a spacious opening but it squeezes into a small and narrow neck at many points on the way to exit. You need to be little careful while moving inside the cave as there are places where you have bend and squeeze yourself . You don't need to carry any torch or candle with you as the electricity facility inside the cave is very good.
Mawsmai cave is a wonder of nature and you should definitely visit this gripping beauty of mother nature during your Meghalaya trip.
6) Cherrapunji waterfalls
Cherrapunji has often been credited as being the wettest place on Earth and this wettest pace in earth is one of the most beautiful and pristine paradise of North-East India. Nature not only showers rain on the land, but also has been very generous to this place, which is evident from the scenic landscapes and breathtaking floras and faunas here.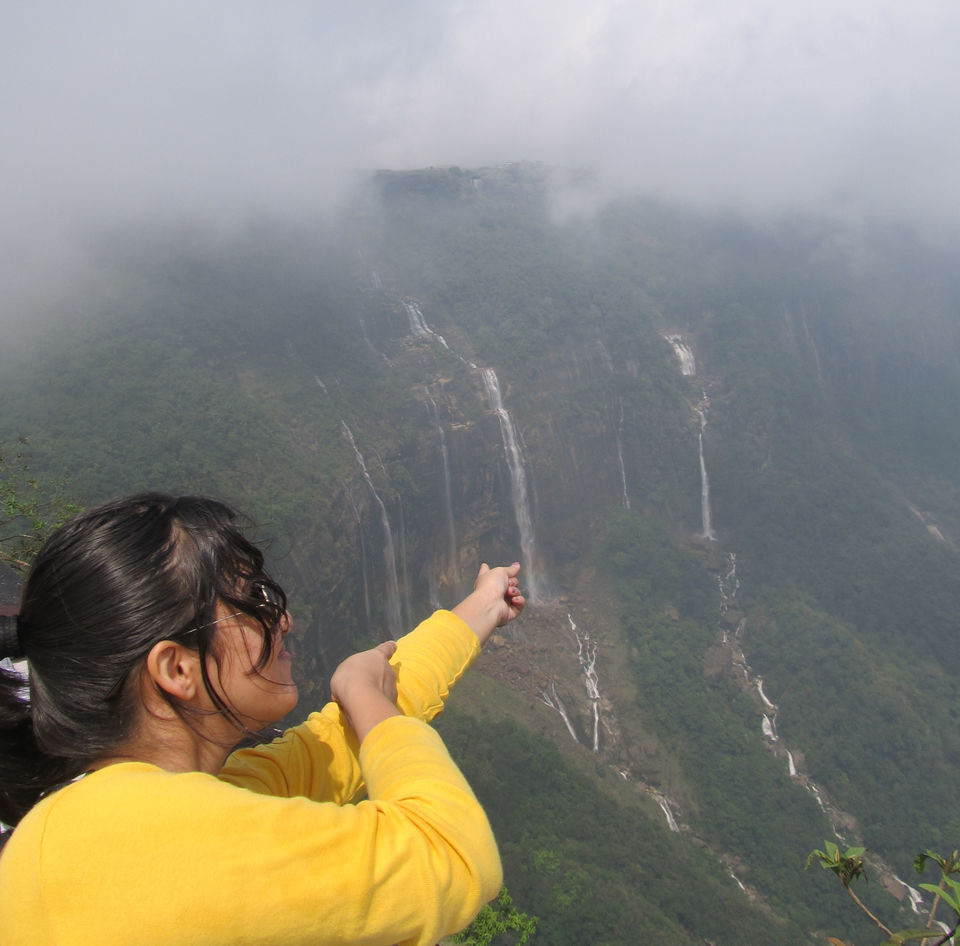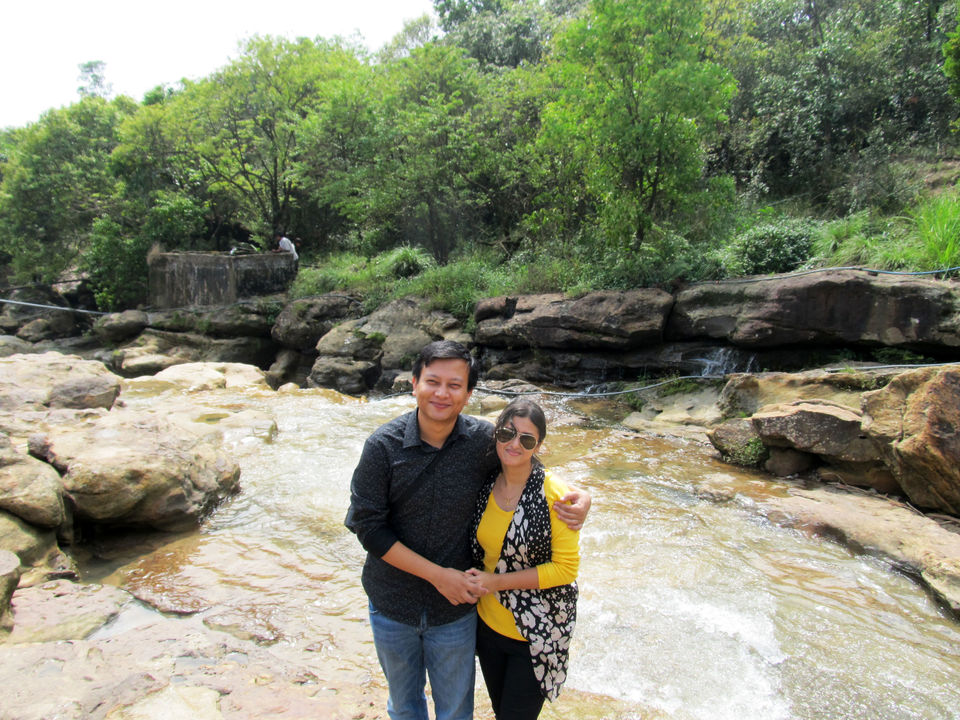 There are many waterfalls situated in the midst of the most pleasant scenes of nature in Cherrapunji. All of them are visual treat to the eyes. I have listed down the best waterfalls in Cherrapunji which you should never miss during your Cherrapunji visit :
1) Seven Sisters Waterfall
2) Dainthlen Falls
3) Kynrem Falls
7) Cherrapunji Eco Tourism Park, Sohra
The Eco Park has been designed by the Meghalaya government to facilitate tourist to enjoy the Green Canyons of Sohra as well as the waterfalls that lie around it. There is a stream inside the park and one has to cross a bridge to get near the edge of the canyon.The scenic beauty from the edge is awe inspiring. On the other side of the Eco Park is a view point to see the Bangladesh plains. The Eco Park also houses a wide variety of orchids, courtesy the Shillong Agri-Horticultural society.
Surrounded by the clouds, this eco park offers a majestic view of the seven sisters falls and the breaktaking view of the Khasi hills. You should definitely add this place beautiful place to your Meghalaya itinerary.
8) Umiam Lake, Shillong
Umiam lake, locally known as 'Borapani' is a picturesque lake with breathtaking view and it was created by damming the Umiam river in the early 1960s. The principal catchment area of the lake and dam is spread over 220 square km. Surrounded by coniferous forests, it is a truly special getaway for those travelling to Shillong.
Tourists visit the lake to spend some quality time in the lap of mother nature. Popularity of the lake and its vast expansion serve as the perfect platform to offer different water sport activities
The lake with a breathtaking view serves as a major tourist attraction for the state of Meghalaya. It is also a popular destination for water sport and adventure facilities. Kayaking, water cycling, scooting and boating are few activities that tourists can enjoy during their visit to this amazing lake.
9) Elephant Falls, Shillong
Elephant Fall is one of the most scenic place is Shillong and counted as the most spectacular waterfall of the City. This waterfall is divided into three levels and one should visit the 3 points of waterfalls to enjoy this beauty of mother nature. The Britishers named it as Elephant falls due to a huge adjoining rock which had a resemblance with the shape of an elephant. However, the rock is no longer seen ever since it was destroyed in an earthquake.
Located quite close to Shillong peak (another tourist spot which offers a breathtaking view the beautiful City), Elephant falls is one of the natural wonders of Northeast India that you must not miss.
10) Mary Help of Christians Cathedral, Shillong
Painted in sky blue, the symmetrical, modernist design of Cathedral of Mary Help of Christians is a Cathedral in Shillong, Meghalaya. Located in the Laitumkhrah locality in Shillong, The Cathedral of Mary Help of Christians is one of the most beautiful churches in Shillong.
Located at the heart of Shillong, this beautiful shrine is a perfect place to relax your mind . According to me, Shillong visit is incomplete without this cathedral in itinerary.
Frequent Searches Leading To This Page:-
4 Nights, 5 Days Meghalaya tour packages, meghalaya family tour packages, meghalaya and sikkim tour packages, sikkim assam meghalaya tour package
2) Jingmaham living root bridge, Mawlynnong
5)Mawsmai Limestone Cave , Cherrapunji