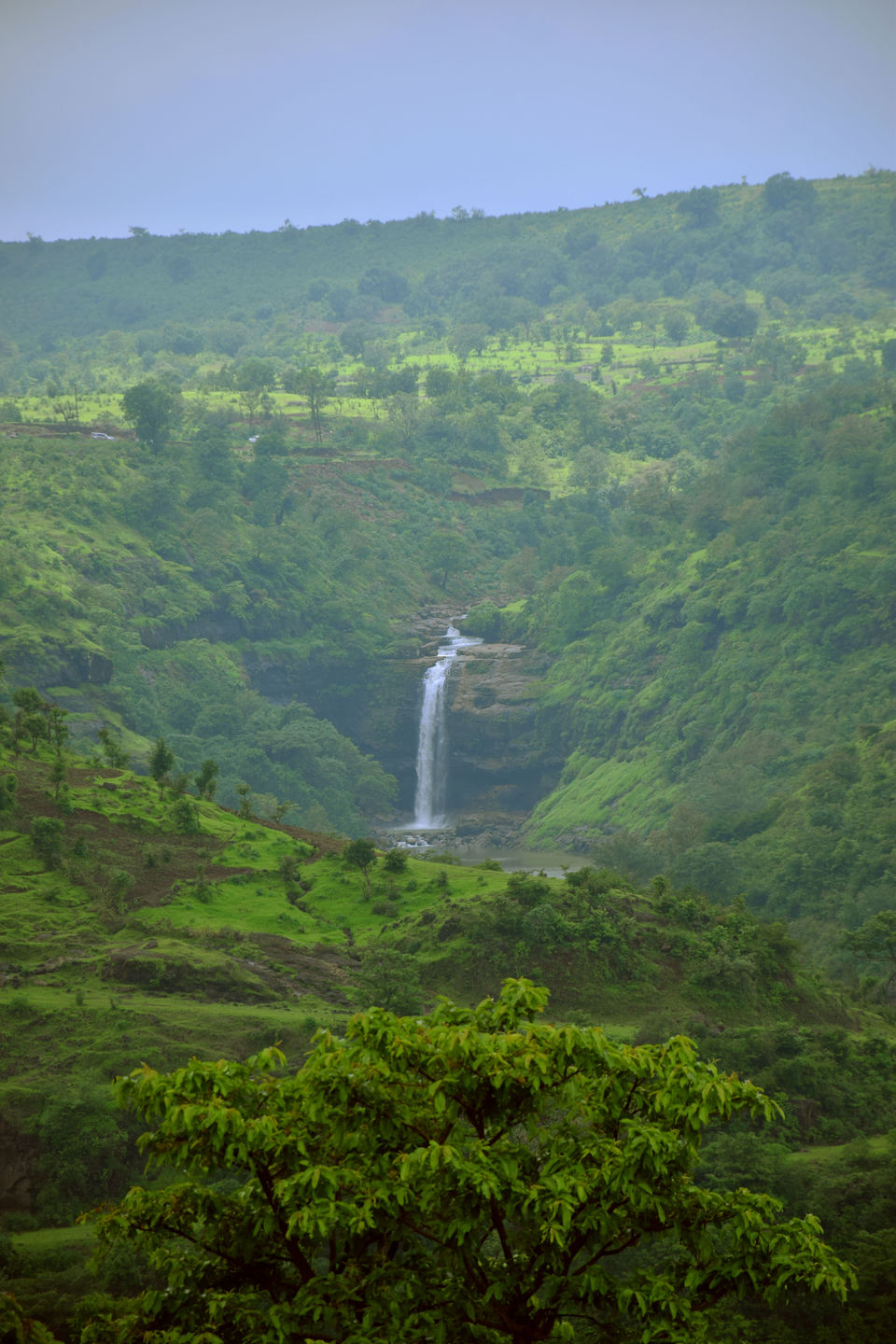 "Mountains or Beaches?" A classic question that keeps on doing rounds in the world of travel lovers, with both topographies receiving equal support from the loyalists. However, in a world as diverse as ours, there are a few travelers who have included a third angle to this ever-lasting debate, people like us who love chasing waterfalls.
When you stay in the vicinity of hilly terrain like the Western Ghats, you are in for a treat as the monsoon approaches. 'Tis that time of the year when the Waterfalls mushroom from even a little ledge or cliff and present to you a joy of lifetime. As the rains recede, it is the best time to explore the lasting effect that the monsoons have left in form of lush green surroundings and gushing waterfalls. Here's a look at the 7 beautiful waterfalls near Mumbai for a perfect monsoon outing.
1. Dabhosa Waterfall
Dabhosa waterfalls was literally love at first sight. Surrounded by greens, it is really a treat for the eyes. Located in Jawhar, around 3 hours drive from Mumbai, these lesser known falls are custom made for people who want to get spell bound by raw beauty of nature.
Dabhosa is one of the highest waterfalls in Maharashtra, with a vertical drop of around 300 feet from its source river Lendi in Northern Palghar District. Perched beautifully within the hills, the first view of the falls from a vantage point is a sight to behold. Not much of commercialization around the falls makes it a better place to spend a relaxed time with friends and family. We will let the pictures do rest of our work. Do check out our video to know the look and and feel of the place.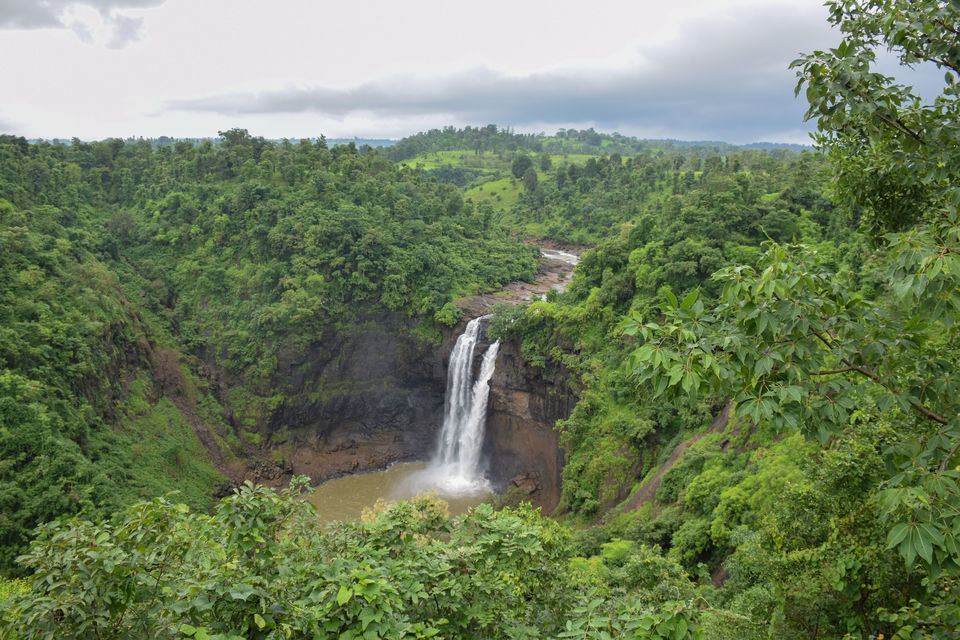 2. Dhondane Waterfall
Some of the best things happen in your life when you least expect them to happen. This happens with us every time, and it just makes the trip experience better than before.
While on our way to Sagargadh fort, little did we know that we would encounter a gorgeous two-layered waterfall right next to the trek route. Again, beautifully camouflaged in the surroundings, these falls welcome you with open arms and fresh sprinkles on your face.
Located just 4 km before Alibaug, these falls are hiding in plain sight, and unknown to most of the tourists who visit Alibaug over weekend. Not that we are complaining... *wink*
3. Vihigaon Waterfall aka Asoka Waterfall
In India, influence of Bollywood in normal life is unparalleled. Asoka Falls, when we first heard the name of the falls, we didn't delve into the details of its name. It was only while writing about this did I come to know that the place is called Vihigaon Falls and is better known as Asoka Falls after the SRK-Kareena Kapoor's song from the move Asoka was shot here. Yes, Google the song "San Sanana" to validate. *Grins*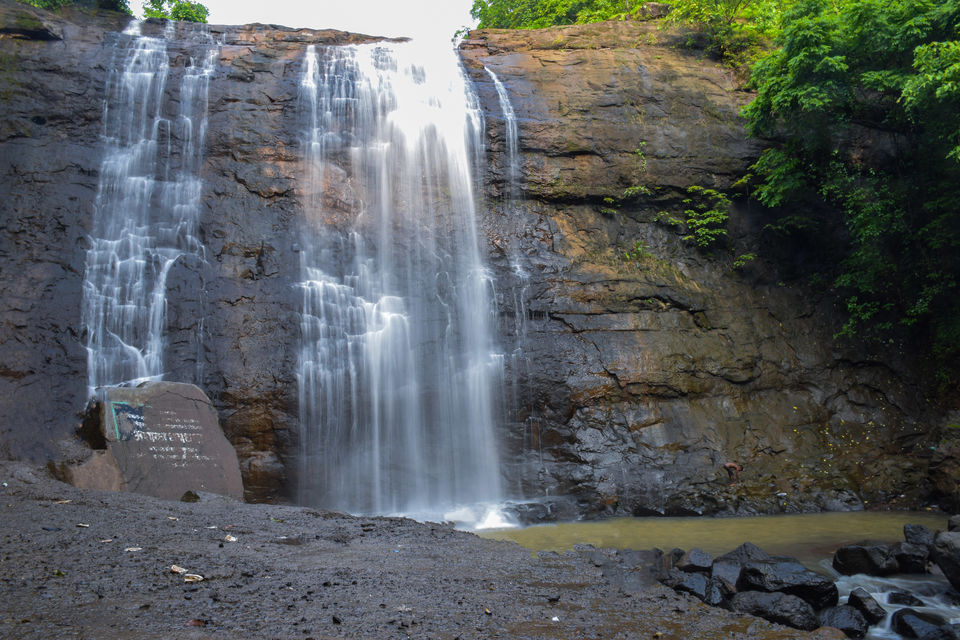 Nestled in the Kasara Ghats on the Mumbai-Nasik Highway, Vihigaon Falls are tall and wide falls with a vertical drop of around 50 feet from a straight wall. The pool formed is only waist deep, and is perfectly safe for having a dip in the cool waters amidst the sounds of the nature.
4. Bekre Waterfall
For all the adventure junkies out there, this is a place that you might have on your bucket-list if you are fond of waterfall rappelling.
Bekre Waterfalls is a huge, mighty, roaring waterfall, with a drop of about 60-70 feet and is well known for the rappelling alongside the falls. Conducted under expert supervision, as you see the fellow participants rappel down the rock, you get excited by the very thought of having a heck of an adventure.
And if you are not the adventure loving types, you can always sit by and soak in the views of the beautiful surroundings and thundering roar of the falls.
5. Lingmala Waterfall
Cascading waterfalls are not very popular in our part of the world, and hence it always adds to the excitement when you actually get to see one. Lingmala Waterfall is one such place that will be a pleasing treat to all.
Located in the heart of Mahabaleshwar, Lingmala is quite popular among the tourists who visit the hill station. The avatar of the falls is altogether at a different level when heavens open up. We distinctly remember the gushing sounds of the falls when we visited it.
The falls are split in two parts, one with a small pool and other with a huge vertical drop into the valley surrounded by the Sahyadri ranges. The views are best enjoyed with a hot cup of tea and boiled corn on the cob.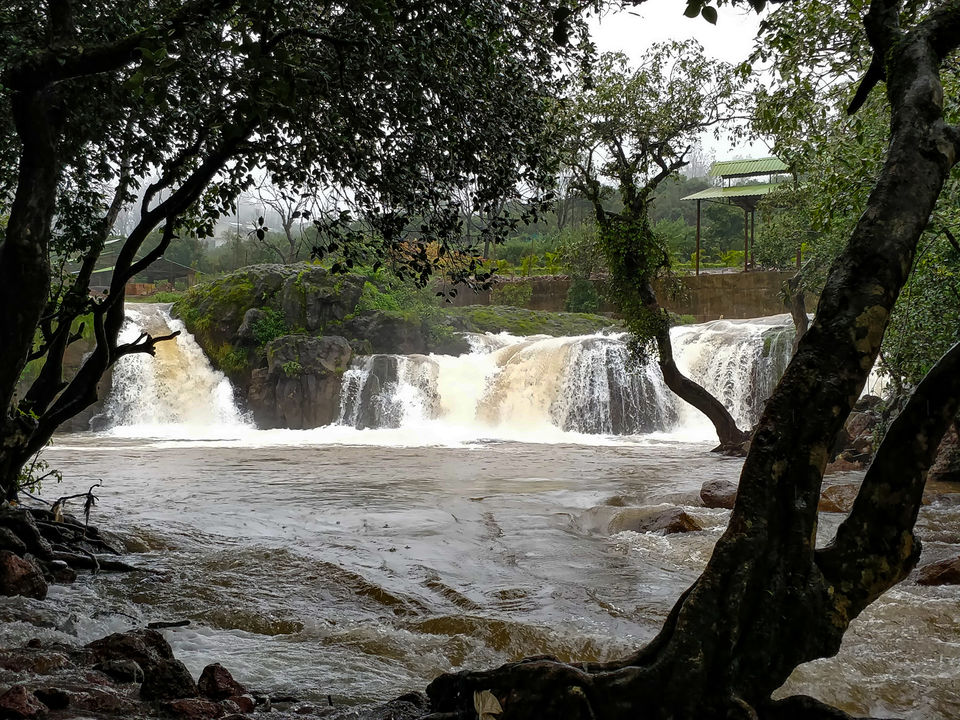 6. Pandavkada Waterfall
A waterfall within a metropolitan city in India is quite rare to find. But since the sub-urbs of Mumbai have spread its wings across, such gems are within an hour's drive from the city.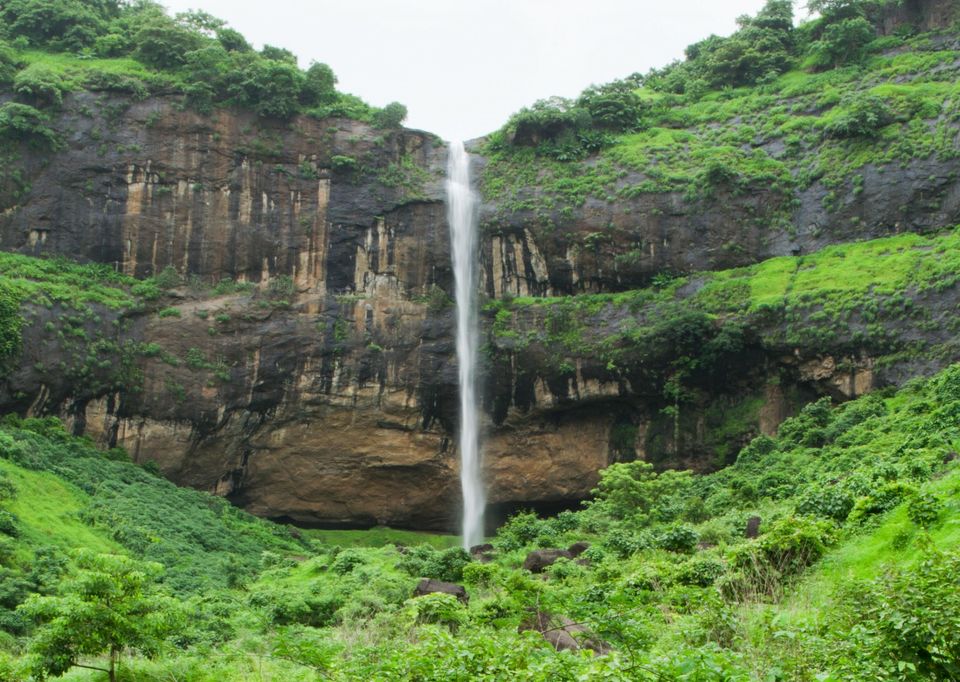 Pandavkada falls are located in Kharghar in Navi Mumbai, and are becoming Mumbaikar's favorite weekend outing spot in the monsoons. A small trek of around 15-20 minutes will take you to the falls, where you can spend your day with friends or family while enjoying in the waterbody.
7. Devkund Waterfall
A rare plunge waterfall in Maharashtra, Devkund Waterfall is a beautiful amalgamation of three waterfalls and is said to be the origin of the Kundalika River. Having a vertical drop of around 200 feet, the waterfall tumbles down with a strong gush on the rocky surface right into a natural pool of turquoise waters.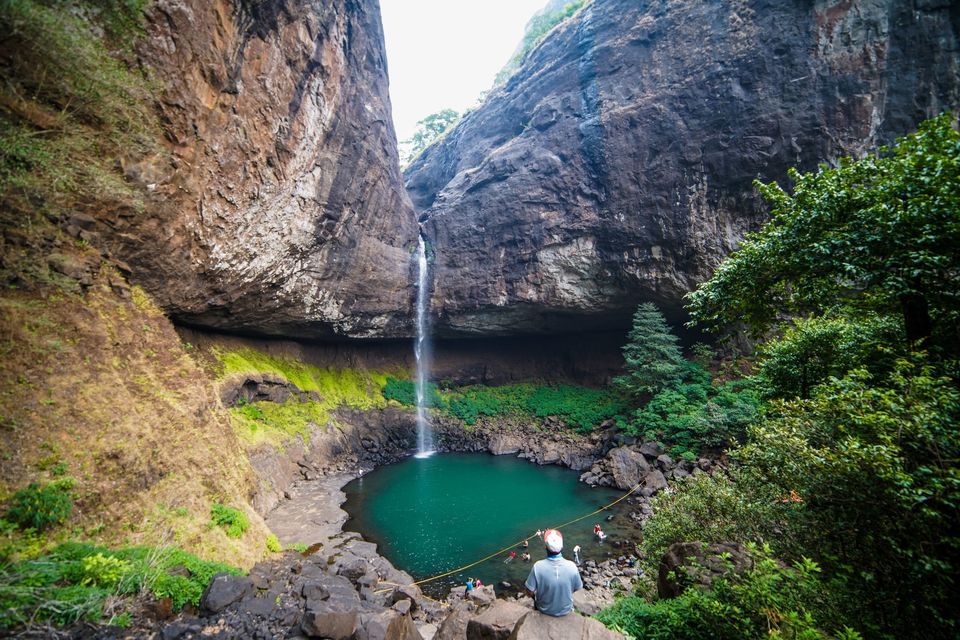 The Devkund Waterfall trek distance is about 5-6 Kms on one side and it involves moderate trekking of a total of 4 hours with an easy difficulty level. The route to the secluded falls is an enchanting one as it meanders through lush jungles, gushing rivers, tiny hamlets, and mountain valleys. When you finally reach the destination, you can witness the magic of white water cascading down from heights of 80 meters against a rocky surface creating a natural pool. The whole ambiance is so pure and pleasant.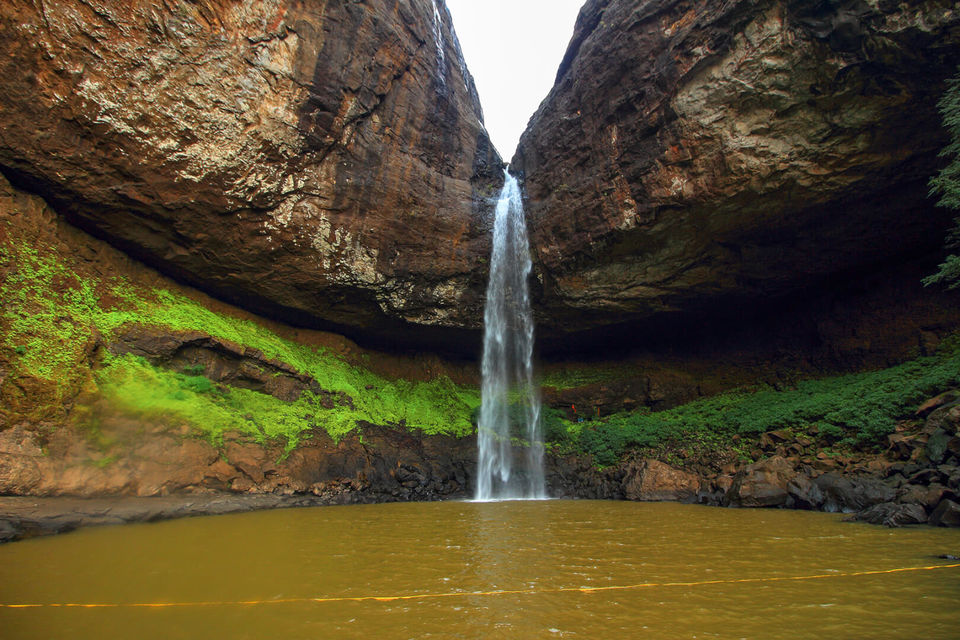 Dip your feet in cool waters and enjoy the natural therapy that is sure to lift your spirits. As the sun beams on the beautiful blue waters, you will know you have found your paradise. Be ready for some brilliant Instagram worthy snaps as the place looks so pristine, it's a scene straight from a fairy tale.
Waterfalls are pleasing, they are charming and they uplift your spirit by a mere mention of its name. The sound of the gushing water is like a symphony created by a music maestro, the splash of the cool waters on your face revitalizes you thoroughly and a dip in its pools cleanses and wards off all the stress of your routine life. Yes, waterfalls are special, and according to us, new question for a travel lover should be, "Mountains, Beaches or Waterfalls?"
Ready to travel for free? Earn credits and redeem them on Tripoto's weekend getaways, hotel stays and vacation packages!