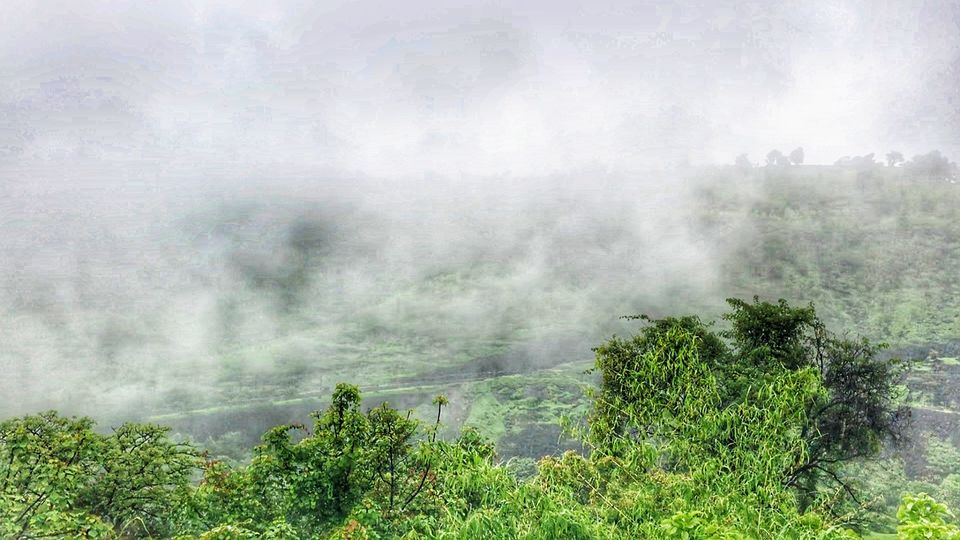 Ashoka Waterfalls
After a quick pit stop for breakfast and a lot many to soak in green surroundings, we made our way to Ashoka waterfalls. The fall received it's name from movie Ashoka, whose song was picturised here. It is also known as Vihigaon falls, named after it's base village. On the Kasara ghats, there is a little diversion with a sign board to lead you to this place.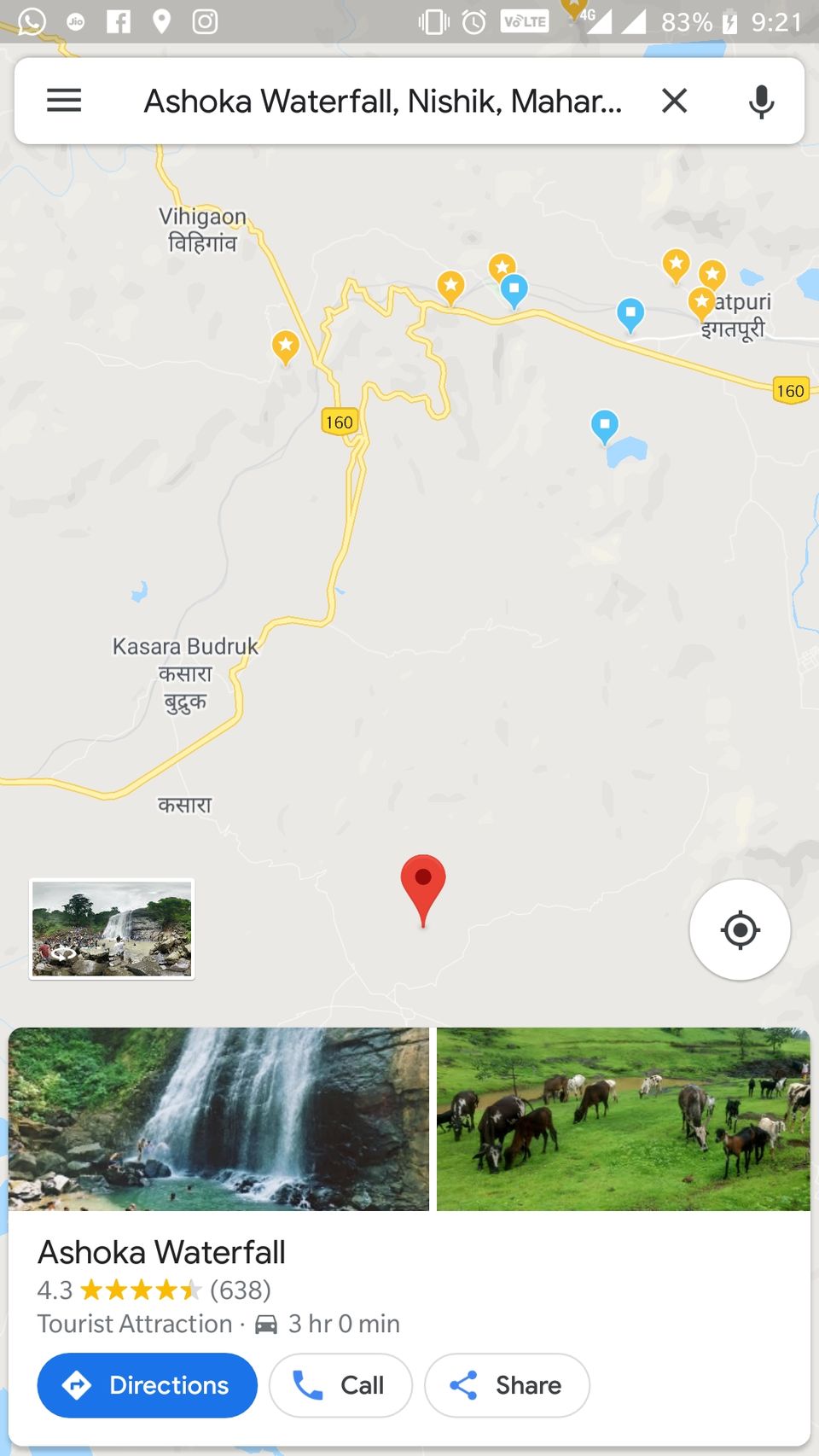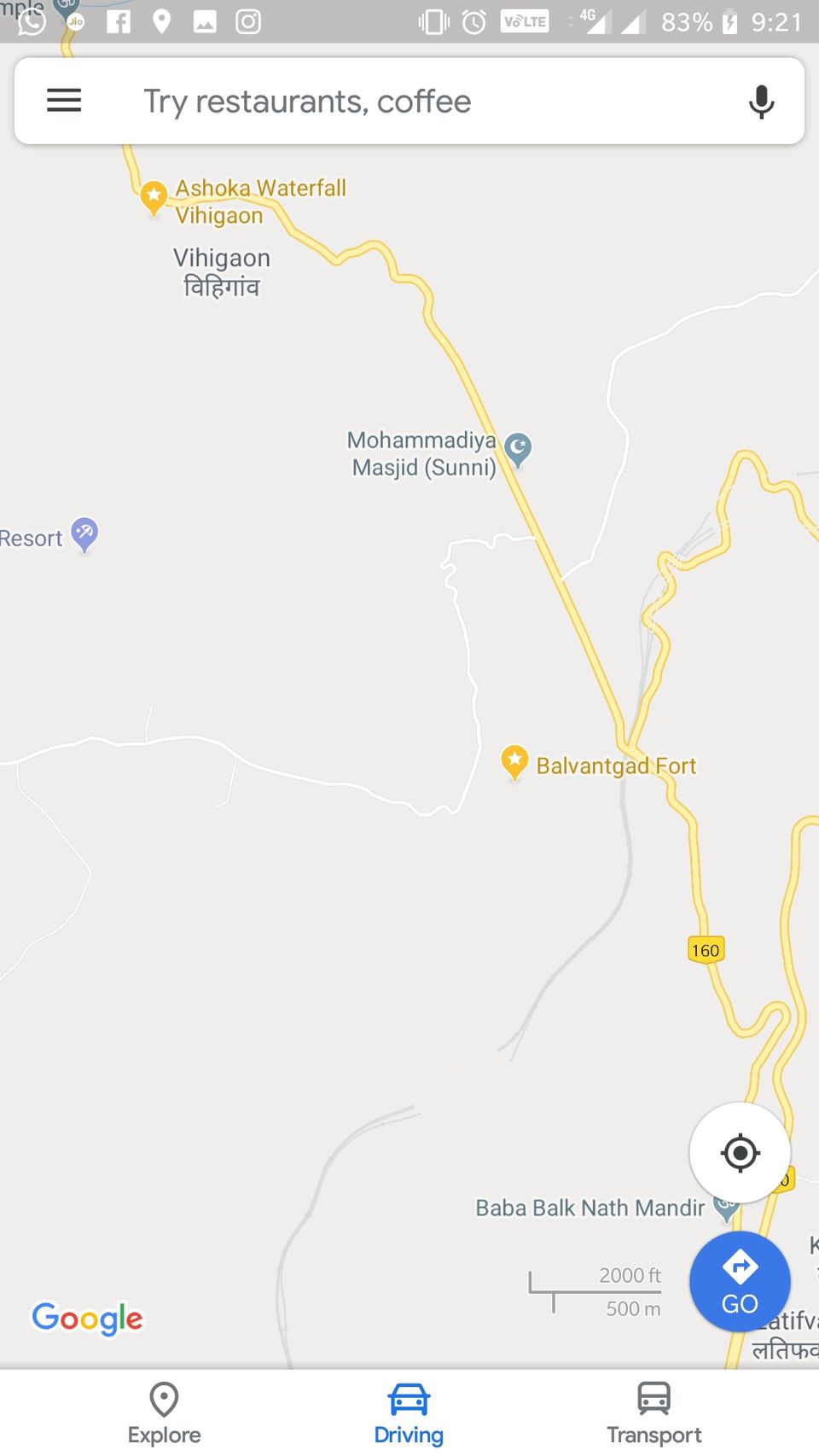 The best kind of places are those where you can simply travel without much planning. Igatpuri is one such. Bored of your mundane life? Take a road trip to Igatpuri. Nested ahead of Kasara valleys dusted with clouds, this gem is perfect escape from city life near the city!
How to Reach?
Easy access by train as well as road makes it a cheap destination to travel to even when you're broke. Once you reach Igatpuri station, you can hire auto or book a vehicle, but be ready to bargain. Alternatively, a drive along Nasik Highway can take you to this tiny paradise. Distance from Major cities are: Mumbai 120 kms, Pune 228 kms, Nasik 46 kms.
Best time to visit:
Undoubtedly monsoon & post-monsoon is the best time to visit this lush green beauty. However being en-route to many other destinations makes this place a quick halt even during your winter trips for admiring valley views.
Places we visited:
While there are handful places to visit in Igatpuri, there are plenty destinations nearby for an extended trip on a long weekend.
Camel Valley
While riding on the Nasik highway accustomed to green terrains, suddenly you'll spot a spectacular V shaped valley, as if sky is cutting through the mountains- that will be the famous photo-stop Camel Valley. Sadly I forgot about it until I noticed the beautiful scene from the window of car. We had passed the park-able area, so couldn't spend some time admiring the view. But the place is surely worth a quick halt during the return journey.
Ghatandevi Paryatan Sthal
On the opposite side of Camel Valley, this small temple and park is another viewpoint. The guard wasn't really allowing us to go inside being a 'young couple', but on insisting he agreed and charged Rs.20 for ticket. You'll find some plantations inside and tyres hung on trees as swings. At the very end, the view of train tracks amongst the vast foggy mountains can be seen. If you're lucky you will spot a train, as the frequency is quite low. Nothing great exactly, but you can visit this place once to kill some time.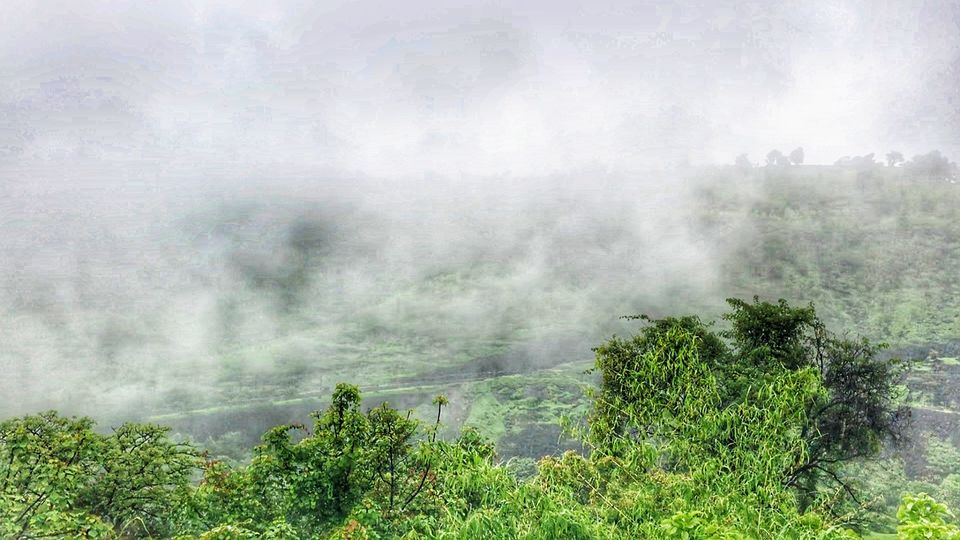 Bhavli Dam & Waterfalls
Tired of commercialised falls? This place is your best bet for a peaceful experience. Well maintained twisted roads coupled with surreal views can make this ride the best ride you ever had.
Take a right turn to Bhavli Dam Road from Nasik Highway and soon mini falls sliding on the rocks, contrasted by plain fields on the opposite will please your eyes. We also spotted good stay options ranging from farm houses, villas as well budget hotels as soon as we entered Bhavli.
In no time, Bhavli Dam grabbed our attention with shimmering water highlighting trees on it's bank. The dam was not full, yet the shades created by monsoon water and reflection of clouds were epitome of beauty. The spot also offers some great sunset views. You will automatically press the break mesmerised by it's beauty to create some of the best memories of your life.
Google map location on left is wrong! The one near Vihigaon on right is correct.
The ride through this highway is refreshing from start to end, but the road to the falls covered in canopy of trees makes it much more rejuvenating. I love the lively roads where you intercept with local life instead of just cruising on highways. We also caught sight of locals busy in their daily chores, kids on the way to school amusingly staring at every passing vehicle.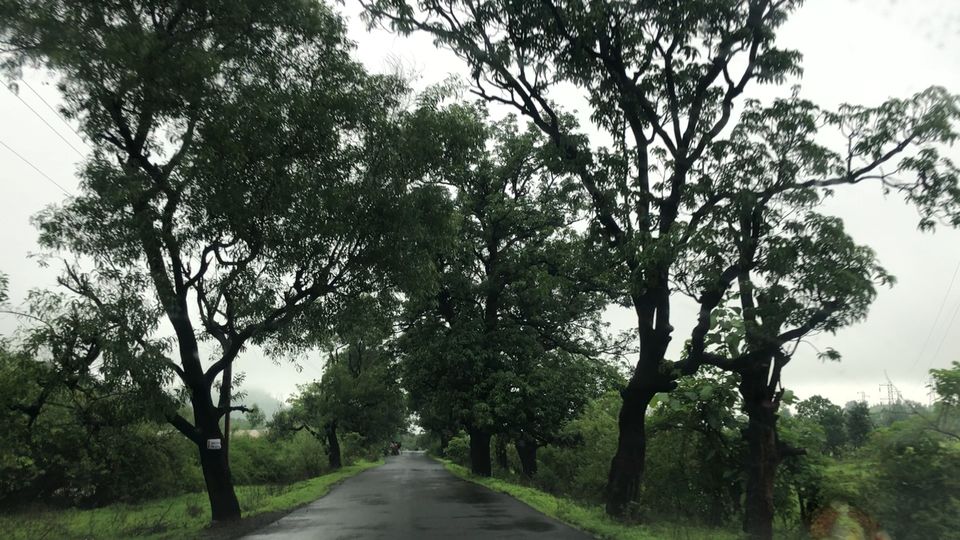 Parking is available on a plain field at the start of trail leading to fall along with decent washroom and changing facility. Signboards at places make sure you're not lost. Don't hesitate to ask people for directions, in case you can't figure out. Locals also operate food stalls near the parking, but we reached pretty early, that too on a weekday, so the stalls were shut.
Well built steps lead you to the base, with railings installed for support & safety. Height of the steps makes it easier to get down than to climb up, nevertheless they are doable as long as you don't have any medical condition. Doesn't every great view needs some effort?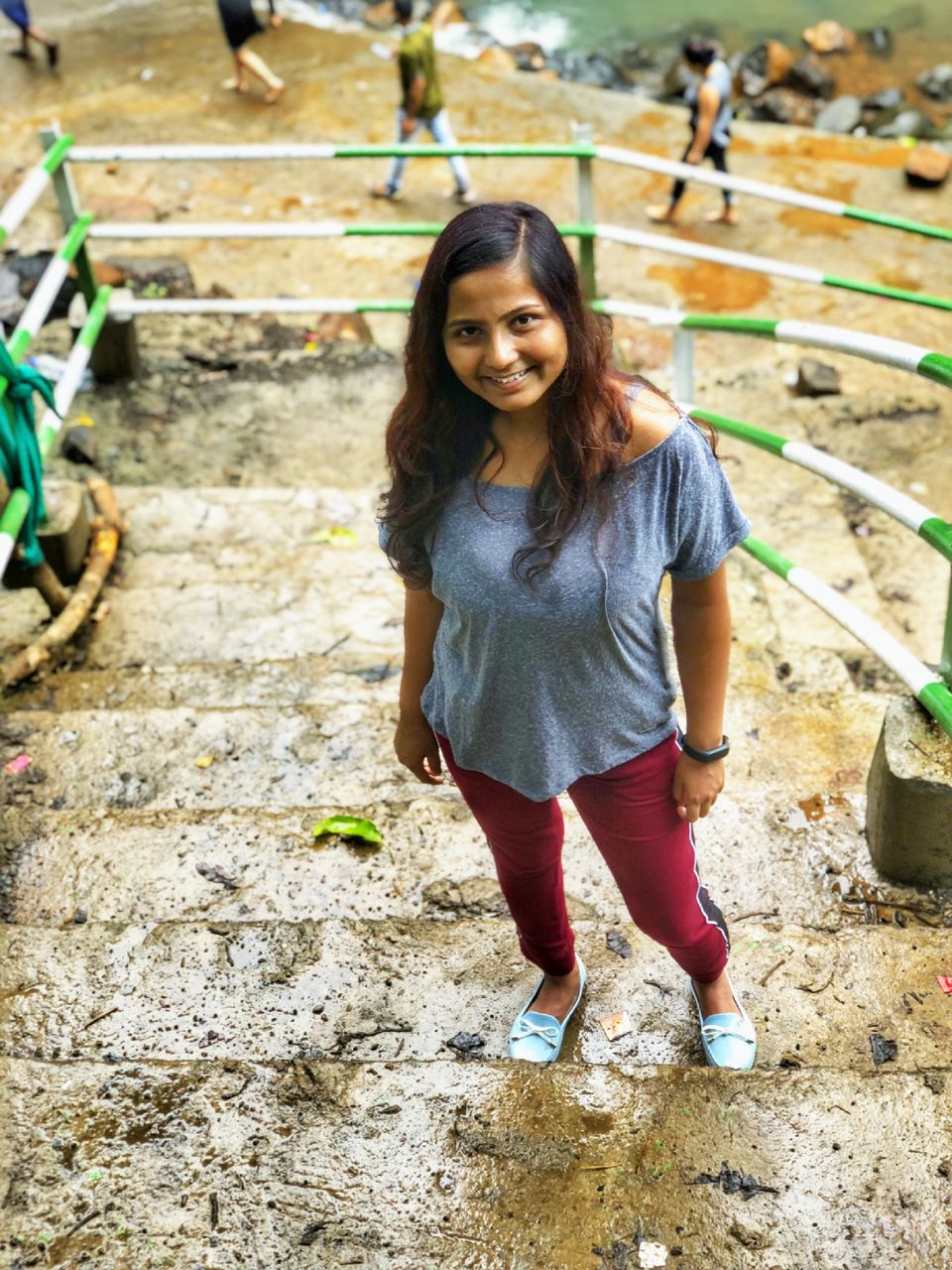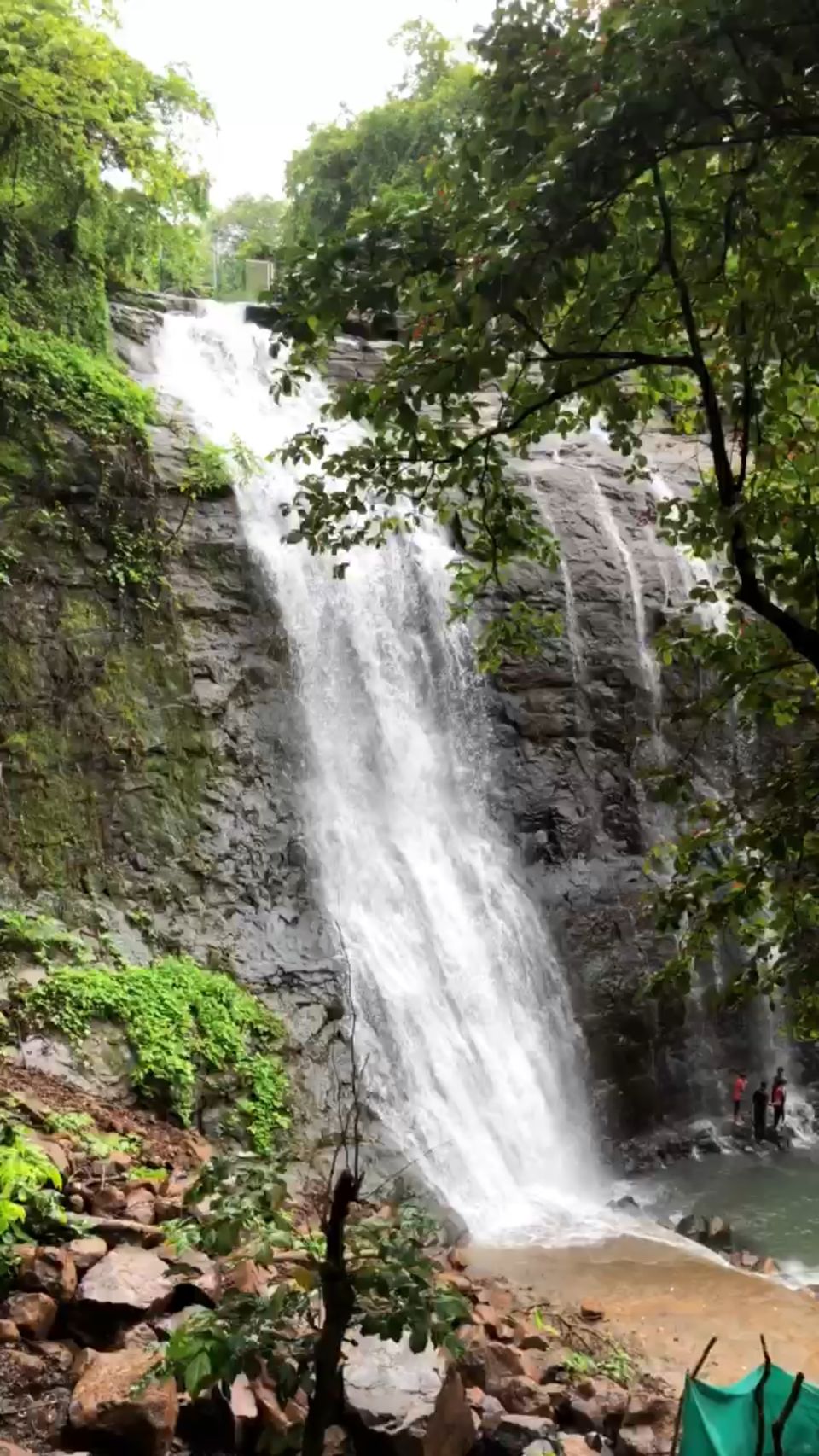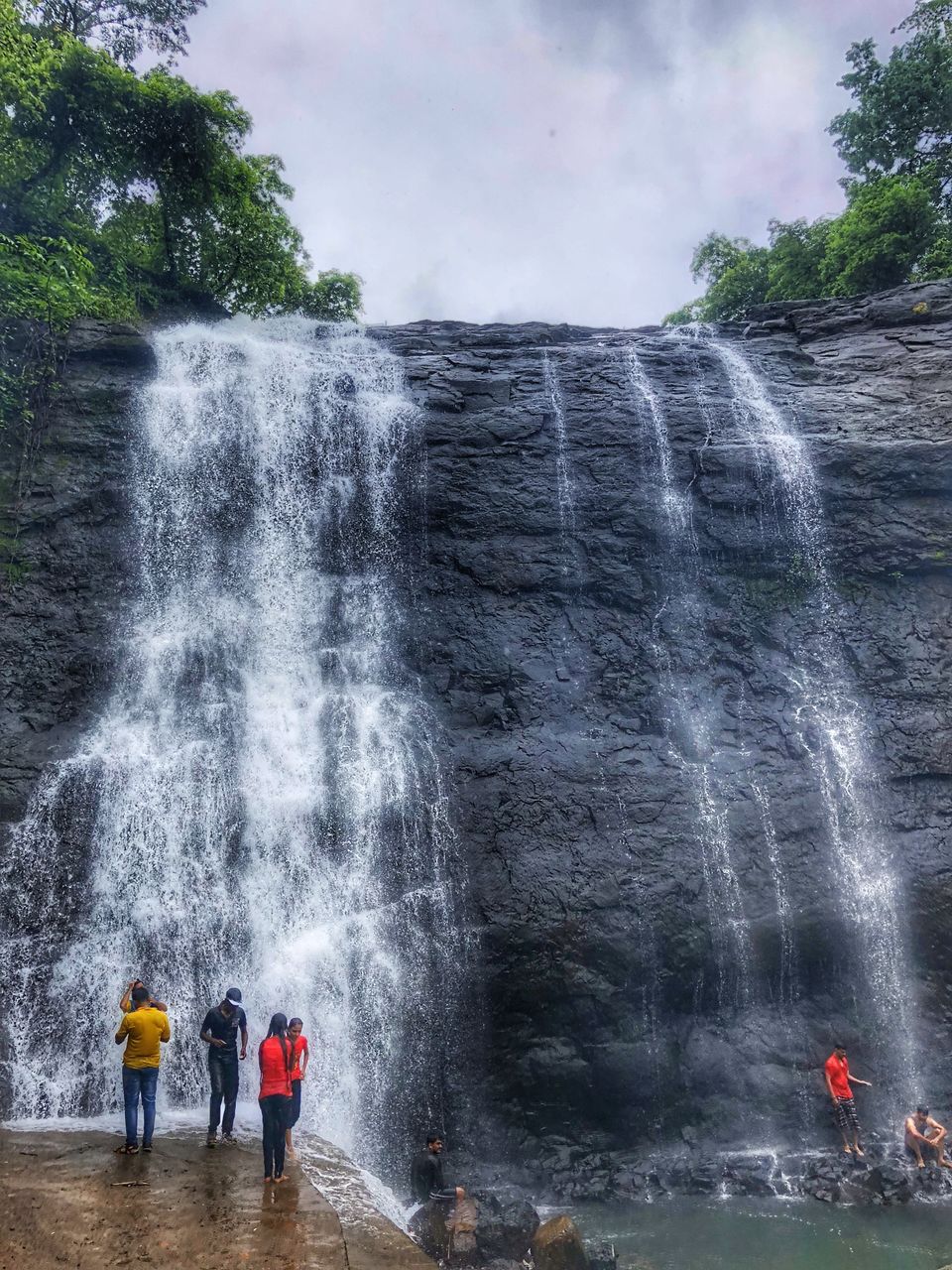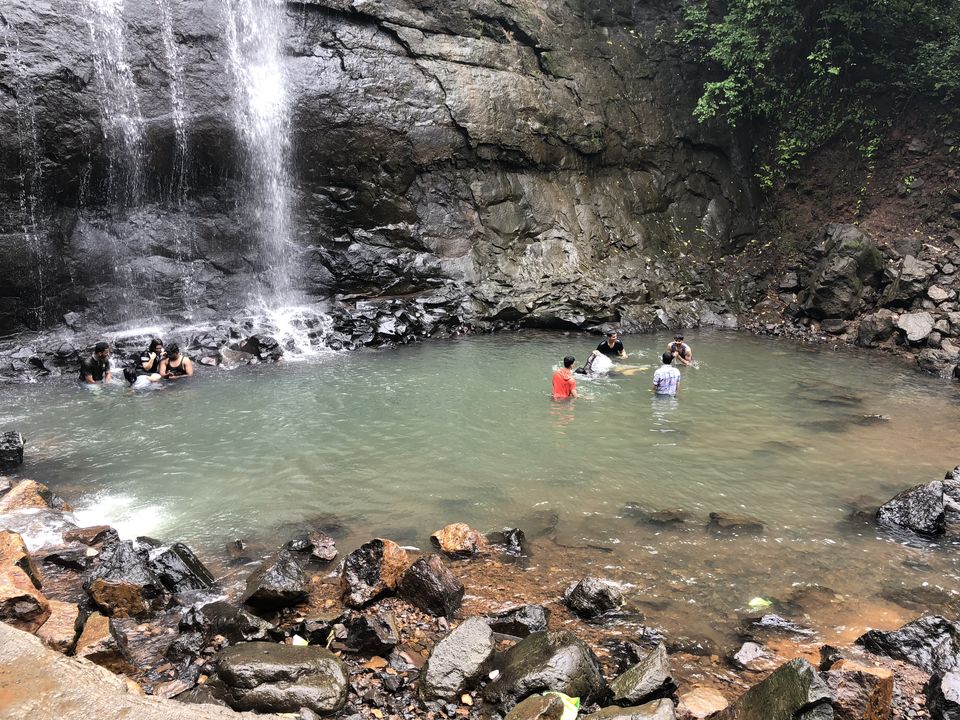 We visited the fall in the first week of July, when monsoon had just knocked the doors. It will be fuller and much bigger in the months of August- October.
Just a minute's distance from this dam is Bhavli falls. The trail alongside the pool of water will lead you to it's base if you want to get a closer look. You will not find those usual maggie, bhajjiya or corn stalls here as this place is not frequented by visitors, but that's what makes it more beautiful and serene.
Unlike other touristy falls, you'll feel altogether different experience here, absorbed in freshness, away from the crowd and closer to nature.
As you drive further, the elevation starts surprising you with many small and medium sized waterfalls. Jamunda hills offer panoramic view of Bhavli dam and waterfall from a height. There is a township currently being built, thus the roads are in decent condition. Sadly, we couldn't go till the top due to extreme fog, but views would surely be splendid post-monsoon.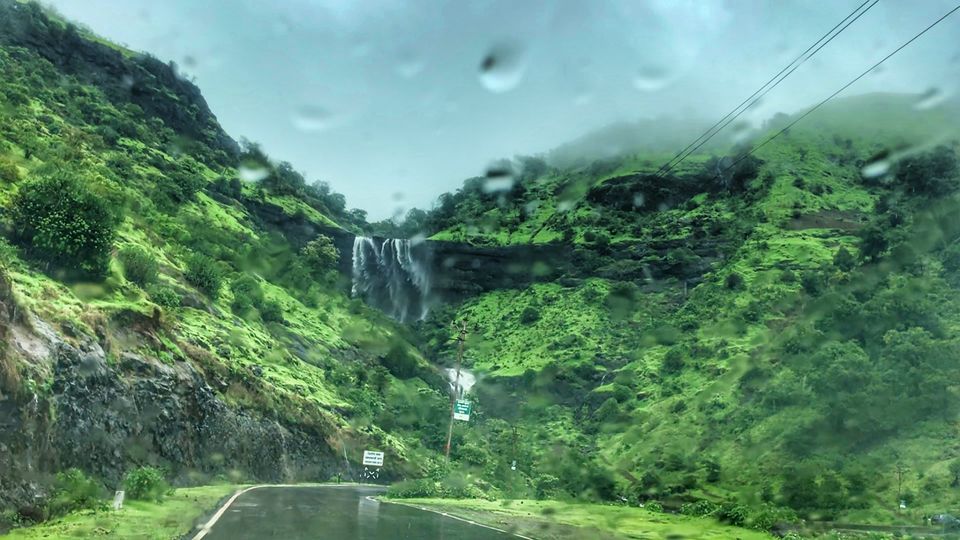 Other Attractions:
1. Balvantgad Fort near Ashoka falls
2. Popular Land (just another green field with a reservoir)
3. Teen Ladi Chowk (for view of train tracks amidst greenery)
4. Vipassana Centre (Must visit for architecture if you haven't been to Pagoda before)
5. Tringalwadi Dam & Fort
6. Vaki Lake – Upper Vaitarna Reservoir
Nearby destinations for extended weekend:
1. Bhandardhara (You can visit Bhandardhara Dam, Umbrella falls, Randha Falls, Sandhan Valley, Ratangad Fort, etc)
2. Nasik & Trimbak (Plan a Vineyard trip to Sula/ Soma/ Vallonne. You can also visit Gangapur dam, Ajaneri hills, Pandavleni caves and places of religious importance such as Trimbakeshwar, Trivengi Sangam, etc.)
3. Jawhar (This is place lesser known to people with attractions like Jai Vilas Palace, Old Palace, Dabhosa waterfalls.)
Where to Stay?
Though Igatpuri is more of a day trip place, one can always opt for an extended trip to other nearby places like we did. Many tourist simply come here to Stay at resorts just for some escape from hectic lifestyle.
There are various resort and villas available in Igatpuri, all clustered nearby. You can easily find one as per your price range. Since we were on a budget trip, we opted to stay at 'Hotel Ashwin'. The hotel was very well maintained with a small park and pool facility. While room and service was pretty good for the price, food was decent. Overall it was totally value for money.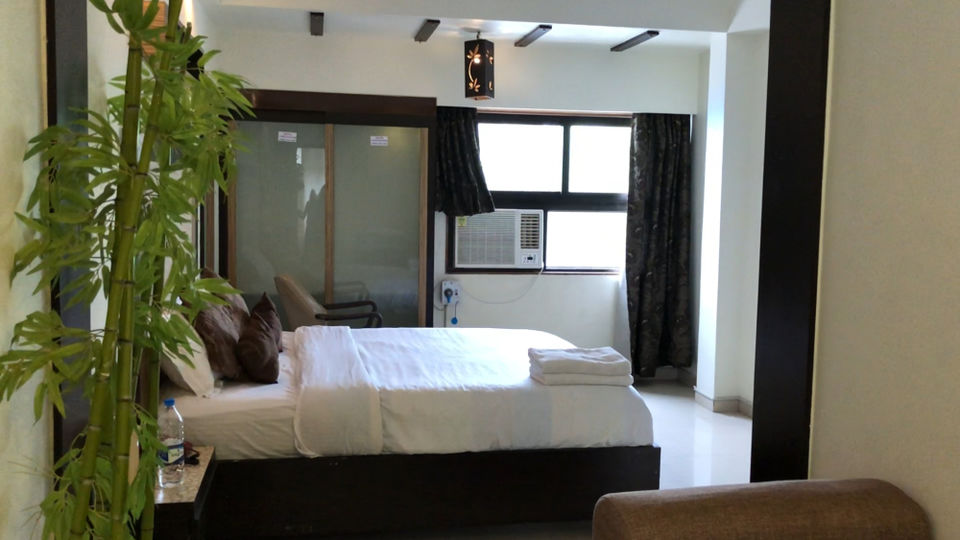 Next leg of our journey was Nasik. Though there is not much that we did there, as we opted for a relaxed stay instead of sightseeing, I will nonetheless write a short blog about it and link it here later.
Ideal itinerary for a day trip to Igatpuri:
Start early at 6-7 am with a quick pitstop near Asangaon food hub.
Visit Ashoka waterfalls. You can also do a quick trek at Balvantgad fort if you want adventure. Though there is not much to be seen on fort, it is great for some panoramic views of lush green mountains.
Connect again to Nasik Highway on the way to Igatpuri. First place en-route will be Ghatandevi Mandir. You can find restaurants nearby for lunch, or simply enjoy the food at en-route stalls. Camel/ Bhasta Valley are on opposite side, so either you can walk to it or simply visit it in the return journey.
Popular land is quite near from here, while Teen Ladi Chowk – Vipassana Centre (Myanmar Gate & Dhammagiri) – Tringalwadi dam & fort are on another route.
In the late afternoon ride to Bhavli dam – Waterfalls – Jamunda Hills and witness the sunset. Make sure to get down the hills before dark as they can be difficult to drive once sun is set.
So what are you waiting for? Hurry and plan your trip this monsoon season!
Keep exploring! ????
This post was originally posted on my blog here.
Follow on Instagram for more pictures from my trips.
I'm also available on YouTube, Facebook and Twitter.
Just a girl with dreams of travel…