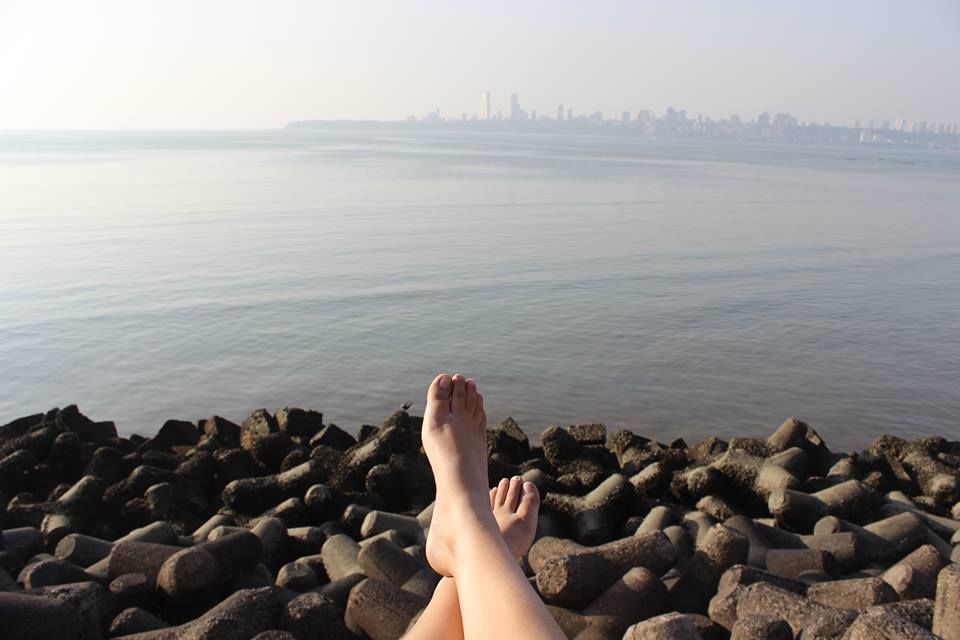 After I finished reading Behind the Beautiful Forevers by Katherine Boo, the soft spot for the city turned into an absolute impulse to discover it without further deferral. As it turned out, a few months later, I was standing on the rooftop of St. Regis, absorbing the skyline of Mumbai as the blend of cold air and overwhelming emotions continued to give me goosebumps. There's no denying that Bombay had my heart in those moments.
This first visit to the city of dreams was nothing less than a touristy affair. With an itinerary in hand, my family made sure to visit every mainstream location (Siddhivinayak temple topping the list) besides grabbing the taste of vada pao. Nevertheless, the trip resulted in shopping bags amidst the chaos of Colaba causeway, tasting the exaggeratedly claimed Bombay pao bhaji, delving into the charm of Worli sea link, plodding the slippery rocks at Bandstand, sightseeing Gateway of India and finally, sitting at Marine Drive to watch the sun set.
Notwithstanding the amusement of this fancy trip, my thirst to capture the essence of this place was not satiated, and so, I returned. But this time, on a party-solo trip. Partly-solo, because I stayed with my father and solo because I travelled alone with no itineraries. Also, I travelled (mostly) on foot.
So, entirely based on my personal experience, here are my favourite picks for 'to-dos', to get immersed in Mumbai :
Lose yourself in assorted architecture
This is not based out of the habitual observations due to my profession but because the city is, in fact, adorned with varied architectural styles. Be it the Gothic style of Chhatrapati Shivaji Terminus, the Art Deco style of Regal cinema or the Indo-Saracenic style of The Gateway of India, the richness of these nuances is abundant, especially in South Mumbai. During my walk from Churchgate station to CST and from CST to Gateway of India, I couldn't help but notice the intricate details of the charming archaic structures that reflects an era of Mumbai which has not been altered to a noticeable extent. One can simply explore the streets, shop at Colaba Causeway and conclude the day with a coffee date at Kala Ghoda Cafe or a chilled beer at Leopold Cafe.
Take a nap at the Mount Mary Church
After exploring the Bandra streets, shopping at the Linking Road, where bargains are only accepted in marathi and eating healthy salads at Candies, I headed to a peaceful corner of the city, Basilica of Our Lady of the Mount, which stands perfectly on a hillock, overlooking the Arabian sea. In spite of the heavy tourist traffic, the place never fails to maintain its calm. I seated myself during an evening mass, where the filtered light of the setting sun amplified the serenity. And in no time, amidst my contemplation, I was taking a nap. This refreshing mid-day nap pumped me up for the rest of the evening that was spent writing long verses of poetry. Creating a sense of belonging, the place allows you to explore the church grounds or watch the sunset from the Mary Shine, opposite Mount Mary. One can also head to Bandstand via picturesque streets, disclosing the horizon.
Enjoy the purrs at Cat Cafe Studio
Being the first of its kind in India, Cat Cafe Studio has crowded an overwhelming popularity amongst cat lovers. With undue hygiene rules and the crew's excessive coddling for the rescued cats, this place is a refreshing experience even if you are not a cat enthusiast. Because regardless of your opinions, the cats are going to please themselves in your lap, making you pet them unfailingly. I was particularly amazed by the coexistence of cats and cuisine with a squeaky clean setting. The quirky decor with miniature cat adobes enlivened the cafe that also hosts weekly events to promote local talent. So, here's a place that allows you to enjoy your chilled lemonade with weird cat toys and some serious petting.
Also, the cats are always up for adoption!
Broaden your awareness about slums
This particular recommendation is open-ended.
As I walked the dusty roads of Dharavi, bounded by leather factories and pottery shops, I was confronted with infinite dreams immured in overcrowded houses. When my 18 year-old guide turned out to be a resident of the slum itself, who took up this job to make ends meet, I realised that our contrasting worlds are similar in some aspect. The suggestion is not for you to pity the destitution but to understand the community-living, friendliness and the zeal that exhibits endless possibilities. Because who would have thought that a slum can have an annual turnover estimated at over US$1 billion? The tour presented me with a comprehension of slums beyond the stereotyping of dirt and vulnerability because though the conditions are surely miserable, they do not sum up the situation in totality. And that is for you to assess it for yourself.
Travel in local at night
While Mumbai locals are infamous for their loaded traffic, they could also be relaxing post rush hours, at night time. I traveled from Andheri to Bandra and opted to stand near the train door throughout. The feeling of air rushing through my face as I allowed myself to lose in the silence and gaze at the far-off city lights was pacifying. There's a different feel to unpacked locals altogether and though it's mainstream, travelling in local is a paramount 'to-do', when in Mumbai. Try this and I bet, you will thank me later!
P.S. Hold onto something whilst performing the stunt and be safe.
Simply, walk and explore
While there are inexhaustible places to explore in the city, the best way to do that in Mumbai is to walk, aimlessly, whilst taking suggestions from locals and friends. The city is home to beautiful touristy places - art galleries, museums, beaches - which are worth paying a visit. Having a weakness for food and captivating cafes, I ran into a lot of hidden gems. A few mentions include sipping chocolate shake at Bachelorr's near Chowpatty, enjoying a book at Leaping windows in Versova, admiring the well-lit ambience at Cafe Zoe in Lower Parel, watching sunset at Pizza by the bay near Marine Drive, relishing the vintage feel at cafe Mondegar and surely, many more uncharted places for you to discover.
The streets of Mumbai have a unified character of inclusion that makes you a part of itself. Throughout the trip, the unwavering friendliness amongst people intrigued me because having stayed in the capital for 20 years, I, somehow, grew accustomed to grimness. Yet, not everything about Mumbai was rosy since I was able to sense an air of cleverness which is bound to born in an unyielding city. But the simple fact that a place can bring together the extreme poles of a society like a perfectly fitted puzzle makes up for the definition of love.