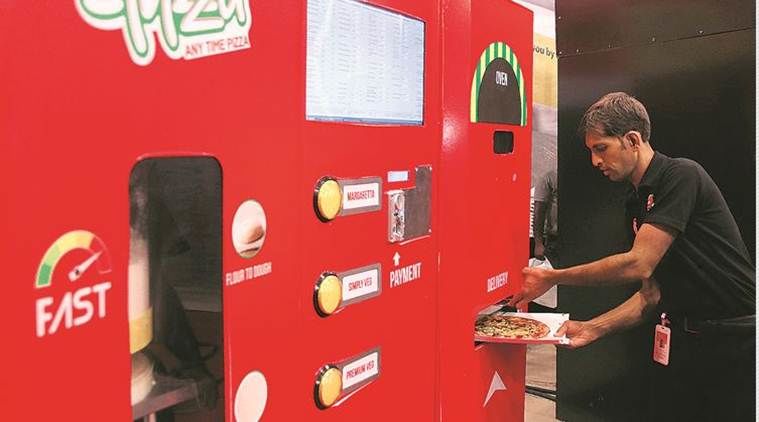 We have all seen and used vending machines before, but recently, a pizza vending machine was installed in Mumbai Central Railway Station by Indian Railway Catering Tourism Corporation (IRCTC). This is a dream come true for all the pizza lovers out there, who, once upon a time, could only imagine fresh pizzas coming right out of a machine in no time.
In addition to this, the machine offers french fries, popcorn, fresh fruit juices and ice cream too! This makes a perfect meal for anyone who is in a hurry, always hungry and cannot take railway food any more.
IRCTC in collaboration with Bueno Insta Pizza Pvt Ltd and Owl Tech Pvt Ltd has come up with this brilliant idea which is expected to get popular among young commuters and several inbound tourists in India.
Timings: The machine will only operate from 7 am to 11 pm, every day.
Cost: The cost of these freshly baked pizzas ranges from ₹150-300 for a 10.5-inch base, and the other side items will cost approximately ₹100.
Location: The machine is placed in the cafeteria region of the railway station.
Process: Customers will receive tokens in exchange for money, which can be used to order pizzas of any choice. Here the variety and toppings are limited, and only vegetarian options are available. It takes about five minutes to prepare a pizza. Also, you can see the whole baking process.
Abdul Hanif, store manager from Yess Pizza, told Indian Express, "The pizza making process is divided into three parts here; first, the dough is prepared, then the toppings are added and in the end pizza is baked at 380 degree Celsius." "The entire process, right from inserting a token until the pizza gets delivered takes five minutes".
Share your travel stories with us here. Also subscribe to Tripoto's Youtube Channel for more travel updates.