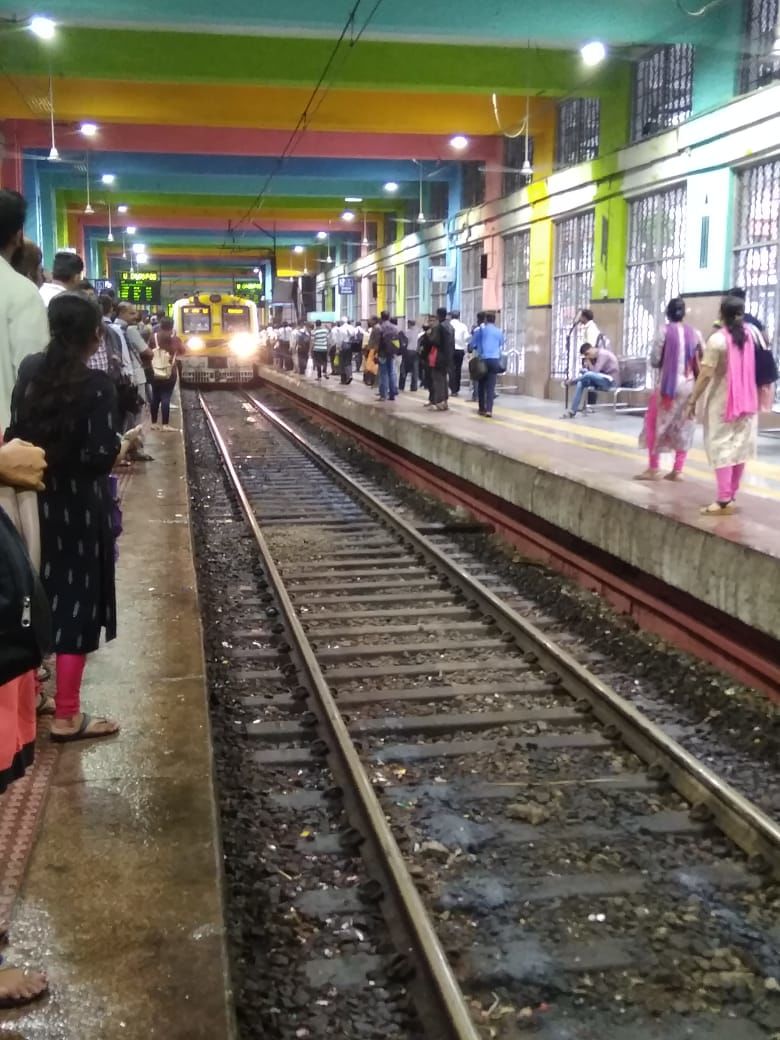 Rides are known to gush the adrenaline inside you. Being an adventurous person I love to experience the twist and turns of different rides.
On 25th march in the evening we were waiting for VL0 652 which is known to be one of the scariest rides of the world and can even give a near death experience as it has no seat belts or even no life vests. This ride is quite famous among the people here and is adored more than anything else due to its thrilling experiences.
At 7:15 there came a 6:52 Virar fast local at Churchgate's platform no.3.
For all those who are unaware, Mumbai's 6:52 Virar local is one of the scariest and fun filled ride that people staying here experience every day. Being born and bought up in Mumbai we got introduce to this ride since our college days and now it has made us pretty acquainted with its super-human stunts which are necessary to get in.
5 things to master before getting into Vlo652
1)Prioritizing your seat beforehand
It was already 7:15 and as you know Mumbai locals are never on time the crowd of two trains had gathered and all the people including us were ready for some heroic stunts to occupy our seats in this euphoric ride.
You might not feel the crowd until the train comes but later a herd suddenly appears in front of you when the train is about to reach the platform.
No. of people gathered at the platform were three times the no. of seats so, we took a look at the seats from window itself and communicated each other just by winking to go the left as to beware of which direction to run after getting in the ride with thousands of people gushing and pushing you at the same time.
2)The ride starts before you think that it has started
The actual fun comes when people jump in the ride in comical way like getting hit by the poles or carrying out a direct high jump from the door to their seat.
Before the ride came to a halt; we along with all the ladies who were tugging the pallu's of their sarees took our sacks in front and went three doors backward where actually the 'gents' dabba (compartment) arrives for preparing the runway to board the ride.
Missing the first two doors we somehow managed to jump in the third door when the ride was in motion. Once I jumped in, I toppled over in a deadpan manner but was conditioned to go inside due to the pressure of the crowd that pushed me from behind.
My friend held my hand and took me with her as she knew that we will have to grasp ourselves and plunge at our sight like a flash in this herd.
3)The 4th seat
Unfortunately, we couldn't grab the window seat but my determined friend managed to get a third seat. She felt as if she finally won the affray and the satisfaction on her face was indescribable.
I being the ill-fated one got the 4th seat even after performing such valorous stunts. Now sitting in this seat actually makes you experience the thrill of the rollercoaster.
There were thousands of people who stamped on my foot as they keep moving from one end to the another in search of seats and it was even difficult to sit as I slipped down from the seat number of times. I could feel my insides as well the insides of the lady behind me as I had never been so tightly squeezed. Even I was vexed with the excess Indulekha oil of her hair all over my hand.
4)Remember the person whom you allot your seat
There were another tons of people getting in the train ride at different stations and constantly asking me the name of the station where I would get down. I allotted my seat to an old lady and then within few minutes she disappeared somewhere and I couldn't find her.
Thinking she might have got another seat on the other end I gave my seat to a girl who was standing next to me for a long time. Once I got up, the old lady appeared from nowhere and started fighting with me for her seat which created a big scene. While you are on VLO652 YOU MUST BE READY FOR QUARRELS.
Both the ladies pounced on me and I felt like a guilty criminal who had done a crime by giving my seat to two people. So, I would suggest you to ensure with the person before giving the seat or rather not give it to anyone.
5)The Big Bang stop
After 20 mins of our journey in the ride which feels like an hour after enduring so many things, there came the most awaited station DDR (DADAR). As soon as the ride left Bombay central we jumped and seized the handle nearest to the door.
Many people in this train are regular and might consider you a dullard if you try to perform unusual stunts at the end while getting down so, we first asked the people about where do they want to get down and most of the people said no to Dadar. Doing this helped us get closer to the door while getting down.
But even if you are far behind do not worry as you will automatically land on the platform by the force of people once the station arrives. We got down from the moving train and my friend being small in height got disappeared in the crowd. Pushing the entire crowd with all her strength she finally managed to get out and we felt as if we have finally accompanied a target.
Such was our rollercoaster journey in VLO652 (6:52) Virar local from Churchgate to Dadar.
Frequent Searches Leading To This Page:-
weekend tour cost from mumbai, weekend holidays from mumbai, weekend getaways from mumbai, weekend trip cost from mumbai, weekend holiday tour cost