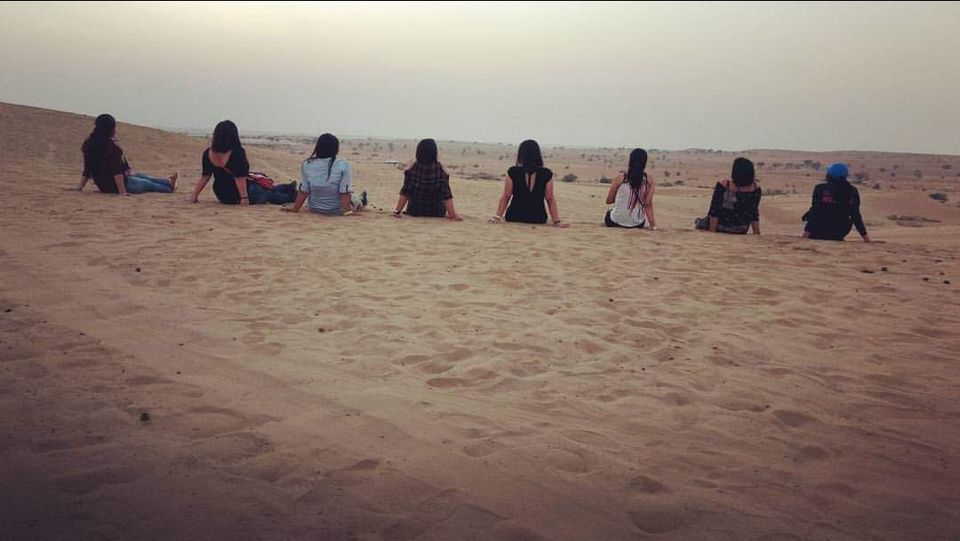 Hey Guys, I am going to share my insane train experience which we cannot forget and even don't want to :D
So, let me start with the planning part. We are a group of 8 girls. I planned my own bachelorette with these weird characters whom I call as Friends :P
After a long time discussion, which is normal in any group plans, we decided to go to Jaisalmer. Everyone agreed only if it will cost them the least. So, I promised that it is going to be the cheapest trip of their lives:D :D
Little that they knew that how I will do that.
So keeping my promise, I booked Sleeper Coach tickets from Delhi to Jaisalmer, that too both sides :D :P
Now cut to the journey day. Everyone was so excited, and so was I to see their reactions on seeing the seats????. I silently stood where the sleeper coach of the train was about to come. Once we took our seats, I noticed no one was bothered about the coach and the seats we were having :), until midnight when it all started.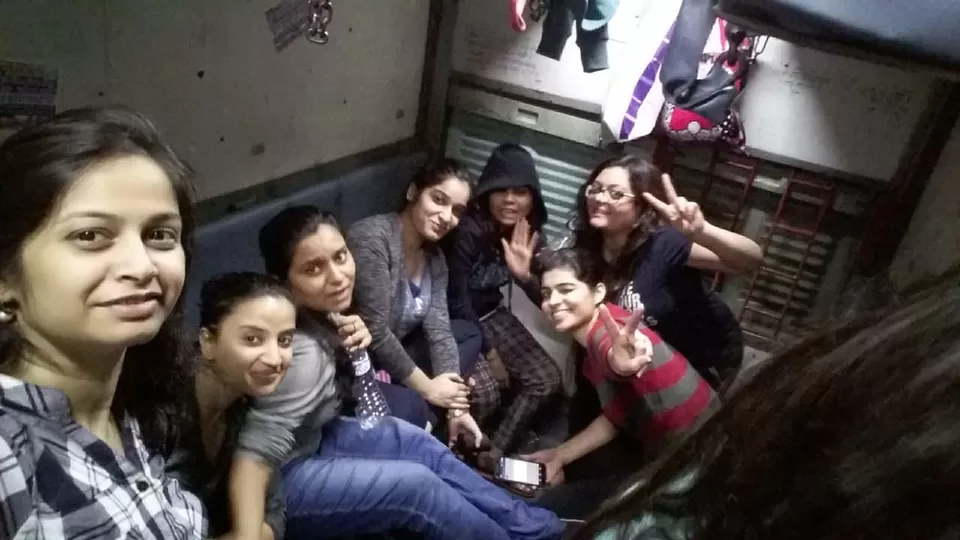 But first let me brief you our friendship and characters. Each one of us is weird in their own ways. When we are with each other, we don't feel that anything is going wrong as each situation becomes just hilarious and fun.
Coming to the journey now. We boarded the train at 5 pm. It was going to be 17 hrs journey from Delhi to Jaisalmer.
Here comes the first hilarious moment. There was a bhaiya selling Daal Moth (kind of a namkeen) in a bucket (or Baalti will be more appropriate word). We bought for everyone. As he was still giving to all one by one, I noticed some insects in it. But by that time one of us had already started eating some????. Slowly everyone noticed and we told the Bhaiya to keep it back and how is he selling such a thing to people. He saw the packet and said "Madam keeda nahi hai, jeera hoga" ( It's not an insect. Must be cumin only), to which I said, "Bhaiya aapka jeera chal raha hai" ( Your cumin is walking) :D :D
So we could not have the namkeen, but had a good laugh, so it was worth it!
After around 9 pm, a crowd of so many young boys came in our coach. At first we were very shocked as to what is happening suddenly. It seems no one was having ticket, and as general coach and sleeper coaches are always open so anyone can enter.
After sometime got to know that there is some government exam,the next morning in Jaipur and they all are going to give the same.
It became such a mess there. One could not even stand as everyone was sitting on the floor. Some of them started creating ruckus.
We were not able to sleep or even go to the restroom.
Some guys started commenting, but they were not near so we could just hear them. To which we also started giving befitting replies. The boys standing near our seats were quite.
The thing was, there were so many male passengers but no one had the guts to take a stand and take some step against them. Everyone was happily enjoying.
A guy kept putting his book to study on my friend's seat, every time she was trying to sleep. After telling him so many times, she came with the brilliant idea and switched off all the lights of our seats and asked him to study now :D :D. Modern problems need modern solutions.
As the night was going, the crowd was becoming uncontrollable.
After sometime, a voice comes from the top berth "Tell them to move, otherwise I am going to pee from here only" :D :D to which we all started cheering "Pee! Pee! Pee!" :P
There was a very nice guy near our seat who asked each one of us if we need to go the restroom, and walked ahead of us by setting the other guys aside and making the way. We need more guys like him in our society, not like the ones who had their mouths shut during the whole night.
Whenever any station comes, more and more people entered. They were knocking aggressively on the windows and gates to just enter anyhow.
Then enters a girl amidst all this crowd of boys, at 2 am. We called her to our seats and told to take a seat but she took a cloth from her bag and sat down inside our compartment. We started asking her what she does and why is she travelling like this at this time of the night just to take an exam. By the way, the exam was for some clerk position.
She told that she has a good job in an MNC, but her parents want her to take a government job. We were shocked to hear that. What is the obsession with the government job? They were even ok with her taking a late night train and that too in a general ward without ticket. The girl was infact happy in her current job and showed no interest in the exam.
One of my philosophical friend, started giving her the life fundas :P. We don't remember all of it but we still tease her with one of the dialogues she said to her "Your life is your life" :D
When the ruckus was becoming out of control we called up the police and complaint about the situation. The police told that they will check after 2 stations. So many stations went by but no one came for help. So we tweeted to the Indian Railway Minister. There also reply came they will be reaching asap. But still no one showed up.
The crowd was cracking up the windows at each station. At one of the station, they even shouted the name of one of my friend, right on her window. She was very scared. We asked her to ignore and not open it.
We again called up a policeman who was in charge of the current station, and told so many things as what he would have done if his daughter was in our place. And how he was just sleeping now.
Finally, somehow the night went by and most of the people got down at Jaipur which we reached around 7 in the morning.
Only few boys from the last night were left in the coach.
And then enters a policeman. He started asking us "Madam you complained last night. Is everything ok?" We told him there is no point asking now. Where were you when we complained? He said "Madam main to khud 4 baje se gate par latka hu. Andar aane ki jagah nahi thi" :D :D ( Madam I myself was hanging at the gate from 4am. There was no place to step in). He told that he even knocked the window of our seat and called out the friend's name, on which the complaint was registered, but no one responded :D :D
He started holding boys and asked us "Madam ye tha kya? Batao kaun kar raha tha badtameezi."( Madam, was he the one troubling you?), to which my friend turned towards that guy who was keeping his book on the seat, and said "Tera naam le lu kya?? Bol.. ab bol" (Should I take your name??) :D
He just stayed quite and immersed himself into his book :D
We told the policeman that most of them must have deboarded now. You should not be this late. And he kept saying politely that I came on time only, could not come in because of the crowd. After all this he gave us a feedback form and was so worried that we will right something bad about him. But we mentioned clearly that he came on time but was not able to make it inside, as we did not want any trouble for him and moreover we were very much safe.
After all this mess got resolved, an uncle stood up and started saying in front of the policeman "Yes, these boys were making so much noise and were creating ruckus. These girls were very disturbed", to which policeman replied "So you could have said something that time only." We told that so called well-wisher uncle that better be quite now.
The whole coach knew us by then, that what bombs we are and why not to mess with Delhi girls ;) :P
After around 8 am, the coach was almost empty and the train was also late. We started playing music and danced in the whole coach :)
Reached Jaisalmer by 1 pm, safely and happily.
It was the best time we had. Inspite of all these incidents, it turned out to be the most hilarious moment. We still talk about it so many times :D.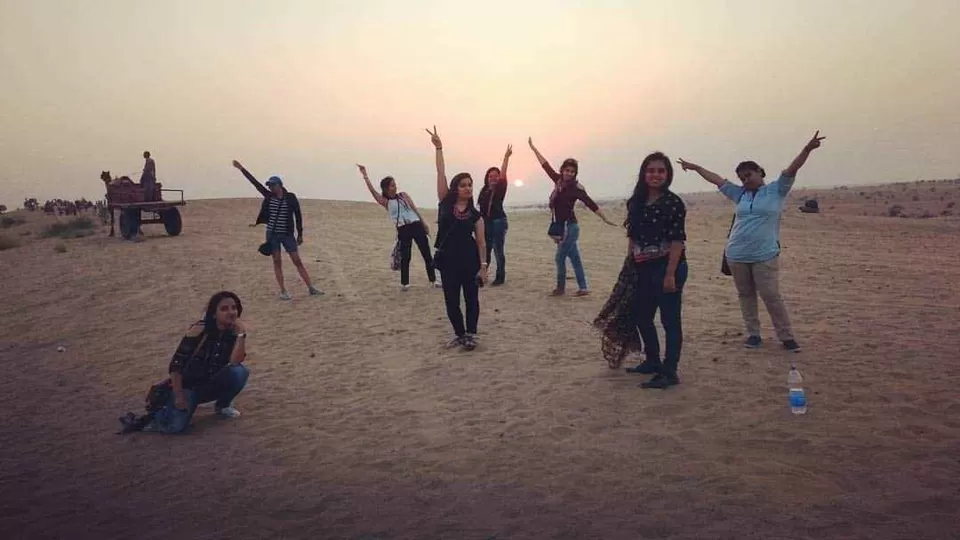 There were so many inside jokes that I can't even mention here :D :D
Worst situations become the best when you are with friends!!
Cherish friendships. Cheers!! :) :*