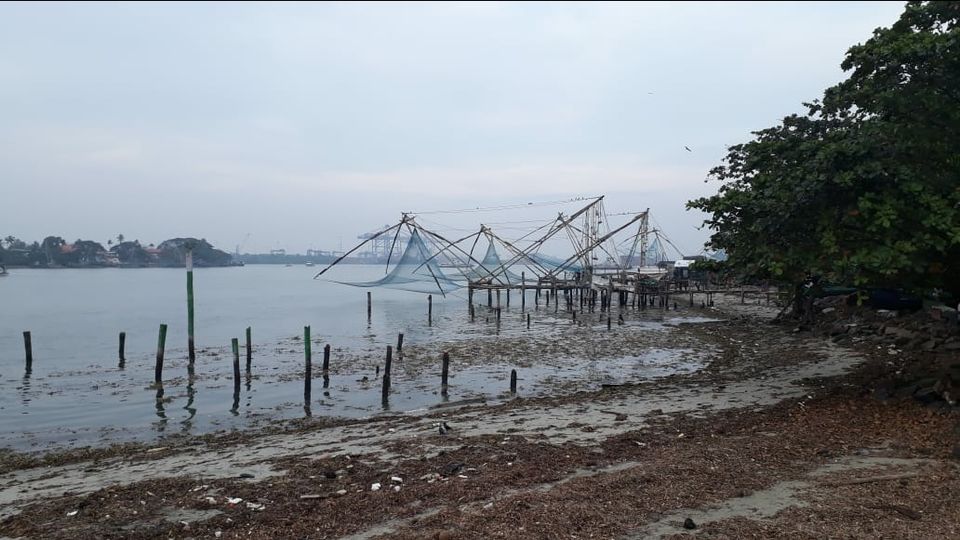 Matancherry palace via ola cab from our unassuming but comfortable hotel
A walk through the Jew Town and a peek into Kerela artifacts; 120 year old snake boat; a simple snack at a quaint cafe full of books, paintings and Jewish artifacts culminating into a first time visit to Paradesi Synagogue.
A tuk tuk from synagogue to Fort Kochi. The driver was kind and patient. He showed us the Santa Cruz Basilica, walkway through Kochi beach, the ferry service between Fort kochi and Ernakulam and a center for Kerala silk sarees and precious stones silver jewellery.
The day ended with an awwwwesome performance of mohiniattam and kathakali in the Greenix village.
I was not looking for a fabulous day as I had left on this kochi-munnar trip as consolation of my inability to travel to Andaman and Nicobar Islands. However, Day 1 of this trip saw me enjoy and learn with my son; love and bond again with my husband and learn that I shouldn't travel with presumption and misgivings. Travel is enriching through its quality, humility and open mindedness in seeing a new place. Be it the great Andamans or the dark horse Kochi.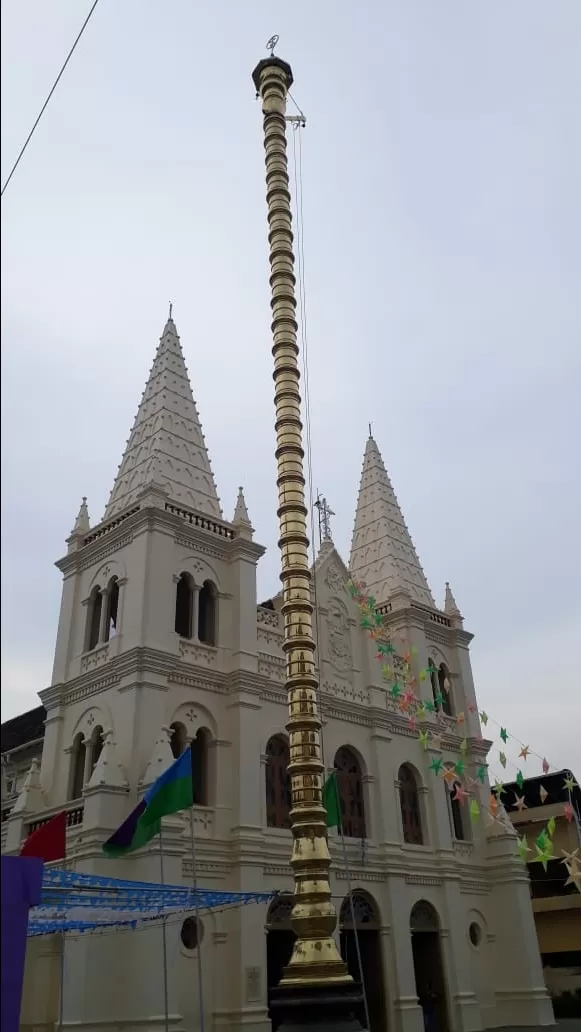 Day 2: 24/12/2019: This day showed me that appearances and presumptions can be deceiving. We had to reach Munnar by the end of the day but I , being the R&D department of this tour, had learnt about an ancient Goddess Bhagavathy temple, the Chottannikkara temple. This was a stop in between Kochi and Munnar. The temple was quaint and busy. We were able to get the darshan without the tickets. Then, after a quick orange juice, we started our 4 hour journey to Munnar. The road was busy with shoppers, tourists and revellers. The journey was dotted with busy villages, green trees and decked houses hidden in tree lined driveways. We stopped at Hotel Rasa for lunch, which served fresh, hot and delicious food. Our driver told us about a spice garden, I thought " here we go again, someone else try to pass off weeds as herbs to an plant- ignorant tourist like me". Again, I stood corrected. I learnt about plants, herbs and ayurvedic plants that can make you strong, healthy and beautiful. Again the mandatory new year resolution for a healthy living was taken. Let's see if I can do it. Then after seeing two waterfalls on the way to Munnar,we reached our hotel. The dinner till now on this tour was an average fare but the gala Christmas Eve Dinner was sumptious and multi cuisine. We were tired but content, travel weary but enlightened.
So, we were in Munnar on Day 3. So, first of all, let me give me a lot of credit to my husband ( who often complains that I am not compassionate enough to credit him for his R&D on hotels and duration of stay during our travels) for booking a good hotel. For me a good hotel should have a healthy and nutritious breakfast, preferably by 7:30 am, an early morning Suprabhatam-type room service, hot water and an extra blanket. All the conditions were met. Hence, thank you, man of the house, for being considerate😘
So, our driver, Mr Bala was friendly, polite and patient. We rely on local drivers for any sight seeing as they know the area best and no parking jhamela. So, we covered Top station, Kundala dam, Matupetty dam, Echo point and the Tea muesuem. The journey was beautiful with rolling hills, tea plantations and cool weather. We were able to get some beautiful pictures of the locales and the mandatory selfies. We didn't opt for boating owing to long queues, courtesy the peak holidays season. Now, a special word about the tea muesuem. We learnt about the benefits of tea. ( 🙄 Not me!! I love my coffee). Probably, my dear hubby learnt more about his favourite beverage, Piku-style😂😂. We came our hotel by 5 in the evening hungry, tired but thoroughly satisfied. My dear hubby 🤕 is already complaining that I am an Imoteph 😈 when it comes to travelling " It will never, It will never sleep, It will never stop"