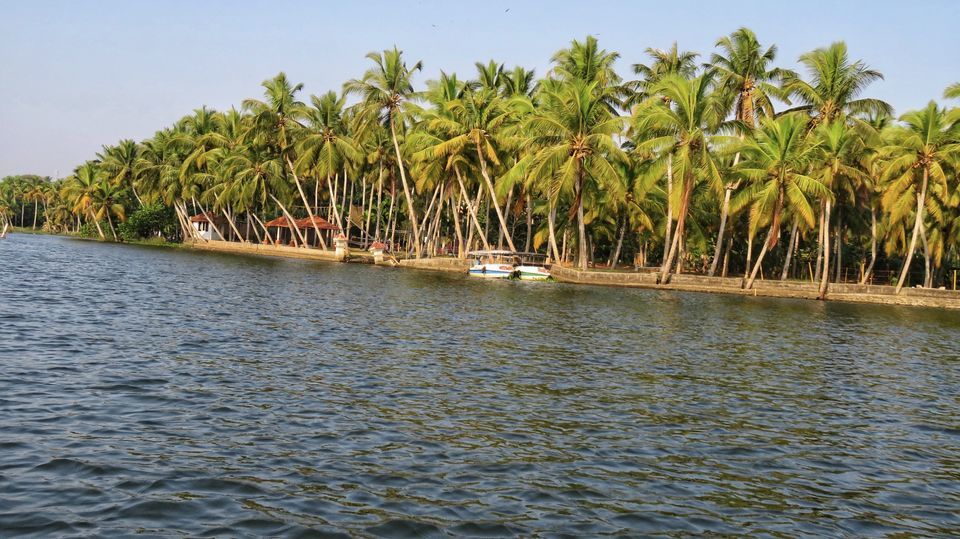 Let's begin.
We departed from Delhi on 14th of February 2018 for Cochin International Airport. Reached Kochi by 5.30 in the evening and i could smell the freshness in the air there itself.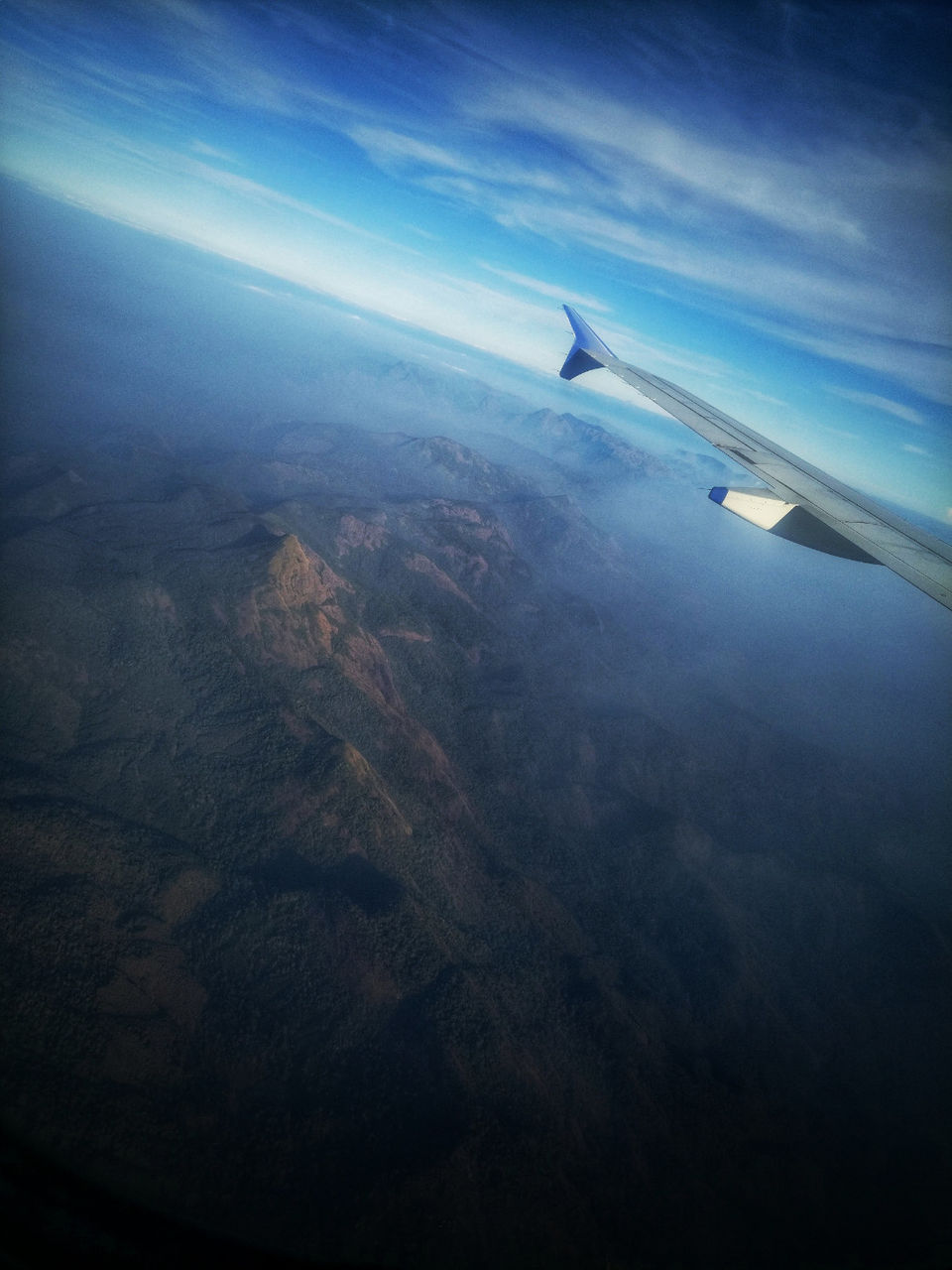 Have you been bitten by a travel bug? I have !
Let me take you to a virtual tour of God's own country KERALA.
Kerala, A beautiful and clean state of India situated in Malabar coast of South India and is known for its palm-lined beaches, backwaters and a network of canals. It is knows as "God's own Country" due to its richness in Flora and Fauna, tea plantations, wild life sanctuaries, spices, culture and humbleness of people living there.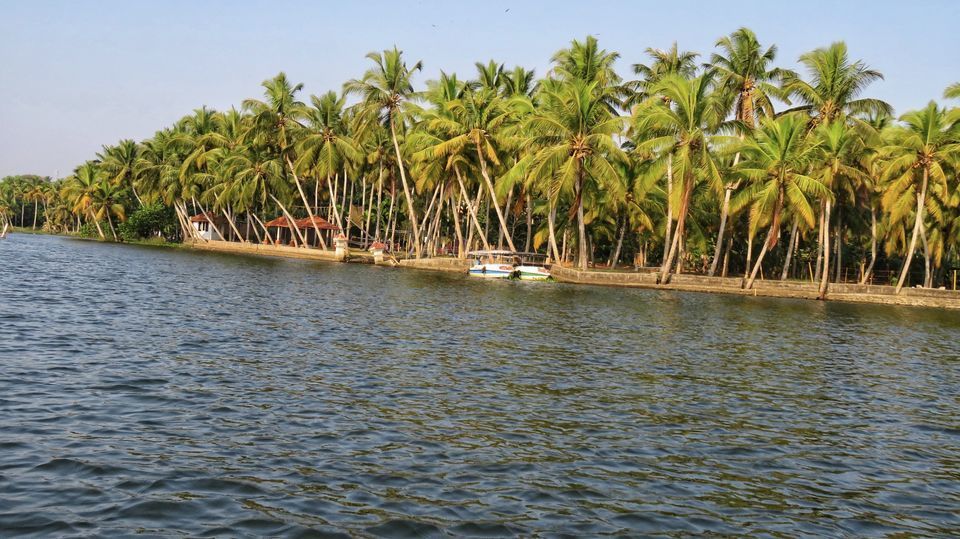 It was a long tour of Kerala for us and we wanted to start it fresh so, we decided to rest in a economical hotel named "Elite Palazzo". They had provided us the pick up from airport. On the way to hotel, i was enjoying scenic views. Unlike other cities, Cochin was very clean and air was really fresh there.
After reaching hotel, we freshened up and move out for a walk and explore the city. it was almost 7.30pm by then and as expected, city was becoming quiet as Kerala doesn't have a night life. We found a small restaurant there named "Sarvana Bhavan" where we took our first south indian meal which included lemon rice, idli sambhar, uttapam and vegetable raita. The food was finger licking delicious.
We take a long walk, ate icecream as baskin robins and then we came back to our hotel.
Departure For Munnar
We had already booked our private vehicle for this trip so driver came to us in the morning and after having our breakfast we left for our first destination "Munnar".
Munnar is a small town and hill station located in Idukki district of Kerala and is appx 140 kms i.e. 4.5 hrs journey from cochin.
Things to Do on way to Munnar from Cochin
1) Site Seeing : Waterfalls
On way to Munnar, the first amazing site that we saw were two mesmerizing waterfalls named "Cheeyappara" and "Valara".
Though "Cheeyappara" waterfall was almost dried up but still it was amazing to had a halt there and clicking the pics.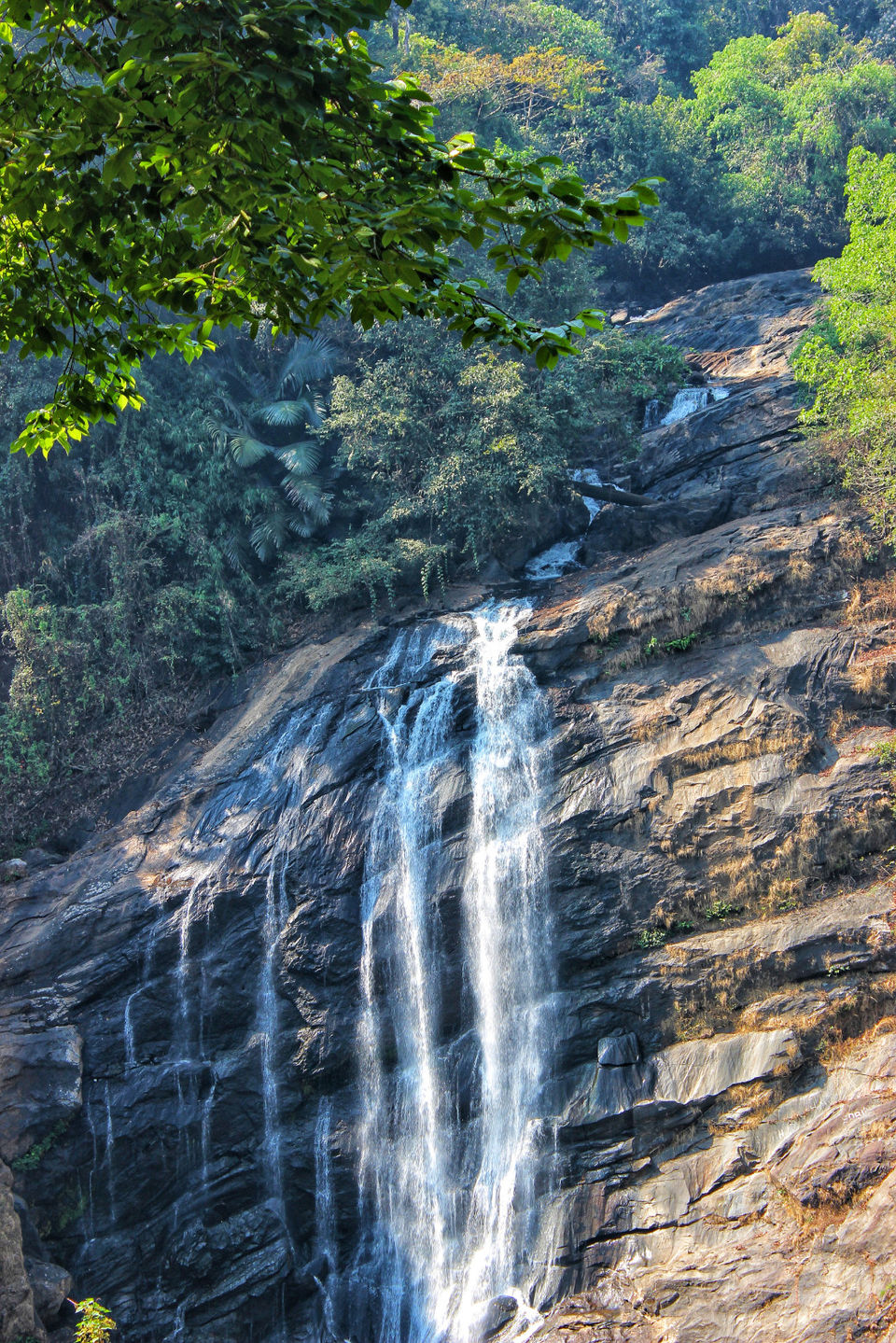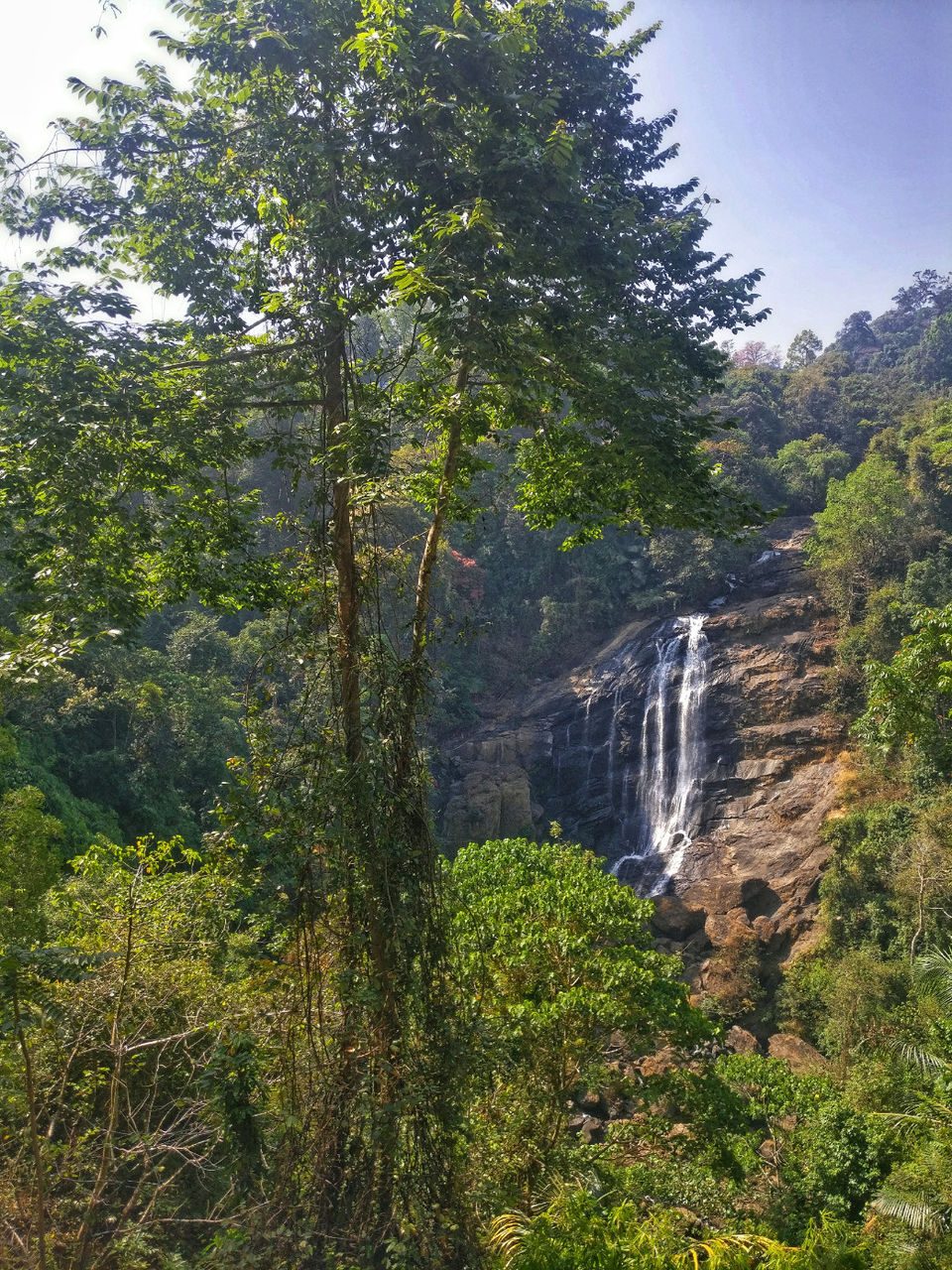 2) Adventure Activity - Elephant Safari
After moving forward, we halted to experience the elephant safari. I dont recall the name of same but the main attraction of this safari was that it was organized on an actual lake rather than in water pool. The name of the elephant on which we had our ride was "Meenakshi" and she was 30 years old.
It costed us Rs 3000 for 2 persons. But it was an experience of lifetime. A must do if you visit Munnar.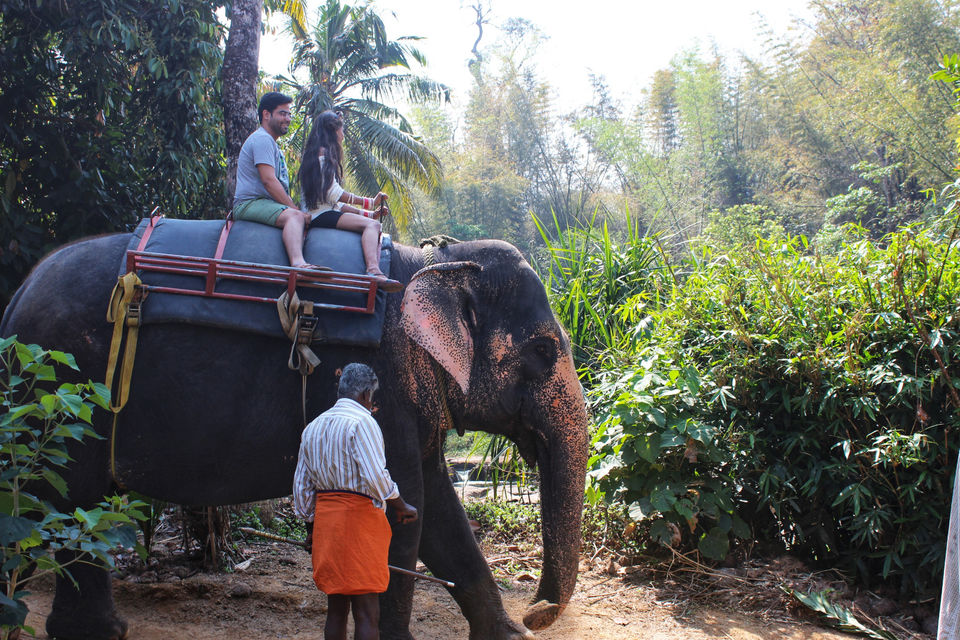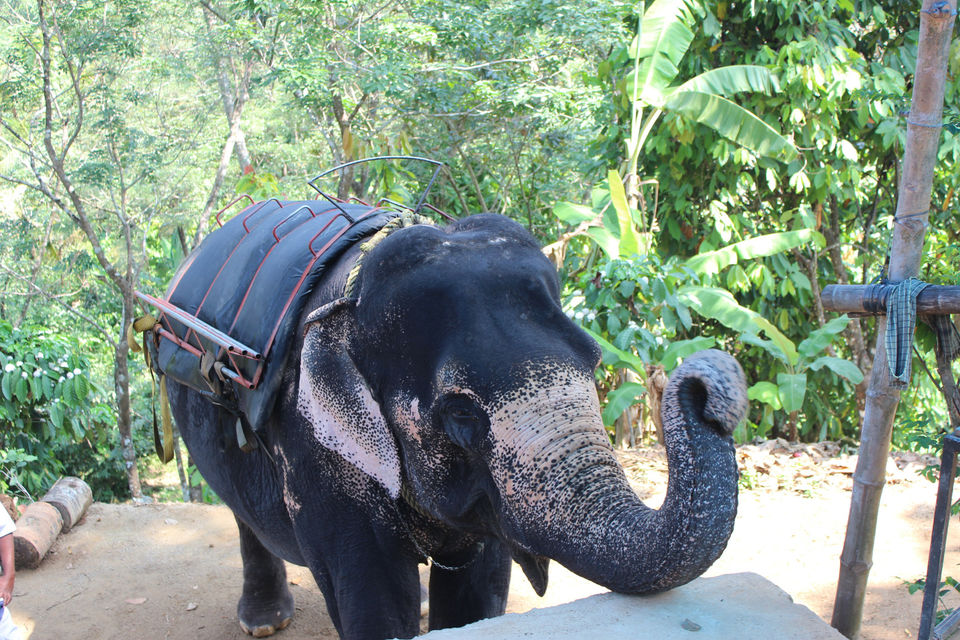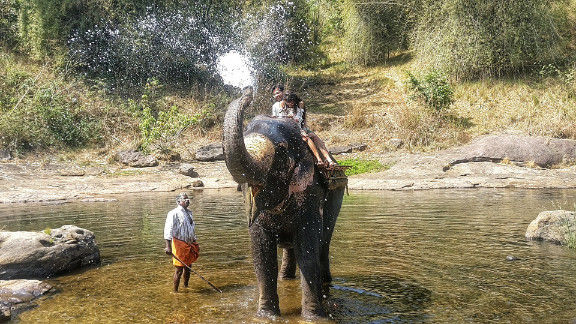 Next halt was a visit to a spice garden. It was a beautifully maintained spice farm where the guide showed us various kind of spices and herbs plantations and they also were providing the herbal medicines and scents. If you are visiting Kerala, don't forget to get some authentic real spices back home. They are worth it.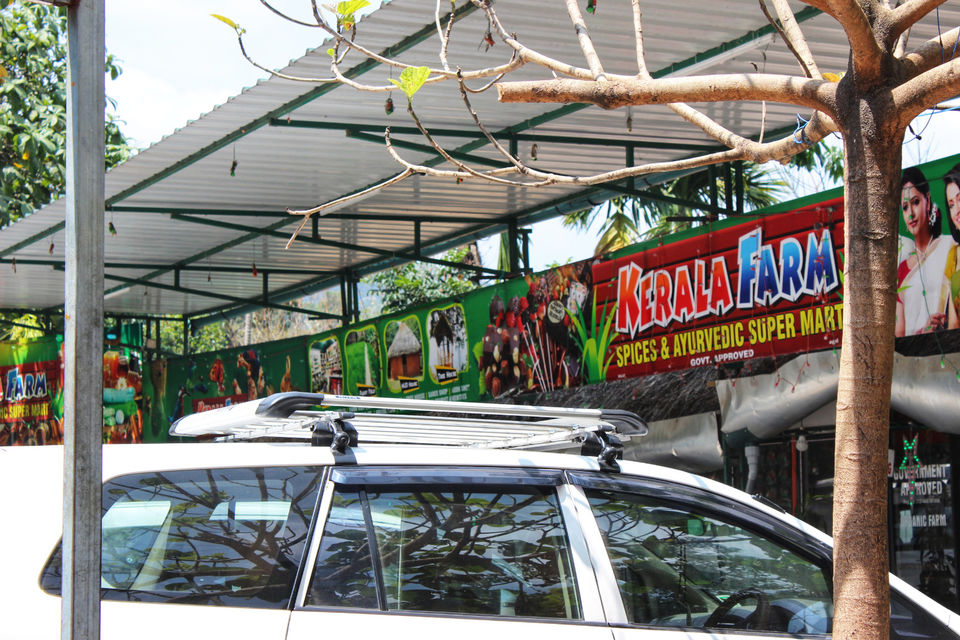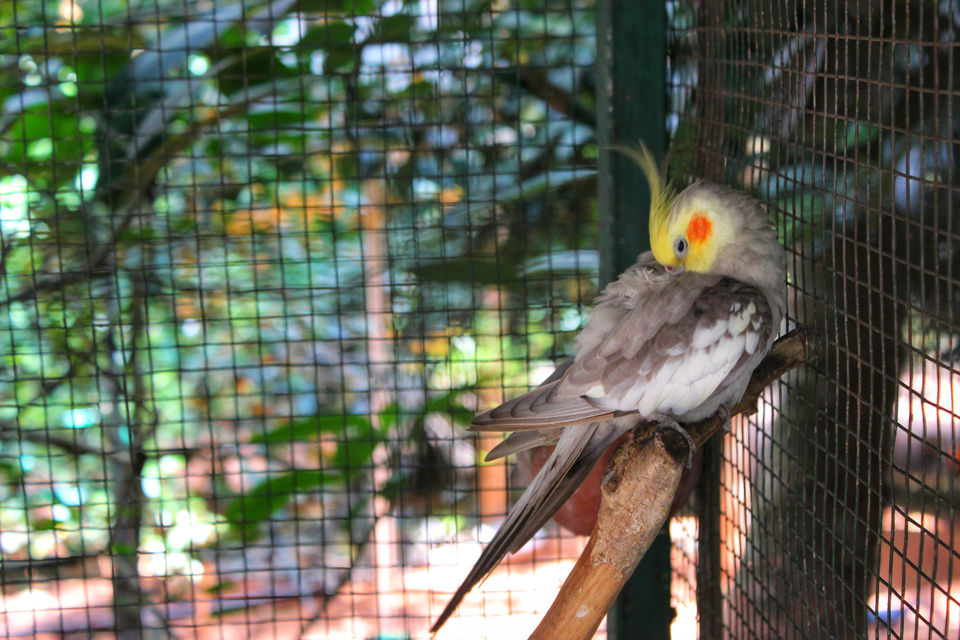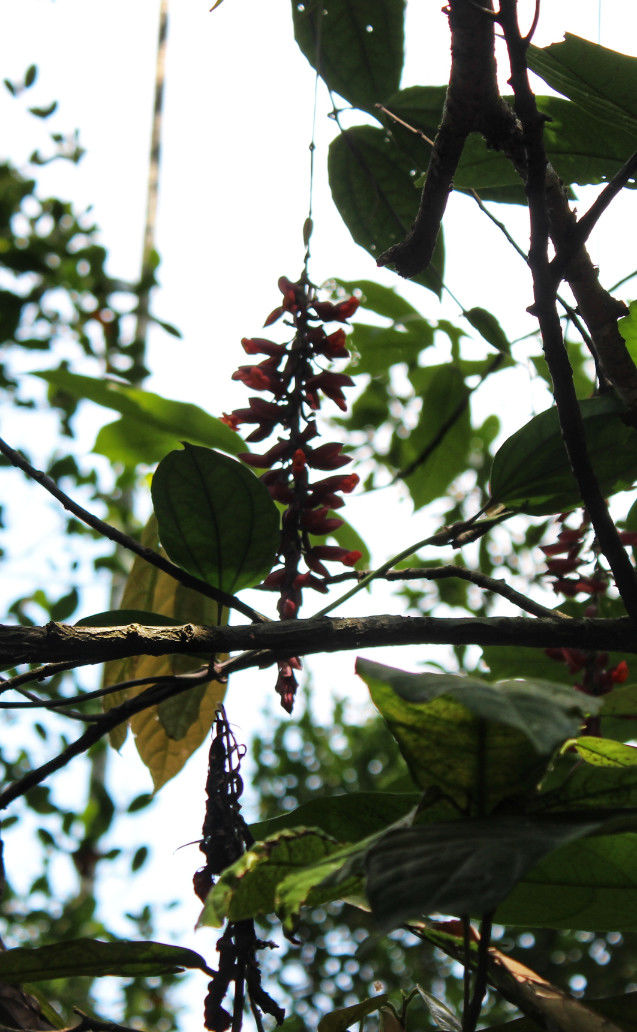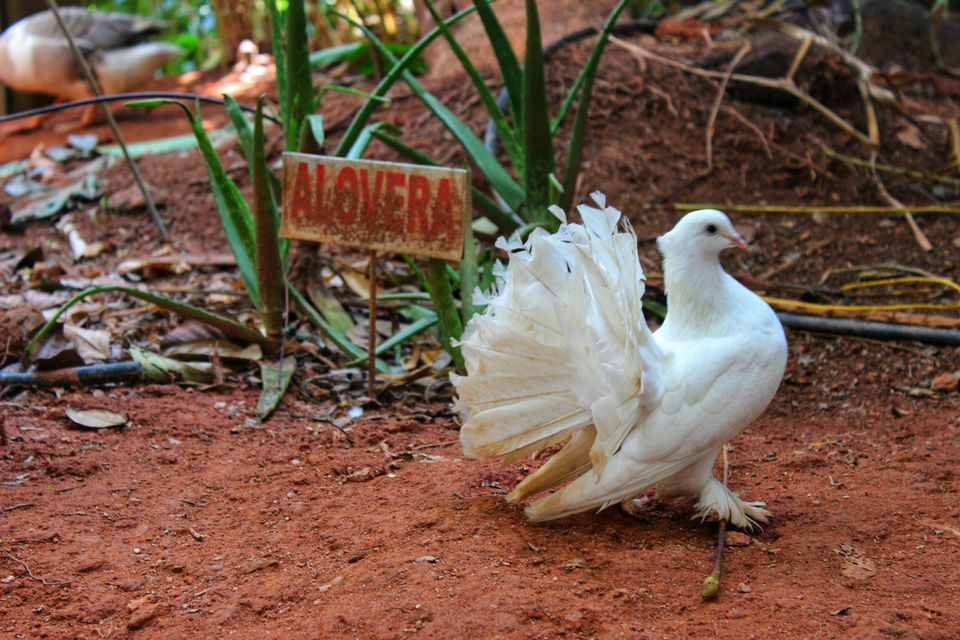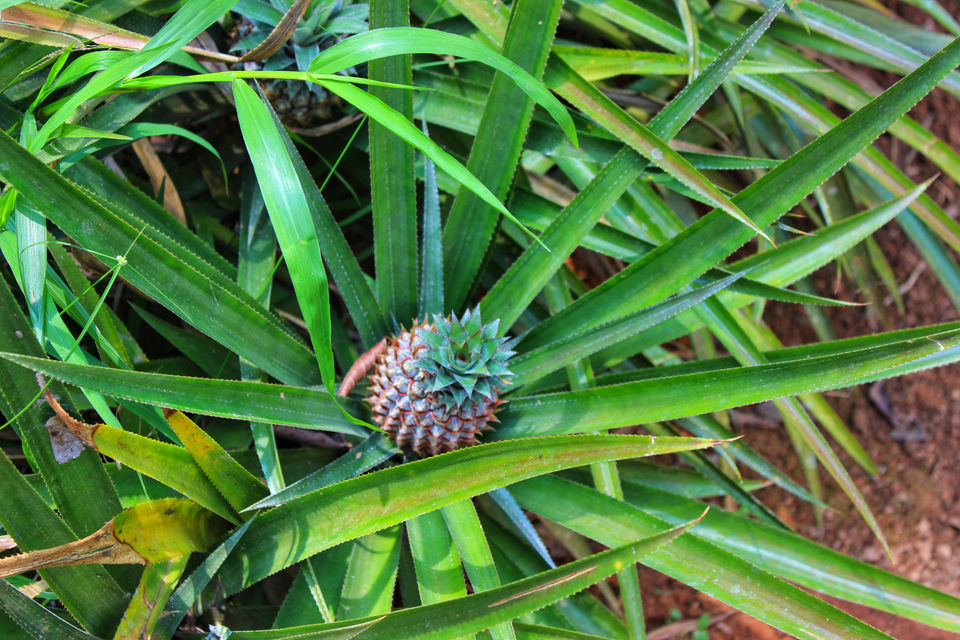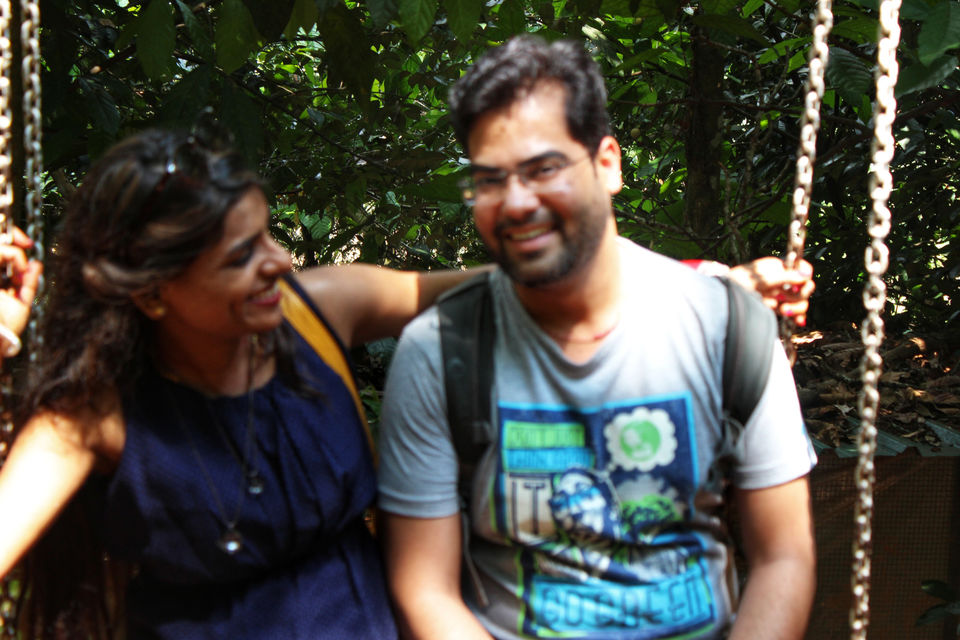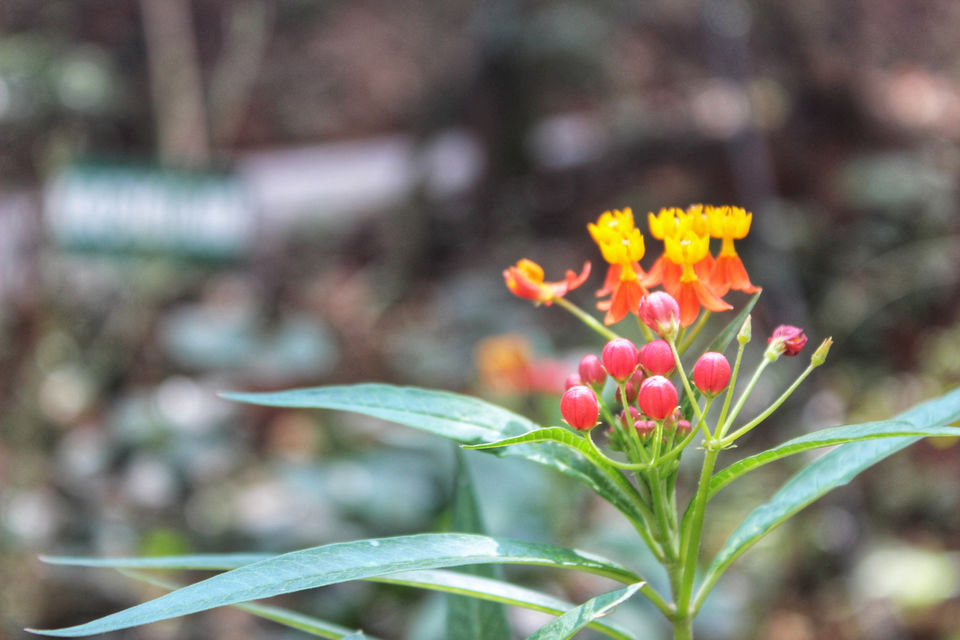 Arrival and stay in Munnar
Hotel Misty Mountain
After our visit to spice garden, we moved forward and reached our hotel The Misty Mountain. The location of this property is amazing. Its situated on a small hill and gives amazing view of valley. Our room was valley view room. There are rooms with cheaper rates too but they are back rooms. We reached our room and as soon as i opened the curtain from window, i was amazed. The valley was looking breathtaking beautiful with tea plants being seen till infinity. Over the horizon, we were able to see mountains peaks in different shades of blues and greys. It was a WOW scene.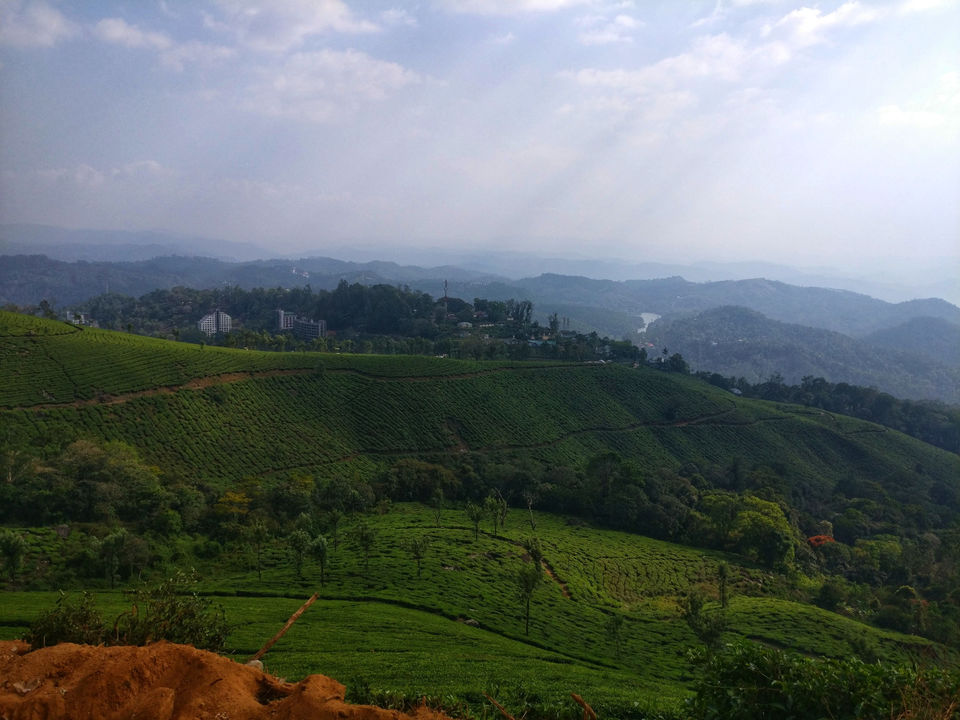 We got fresh, went for light lunch in that hotel itself and then we met our driver for the drive on the roads of Munnar. The road was curvy, full of greenery and fresh air was flowing through my hairs. I was feeling like stopping the car and dancing on road on the song "Kashmir tu, mein Kanyakumari" of movie "Chennai express" as it wad the same road on which the shooting had happened. But then somehow i controlled my madness. :D
Our driver was responsible to show us all the tourists points. So he took us to a place from where we had to take a "Jeep safari". He took us to a known of him and we hired a private Jeep in Rs 3000 for rest of the days which included safari, visit to various dams in Munnar, visit of waterfalls, visit to sunset point, visit to old bridges and visit to shooting locations of another scene of movie "Chennai express".
Things to Do in Munnar
1) Off road Jeep Safari
We two, our driver and the jeep driver started this adventure in the jeep we hired and the first thing we did was the bumpy ride on the off roads of Munnar. A four wheel drive through the hill roads has become one of the most adventurous entertainment in Munnar. Jeep was running down on the bumpy slope and sometimes it was hiking on a sloppy path. In b/w both of drivers were showing us different types of plantations. They were halting and showing us the plants, clicking our photos in a very creative ways. He also gave us coco fruit to eat. The taste was awesome.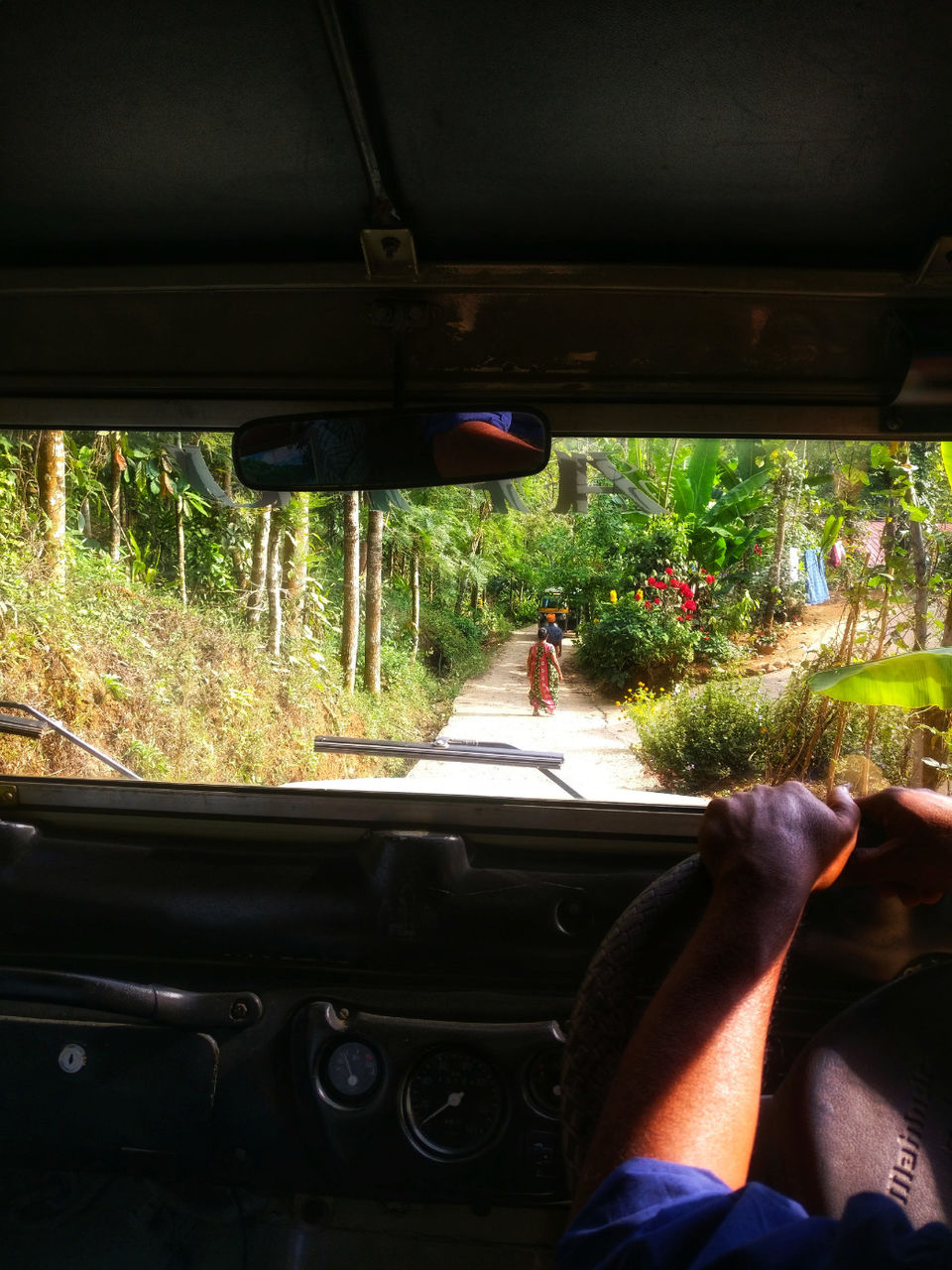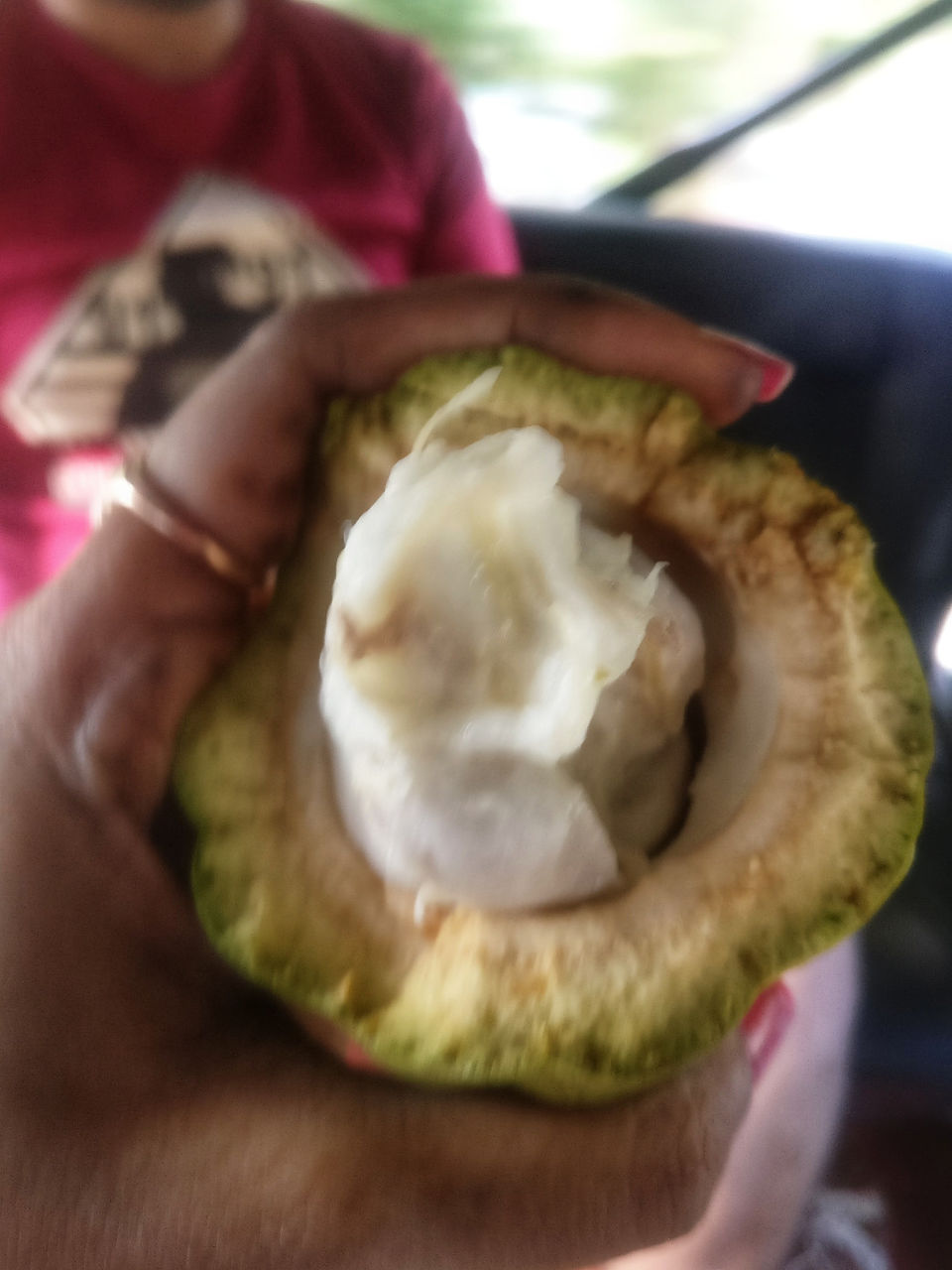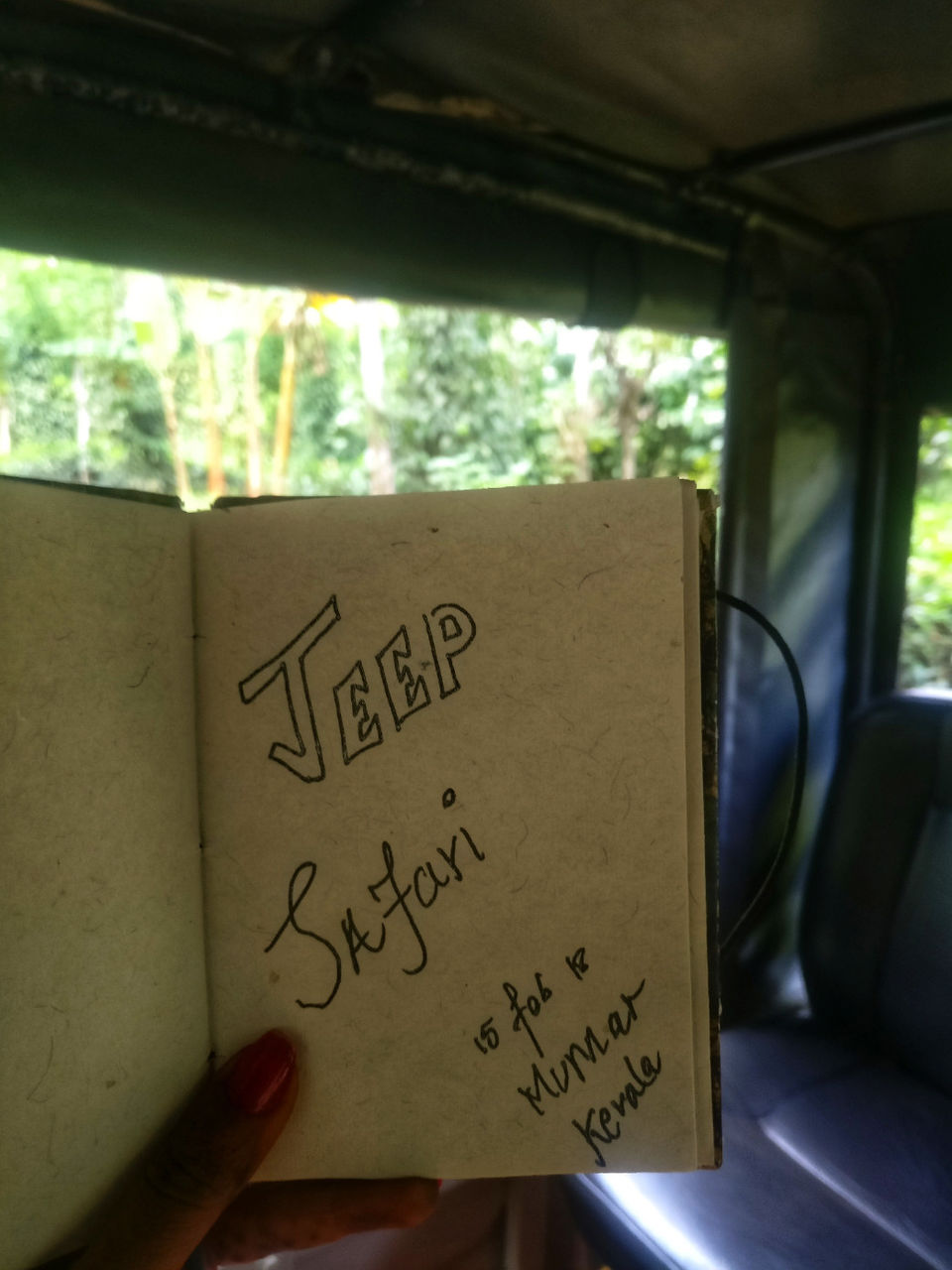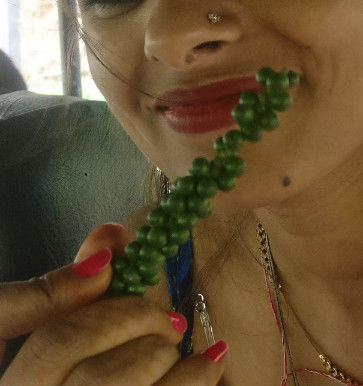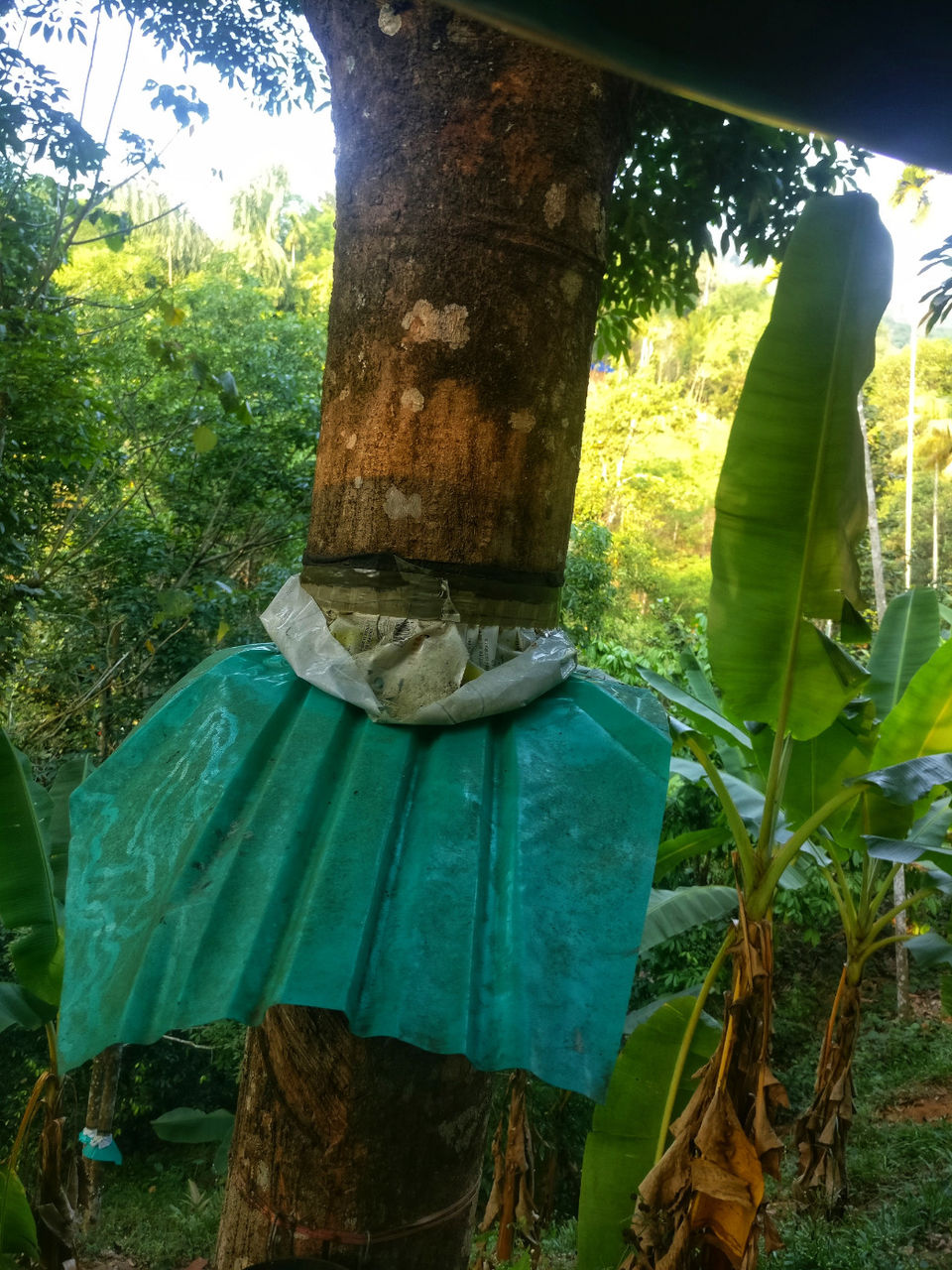 2) Shree Narayanapuram Lotus park and Ripple Waterfalls
Its a beutiful lotus park and there is a Waterfall named "Ripple". One has to trek down to visit the waterfall.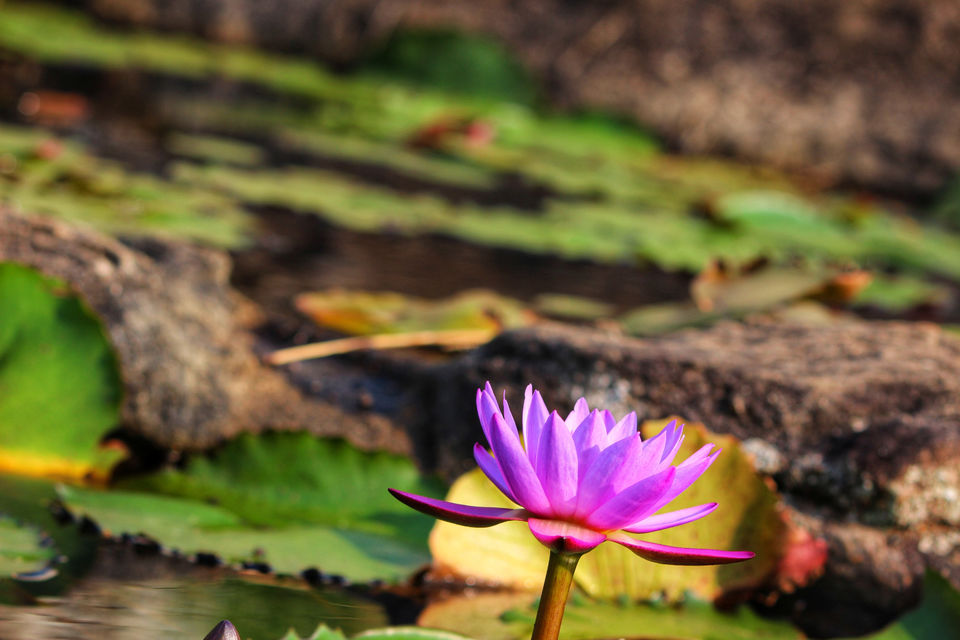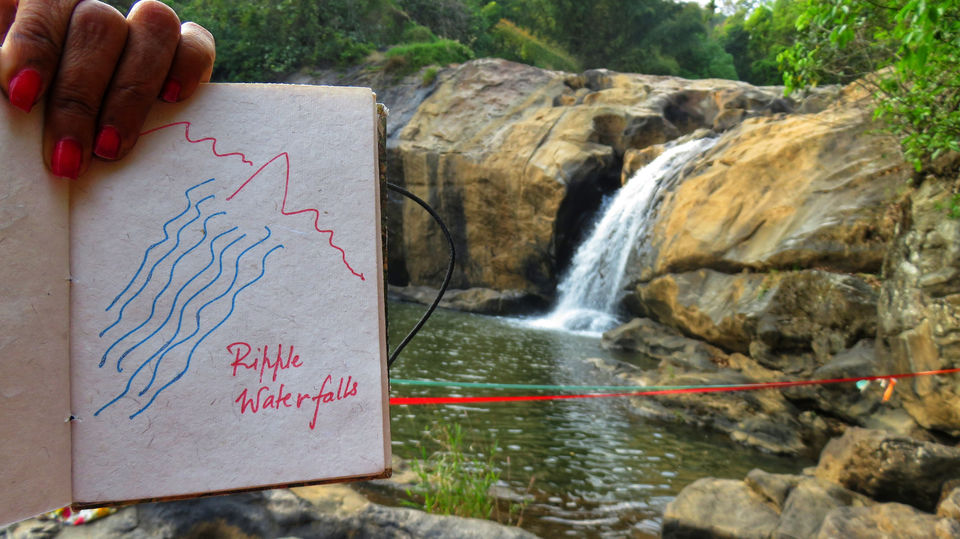 3) Hanging bridge on Ponmudi river
On way, we crossed over a century old Hanging Bridge which is made on river Ponmudi. Beautiful Architecture and well maintained.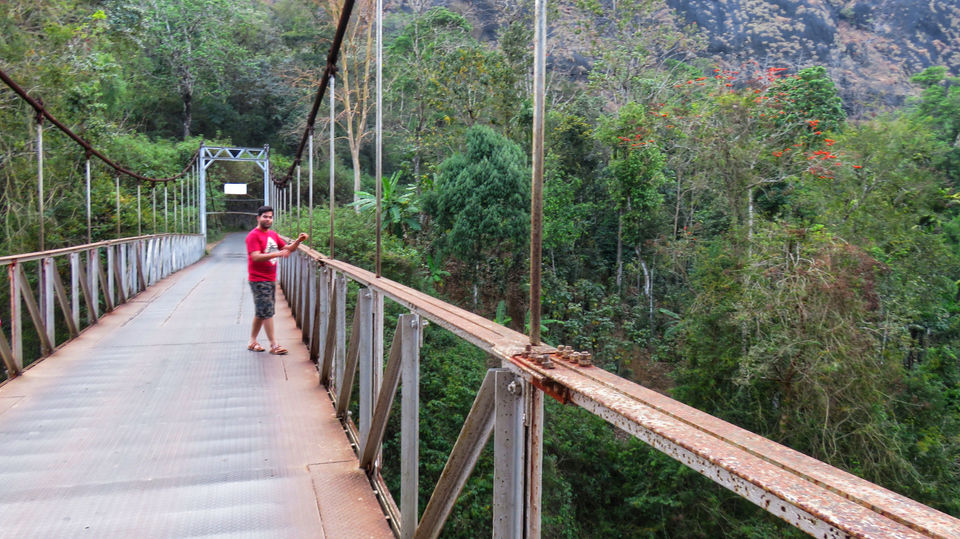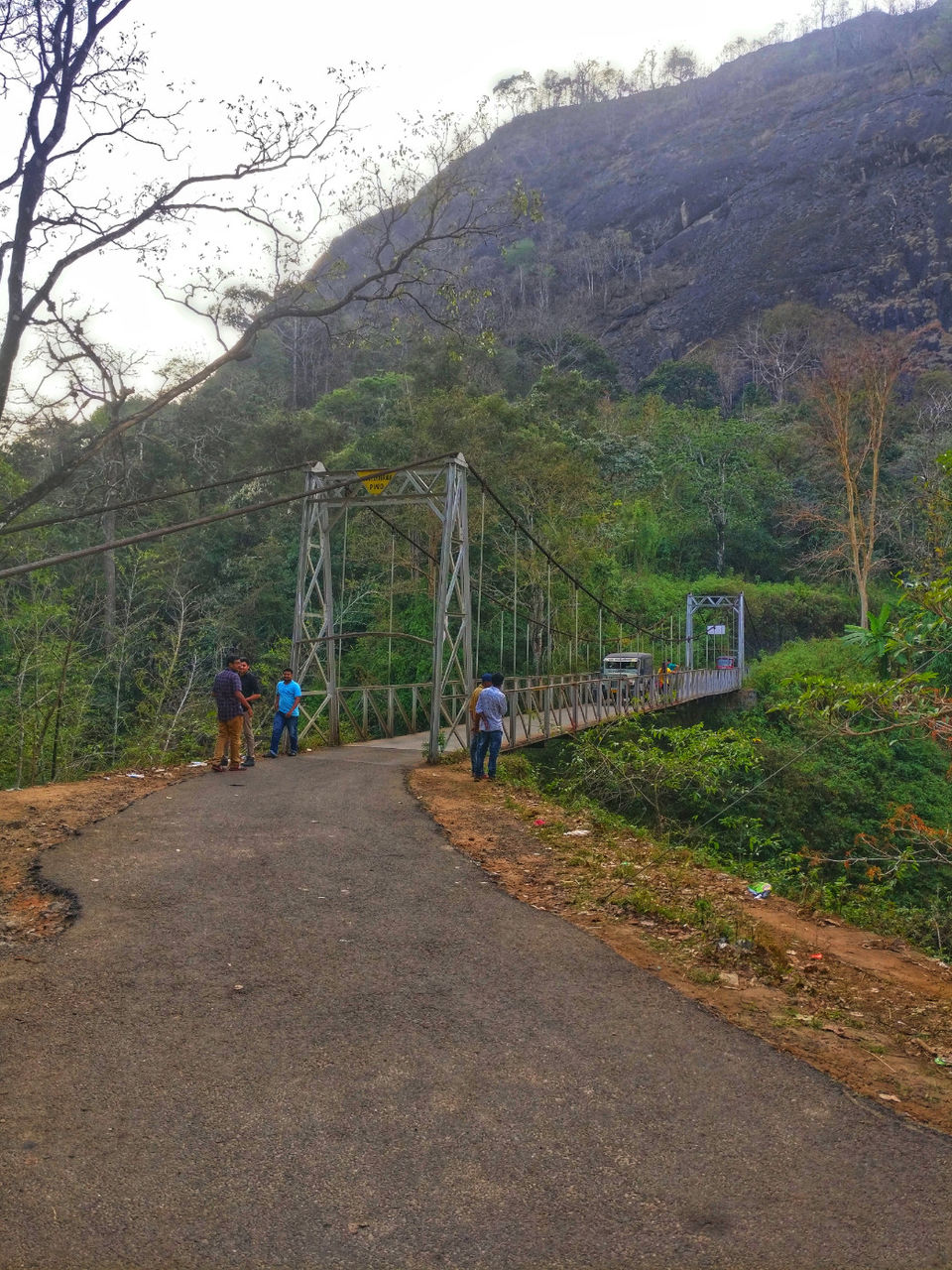 4) Picnic Spot and Shooting location of Chennai Express
Beautiful picnic spot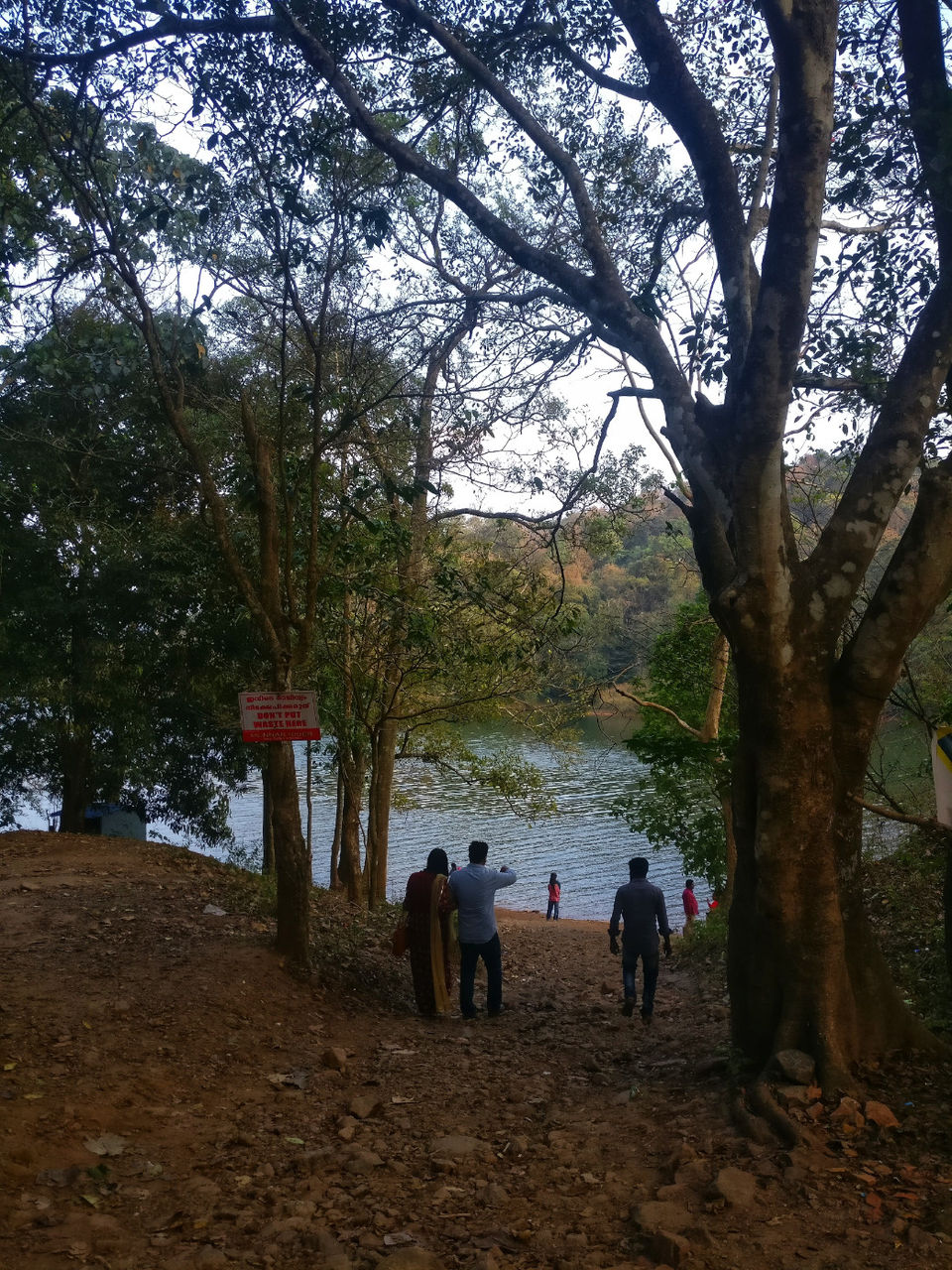 5) Ponmudi Dam
Dam on River Pondumi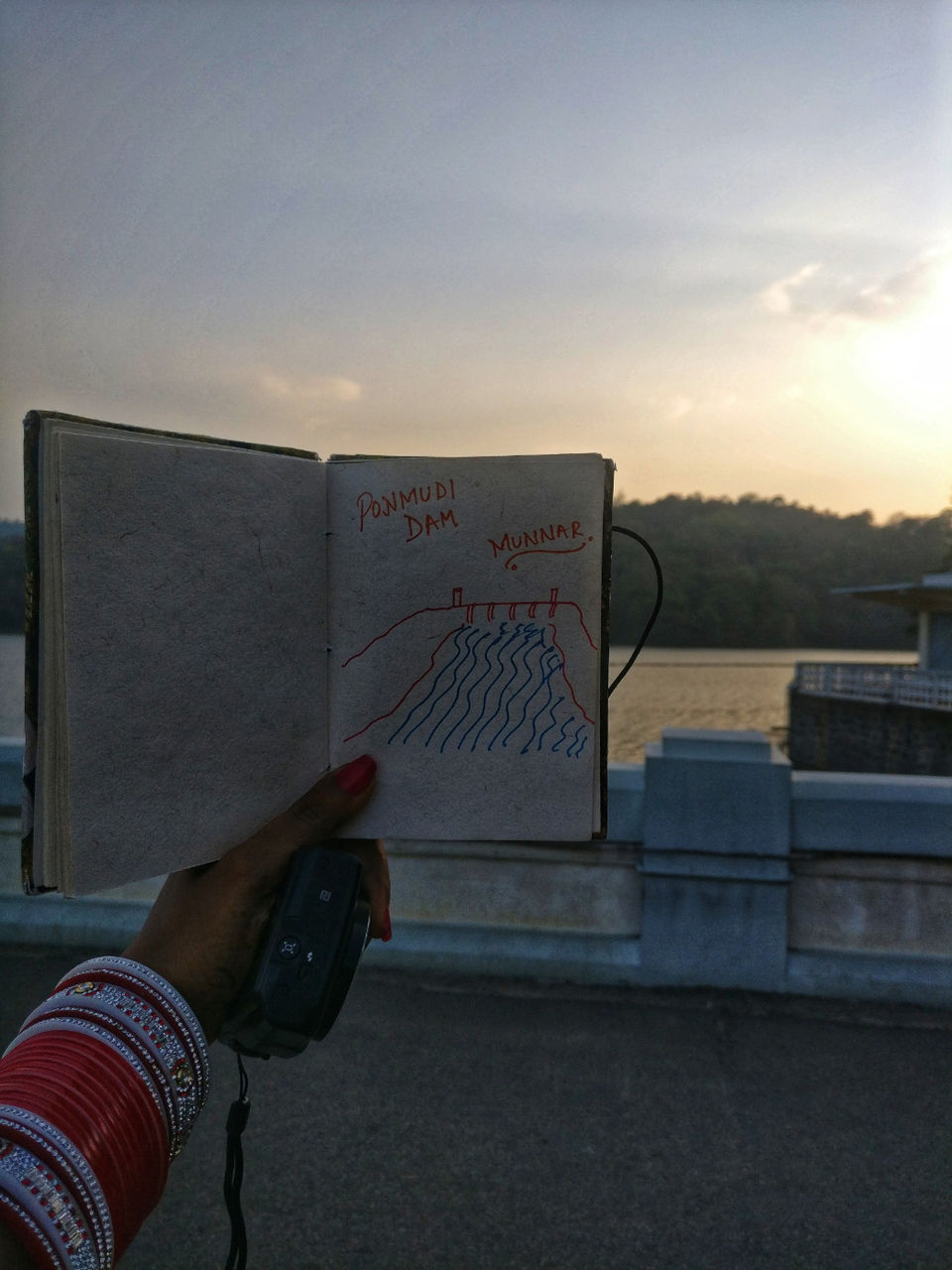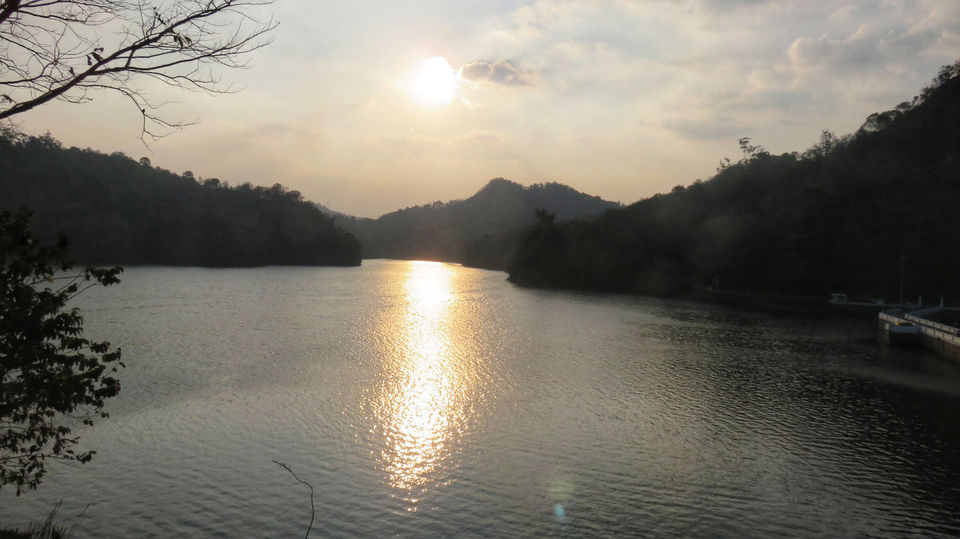 So, this garden is on the top of resort we stayed in i.e. "Misty Mountain Resort". The garden is being created and maintained by the resort and is property of same. it has being made by joining the terrace of the resort with the hill in back of the resort and is breathtakingly beautiful. The garden is open until 5pm or so and it also have a small trekking path to reach on top of it.
7) The secret garden
Wondering? you should because this is really a secret garden in Munnar where not everyone can go.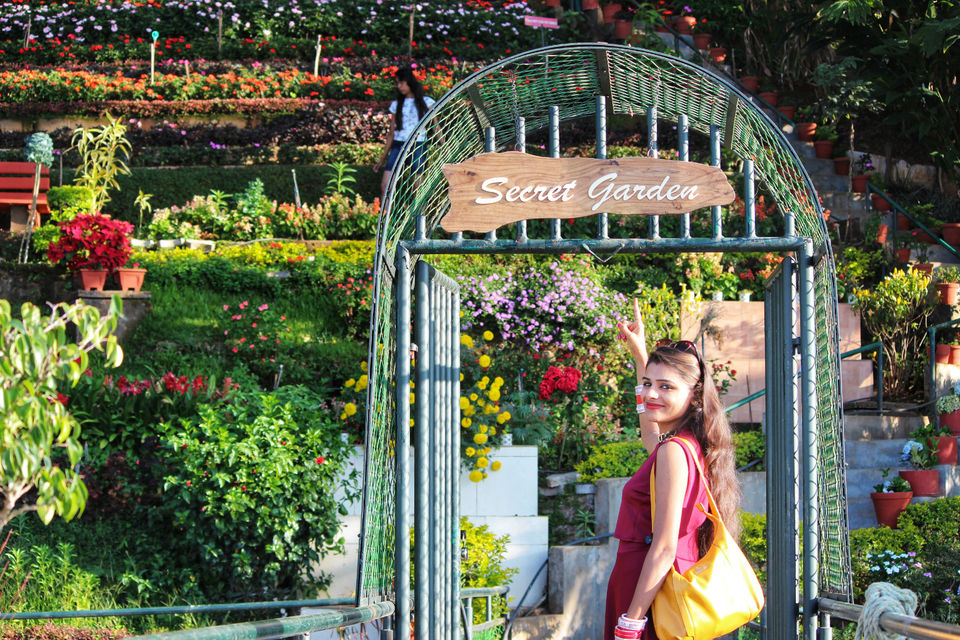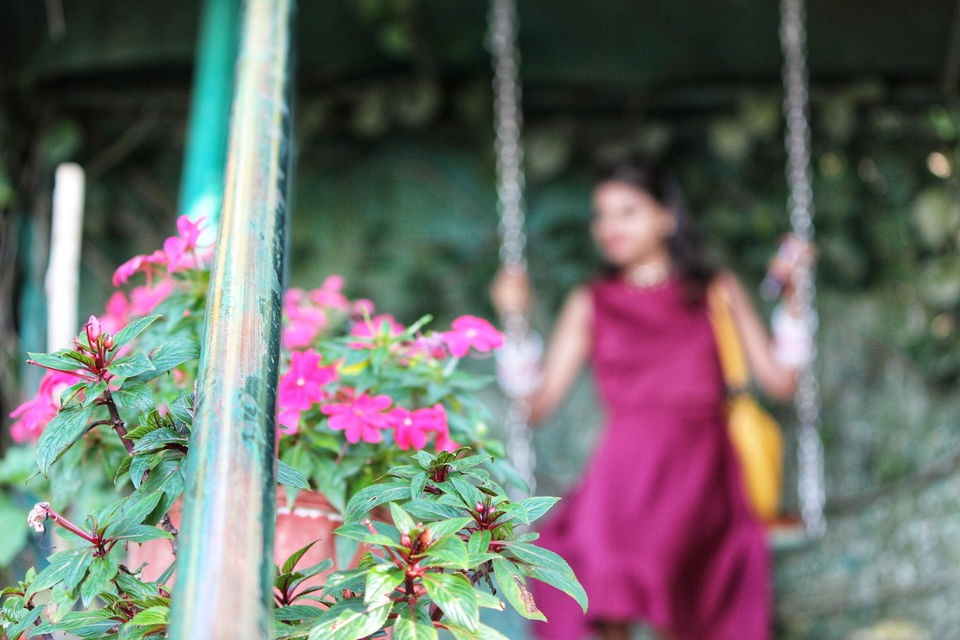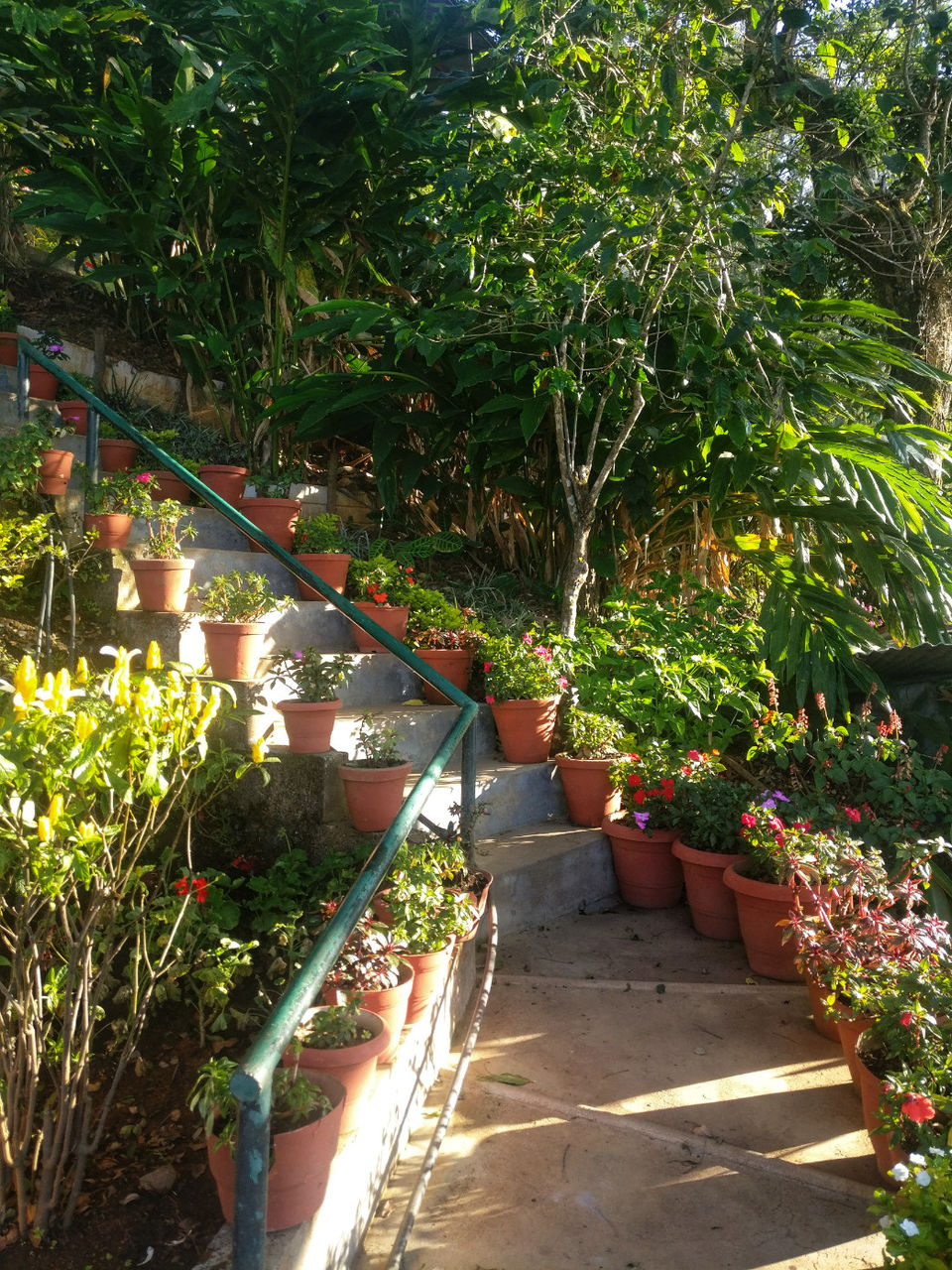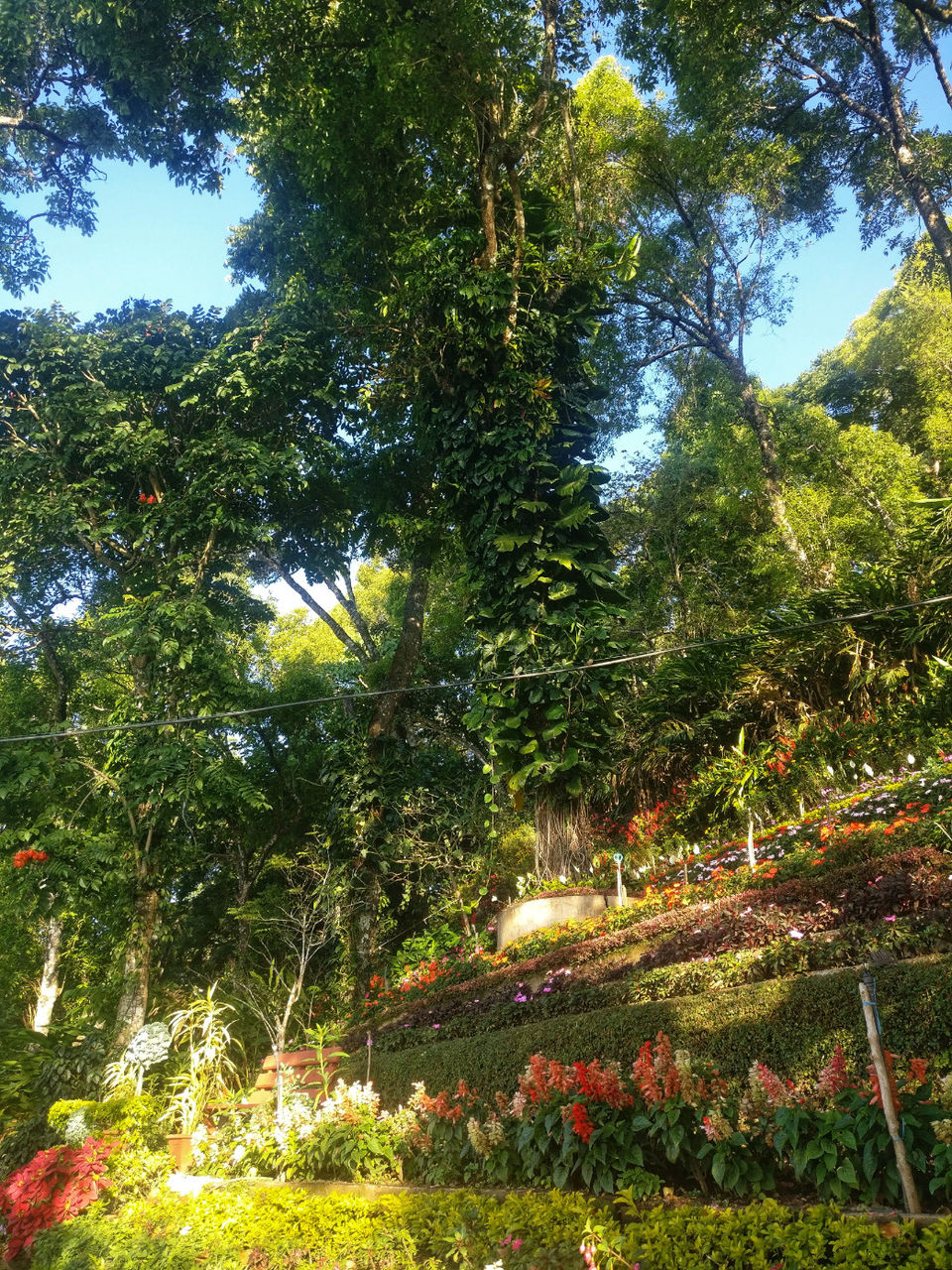 Munnar Rose Garden is a beautiful garden with hundreds of rare varieties of flowers and herbal plants. With large tea plantations in the background, this place can be visited during a trip to Munnar. The garden is operated by Kerala Forest Development Centre (KFDC), a Govt. of Kerala undertaking. Spread across a few acres of land, this place has an amenity center for tourists and a sales outlet, in addition to hundreds of rare varieties of flowers, cactus, shrubs, creepers and herbal plants. The amenity center inside the garden has toilets, shop, snacks, coffee etc.
Although it is called the Rose garden, you won't find all the variety of roses there are. However, this place boasts of an excellent collection of flowering plants. Make sure to visit it around 9 or 10 am since it is known to attract large crowd during later part of the day. The garden has been properly terraced and appropriate walking spaces have been created all along to help visitors get a good view of all their plantation. We even got good pictures of white and red roses and well as a few varieties of lotuses
Timings: 10 AM - 5 PM
Entry Fee: Rs. 30 for Person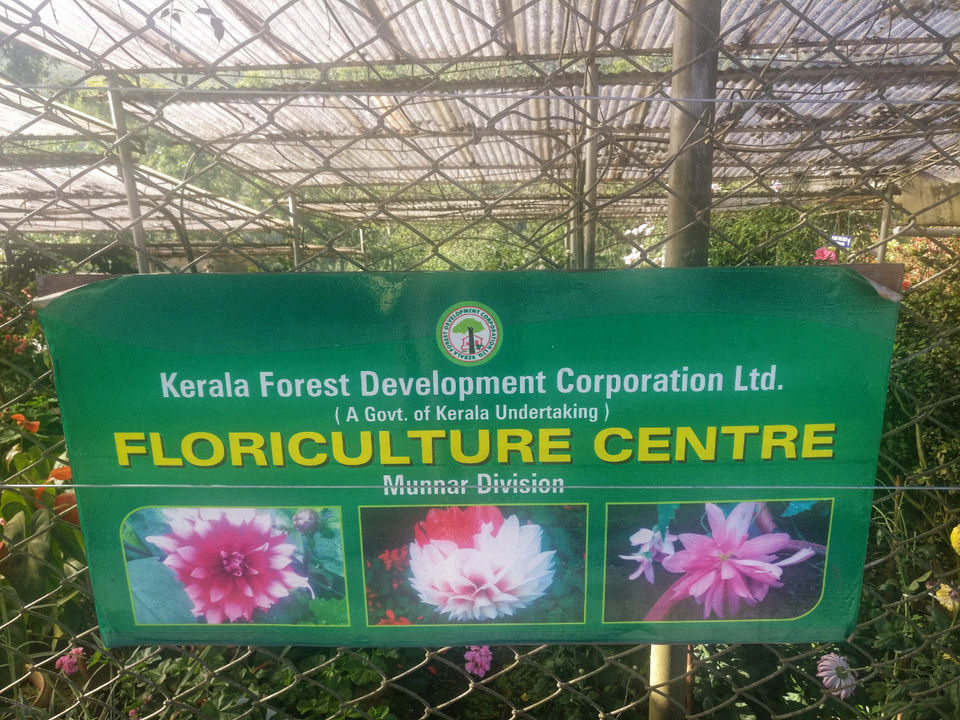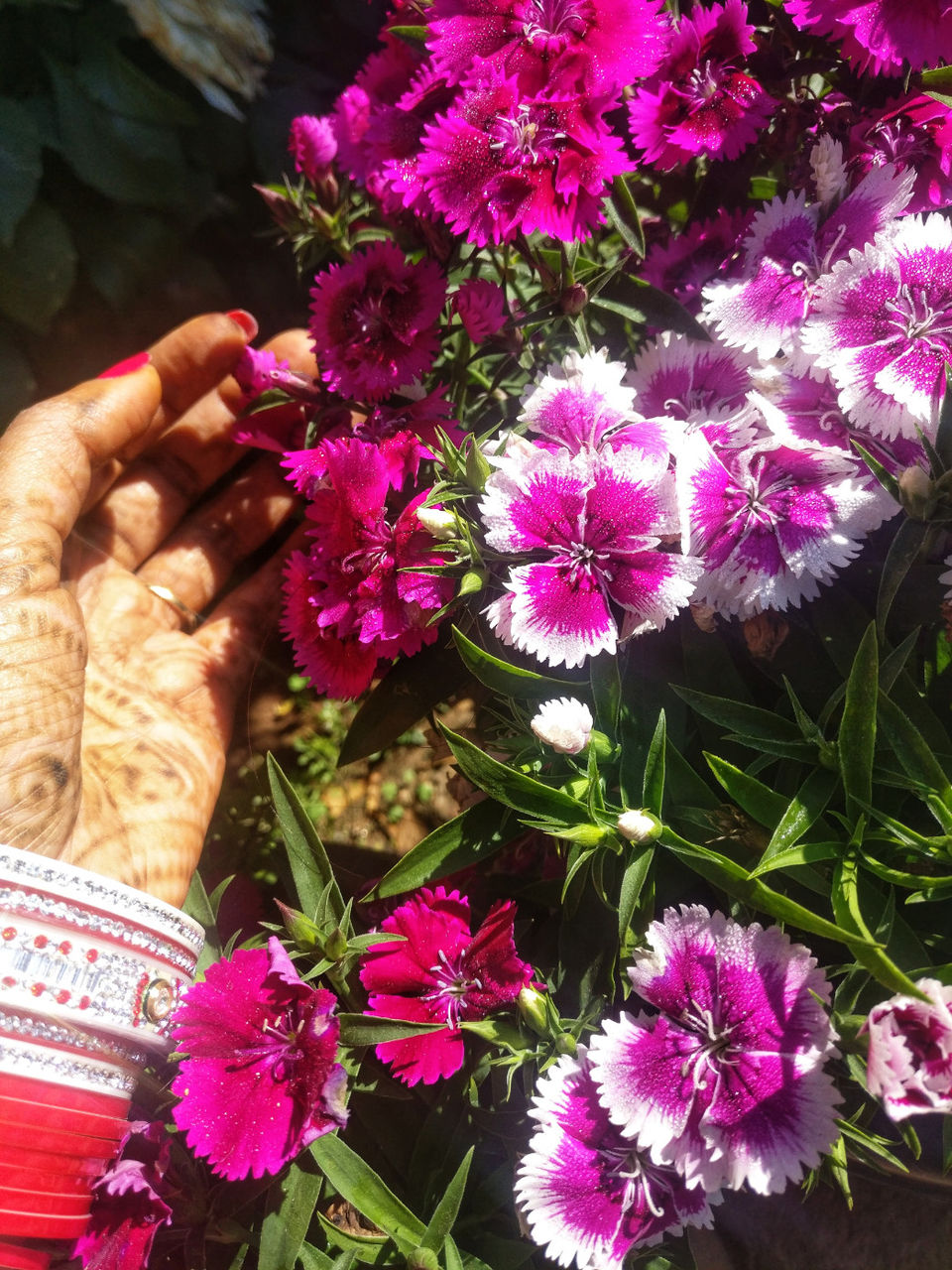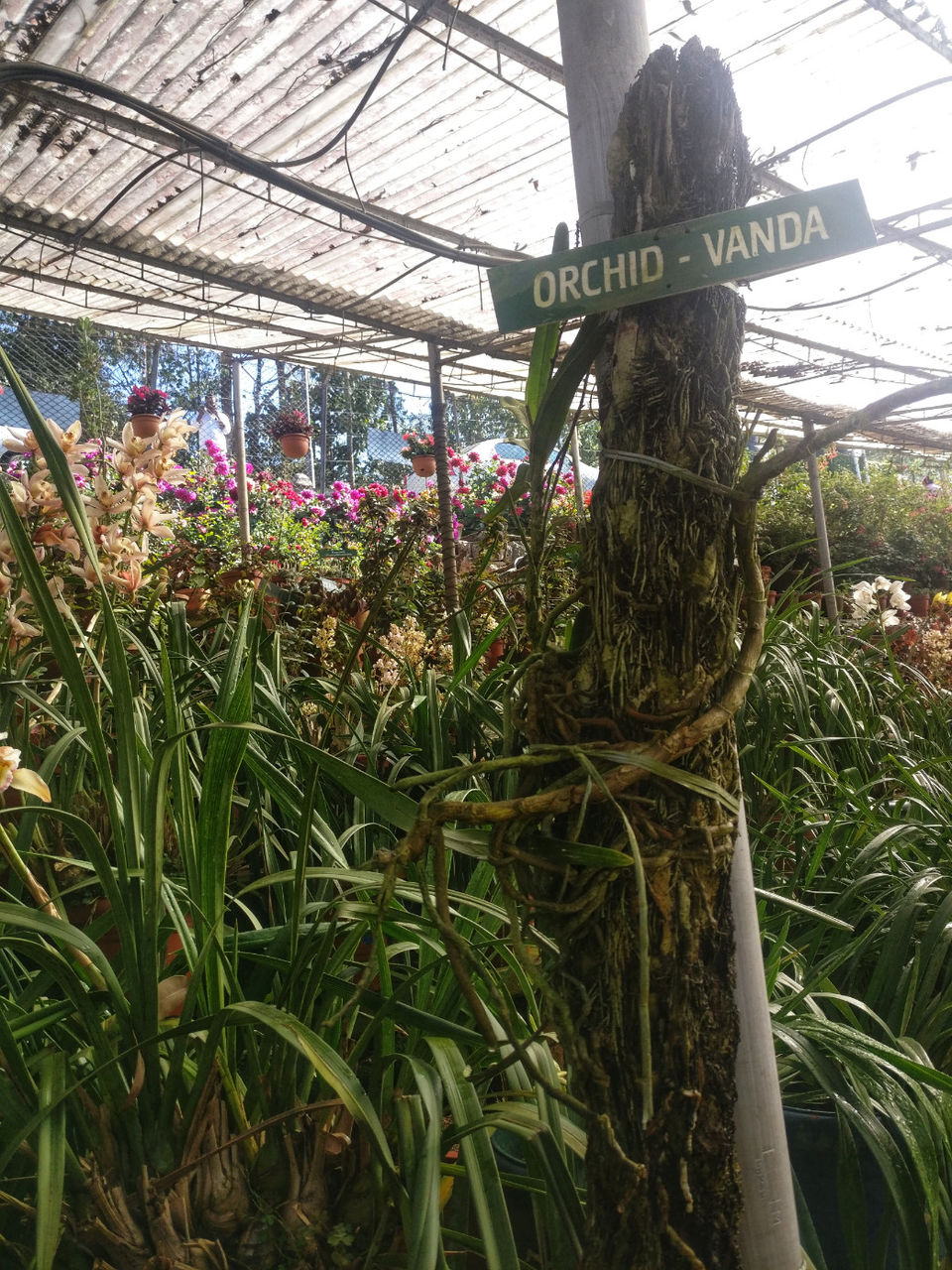 9) Kolukkumalai Tea Estate
How about an idea of having romance in a tea estate? Won't it feel good in walking down the tea plants holding hands in hands sply for newly weds.
Situated on elevation of ~8000 feets, Kolukkumalai Tea Estate is one of the highest tea plantations of the world. The zigzag road along Kolukkumalai Hills leading to this tea garden in Munnar is truly jaw dropping. This tea estate is really beautiful and mesmerizing. A must visit.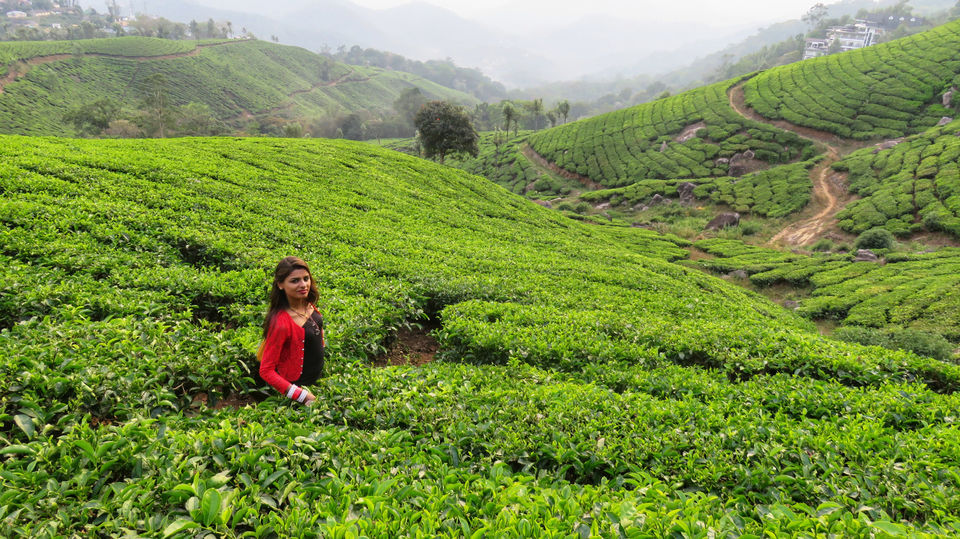 10) Kolukkumalai Tea Factory
Are you a tea lover?
If yes, then this place is for you. Do feel the aroma of tea from this place if you visit Munnar someday.
Timings: This tea factory allow visitors to taste different types of aromatic teas and buy the same from the retail outlet. Also, they guide and show you the processing going on in making of tea.
Entry Fee: INR 75
11) Old munnar
On way, you will get glimpses of old Munnar town too. Its lovely to see the locals and their livings.
12) Echo point and Boat ride
People usually come across Echo Point while making the trip to Top Station, the highest point (1700m) in Munnar, on the Munnar-Kodaikanal road. As the name suggests, this place is well known for its enthralling illustration of the phenomenon of echoing. Here the clouds seem like they are just an arm'slength away and one gets a brilliant view of the valley below. This is also a prime viewing spot for the Neelakurinji (Strobilantheskunthianus), flowers which bloom once every twelve years.
The unique beauty of the Echo Point marks the confluence of three mountain ranges, Mudrapuzha, Nallathanni, and Kundala
We saw near that place a wild elephant name "Pariyappa" as told by our driver. He had very long teeth and was looking really dangerous. also, we saw a group of elephants crossing the river/lake too.
The Echo Point will never fail to mesmerize you with its sheer beauty and stillness.
Boating charges: INR 300 (on lots of bargaining)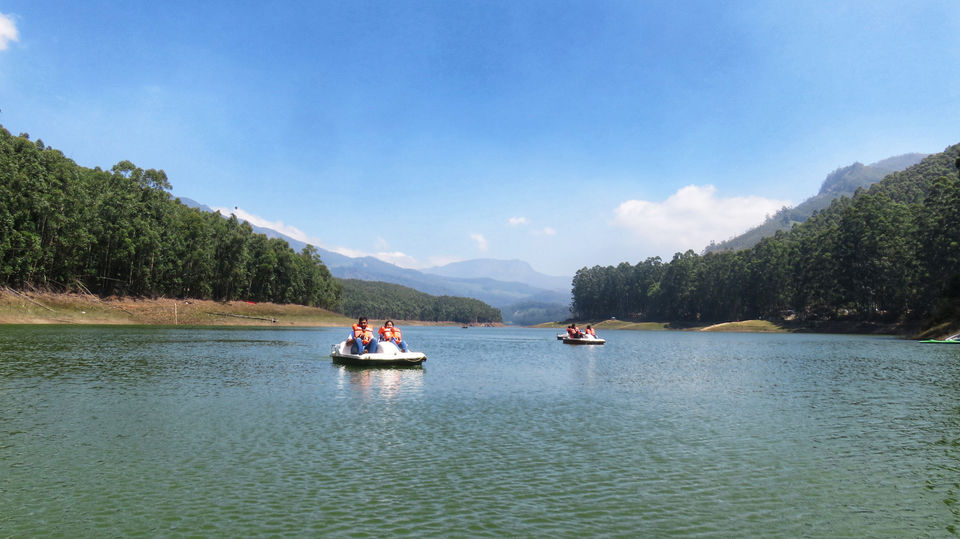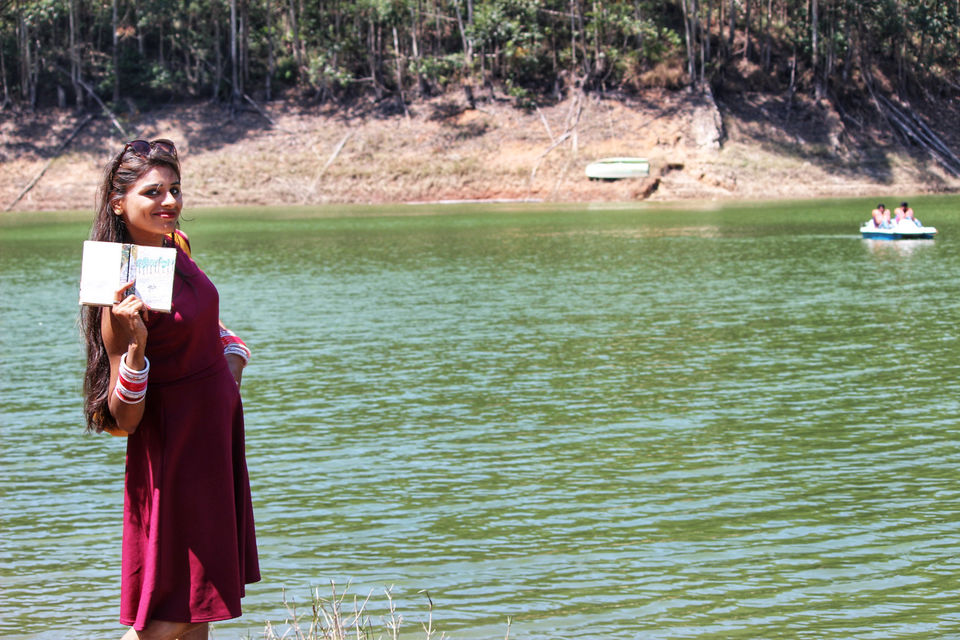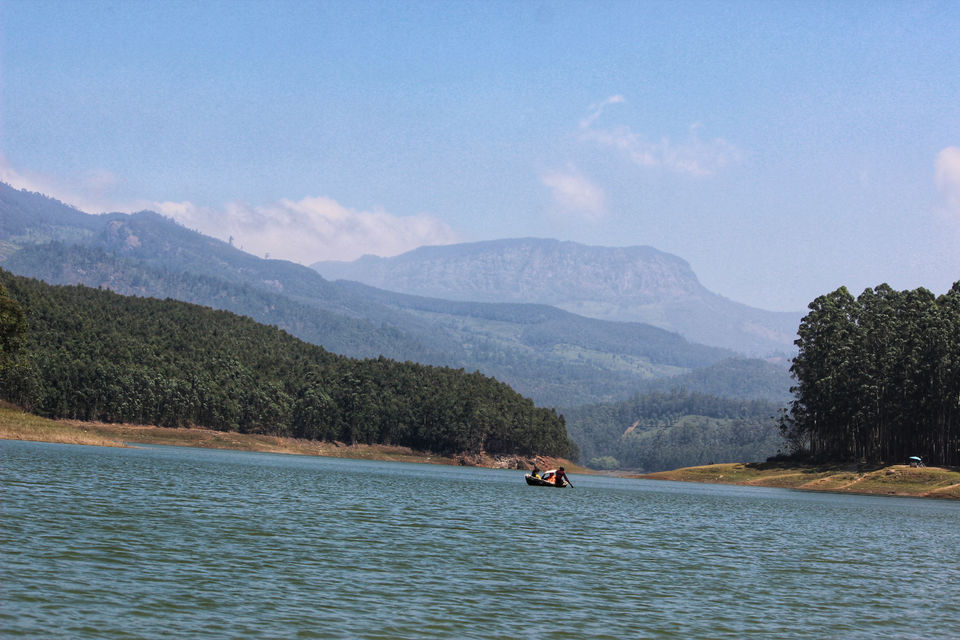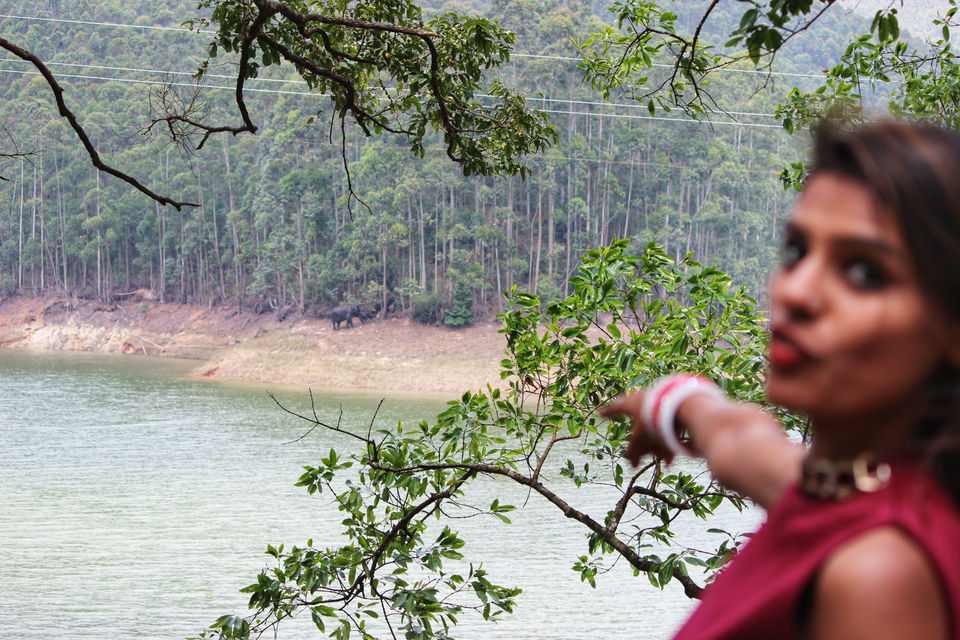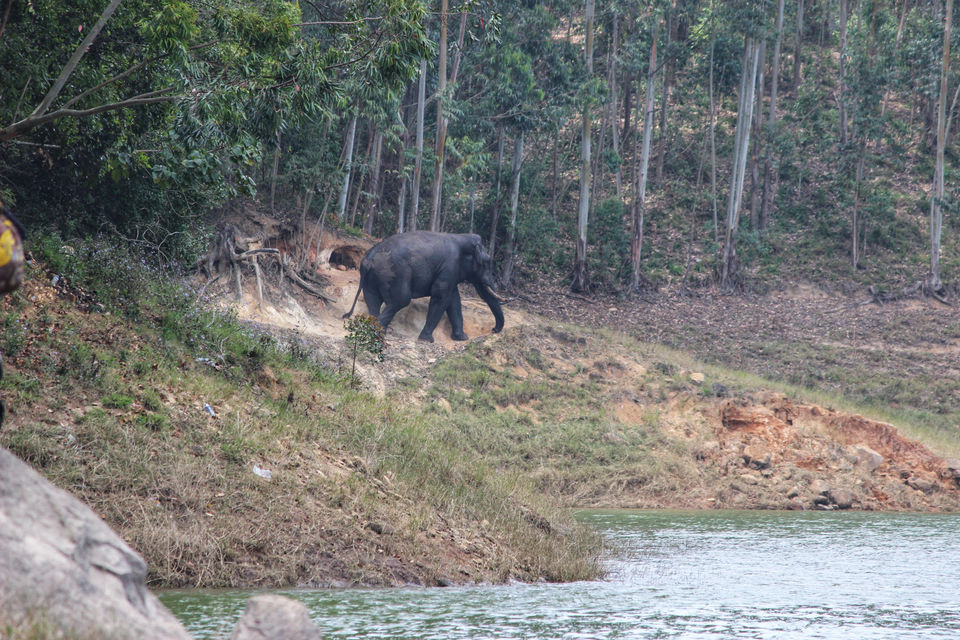 13) Mattupetty Reservoir and Dam
Mattupetty Reservoir and Dam is a beautiful site, especially for the kids. The serene water, shining and reflecting the rays of the sun is a visual treat to watch taking your breath away. You can become a part of this beauty by venturing out into the waters on a boat. Boating is a pleasant activity as a part of which you can slide past the hills in the background. You will find yourself in the hills at the same time when you look at your reflection in the mirror-like surface of the boat. This magical scene is going to keep your mind captivated for a long time. Numerous elephants can be spotted at the dam since it is their favourite spot to drink water. The Mattupetty Dam is a perfect relaxation place for all the nature lovers and adventure enthusiasts.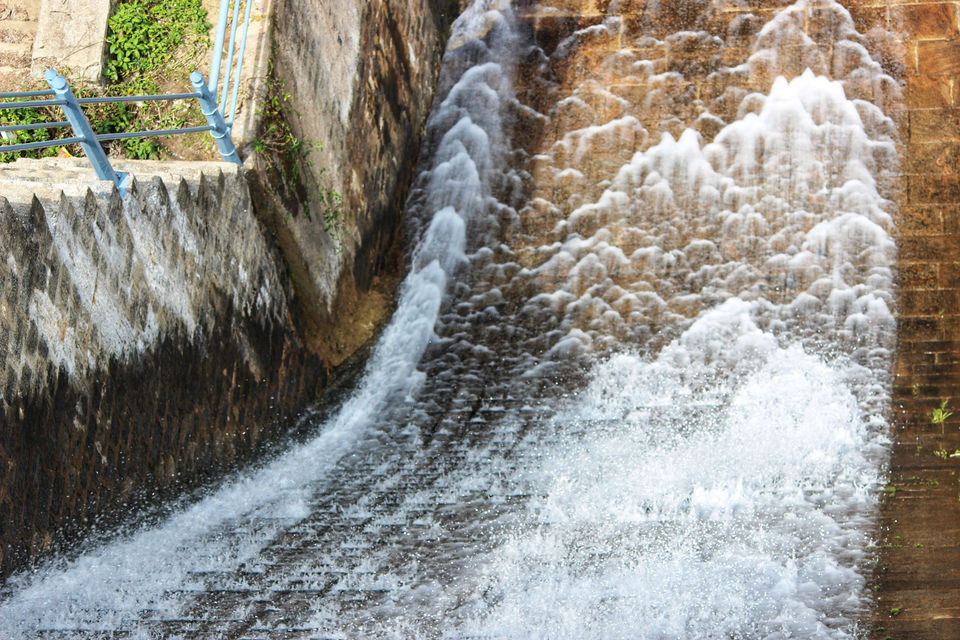 14) BonFire
After reaching back to resort, in the night, we went on terrace where bonfire happens everynight for 1 or 2 hours with light music. Sitting in chilly open area with bonfire in starry night was the perfect ending of the day in Munnar.
Next day we moved forward in our tour which i will share in upcoming posts.