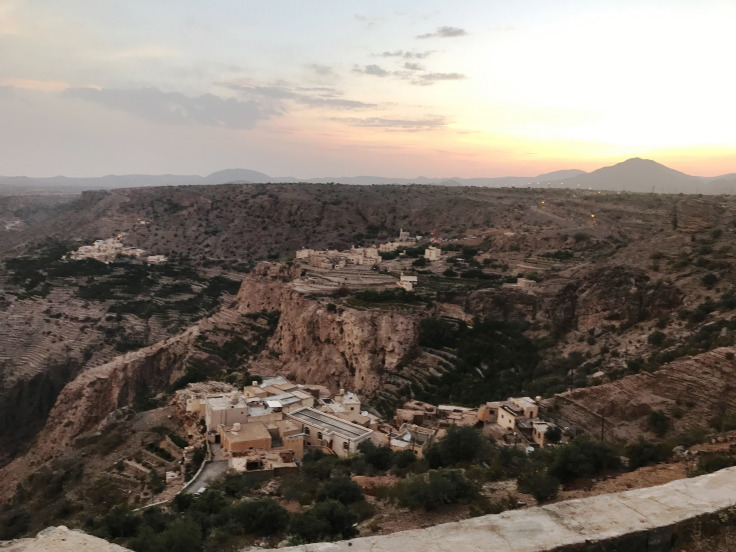 The Sultanate of Oman is definitely one of the most beautiful countries in the world. This country is interwoven with a breathtaking natural beauty surrounded by mountains, along with a wide history of this country. There are a number of beautiful places in Oman which is just a few hours drive from the city of Muscat.
With the long weekend coming ahead in the month of November and with the weather cooling down, you all must be eagerly waiting to spend some time in a beautiful place along with your family and friends. With so many places to visit in Oman, you must be all confused to make a decision. So let me just help you with your decision.
There is one such place for your perfect staycation- Jab Al Akdhar! This is one place where you can spend your long relaxing weekend and enjoy the beauty of Oman.
Staycation at Jab Al Akdhar
Jab Al Akdhar which is also known as the Green Mountains is one of the best destination to have a staycation. Jab Al Akdhar is situated on Sayq Plateau, more than 2900 meters above the sea level. This place is surrounded by many Omani villages that you can explore during your visit. This place is cut by deep canyons with small farmlands which gives a perfect view from the top.
It takes around 3 hours to drive from the city of Muscat. Now let's look at some of the things you can do there and also some of the do's and dont's.
4 wheel drive
Make sure you have a 4 wheel drive if you are planning to drive the mountains of Jab Al Akdhar. The mountains are steep and have sharp turns, so be careful while you drive and follow the speed limit. There is a checkpoint before you enter Jab Al Akdhar. Your ID's will be checked at the checkpoint. They won't allow you to cross the checkpoint if you do not have a 4 wheel drive. So always make sure you have a 4 wheel drive if you are planning a trip. Even if you do not have one, there are car centers on the way, where you can rent a 4 wheel drive.
Carry warm clothes
Make sure you carry warm clothes since the temperature is now cooling down. The weather will be cold especially in the evenings.
Visit Nizwa Fort
You can take a small detour and visit Nizwa Fort. It is just a few kilometers away from your main route.
Do not miss out on the view!
Make sure you halt at the viewing points. You will find good viewing points after every few kilometers. You will get to see the most fascinating view and some beautiful canyons. Perfect place to click some great pictures.
Staycation at Sahab Hotel
We had booked a two-night stay at SAHAB hotel in Jab Al Akdhar. This beautiful hotel is located on the Sayq Plateau overlooking the canyon and the small villages. The local stone clad exterior hotel captures the essence of Oman. With the infinity pool overlooking the canyon, it is a perfect place to relax and admire the beautiful nature. You will also find over 270 years old marine fossils in the hotel garden which are well preserved.
The rooms are cozy and the service is excellent. The food here is also great with some wide range of breakfast buffet. You ought to witness the beautiful sunset from the hotel. It is simply breathtaking.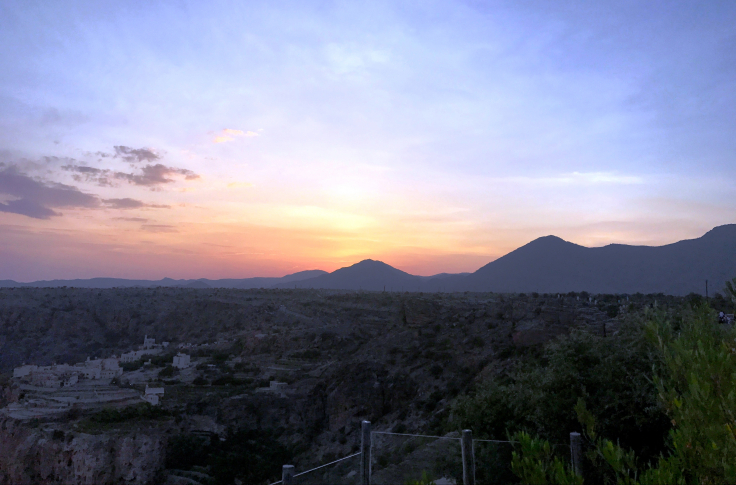 There are outdoor seating arrangements laid out for the guests where you can order yourself some coffee and enjoy the great view.
For activities, you can go on a hike to explore the nearby villages. Make sure you carry a bottle of water with you since the hike might be long and tiring. The hotel staff will guide you with the directions and a map. There are guided tours as well. You can also get yourself a nice relaxing massage at the hotel.
So what are you waiting for? Plan a staycation at Jab Al Akdhar and enjoy your long weekend. Soak in all the natural beauty of Oman and treat yourself to a beautiful, peaceful and relaxing holiday. Go ahead and book yourself a stay at SAHAB Hotel!