I often find myself wandering in lands unknown, looking for a place that I can call home. It's strange how the thirst for newness and the longing to belong coexist within me but it is this juxtaposition that fuels my need to travel.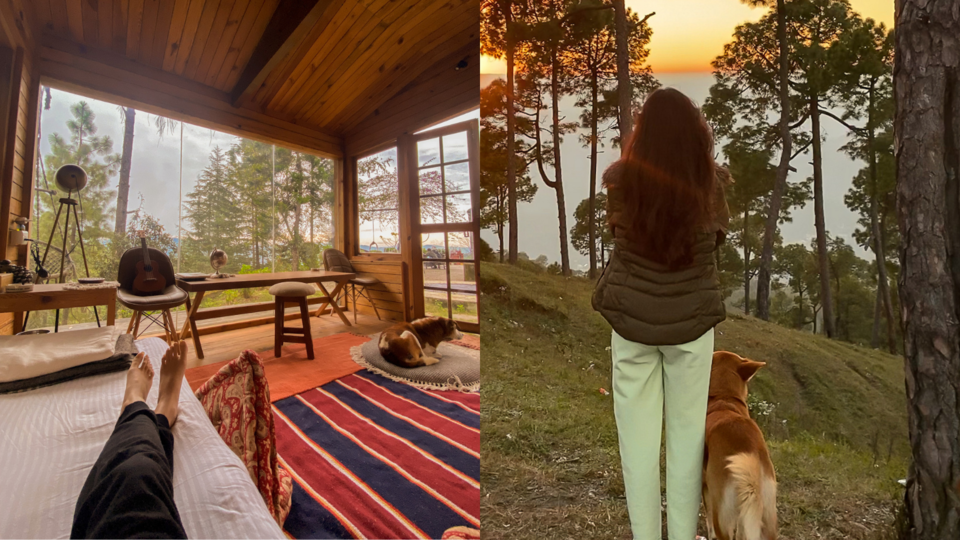 During one such time, I wound up at Shantiniketan, a homestay situated in a humble nook of Uttarakhand — Kasar Devi. While Almora and Nainital shine radiantly under the spotlight, Kasar Devi gleams delicately on a hill top, only attracting travellers of a certain type. Now, I don't mean to be self-aggrandising, but I take pleasure in believing that I was, in fact, chosen to visit this destination. Steeped in inexplicable stories and spirituality, Kasar Devi is sure to make you think in such ways!
The location and space: An escape
Overlooking the Himalayan range, Shantiniketan is a colonial house that has been revamped as a homestay with modern amenities. It is a labour of love that belongs to Shivangi and Gagan, an endearing couple who left their practice as lawyers to bring this dream to fruition.
Their abode lies only 2km short of the Kasar Devi ridge. A narrow path leading up to the property is a fitting prelude to the beautiful song that you soon encounter. You will be welcomed by a courtyard, the centrepiece of which is a bougainvillea tree dressed in pink. A cane swing, a garden and patio tables, all facing the mighty mountains, will compel you to drop your bags and sprawl under the sun. While the outdoors were certainly an attraction at Shantiniketan, for me, it was the loving home that made the trip even more worthwhile.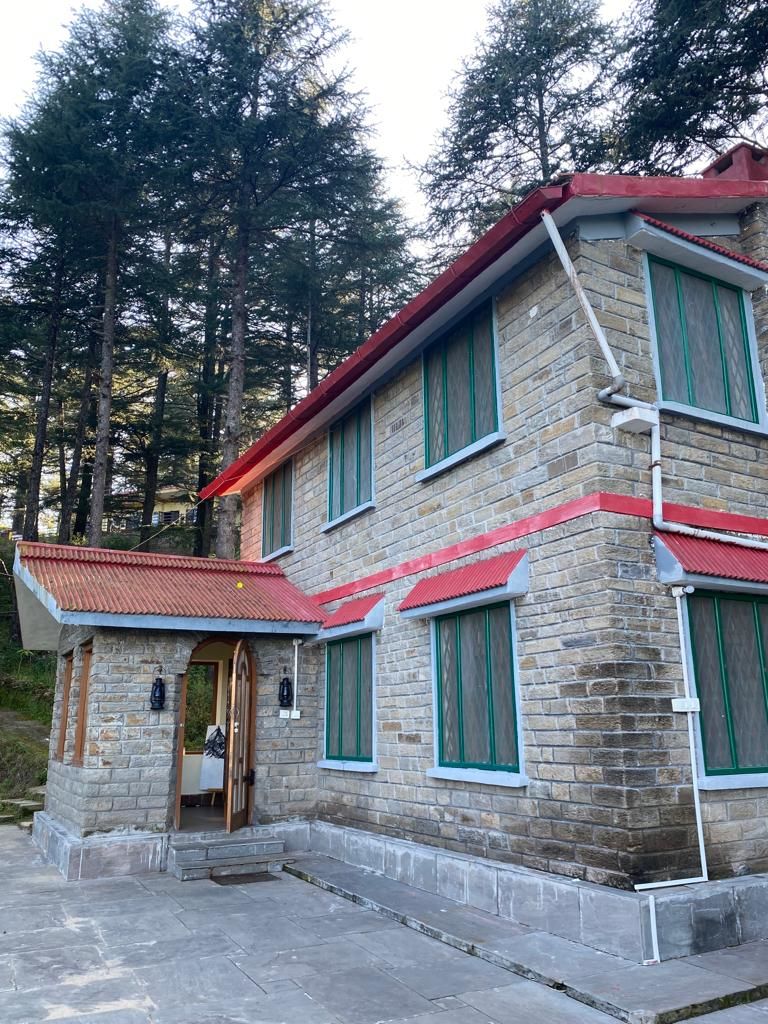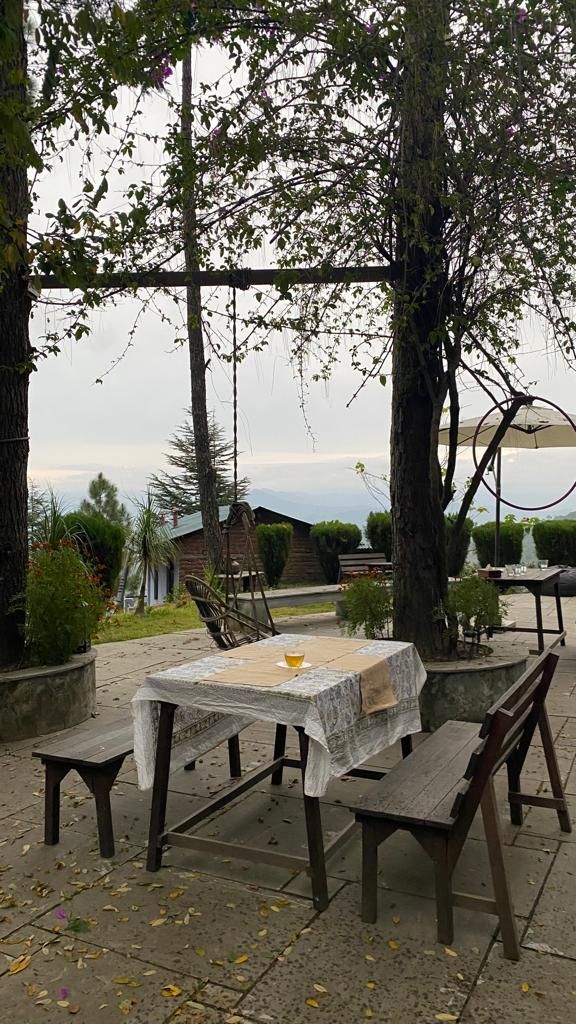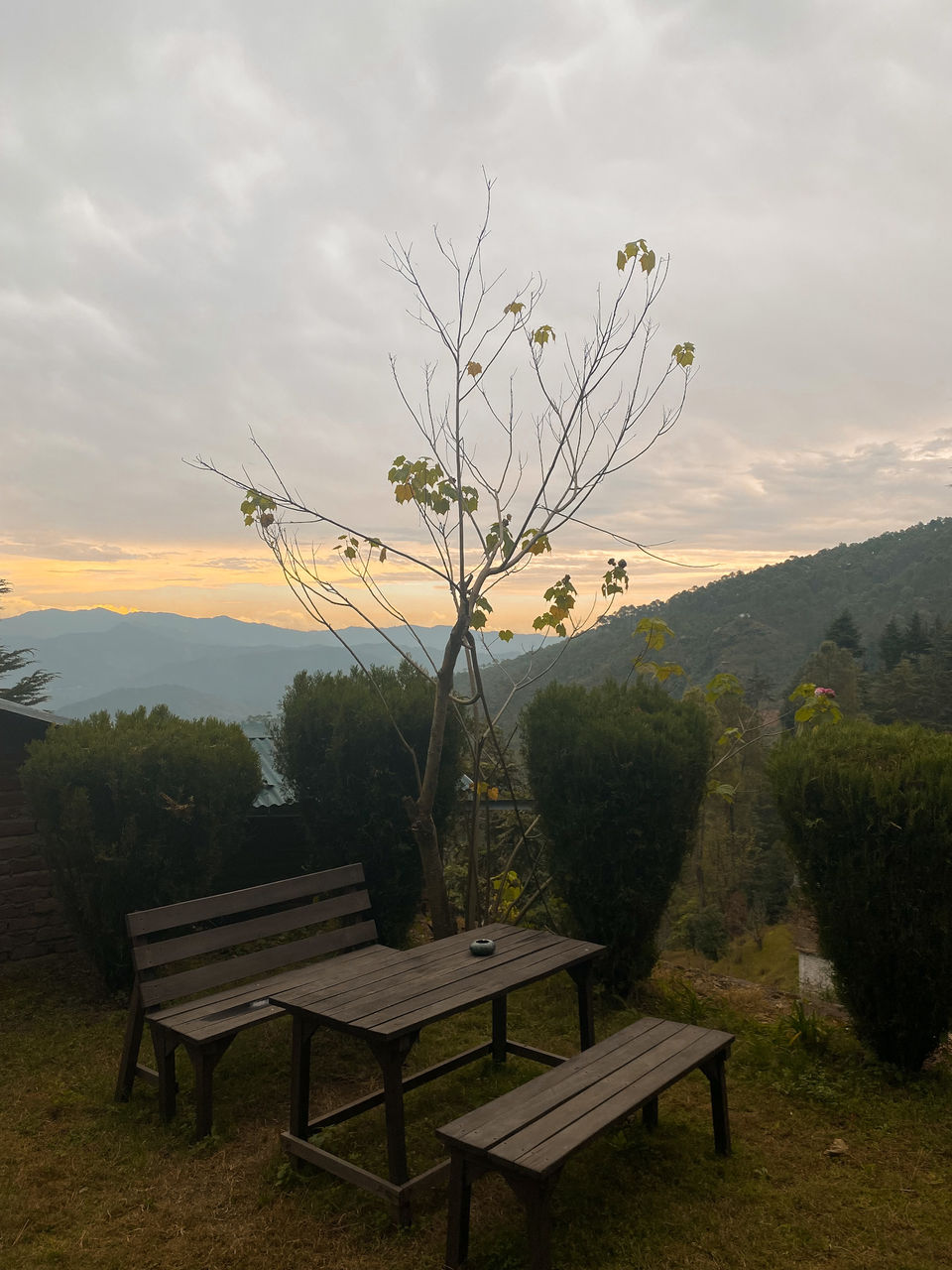 Disconnecting and reconnecting at Shantiniketan
The gentle aroma of incense sticks enveloped me in a palpable positivity, which was heightened by the smiling faces of Dwarka, Deepak and Sanjay, the cooks and caretakers of Shantiniketan. My room on the first floor was massive yet cozy, and well-equipped with essential amenities needed for a comfortable stay in the mountains.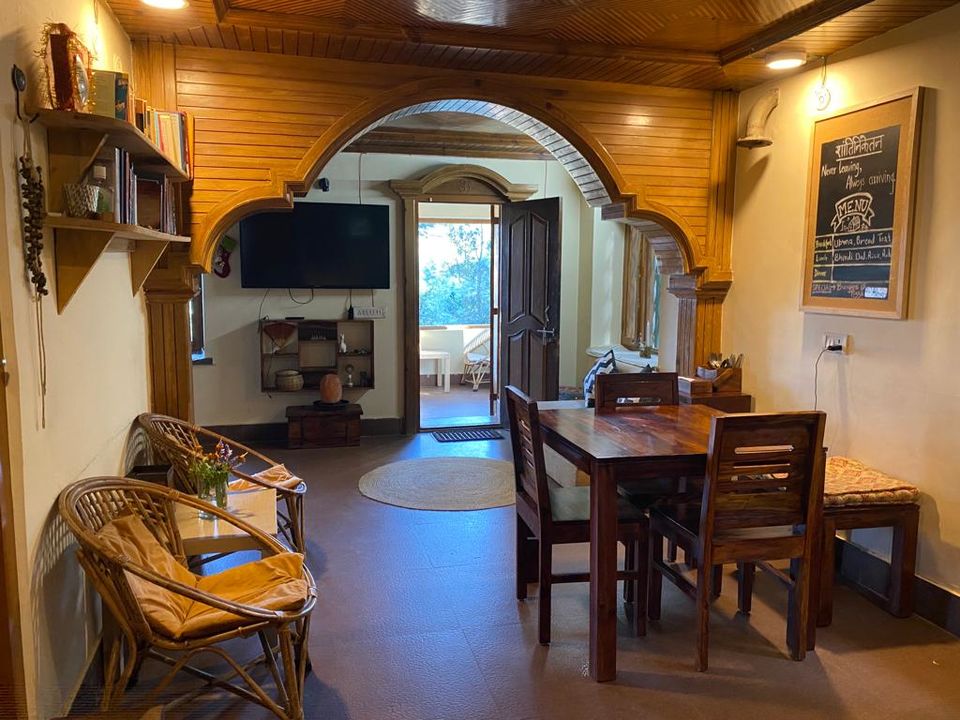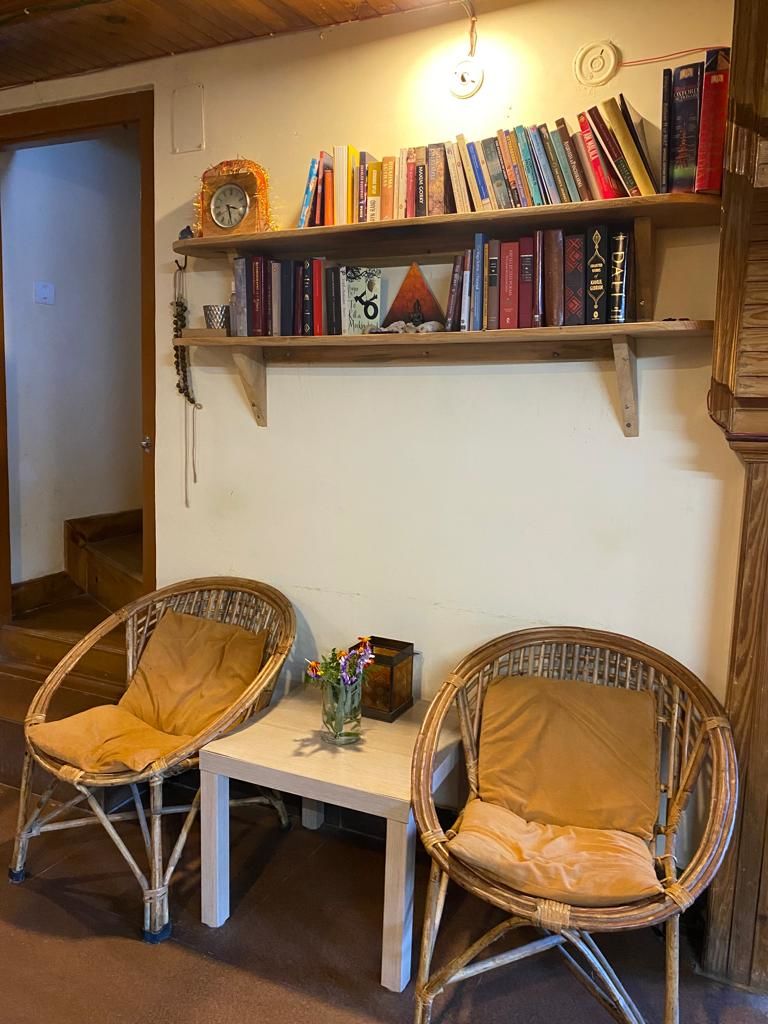 Dark clouds started to gather as I familiarised myself with the property. As luck would have it, I happened to be at Shantiniketan during one of the worst cloud bursts of 2021 that occurred in Uttarakhand. Due to this, Shantiniketan bore witness to pouring rain 24x7 for a period of three days. This meant that the vacation where I was looking forward to spending time in the outdoors, had to be spent indoors. To add to the chagrin, there was neither any mobile network nor data.
Surprisingly, over the course of three days, sans any digital distraction, I was able to immerse in the fabric of Shantiniketan. I spent my time playing carrom, uno, chess and monopoly with my family. We sat huddled around the dining table with other guests of the property and the very erudite hosts listening to their life stories and sharing ours. I was forced to go on a complete detox from the virtual world which gave me the opportunity to be completely present in every second of every day. My days were now measured, not by meetings, but by the games I won and the number of meals I gorged on.
Food, experiences and love
What adds to the already homely ambience of Shantiniketan is the food that they offer. Although the meals are completely vegetarian (no eggs available either!), you will be surprised by the variety of cuisines you can indulge in. Every meal at Shantiniketan was a massive feast— my diet had conveniently doubled and I was too pleased to regret! My favourite meal at the property has to be the Kumaoni Thali. This is a must-try, especially if you enjoy eating local food. Another dish that my dad and I continue to crave even months after our return is the cinnamon tea cake drizzled with caramel sauce. I salivate even as I write about it.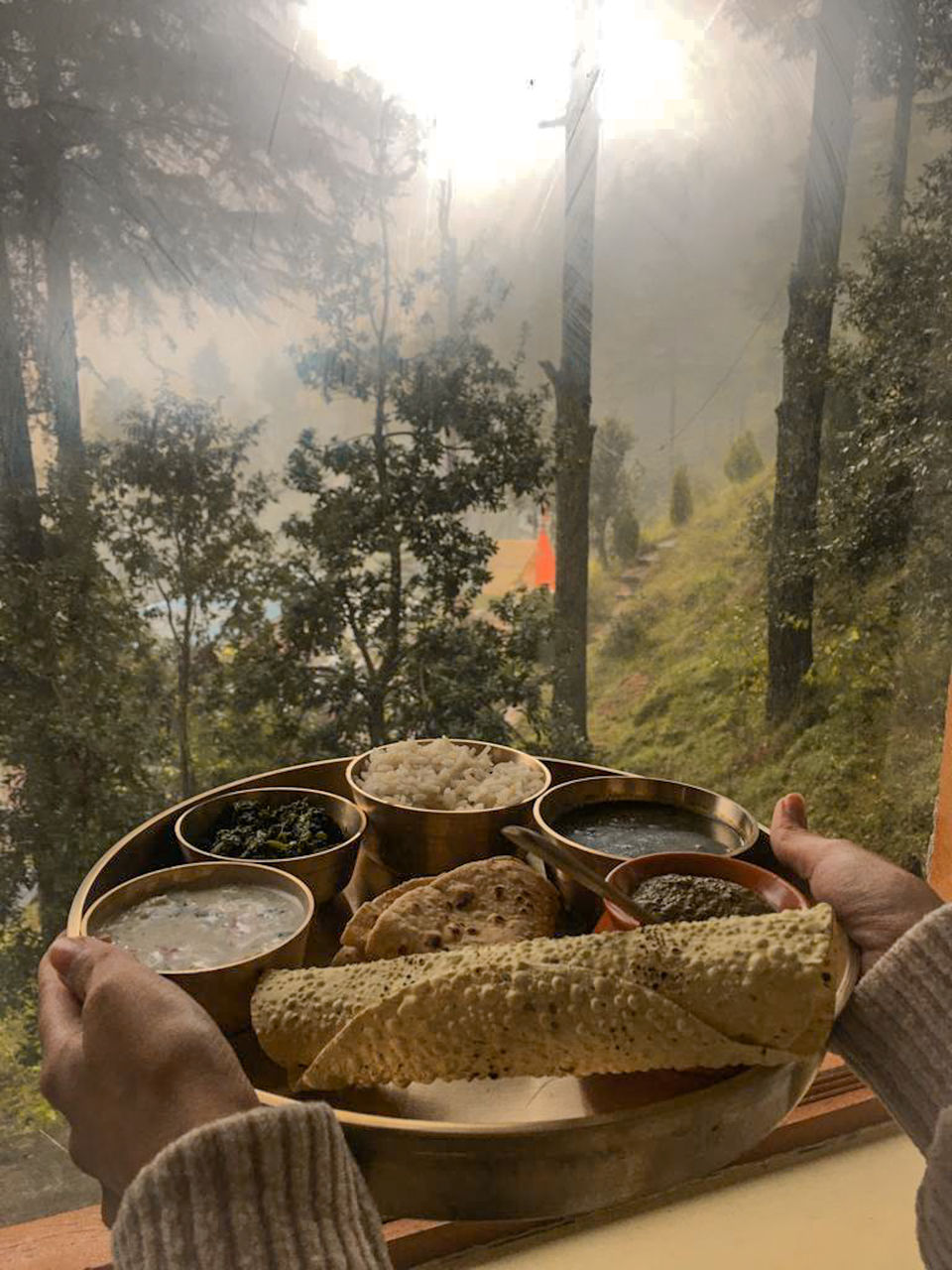 A wine night by the bonfire is another beautiful experience that Shantiniketan offers. During my visit, the entire household came together in preparation of the perfect bonfire night. While Shivangi prepared Italian snacks, Gagan put on the perfect jazz playlist to go with the crisp crackling of firewood and the hooting cicadas. A chalky full moon also emerged to witness our night of merry and added just the right amount of whimsy to it!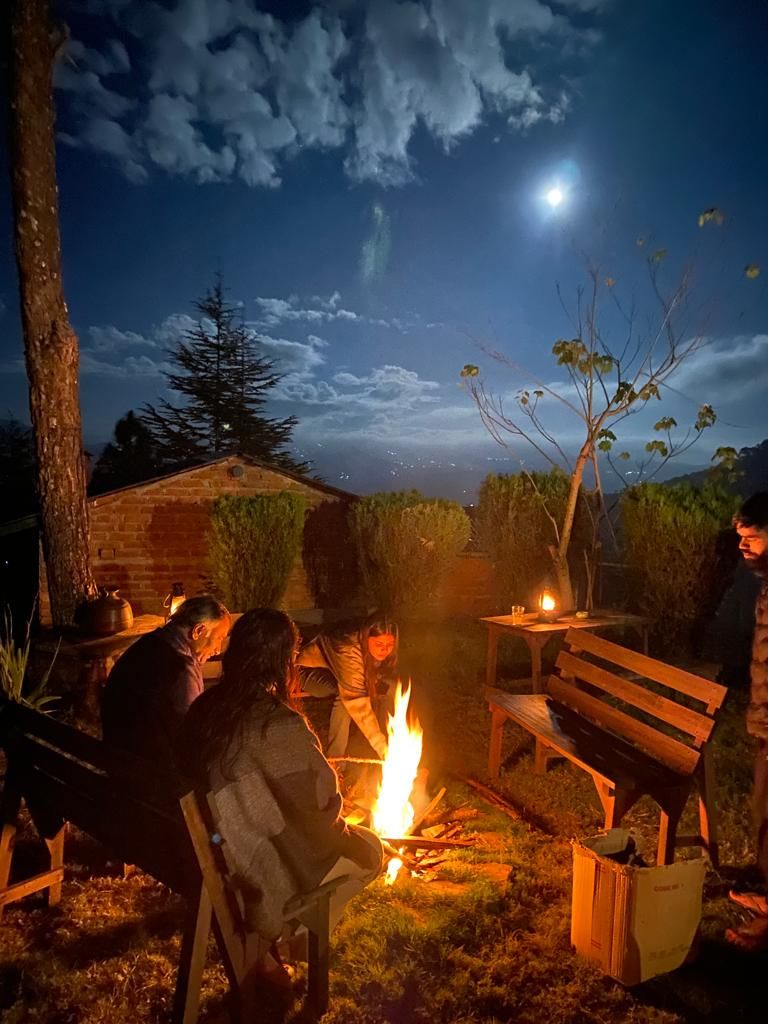 Things to do in and around the property:
The best thing to do at Shantiniketan is to do nothing. But if you must, here's what you can do:
1. Work in a glass cabin
For those who cannot leave their work behind, the glass cabin at Shantiniketan is the workstation of your dreams. It is equipped with wifi, views, hot chai and furry friends.
2. Head to Kasardevi
The famed Kasardevi lies only 2km away from the property. You can start your day by visiting the auspicious Kasardevi Temple that was once the site where Swami Vivekananda meditated. The temple is one of the three sites (alongside Machu Pichhu in Peru and The Stonehenge in UK) that come under the influence of the Van Allen Belt. Do take a short hike up the temple to reach a Shiva Temple that is said to be situated in line with Lord Vishnu at Badrinath. At Kasardevi, you can also shop local handicrafts and watch a stunning sunset from the ridge.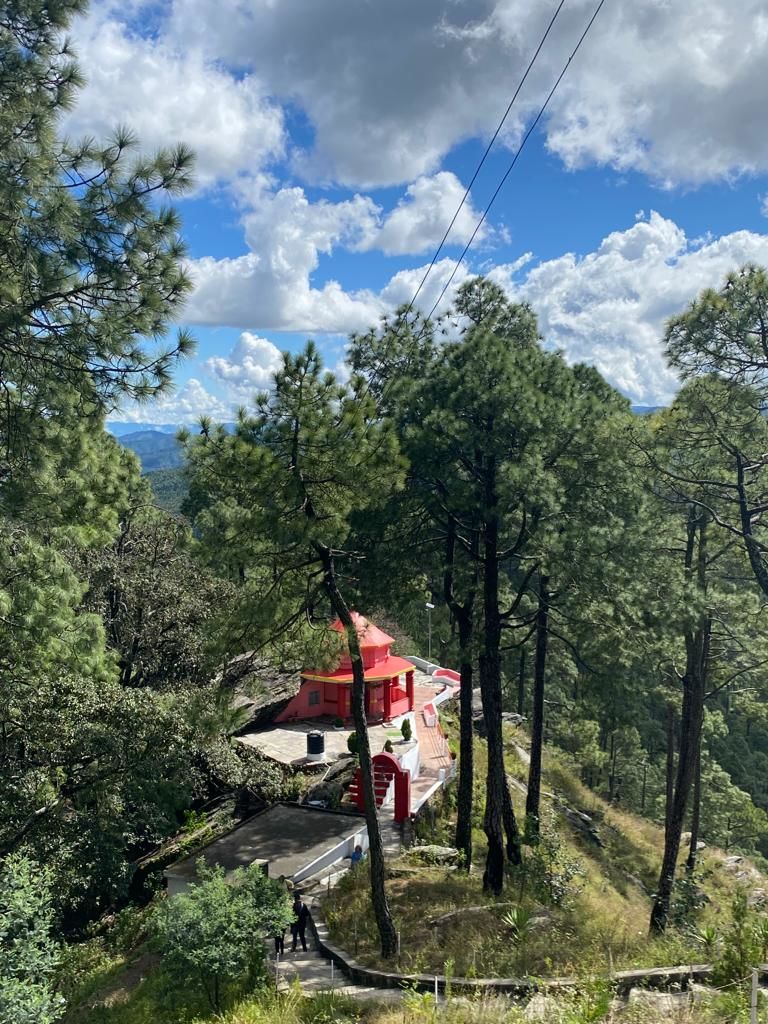 3. Go cafe hopping
You'll be surprised to see the vast number of cafes that this small town boasts of. Pay a visit to Rainbow Cafe, Kasar Kitchen, ALhito, The Hammock or Baba Cafe.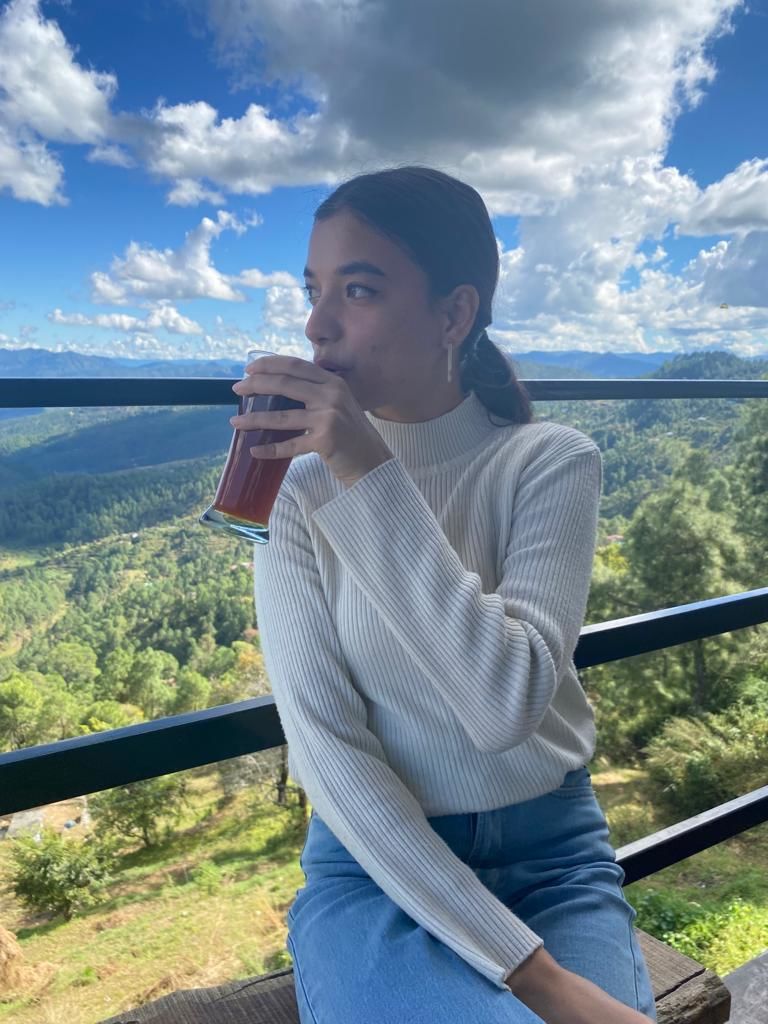 4. Explore nature trails
The mountains of Kasardevi offer meandering trails that you must set out to explore. Pick any hill you fancy and conquer it! What better way than this to put your fitness to test? Ask the hosts and they will pack you a picnic straight out of an Enid Blyton novel!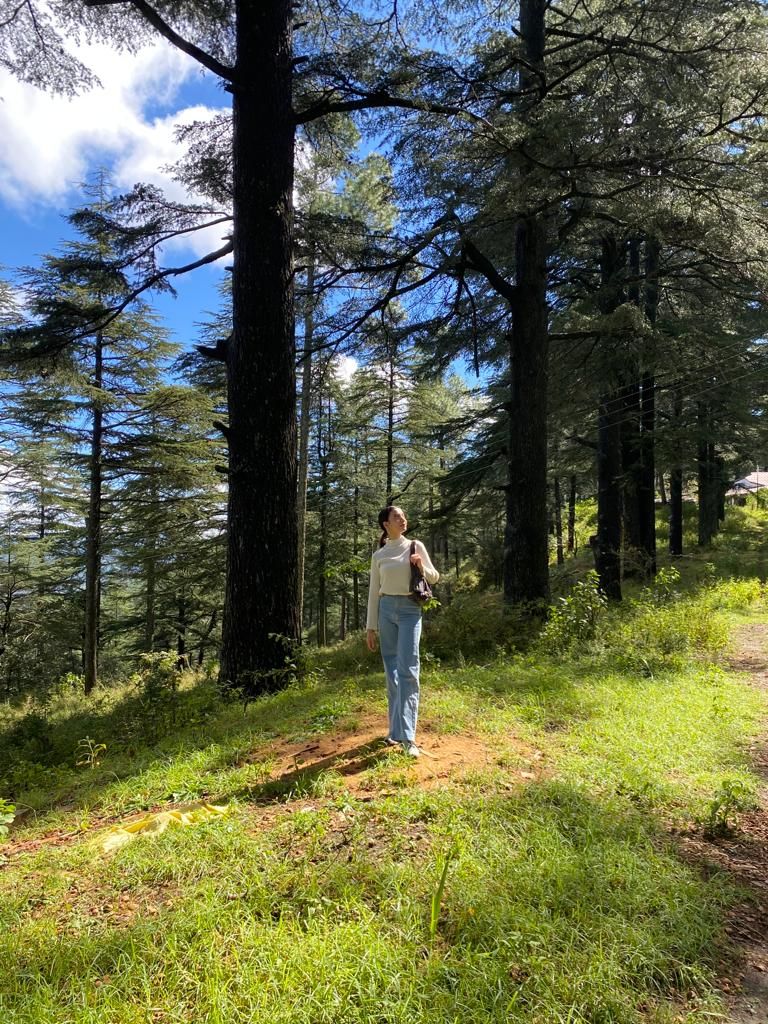 5. Visit Almora
Almora, the cultural capital of Uttarakhand is only 6km from the property. You can visit its old market, which will give you a peek into Kumaoni life. While there, don't forget to try the famous chocolate mithai and delicious bal mithai.
You must also pay your respects at Chitai Temple, the abode of Golu Devta, an incarnation of Lord Shiva. It is believed that Golu Devta fulfils all wishes that are made here. The millions of temple bells that adorn the facade of the temple stand testament to hopes and desires fulfilled through decades.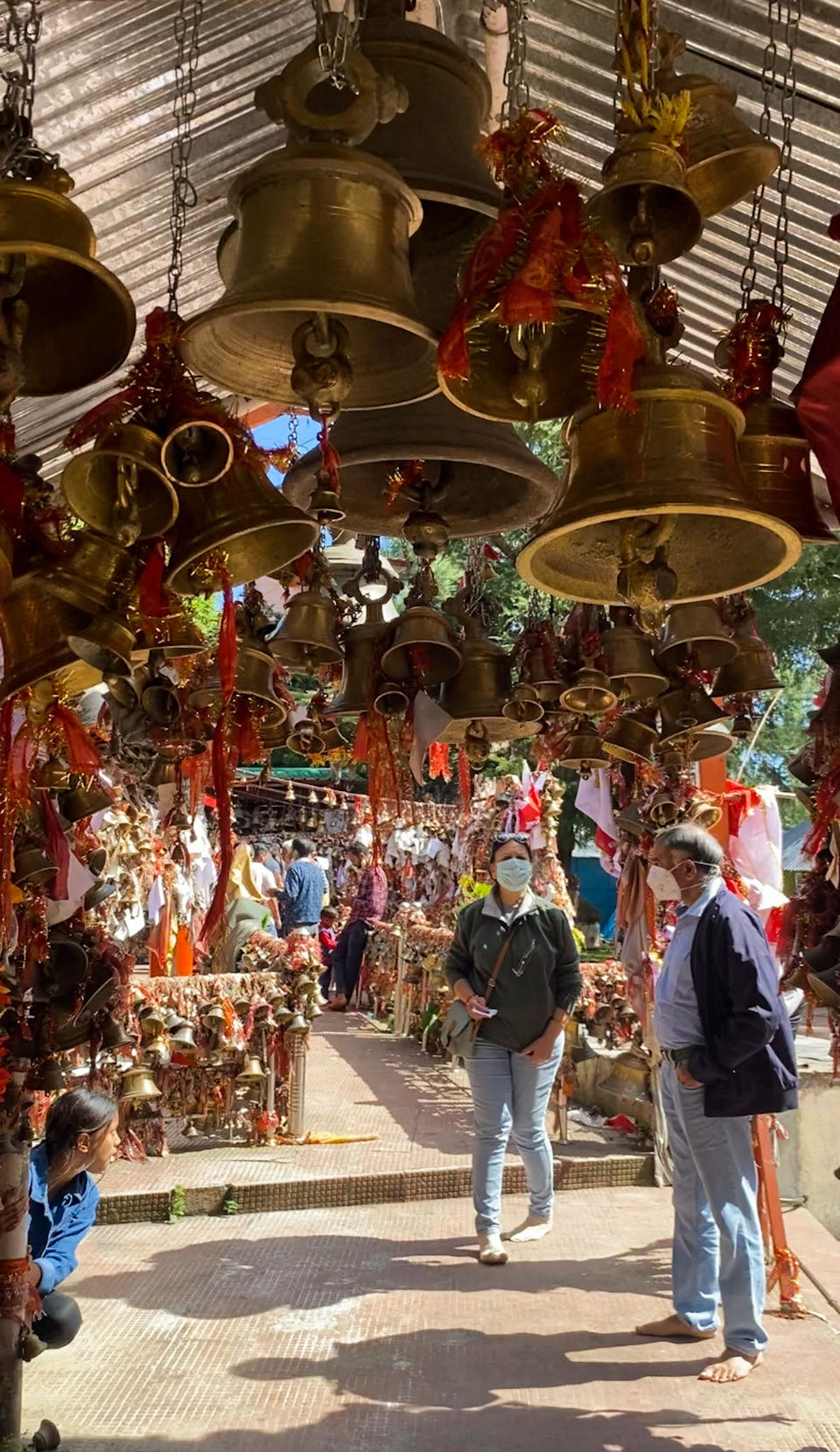 Get in touch to book your stay
You can book your stay at Shantiniketan on Booking.com or drop them a message on their Instagram handle.
At Shantiniketan, I freely ventured out and within. It was an experience that I will continue bragging about and looking back fondly upon, for days to come. Have more questions about my stay at Shantiniketan? Ask me in the comments below and I will help you out!
Have you also stayed at a property that felt like home? Share your story by creating a blog on Tripoto here.
If you want to be mentored as India's next big travel content creator, apply here!