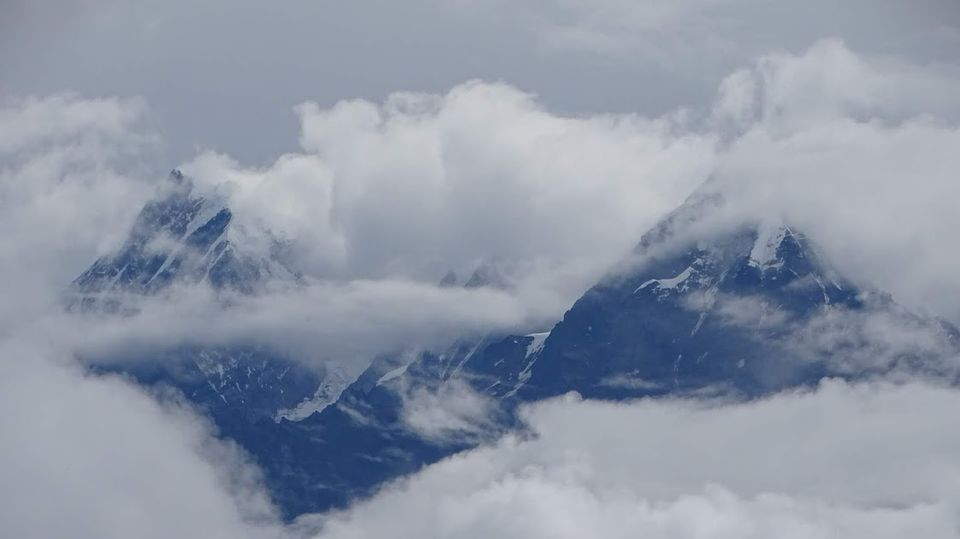 When you think about rain and if you are in Delhi then the first thing to come to mind are flooded roads and traffic nightmares. However, this monsoon; August - 2018 we finalized our trip to Munsyari which was long due. It was a five days trip where we stayed at Almora, Munsyari and Jageshwar. Even till the last date the trip was a bit shaky because of heavy monsoon and flooding in Uttarakhand but we decided to go ahead and witness the place less visited in its full glory. Munsyari is not a very popular tourist place if we compare it with other popular destinations like Nainital, Mussoorie etc. in Uttarakhand but since we have already been to those places and wanted to avoid too much rush we finalized for Munsyari. After completing the trip, the words which comes into the mind are awesome and raw beauty. We were the only tourists in Munsyari so the whole area was at our disposal to explore at our own pace. Even Almora and Jageshwar was less crowded so it a bit of change if you think about crowded Mall Roads of Shimla, Nainital, Manali etc.
Below I have given detailed account of our five days as to the places visited and their significance, hope this information would be useful for a few and motivate to visit this truly beautiful place.
Day-3, 17th August 2018: Munsyari.
It rained all night and when we woke up in the morning it was the cloud covering all over the area. We can see some patches of mountains and valley from our room balcony and some traces of Panchahuli peaks, but the weather god did not allow us the opportunity to witness the magnificence of the famed Panchahuli. We cancelled our trek to Khalia Top as the guide informed us it was not safe and worthy to visit the place in this season, so we decided to visit 3 places; Nanda Devi Temple, Tribal Museum and Darkot Village.
Nanda Devi Temple is about 3 Km from Munsyari town; it is a motorable road with some rough patches in between, passing through a petrol pump on the right the road will lead you to a forest area with trees on both sides of the road and pavement lined with dried leaves. There we can see a small gate on the right side with bells hanging for Nanda Devi Temple entry. As you enter the gate some rock stairs will lead you to a beautiful 200 meters trek lined with trees, benches to rest and an opportunity to soak in some fresh oxygen. As you pass the green area another gate will appear and once you enter the gate a beautiful scene will welcome you; green meadows with a zig-zag stoned path taking you along the valley with Panchachuli peaks and clouds in the background and a small temple on the left side. The temple is dedicated to Goddess Nanda or Parvati and is a small white structure with conical shape facade. You can spend at least an hour admiring the beauty of the place.
Our next stop was a Tribal Museum, it was a private museum set up by Dr.S.S Pangthi in Nanasen Village. We can find interesting antiques like the tools used by local people, sample of crops and vegetation, old currencies, clothes and bags used in earlier days and some documents used in older days for trade between Johar valley and Tibet. One interesting aspect was the door lock mechanism which can be operated from the outside of the museum door to lock the door from the inside. You can also get latest maps and posters of the area along with caps and shawls made locally by the people in Darkot Village.
Darkot is a small village about 6 Kms from Munsyari town. There is a gate on the right side of the road with no markings which takes you down to the village. There will be around 50-60 stone stairs and the first thing you see is a newly built temple by local people with impressive architecture. Road further down take you to this simple, clean and quite village which is abundant with local flora and fauna and houses built in traditional kumaoni style with some even older than 100 years. This village is known for homemade Angora and Pashmina caps, shawls, sweaters etc. We went to around 2-3 houses and what was surprising was that every house was into this craft and they have old styled loombers for weaving. We went down further and reached an English house with 52 rooms which was into ruins; we also saw Angora Rabbits being fed and bred for their fur.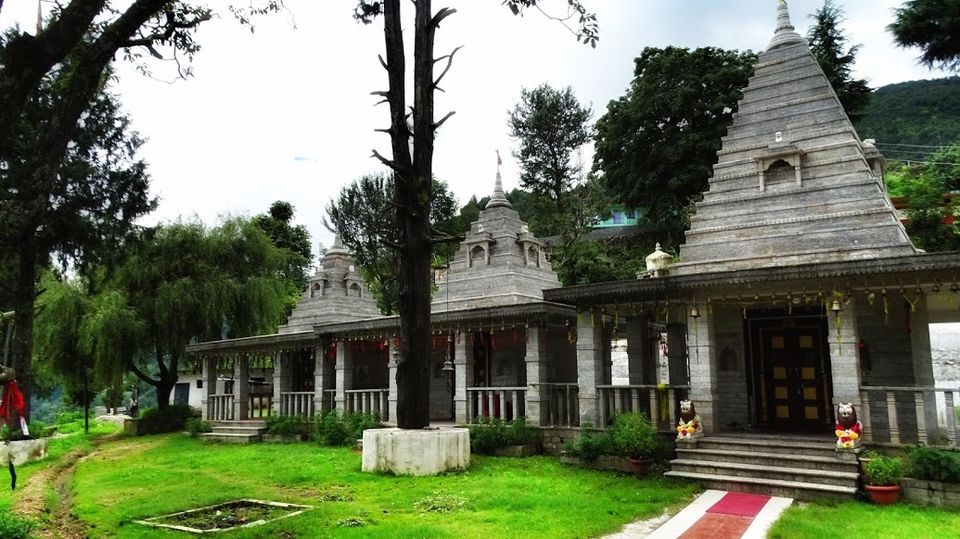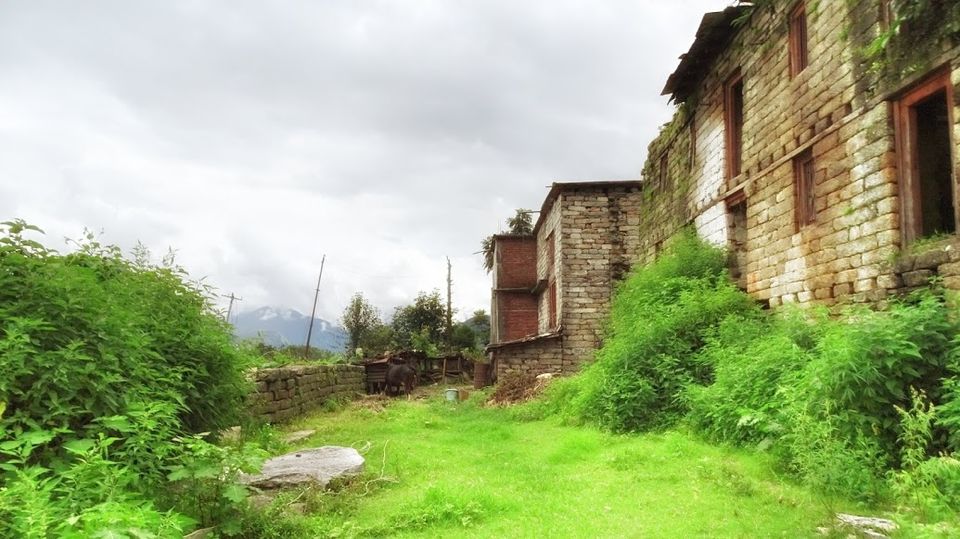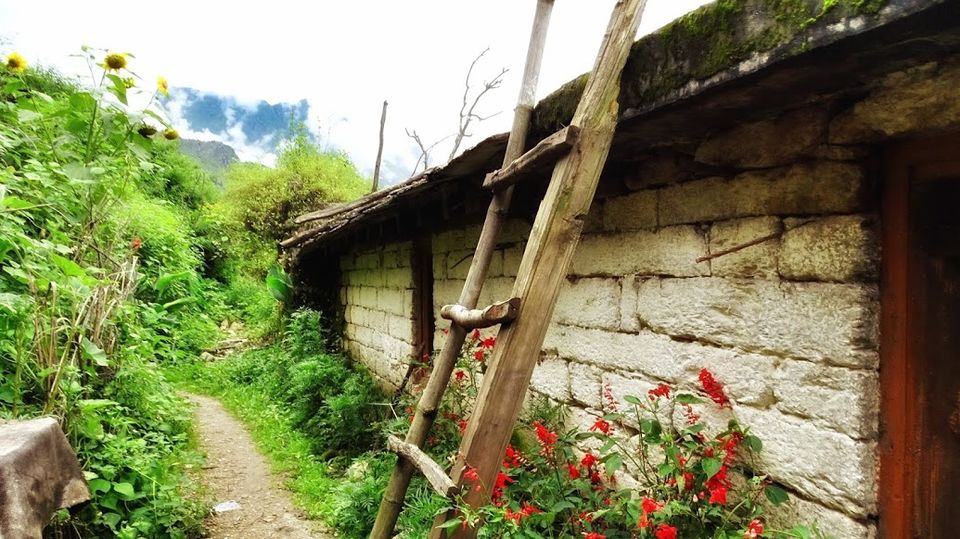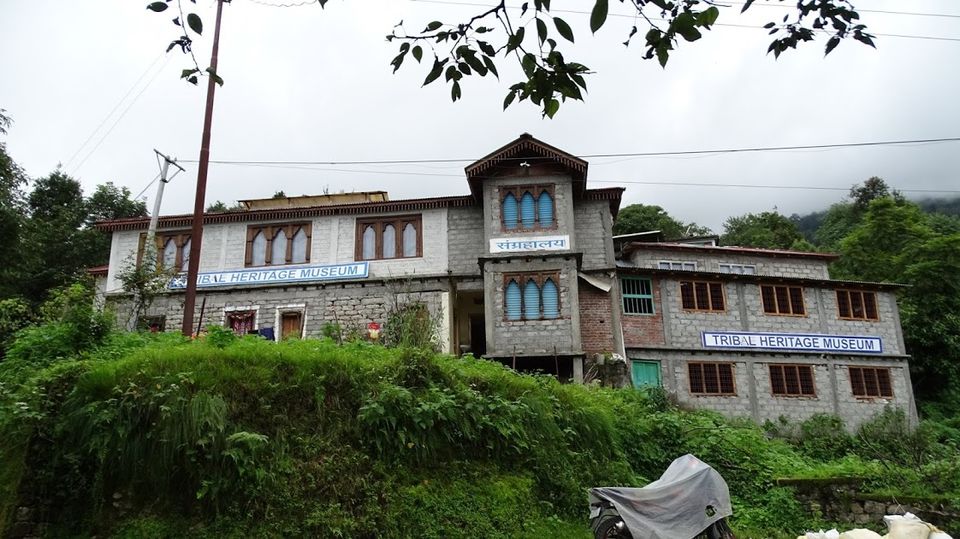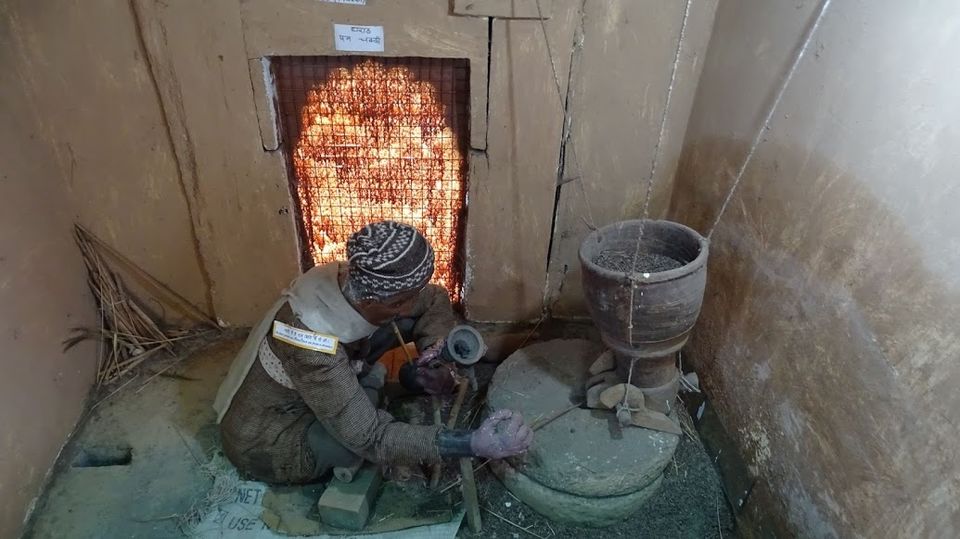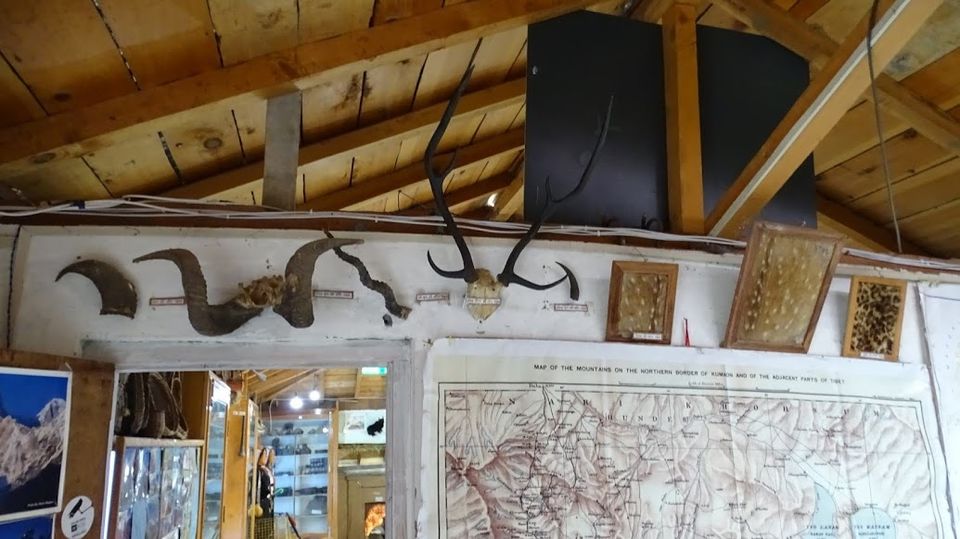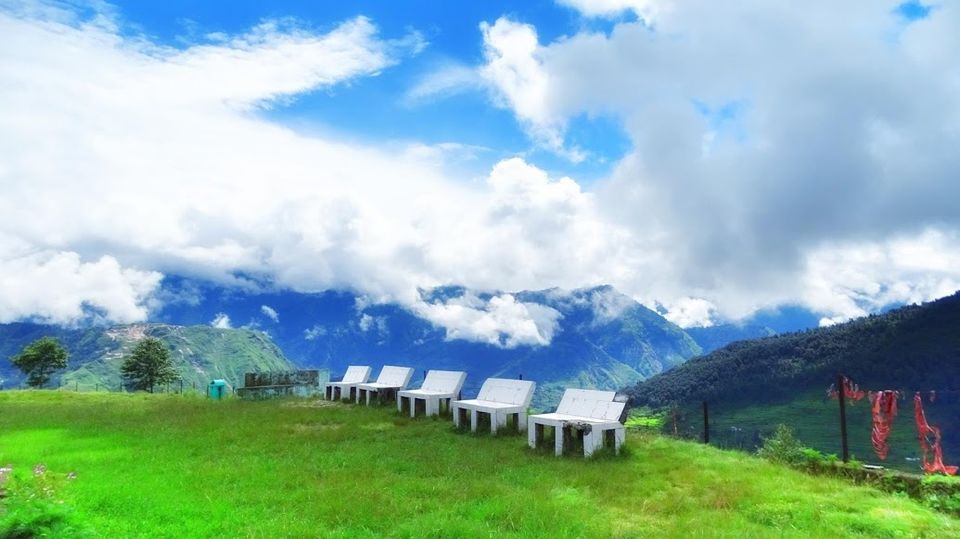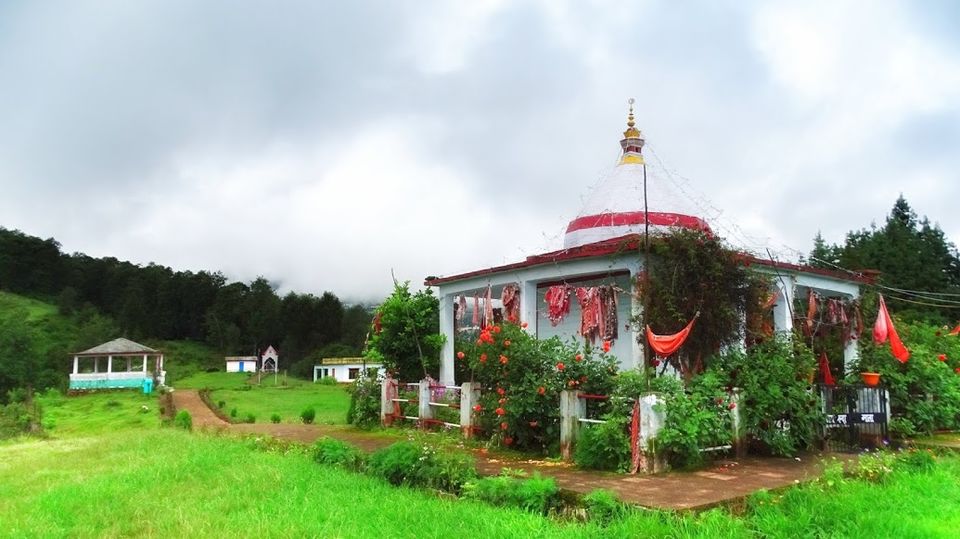 Day-4, 18th August 2018, Munsyari to Jageshwar.
We started at 6 AM from Munsyari for Patal Bhuvaneshwar which is at a distance of 128 Km and normally takes 4-5 hours by car. We stopped at Birthi Falls again around 8.30 AM for some tea and Maggi and resumed our journey. However, at Nachni Village around 9 AM we got stuck in a landslide and JCB's took 5 hours to clear the debris, so we resumed our journey at 2 PM and reached Patal Bhuvaneshwar at 4.45 PM.
Patal Bhuvaneshwar is an amazing place and a must visit place in your itinerary. It is a wonderland connecting our ancient culture and natural rock cut figurines in this awesome cave temple. The cave is 160 meters long and 90 feet in depth, entrance to the cave is a small gate and you need to crawl in different positions and take help of chains fastened on either side to move forward. Floor is very slippery, and you need to negotiate some uneven rocks which comes out of the walls to get in. We can find natural rock cut figures of various Hindu gods some prominent ones are; severed head of Ganesha, Sheshnag, ShivJi's jatayein, 4 yug's model, the Trinity, wings of Jatayu, Jyotirlingas and many more. It is believed that the cave is as old as the earth itself and has been mentioned in Skand Purana. The first human to have entered this cave was King Rituparna in Tretayuga, in Dwapar Yuga the cave was rediscovered by Pandavas. In Kalyug, Adishanker Acharya consecrated the cave and since 1191 priests have been performing rituals and people have been visiting the place both for worship and wonder. The cave temple is considered to be the abode of three crore deities. One thing to remember before entering the cave is the low oxygen level inside so people with breathing problems needs to take care. Cameras and mobiles are not allowed inside the cave.
We resumed our journey at 6 PM and reached Jageshwar at 10 PM which was 100 Kms from Patal Bhuvaneshwar. We stayed at KMVN TRH which is just opposite to the Jageshwar temple complex.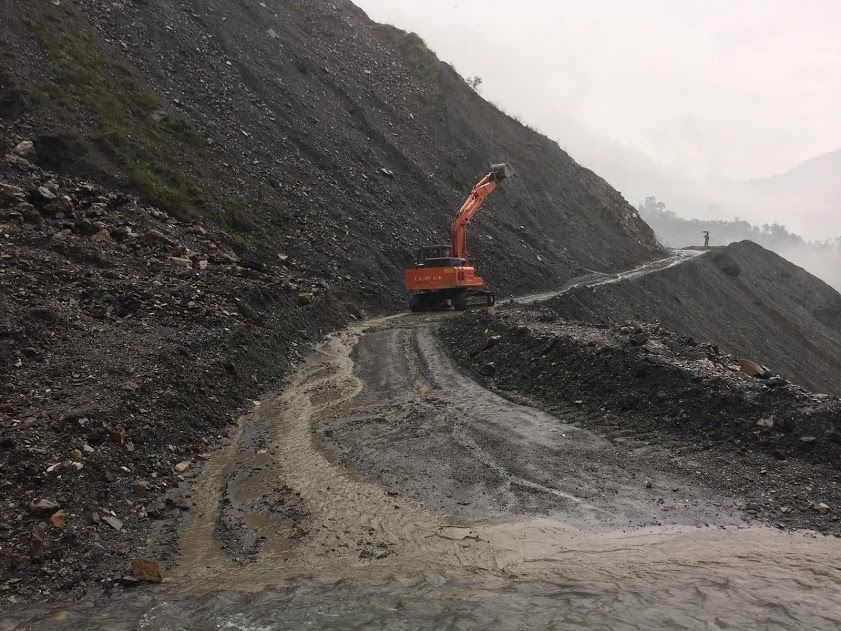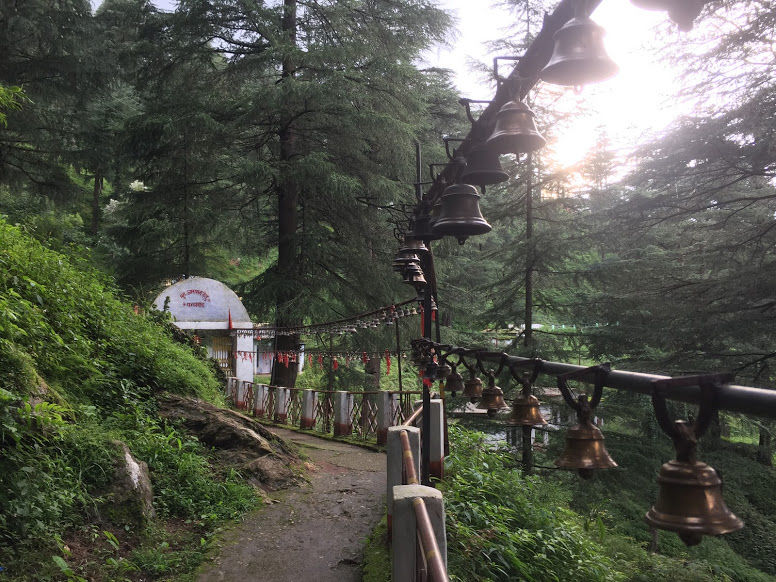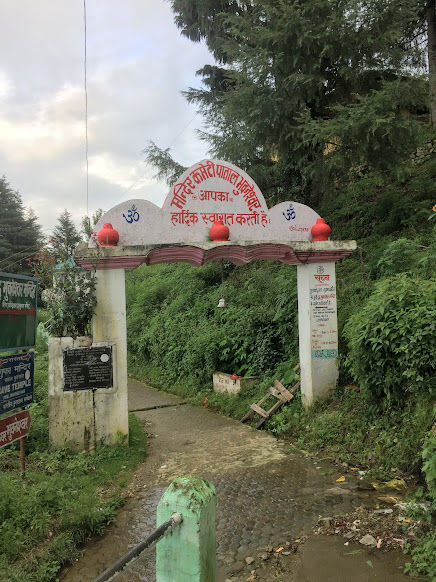 Day-5, 19th August 2018, Jageshwar to Kathgodam.
We visited Jageshwar at 6 AM which is in a narrow beautiful valley surrounded by a dense forest of deodar trees. It is considered to be one of the twelve Jyotirlingas of Lord Shiva and lies on the ancient route of Kailash Mansarovar. Jageshwar temple complex consists of 124 temples ranging between 7th - 18th century and are dedicated to Lord Shiva, Goddess Jageshwar, Mrityunjaya, Kedareshwar, Surya, Navgraha, Lakulish, Baleshwar, Pushti Devi, Kalika Devi etc. We can find many shops and stalls leading all the way to the temple complex. Legend has it that Lord Shiva came to Jageshwar to escape the severe winter of Mount Kailash.
A little further up on the road on the right side we can see a board for Kuber temple dating back to 10th century. We started our return journey at 8.30 AM to Kathgodam via Almora and visited Chitai Golu Devta temple and Kasar Devi temple but before that we stopped at Khem Singh's shop in Almora to buy some Bal Mathai and Chocolate.
Chitai Golu Devta Temple is about 10 Km from Almora and 4 Km from the main gate of Binsar Wildlife Sanctuary. Golu Devta is seen in form of Lord Shiva, his brother Kalva Devta is in form of Bhairava and Garh Devi is form of Shakti. Golu Devta is also prayed as key deity (Ista/ Kula Devta) in many villages of Kumaon and Garhwal regions of Uttarakhand. It is popular belief that Golu Devta dispenses quick justice to the devotee. Devotees in turn offer bells after the fulfillment of their wishes. Thousands of bells of every size can be seen hanging over the temple premises. Many devotees file a lot of written petitions daily, which are received by the temple.
Kasar Devi temple is about 10 Km from Almora and is situated on a hill top lined with dense forest. It dates to 2nd century. Swami Vivekananda visited and meditated here in 1890's. This temple has been found to be of special importance because the region around this temple has enormous geomagnetic field. This is because this temple comes under the Van Allen Belt. The causes behind the formation of this belt have been researched by NASA for the last two years. Two other famous places which have been found to have similar high magnetic field (Van Allen Belt) are Machu Picchu in Peru and Stonehenge in England.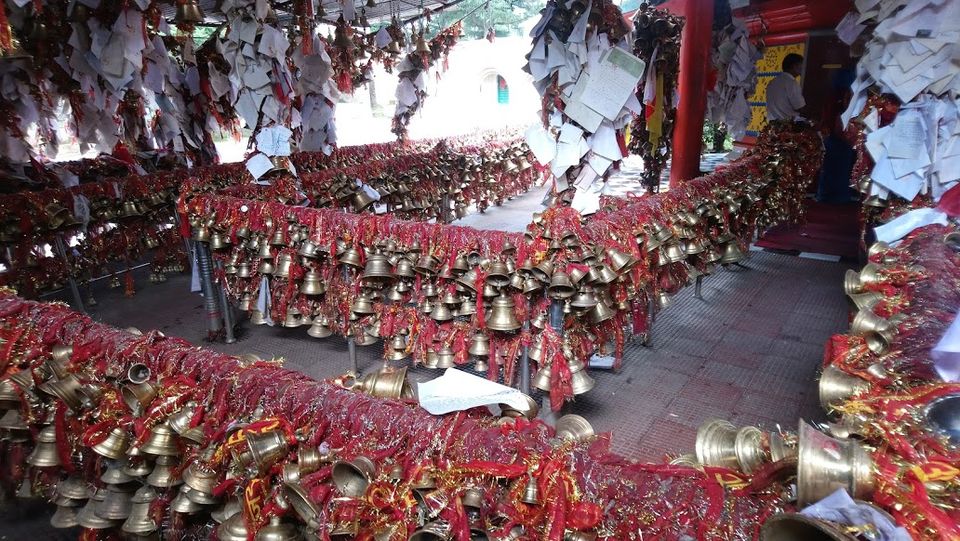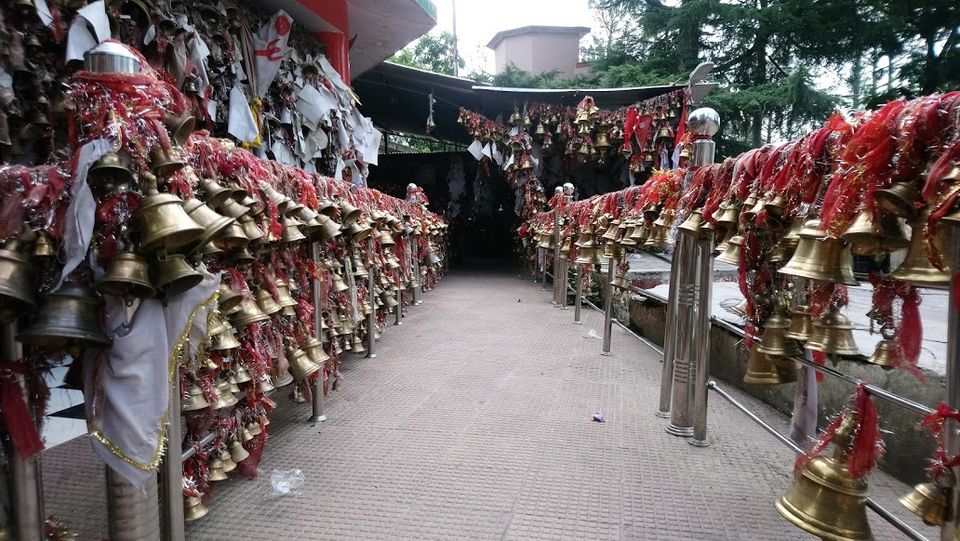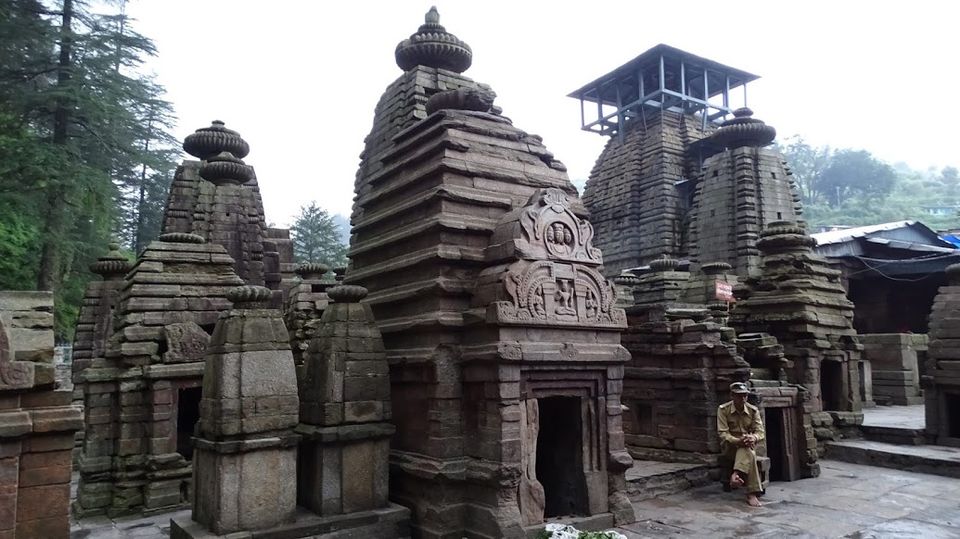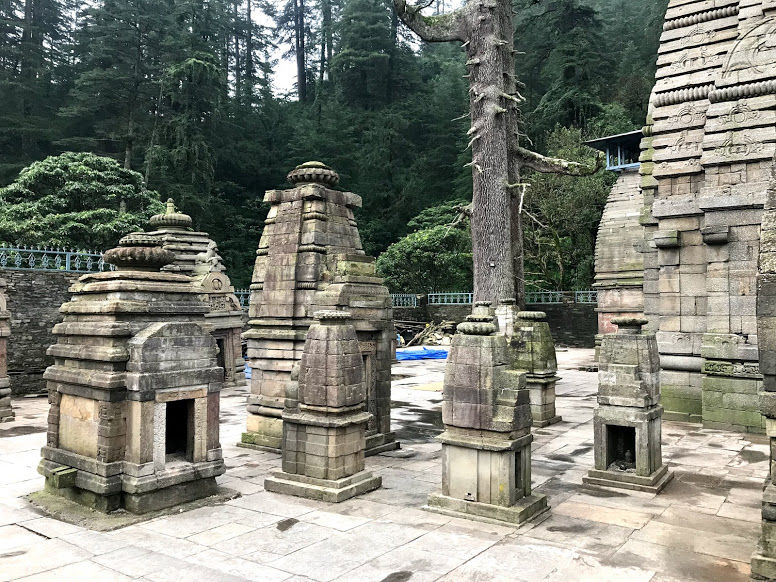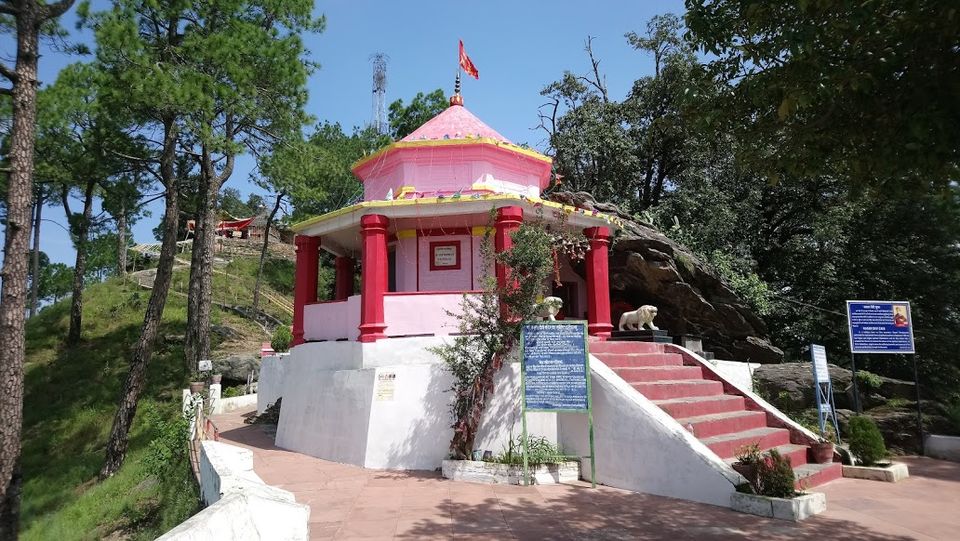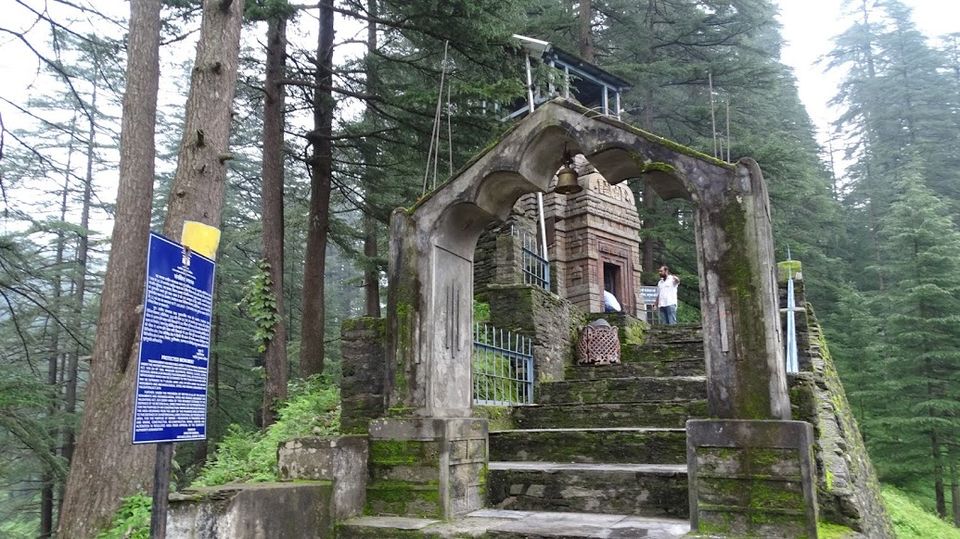 Day-2, 16th August 2018: Almora to Munsyari.
So, the next day after having a good night sleep we started for Munsyari at 7 AM from Almora. Munsyari is 200 Km from Almora and it takes around 7-8 hours to cover the distance by car; we planned to cover Bageshwar (75 Km from Almora) and Birthi Falls (30 Kms before Munsyari) before reaching Munsyari. We stopped midway around 8.30 AM for a tea break at a house cum tea cafe which was built right on the cliff in the middle of nowhere. We met a Himalayan dog named Mangal; very big, fluffy and all black. He did not like Monaco biscuit which we offered as his preference was sweet biscuits only. We reached Bageshwar at 9.30 AM.
Situated on the confluence of Saryu and Gomati rivers, Bageshwar is surrounded by the mountains of Bhileshwar and Nileshwar to its east and west and by the Suraj Kund in the north and Agni Kund in the south. Bageshwar was a major trade mart between Tibet and Kumaon, and was frequented by the Bhotia traders, who bartered Tibetan wares, wool, salt and Borax in exchange for Carpets and other local produces in Bageshwar. The trade routes were, however, closed after the Indo-China War of 1962. The city of Bageshwar gets its name from the Bagnath Temple. Just before reaching the temple, we can see Sangam or confluence of rivers Gomti and Saryu and at the junction of these stands Bagnath temple with its conical tower. Here is the shrine of Bageshwar or Vyagreswar, the, "Tiger Lord", an epithet of Lord Siva. This temple was erected by the Kumaon king, Laxmi Chand, about 1450 A.D.but there is an interesting Sanskrit inscription there of a far earlier date. The temple is flooded with devotees on the annual occasion of Shivratri.
This temple is in the main market and there is a cut with a gate which leads to the temple. There are numerous shops selling local articles and a few eateries. After returning from the temple we stopped at a shop and had poori chole and lassi in breakfast. After an hour in Bageshwar we resumed our journey and reached Birthi Falls at 2.30 PM.
Birthi Falls is a must-stop place before reaching Munsyari. It's a majestic fall which can be seen from a distance while travelling to Munsyari via Thal Munsyari route. Once you reach the bridge you can see the awesomeness of the 150 meters fall cascading from the mountains and dominating the rocks below. There is a rock stair way which leads you near the fall and the way to the top is completely mesmerizing with greenery all round, sound of water making their way out of the fall, slight drizzle effect created by the height of water dropping and winds gushing. As we were there during the monsoons, so the beauty was increased manifold because of the overabundance of water coming out of the fall. Once you reach the top you will find a covered resting place in case of a rainfall and some benches in open as well. We took a whole lot of pictures and made some videos to cherish. It is a lovely place to spend at least 1-2 hours to digest the beauty and surreal environment. You can have slight refreshment and tea at 2 Maggi points on roadside. After spending 2 hours we resumed our journey and reached Munsyari at 6 PM and stayed at KMVN TRH.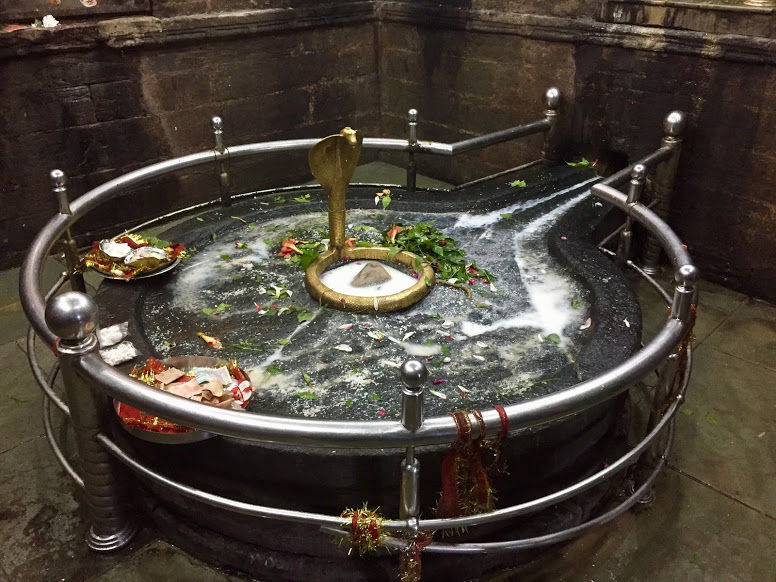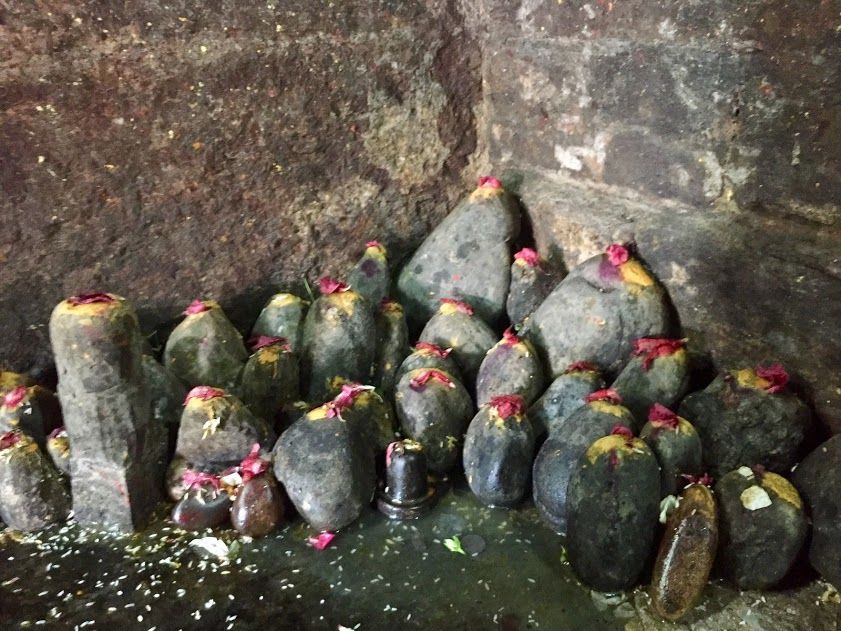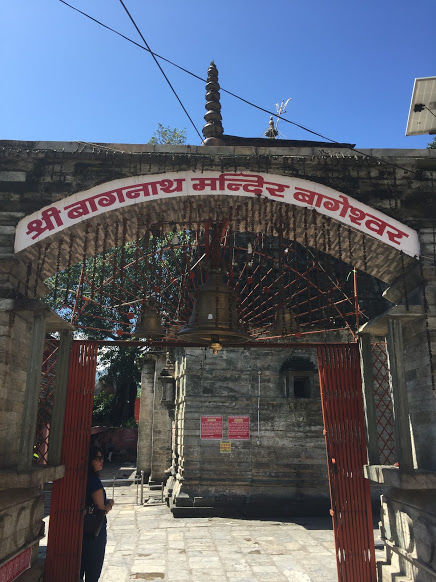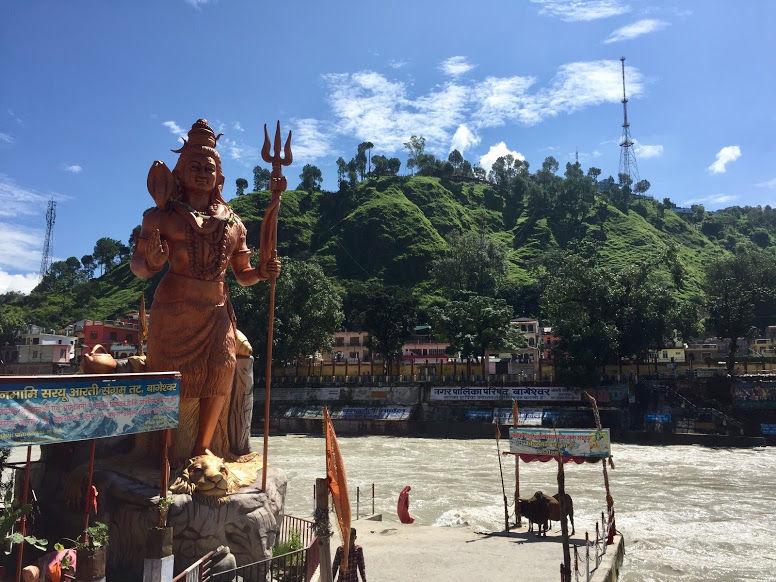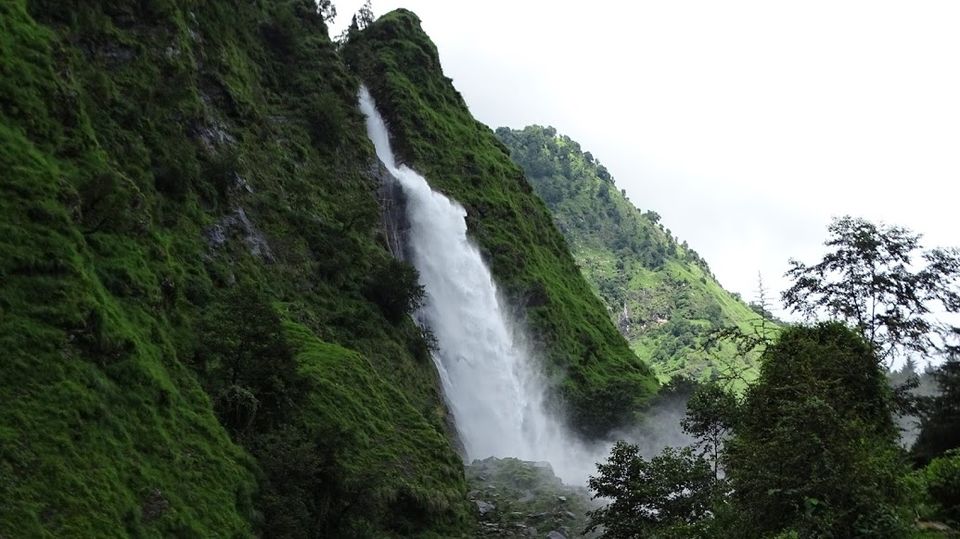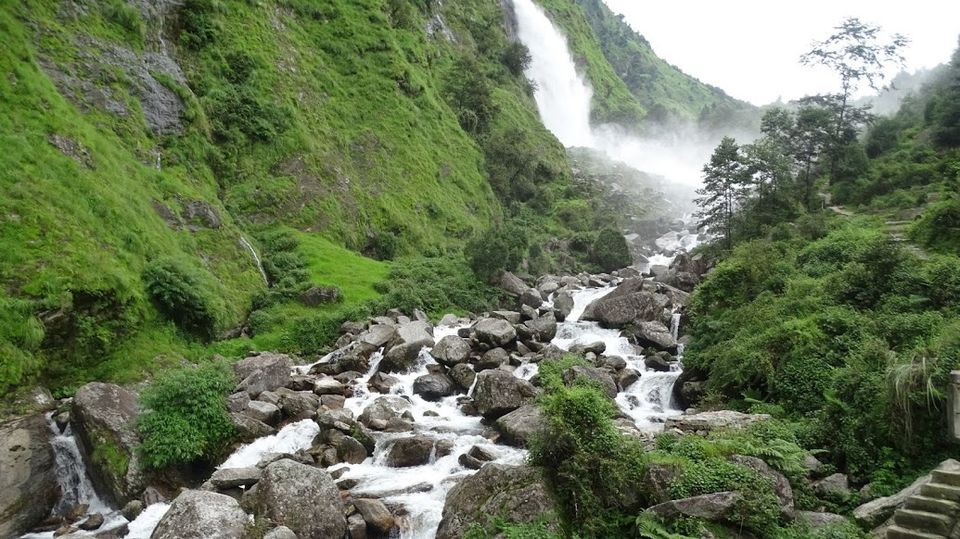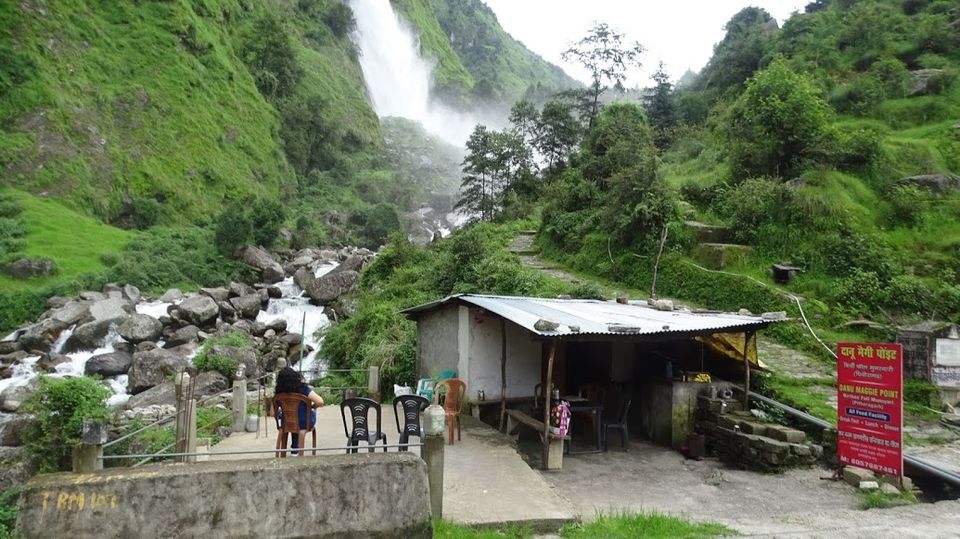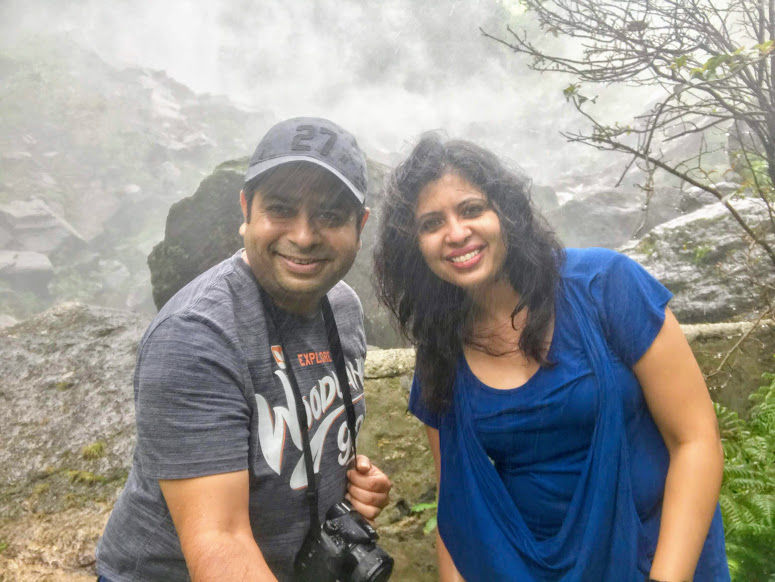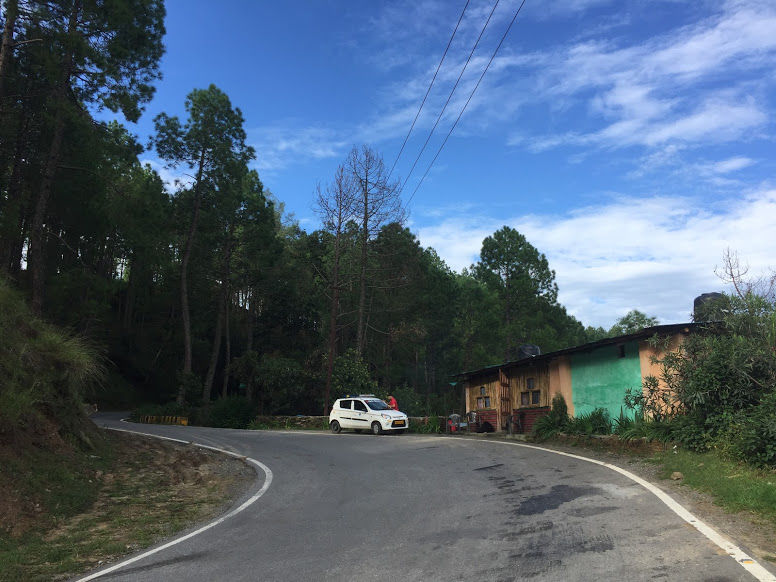 Day-1, 15th August 2018: Ghaziabad to Almora.
We boarded Kathgodam Shatabdi (12040) from Ghaziabad at 6:50 AM and reached Kathgodam at 11:45 AM. Kathgodam is a town in the Nainital district of Uttarakhand state of India. It is part of the twin township of Haldwani-Kathgodam and is one of the important collection centers for forest products obtained from Kumaon Himalayas. Literally meaning timber depot, Kathgodam was a small village in 1901 with a population of 375 though its importance grew rapidly after the railway line was extended here in late 19th century. It was previously called 'Chauhan Patta' as it is still recorded in the land records. Today, it is the last station on its Indian Railways line; from this point, one must travel by automobile to the Kumaon region of the Himalayan Mountains. From Kathgodam, mountain roads lead to tourist destinations like Nainital, Bhimtal, Sattal, Mukteshwar, Ranikhet, Binsar, Kausani, Naukuchiyatal and Almora.
From Kathgodam we took a taxi and reached Almora by 3 PM. Almora is a cantonment town in the state of Uttarakhand, India. Almora was founded in 1568 by King Kalyan Chand. Almora was the seat of Chand kings that ruled over the Kumaon Kingdom. It is considered the cultural heart of the Kumaon region of Uttarakhand.
We stayed at Hotel Shikhar that night. Markets were closed because of Independence Day so after a small troll we took an elevation just in front of the hotel which lead us to Lala Bazaar (old market) and visited Nanda Devi Temple. It's a 15th century stone structure built by the Chand Dynasty.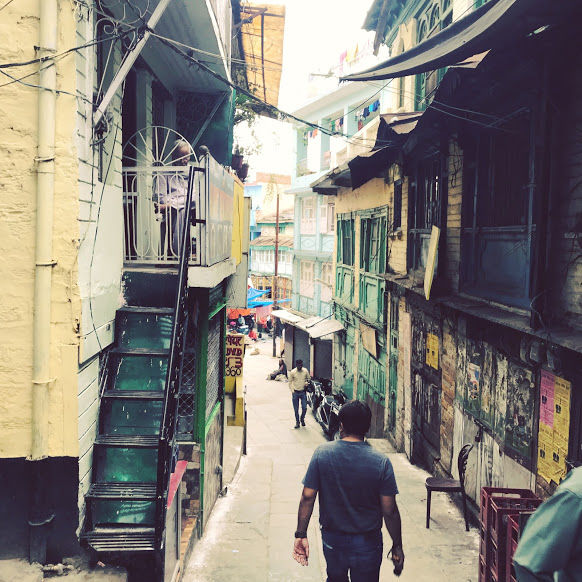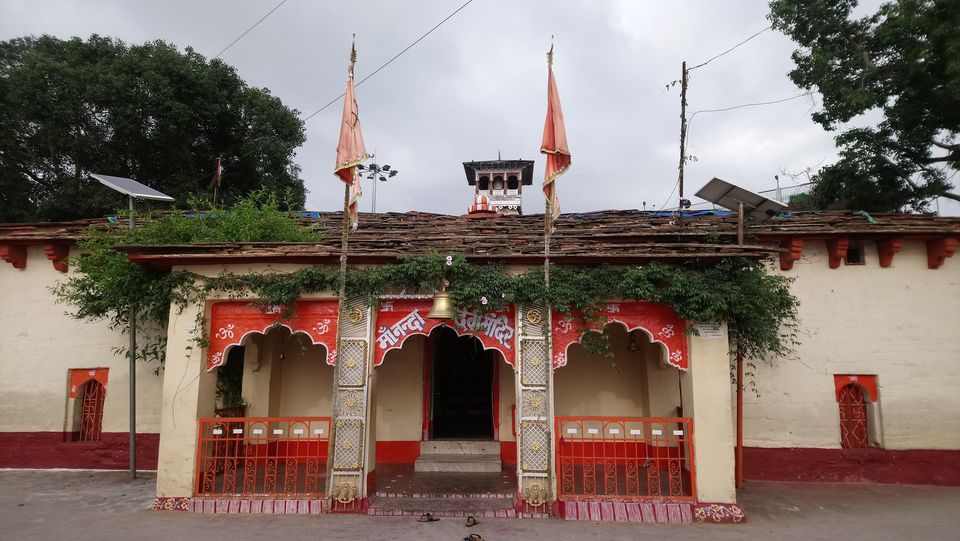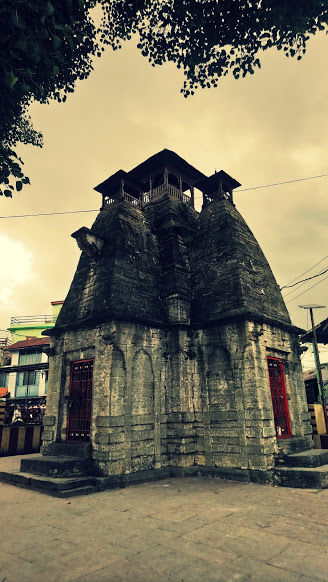 We started our return journey from Kasar Devi to Kathgodam at 11 AM with a brief halt at Bhimtal for lunch at 1 PM at Brownies Cafe which serves some good Mediterranean and continental delicacies along with mocktails and shakes. We reached Kathgodam station at 2.30 PM and boarded our train at 3.30 PM to reach Ghaziabad at 8.30 PM.
Visiting hills during monsoons is a completely different experience when the nature is at its best creativity and provides a canvas for you to cherish throughout life.