Off to the hills through storm and doubts
It was a stormy Friday evening and I was beginning to feel the effects of resfeber, feeling excited and apprehensive at the same time as I and two of my friends were about to leave Delhi and set out for a two-day trip to Nainital, Uttrakhand. The joy of leaving the bustle of a metropolitan city behind and heading towards hills is just indescribable, for it's easier felt than said.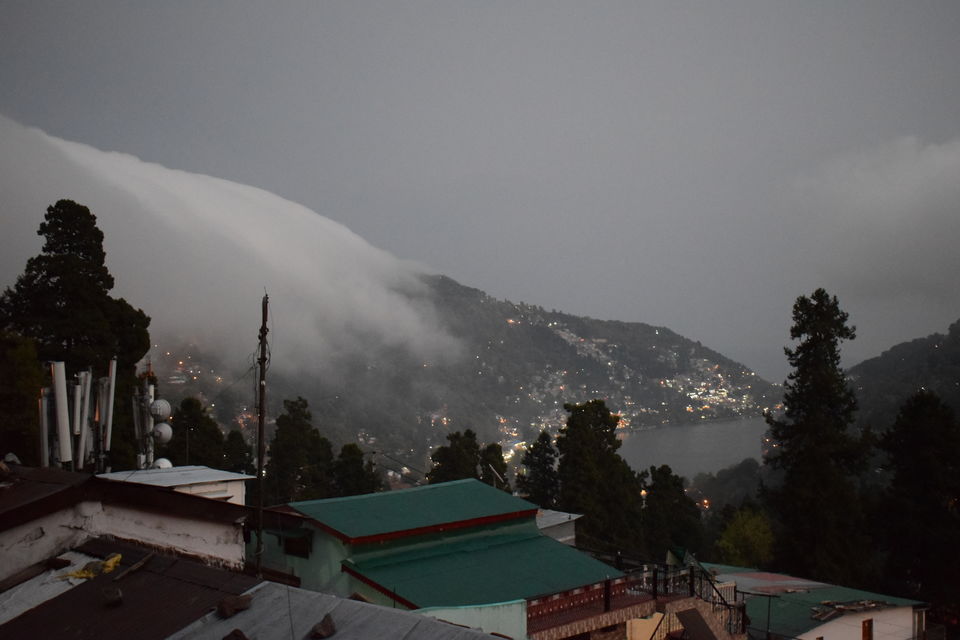 We had our tickets booked online in a state-run A/C bus which we boarded from ISBT Anand Vihar. Although our journey was marred by bumpy drive, freezing-cold temperature inside the bus, and leaking roof of the same; excitement levels had not gone down a bit when we finally got off the bus at Nainital Bus Station the next morning. The view of the mist-covered Naini Lake and the city itself while sipping hot tea felt really refreshing. We ditched the idea of hiring a taxi (we were low on budget) and rather walked 4 km to our hotel, Naini Greens in Mallital.
After getting an early check-in, we freshened up and then slept for good 2-3 hours as it was raining heavily. When we woke up around 1:00 pm, the weather had cleared and we changed to venture outside, satiate our hunger pangs, and explore the neighbourhood. We had hot paranthas and tea at a local dhaba and then, as suggested by one of the housekeeping staff members of our hotel, we started climbing up a trail right in the backyard of the hotel that, according to that housekeeping staff member, led to Naini Peak, now known as China Peak. I was excited when we started the trek, but it started to seem strange to me when even after an hour of climbing, we couldn't see a single human settlement -- or any human being, for that matter. There no one we could ask whether we were following the right path or not. I looked around only to find the three of us surrounded by towering hills obscured by hanging clouds. It looked beautiful and ominous, both. I had a strong feeling that we were lost, but my friends weren't convinced. So we went on, stopping by here and there, clicking pictures whenever we felt like.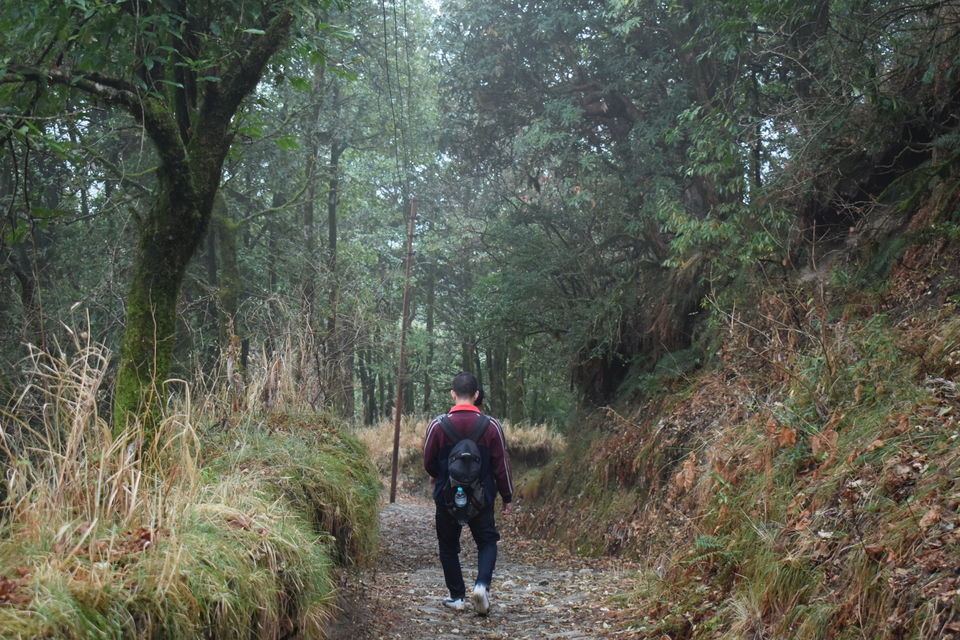 Although it was only 4.30 pm, but the weather was getting gloomier and the dense cover of the tall pines made it even darker. It was a lush green forest, no traces of humans, as if none ever walked this faint trail that disappeared into forest floor more often than not. At around 5:00 pm, just when even my friends were beginning to voice concerns, I spotted a small rock with an arrow pointing towards something written in white - "Naini Peak" - it said. Well, it was a big, big moment for all of us. We were just thinking of turning back, or having to spend the night in the forest in case we were lost. Seeing something like that in such a situation is a big boost you can only feel when you are actually in such kind of situation. We felt a rush of energy and started climbing even faster, even though we couldn't find any other marked stone. At 5:30 pm, it seemed like the climb has eased out a bit, horizon with cloudy sky was partially visible, and we just couldn't wait to see what lied ahead.
"Naini Peak - 2,611 metres", said a board and we were all overjoyed. There was a temple at the top and when we looked at the trail we had followed, we were surprised to see how we made it in such a weather! It was dense, moist, and getting darker, shade by shade. We had Maggi and tea at the temple restaurant and then walked over to the left of the temple premises where we were rewarded with awe-striking view of Nainital. Standing close to the edge of a cliff at Naini Peak, the city of Nainital and the Naini Lake resembled a miniature town and we clicked pictures to our heart content. Nature tested us, truly but didn't let us go without rewarding us whole-heartedly. The caretaker of the temple later told us that the route we took was literally the path least-travelled.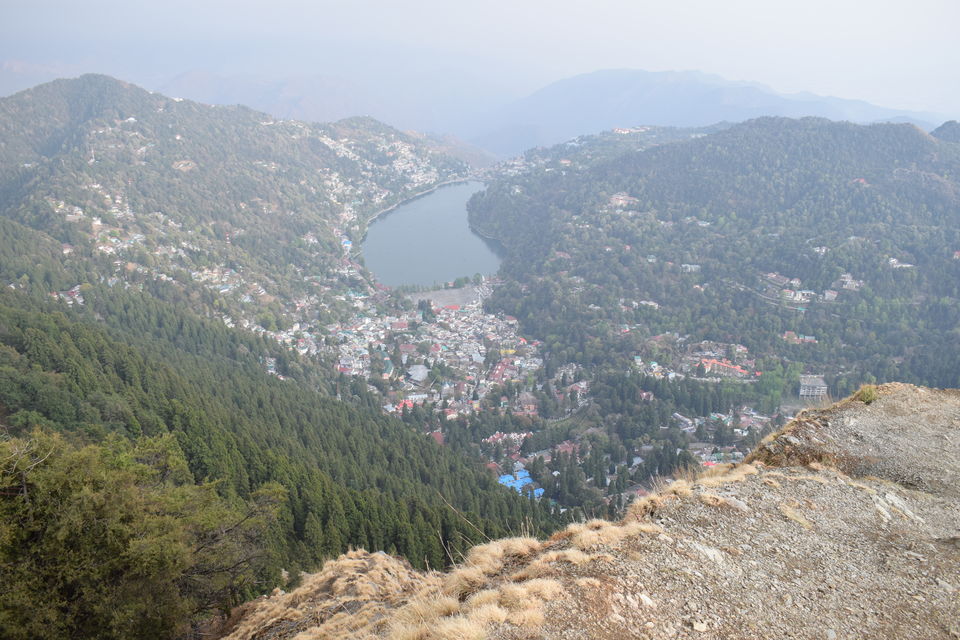 We followed a rather common trail to start the descent, as advised by the caretaker of the temple. This trail, too, was so very beautiful. The floating mist made it seem a scenery straight out of some movie. We reached Nainital City and enjoyed coffee and local food at stalls and restaurants near the Mall Road beside Naini Lake. Tired, we went off to sleep right after lying on our beds.
Khuraptal
When we woke up the next morning, it was coming down hard and tit was really chilly outside. So decided to freshen up and have breakfast while the weather clears out. We, again, had hot aalo paranthas with coffee in our hotel, which really felt tastier than ever before. By the time we were done packing our bags and completing check out formalities, rain had stopped. We decided to walk down to Khurpatal, another quaint village around 6 km from our hotel.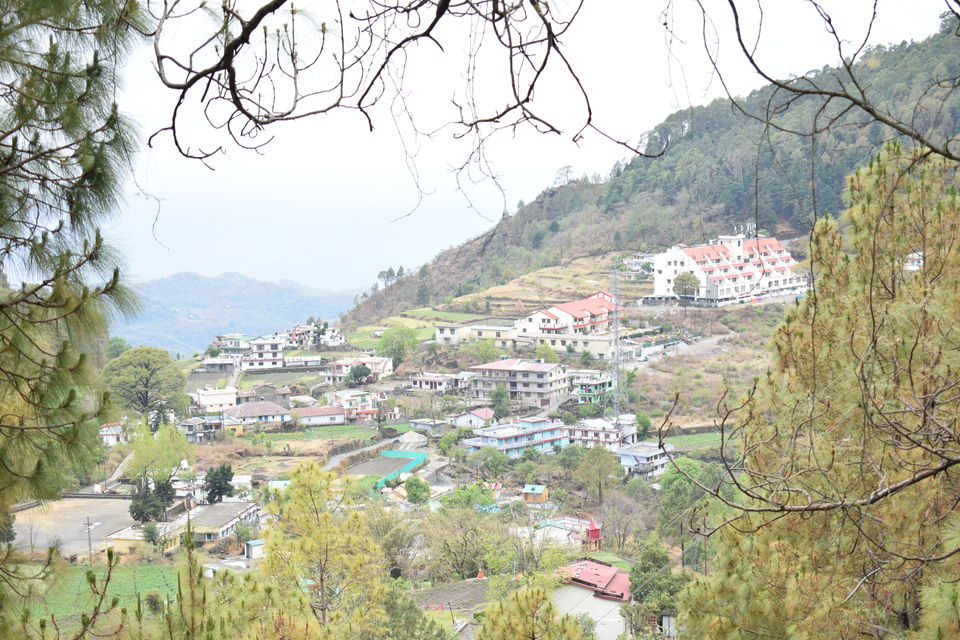 Now the slope; it was way too steep to walk down without being every bit cautious. But again, the path we followed was a mix of metalled road, forest trails, narrow strips of lands crisscrossing uncultivated fields, and pebbled stretches, making it adventurous as before. When we reached Khurpatal at around 1:30 pm, we noticed that most tourists were standing at the viewpoint and taking in the views of Khurapatal Lake and the quaint village that nestled it. So, we decided we'd rather go down and get a closer look at the water body. And guess what, we found out way! It was, again, only three of us rambling through that narrow path that led all the way to Khurpatal Lake. It was picturesque as the contrasting colours of clear blue sky and towering peaks reflected perfectly in the placid water of the lake.
After spending some time in Khurpatal, we started our journey back to Nainital in a local bus (we didn't hire a taxi, again) at 5:00 pm, but not before having a bowl full of hot Maggi noodles. As we reached Nainital, we enjoyed boat ride in the calm Naini Lake and walked up and down the Mall Road to have dim sums, clicked pictures of the Naini Lake reflecting citylights until it got too cold to hold the camera when we decided to walk back to the bus station and be seated inside.
The journey had come to an end, but it was going to be a memorable one. And truly, even after 4 months, it seems like it happened just a couple of days back! Travel, actually, is so very impactful, especially when it involves experiences handed out to us by our own Mother Nature.
Frequent Searches Leading To This Page:-
Nainital Honeymoon Package Price, Top Nainital Tour Package For Family, Top Nainital Tour Packages For Family, Top Nainital Tour Package For Couple From Delhi, Top Weekend Getaways From Nainital, Top Weekend Getaway From Nainital, Nainital Tour Package