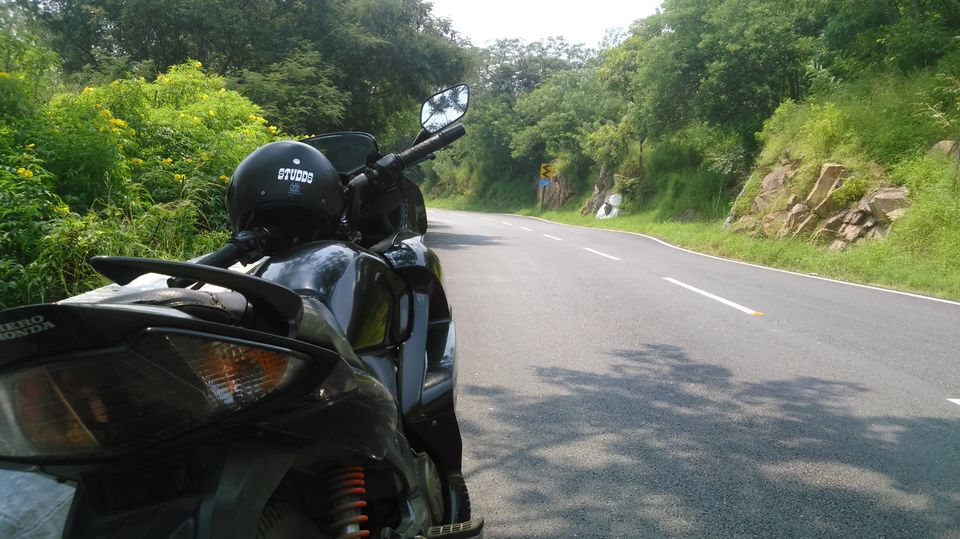 And that's how a travel blogger writes his adieu mail ;)

"I would like to start by thanking all my colleagues and seniors." Oh wait. Hang on. I am not going to write in a formal and stereotypical fashion. As this is going to be my last mail, I am going to write my heart out!

Few Suggestions from my side :

1). Travel as much as you can. We have got enough vacations and weekends to utilize. I have heard many people cribbing about work load in I.T industry. But then the grass always appears to be greener on the other side. The point which I am trying to make is that, you can cover many places in and around Karnataka on weekends. Ditch that laziness and explore more. And you know what's the best part, we don't need to take any leaves for travelling.
Thanks to I.T sector which allows Saturdays and Sundays off. Now you can come back saying, what if there's deployment on Sunday? Well that's a rarity. Maybe once in every 3 months. But you can still make the most of such weekends. Go out for a one day weekend getaway. Have you been to Nrityagram ? It's a dance gurukul, must visit for all the art lovers. And it's just 65 kms from Bengaluru. Now what are we waiting for ;)

2). Suppose you badly want to visit a far off place. Let's say Laddakh! You can still do it by planning well. Sacrifice your visit to your native this time. And if you are a localite, you will have plenty of vacation balance. Utilize it well!

3). One major transformation which is required is the mindset towards travelling. I don't understand why people don't take it seriously. People from all over the world are making backpacking trips to India. Take the example of Steve Jobs, who just wandered around like a hippie in spiritual places across India and learned a lot. And afterwards he even recommended Mark Zuckerburg to visit an ashram near Nainital in North India to get some inspiration. And the rest is history. The point what I am trying to make out here is that :
" Travel opens up your mind. It shows an altogether new perspective towards life."
Now you can use all these experiences and perspectives in doing whatever you want to achieve. Let's say you are stuck with a goddamn defect. Whatever you try to do, you are still stuck. What's the way out ? Solving such defects requires you to think "out of the box". Or in simpler terms it requires you to think in different perspective. I hope I made my point.

4). Give some time to exercise and physical activities. Try to take the stairs whenever possible. Hit those pushups whenever you get a chance to. Break the monotony!

As a healthy mind lives in a healthy body.

5). Drink plenty of water as you don't want yourself to be dehydrated.

I added the last 2 points as most of us tend to ignore them when we are overburdened with work.
And the most important thing :

Just Do what You love <3

​Have a startup idea in mind ?
​Have a passion for doing something for so long?

Don't think. Just do!

After all at the end of the day what we need is peace of mind.

You might have heard the phrase that "Money alone can't ever buy you happiness." I know it's a cliche, but that's the reality :)

Future Plans :

I have a dream. A dream of becoming a travel writer.

For now I would like to give myself an year and backpack across the "Bharat-Varsha" (read India) and understand as much as possible about the culture and diversities our country has to offer.
And the best way to know about the culture would be through it's festivals. So if you are aware about any local festival which is celebrated at your place, just let me know. I would love to be a part :)

I don't know where I am heading. But I am on my way.
Will you join me in this journey of life ?
You can extend your support by checking out the website : www.srijalism.com

(Images won't be proper in office network. Do check out the website at home.)

A facebook like on the page would make my day!!
https://www.facebook.com/srijalism/

I am also on twitter, instagram, tumbler, pinterest by the handle : srijalism

"Help your colleague in this journey and I shall be grateful to you for the rest of my life. Show your support on social media :)"

My dear colleagues, the following lines are dedicated to all of you :

Raise the bar of your work in such a fashion that it becomes
As timeless as Hampi, as eternal as Gokarna
As enticing as the Kudremukha and as thrilling as the mountains of Kumara Parwatha.
Don't wait for the inspiration, be the inspiration.
We all are pretty special in our own ways.
It's time to ignite the light and just let it shine!

Now you may say I am a dreamer, but I am not the only one...

PS : Some of you might feel that the handle 'srijalism' is a bit narcissistic. But its not. My parents decided to name myself as 'Srijal Sahu' but then when I got the chance to name myself, I chose something different. It's a small attempt to showcase my respect for all the religions present in this world.

When I joined the project initially, some of my dear colleagues had problems with the signature. But the point was always clear. I am not offending anyone through the signature.
But sorry guys I can't change it anymore ;)
For one last time I would say
"Do let me know for any concerns."

Stay awesome!
Do what you love...
Srijal Sahu
9916687729
srijalism@gmail.com