This trip was originally published on www.travelfrreak.blogspot.com
Wow, That's what I have to say about my Africa sojourn. Two weeks of vacation, in the dark continent (I would actually term it differently, but that's what we went thinking, to Africa, that its the dark continent) and what a revelation it was! From trekking to safaris...from interacting with the tribes to the close encounters with the wild animals.. From dried lakes (thanks to the non-dark continents contribution to the global warming!!) to stories about bushmen (yes they do exist!!)..
It was all there.. And you will read about it all.. But all in good time:)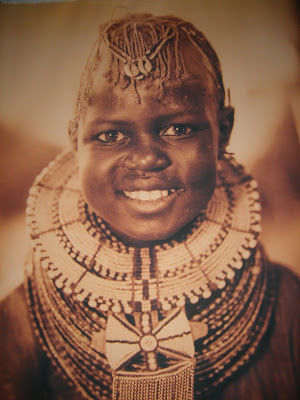 So much to write, its overwhelming, dunno where to start! Anyways let's start with the easier part.. The two day transit stay in Nairobi..
My direct flight from Mumbai was till Nairobi, and since one person from our group was arriving late, we decided to spend those two days in Nairobi, to get used to the African air and environ.. And what a good decision...The stay at Nairobi was the first surprise for us, nothing at all what we expected!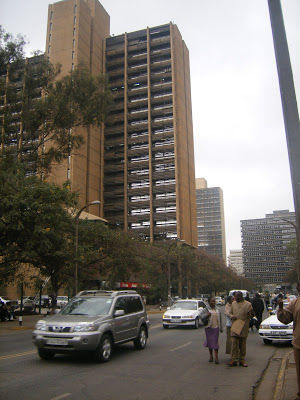 The city seemed quite developed and modern, like any other city would be expected to be! The Kenyan and especially Tanzanian economies seemed quite geared towards tourism, so the whole country and the people were quite tourist friendly. The locals in Kenya at least know English quite well which helps a lot. When we met our driver at the airport to take us to our guest house, our education of the important Swahili words started there itself.... Here are a couple we learnt...
Mambo Poa - Whats up Dude?
Hukuna Matata - No problem
Mazuri Sana - Welcome The drive from the airport to our guest house was lined with industries. We even saw a Tata Motors factory and a Bank of Baroda billboard on the way as well as a road named after Mahatma Gandhi. Later on during this trip, we got to see more and more Indian influence in the country.
We were staying at the Bush Camp, a guest house in a huge colonial style bungalow slightly outside the city, in a residential area, full of similar such luxurious bungalows.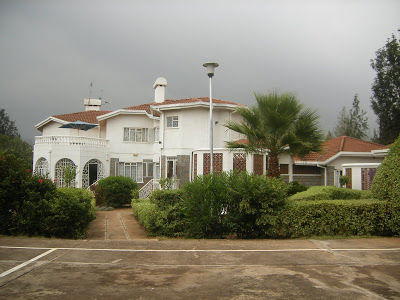 The hostel staff was very friendly, and the bungalow pretty! We even got upgraded to the deluxe room, with an attached balcony for a view of the jungles around:). The rooms were huge, with luxurious sitting and dining rooms and balconies with glass windows to sit and sip tea:).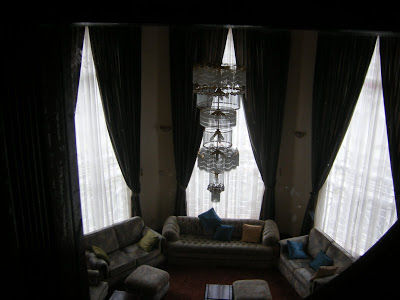 The Bush Camp had grounds around, for camping in case anyone was interested. They even had a basketball court to play in the gardens outside. . The food was just ok types though.
We went to the Nairobi city market on Saturday, it was in an open ground in front of the local courts. These local markets are the best place to go to, to get handicrafts and other local stuff at cheap prices. You could see the tribals coming to the market with their wares and showcasing handicrafts everywhere.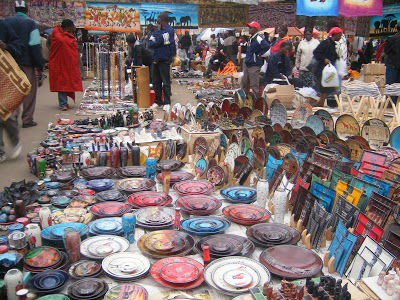 Most of the shoppers were locals, and the market was very colourful with a lively atmosphere. They sell wooden and stone products, like trays, wall hangings, show pieces, animal sculptures, tons of jewellery made of stones and beads, painting, textiles etc. Bargaining is rampant, start with 10% of the price, and you will get the stuff for 15%:)).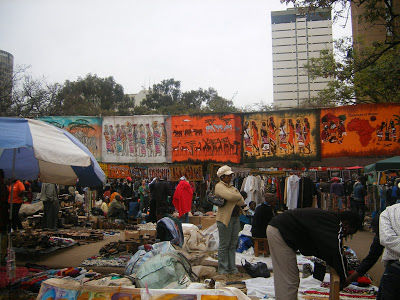 The people there are very nice, very friendly and most of the people understand English, which helps! In fact they all try selling you stuff, calling you sister or brother...
After that we went to the Kenyan National Museum, which was just ok. They have couple of paintings and pictures here and there, detailing the history of Kenya, some wildlife replicas and some old relics.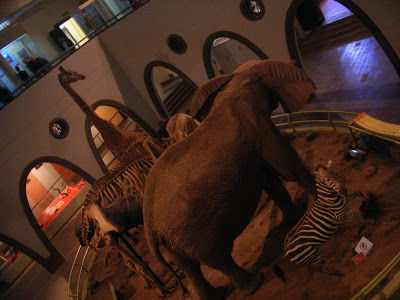 Notable among the fossils found in Kenya, is the famous black skull.
For dinner, we went to Carnivore, a very famous restaurant and supposedly one of the best in the world!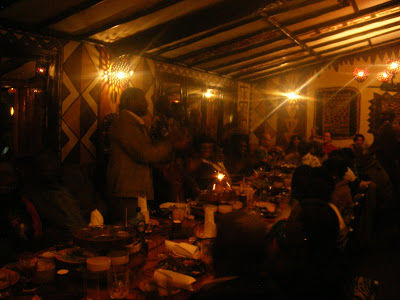 It's famous for its game meats, but that seems to have stopped now. You still do get crocodile or ostrich meat there though. Its a nice place, lively, and you just don't feel that you are in Africa!! Good loud music, lots of well dressed people, tens of different types of meats served by the restaurant. The buffet is the most popular meal here. Price is a bit steep at $30, but for meat lovers, this will be heaven. Also, do try the 'dawa' there, served by the doctor:) Its a drink similar to mojito and served by a waiter, known as the 'doctor'. There is a disc also just next to it, which is supposedly quite happening, did not get to go there though.
Our next day in Nairobi was more wildlifey though! Our first visit was to the giraffe centre, where the Rothschild giraffe are kept to save them from extinction. You can even feed the giraffes there. There were a couple of them, the most popular being 'daisy' the blond one:).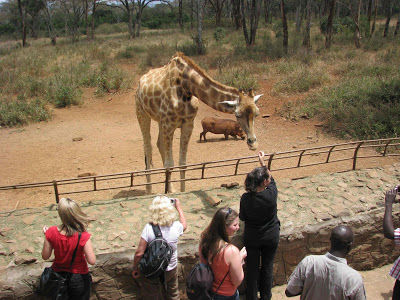 You can even get a short lecture on the giraffes, and the difference between the three types of giraffe in Kenya: masai giraffe, rothschild and reticulated giraffe.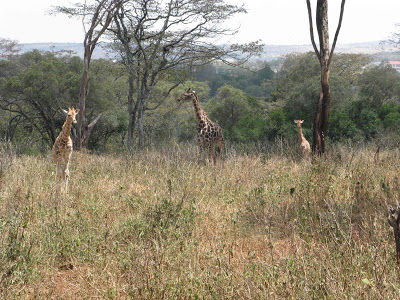 Also, you can take a look at the giraffe bone, apparently giraffes can even kill lions with just their kicks.
Just next to the giraffe centre, you will see the Giraffe Manor, a high-end hotel, where you can see the animals roaming around from your windows.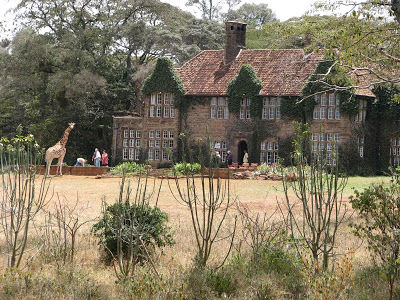 Our next stop was the Kenya National park, which has an adoption centre where you can see various child animals who are adopted and are cared for by the centre. We however took a walk through their nature park, where animals are kept in enclosures, which are natural. Saw a couple of good sights, leopard, lions, first sight of the ostrich, rhino, zebra etc.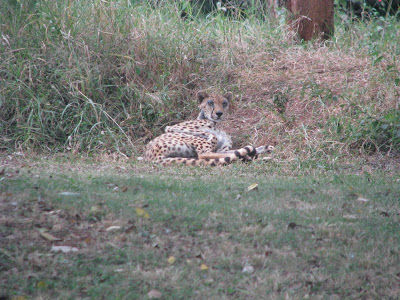 They also have a walkway on a raised platform through the jungle, that was good too for spotting animals below.There are two restaurants there too, good to have a meal there, with a view of the jungle and occasional animals.
There is an ostrich and crocodile farm in Nairobi also which people visit often. Did not get to see it though. Also, Karen Vixen is a huge personality there, she was a Danish woman who settled in Kenya, and brought coffee to Kenya. Her house is open to the public, and you can take a round of the house if interested.
The night life in Nairobi is supposed to be quite good, we however did not get much of a chance to go around. Safety is to be taken care of, and preferably tourists should not be travelling alone much. Most of the hotels offer city tours, where the proprietor will take you around in his car, and this works well. Food is good, especially in the city. You can get everything, even chapatis:). Apparently, chapatis have become a part of the local cuisine now!!
One thing which did bother us during our stay there was that we did not feel we were in Africa! Somehow it was so green and cool, that it did not fit in with the view we had about the continent.
Day 3:
Anyways next day, we left for Arusha in the shuttles that go between the two towns. The road is bumpy (thats putting it mildly!). The landscape on the route changes from barren land to industries, to yellow lands to small mountains.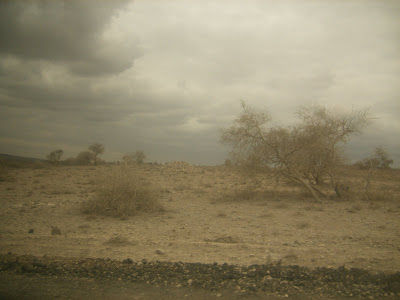 Its quite a ride, about 6 hours or so, with stops at the Kenyan and Tanzanian checkposts.(FYI: travel between the East Africa countries of Uganda, Kenya and Tanzania does not require you to have a multiple entry visa).
You will also see signs of Christianity everywhere on the way! Schools, churches, boards detailing how Christ will redeem the world abound all the way.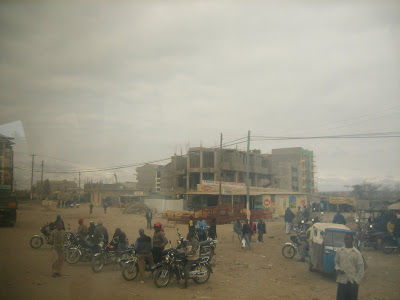 On the way to Arusha, we also saw a giraffe, some zebras and an ostrich. In fact we wanted to stop and take pictures, but no one around cared! I guess we were not prepared to see what we finally saw in Serengeti.
You see quite a lot of development all the way, and slowly when going towards Tanzania, you start seeing the Masai, the tribals with their red and blue shawls,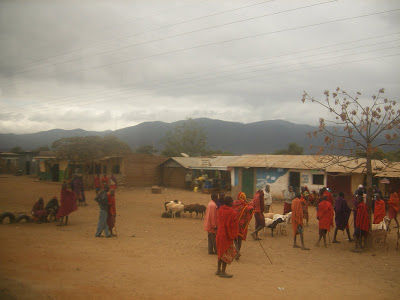 forming such a contrast to the barren land...
Very fascinating journey...