Gorakhpur- Dumre
Gorakhpur, a place that is often recognised as the home city of Uttar Pradesh's chief minister Mahant Adtiyanath and Gorakhnath Temple, is less known for being the closest and biggest city near the Nepal border. The Nepal border is approximately 100kms. Most tourists who wish to travel to Kushinagar ( the last resting place of Lord Buddha, 50kms from the city) and Nepal by road make a halt in the city.
We had been travelling to Nepal for the last 2 years and had only travelled to the more touristy destinations, Tansen, Pokhara, and Kathmandu, where we got to know that Nepal has one of the world's most dangerous off-roading paths. One such place that came to our knowledge was Manang. A small village in Nepal, at an altitude of 3540 meters from sea level, sitting in the lap of deserted mountains with magestic views and roads that take days to reach.
We started our journey from Gorakhpur (it being our hometown) at around 6am, all prepared with our bikes, riding gears, and backpacks tied with bungee cords. It normally takes an hour and a half to two hours to reach the border. Got our permits made for the bikes (bhansar) at the border and moved to our targeted destination for the first day, Besishahar, but one of my friends bike's oil seal broke, so we had to stop at the Royal Enfield service station in Butwal to get it repaired which got us delayed and we decided to halt at the next big town before Besishahar, Dumre. It took us the entire day to reach here. Tired, we checked into a hotel (an OYO), had the local thakali bhanccha, a local thali style food platter.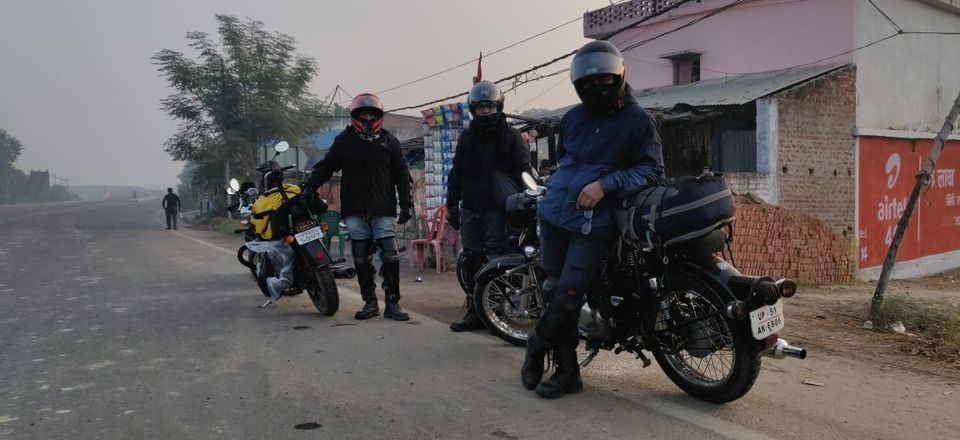 Dumre- Besishahar
Locked and stocked we headed for our next destination, Besishahar, where we had to get our ACA permit and TIMS card for Manang lies in the Annapurna Conservation Area. Annapurna Conservation Area is Nepal's  largest protected area. The conservation area stretches across Manang, Mustang,Kaski, Myagdi,and Lamjung districts. To enter this area one has to get an ACA ( Annapurna Conservation Area) permit and a TIMS card.  For safety, all trekkers in Nepal must acquire the Trekkers' Information Management Systems (TIMS) Card before trekking. It cost us around 1600 NC ( 1000 IC) per head for the formalities. Remember, before getting an ACA permit make sure to carry a passport sized picture of yourself.
It was past 2 in the noon after we got our permits made and we took the journey forward. After riding for almost 2 hours we stopped to breathe in the fresh air and take in the magestic views only to later find out that my bike had a flat. Royal Enfield Classic 350, one can only imagine how it is when the bike has a flat. We found ourselves stranded in the middle of the road and almost 2 hrs away from Besishahar, where we could find a mechanic, it was dusk and with no sign of human presence, so we decided that I would go ahead in search of a mechanic and the other two would stay back. So, I headed to look for a mechanic, after about half and hour search i still had no luck with it. Hence, I decided to head back to where my bike was parked. Meanwhile, my friends had help from a local who called up a mechanic. After waiting for about 2 hours, stranded and scared, the mechanic showed up, fixed the flat. Charged us 3500 NC for it. But, it was dark so we headed back to Besishahar.
An entire day wasted.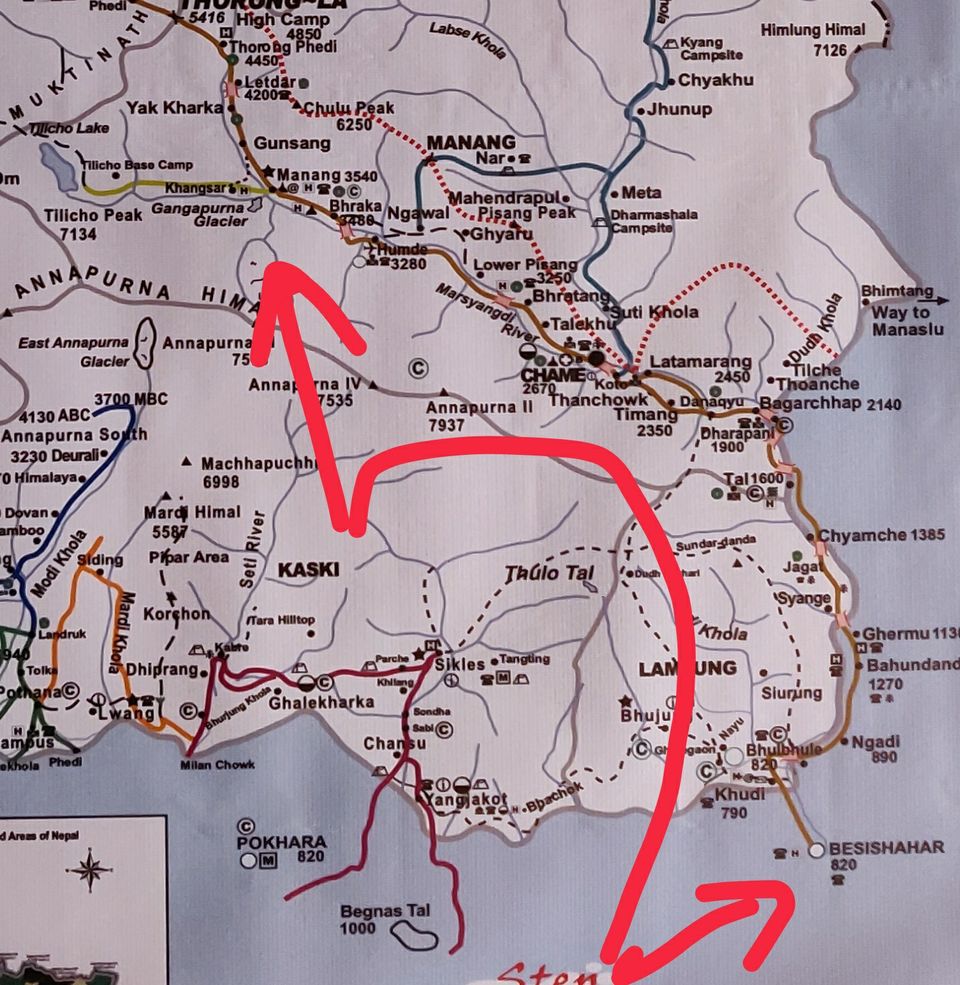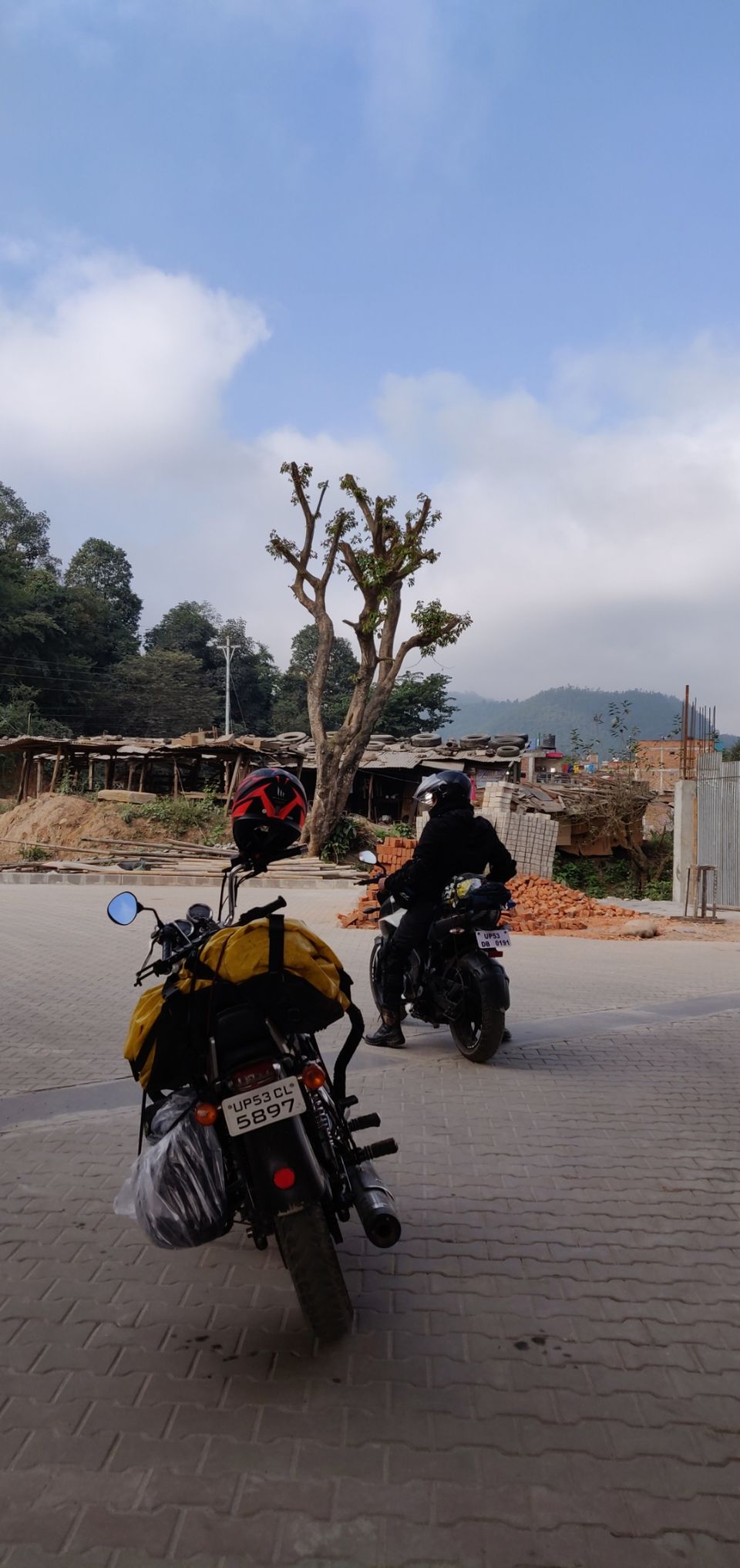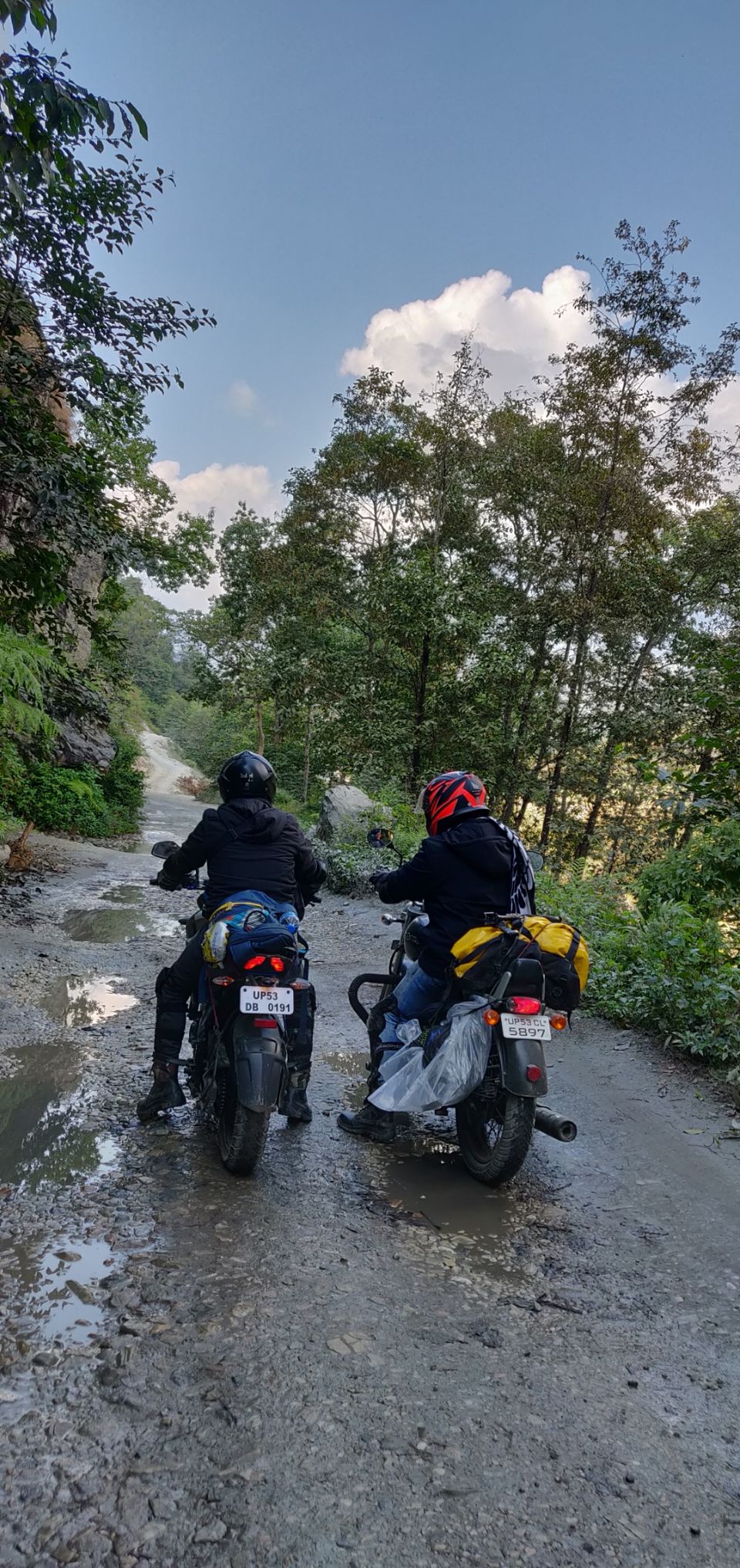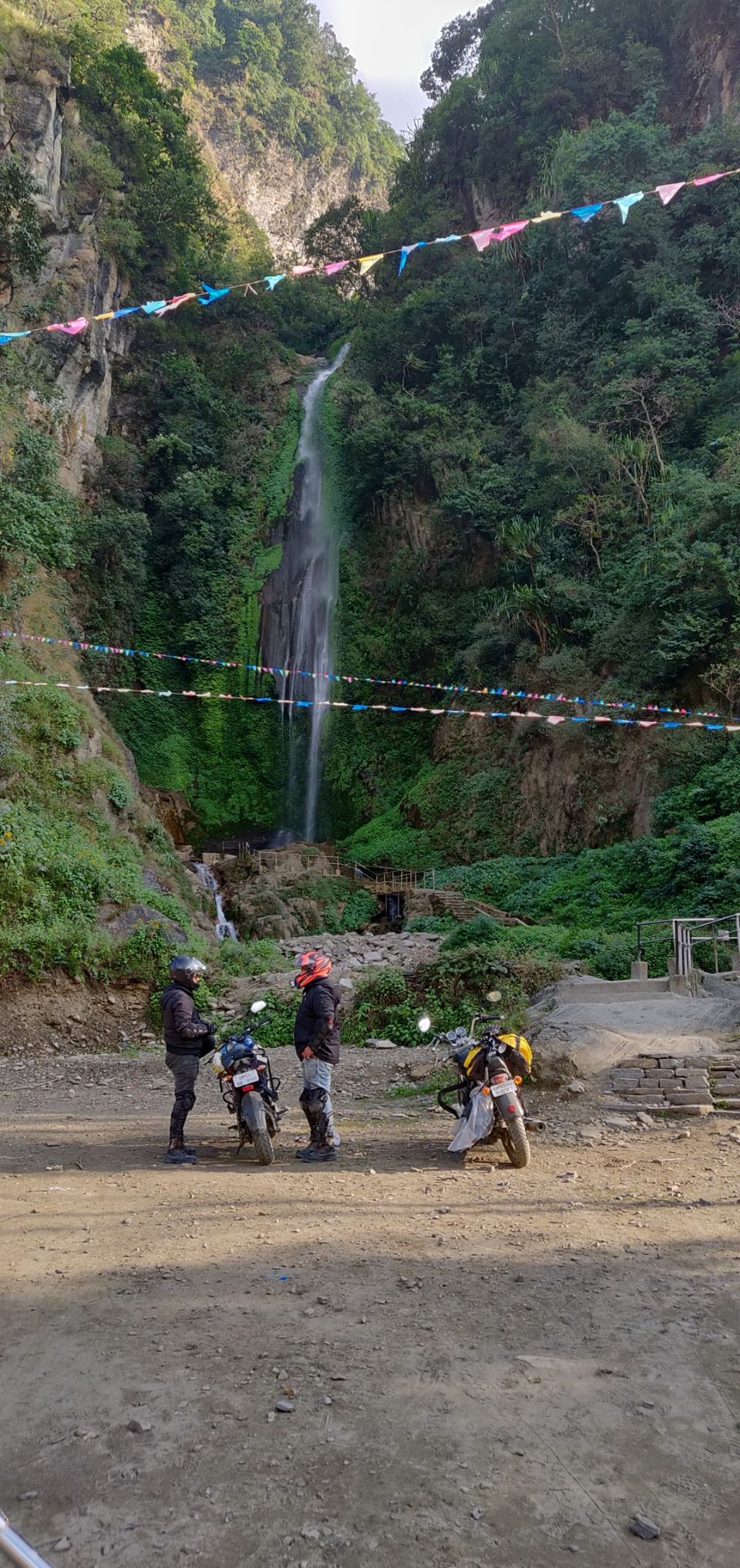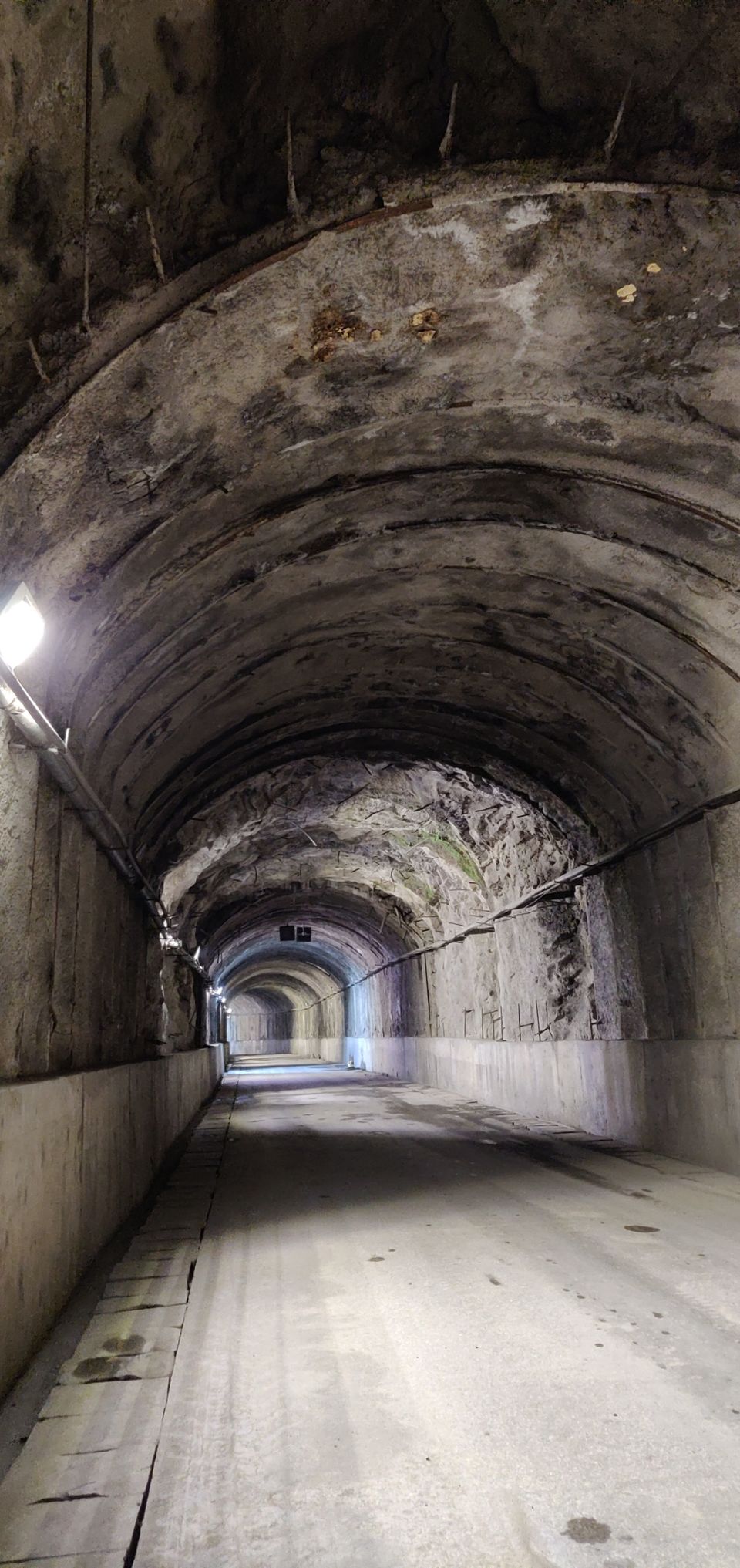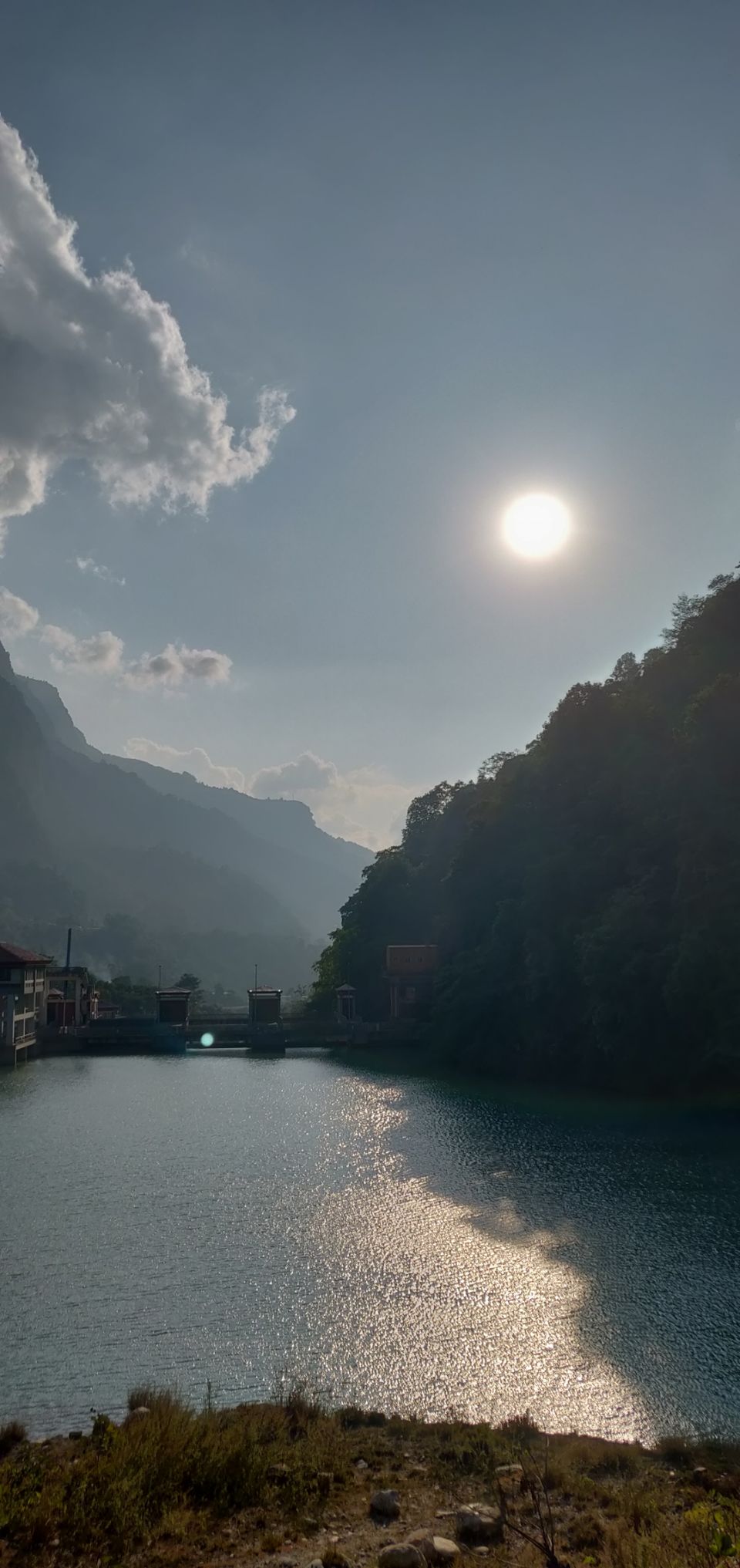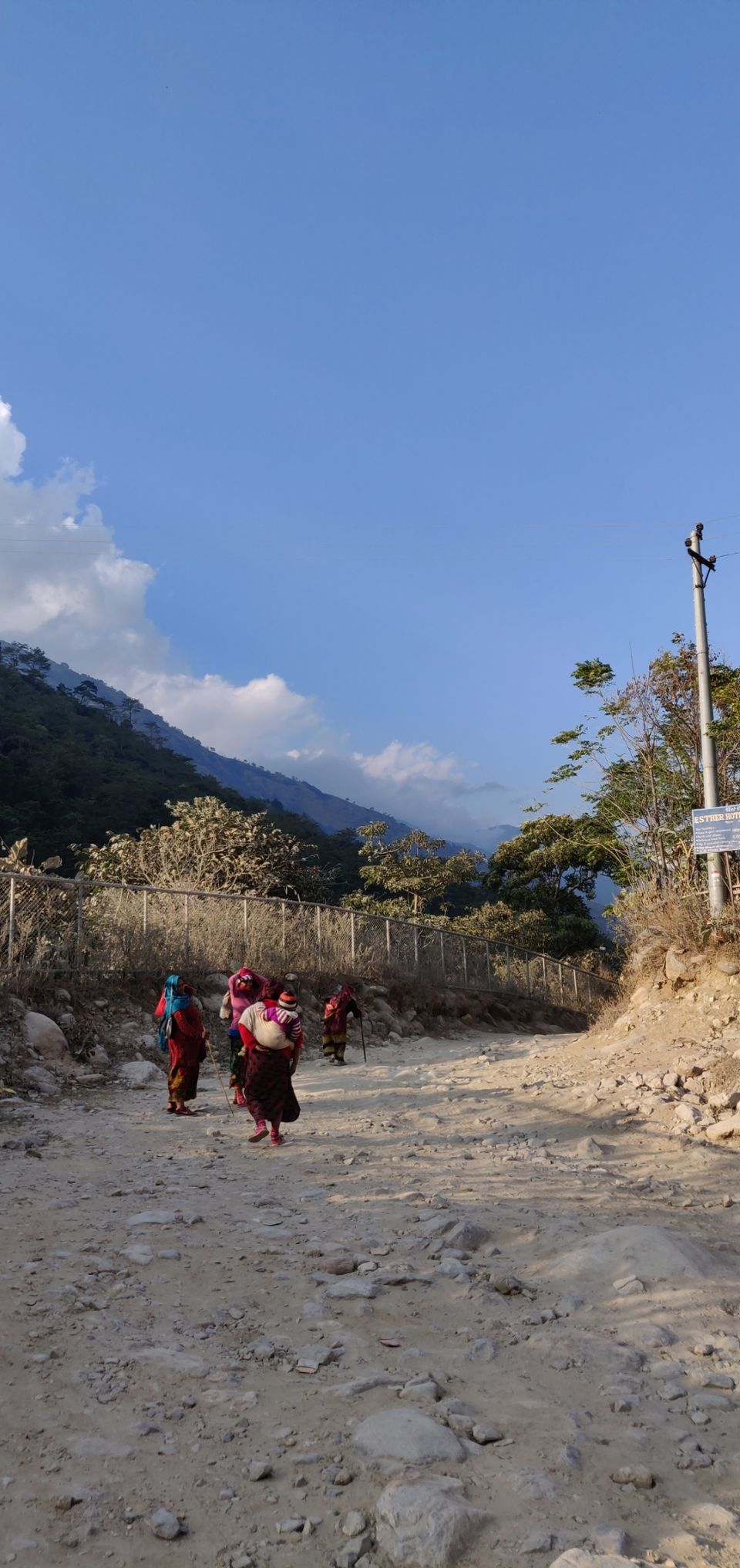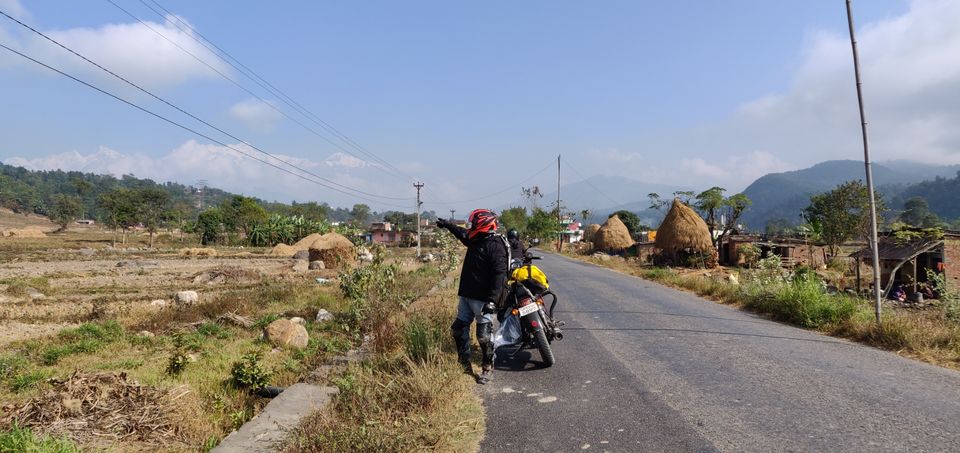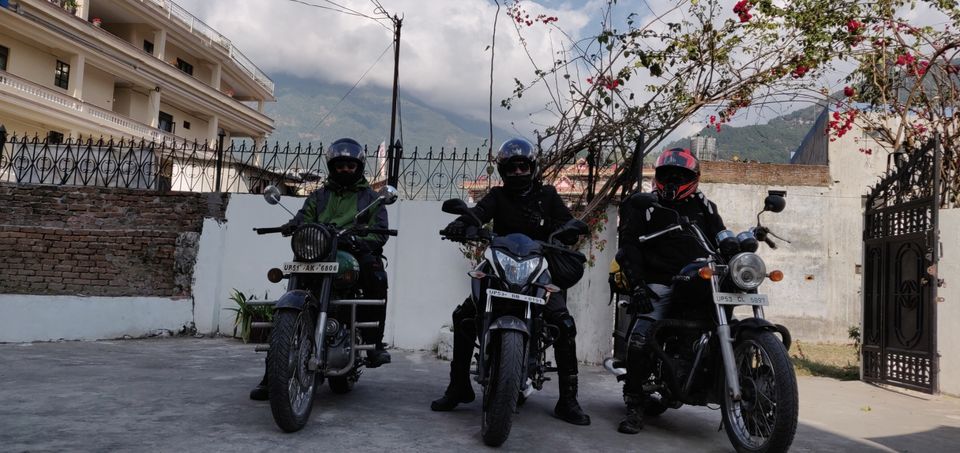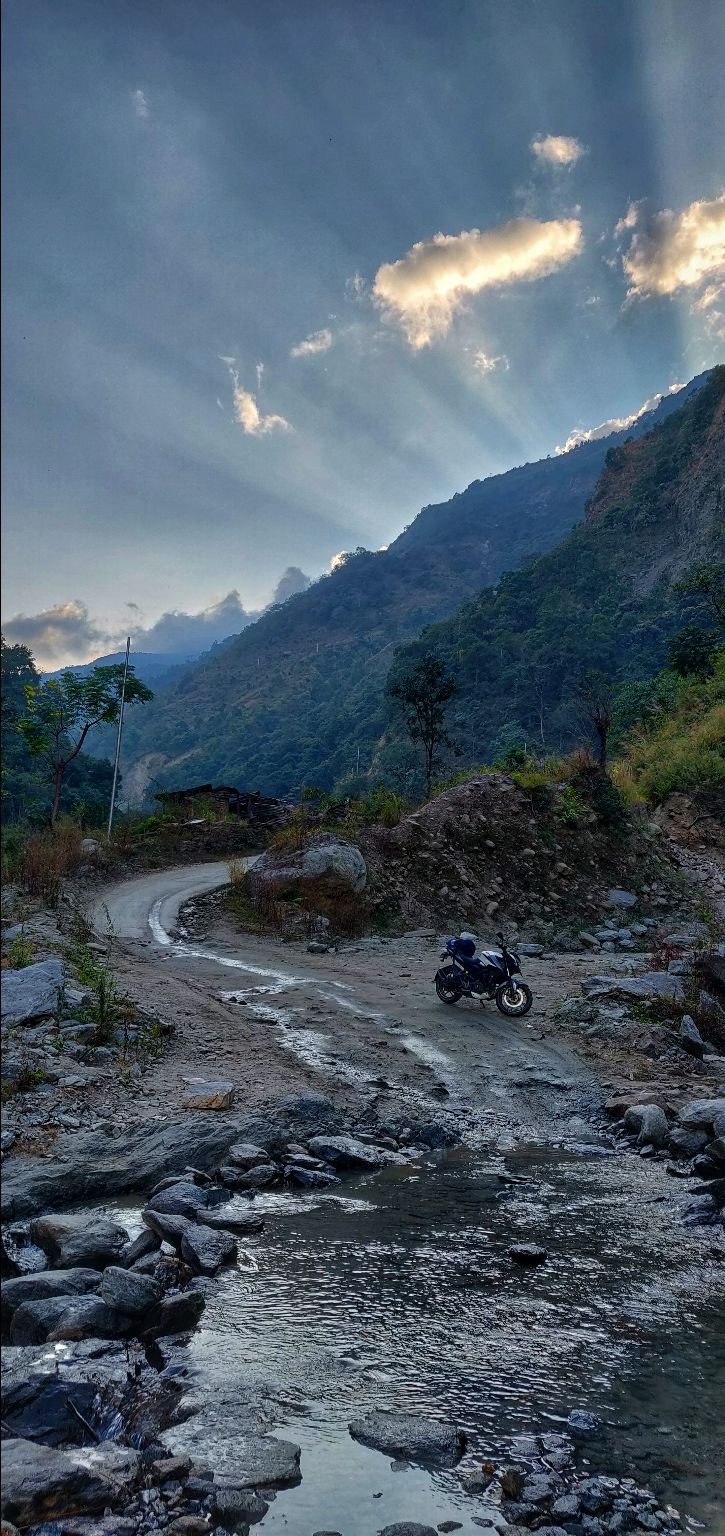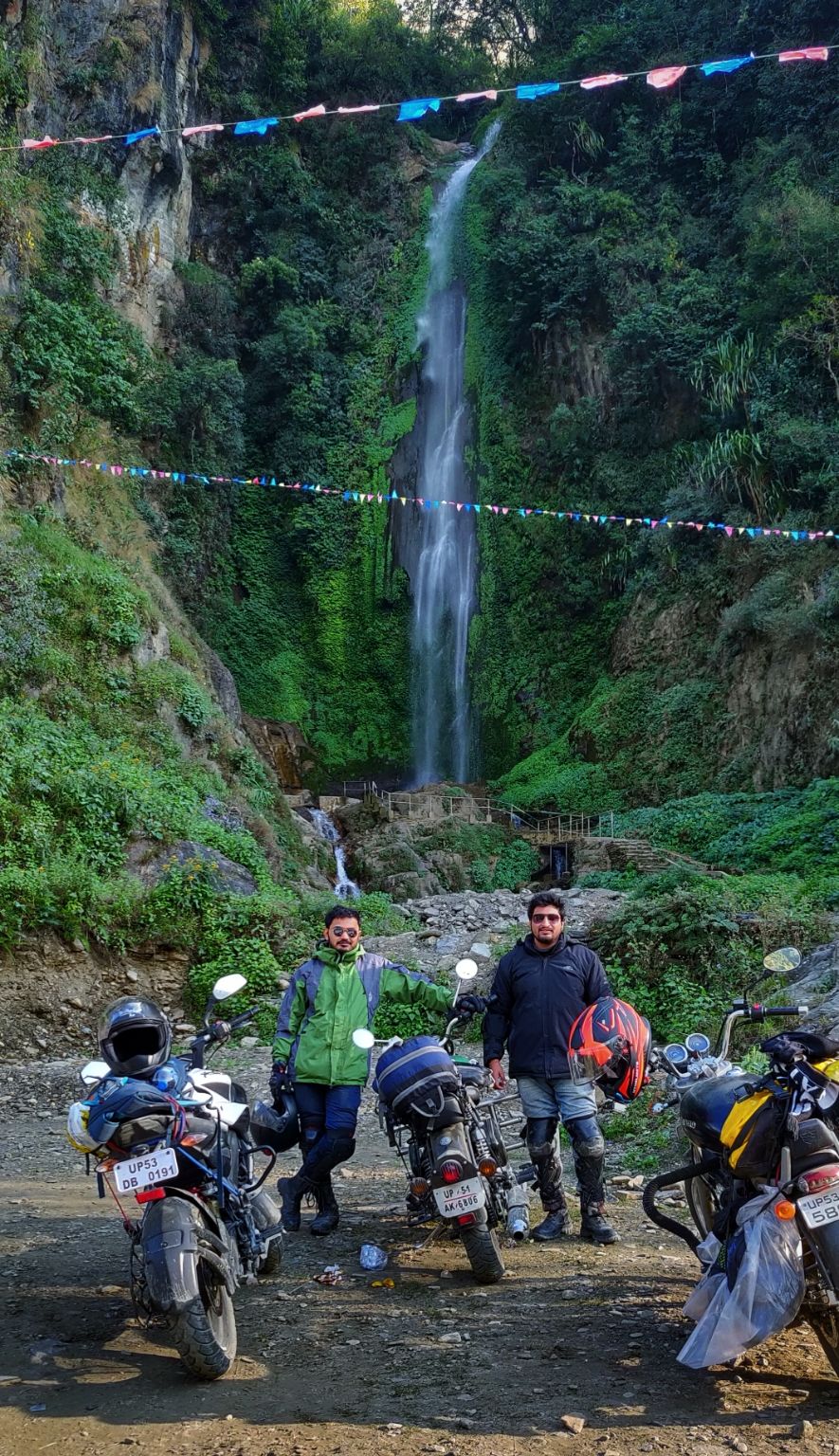 Besishahar- Chame
With a new day and new spirit, we left our hotel at 8:45 AM, had breakfast and headed off to our planned destination, Chame. Encountering the dusty, wet, rocky roads we continued our journey, hoping nothing unexpected hits us again. Even though it was a 67 kms ride, it took us an entire day to reach Chame. With almost impossible roads, slipping bikes, falling off from our bikes, and temperature reaching -5°C  we had the most adventureous day of our lives.
But the most difficult part of it was the night. The dark, dry cold night where the temperature dropped to -8°C , we had to double on the blankets to keep us warm.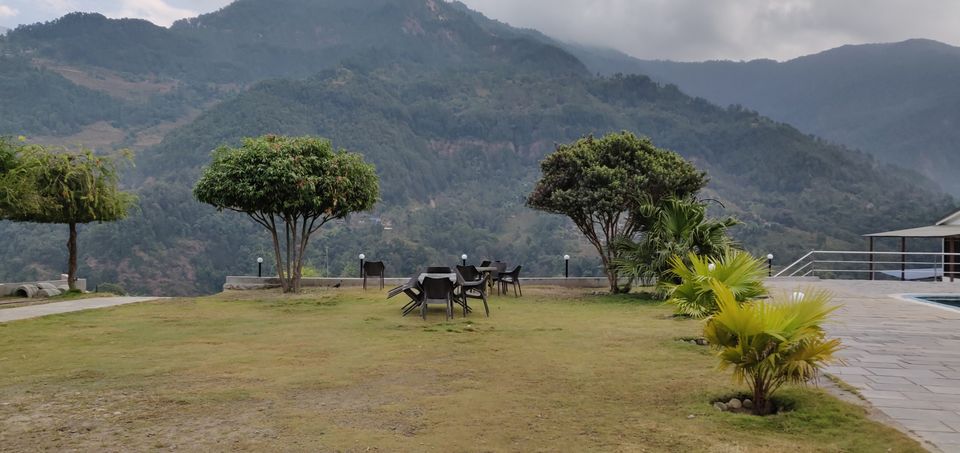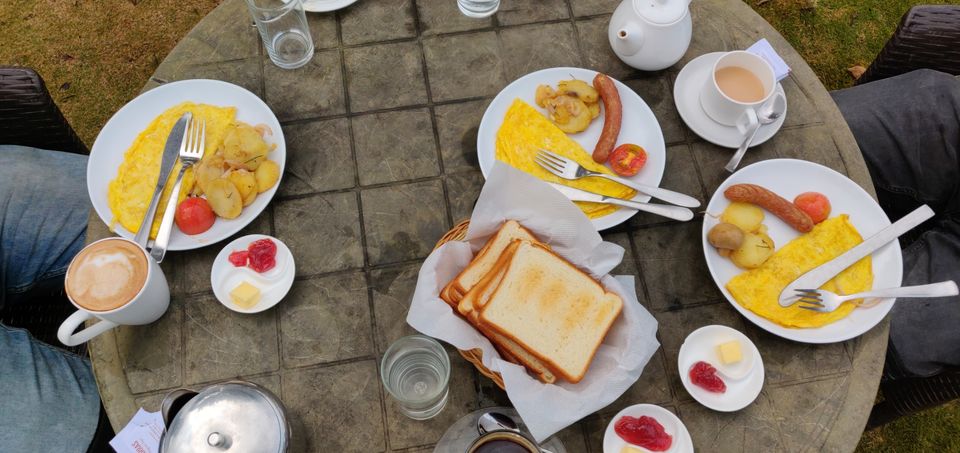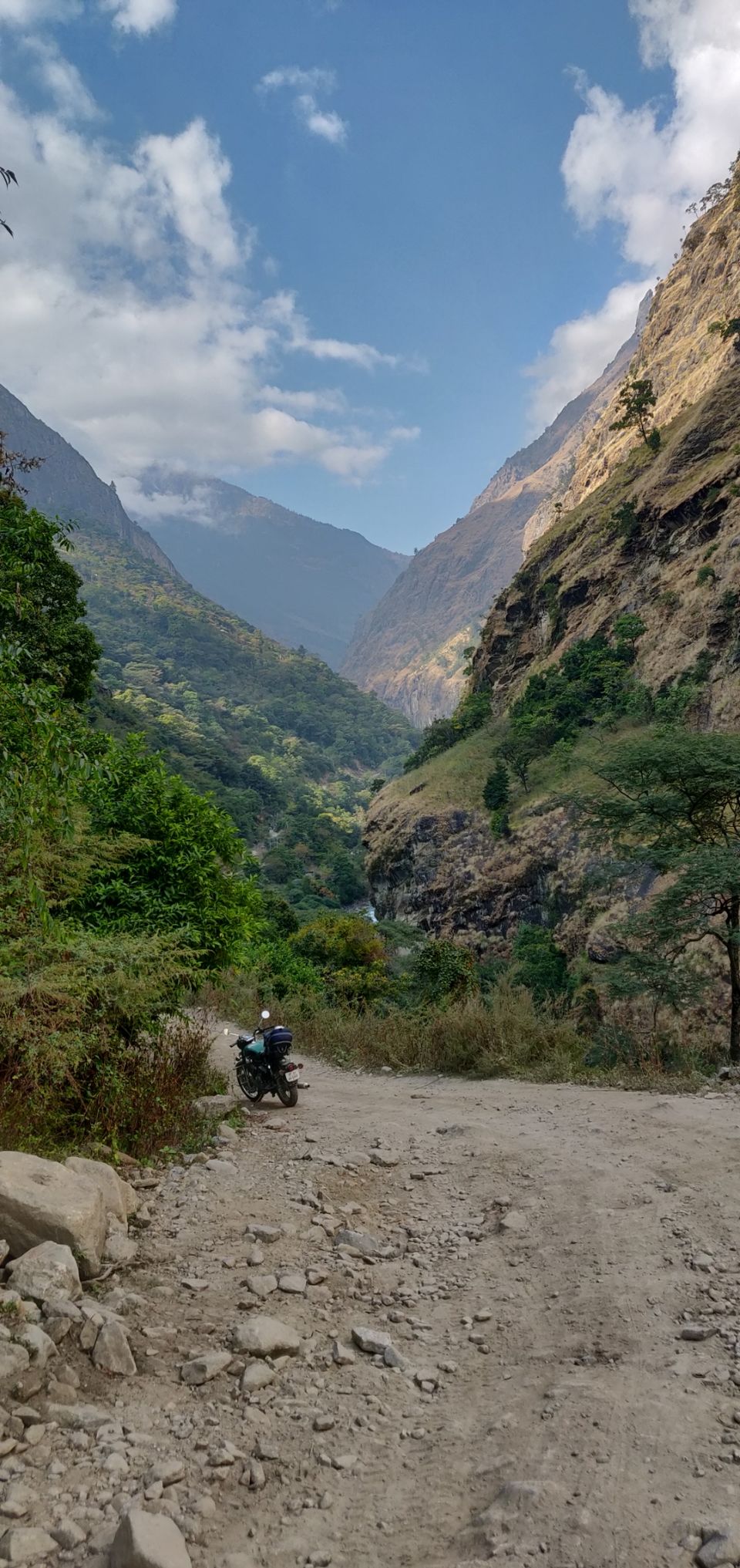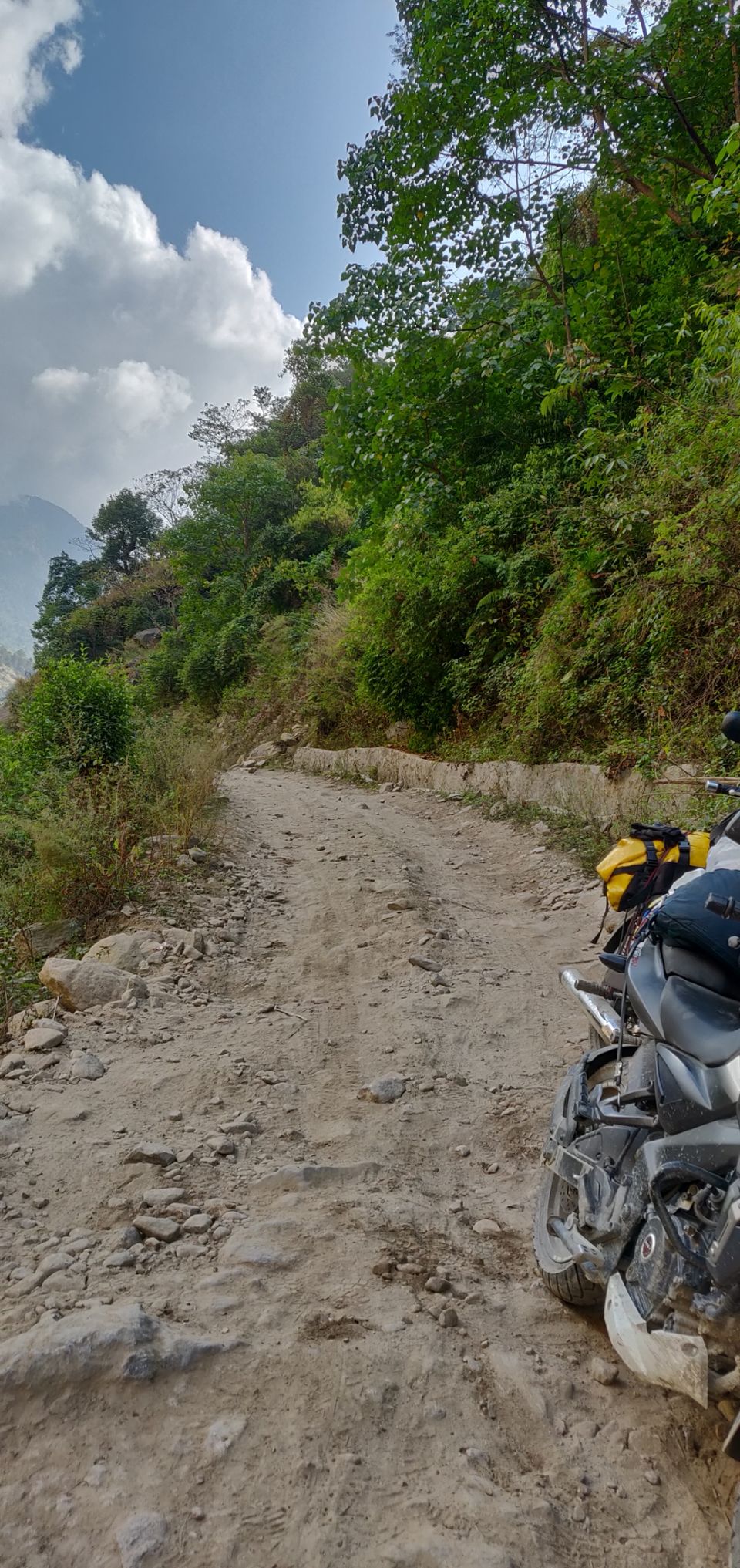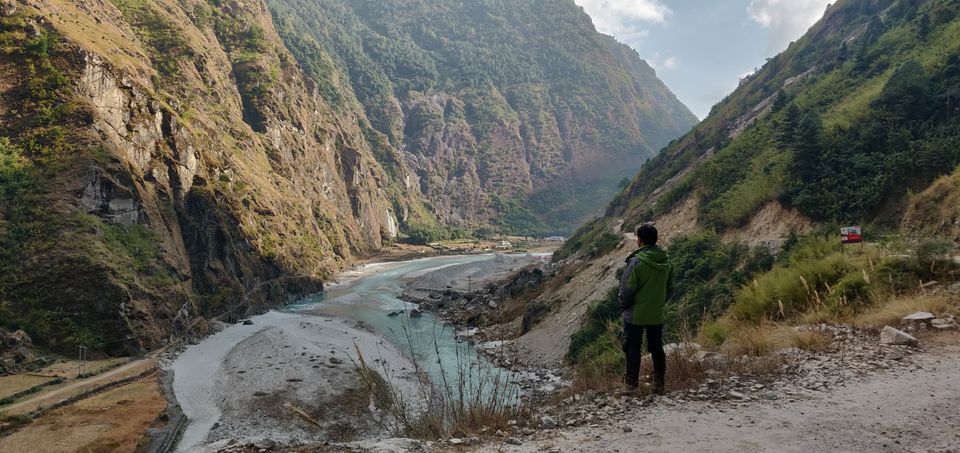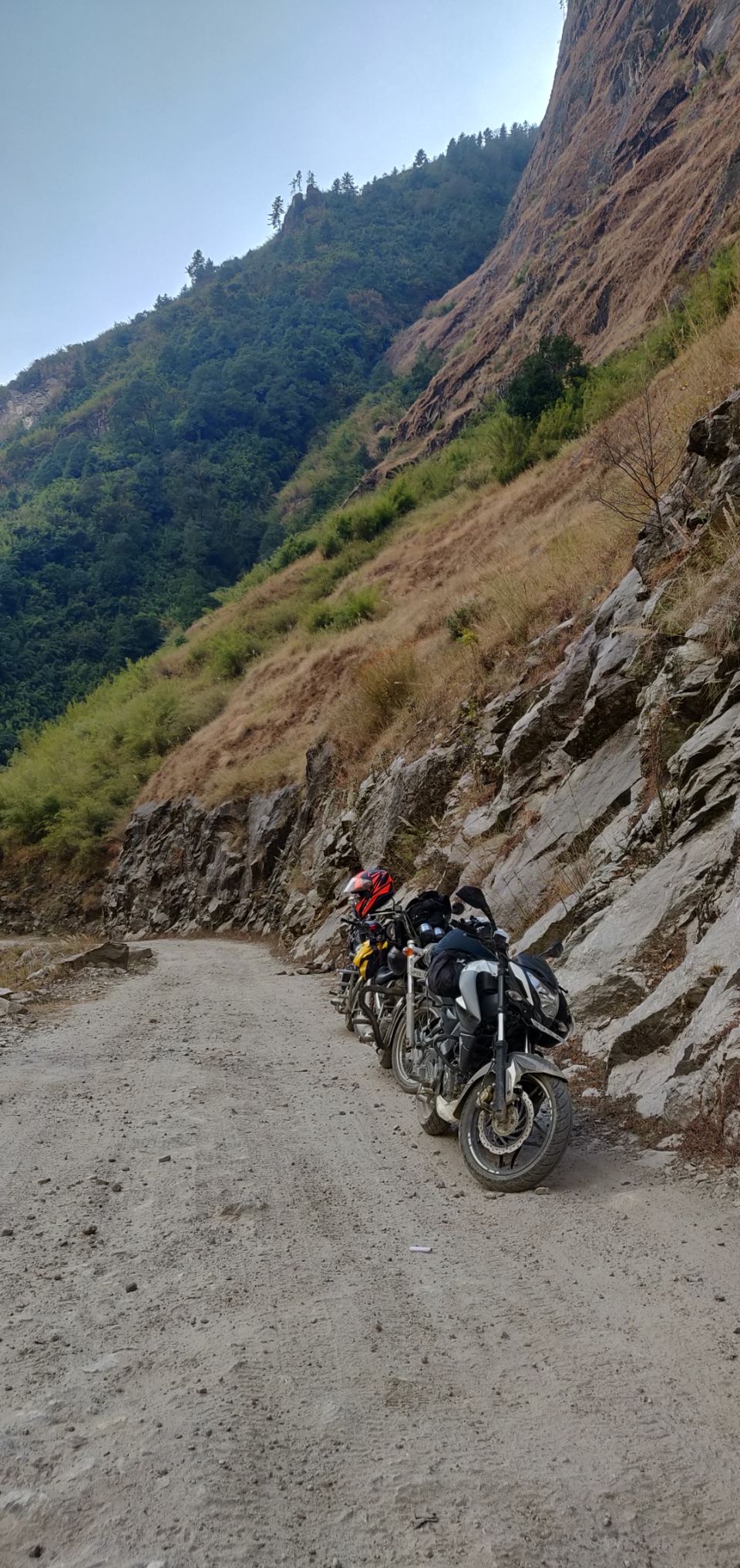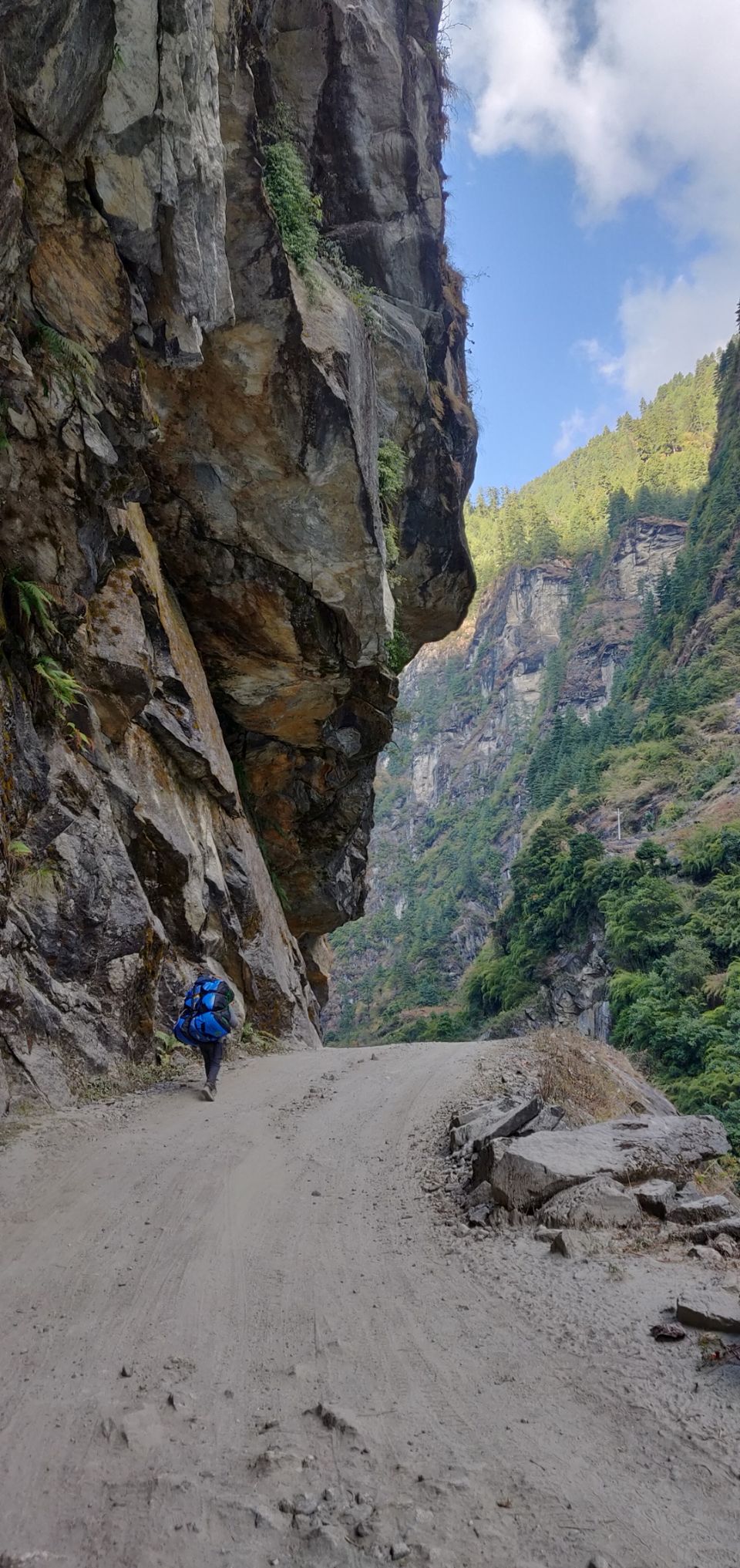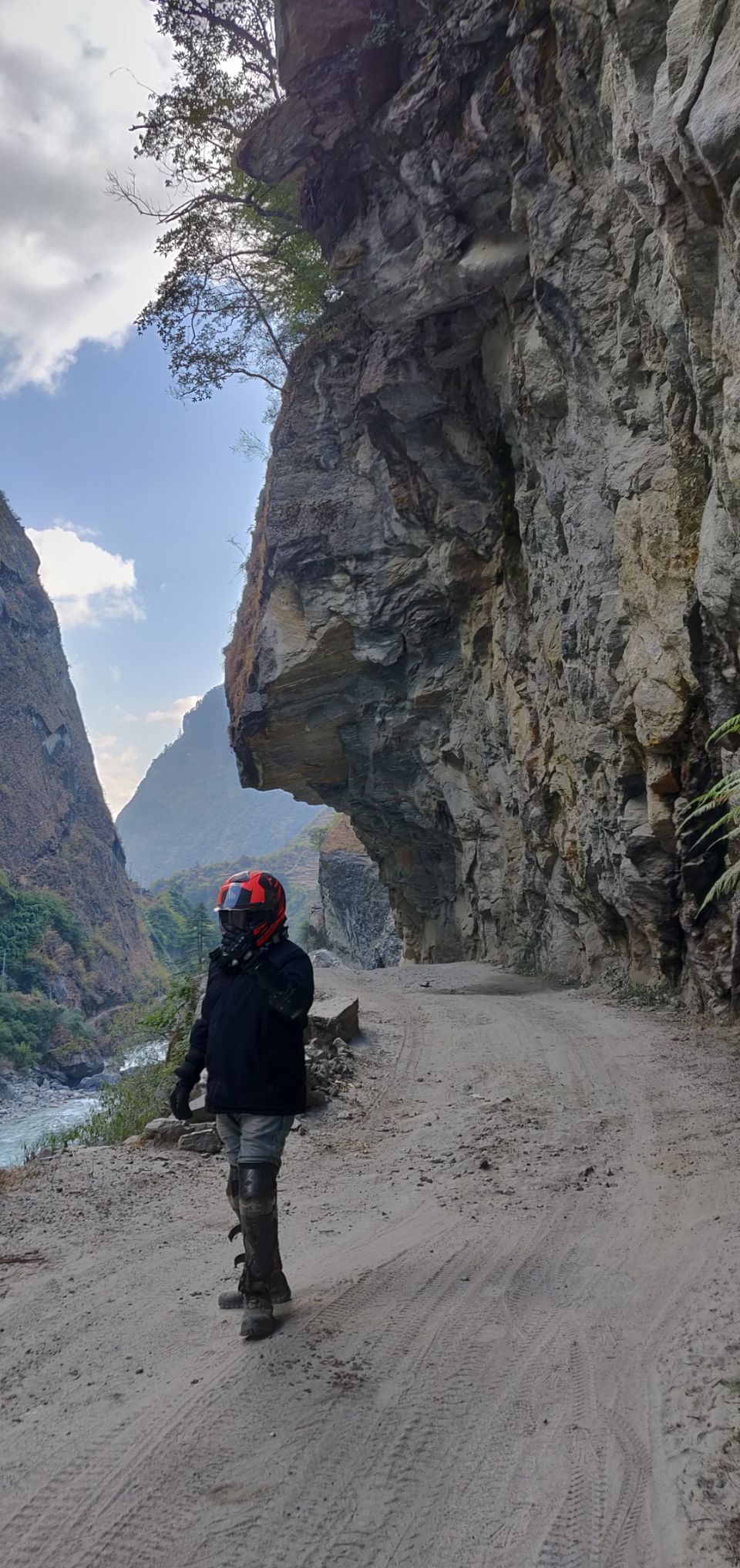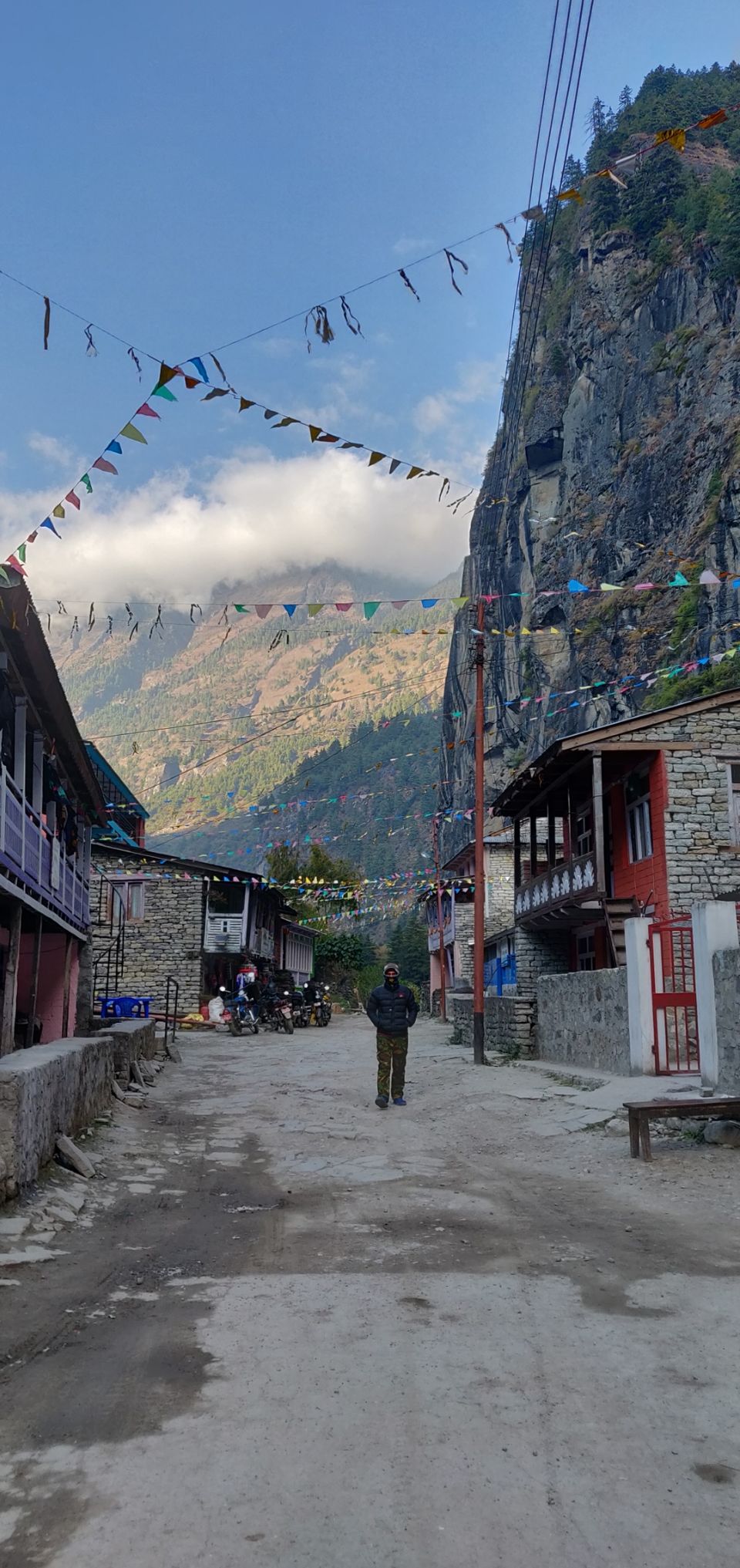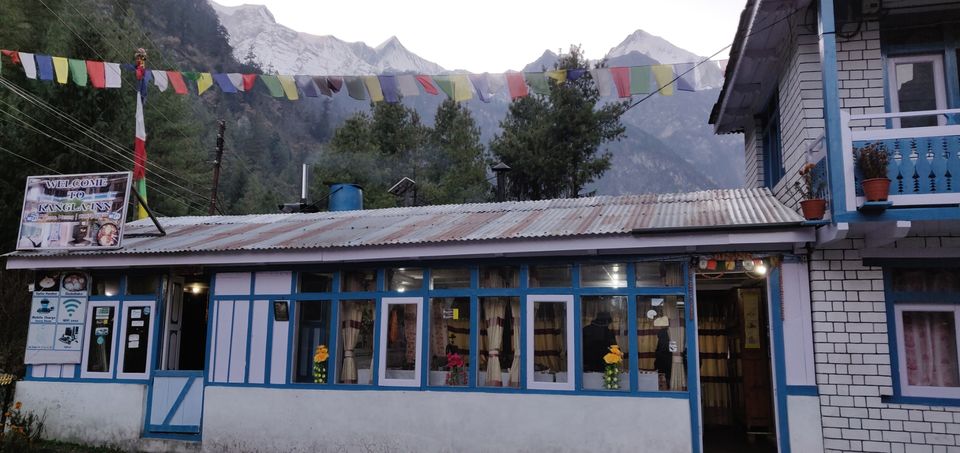 Chame- Manang
As soon as we found the courage to get out of beds in the morning we packed, geared up, and left for our main destination Manang ( ofcourse we didn't have the guts to bathe).
Just 15 mins out the village there's a hot water spring ( tatopani, as the Nepalese call it) so we decided to take a dip in the hot water, relax and then ride head. After an hour or so we resumed our journey. The increasing altitude made it difficult for our Royal Enfields to ride, and the roads got narrower and scarier by every turn, like the ones you see in YouTube videos.
We finally reached our destination Manang around 3:30PM. Checked into our hotel Alpine Homes. The tariff was cheaper (200 NC) if you have dinner and breakfast at the hotel, otherwise 2000 NC.
We decided to take a stroll around the beautiful village. Since, it was off season there wasn't much crowd in the village but, after talking to a few locals we got to know that the village is flooded with trekkers from around the world during the on season, approximately a 1000 people coming in everyday.
It was getting dark so we headed back to the hotel. The temperature had dropped to -8°C by the evening, the room didn't have a heater so we decided to pass our time in the restaurant, the only warm place in the hotel. It had a wood fire chimney to keep it warm.  What more do you want in a place that is so quiet that you hear the river from a kilometres distance, and non-citizens wood fire chimney to keep you warm? A peg of Rum! We got ourselves a peg of Khukri Rum (Nepal's sweet flavoured rum) with hot water and ordered for dinner, a nice local thali (daal bhaat set).
We had our dinner by 8 PM and headed back to our rooms. Since, the place experiences temperatures as low as -15°C in the night, there isn't much to do except, to get inside your blankets and try and save yourself from the freezing weather.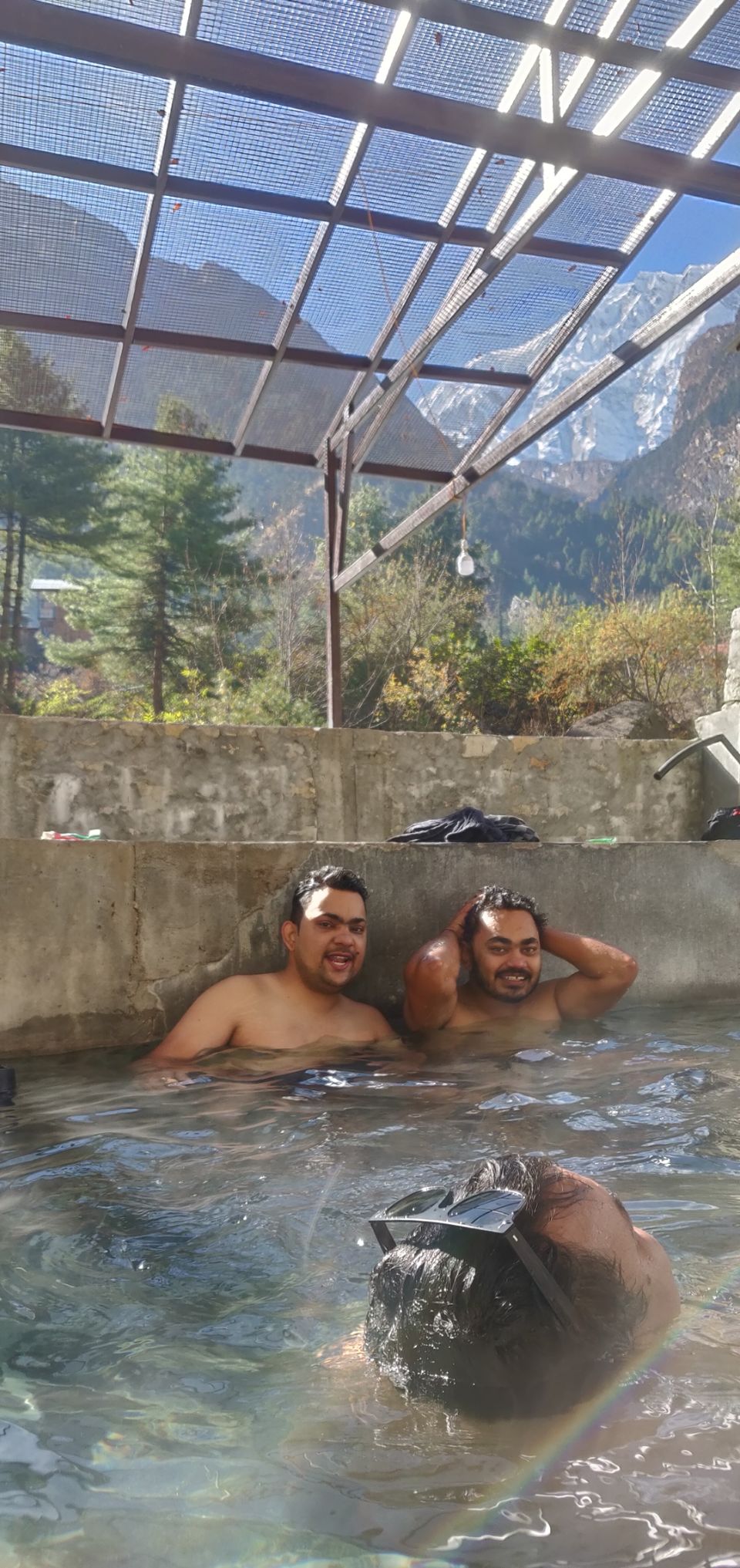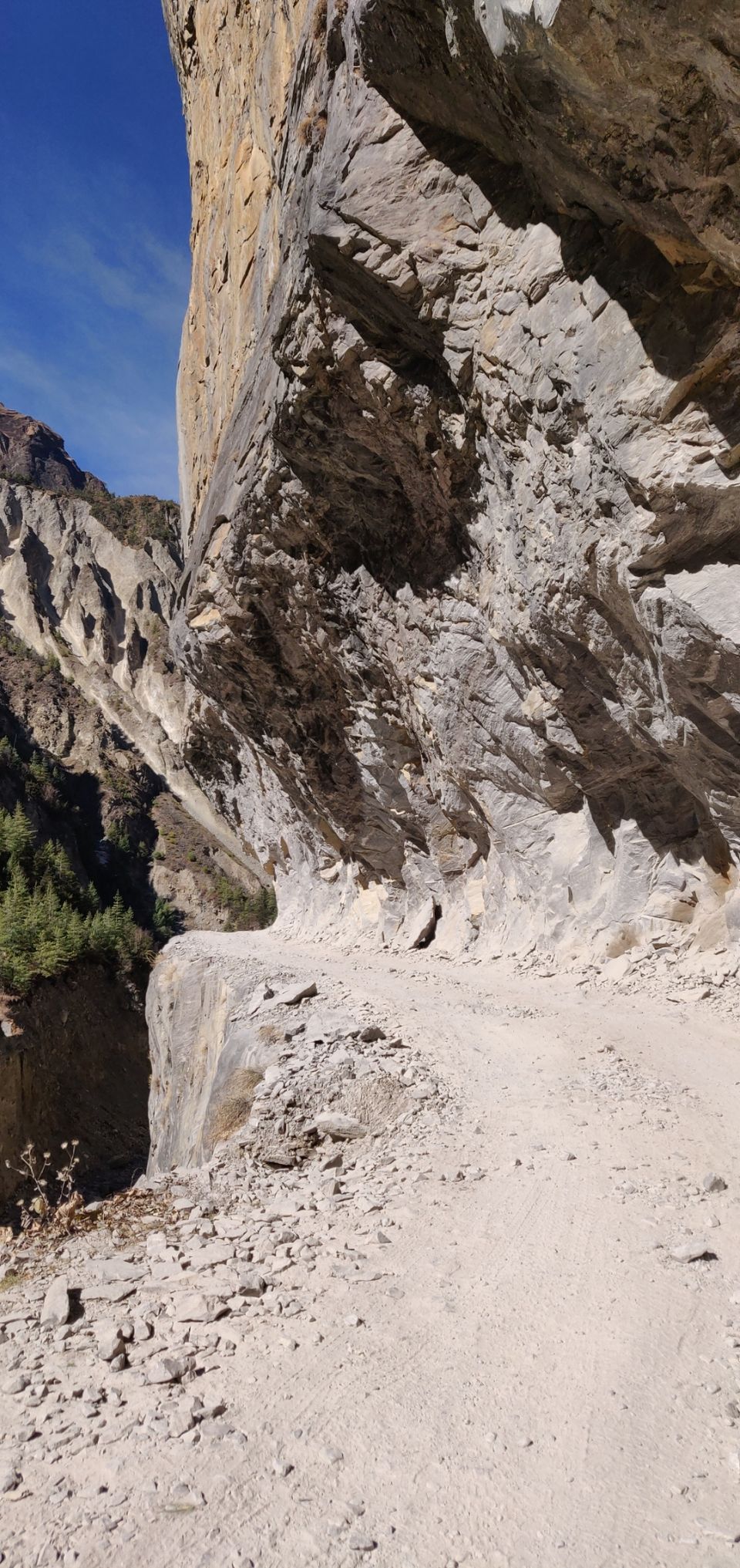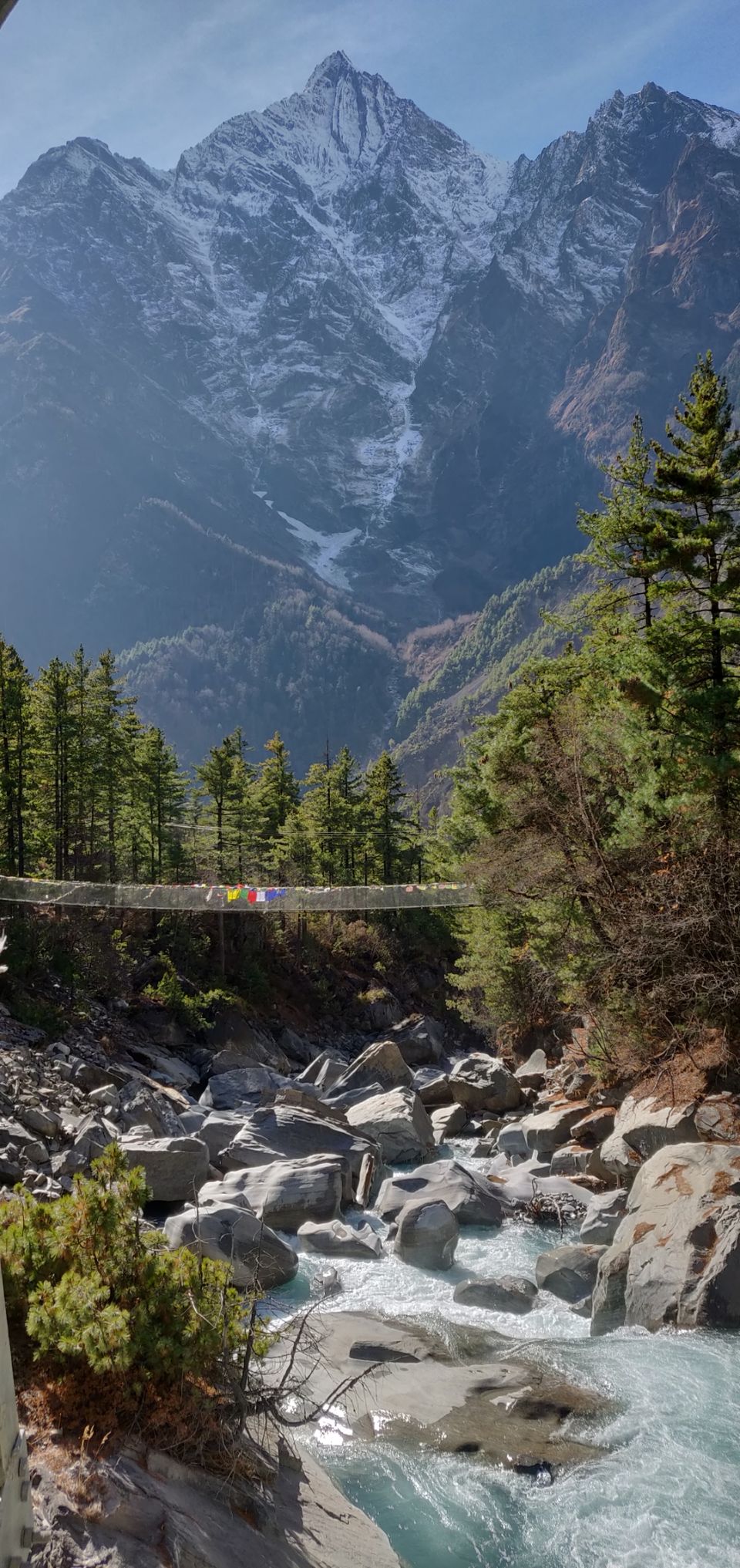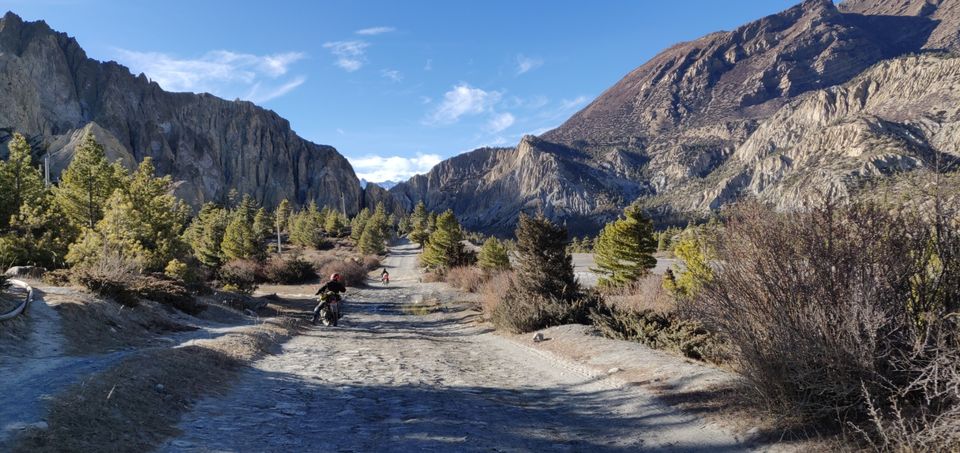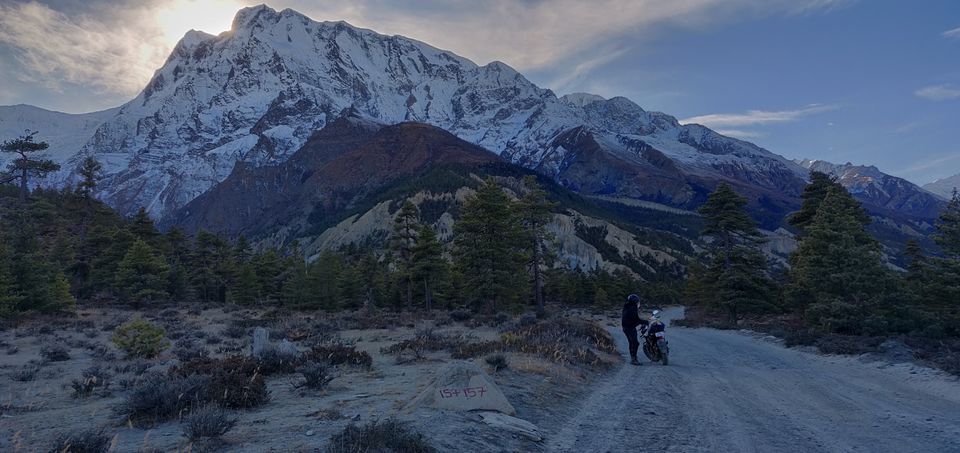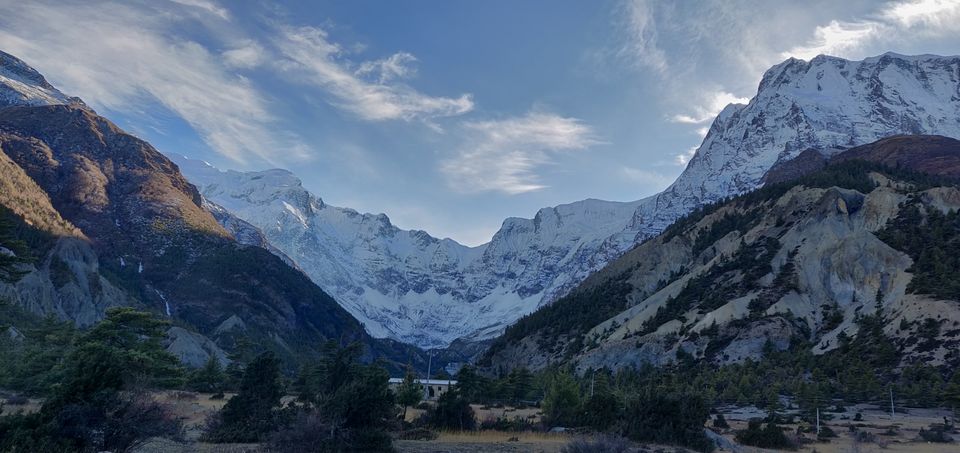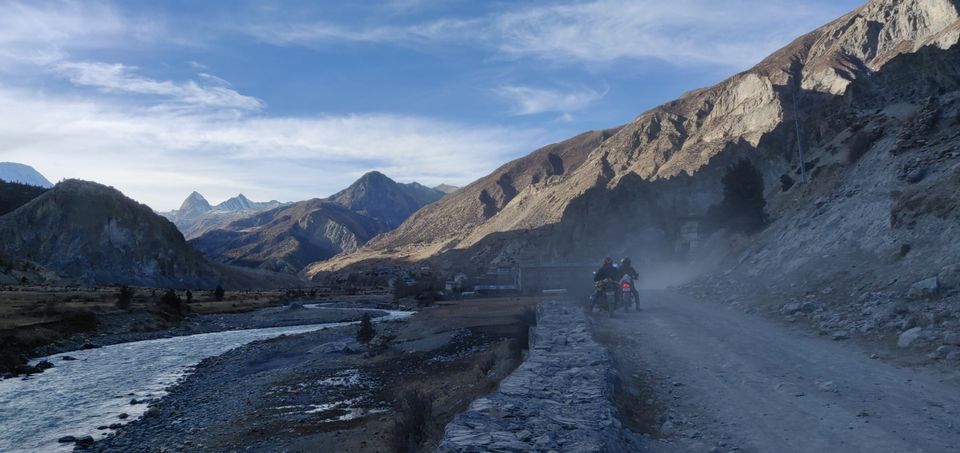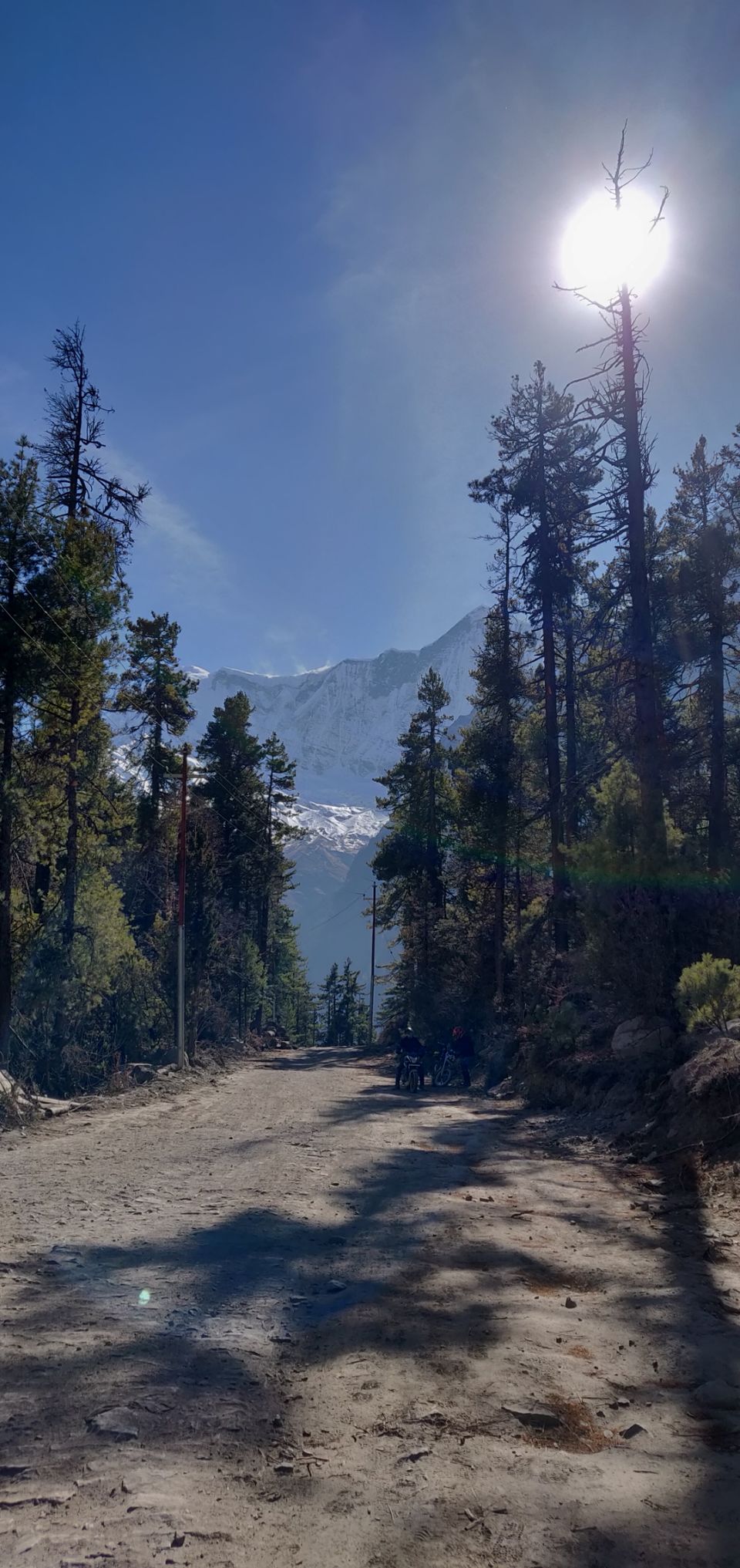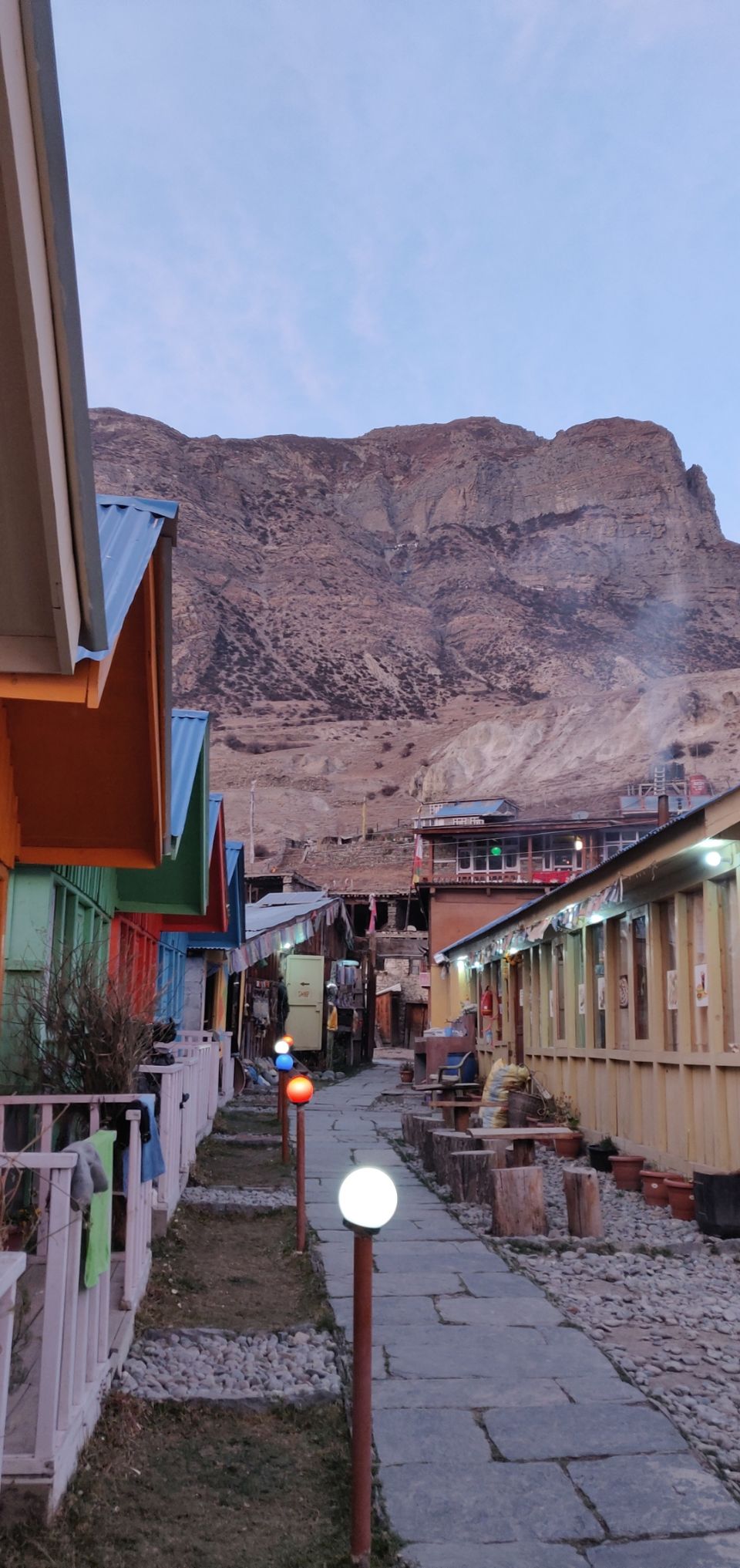 Manang- Khangsar
6 AM temperature:  -12°C. You wake up, dreaming about wanting to pee but do you have the courage to do so? Absolutely not! So you lay awake in bed inventing new ways to solve your problem. You soon learn that you're not an inventor. You somehow gather the strength to do so and move the blanket, and you realise its better to die of a kidney stone rather than dying of the cold.
Anyway, good thing that the restaurant opens up by 6:30 AM. Manang has the most meditative mornings. The elder people humming prayers and rolling every prayer wheel present in the village. Its the silence that takes you in, and the cold! Yes, the cold takes takes you straight back in the restaurant.
By the time we had our breakfast, the sun had blessed us, and it got quite bearable. We started getting ready to head for our day's outing, to the village of Khangsar. One can only travel upto Khangsar on their bikes and its a trekking trail further ahead.
Khangsar, the doorway to Tilicho Lake, the highest altitude lake in the world, at an elevation of 4949m (16236 feet)  above the sea level. Where Khangsar is at an elevation of 3756m above the sea level, one has to go up 1200m. Its a two day job. A 6 hour trek from Khangsar to Tilicho Base Camp, an overnights stay, and then a 4 hour trek to Tilicho Lake. You experience the views at the lake and then again back to the base camp, in the same day. Then again, a hour trek back to Khangsar from the base camp. Ofcourse, that time duration is for a regular trekker. If you don't trek regularly, this timeline might increase by an hour or two.
Yeah, we didn't go!
But, if you love trekking you should definately, atleast once go there. We did try to trek, only for a half and hour, and the view was amazing. We could only imagine what lied ahead of us.
Disappointed we headed back to our hotel.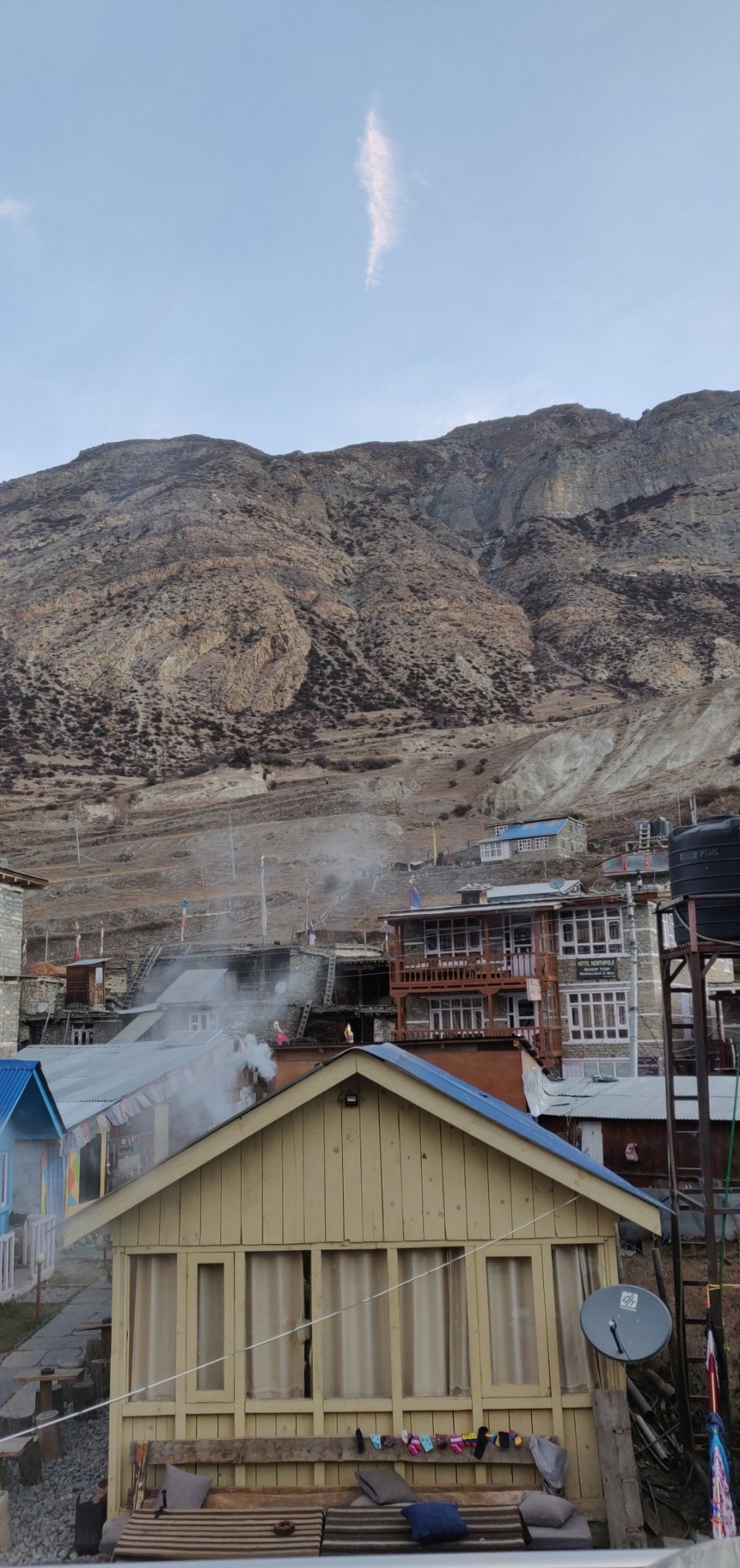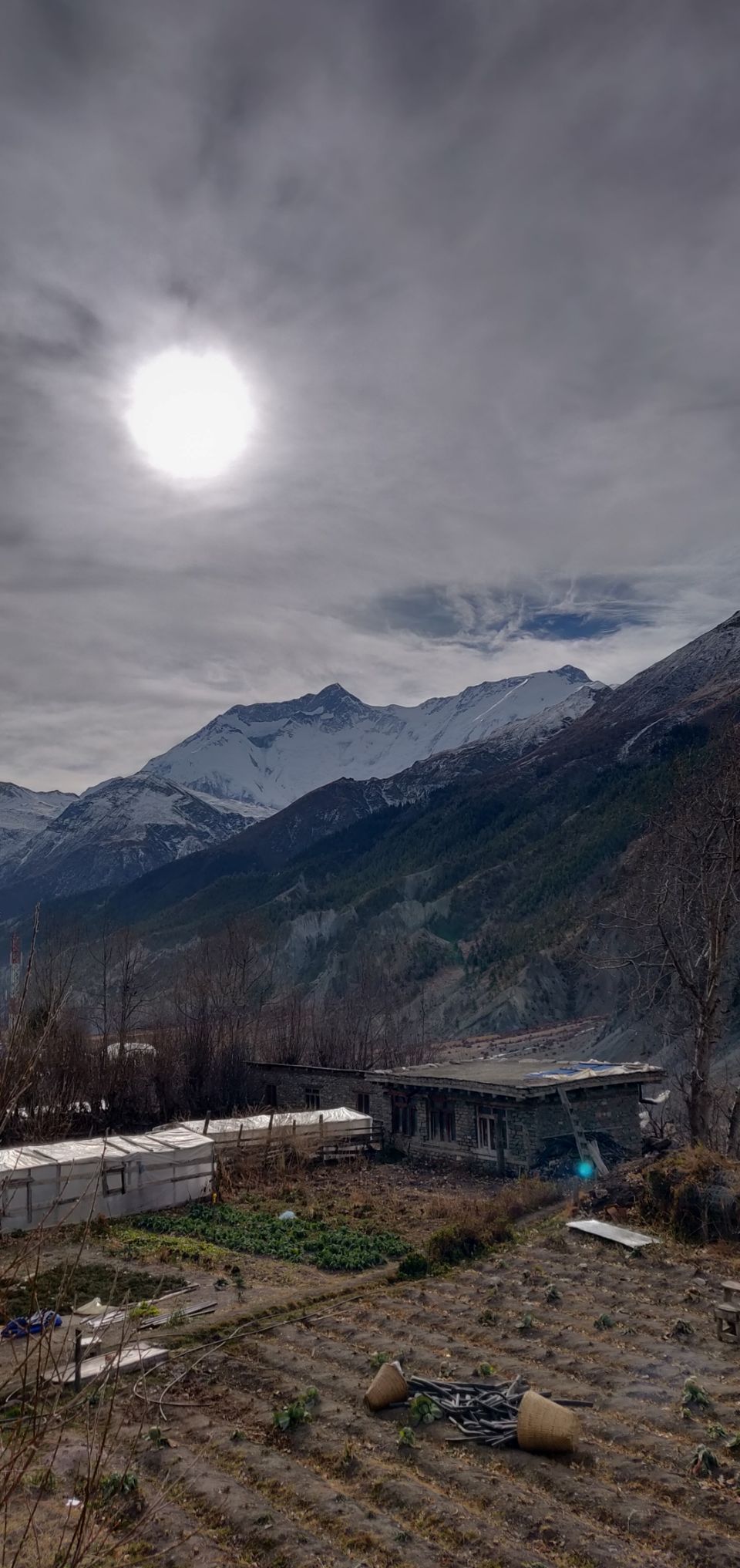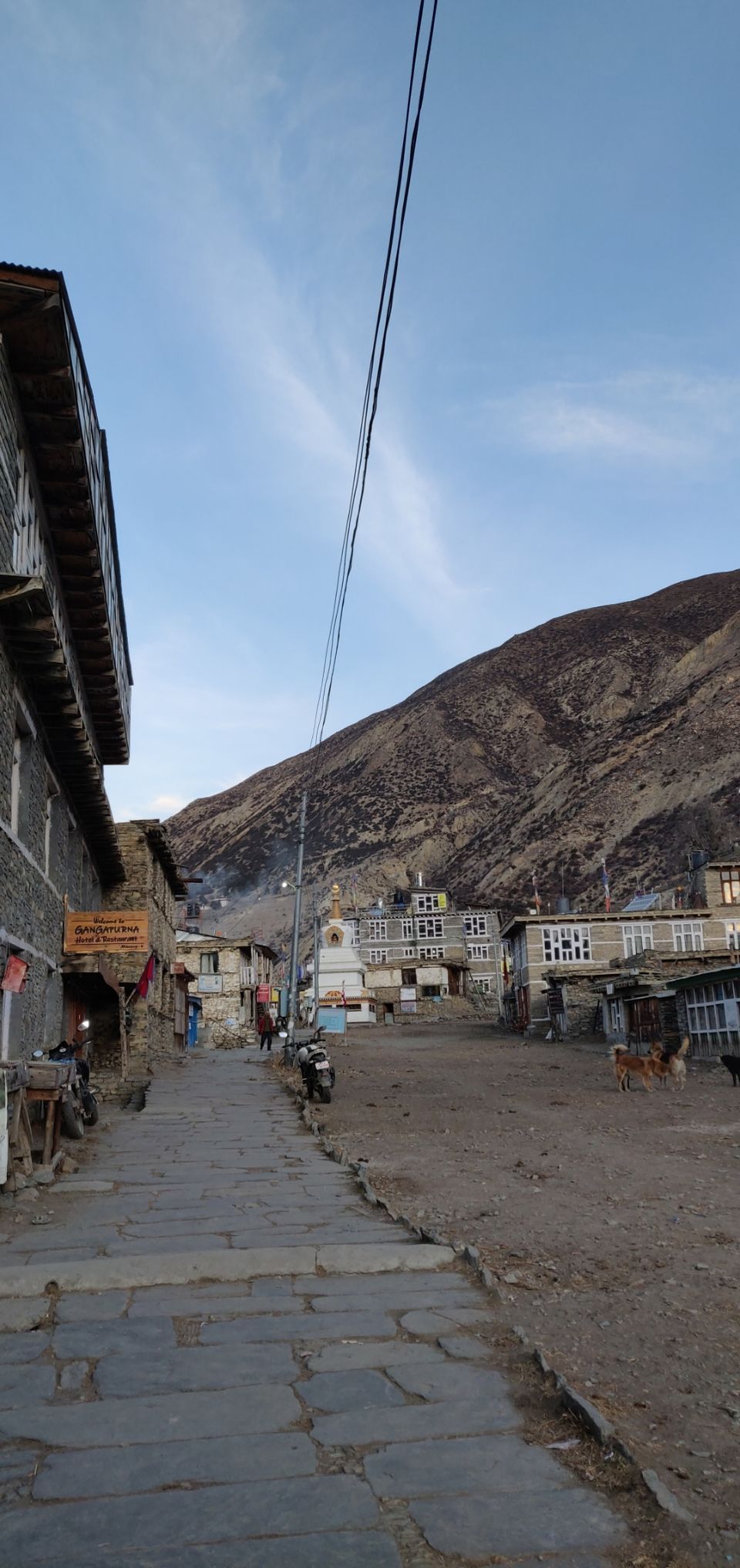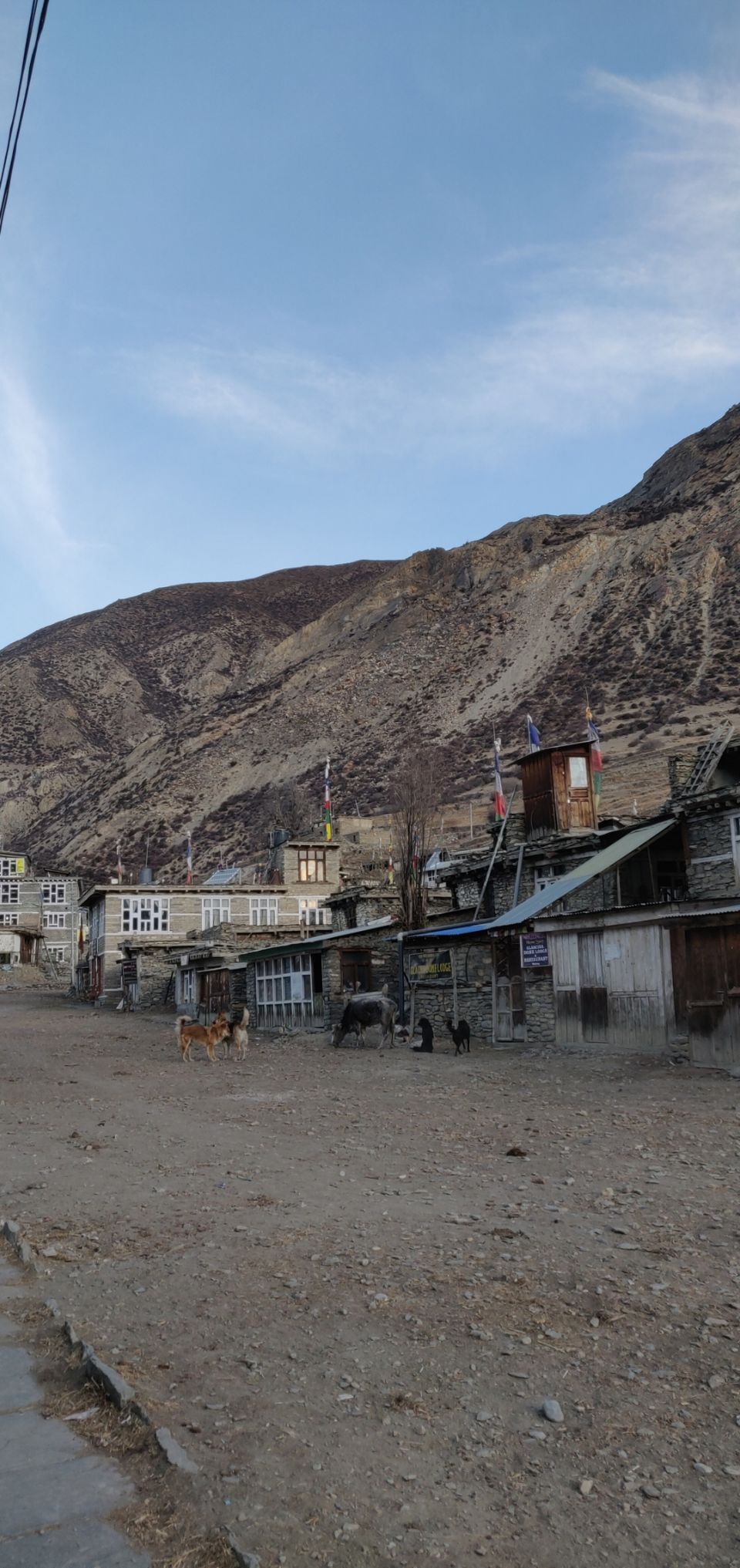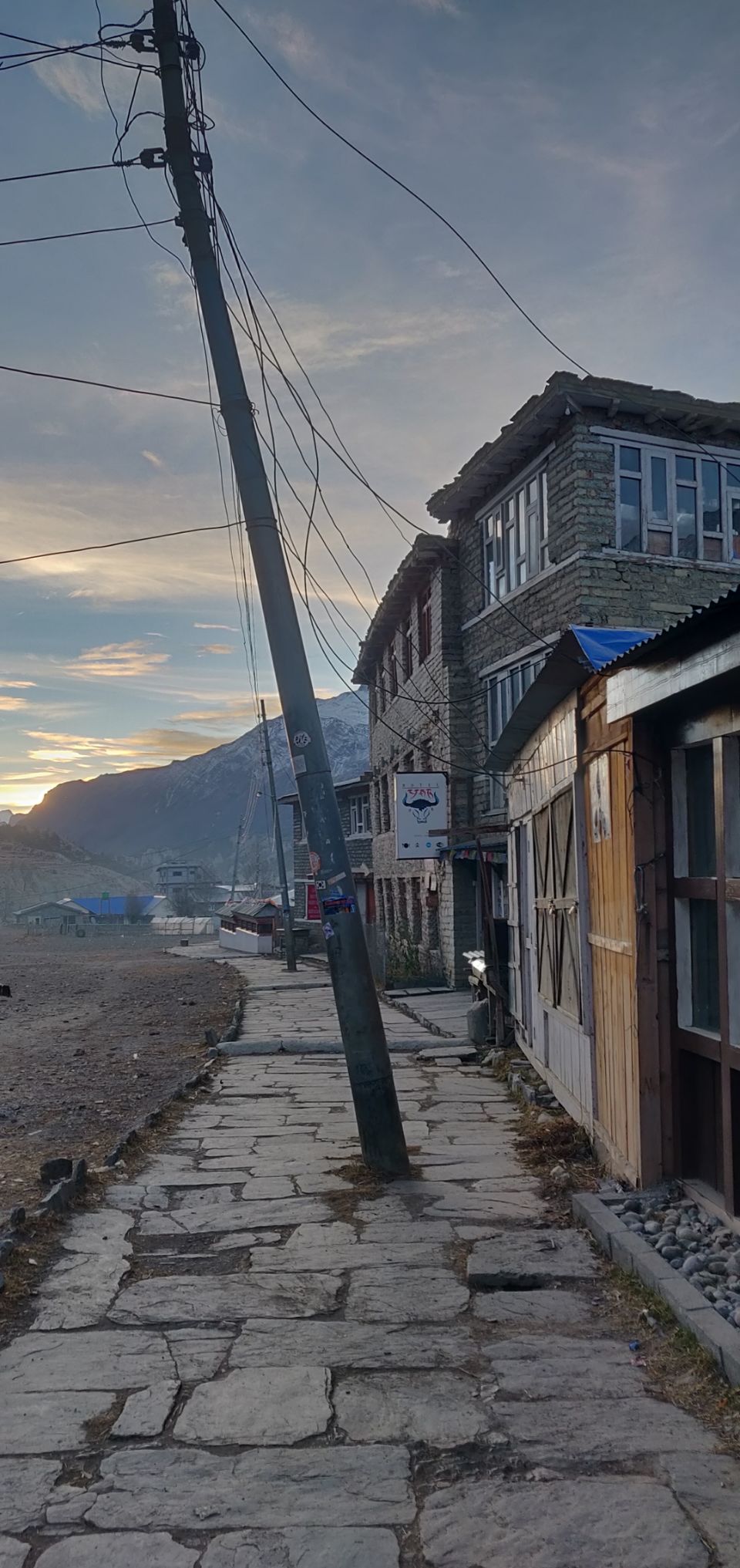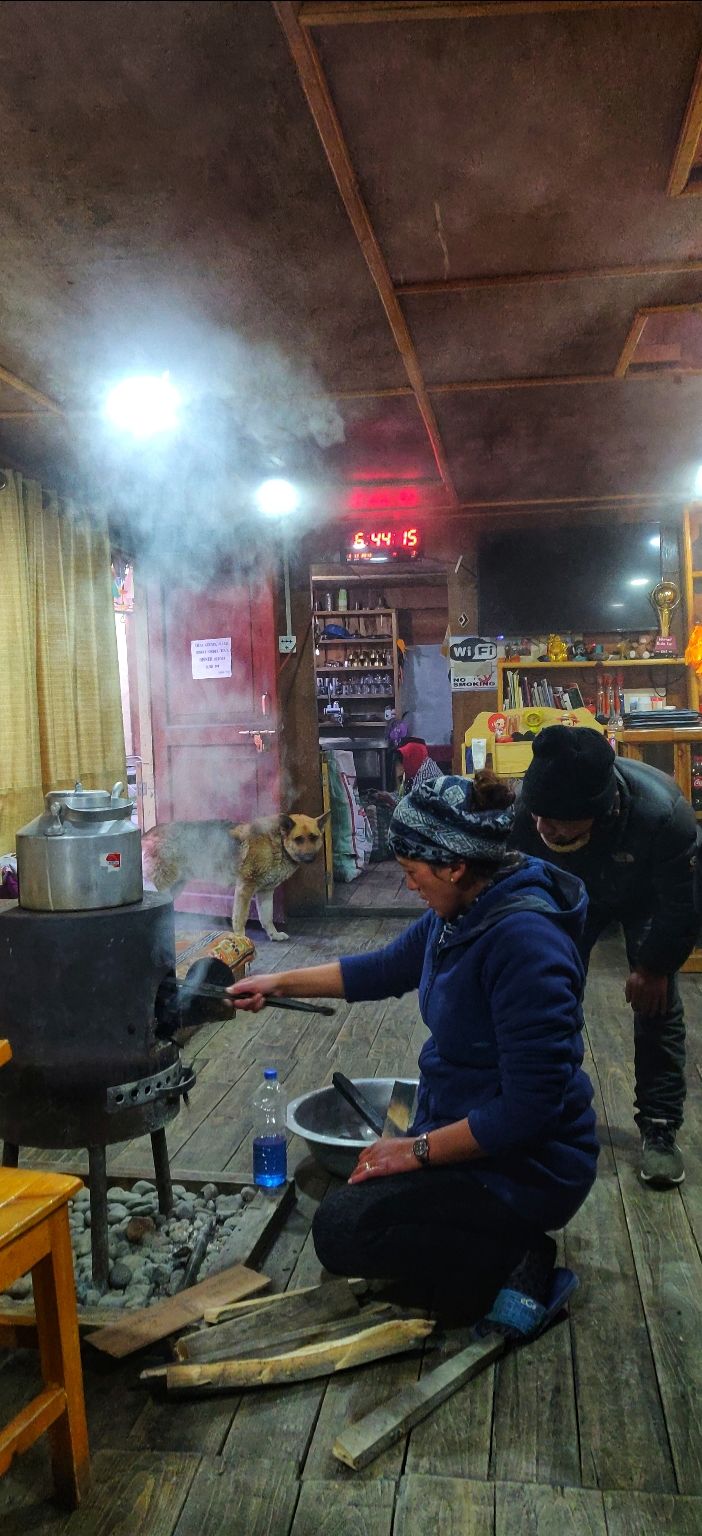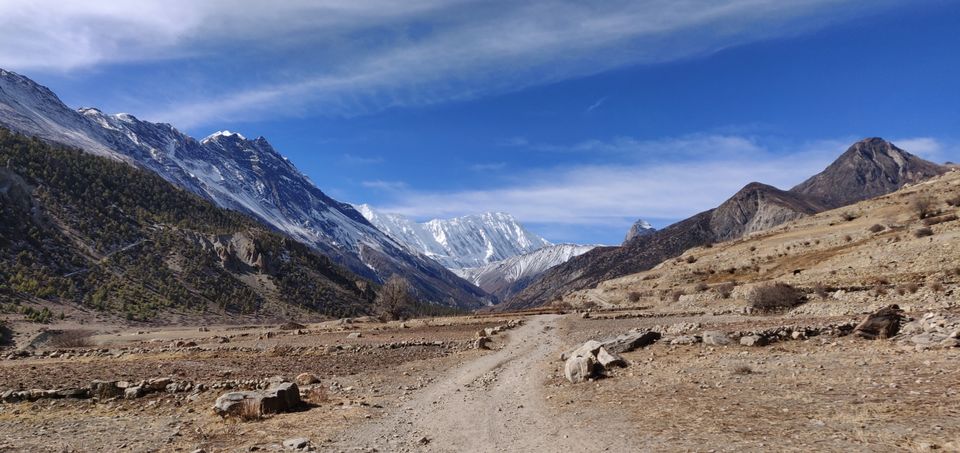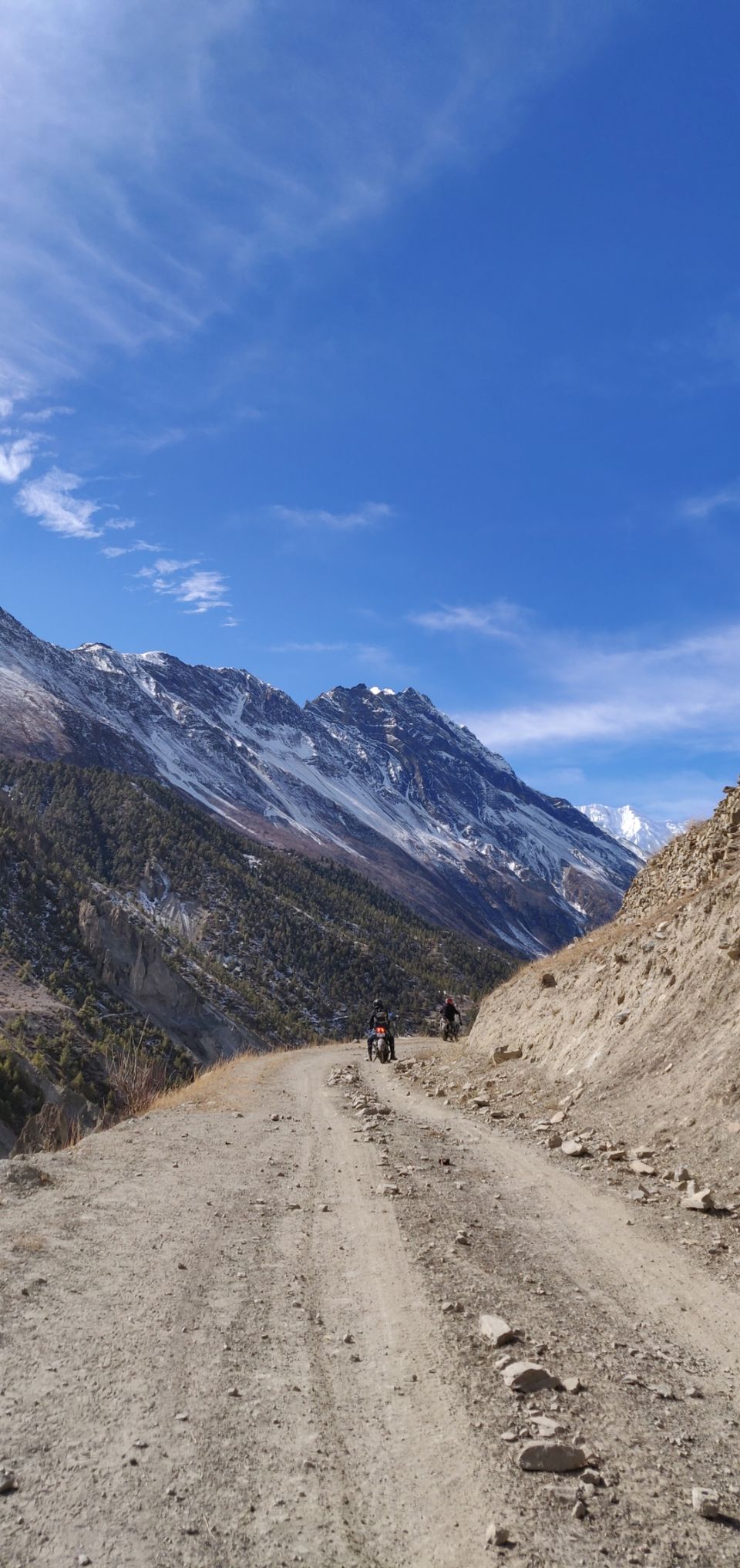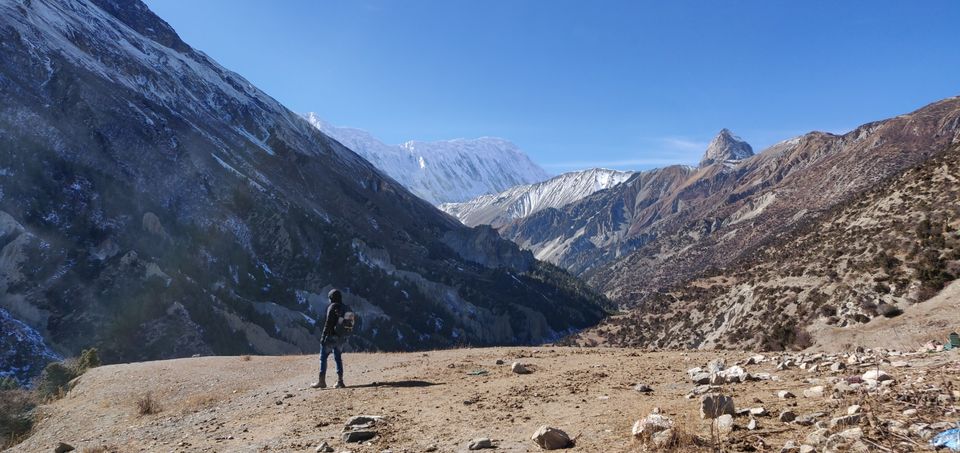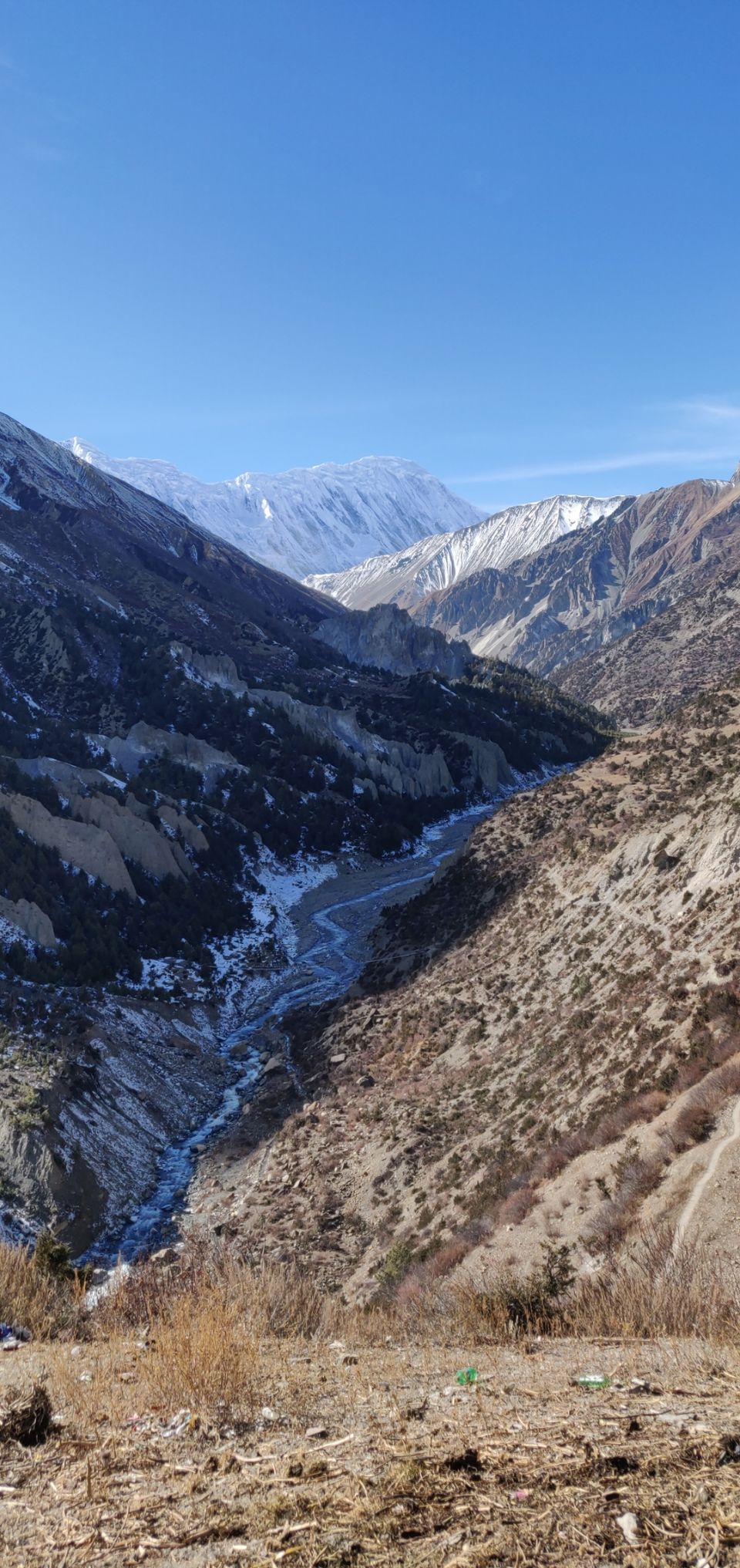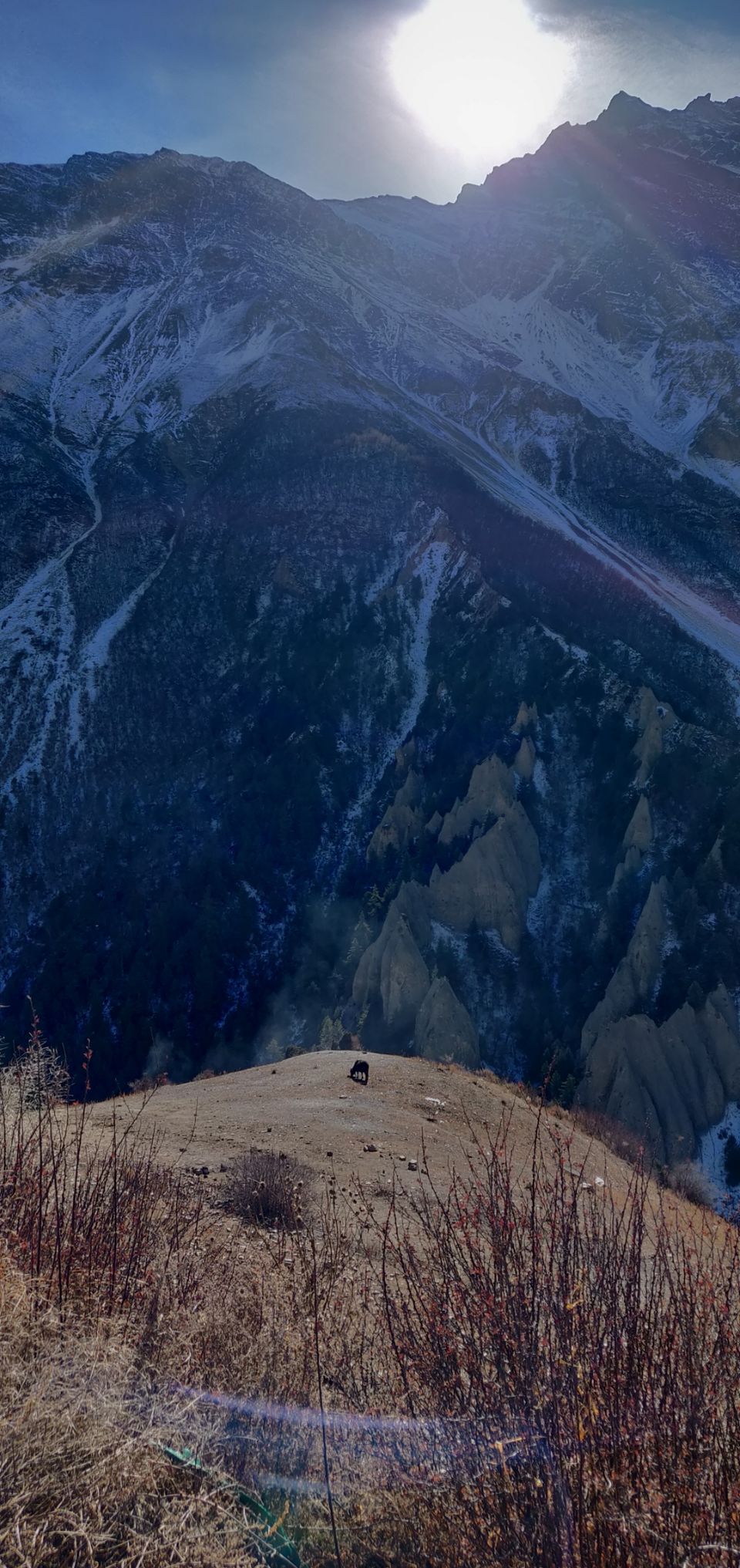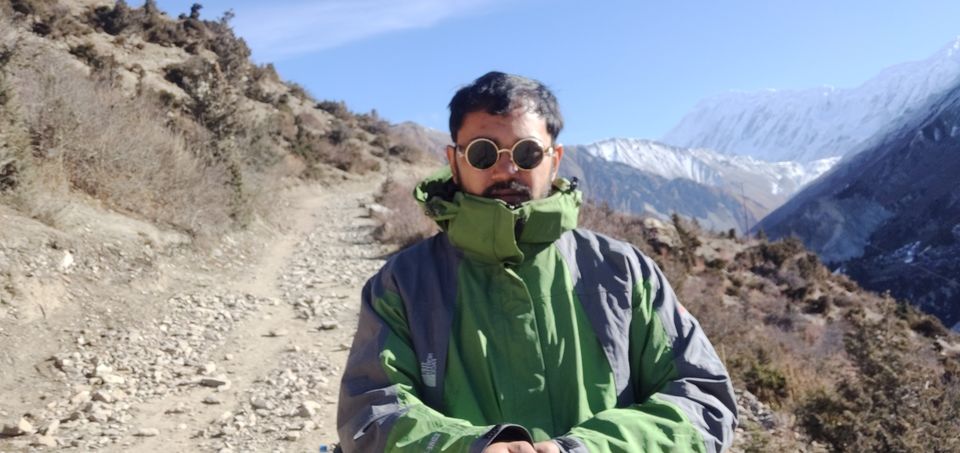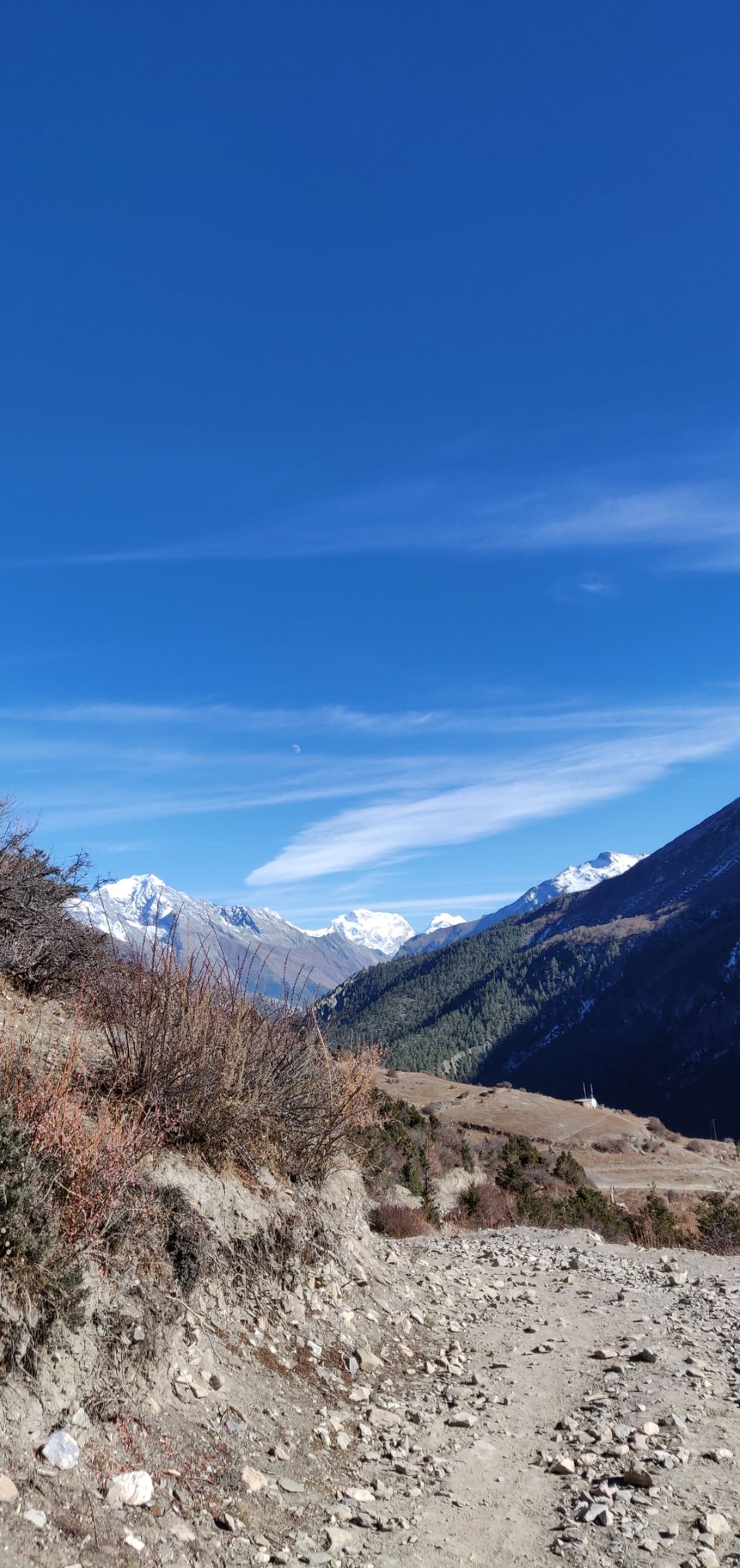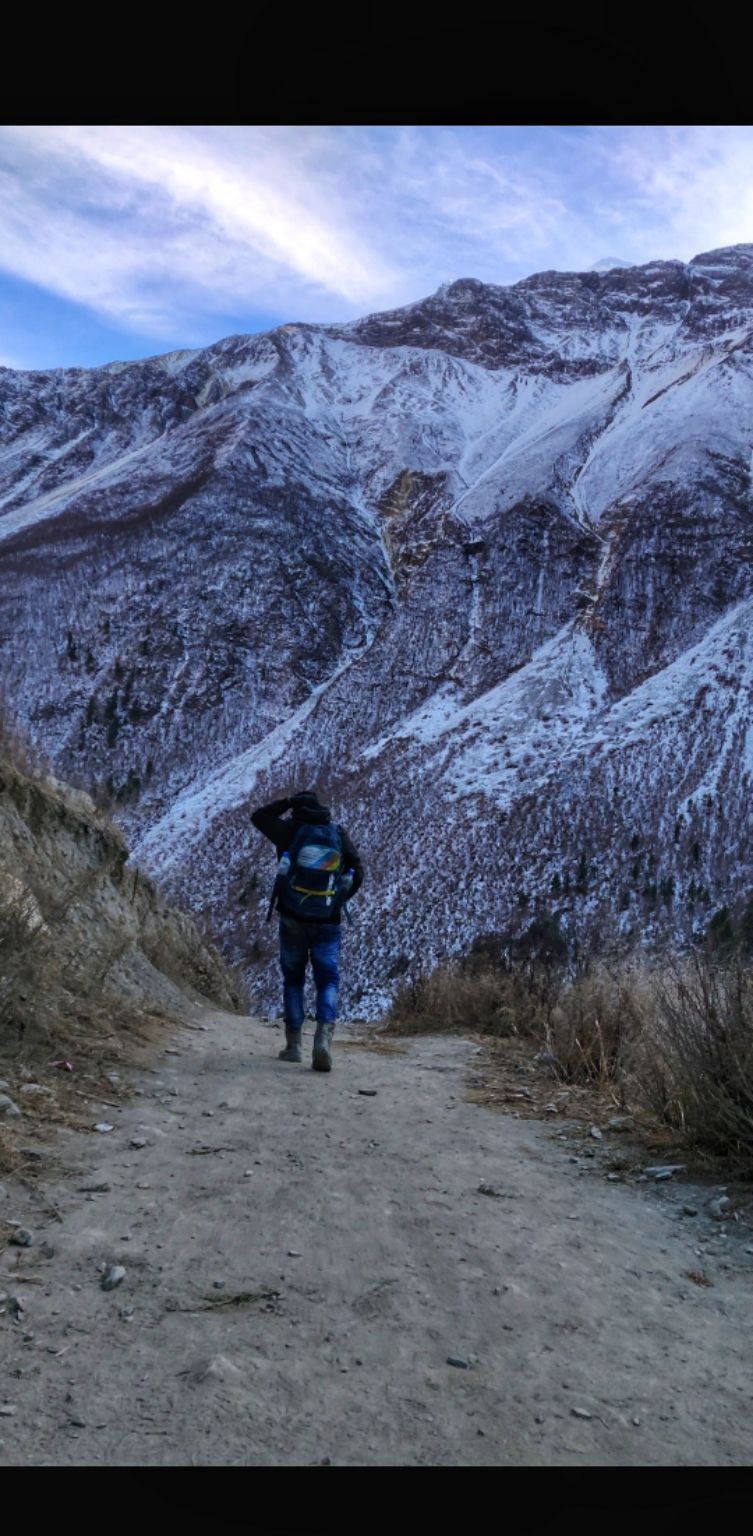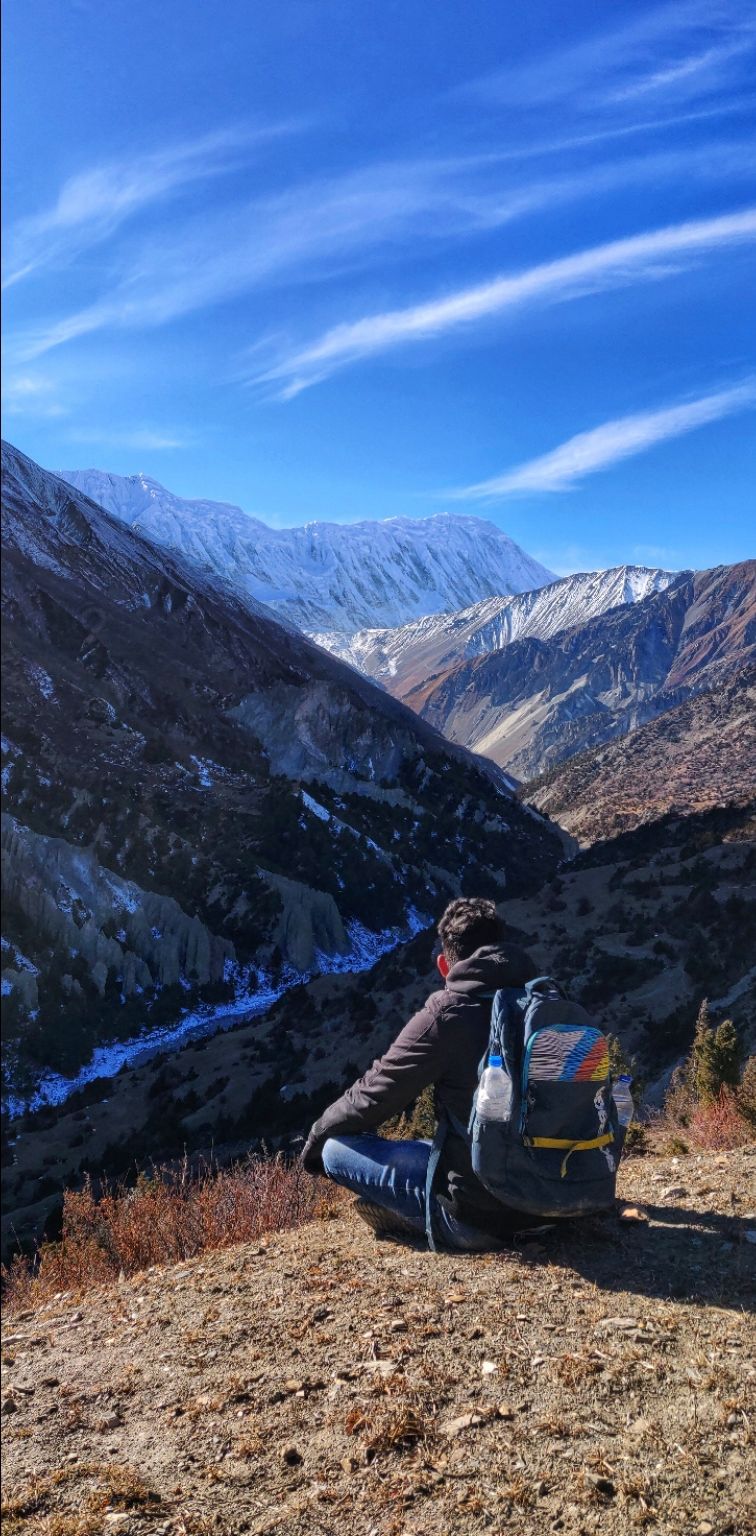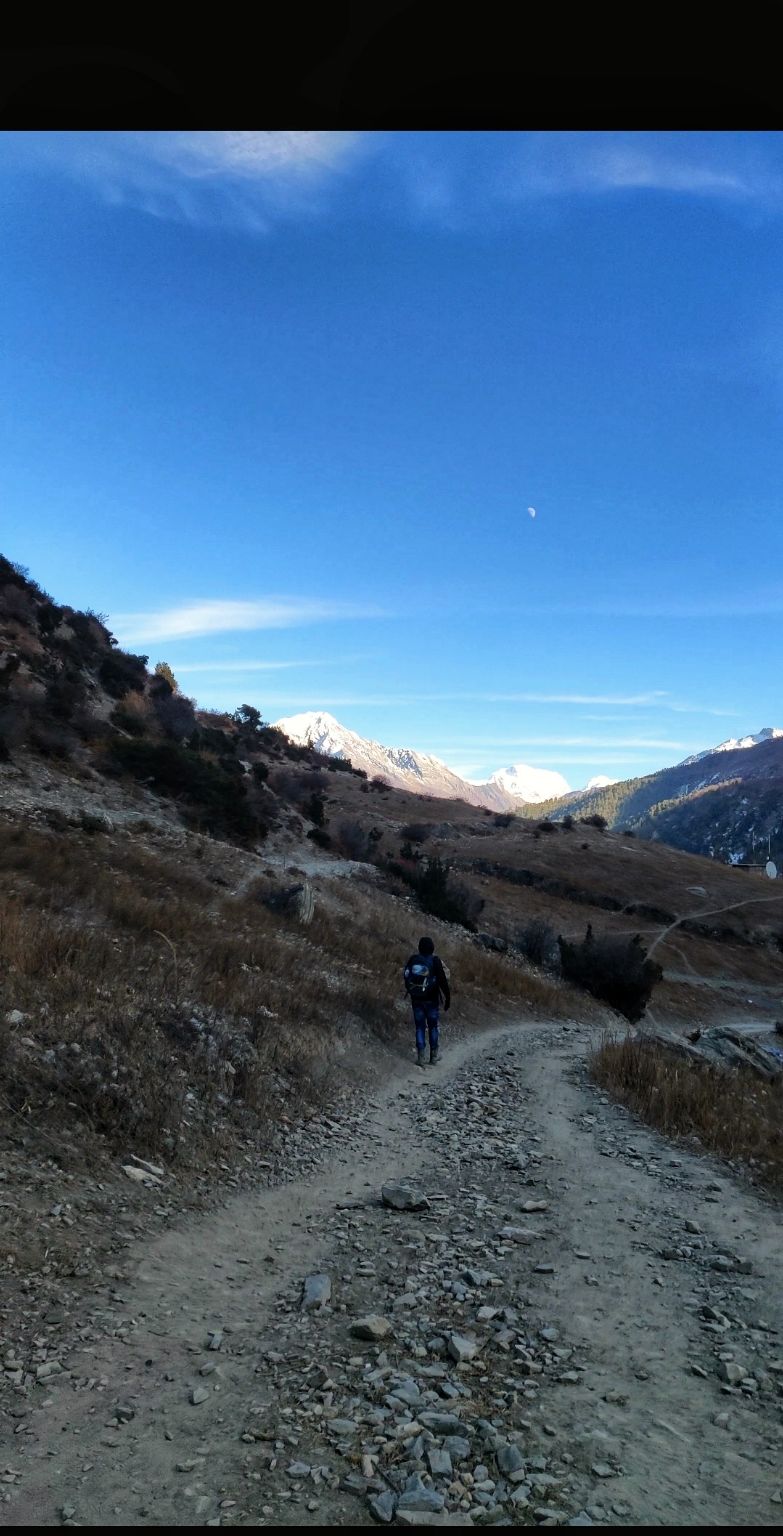 Manang- Chongkor
Even if you are not a regular at trekking don't worry, Manang has got you covered. Just outside the village, about 2 kms, there's another lake, Gangapurna. At an elevation of 3540m above the sea level, Gangapurna lake sits right in the lap of Gangapurna mountain.
After a lazy morning, we left for Gangapurna lake at 12:30 in the noon. On our way to the lake we stumbled upon a new trail that led us to, Chongkor view point, the top of the mountain. It took us about 2 hrs to reach the top. The first thing that we saw was a sign that " Chongkor view point restaurant", but our hopes were crushed the very next moment when we saw the restaurant closed. The restaurant is operational during the on season. Pictures here, pictures there, and we headed back. The return journey took us only 45 minutes.
Unexpected trail, and unexpected plans often lead you to some amazing adventures and experiences.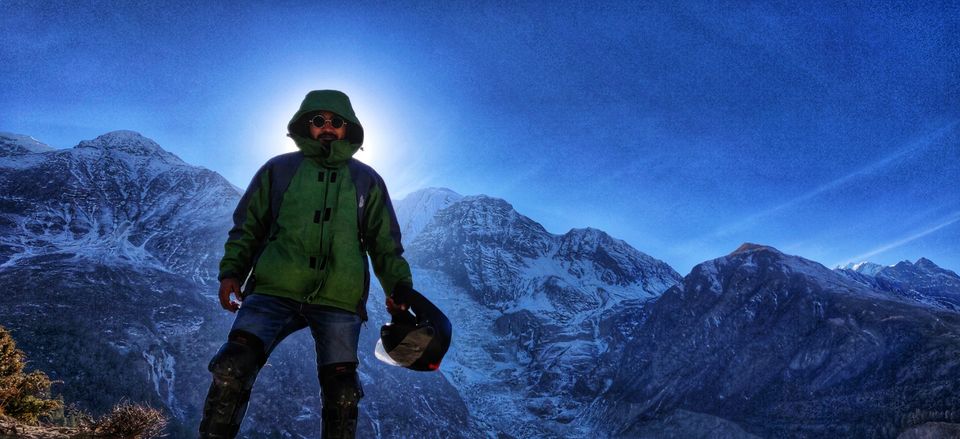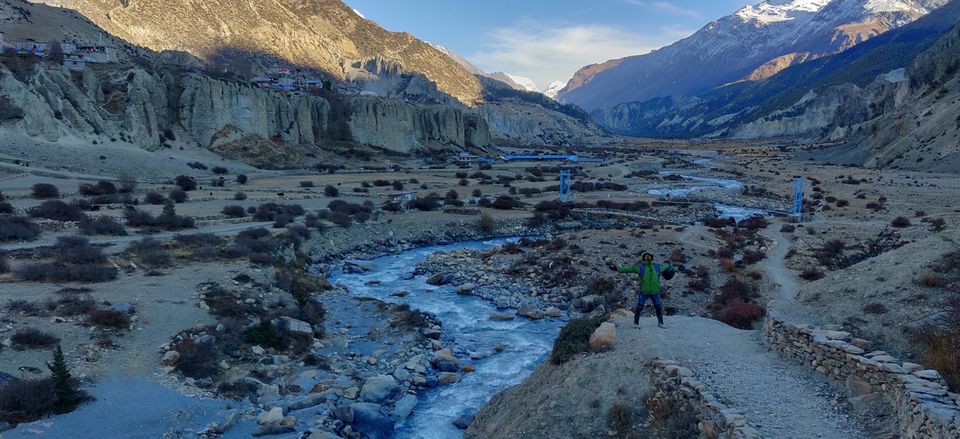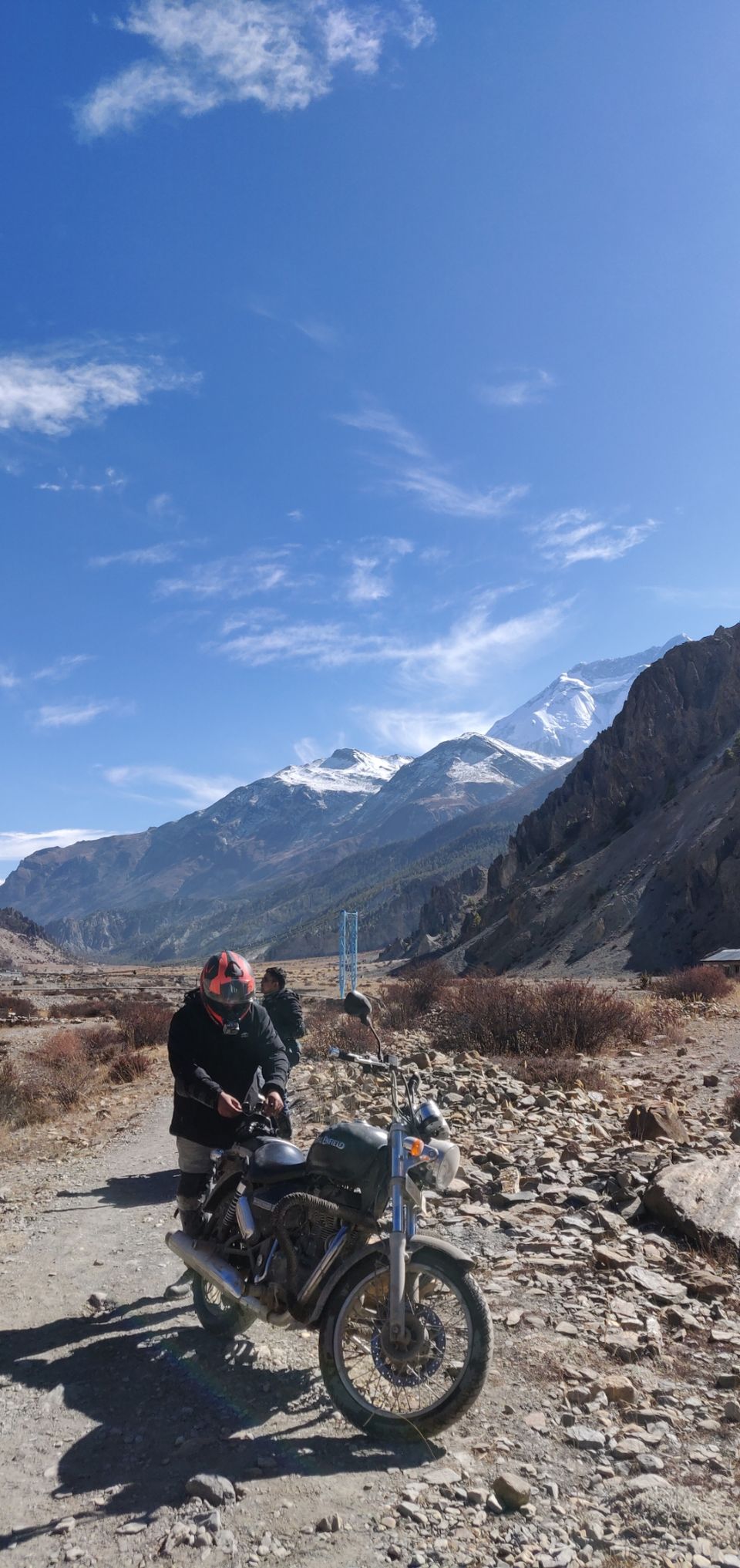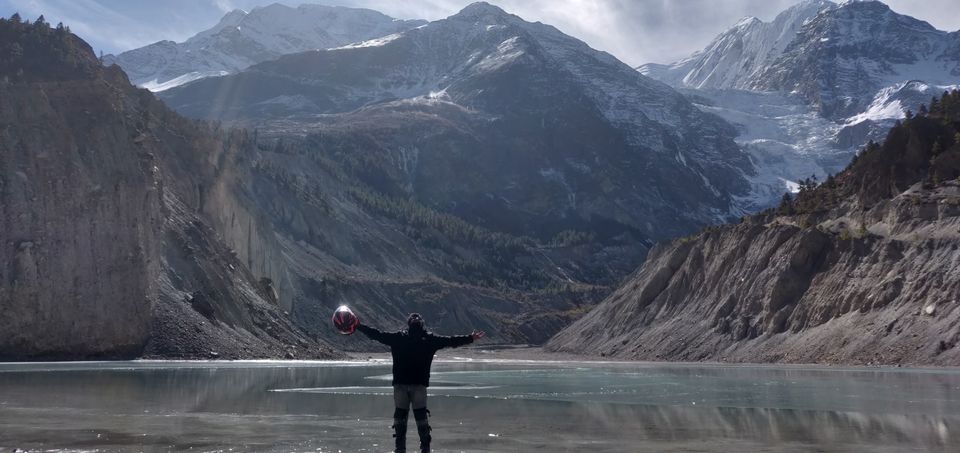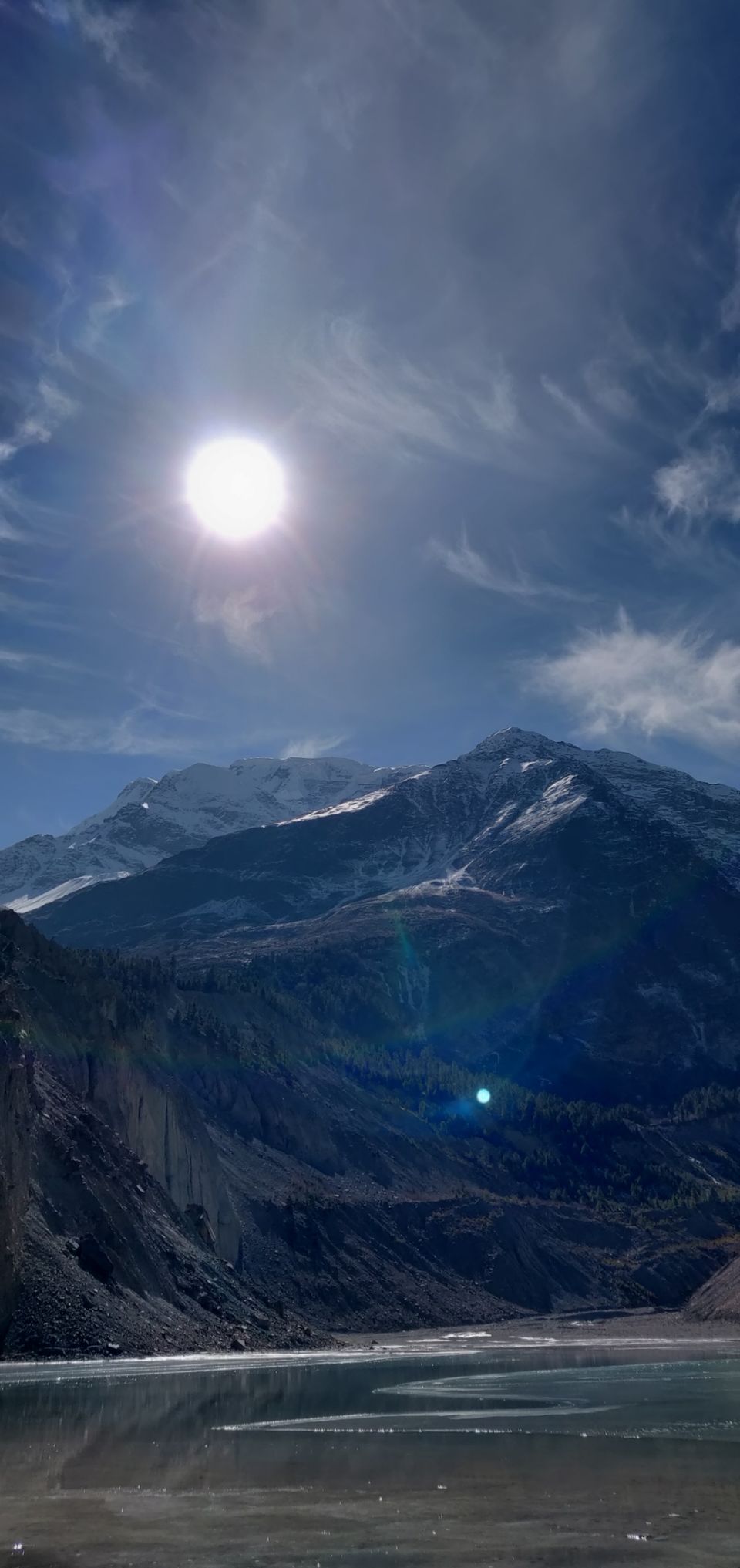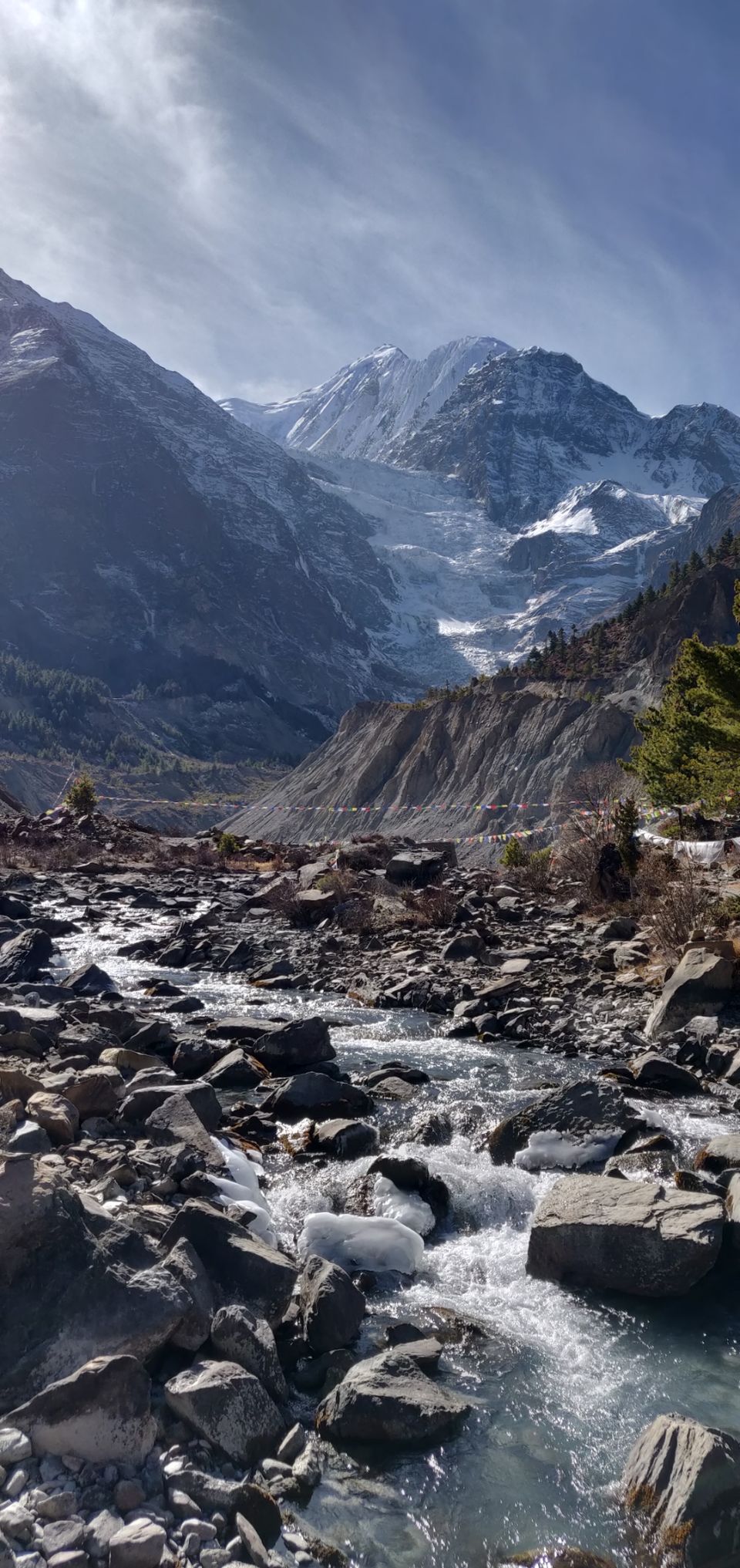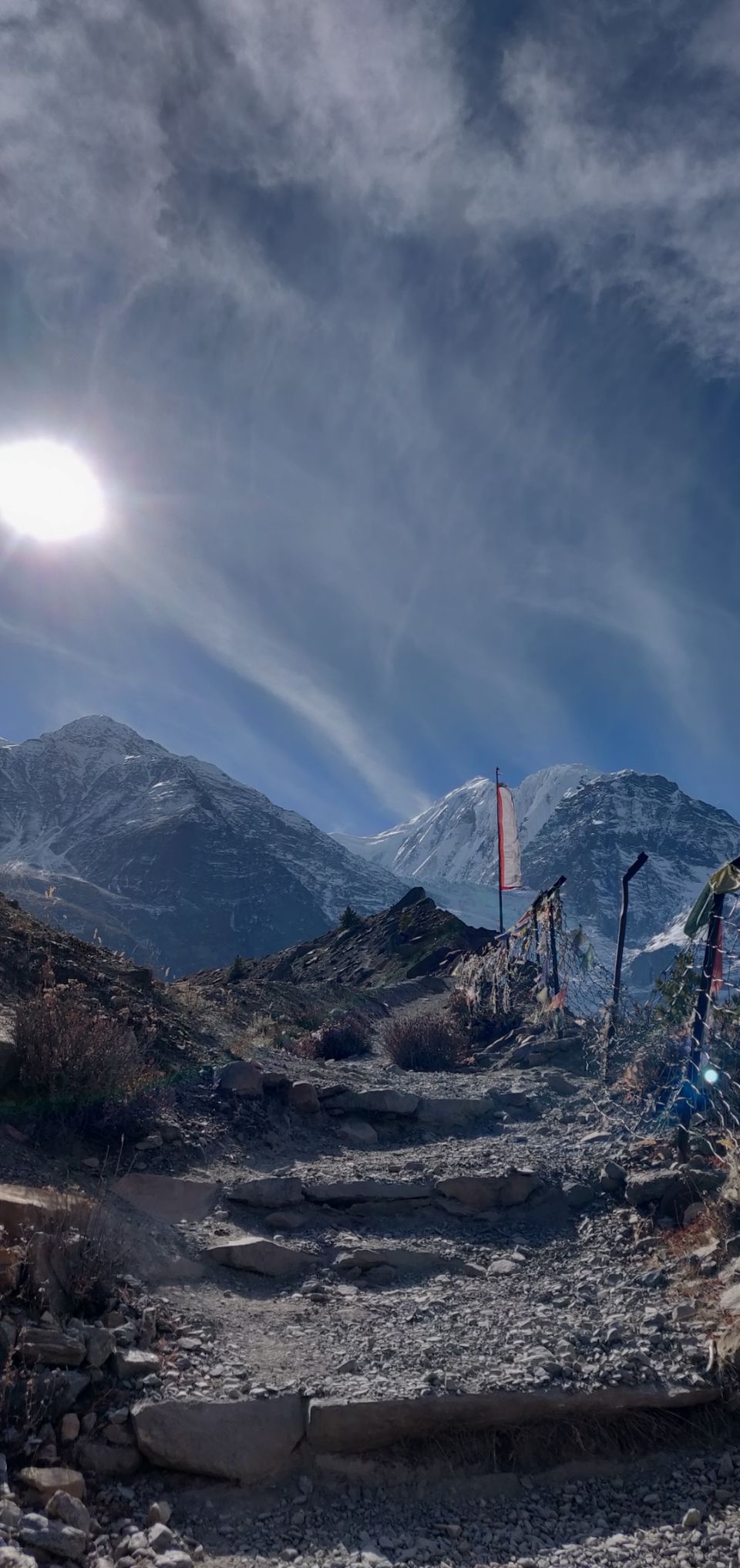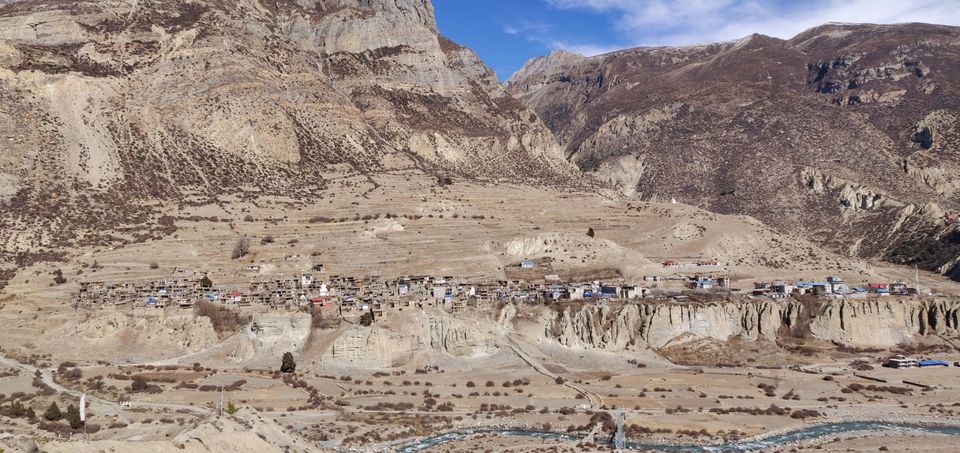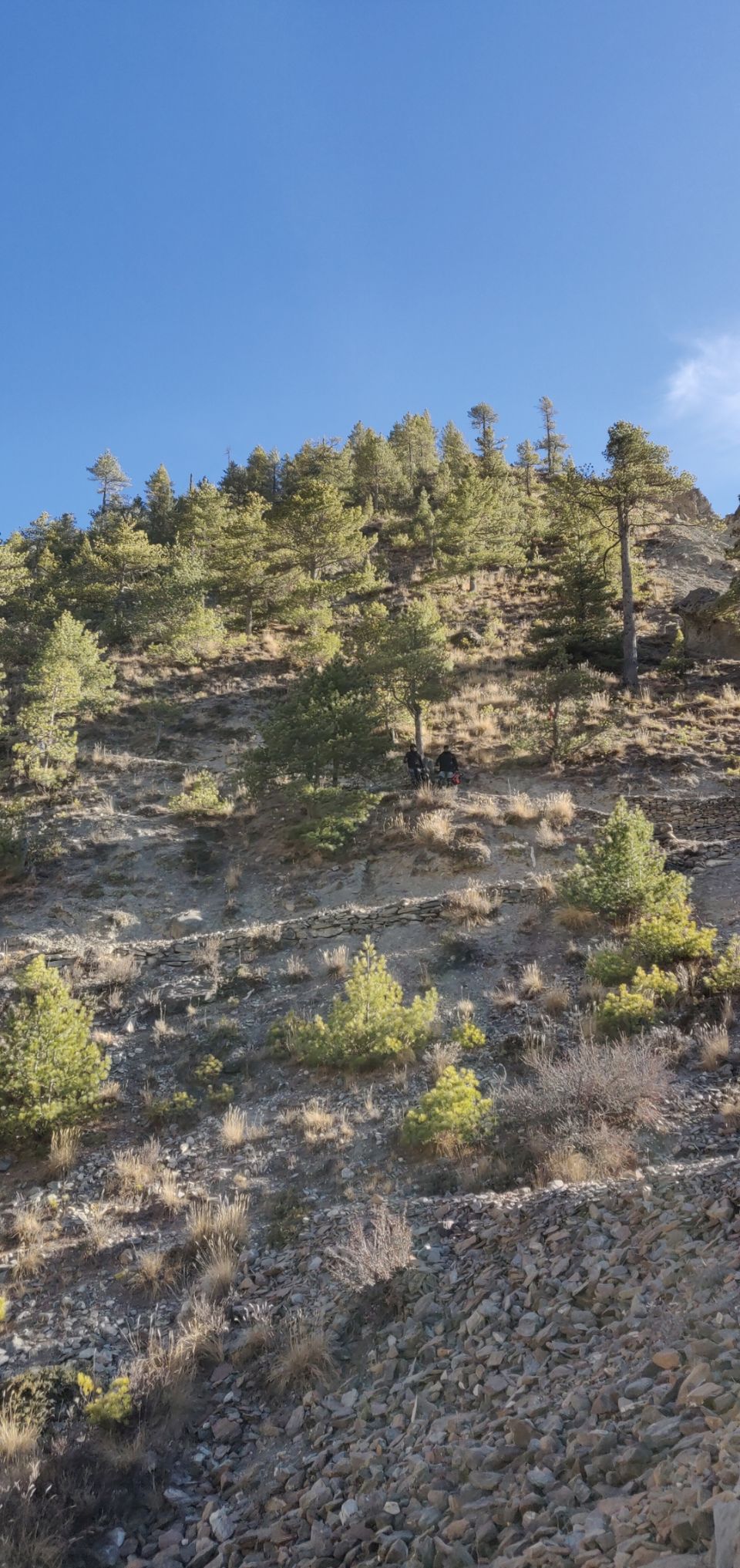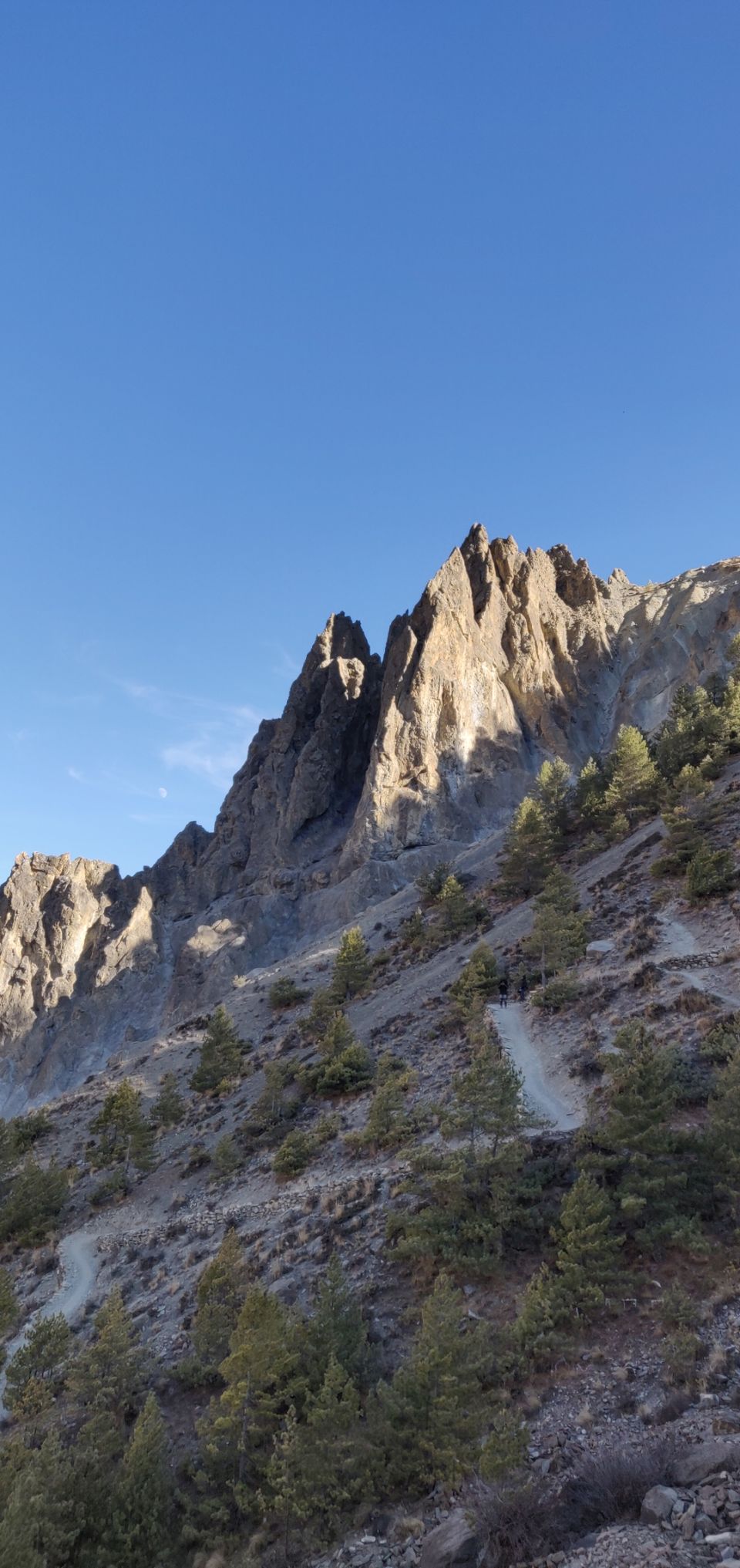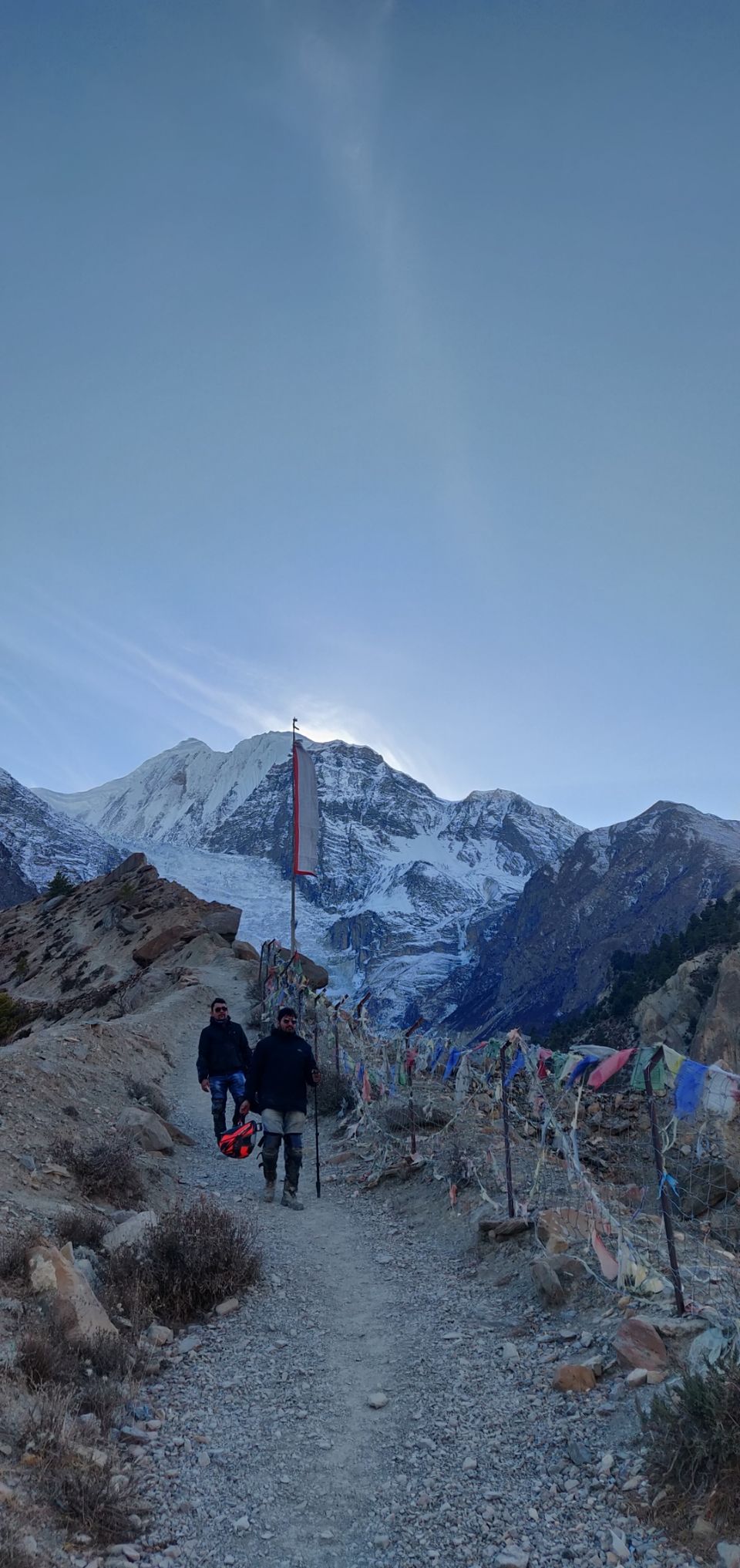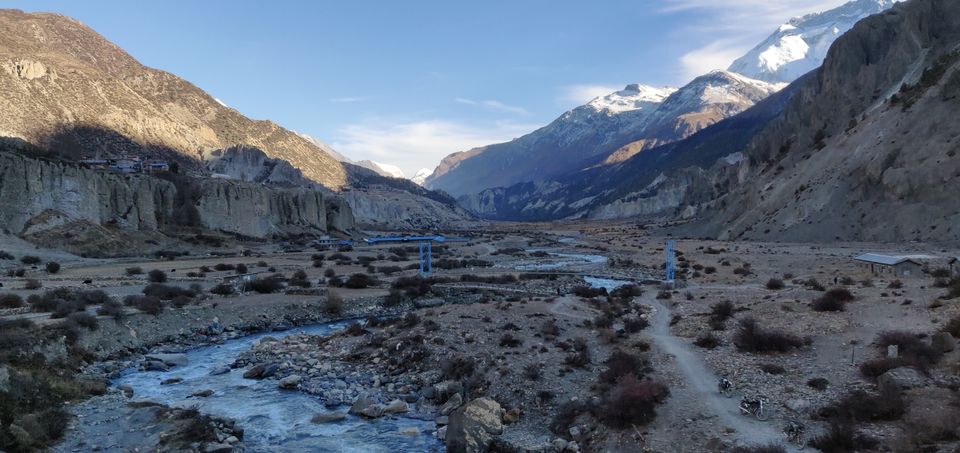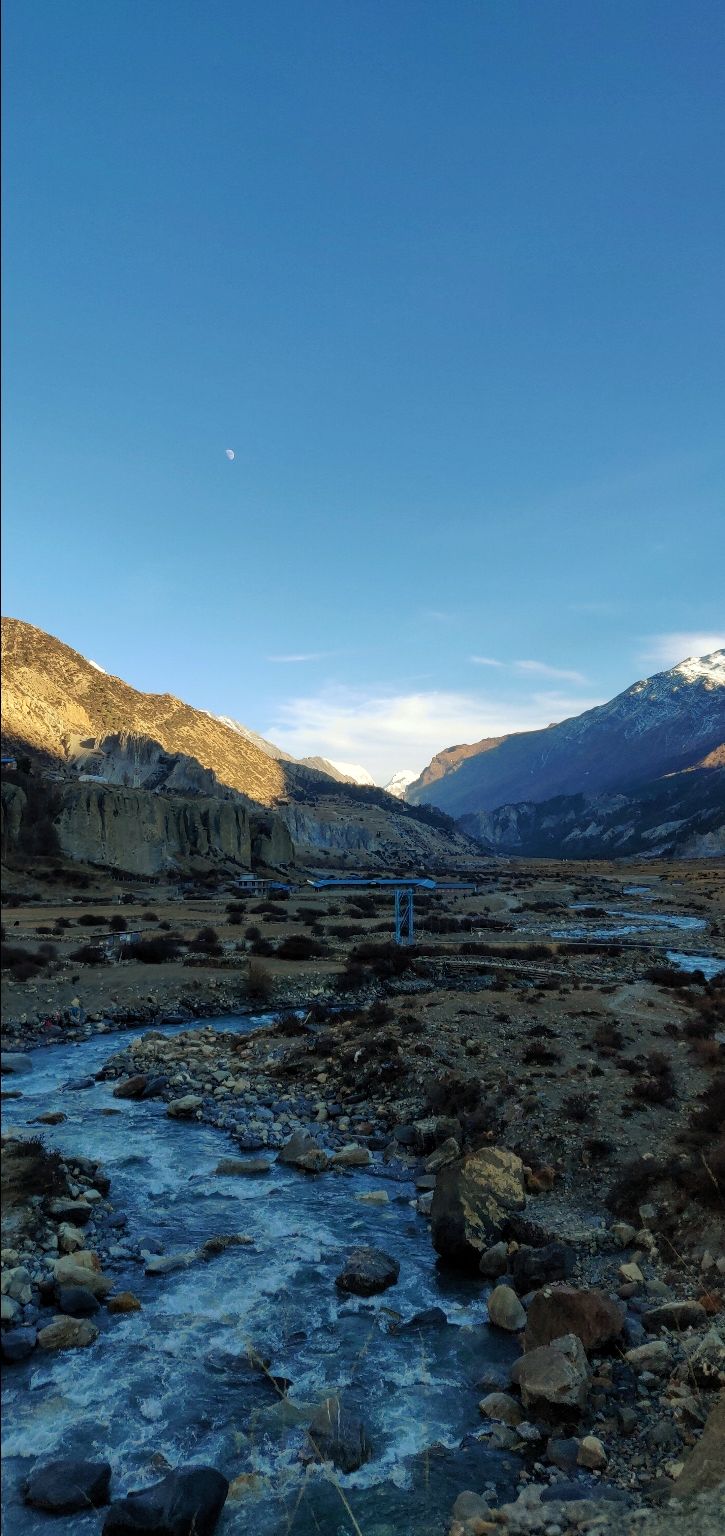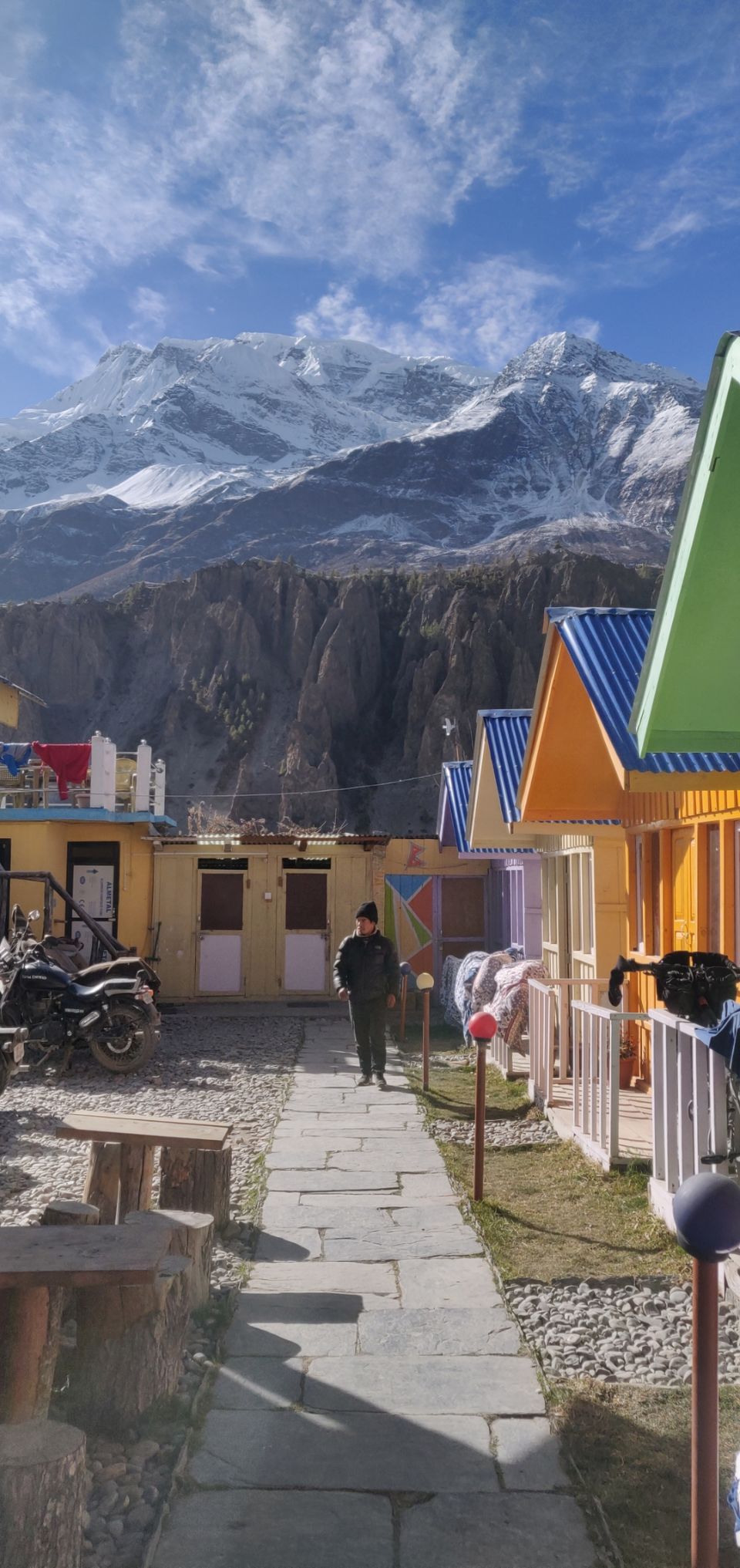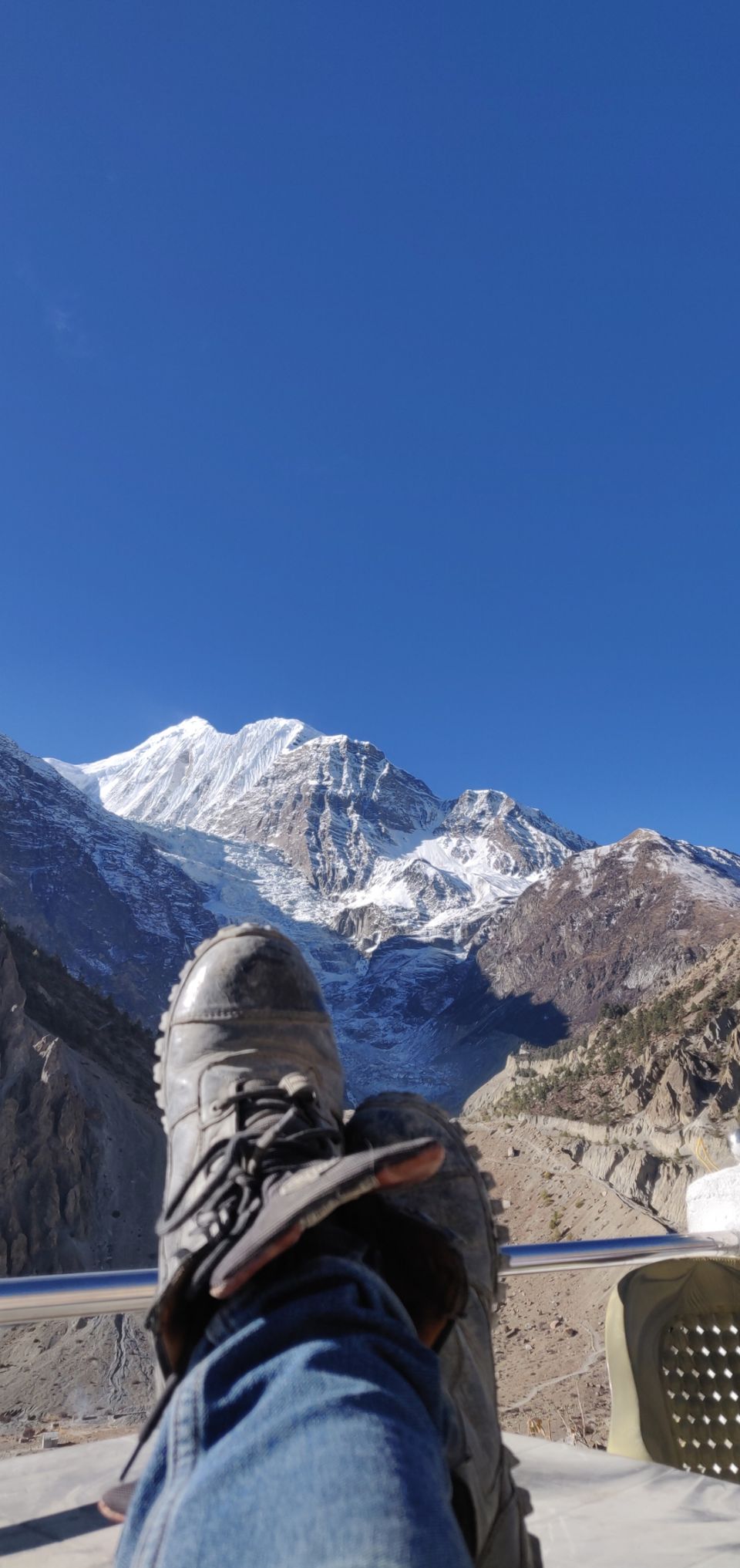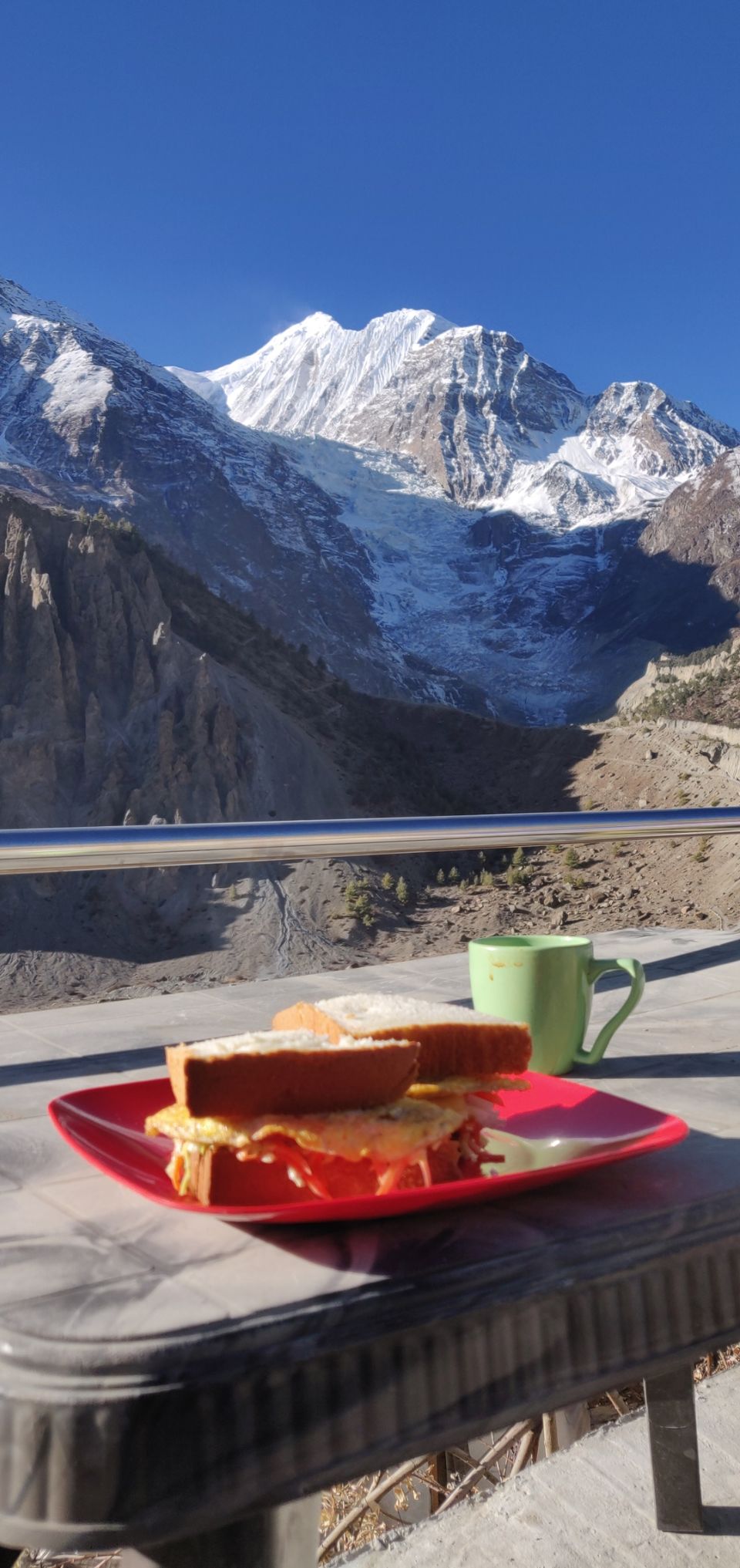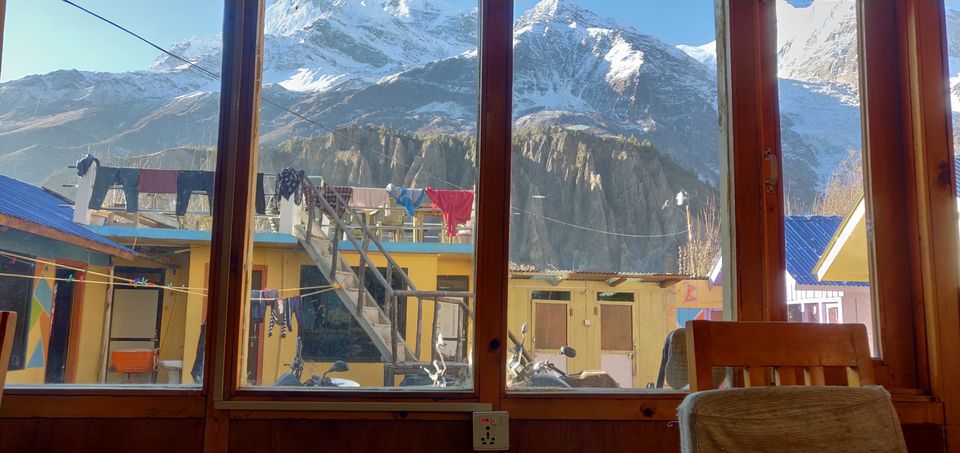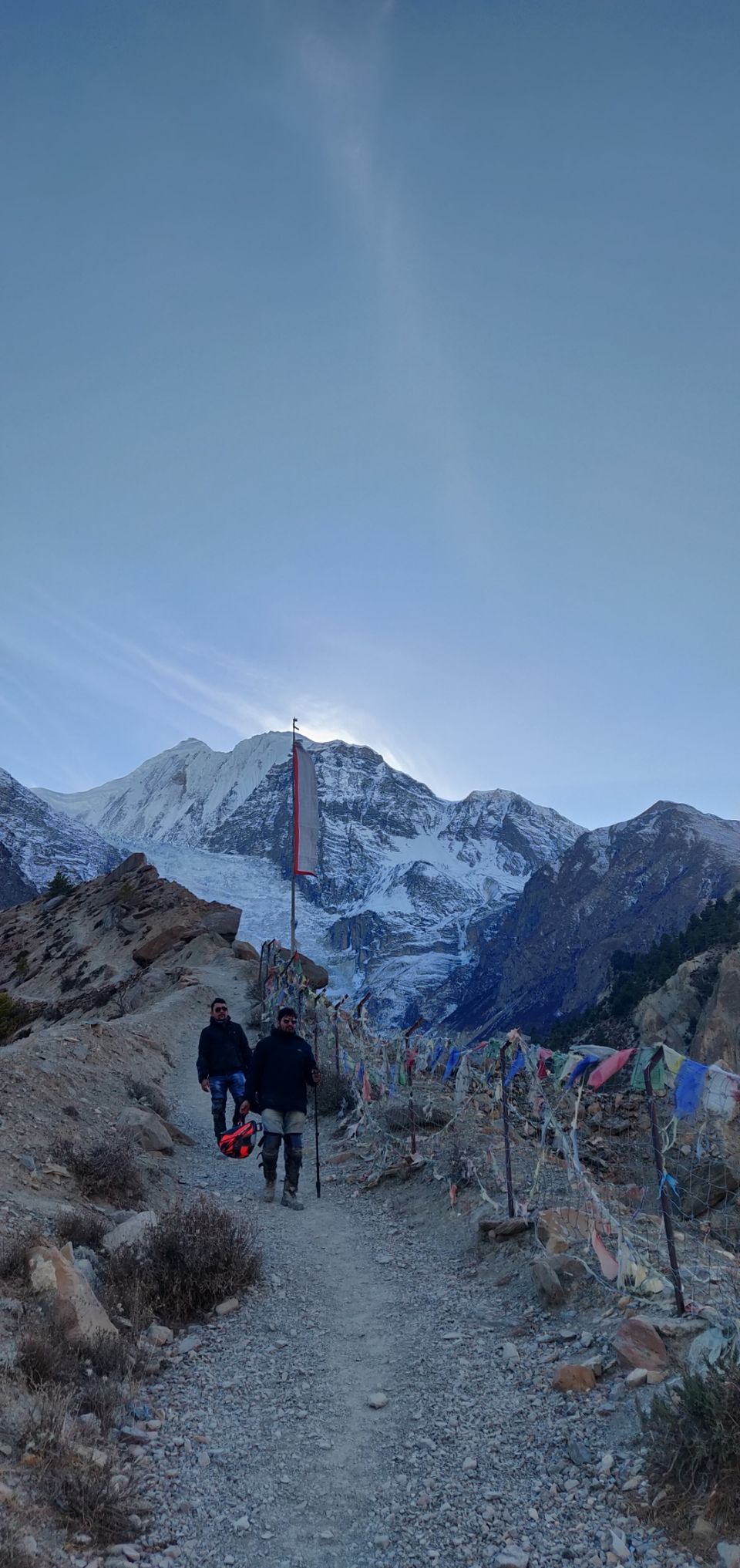 Manang- Taal
Our last morning at this beautiful place had finally come. We paid off the bill, 15000NC for 3 people including the room tariff! Packed, geared up, clicked a few pictures, and headed back. We had realised a day before that we were running low on fuel and the hotel owner helped us by telling where we could get some. A few stops to ask the locals about the location, we finally managed to find it. There are no petrol pumps after Besishahar, which was at a two days distance. So, we had to buy fuel at double the price.
The roads had gotten worse in the last 3 days. With rain hitting a few places and temperature suddenly rising today, the roads were wet and since, it was still below freezing, there was ice too.  A small mistake and I would not be the one writing this blog.
We could only complete 56kms in the entire day. And halted in the village of Tal. A small village with not more than 20 households, white river sand beach, a waterfall, and surrounded by mountains.
Famished and cold we ordered for dinner and headed to our room.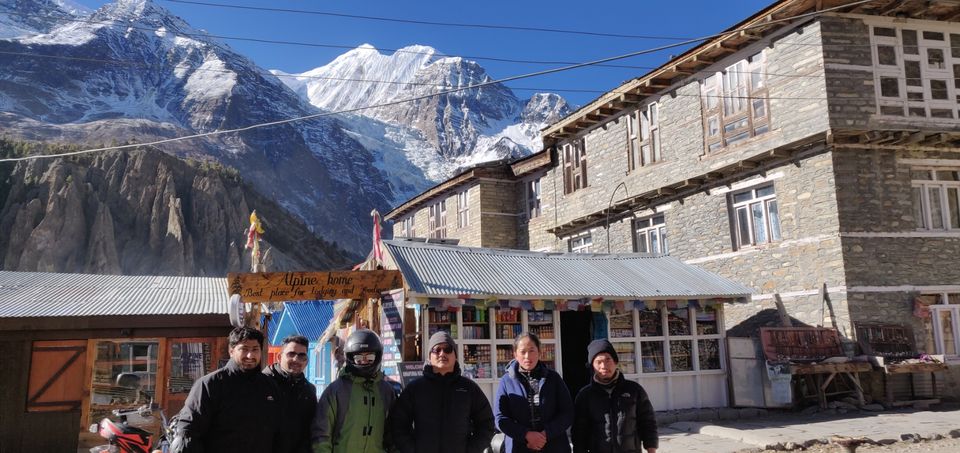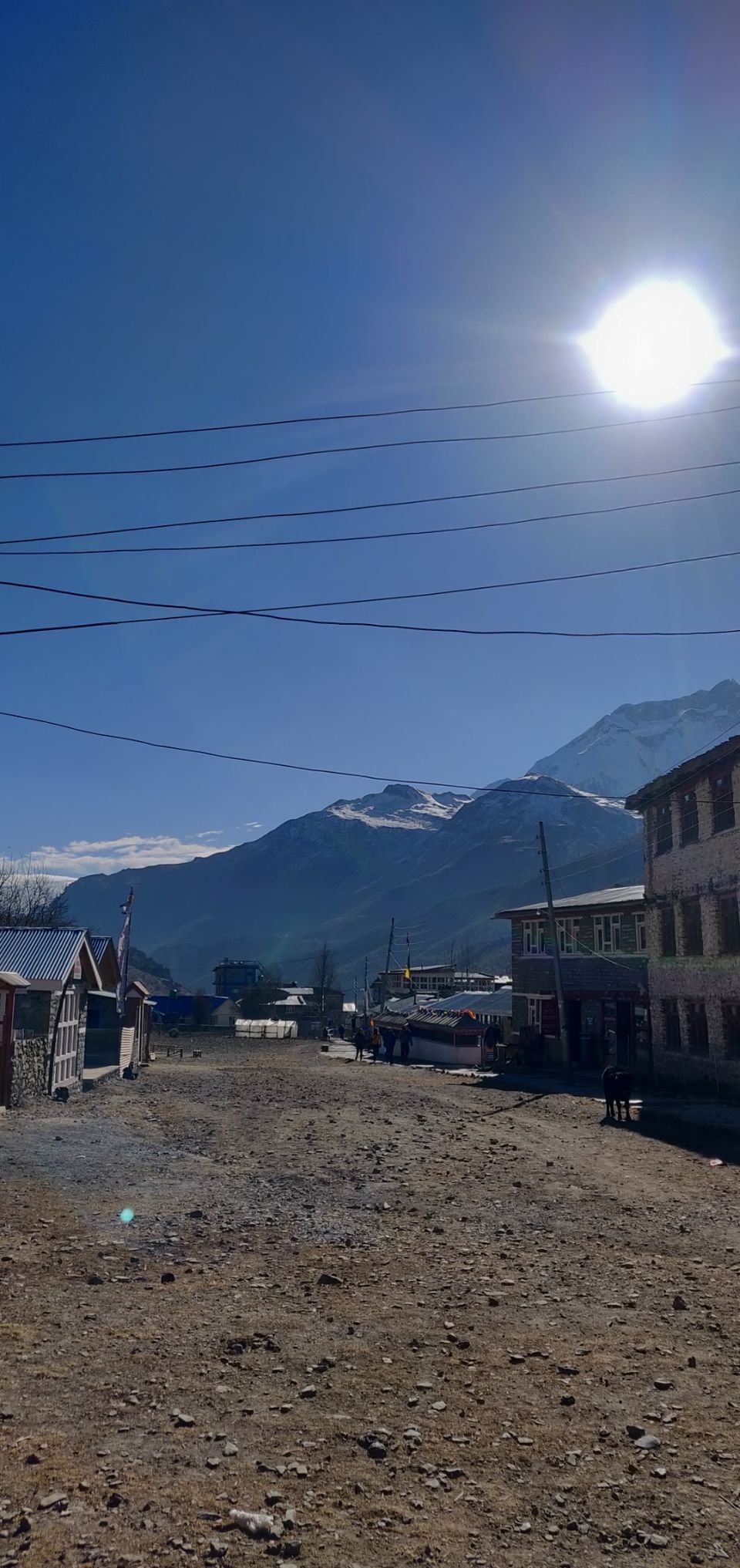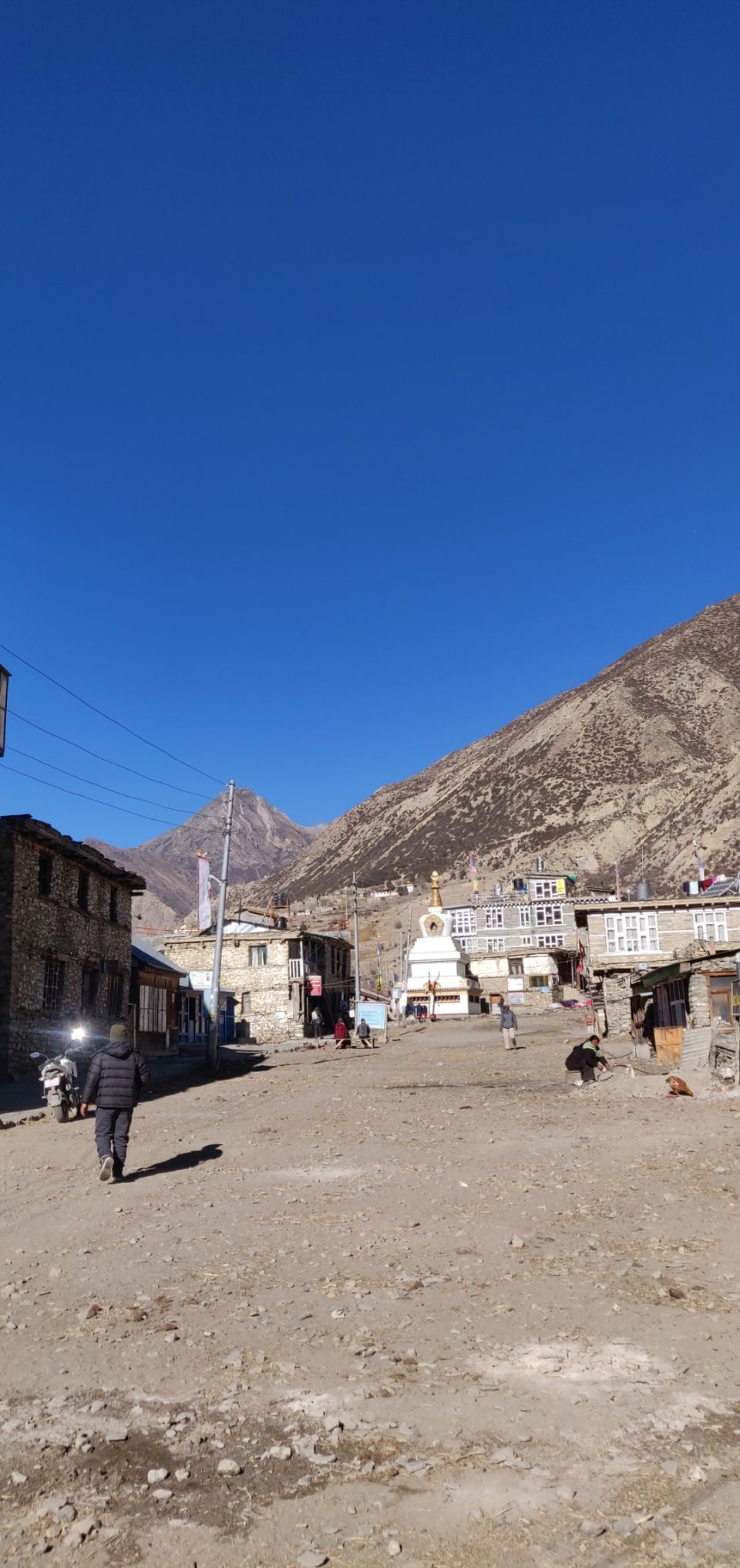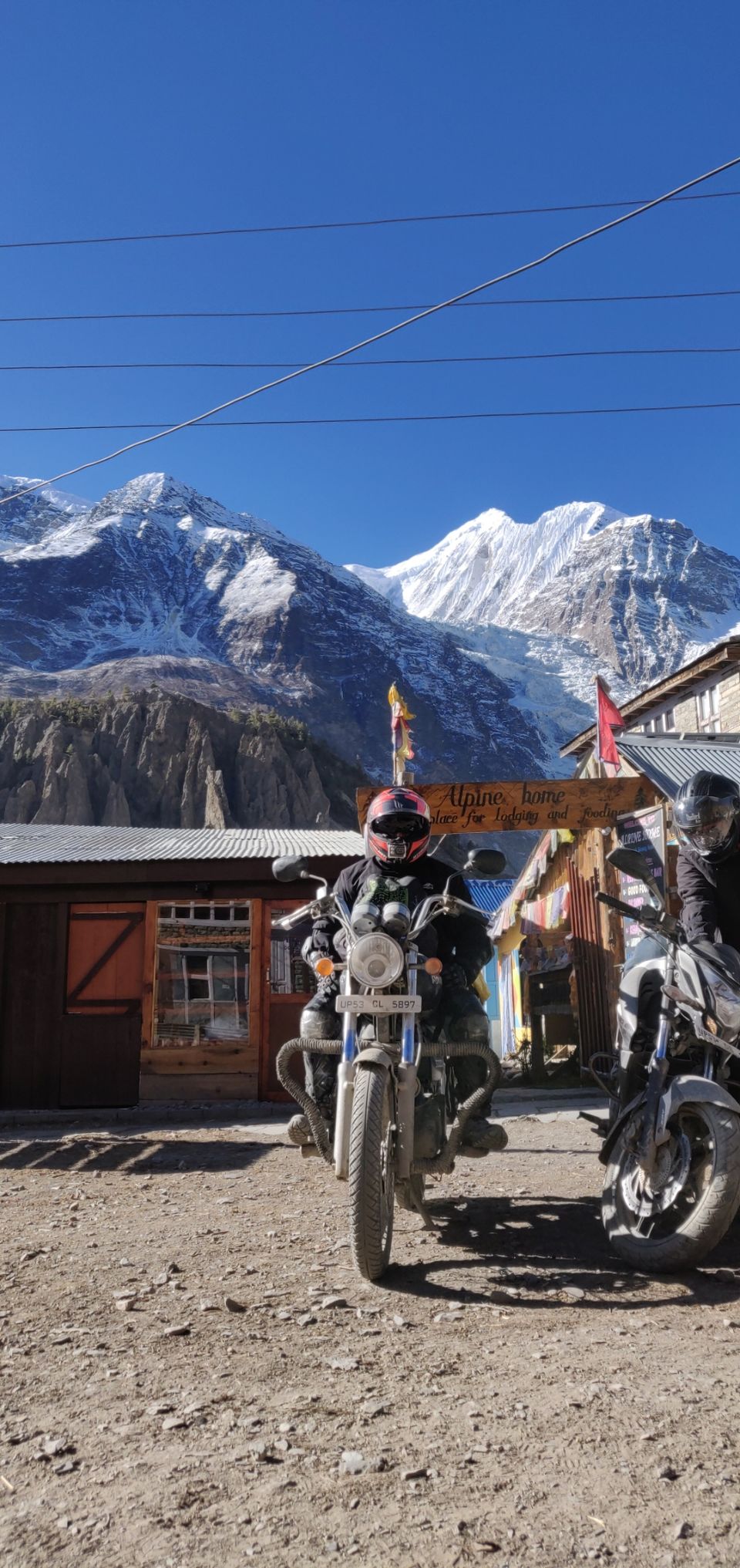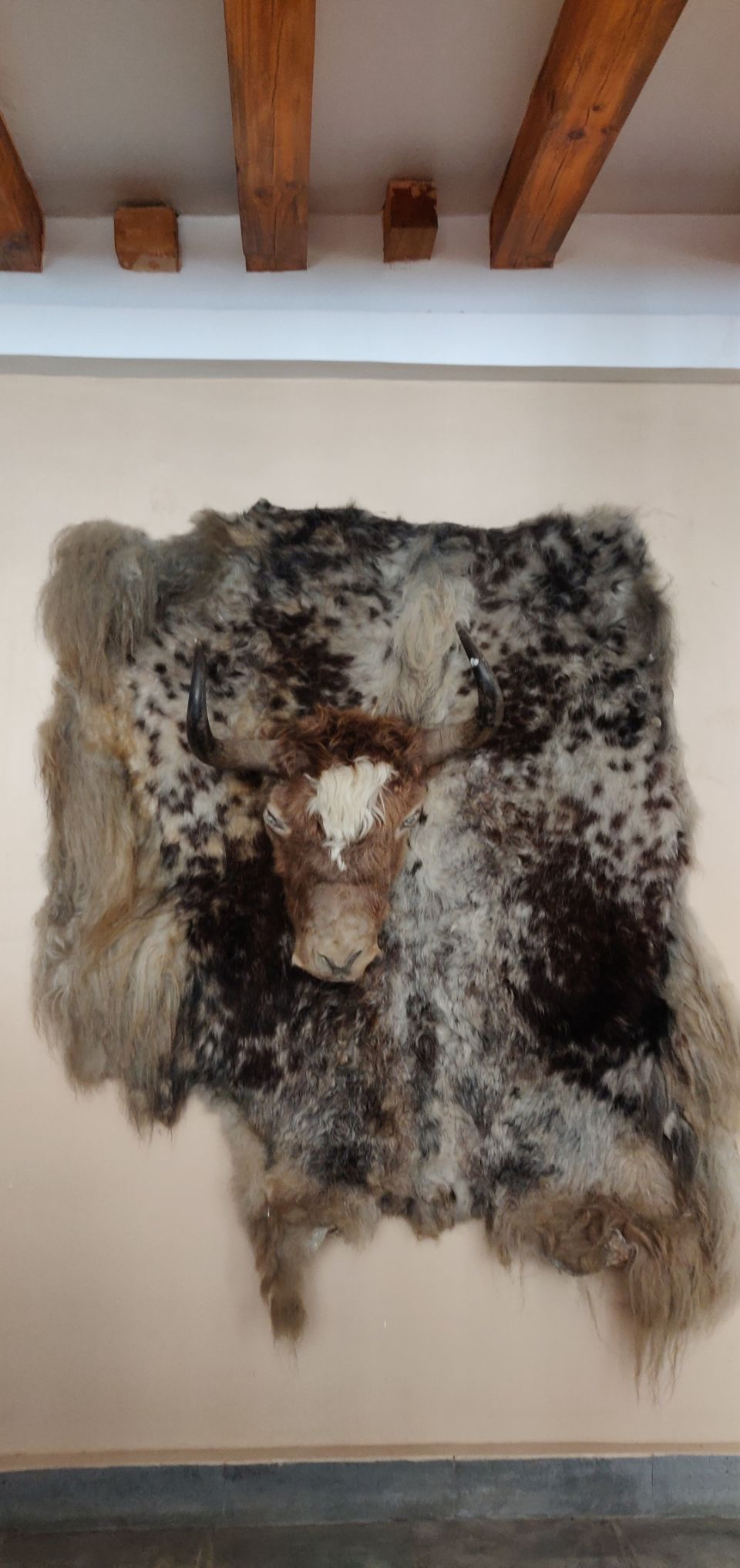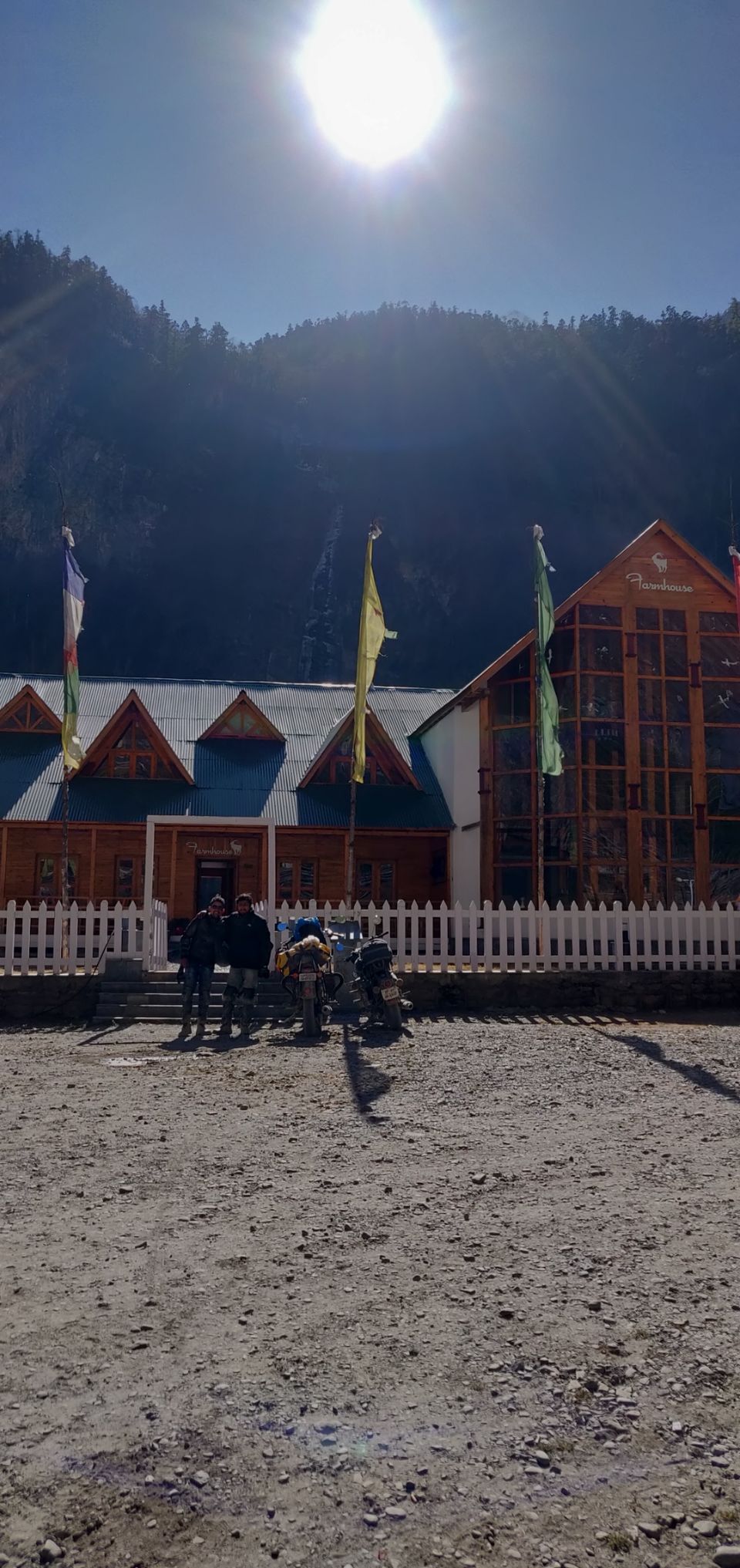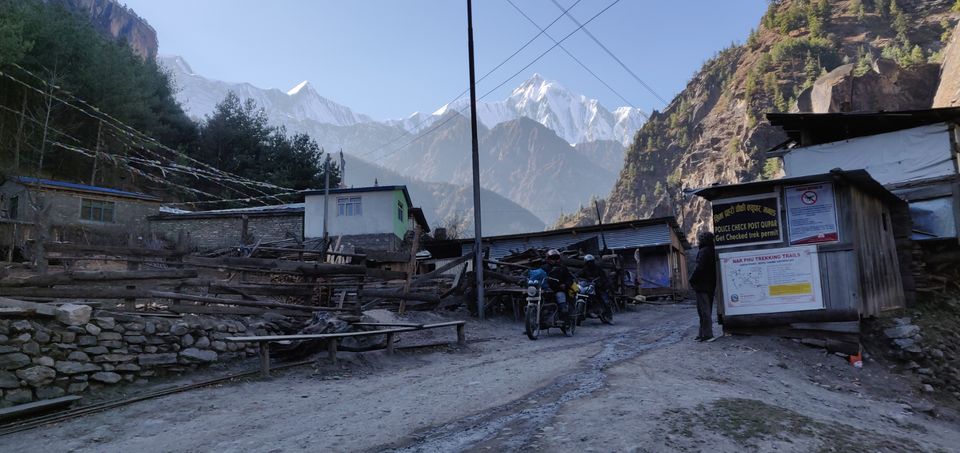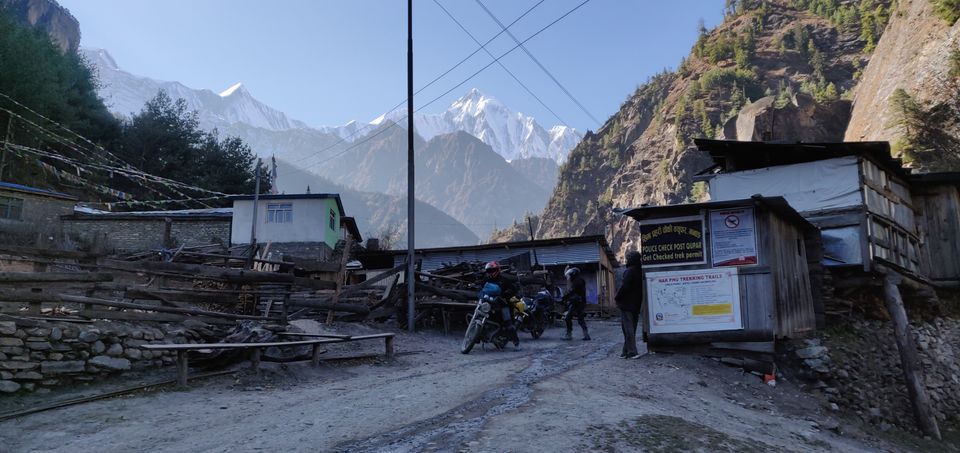 Tal- Pokhara
46 more kilometres of off-roading it was. We planned on completing the remaining distance to Besishahar and then we would halt in Besishahar.
But, surprisingly it took us only 2.5hrs to reach Besishahar. The once dreaded roads now seemed easy, we stopped at Besishahar for lunch and then having ample amount of time in our hands we headed for Pokhara.
Pokhara, with an elevation of 832m above the sea level, is a big tourist destination in Nepal after Kathmandu. The main attraction of the city is the Fewa lake, Sarangkot ( the highest peak in Pokhara, at an altitude of 1500m), and the snow covered Machhapuchhare mountain range. Pokhara also has a big commercial market that hosts a large range of things, from fashion to kitchenware.
It was 7PM by the time we reached Pokhara. Checked into a hotel and to paas our time we took a stroll at the lake side.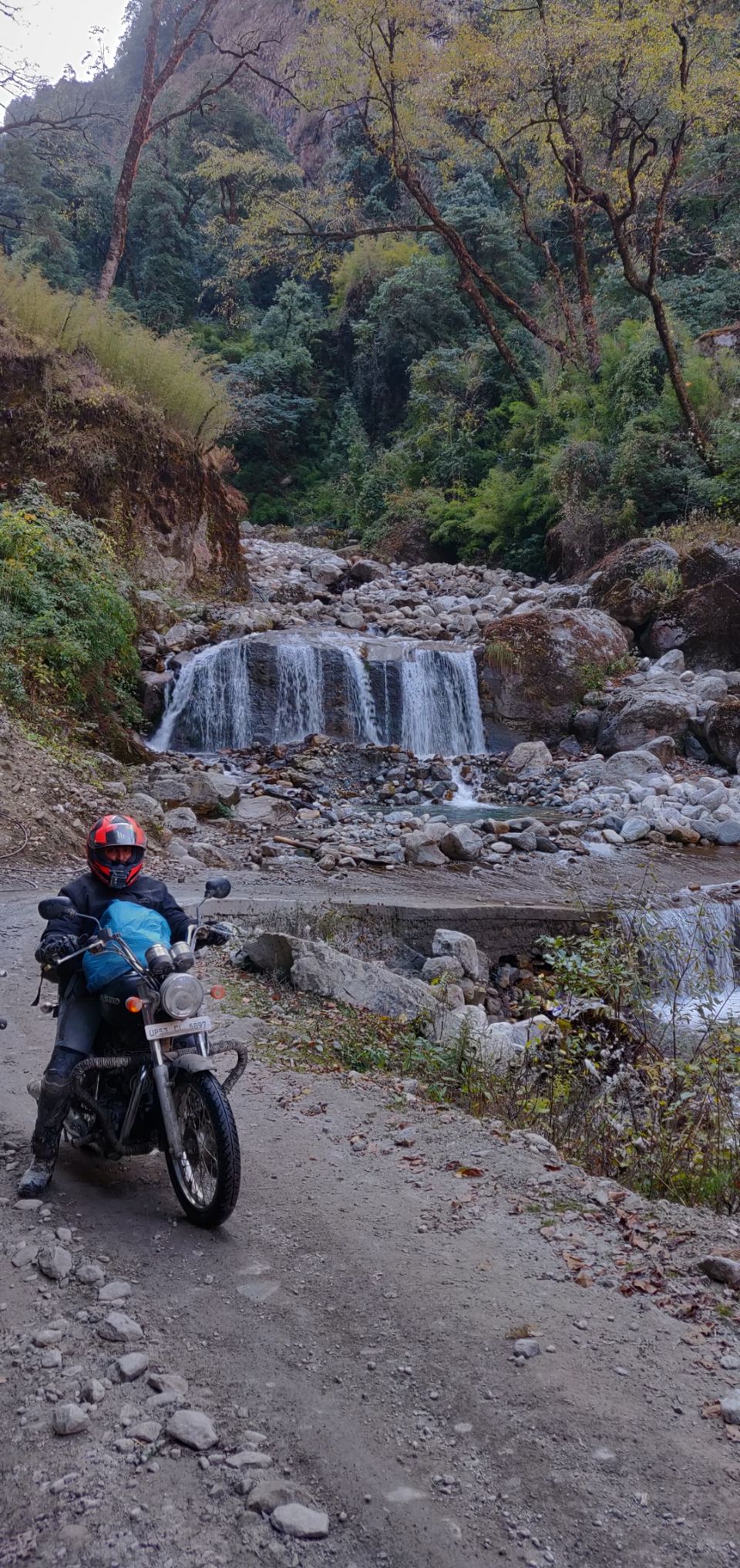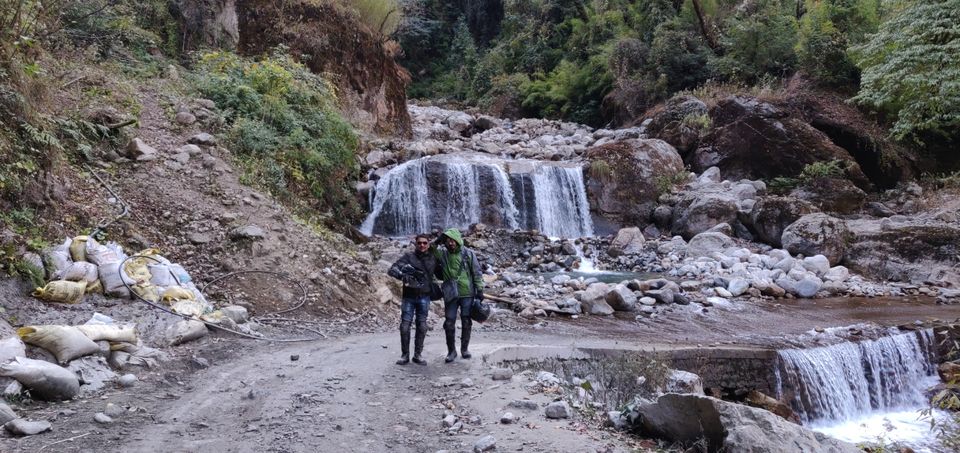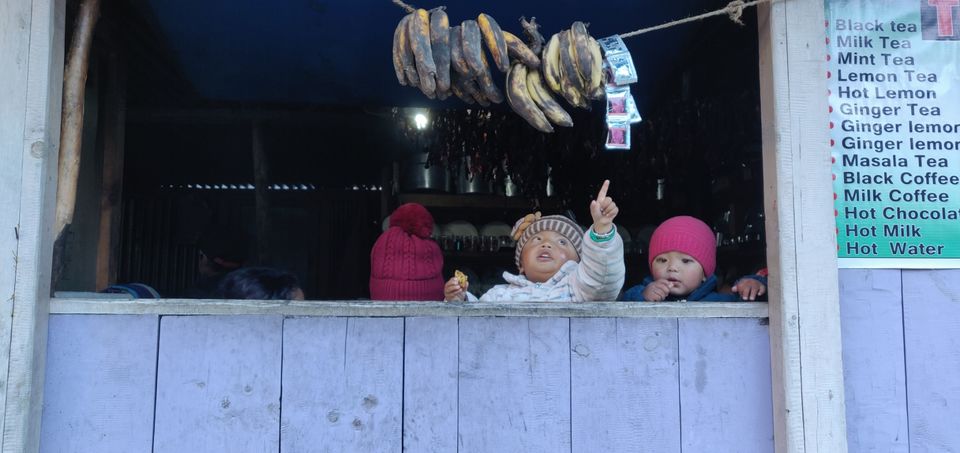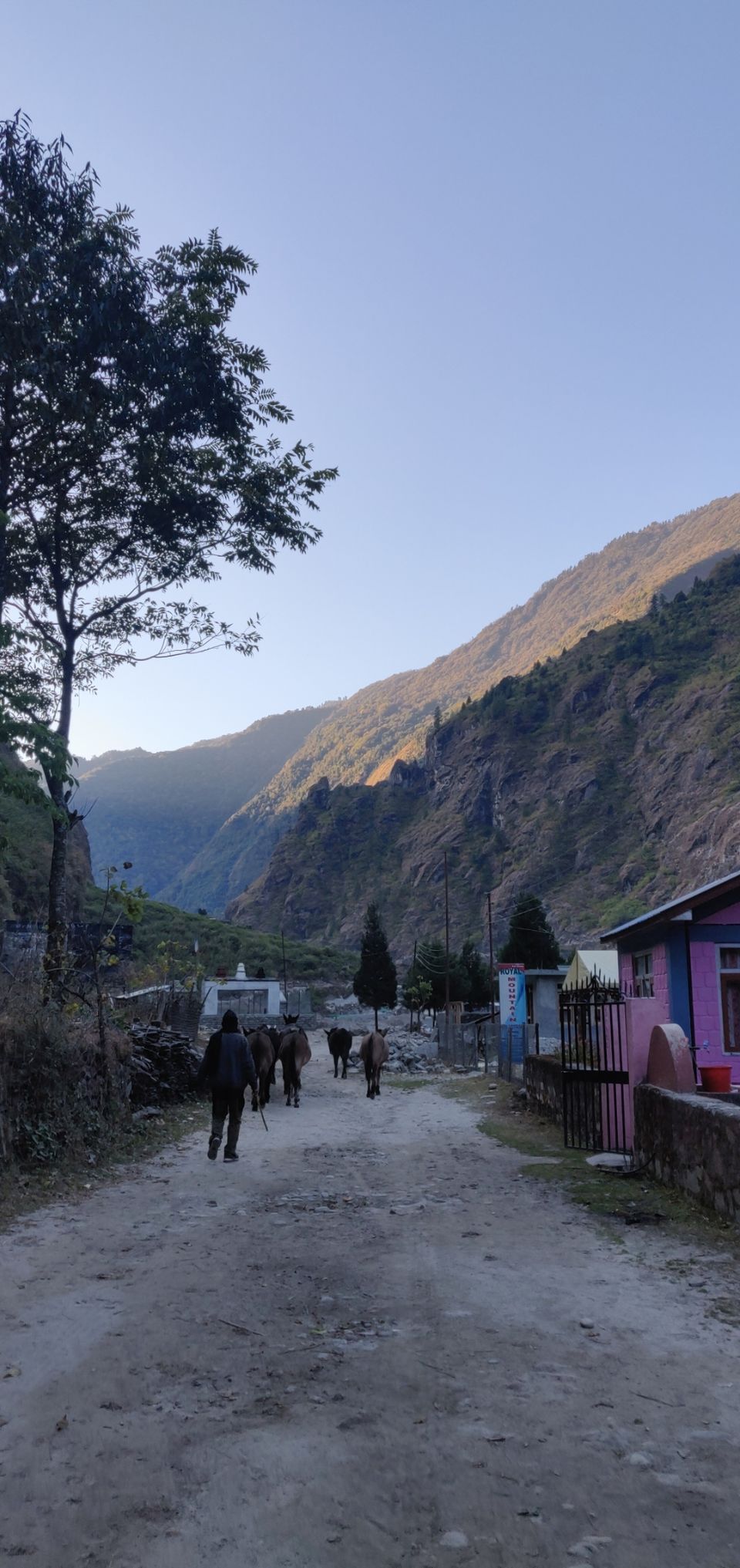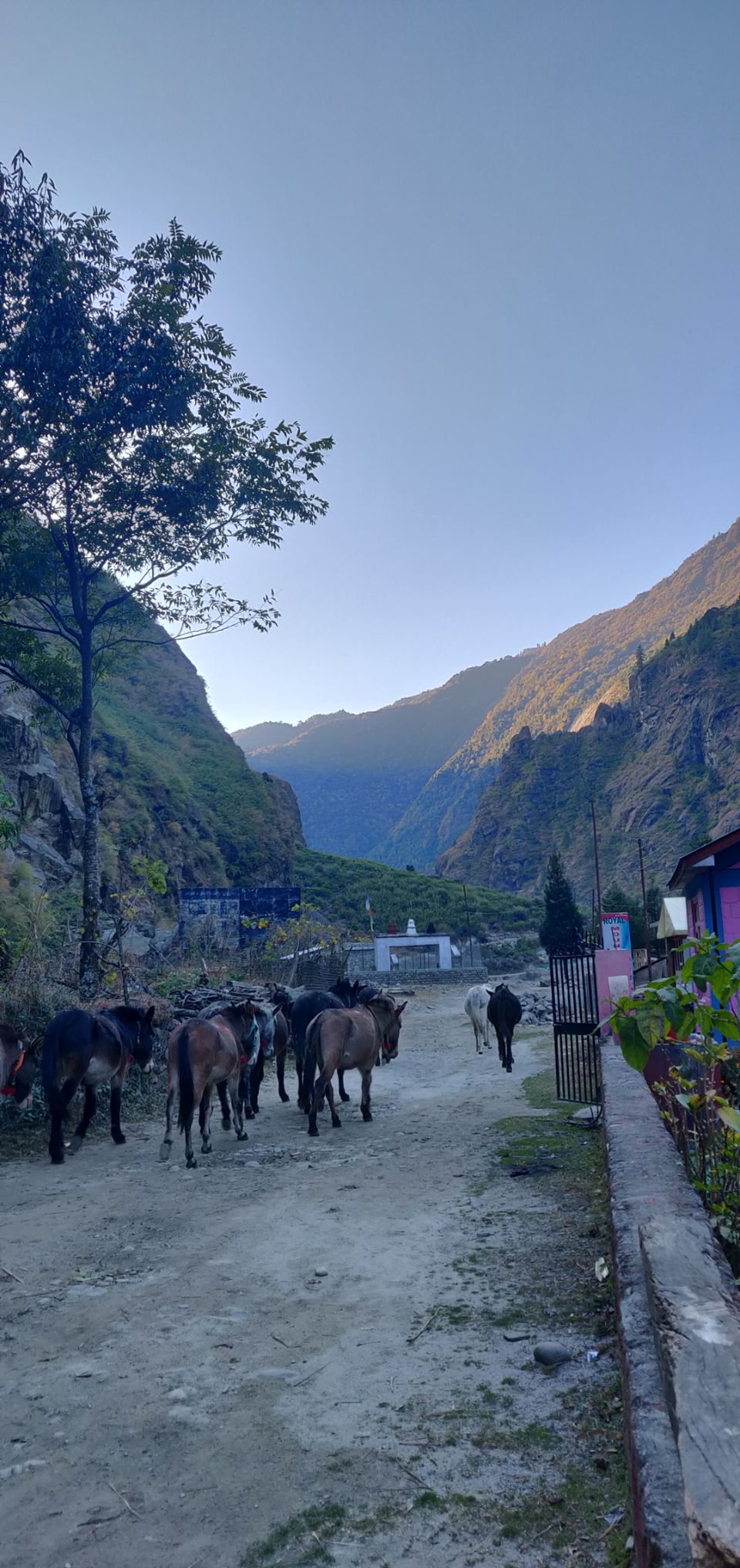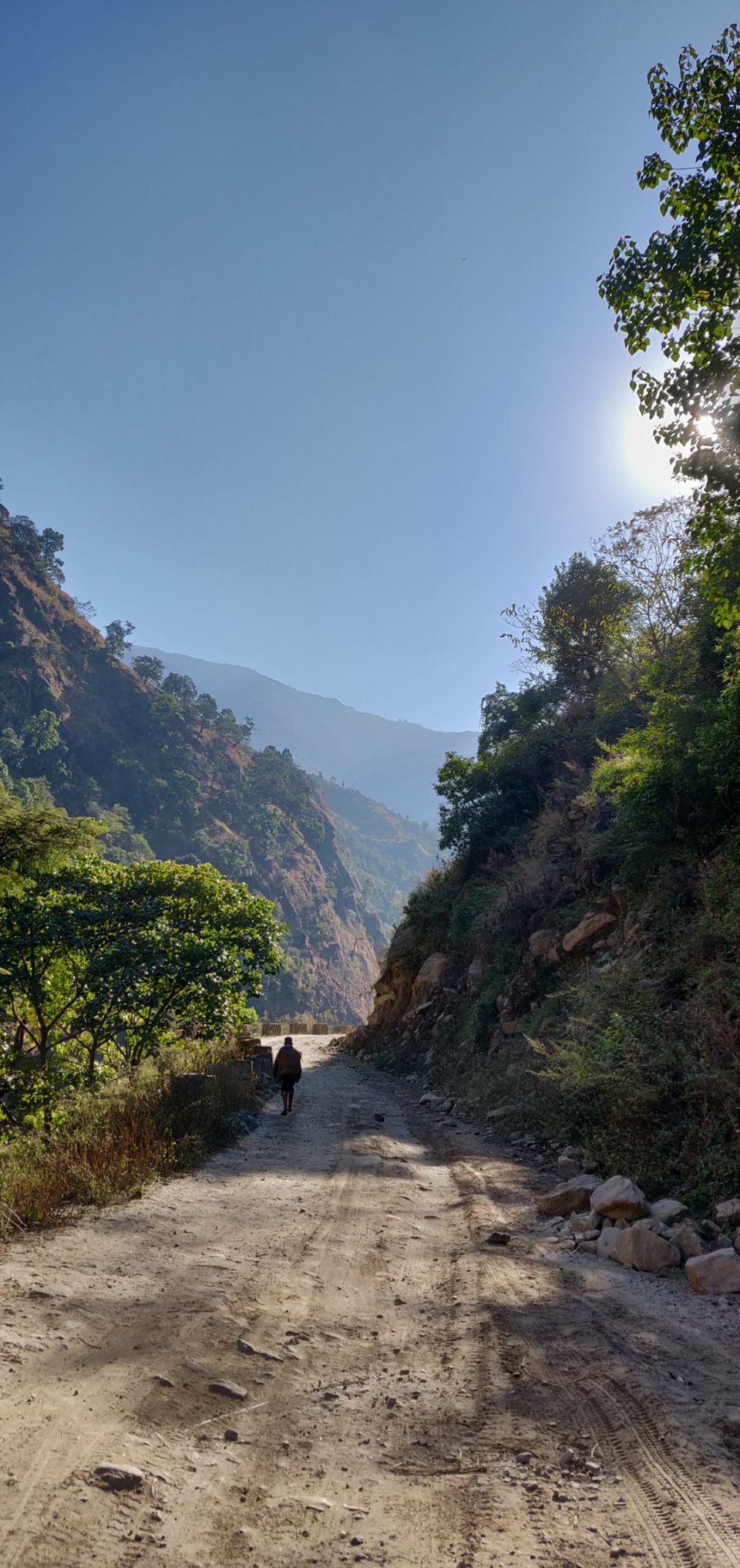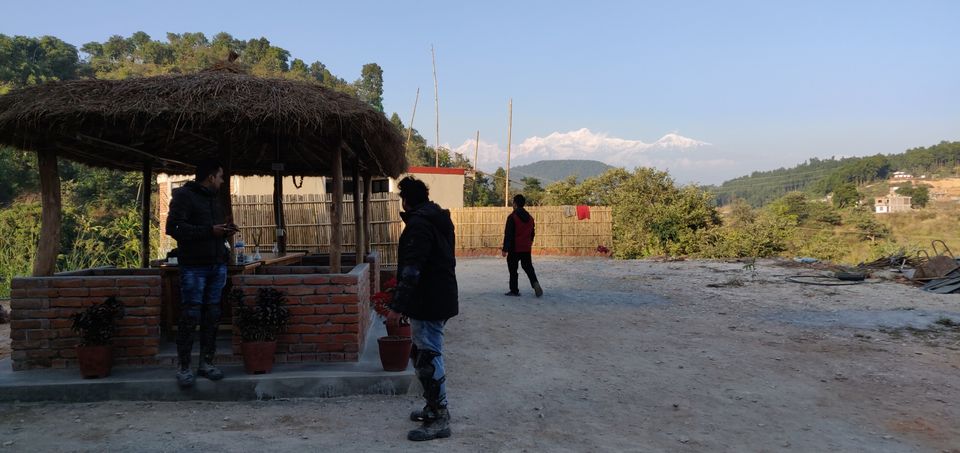 Last day, lazy morning, ample amount of time. My friends decided to get a massage while I went ahead to book a camp for the night.
We camped at Himalayan View Point Camping and Restaurant, its a 10 min ride or 30 minutes trek from Peace Pagoda's parking area. It has the most magestical view from its dinning area. Overlooking the lake, the Sarangkot peak and Fishtail mountain, the view has the power to absorb you.
Last night in Nepal ended peacefully.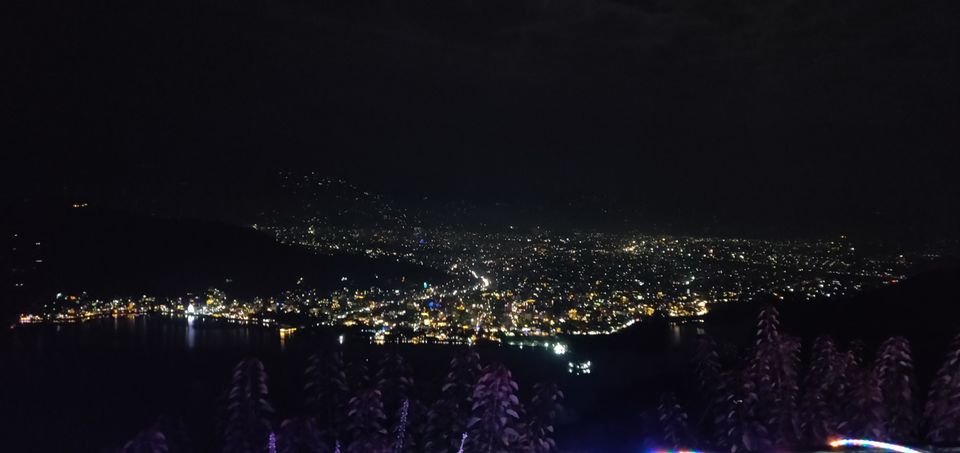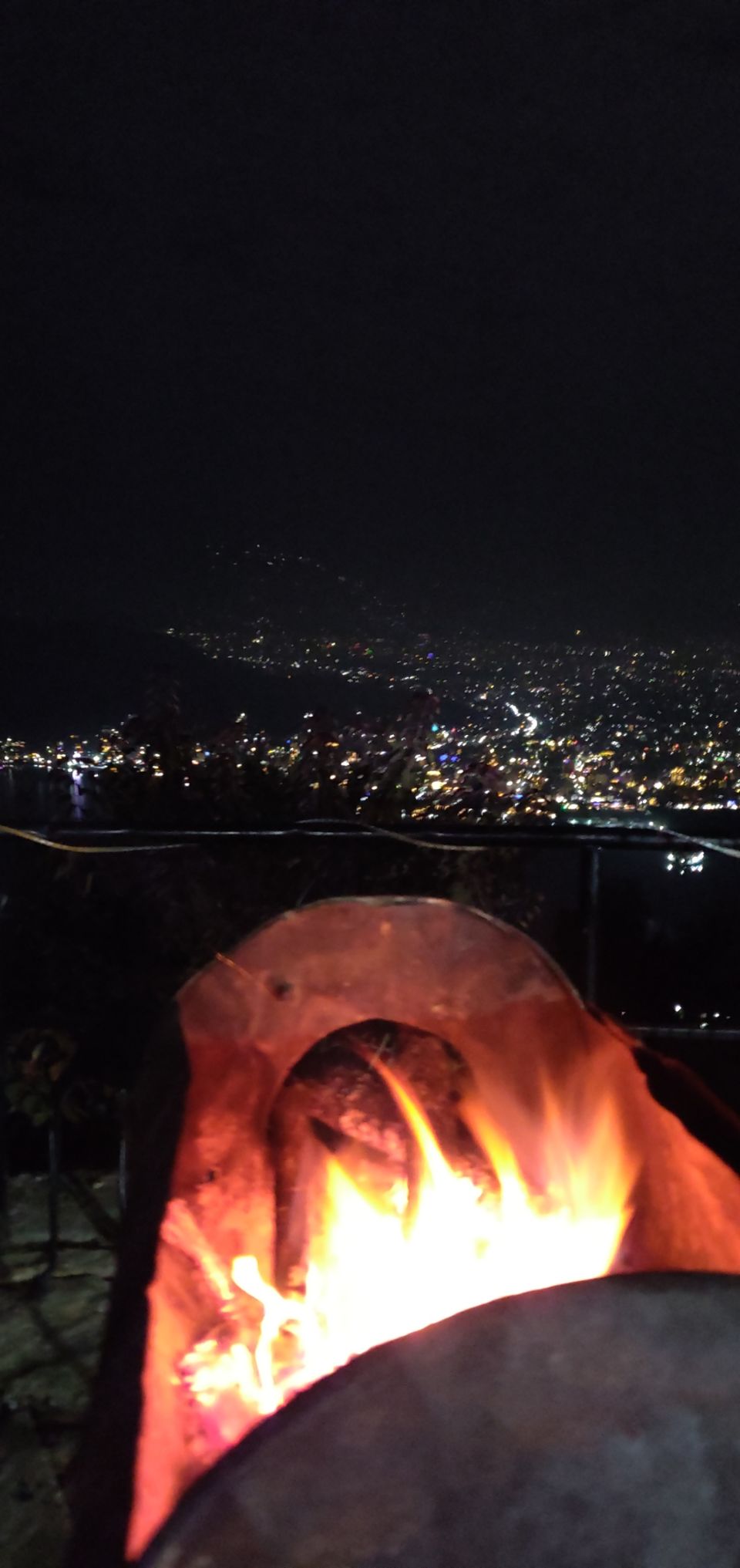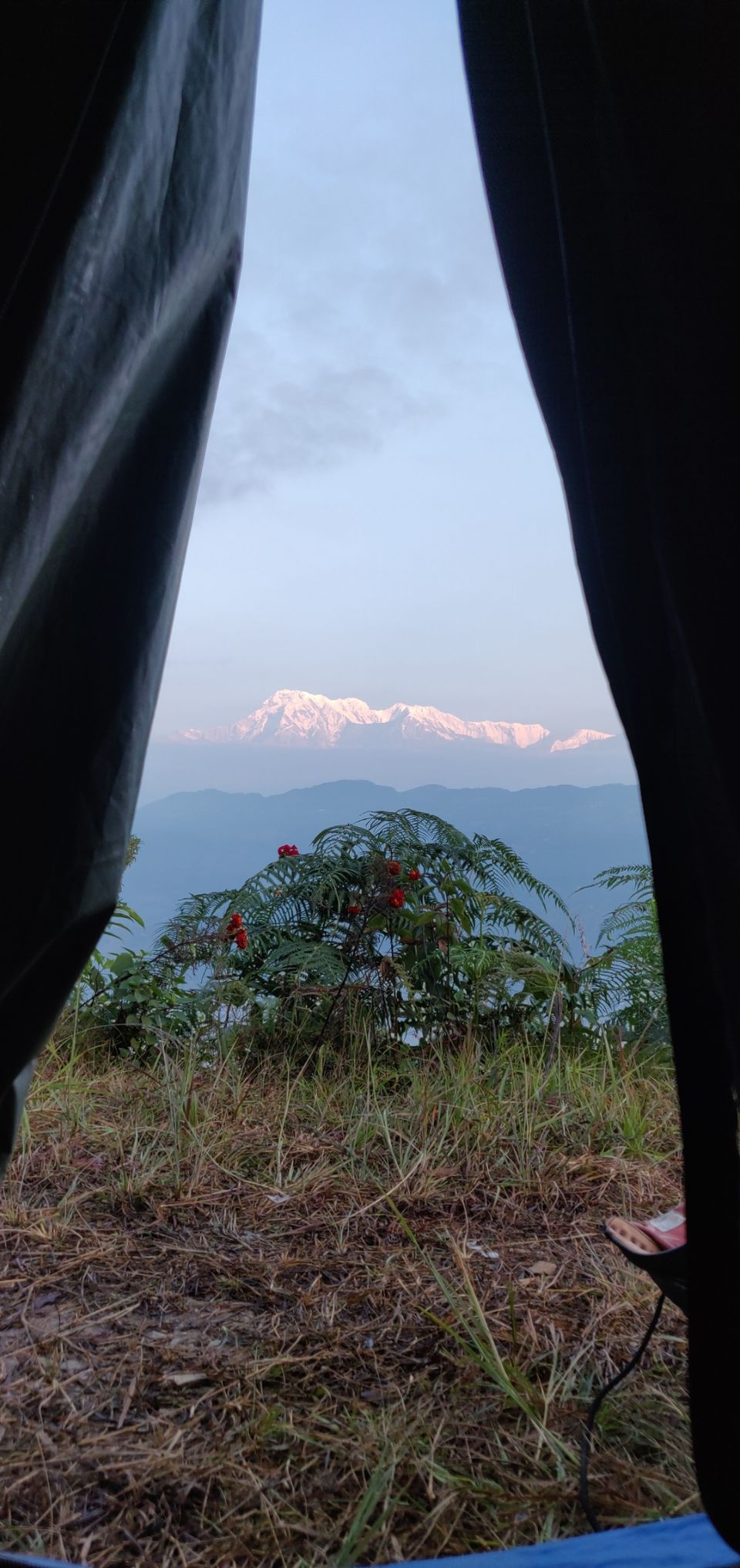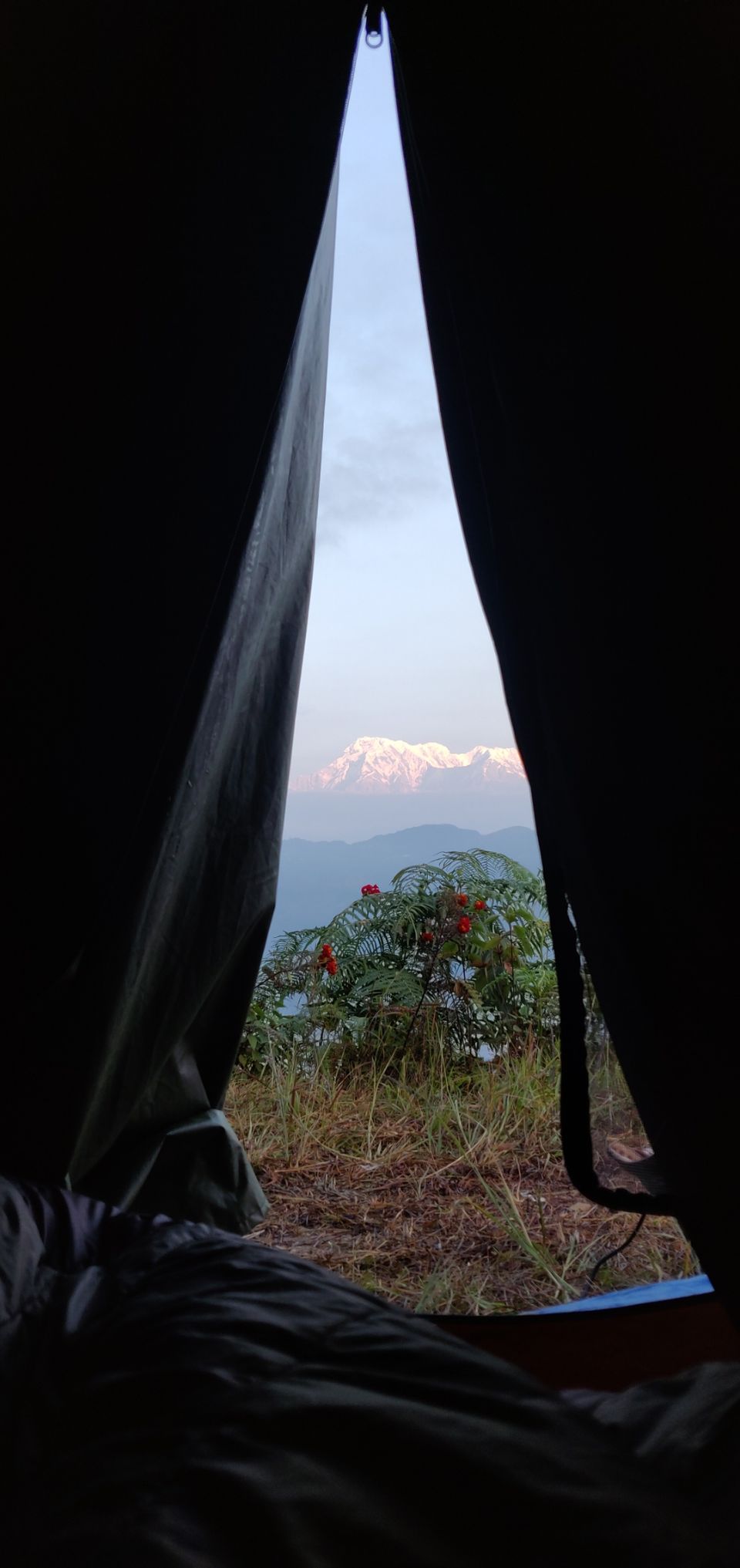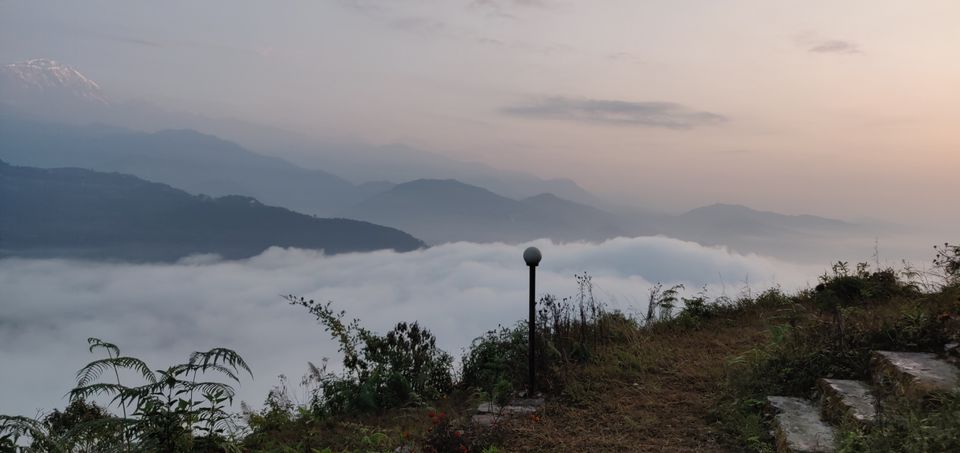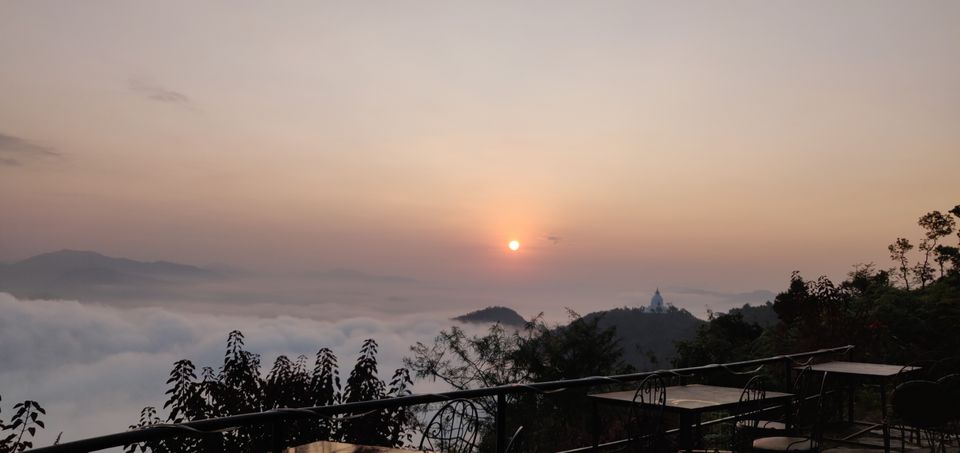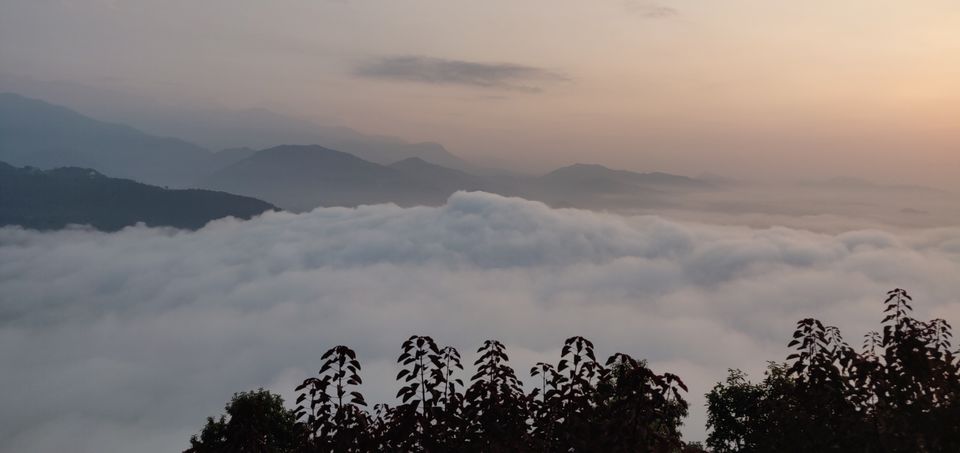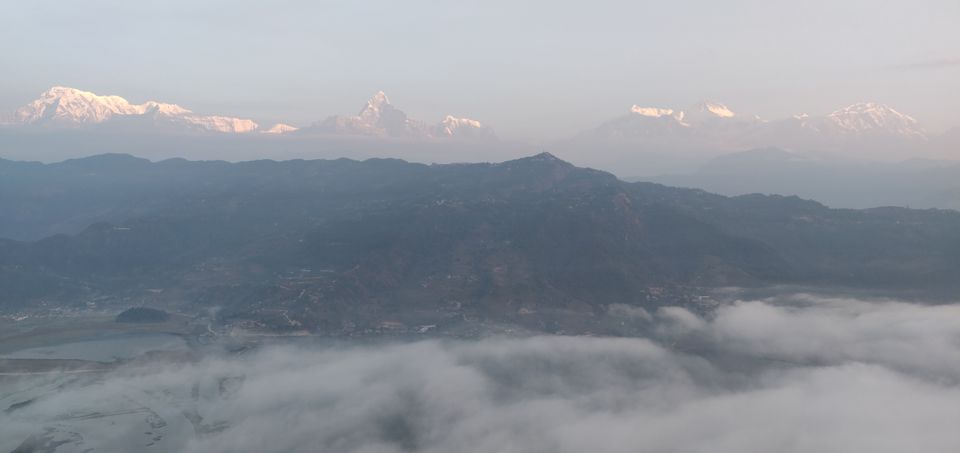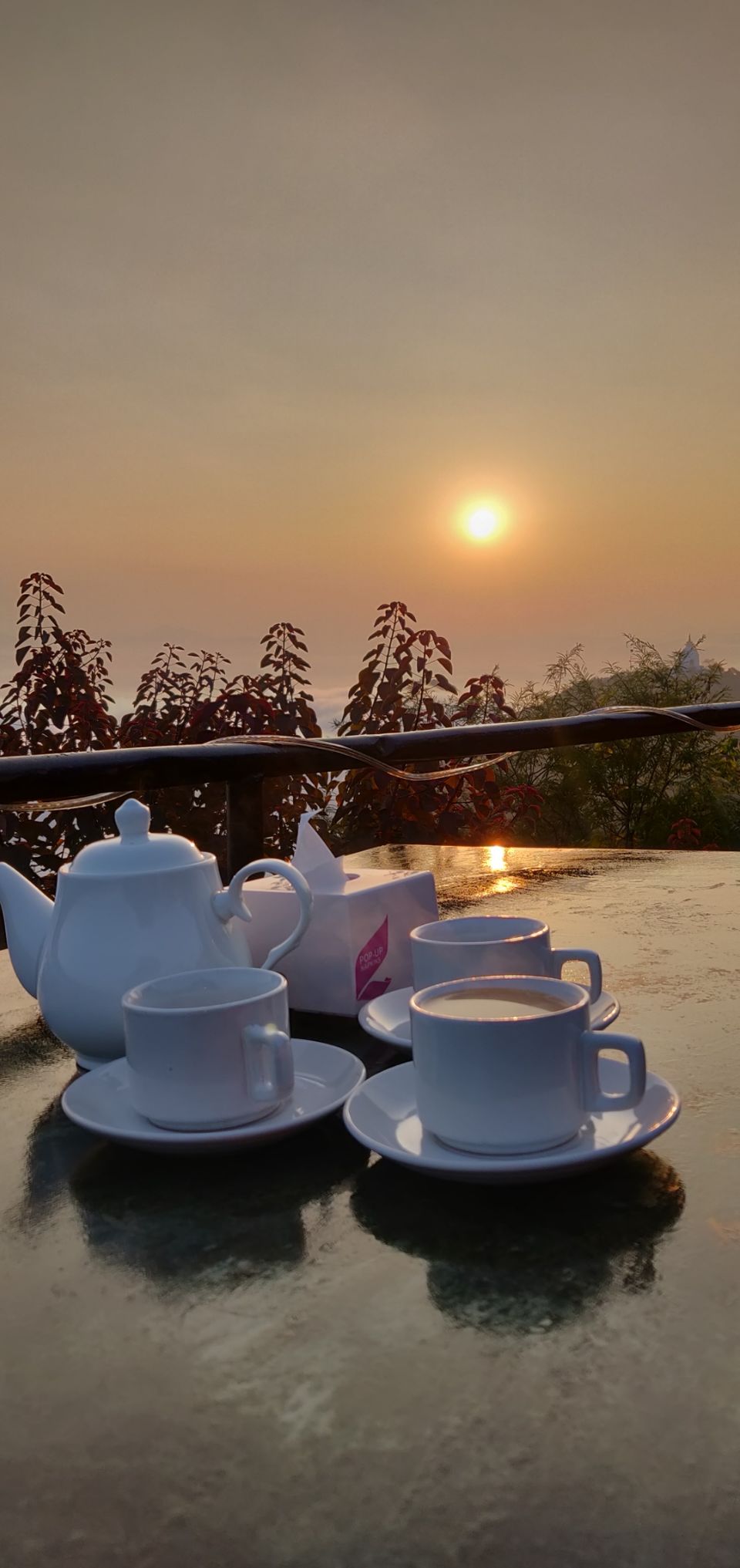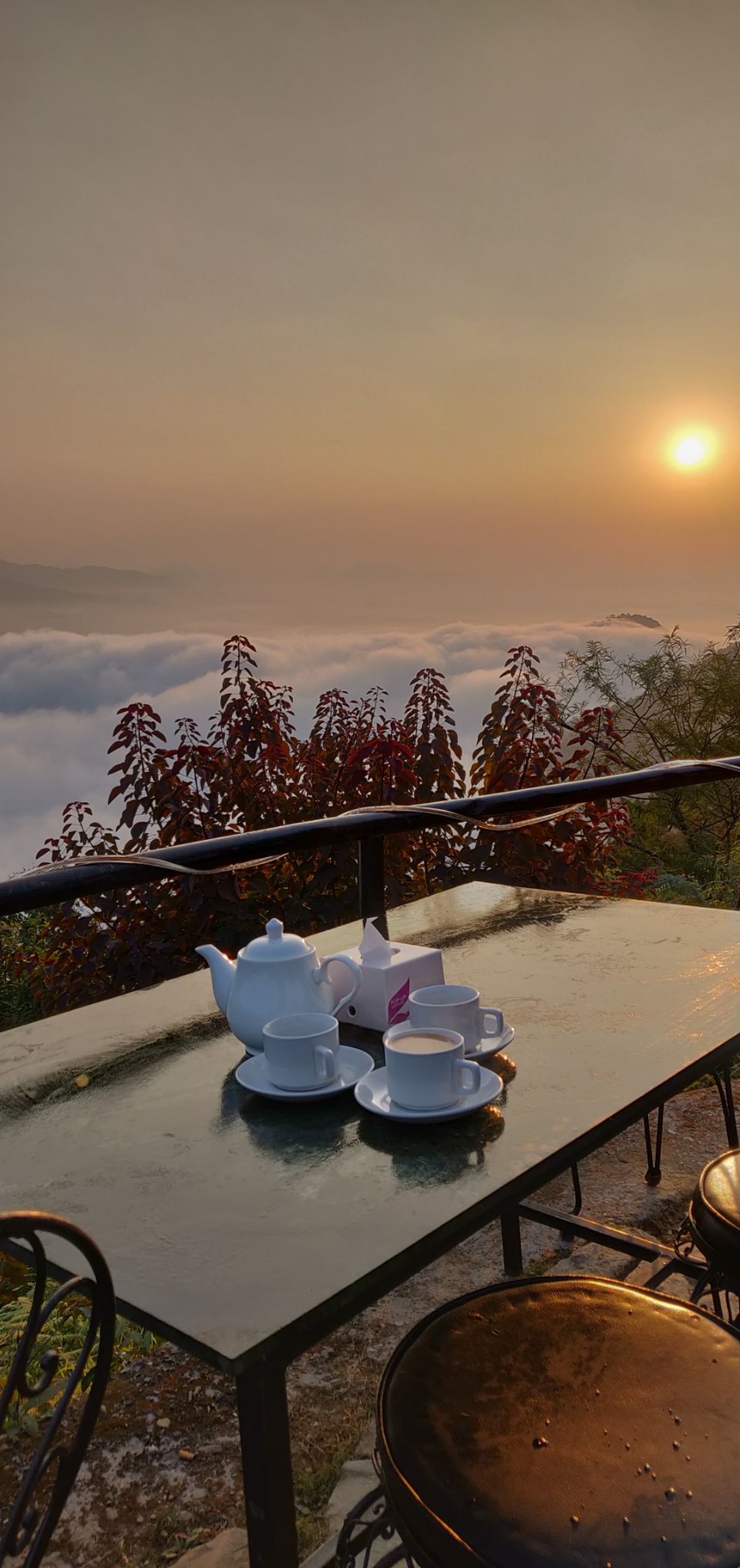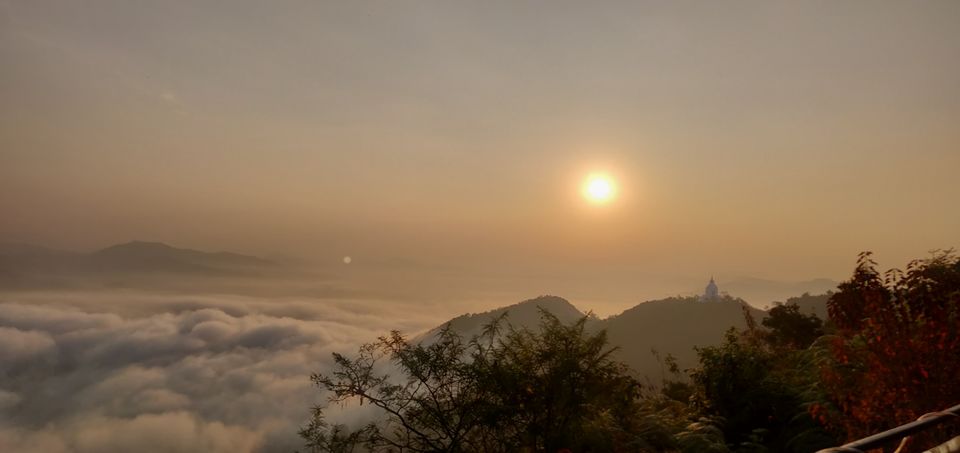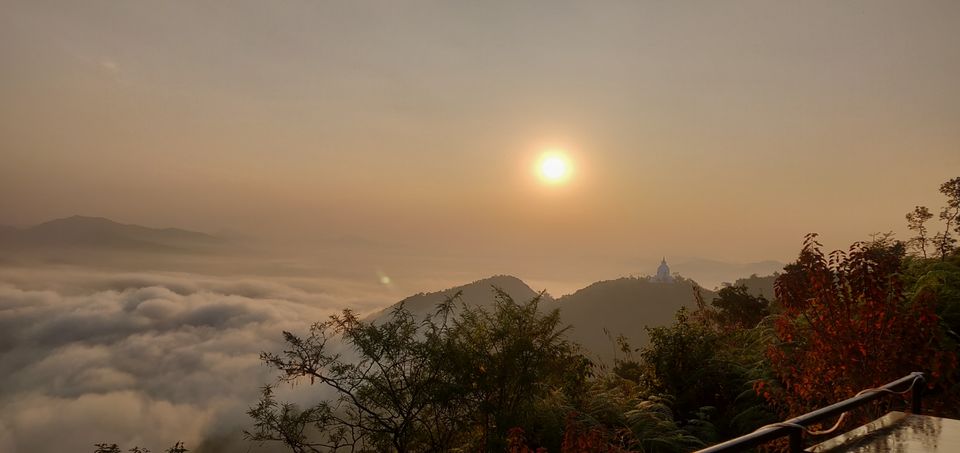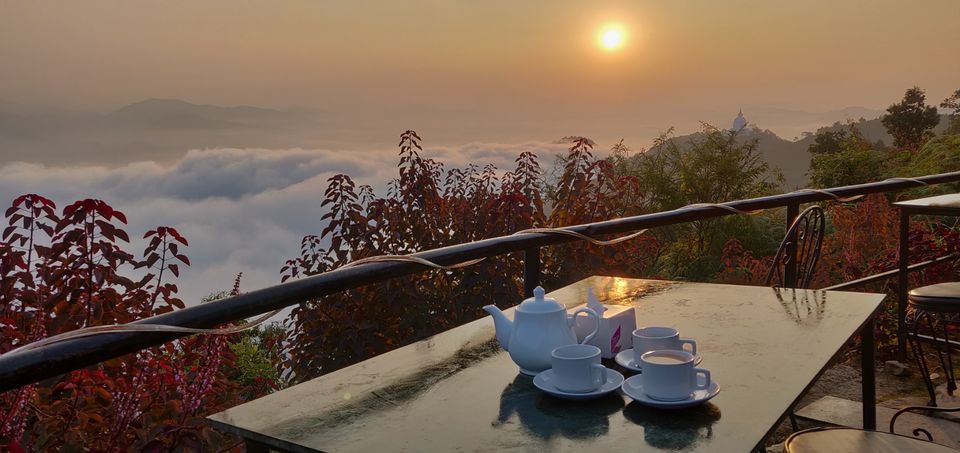 Pokhara- Gorakhpur
Aakhri din bs ride kiya bhai aur kch ni.
But, I would like to give you an overview of the trip.
Where to?- Manang
Road difficulty- easy to extremely difficult.
Things to remember-
1- Keep a bike toolkit with puncture repair tools.
2- Getting permit is necessary from Besishahar before starting your trek.
3- Indian currency is not acceptable after Dumre. So, get your currency exchanged beforehand.
4- Ride with discipline and safety.
5- Keep ample amount of warm clothes because it gets extremely cold once you are in Manang.
#Manang