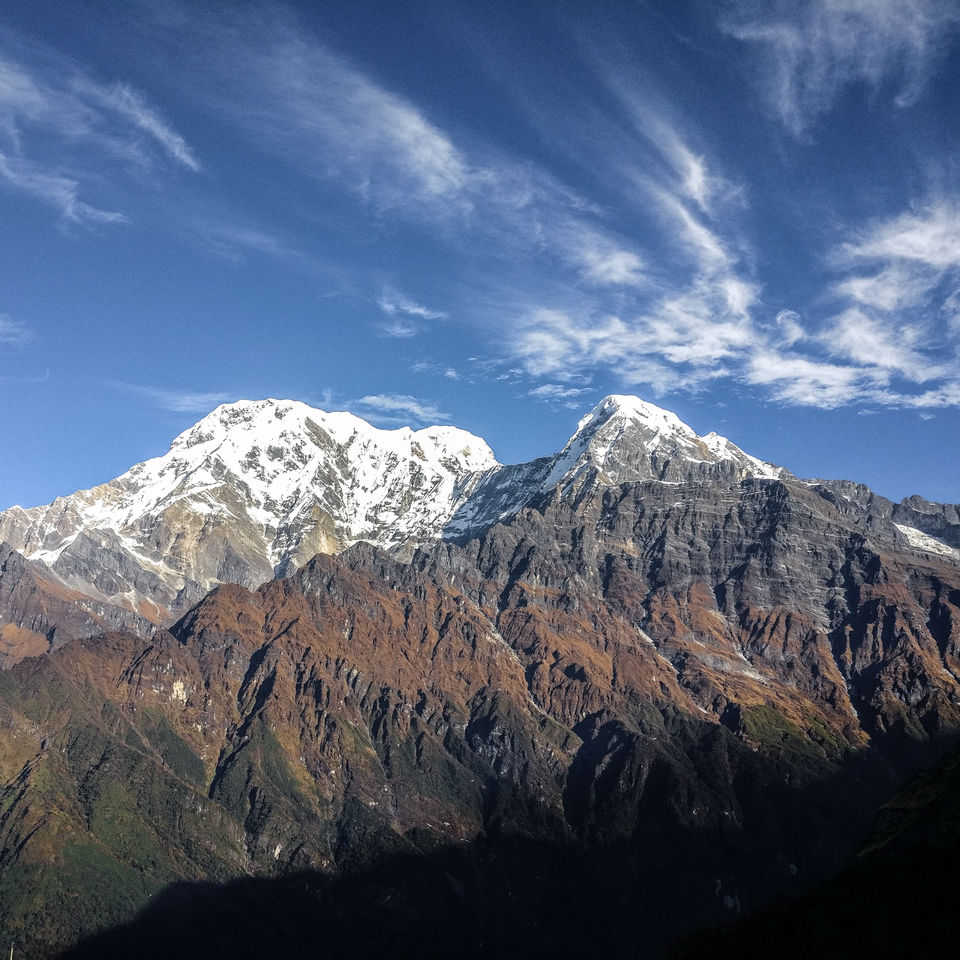 Starting point: Mardi Himal High camp (3900 m)
Ending point: Sidhing village (1750 m)
Date: 28th October 2019
Distance covered: 12 Kms
The weather on Day 02 of the Mardi Himal base camp trek was cloudy. I was so happy with my decision of going to the Mardi Himal base camp the previous day.
There are basically two routes to go back from the High camp. The first one is following the same trail till the Low camp (3400 m) and then taking a diversion towards Sidhing village (1750 m) but then you are technically hiking back the same way. The second route is a fairly new one and very few people take this route for descend, the route starts from the High camp (3900 m) itself and goes all the way to Sidhing village (1750 m). By taking this route you can actually do a circuit trek. However, the new route passes through dense forest and it is mandatory to know how to use navigation apps if you are a solo hiker.
Picture 1/10
The besutiful sunrise as seen from the High camp (3900 m). Since I had decided to take the new or the less travelled route, I thought of starting little late so that there is enough light in the dense forest section. The total hiking distance was also 12 Km only and that too a complete descend. So, I just enjoyed the sunrise and after having breakfast started my hike at 07:30 am.
Picture 2/10
As I started my day I thought of seeing the Annapurna South (7219 m) and Hiunchuli (6441 m) for one last time. I was so lucky to have a clear sky. As per my experience after doing the Annapurna circuit, Poon hill and the Annapurna base camp trek, the Hiunchuli peak (6441 m) appears very beautiful from the Mardi Himal base camp ridge. From the Annapurna base camp you barely see the other side of this peak. From the Poon hill, the other tall mountains take away all the attention. It is ONLY at the Mardi Himal trek that you see Hiunchuli as a whole. It was a treat to the eyes.
Picture 3/10
If you are hiking solo and see any Yaks on the trail then be completely calm. There is no need to run or be afraid of. As you walk on the trail, the Yaks themselves will just go away, I have never witnesses a Yak getting angry, rather they love their personal space which means they don't prefer human interaction or presence. Could you spot two Yaks in the picture?
Picture 4/10
As I mentioned earlier that the descend was a trek through one of the dense forest segments, it was also the last time when I would see Machapuchare (6997 m) and Mardi Himal (5587 m). I sat at this point for two minutes just trying to let the beauty of the landscape sink in and I was all ready to pass the 6 km stretch in the forest till Talung danda.
Picture 5/10
I heard a voice while I was making the descend. A Nepali guide was asking me to NOT to go alone on this trail because I will get lost in the jungle. He asked me twice to go from the same way from which I came. I thanked him for his genuine concern and told him not to worry as I know the trail and that I had noted down few landmarks after talking to the locals. Though I was confident that I could get through the forest without losing the way, the statements of the Nepali guide keep coming back to my mind continually. I kept on walking though and to my utter surprise I saw something which I had never expected on the trail, the small and beautiful water plunge pools.
Picture 6/10
I could stop staring at these water pools. They were really nice and beautiful. I just filled my water bottle, and started walking ahead. But, to be honest, I really want to get back to those pools if I ever get a chance again. I was so proud that I chose this segment of the trail instead of the regular one.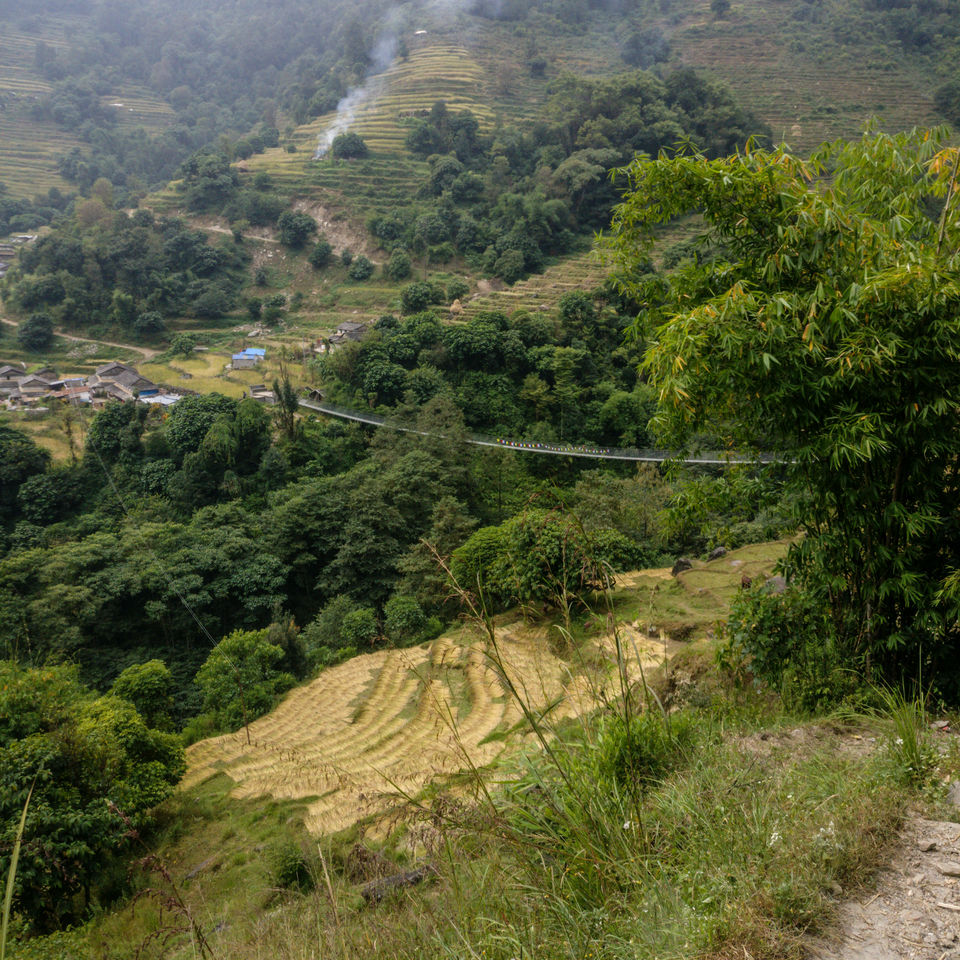 Picture 7/10
The trail is so fresh and less travelled that in the 12 km descend there was just one tea shop and one small tea house to stay at Talung Danda. At around 10:30 am I was able to spot Sidhing village (1750 m) at a distance.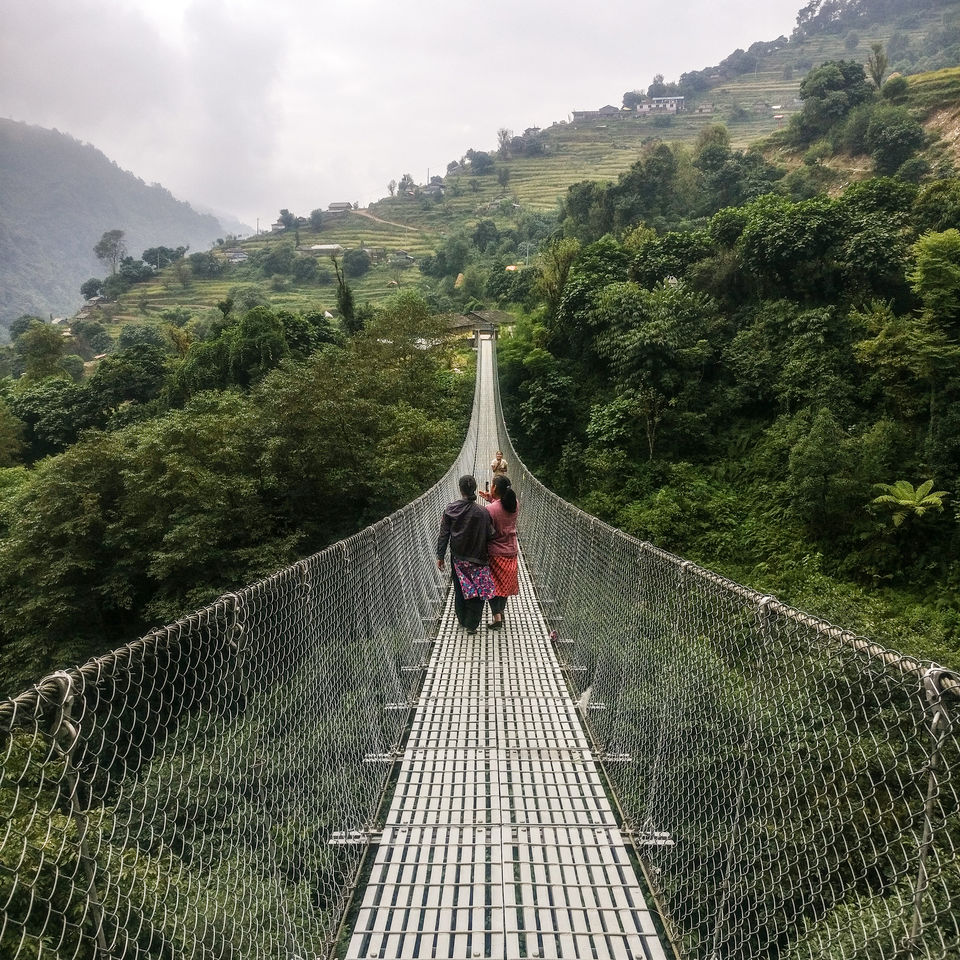 Picture 8/10
As I was crossing the suspension bridge connecting Mapu dhunga village to Sidhing (1750 m) I realized that it will be the last suspension bridge that I am going to cross on this visit to Nepal. I started walking really slowly, so that I could stay on it for some more time. I met few locals who helped me get a ride to Milan chowk in a Jeep. The driver charged me 500 Nepali rupees and I get to stand at the back. It was the most adventurous rides ever. I met another group of local Nepali trekkers and we had a really good time.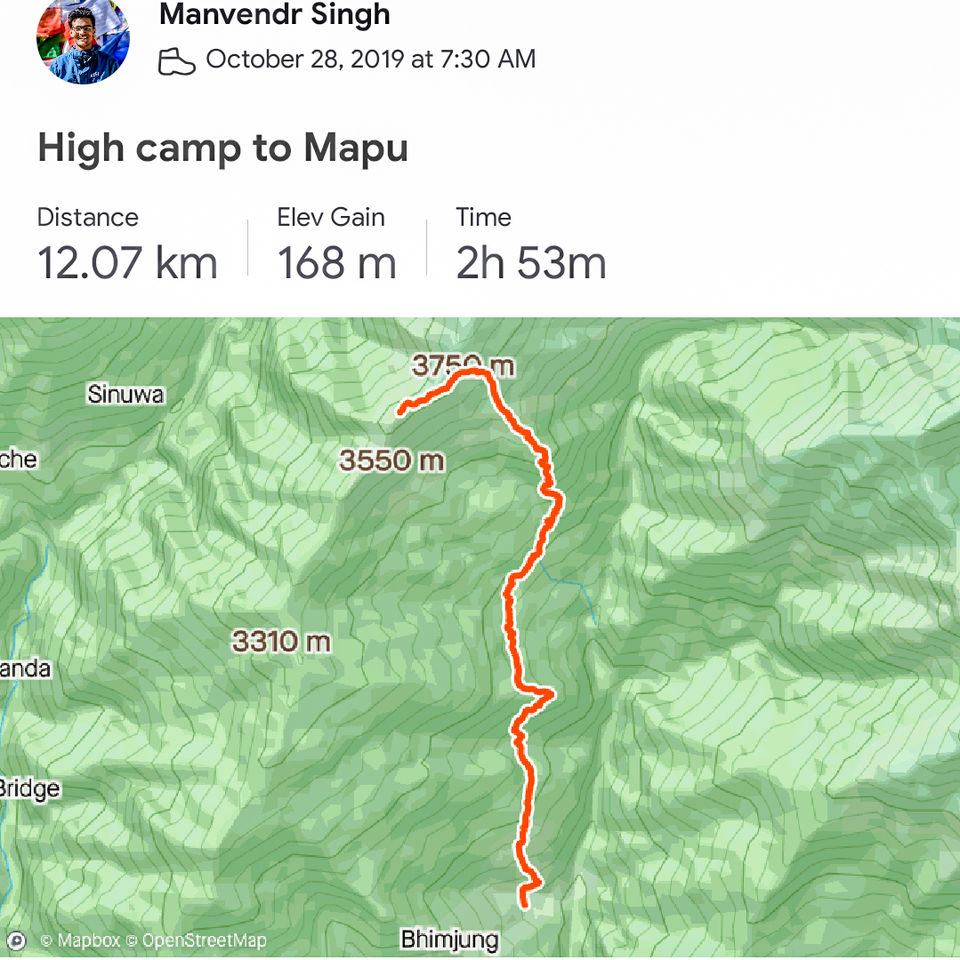 Picture 9/10
Strava data for the descend.
.
Mardi Himal base camp trek is indeed a small and beautiful trek. I just wish it to be more difficult and challenging. It will definitely be a nice 2-3 day long getaway from the city life in Nepal. However, if you are looking for some serious hiking then Annapurna circuit is definitely the one you should opt for in this region.
.
Feel free to drop in your queries in the comments section. I would love to share all that I know about the trek.
.
Video log coming up soon. Stay tuned.
Frequent Searches Leading To This Page:-
Mardi Himal base camp Nepal, mardi himal base camp height, mardi himal trek route map, mardi himal trek cost for nepalese