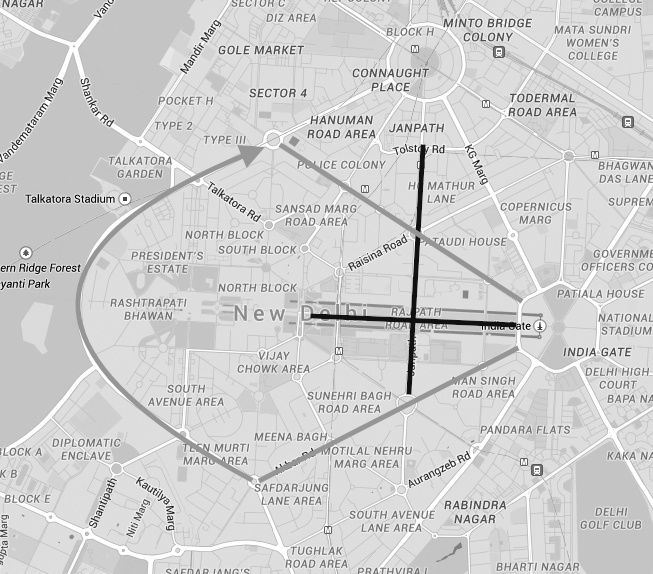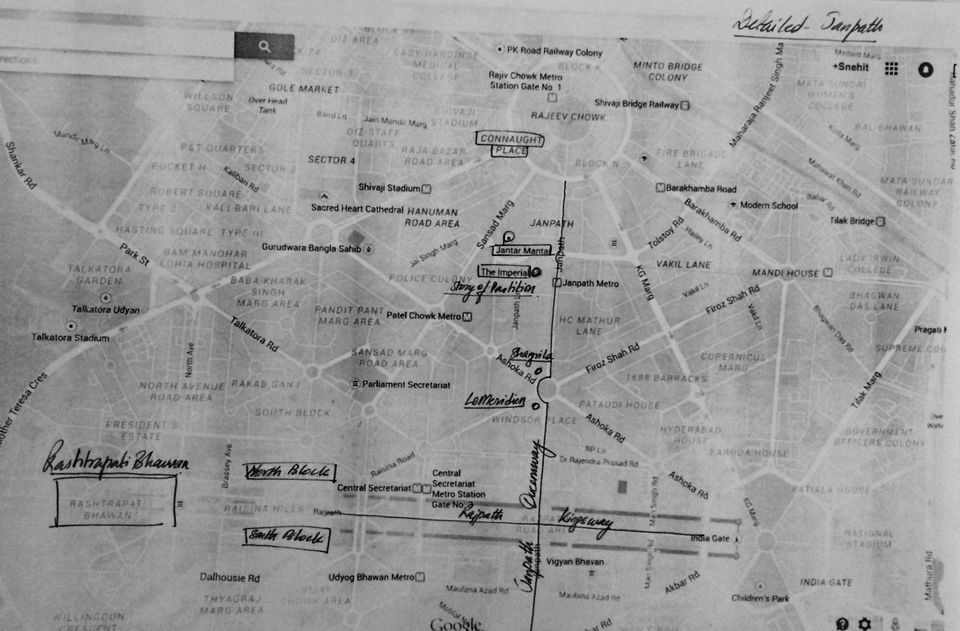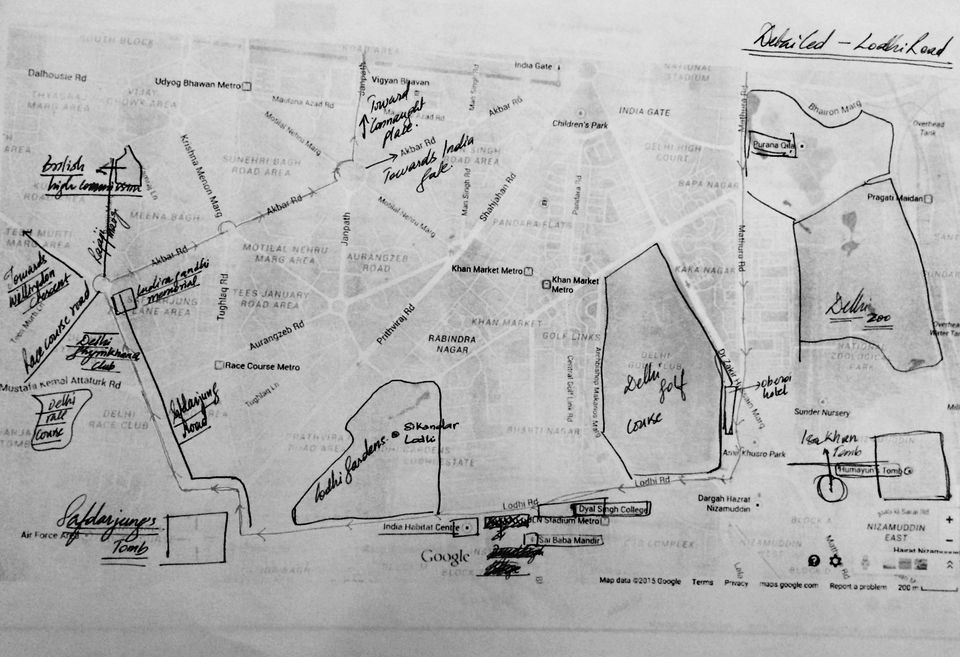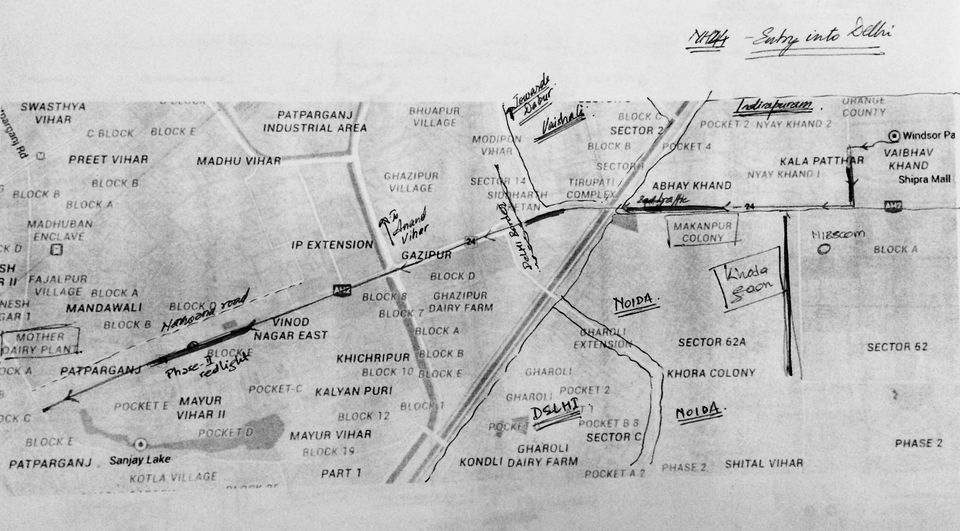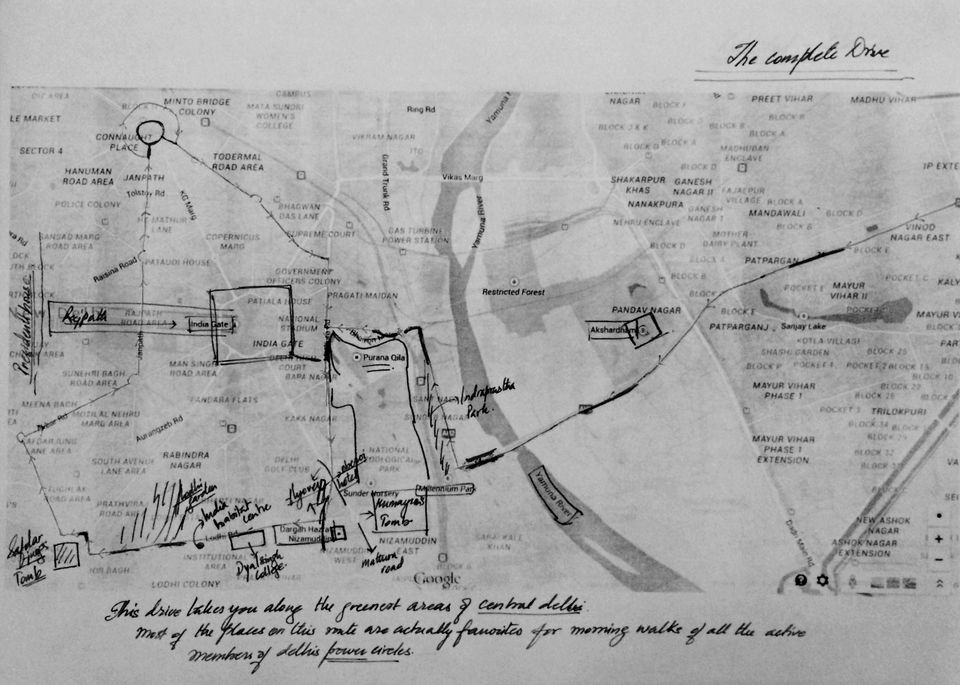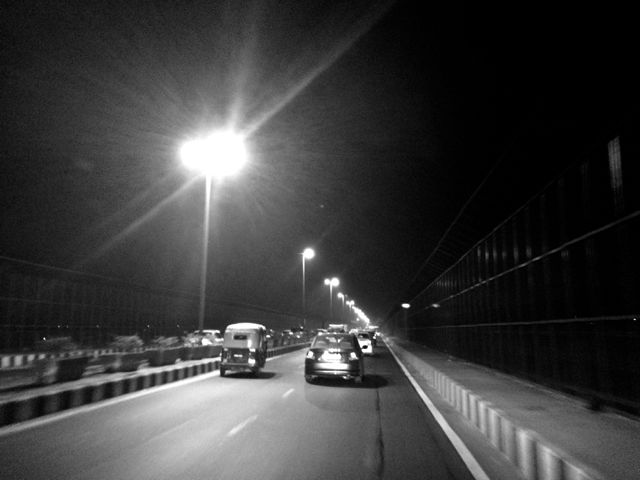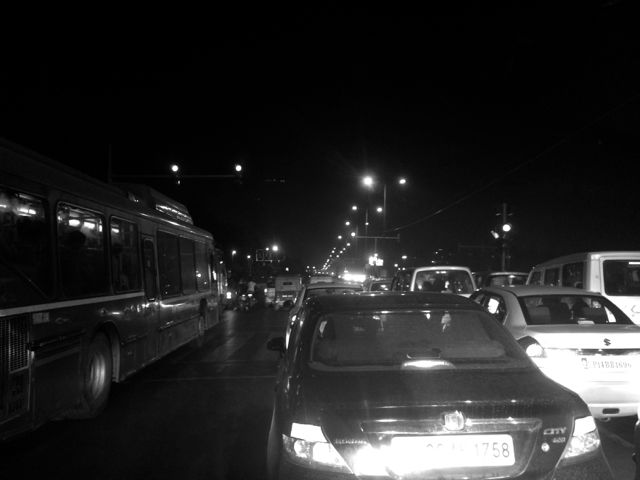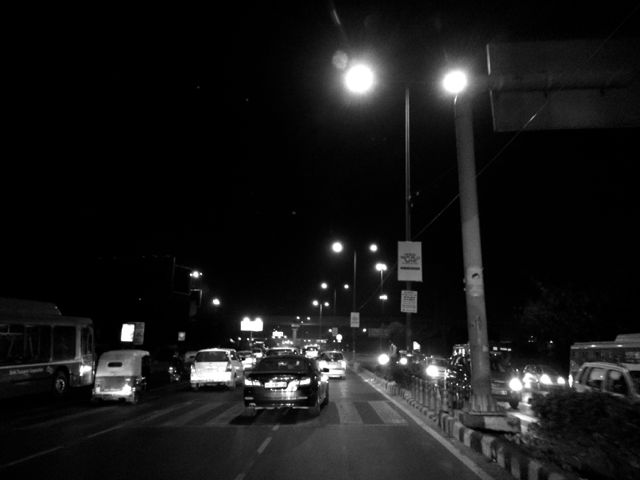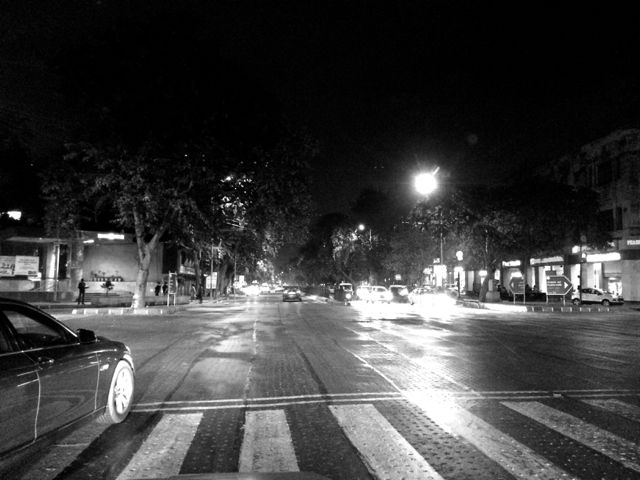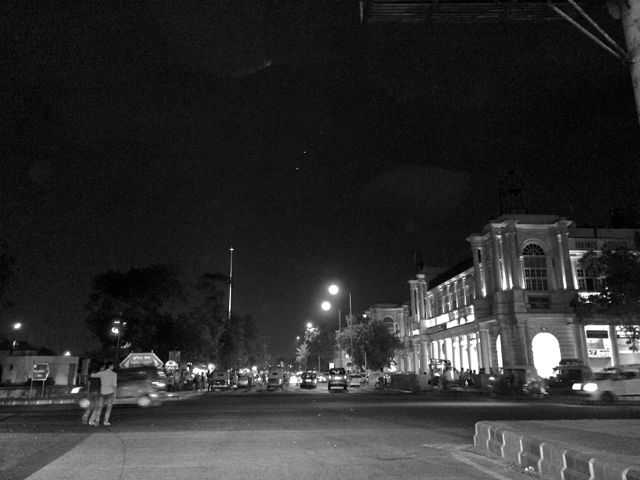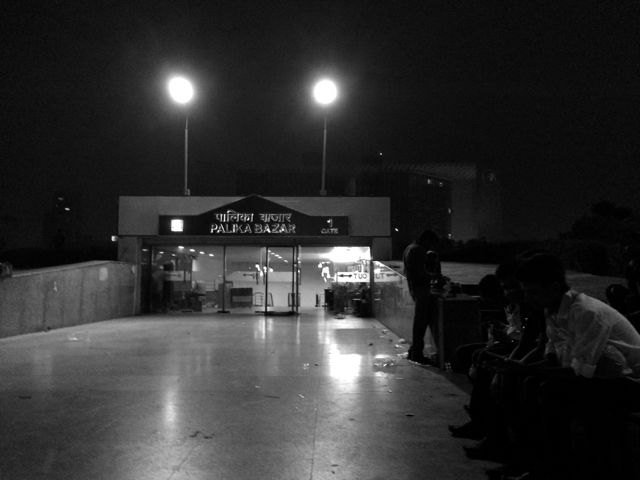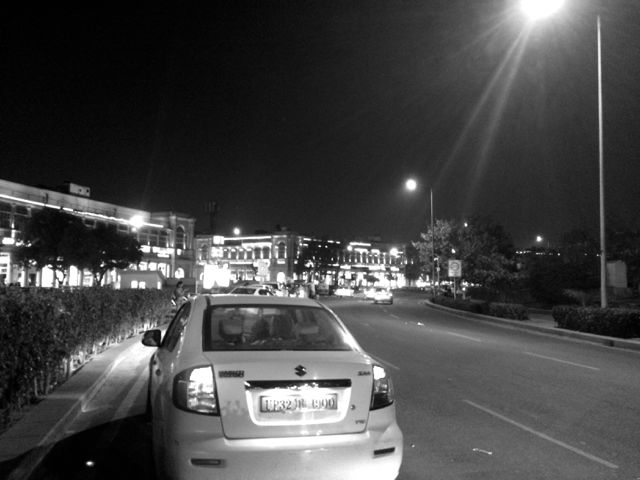 A lot of people in their sane minds, do and will advise to stay away from driving in Delhi. Lets up the stakes shall we? Driving in Delhi, Lutyen's Delhi, on a rainy evening. On a rainy Sunday evening. How does that sound? Scary for some, great fun for others.
Delhi and it's air pollution have been in the news for all the right reasons, but today was an exceptional day. There weren't any cars as usual on the roads, either people had actually fled the city after the recent AAP debacle or Sir Kejriwal did manage to pull off some miracles.
The air was cool, fragrance of freshly showered soil all around, the sound of rustling leaves, yes I was still in Delhi and talking about Delhi. It becomes a cool place, especially when the weather is fine, it did remind me of the 70's hit, "in the summertime, when the weather is fine". And maybe subconsciously that was what i did as well, here are the detailed lines for the uninitiated,
In the summertime when the weather is high
You can stretch right up and touch the sky
When the weather's fine
You got women, you got women on your mind
Have a drink, have a drive
Go out and see what you can find....
A lot many may remember the 90's version as sung by Shaggy. That would be a fitting track too, to drive on in this weather.
Speaking of drive and drives, you have to be really careful about the route you chose, one wrong turn and a pleasant ride could very well become hours and hours of roaming around, stopping and setting up the GPS on your dying mobile phone, or if you are a bit ol'fashioned then reading the road map. Most drivers drive on memorised routes, rather than going with the directions, as shown by the sun and stars. For a good drive, it all depends on where in Delhi you want to spend your evening, my recommendation would be central Delhi, all lush green, great roads, minimal traffic. That way you can always roll down your window and still not worry about your lungs going for a dry cleaning the next morning. Unless you know the best roads to travel in Delhi, down below is a small map for people who want to take my cue,
My complete drive route through a different era.
My drive began with the idea of getting away for the evening, as do most of my travel excursions. I tend to run away, far and near, with no clear path or destination in mind, but then, that is the best sort of travelling. Mostly, when we sit in driver seat of our cars, or even the passenger seats of any vehicle, we have a sense of purpose, a destination in mind, a task to achieve, that is when we lose the meaning of our journey. A target free ride acts a lot like meditation, atleast for me. When you are on the road, for the sake of driving, just enjoying the view and the journey, you don't need to follow someone else's path, the turn and urge to take it, which comes to you, at that very moment, is going to be the one leading to your salvation.
On the other side, if you are new around Delhi, and just want to simply enjoy, without much fuss or hard work of heading into the unknown, you have come to the right place. The best places to drive freely in Delhi are Lutyen's Delhi, India Gate, Rajpath, Lodhi Road, Safdarjung Road... and of course, Connaught Place or for the new generation growing up post construction of the Metro, Rajiv Chowk. But maybe I am getting ahead of all the fun.
Since i live on the outskirts of Delhi, a suburban satellite named Indirapuram within the district of Ghaziabad, the road to perdition is a slightly long one.
road from Indirapuram to Akshardham
Near Mayur Vihar Phase 2
Near Mother dairy
Delhi's visual treats start teasing your hungry eyes just a few kms into the city border, near Ghazipur sabzi Mandi or more famously, on the NH24, going perpendicular to Anand Vihar bus terminal.
The Akshardham temple, built by the Swaminarayan Foundation, is a replica of sorts, of the bigger version down in the State of Gujarat.
Akshardham temple
It is a sight to behold after the sun has set right in front of you on the same road. The huge complex bathed in the gold of sodium lamps, shines as if it was made out of gold itself. Here, caught in black and white colors, shining, against the dark sky, it still mesmerisingly beautiful.
The trees waving wildly caught in the gust of wind, only accentuate the solid build of the structure glowing far far behind.
Moving further towards, into the arms of Delhi, you already feel a sense of some century old halo, engulfing you into its covers, a place, a city, filled with stories, secrets as old as time maybe, because this city, has seen it all, the Mahabharat, to Ashoka, Mughals to the British, Congress raaj to the rise of the stupid common man. It is not a surprise then, that most of the places and names in the city are centuries old, much much older than ages of most of its oldest occupants combined. Right after the Akshardham temple comes the Yamuna river, which since time immemorial has served as a secure moat, prevented unwanted visitors from invading the sanctity of this eternal capital, but now helped over by numerous bridges, one even dating back to the British raj (the old iron bridge at Wazirabad), and some not even into their teens as of now. We cross over to the city side of Yamuna, striding over the river, on the Nizzamuddin Bridge.
Nizamuddin bridge (old one)
Nizamuddin, the name comes from the famous sufi saint, Hazrat Shaikh Khwaja Syed Muhammad Nizamuddin Auliya (1238 – 3 April 1325). He was one of the most famous saints of the Chishti School of thought and his students included, the great Amir Khusrao himself. His shrine still remains a pilgrim place for so many lost souls, they be of any faith or following. Even the mere thought of his name, brings such a sense of calm and peace to the soul, that life seems worth living. Moving ahead and hopefully not far from the divineness, we come close to Pragati Maidan.
As the name suggests, it is a symbol of India's march towards being counted as a developed nation and not a third world country. But these concrete symbols came a lot before this status could actually be, officially conferred. None the less, in the shadow of the Old Fort on the left, this structure is modern day India's office and ground of biggest trade promotion activities one can imagine. From Pragati Maidan, the best route to take is left, along the walls of Old fort, towards Lodhi era in history and Lodhi Gardens in Delhi. Both of these make for an enticing combination of greenery and monuments along the way, and ofcourse the best refreshing drive in the city.
Lodhi Road-Some people on the roads aren't as aimless as me
It's hard to miss the greenery and the Lodhi Gardens on the right of you. This road goes straight and ends on a T-Point at Safdarjung's tomb. On the left hand side of Lodhi Road, is Jor Bag, and various offices for PSUs. The most important being NIC. Deeper on the south side is Jawaharlal Nehru Stadium. It was in the news during 2010 Commonwealth games for all the footover reasons one could imagine. Be it for the numerous buildings on the left, or the perpetual dark green shade of a lush garden on the right, which is more of a small well maintained jungle, almost in the shape of a lung, atleast that's how it acts situated close to one of the busiest car traffic areas in the city, this road always takes you away from the maddening race everyone seems to be involved in.
Even in the picture above, though it seems as if the road is jam packed, it is never as overwhelming as the roads and the traffic are, in other parts of this city. Early mornings, this serves as a favourite area for walks of all those who stand in the highest of power circles of the capital.
This road starts and ends between two eras in the history of Delhi, infact we can look at it in this way, from Nizamuddin to Safdarjung, we travel through about 500 year of rule of three different islamic dynasties over Delhi. Incredible, isn't it?
An interesting fact to note here is, that though three generations of Lodhi's ruled over Delhi, only Sikandar Lodhi's tomb lies in the Lodhi Garden. His father, Bahlul Lodhi, the founder of Lodhi dynasty, is buried near the dargah of Nasiuddin "Chiragh" Dehlavi, yes that is in Chirag Delhi, and it is from him, where the name finds its lineage from. His son, Ibrahim Lodhi, well he isn't even there in Delhi, he lies in Panipat, where he fought and lost to Babur in the First Battle of Panipat, and paved the way for Moghul rule in India.
Details of roads and monuments around Lodhi Road
Moving on and taking the right hand turn, from Safdarjung's tomb, covering about a km on Sir Aurodbindo Marg, we arrive at not too perpendicular crossroads. On the left is Safdarjung Road, straight ahead is Tughlaq Road, and on the right is Prithiviraj Road. This is what i like about all the roads and lanes in this area. Their mere names, bring out so much of history of the city.
Prithviraj Chauhan, the Rajput ruler, who ruled over Ajmer and Delhi during the 12th century. That is whom the road is named after and not Prithviraj Kapoor, the veteran theatre actor.
Tughlaq Road, named after the Tughlaq dynasty, which ruled over Delhi from early 1300 to early 1400. We have to thank them for Tughlaqabad and Ferozabad (now better known as Ferozeshah Kotla, even better know for being the Delhi Daredevil's home ground) forts.
For this drive, on this particular night, i chose the road on extreme left, that is, Safdarjung Road. What has made it more famous, than the figure this road was named after, was Indira Gandhi's assassination in her house, at 1 Safdarjung Road on 31st October 1984. The road itself is quite empty and secluded at all times, partly because it also leads to the main entrance of residence of India's Prime Minister, at 7 Racecourse Road. In between an exit towards the other end of Racecourse Road and Teen Murti Marg, also lies the Delhi Gymkhana Club. A common meeting point of Delhi's who's who. At this hour, as all was at rest, my scorpio glided through the air, moving steadily, and there i was, enjoying a cool breeze flowing in through the windows. There was a faint fragrance of wet soil somewhere near, and then came the sound of crushing of mixture of wet and dry leaves, beneath the car's tyres.
Rounding up at the end of Safdarjung Road, i took my suv towards the exit on to Akbar Road. If you look carefully at the map of Delhi, like i can see in Google Maps right now, this forms the longest straight road in this area. Infact there are two equidistant roads stretching this long, from India gate, Akbar Road and Ashok Road. One heading towards the south of Raisina Hill and other terminating on the north side. The shape, as seen from and aerial view, looks like a giant soft serve cone, i have this knack of imagining food related shapes everywhere, or maybe i just wanted to have right now, that i was imagining things. But nonetheless, the city looks so well drawn in this area, two straight lines, one perfect hyperbolic arc, someone did design it beautifully, before carving it out, in the heart of Delhi. Thanks Edwards Lutyens.
Geometrical shapes hidden beautifully in well designed roads.
At the second round about on Akbar Road, Janpath greets us. Yes, as the name suggests, it is the common man's road. Or the Public road. Jan - public. Path - road. One interesting and notable fact again which springs out form exceptional architecture, not of a building but of planning of a whole new city is that, Janpath intersects Rajpath, exactly in the middle between, and bear with me when i point the obvious here, President's House and India gate. So maybe it was Lutyen's inside joke for all eternity, that Public and Government would always remain at crossroads, here. Moreover, if observed from air, in the North to South direction, this perpendicular meeting of Janpath and Rajpath, hold your breath, forms a perfect cross too. Phew. And no I am not imagining things or hinting at anything Dan Brownesque, but that's what the fact of the matter is. Here it is for all see.
areas around Rajpath and Janpath
The fact that the original names of these roads, as in Lutyen's design, were Kingsway and Queensway, talks a lot about marriages as well.
To see Delhi, by travelling on these roads, is to see a completely different world. Hidden from the naked eye, often when we keep running helter skelter, in search of purpose of life and it's meaning. One day, when we may be able to view the world with a different eye, we may see we were running on paths formed by others, years and years ago. In the end maybe we were just sheep, left astray.
A view of Janpath, till outer circle. Traffic sense seems to be deteriorating day by day, when I saw luxury sedan crossing the zebra line to stop ahead of me.
Continuing on, till the end on Janpath, there are alot of huge luxury hotels dotting the landscape. Starting with the Le Meridien, one of my childhood favourites, for the roof top restaurant, to the new ones, like the Shangri La. The oldest hotel on this road, being but ofcourse, The Imperial. A living proof of the era of the queen's rule over India. One of the four famous landmark hotels started during the 1930, to epitomise luxury and opulence of The Raj. It was here that in a fateful meeting which happened between the then viceroy, Lord Mountbatten, Gandhi, Nehru and Jinnah, the partition of one nation was discussed. History and stories peek from each nook and cranny of any road, any lane in the city of Lutyen's Delhi.
Entry from Janpath into Connaught Place
The Janpath ends at one of the larger shopping arcades, in the world. And now, also, one of the most expensive business districts in the world as well. This place too has its own little book of history tucked away in some cupboard. Conceived and built to be the most prominent, office and business area, for the British Government in India, it still serves the same purpose till now. To build this place, people living in three villages in near about areas, had to be shifted to Karol Bagh. It used to be jungle here, and now a jungle it is again.
The main gate of Palika Bazaar has a deserted look
Sunday night, most of the business establishments are closed, only the eateries remain open and they are crowded with long waiting queues formed outside their gates. That is the look which CP (connaught place as lovingly known to Dilliwaalas) carries. Roads are visible, as there is minimal traffic, people walking for dinner, post dinner, enjoying a sweet pan near Odeon cinema.
Inner Circle, and a Lucknow registration number car. The perfect mix.
What started as simple night drive to enjoy the weather, turned into a drive into the past, the present and the unknown, within a matter of hours. Such is Delhi. Such are its hidden treasures. Off i moved on from there towards my home sweet home, in the search for some other time, some other journey. Till then its bye bye from my side. Hoping to look under Delhi's skin a lot deeper, into the unknown, i drove away.