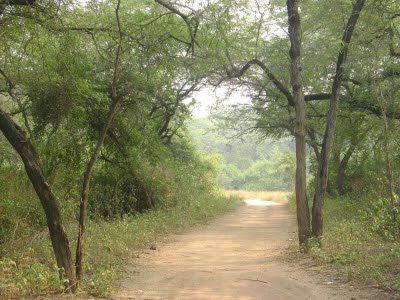 The tranquillity flows from nowhere and gradually engulfs me, in its many fangled self... catching me unaware. All of a sudden, everything goes quiet... just some birds chirping in the distance, their twitter hanging in the bushes. The labyrinthine trails at my feet are meandering deep into the woods. A few steps further in and I am lost. I am in Sanjay Van, in around 626 hectares of forest that forms the densest part of
Delhi
's ridge area. Extending from Qutub Institutional Area to Aruna Asaf Ali Marg in south west Delhi, Sanjay Van is a part of the
Kishangarh
forest, a crucial green zone in the city. Not many have heard of this retreat and more often than not, the mention of this place brings an obvious and oft heard query, 'Sanjay Van? But where is this place? Is it really a van…as in a jungle?'
This retreat indeed is a jungle, but without the regular trappings or fixings that the 'jungle' word entails. There's no tiger here, no deadly beast, no nothing. Just some overly shy peacocks – who at the sound of the slightest footsteps, nonchalantly glide to take refuge behind the thickets. Then there are foxes and jackals too, and some bored neelgais. But the main draw, of course, is the abundance of peace and tranquillity.
Traversing on the jungle's numerous branching pathways; I come across many a diverging trail, wondering which one to take. I move on straight ahead, taking in the sundry sights, marvelling at the snake pits, the smell of dense wild bushes and shrubs, at the same time taking in the echo of my footfall – sounding somewhat eerie and strange crushing against the dry leaves on the pebbled pathways. The huge expanse of dense bushes, the many trees and seemingly never ending winding dirt trails strike a chord with the naturalist in me and lighten up my senses. The whole feel of the place seems surprisingly unreal, more so, because I know I am in the middle of a busy city with its bustling life, its skyscrapers and its mad chaotic traffic.
I tread on, side stepping the many colonies of black ants, quietude piquing my curiosity and pulling me further in. Passers-by here are few and far between – just some women from the nearby villages, collecting dry wood from the jungle, and some occasional afternoon strollers, out for their post lunch walk.
Walking further down the trail, I come to some neglected ruins, which look like the peripheral wall of some old monument. Not much has been documented about this austere structure, but the view from atop here is awe inspiring – an almost surreal vista of south Delhi landscape, with its overgrown stretch of wild shrubs and bushes, lush green trees spread across many hectares and then sprawling buildings in the distance.
In time, I start retracing my steps, just as the sun begins to go down in the western horizon. The twitter of the birds is faint now…the trails too seem to be settling down for the night, trying to hide themselves in the dark. I walk out, feeling refreshed and rejuvenated, promising myself to come back again some other day…come back to take my fill of the peace and solitude, which Sanjay van offers so in abundance.
This blog was first published on http://www.frommywindowseat.com