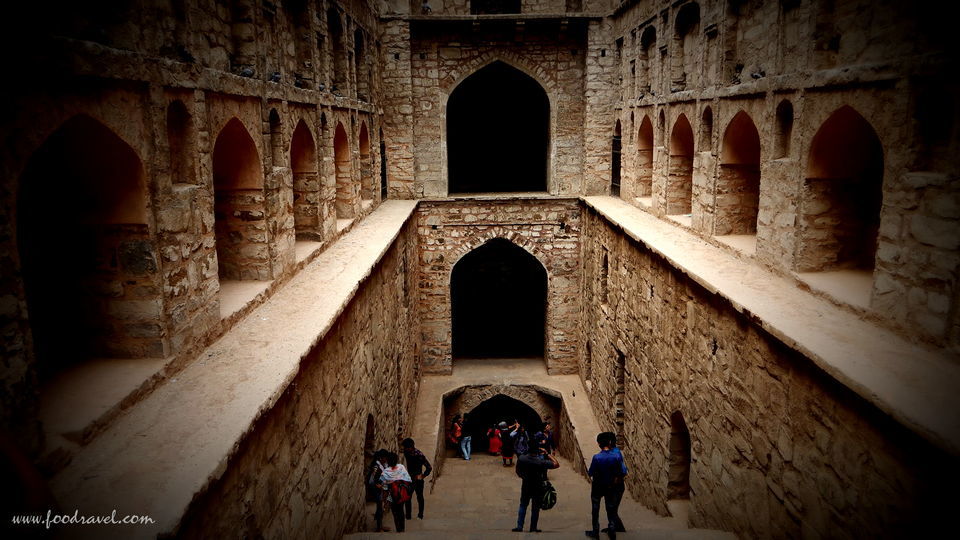 I had heard a lot about this place but never got to visit. Finally, one hot summer day of June, I made my way to this much talked about place (the movie PK). The nearest metro station is Barakhambha Road and from here you can either take a walk or hire an auto. I chose to walk as I mostly do. And by the time I could reach here, I was all wet in sweat. This place is not what I had the impressions in my mind. I have been to such step well before (in my hometown Mahendergarh, some abandoned baoli). It was smelling foul as there were birds all over and their droppings have made this place 'not so good to visit and spend time', thought that's only when you step down to see more.
The first glimpse of this place actually gives you chill and you feel like being at some scary place. There are many stories which say that this place is haunted. One story says that the black water of the baoli has some hypnotic magic which attracts the people and they jump into it. Every time a person commits suicide like this, the water level goes up. As per the records, in 2007 last suicide attempt was made. This story is hard to believe. The water level is only around 5 feet.
Some Interesting Facts about Agrasen ki Baoli:
1. The length is 60 m and height is 15 m.
2. There are 108 steps.
3. Legends say that the baoli was constructed by Maharaja Ugrasen during Mahabharta Time.
4. The place is a famous haunted place of Delhi and is also referred as Baoli of Unseen.
5. The visiting time is 9AM to 5PM. People say that one shouldn't visit after the dark.
6. The monument is protected by ASI (Archaeological Survey of India) under ASI Act, 1958.
7. Indian Post released a postal stamp in 2012 on the baoli.
8. There is a small mosque at the west corner.
9. The material used in construction is lime plaster and boulders.