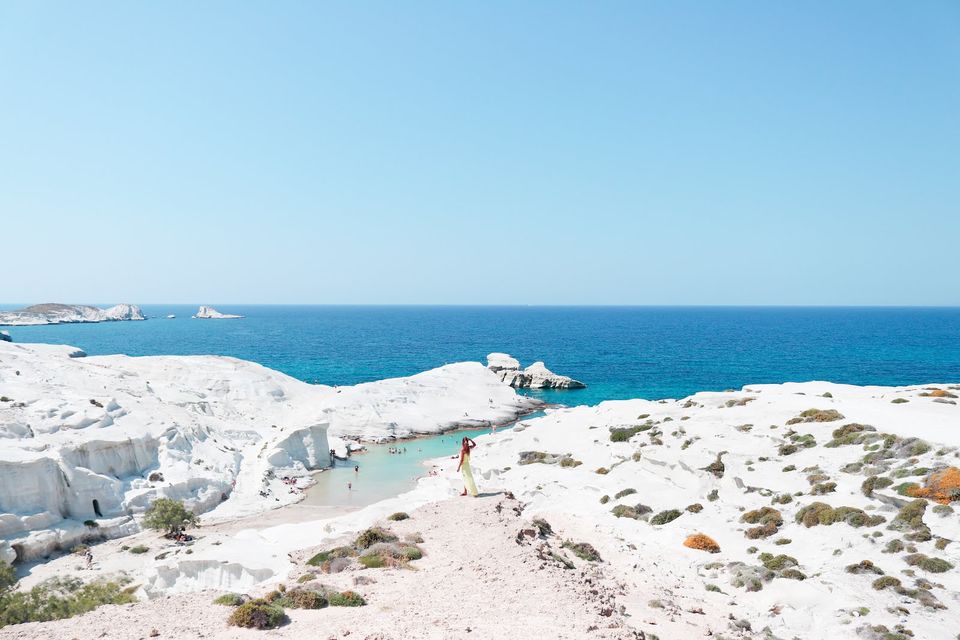 This is definitely not your normal beach. Sarakiniko beach is like landing on the moon, no kidding!
With its unique lunar landscape, travelers from over the world have compared this Greek beach to giant swirls of whipped-cream or the smooth white terrain on the Moon.
Walk on and around the remarkable pumice rock formations, and you'll agree to feeling like visiting an alien world.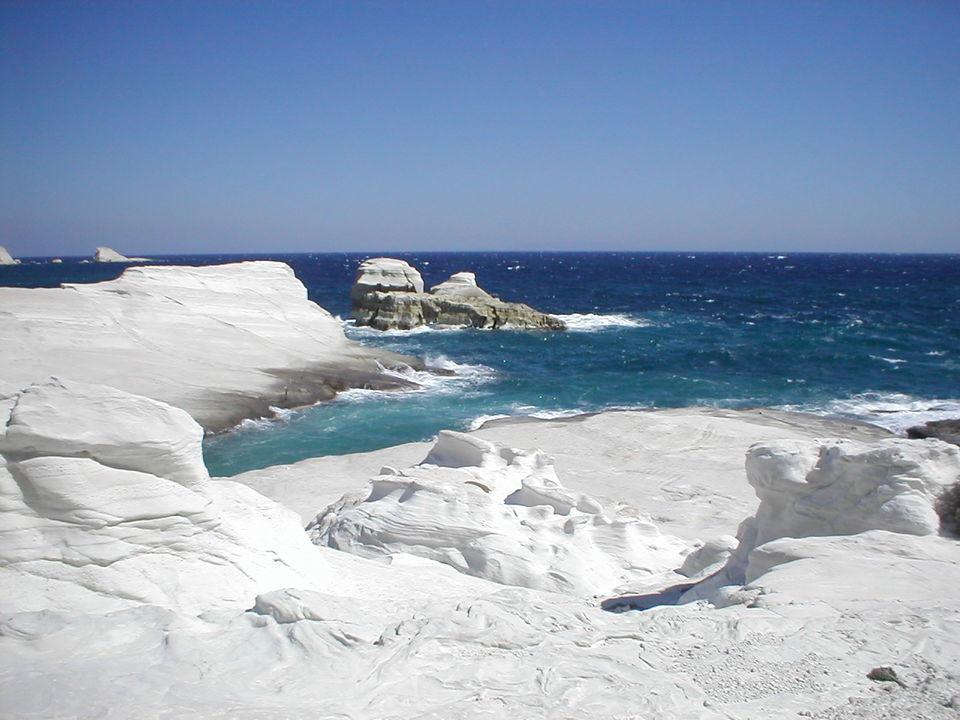 Where:
Milos is a volcanic island, located west of Santorini in the Cyclades complex, that has truly unique geography.
This island itself curves around the caldera of the volcano and is defined by its breath-taking and often colorful rock formations. It has some of the most spectacular beaches in Greece like Pollonia, Plathiena, Papafragas, Firopotamos etc.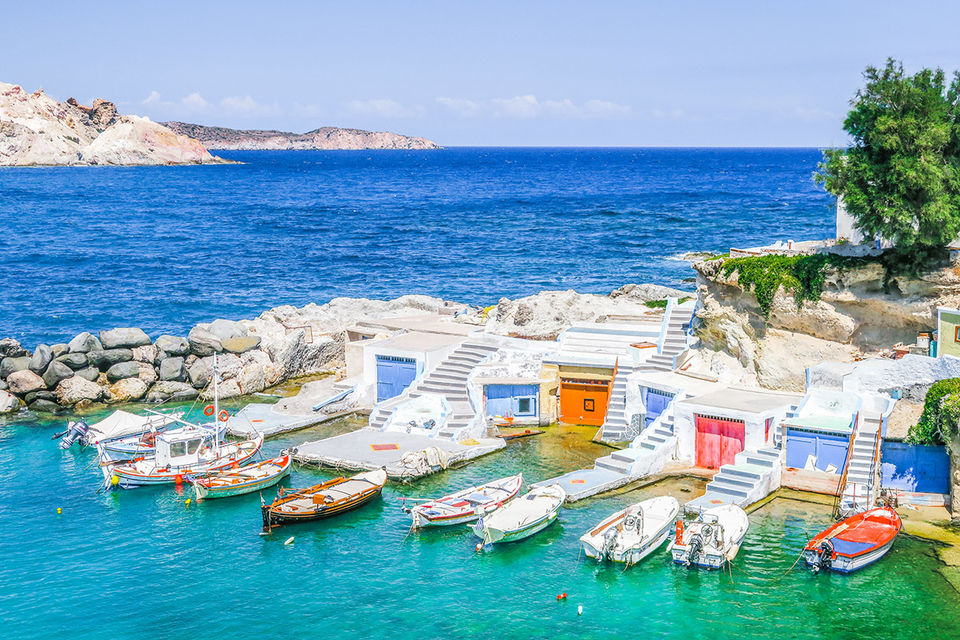 However, Sarakiniko in Milos is one of the most popular beaches often known as the Moon beach on Earth.
At Sarakiniko, beautiful smooth white rocks form a long narrow inlet with a beach on the end.
Currency: 1 Euro = 80.68 INR
Wow Elements:
1. The beach itself is fairly small; a narrow strip of pebbly and soft light brown sand at the foot of a zig-zag-shaped shallow bay with gorgeous crystal-clear turquoise water. It owes its pure white colour to volcanic ash.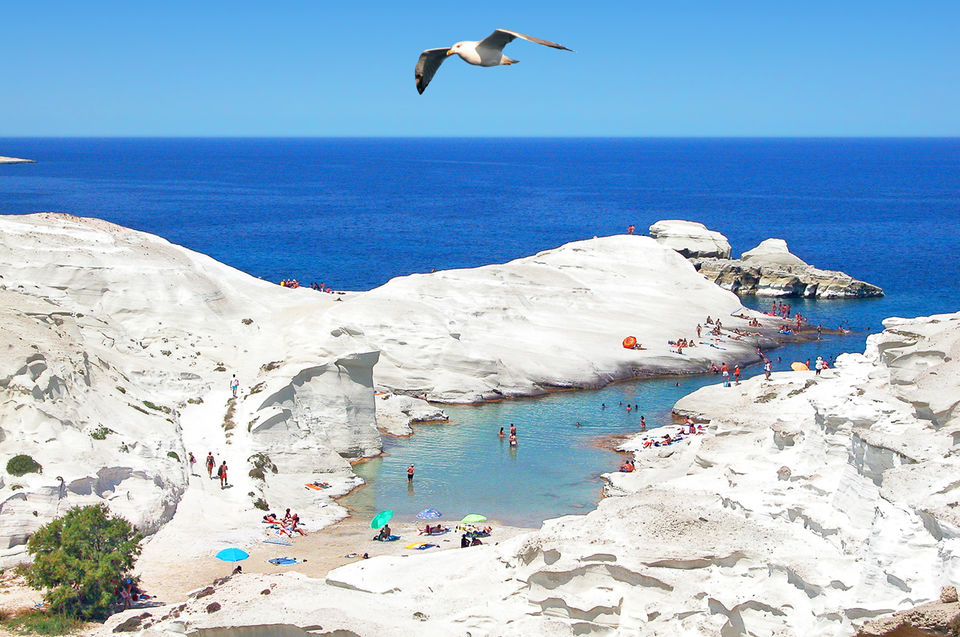 2. There's a burrow of abandoned mine caves and tunnels accessible from the narrow gorge behind the beach, and even a rusty shipwreck on the rugged coast.
These "caves" in the gorge behind the beach actually are entrances to old mine tunnels; turn on your flashlights and get into the explorer's groove.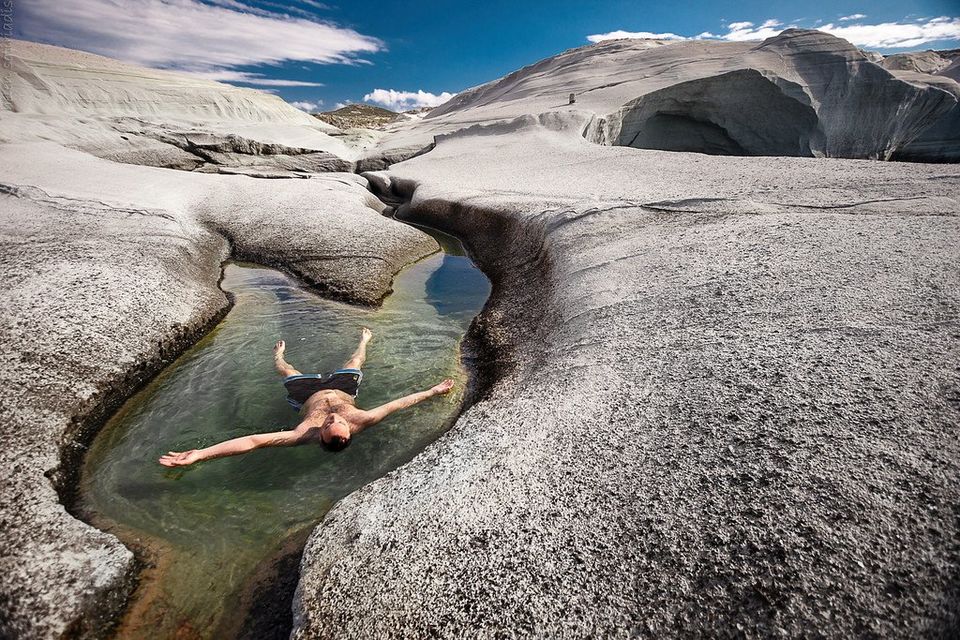 3. Witness breath-taking views of the beach as the sun plays on its natural canvas. The light changes the landscape throughout the day.
In the morning, the golden light reflects against the water waves and shimmers as the sky turn pink. The afternoon sun hits directly at the white rocks so they stand out against the turquoise water. As the sun sets, dusk is a rich rose color and everything looks straight out of a watercolor painting.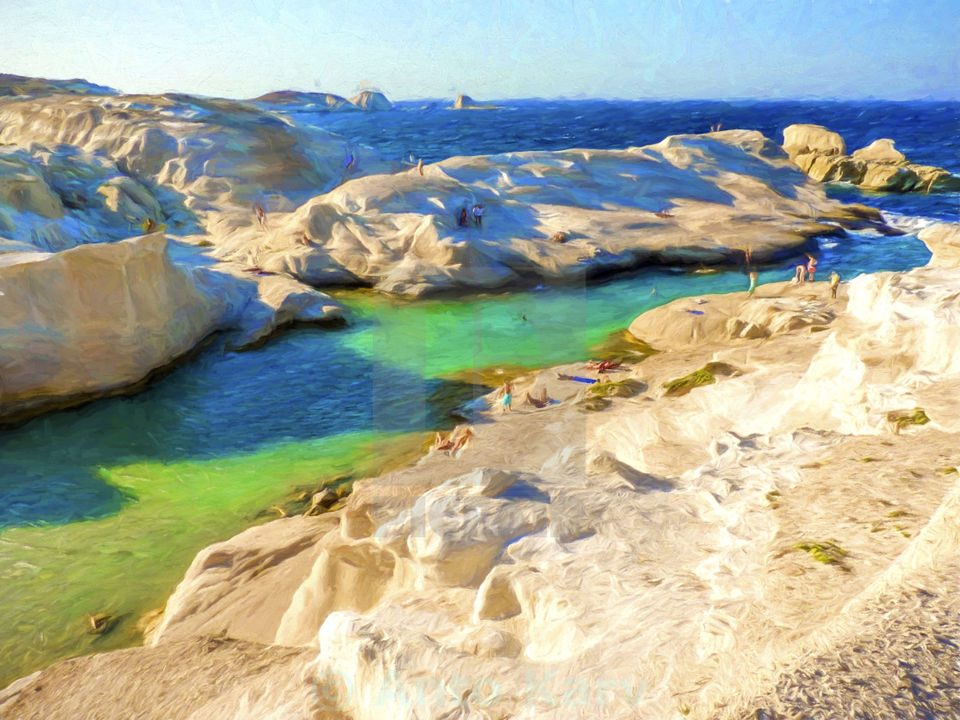 4. Watching the sunset at the beach is highly recommended. The cliff-tops make an ideal spot f because the rocks seem to light up with spectacular colors of the setting sunbeams.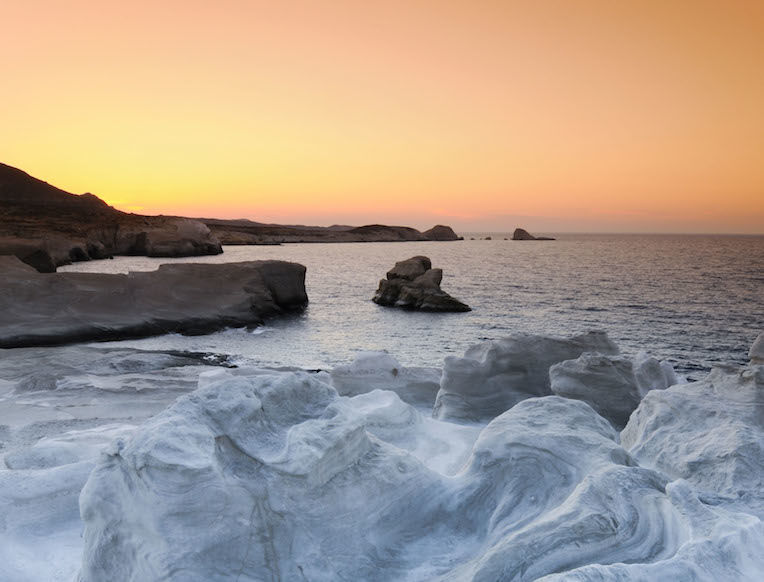 5. The backdrop is super Instagram-mable making this beach a mandatory addition to your travel bucket-list.
6. A unique moonscape structured around its snow-white rocks, small caves and blue sea overlooks the islands of Sifnos and Kimolos, making Sarakiniko an enjoyable swimming destination.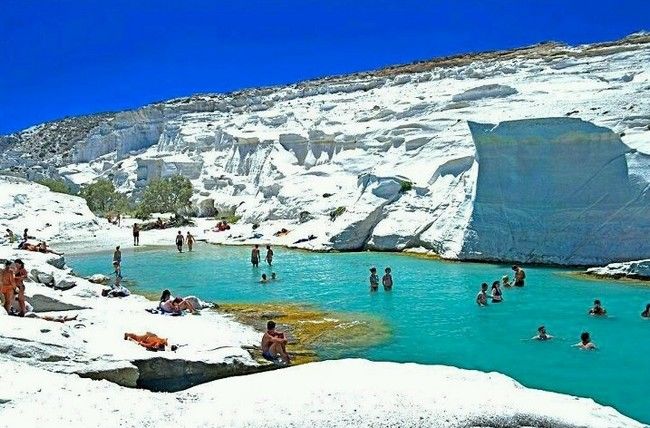 Pro-tip:
Head to the Sarakiniko Beach early in the morning and you will hardly spot any tourists. The white rock beach of Sarakiniko is extremely reflective, hence don't forget to carry sunglasses/caps and oodles of sun-screen! Unlike most beaches, there are no stalls or beach shacks to buy water, drinks or snacks. So it's better to carry some of it along.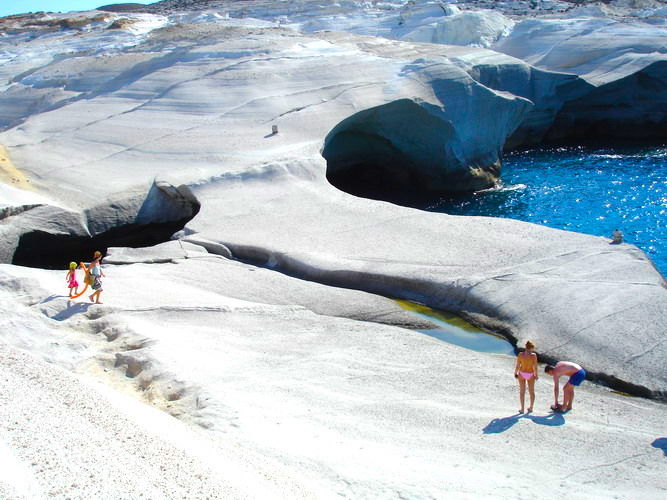 How To Reach:
Sarakiniko:
The beach is easily accessible by vehicle, with no serious stretches of rough road unlike some other beaches in Milos. It is located on a coastal road that is situated northeast of Adamas and east of Milos Town.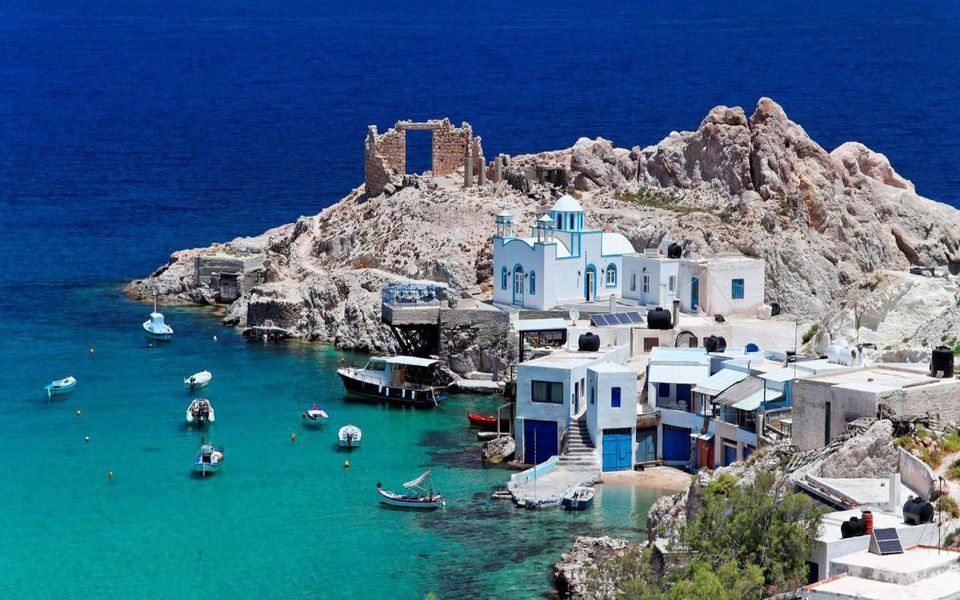 If you don't have your own vehicle, then a local bus service picks up and drops off a couple of times a day. Ask your hotel for up to date information. If you rent a car it will be fairly easy to get here from anywhere on the island. It is also possible to take a bus or taxi.
Milos:
The entire island is one of those places that is completely worth a visit, but it is tucked just a bit off the beaten track. However, it does have an airport so it is possible to take a flight from Athens airport.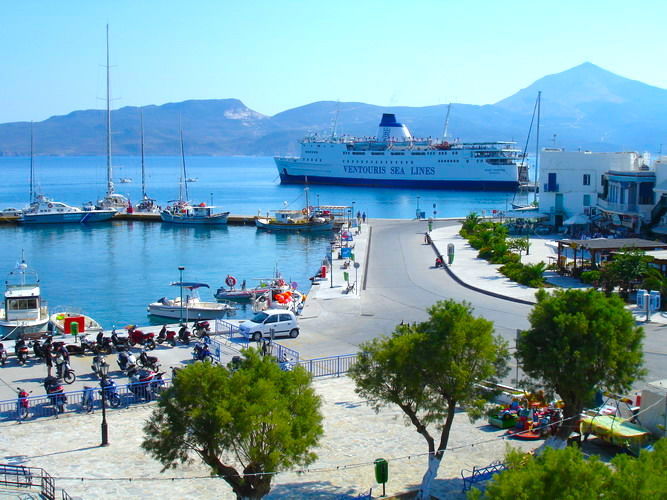 In fact, there are direct flights to Milos from Mumbai and Delhi!
Cost: One-way flight ticket from Mumbai and Delhi to Milos is approximately 35,000 INR and 42,000 INR respectively.
Since Milos is in the Cyclades, it is accessible from other Cycladic islands such as Santorini too. Ferries to Milos depart from the port of Piraeus. Count on more choices of departure times in the summer. The journey ranges from four to seven hours, depending on stops and ferry type.
Cost: The cost starts at €35 (2,800 INR) one way for slow ferries.
You can check HERE for updated ferry schedules.
Places To Stay:
1. Faros Apartments:
Surrounded by a fragrant garden of bougainvillea and trees, the Cycladic-style Faros Apartments offer air-conditioned accommodation with free Wi-Fi and a private balcony overlooking the Aegean Sea and the mountains.
Cost: The double room with a sea view is for 3,600 INR for one night.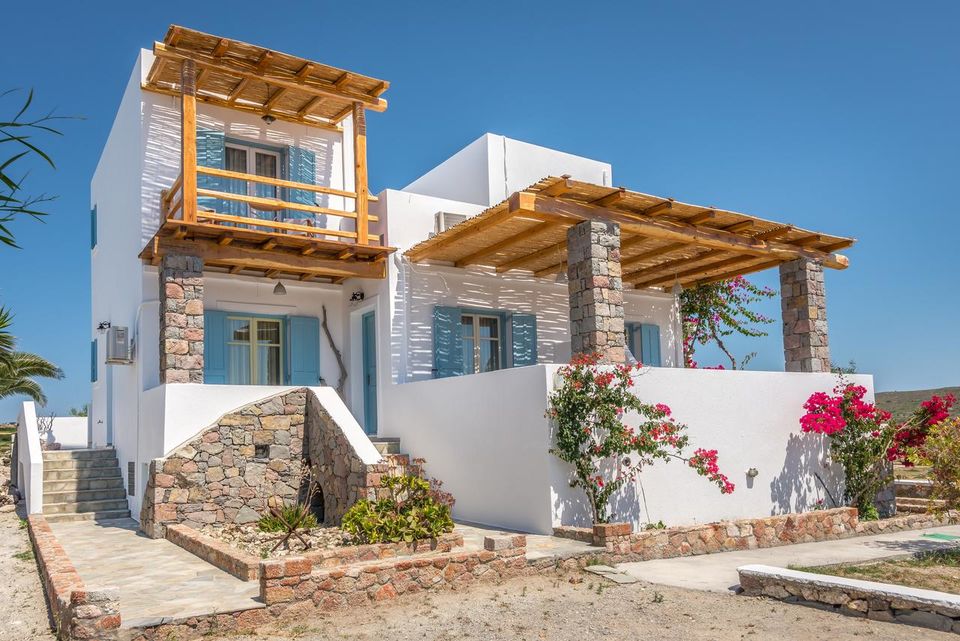 You can book HERE.
2. Milos Bay Suites
Fitted with white furnishings and anatomic mattresses, all spacious, air-conditioned studios offer views to the garden or the Aegean Sea. Each unit has a kitchenette with a fridge, dining table and cooking hobs, and a bathroom with jet-stream showerhead and pebbled floor, Milos Bay Suites offers tastefully decorated accommodation with a private patio or balcony.
You can book HERE.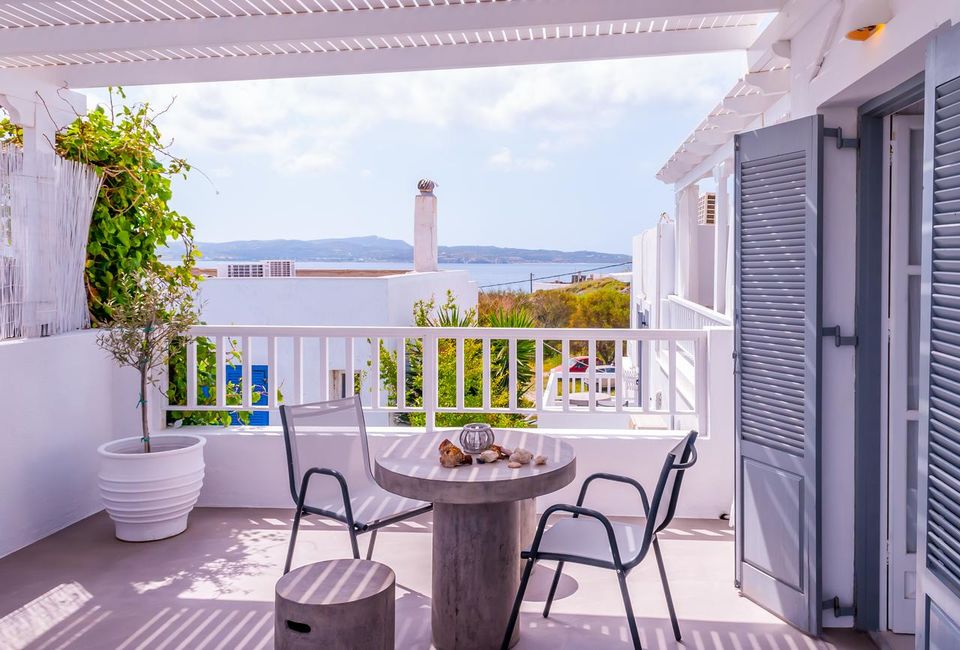 Cost: The superior room with a sea view is for 4,000INR.
3. Veletas Room
A fragrant garden with a stone-paved patio, the Cycladic-style Veletas Room is located in Adamas Village of Milos.
Traditionally decorated with stone-built beds, also include a kitchenette with kitchenware and electric kettle.
You can book HERE.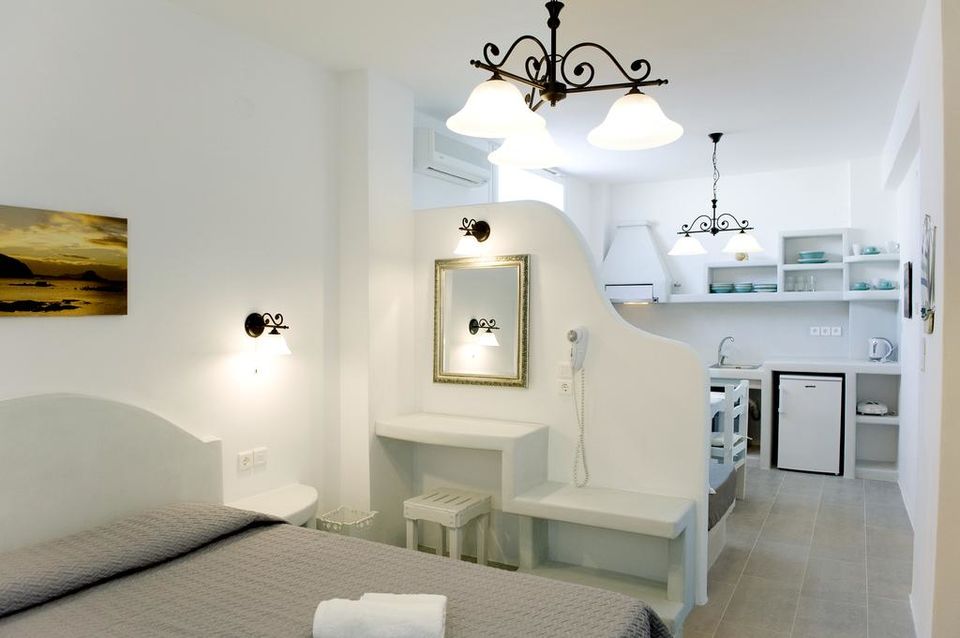 Cost: The studio room is for 4,359 INR.
Know of any other place that deserves a spot on this list?
Click here to share your magical travel tales with the Tripoto Community right away! Get travel inspiration from us daily! Save and send a message at 9599147110 on Whatsapp to start.