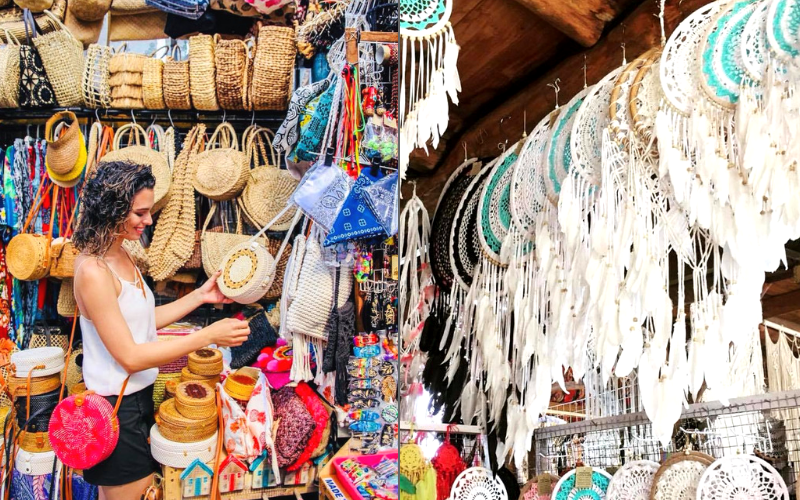 Bali markets are what shopaholic dreams are made up of.
In recent times, Bali has become a favourite holiday destination for Indian travelers. Besides memories of the breath-taking scenery and luxurious resorts, you are sure to return from Bali loaded with home-decor, clothes, and souvenirs – all for very cheap prices!
The cost of living in Bali is low, and so are the prices, allowing tourists to shop till they drop without breaking the bank.
TIP: Carry an expandable empty bag and cash over credit or debit cards for street shopping. Do not hesitate from bargaining at the stores to lower the prices.
1. Love Anchor in Canggu
Walk along Jalan Batu Balong in the evenings and you'll chance upon a thrilling, right out of a blogger's Instagram-feed market made up of a complex of restaurants, bars, and shops, decorated with dreamy fairy lights and exuding happy vibes.
On Sundays, this place is transformed into the most happening bazaar with a plethora of pop-up stalls.
Products:
You can spot trendy and fanciful tropical fashion - accessories, home-ware, dream-catchers, trinkets and even old school artwork. You can even grab some fab products for children.
Cost: There are no fixed prices here. They want to negotiate prices so be prepared to offer 50% less then price and negotiate from there. Don't be afraid to walk away...you can always go back.
Where: Jl. Pantai Batu Bolong No.56, Canggu, Kuta Utara, Kabupaten Badung, Bali 80351.
Timings: Open 7 days a week: 9:00 hours - 23:00 hours. Monday-Friday is filled with more than 100 vendors Saturdays & Sundays is the special weekend bazaar with more than 150 vendors.
Contact Info: 0822 366 04648, email: info@loveanchorcanggu.com or website link here.
2. Utama Spice
Utama Spice is a traditional skincare company which uses 100% pure natural ingredients in their products. The production is inspired by traditional Balinese techniques.
Their fragrances and body oils are the best things to buy in Bali and even take home as gifts for your loved ones.
You can also shop for makeup products, skin or hair care essentials, a variety of pure and organic essential oils, lip balms, hair oils, body butter, bug sprays and many more, as you get them at a really reasonable price here.
So, stock up as much as you can, of course, keeping in mind your baggage allowance.
Products: Every kind of body care product you may need.
Cost: 60 INR to 1000 INR (Rp 13,000-170,000)
Where: Their shops are located in Ubud and in Sanur, but you can also purchase some of their products at different local outlets and shops. Check out their stores here.
Timings: The store in Gianyar remains open till 8:30 PM
Contact Info: Check out their website.
3. Rose Avenue Bali
Rose Avenue seems like a shop straight out of Pinterest home-decor page. The store offers gorgeous home-ware items from a pineapple shaped bottle opener to pretty cane swings.
Their paper bags and store walls have "Stop and smell the roses" written all over them.
They have pastel as well as neon coloured home-decor with the cutestb motifs like flamingos, apples, pineapples, and other island or boho elements. You can even get design inspiration through their dining table set-up, or pick through the different types of dinnerware, place-mats, tablecloths, and anything you fancy.
Anything that you've ever admired on the tropical home decor pages, such as a rattan swing, or a bright pink chair that opens up like a flower – you'll find it here!
Products: Home decor, pompoms, throws, brass items, cushions, handmade products.
Cost: 175 INR – 20,9100 INR (approximately Rp. 38,000 to Rp. 4,565,325)
Where: No. 44B, Jalan kayu Aya, Seminyak, Bali 80361
Timings: 9am to 10pm

Contact info: roseavenuebali@gmail.com
4. Sukawati Art Market
Sukawati Art Market, referred to locally as 'Pasar Seni Sukawati', is Bali's most long-standing art market. It is where visitors can purchase some distinctively Balinese art items like paintings, sculpted wooden figures, curios, handicrafts, traditional handmade products and more at really low prices.
Established in the 80s, walking around Sukawati Art Market can be a little tricky in the sense that it may feel like a maze. But you're out to discover really unique things in the shops hidden in the alleys.
Products: Here, you will find an extensive range of items. Handmade bags, wooden ethnic bowls, carvings, clothes, sarongs, trinkets and souvenirs crockery, comfortable batik pants, dresses, and insanely gorgeous shell jewelry and home-decor.
Cost: 150 INR onwards ( 30, 000 RP)

Where: Jalan Raya Sukawati, Sukawati, Kabupaten Gianyar, Bali 80582

Timings: 6 am - 6 pm

TIP: Negotiation skills has to be very strong here to get the best value for your item.
5. 69 Slam
Anyone who's been to Bali in the last ten years could not have missed the in-your-face billboard ads of this brand.

Provocative, naughty and slightly silly – 69 Slam is a beach wear paradise with funky prints and bold designs. It's the place to go to if you want to make a statement at pool parties, night-clubs, music gigs and the Bali beaches.
It's built a reputation for it's colourful, alternative and suggestive prints, continuing to outdo itself with each bold step.

Products: Bikinis, beach dresses, bralettes, crop-tops, funky underwear, swimwear, clothing and other products for men, women and children.
Cost: 500 INR to 5,000 INR
Where: Kuta Square, Kuta and Jalan Raya Ubud.

Timings: 9 am - 10 pm

Contact info: You can check out their website here.

6. Ubud Art Market
The Ubud Art Market, locally referred to as 'Pasar Seni Ubud' is located opposite the the Puri Saren Royal Ubud Palace and is open daily. This popular market sells art products, souvenirs and accessories, all handmade and sourced from the surrounding villages of Pengosekan, Tegallalang, Payangan, and Peliatan.
This is one of the most visited markets in Bali, because of the unique items on sale here and the overall happening vibe of the market – colourful and vibrant!
This market is well suited even for a leisurely stroll, to take in all it's lively vibes. Shopping here is not always about an actual purchase. Viewing the various items on display from one stall to another is a highlight on its own. Put your bargaining skills to test here, as the prices are only as good as you are.
Products: Silk scarves, lightweight shirts, beach dresses, handmade woven bags, baskets, hats, statues, and many other handcrafted goods.
Cost: INR 100 onwards.
Where: Jalan Raya Ubud main road, opposite the Puri Saren Ubud palace.
Timings: 6 am to 6 pm.
7. Kumbasari Art Market, Denpasar
A wholesale market receives most of its handicrafts from the art-producing areas of the island, such as Ubud and the central Bali highlands, but they also have a selection of arts and crafts from some of the on-site artists.
From souvenirs to Balinese paintings at the 200-odd kiosks that are spread over 4 levels. The market is open 24 hours but the various stalls have different timings.
While the fruit and vegetable vendors appear in the morning, followed by the art stores, the food stalls open later in the evening. Once again don't forget to put your bargaining shoes on.
Products: Souvenirs, art items, silverware and mini sculptures, ornamental cloths, Balinese batiks in their raw form, or as ready-to-wear shirts, various classical and contemporary-style paintings.
Cost: 50 INR onwards

Where: Located on Jalan Gajah Mada, Central Denpasar, the market is opposite the Badung river, only half an hour away from the resorts in Kuta and Sanur.

Timings: Open 24 hours

8. Tegallalang Handicraft Centre
Famous for arts and crafts from the district by the same name, Tegallalang handicraft center possibly has the longest stretch of art shops in the world.
Home to hundreds of shops selling an eclectic mix of craft and home decor items, this street market scores extra brownie points for the scenic views of the neighboring rice terrace fields it provides.
Products: Furniture, typical Balinese curios, jewellery like rings, bracelets, necklaces, made from mother of pearl, shells, wood, stone, beads and resin.
Cost: 200 INR onwards
Where: Jalan Raya Bayad-Tampaksiring Br. Bayad, Kedisan, Tegallalang, Gianyar, Bali. Continue up north from the eastern end of the Jalan Raya Ubud main road and head to Jalan Raya Tegallalang.
Timings: 8am to 10pm
9.Garlic Lane Shopping Street
Garlic Lane shopping street is named after a restaurant of the same name on Jalan Sahadewa, one of the out-of-the-way and narrow side streets off Legian's main roads.
This 200 m-long route provides you with a lot of variety, comprising art shops, DVD stores, fashion boutiques, woodcarving galleries, and others. The lane forms part of regular shopping walks through Legian, connecting the restaurant-lined Jalan Padma and the Merta Nadi Art Market on Jalan Melasti.
Most consider the Garlic Lane shopping street scene to be better than Kuta's and because it's not on the main road, you can often find better bargains here.
Products: Paintings, woven and batik table runners, miniature Balinese mask fridge magnets, souvenirs and pretty much everything else
Cost: 100 INR onwards
Where: Jl Sahadewa No.11, Legian, Kuta, Kabupaten Badung, Bali. It's the first street you can conveniently walk to from the end of Poppies Lane after leaving the beach.
Timings: 7 am - 11 pm.
However, several shops such as Kirara Art & Craft stay open until late at night, while others close right after sunset. DVD shops such as Bali Gong and 4 Tune 8 sell pirated discs of the latest movie releases, and My Shop sells anything from embroidered baseball caps, NBA team singlets and cheap sunglasses.