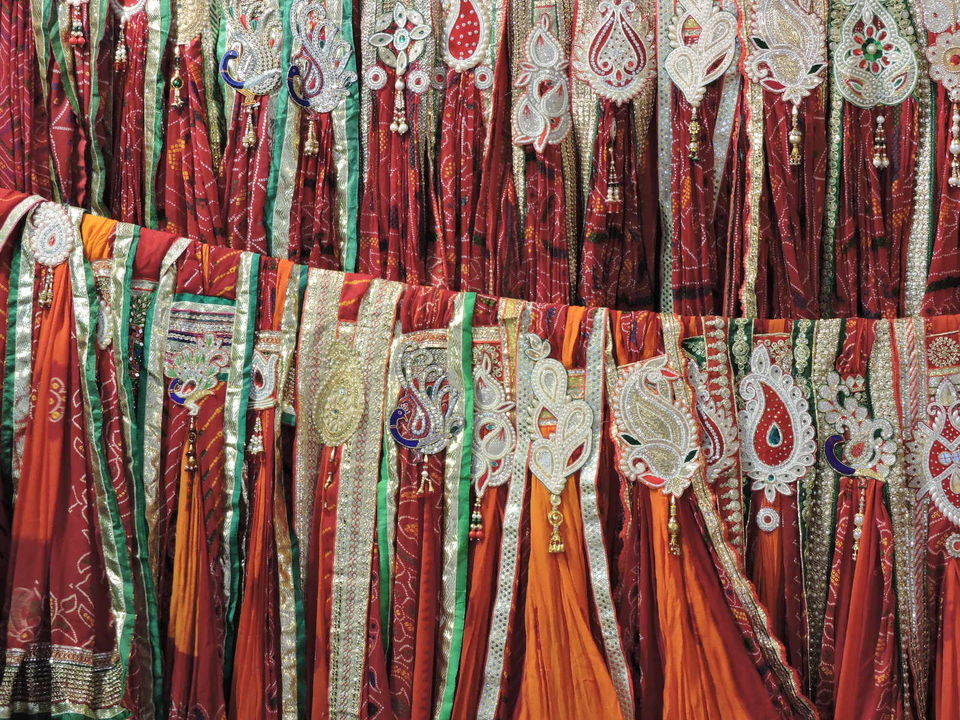 Chandi Chowk came into existence, when the fifth Mughal emperor of India, Shah Jahan, shifted his capital from Agra to Shahjahanabad, now Old Delhi, in the mid 17th century. Designed by him and his daughter Jahanara Begum (from wife Mumtaj Mahal), the market was in the shape of a crescent with a tributary of the Yamuna river cutting through the middle, and the moon reflecting in those waters giving it the name of Chandni Chowk, the Moonlight Square. Today that particular shape and design don't exist as an overwhelming amount of population have put roots here. Thriving between the Red Fort and the Fathepuri Masjid, almost a distance of 2 kilometres, this market still stands 3.5 centuries later, bagging the title of being considered the biggest wholesale market in Asia. Shah Jahan would be proud I guess. Here is the list of 10 of its markets, amongst many, that help one understand what it has to offer and how it still stands.
1. DARYAGANJ:
For someone who often takes refuge in books but has to budget the expenses on them, Daryaganj is a safe haven. It opens only on Sundays and has been around for about 55 years. Hundreds of booksellers occupy the roadside stretch of over a kilometre, and sell books at prices that are bound to make your jaw drop. Comfortable shoes, sunscreen applied, reach around 10 am and you'll get time to stumble upon first editions, signed copies, vintage books, coffee-books, old magazines, history and cookery books, travel and children's books, novels sold by kilos and even Harry Potter books with the original covers, at super cheap prices. You must bargain though, you're in India, haggling should be a natural talent. Oh, and make sure you carry a big bag. Trust me.
2. KINARI MARKET:
An impressive wholesale market functional from Monday to Saturday, you'll find shops selling accessories that are a part of all Indian weddings and festivities. Borders for saris, laces, sequences, motifs, small colourful bags to put dry fruit in, wedding accessories, like bangles, artificial jewellery, garlands, turbans for grooms and so much more surrounds you the moment you enter the market. There is colour everywhere and it can take time to adjust to the feeling of seeing so much available. During festivals, each shop lights up with the related collection. For Rakhi (when sisters tie a thread to their brothers wrist as a sign of mutual protection), shops fill up with colourful decorative threads. During Holi you'll find plates of vibrant powder colours while for Diwali, lights, candles and mudlamps. For Christmas, tree decorations adorn the shops and during Eid you'll find green and white banners. A riot of colours, this market is incredible.
3. KHARI BAOLI:
Baoli means a step well used in drought prone areas for water retention during monsoons. Constructed in the mid 17th century, today it is sadly not visible. The spice shops set around during that time still stand though and run their sales. Considered to be Asia's largest wholesale spice market, the sight is breathtaking. A walk around the street and you find yourself surrounded by the sights of cloves, cardamoms, raisins, walnuts, dates, prunes, almonds, dried mulberries from Afghanistan, chillies, unrefined pink salt, dried exotic fruits such as kiwis and mangoes, herbs and grains. The locals vouch for the excellent quality of ingredients as during festivities and weddings they sell by the kilos. The smells all woody and fragrant, with the constant beckoning calls of the shopkeepers certainly make you think about picking up small packets of your favourite spices. Closed on Sundays.
4. DARIBA KALAN:
350 years old, this market was set up by Shah Jahan for the rich to splurge on precious gems, gold, silver, diamonds, rare stones, pearls and 'Ittar' (oil based perfumes). Retaining its demeanour even today, 'Dariba Kalan' is patronised by locals and tourists from all over the world. It's interesting to note its history- in the Battle of Karnal in 1739, this market lost most of its affluence when the Persian invader Nader Shah murdered hundreds of civilians while looting away all the shops. Then, in the Revolt of 1857 against the British rule, Chandni Chowk became a hub centre for clashes, murders and loots proving to be a loss for the locals and their businesses. But with time, this area has risen back and now one finds shops selling exclusive ornaments, bridal collections and antique specimens. For anyone even remotely interested in jewelry this market will certainly remain close to their heart. Closed on Sundays.
5. BHAGIRATH PALACE MARKET:
What animals are to Serengeti, electrical lights are to this market. From basic light bulbs to fancy chandeliers and lampposts, this market has everything. Once a palace for the courtesan Begum Samru of the Mughal era, with time, the property changed hands and eventually landed up in the possession of a local trader, Seth Bhagirath- giving it the current name. Sullied by time and man, this area now claims to be the biggest wholesale market for electricals in Asia. Once you are in, getting out of it is a task by itself. Shops selling wires, sockets, screwdrivers, magnets and anything closely related to electrical lights, are all here. Chaotic, loud and certainly in no way resembling a 'palace'- it is still quite interesting. Closed on Sundays.
6. MEENA BAZAAR:
Open only on Sundays, Meena Bazaar was very close to Shah Jahan's heart as it was inspired from a market the Mughal emperor saw in Peshawar in 1646. Meant to be a market that supplied goods only to royal households, the clientele that came here made it the most historic and special part of Chandni Chowk. Quilts, Persian carpets, pashmina shawls, zari and brocade work, ornaments of precious stones and exotic spices were sold here during those times. Today, expensive dresses, saris, Indian and Pakistani suits and jewellery are sold.
7. BALLIMARAN:
These days it's difficult to imagine the history of this bazaar since nothing much is left over from its days of glory. Old buildings remain dilapidated, streets are noisy and dirty and there is nothing 'mughal' or 'sophisticated' about it. Ballimaran, a street that attracts visitors interested in modern footwear, Ayurvedic medicine, opticals and bangles, was once a residential area to a few of India's historical icons. The mansions of Urdu poet Mirza Ghalib, Dr. Ajmal Khan, a pioneer in Ayurvedic medicine who also cofounded the Indian National Congress, led the Khilafat Movement and was a part of Gandhi's non-violence movement, Hisamuddin Haider, a prominent freedom fighter hanged by the British during the Revolt of 1857, Nawab Loharu, who made swords for the emperor Shah Jahan, Ustad Mohammad-bin- Zauq, the poet instructor of Bahadur Shah Zafar, along with many others, are all here, but now only in ruins. You can't help wonder what it used to be like and definitely find yourself aching for the rich grandeur of an era gone by.
8. THE CAMERA MARKET:
Esplanade road and Kucha Chaudhary market, considered to be Asia's largest bazaar for cameras and their parts is spread across the congested lanes between the Gurudwara and the Red Fort. Established in 1955- it's a young market compared to the others surrounding it. Obvious, as there were no cameras during the reign of Shah Jahan. With the sales having gone down due to the widespread use of smart phones, the shopkeepers fret, but as a traveller it's fascinating to see the collection still kept and sold. Vintage and analogue cameras gather dust, but you still find enthusiasts and photography students understanding them from the shop owners. Check out stores like Pritam Studio and Madan Jee and Co., considered to be the oldest shops in this market.
9. CHAWRI BAZAAR:
A wholesale market, once a home for dancing girls, courtesans and prostitutes, now holds shops selling brass and copper utensils, wedding cards catering to all religious communities in India, and other paper products like wallpapers, gift wrapping papers, handmade papers, envelopes, greeting cards etc.
10. KATRA NEEL MARKET:
Neel means 'blue' and is often used to denote Indigo, a whitening agent. Katra Neel therefore became a locality famous for Indigo manufacturers and traders. Now, it is a wholesale cloth market selling wedding attire, jewellery, footwear, high end suits and saris, and fabrics. This is one area of Chandni Chowk, where wedding attire for men is also available in abundance.
Note: Alight at Chandni Chowk Metro station and either walk or hire a rickshaw to see all these bazaars.