In the day and age where all we have to do is click to get pretty much anything landing on our doorsteps, are we too tired of markets? Not yet. The pulsating life that fills bazaars is something we can never get enough of – especially if they've got history associated with them, which adds a certain kind of nostalgic fascination to them.
And India has got plenty of such markets, or rather 'bazaars' which have stood the test of time. Starting off with the royals that ruled our lands, these markets refuse to die down in their charm and vibrancy despite centuries of historical heaviness fastened to them.
What do you know, the streets of the very market that you walk in today might have once been walked upon by kings and queens and perhaps even your great-grandfathers. Here's a list of 12 of the most ancient Indian bazaars with some interesting history attached to each one of them – and the best part is that they're all still thriving!
One of the most popular wholesale markets in Kolkata, Burra Bazaar dates back to the late 1600's in its origin, even before Kolkata was an integrated city.
It started off as the famous Sutanuti Haat where textiles and yarns were traded from far-off lands such as China and Ceylon (now Sri Lanka) in the 16th century. From Siraj-Ud-Doulah trying to burn it up in the 17th century to Bengal famine, to the partition of Bengal, this market has seen it all.
Ask a local what we can find in this market and their answer would be – 'everything' – and that is not untrue. Wholesale textiles are still the most precious find of this market but today we can find spices, décor, artificial jewellery, flowers, artworks and a whole lot of other things here.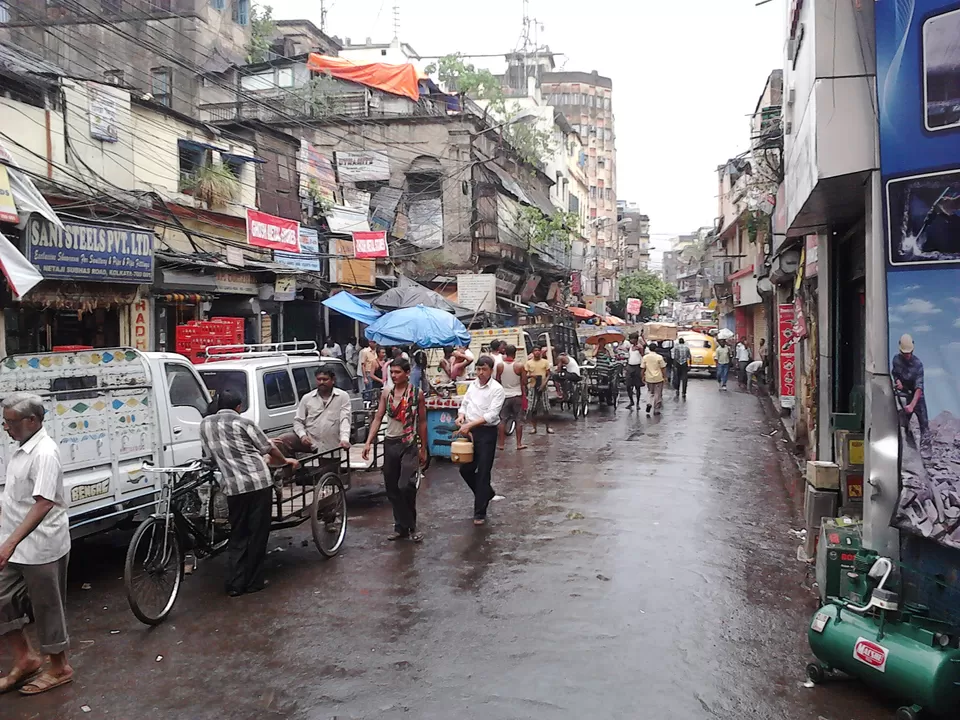 A lane in the massive Burra Bazaar in Kolkata
Where in Kolkata: From Jorabagan down south through Hooghly river with Harrison road cutting through it
Timings: 10:30 am to 7:30 pm
As the name would suggest, the Jew street was home to Israelis who once called this part of Kochi their home. However, they have left and what was a home and a bustling market place of Jews is now a collection of some really beautiful antique stores.
The Jewish synagogue is one of the most visited spots here. While you're here, visit all the beautiful artifacts, curios and antiques in these charming, old-world stores. There is a good amount of spice trade here too, so you get a taste of history as well as the spices of Kerala!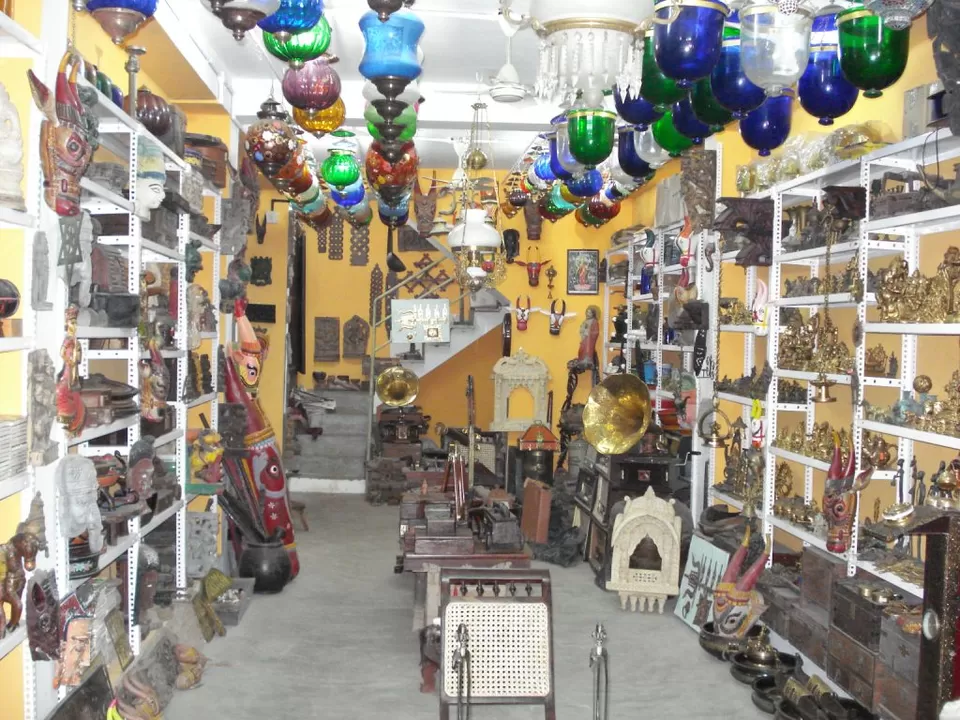 An antique store from Jew Street, Kochi
Where in Kochi : Near Mattancherry Palace and Synagogue
Timings : 10 to noon and then again from 3 to 5 pm on all days except for Fridays and Jewish holidays
Built in the early 17th century by Shah Jahan himself, the famous Chandni Chowk that still throngs with the junta of Delhi is one of the most ancient markets of India. It was designed by Jahanara, Shah Jahan's daughter, such that the shape of it was that of a crescent moon (which is now lost) with a pool in the centre reflecting moonlight – which is why it was called Chandni Chowk in the first place.
The rampant silver trade that went on here could be another reason behind the name. And today, there's much more than silver trade. Food – authentic and diverse, seems to be the primary thing that draws people here, along with textiles, jewellery, spices, herbs, books and stationary, and a bit of nearly everything else.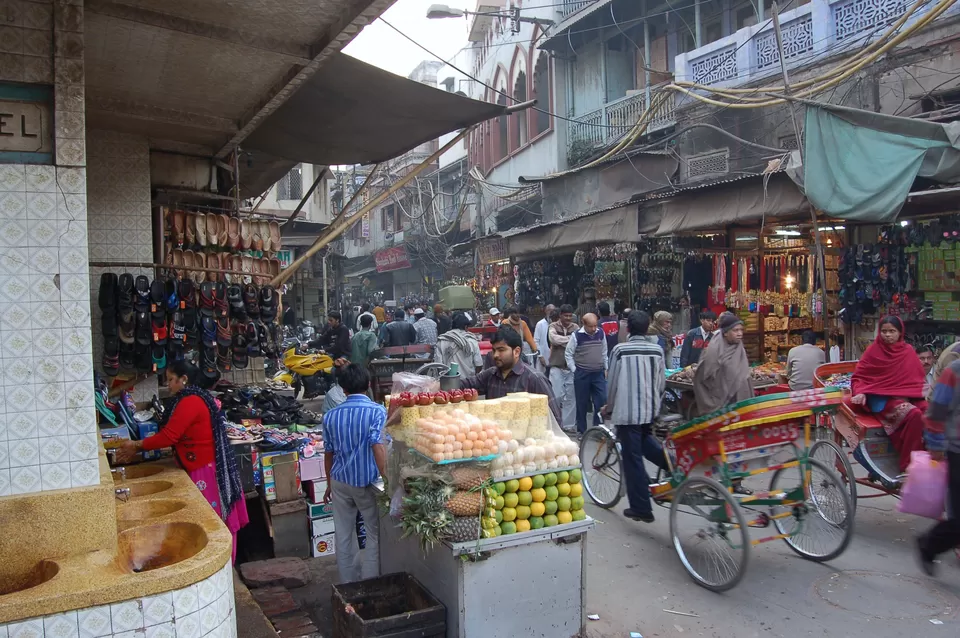 A lane from the busy and colourful Chandni Chowk of Delhi
Where in Delhi : Near the old Delhi railway station
Timings : 9:30am to 8pm on all days except for Sunday
One of the most lively places you'll ever come across in Hyderabad, Laad Bazaar or Choodi Bazaar has got quite a history of its own. Legend has it that the bazaar was built for guests who came to the wedding of the daughter of Quli Qutub Shah (an early Nizam ruler of Hyderabad).
Today, the bangles – made of laad (lacquer) by the locals here are a major attraction, while we can also find a whole lot of things along with them: clothes, perfumes, spices, juttis, pearl jewellery being some of them.
If all the stacks of sparkly, colourful bangles aren't what draws you here, just walking by the marvellous architectural wonder that is the Charminar, around which the bazaar is built, can be a worthy reason to hang around in the Laad Bazaar.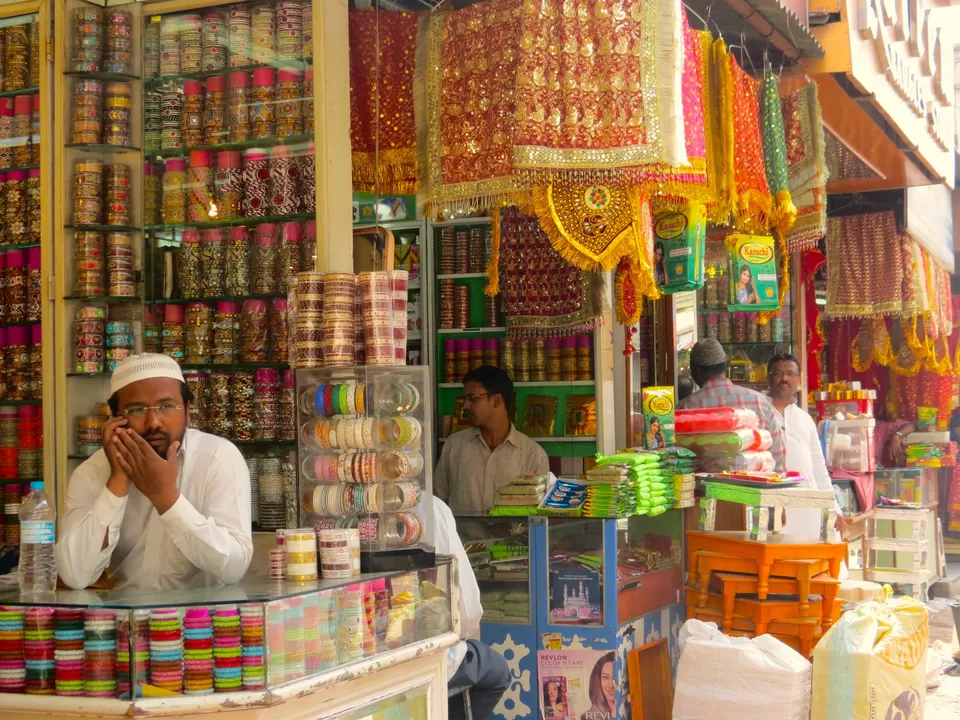 Rows of Bangle shops in Hyderabad's Laad Bazaar
Where in Hyderabad: Char Kaman, Ghansi Bazaar
Timings : 11:00 am to 11:00 pm and all night through during Ramzaan
It's a funny story how Bhendi Bazaar got its name. When the British started trade and business in this area, they called it 'Behind the Bazaar' with this area falling behind the famous Crawford market of Mumbai. And that came to be known as Bhendi Bazaar by the locals – a name that still hangs on to it.
When the British rulers established this region as their trade centre in the late 1600's, only the elite and rich locals were allowed to be a part of it. Today, we have all kinds of things being sold here. Rare crafts like oil pressing and zari which have been passed on through families of these locals, have their stores here as well.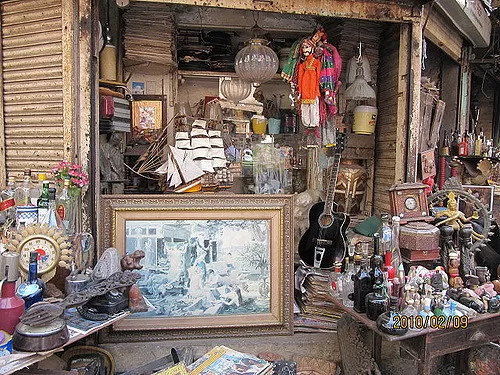 A store from Mumbai's Bhendi Bazaar
Where in Mumbai : Between Mohammad Ali Road and Khetwadi
Timings : 11:00 am to 7:30 pm, closed on Fridays
This bazaar, which is one of the biggest commercial markets in Hyderabad had its foundations laid during the rule of Quli Qutub Shah –nearly 400 years ago. The begum (a term Nizams used for wife) of Nizam Ali Khan gifted this to the traders back then and that's how it has become the Begum Bazaar.
The brass, steel and aluminium kitchenware are some of the most popular things that are sold here. Apart from that, there's plenty of other things as well, such as clothes, jewellery, perfumes, seasonal festive-related things, décor, artworks and a lot more.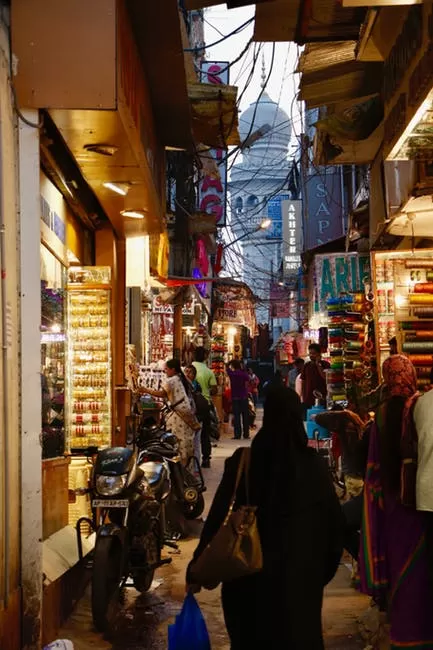 A narrow lane filled with tiny shops in Begum Bazaar, Hyderabad
Where in Hyderabad : Afzal Gunj
Timings : 10:00 am to 11:00 pm, closed on Sundays
Imagine walking the streets of a bazaar that was built for the royalty of Jaipur! That's what Johari bazaar is for you, at least that is what it was, back in the 1700's when it was built by Rajasthani royalty right next to the Hawa Mahal.
Today, we have some of Rajasthan's most prized treasures – meenakari jewellery, bandhani and leheriya fabrics, spices and foods, silver and oxidised silver jewellery, juttis and many more things. Just a walk along the streets of the colourful Johari bazaar is all that we need to feel all the vibrancy and beauty that Jaipur is made up of.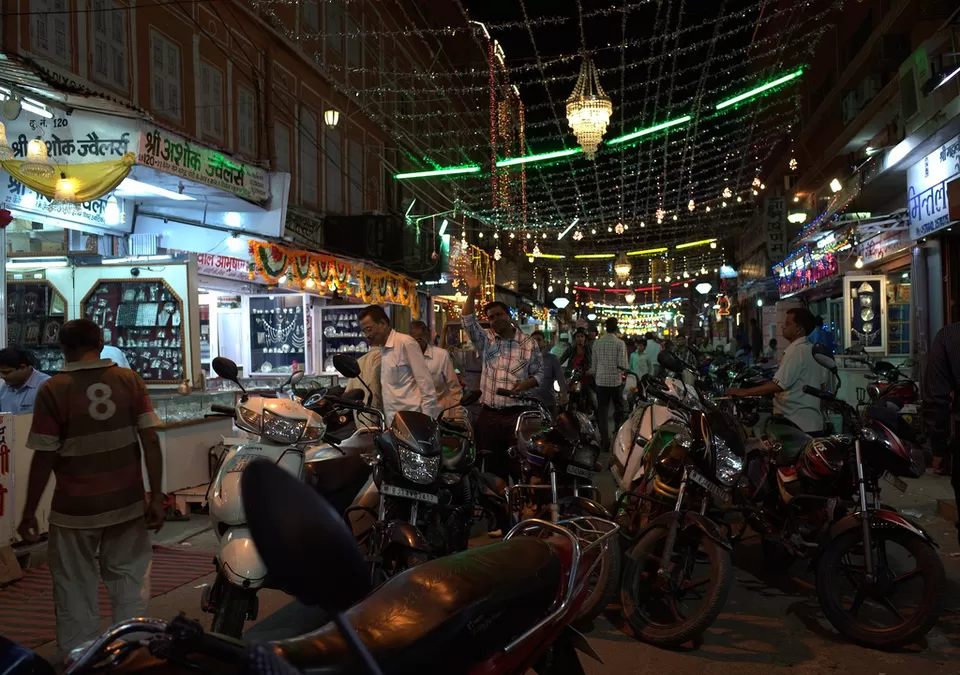 A lit up narrow street from Johari Bazaar, Jaipur with rows of tiny stores
Where in Jaipur : Ram Ganj Bazaar road
Timings : 10:00 am to 11:00 pm


A market that sells everything, from clothes to furniture to foods and jewellery, the George Town market, also happens to have quite a history. This market was built around the fort of St. George back in the 1600's for locals to trade and was then called the 'black town'. The name George Town got popular after King George walked the streets of this market in 1905.
After many structural changes and buildings – courts and temples built around it, it still thrives today, with the same energy and a lot of stories attached to it.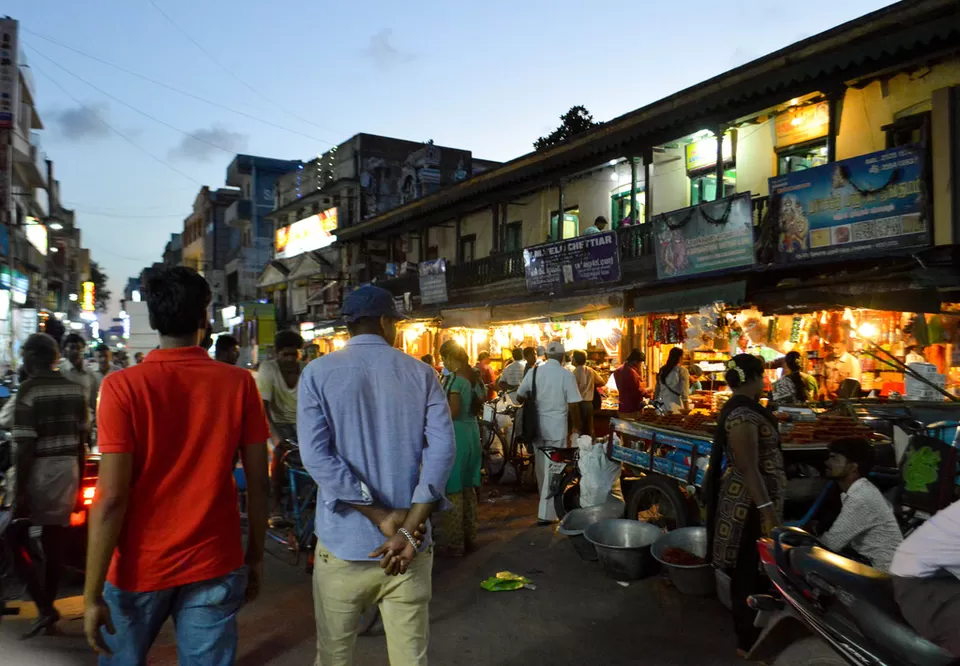 Night scenes from the busy George Town Market street of Chennai
Where in Chennai : George Town road
Timings : 9:00am to 8:30 pm
Yet another ancient market that belongs to the land of kings, queens and palaces – Rajasthan happens to be the Sardar market that was built by Maharaja Sardar Singh (after whom the market has been named).
This Jodhpur market is where every localite heads to when there is a wedding in the family – for this place is filled with colourful clothes, juttis, handicrafts, jewellery, décor, spices and a lot more things to shop for.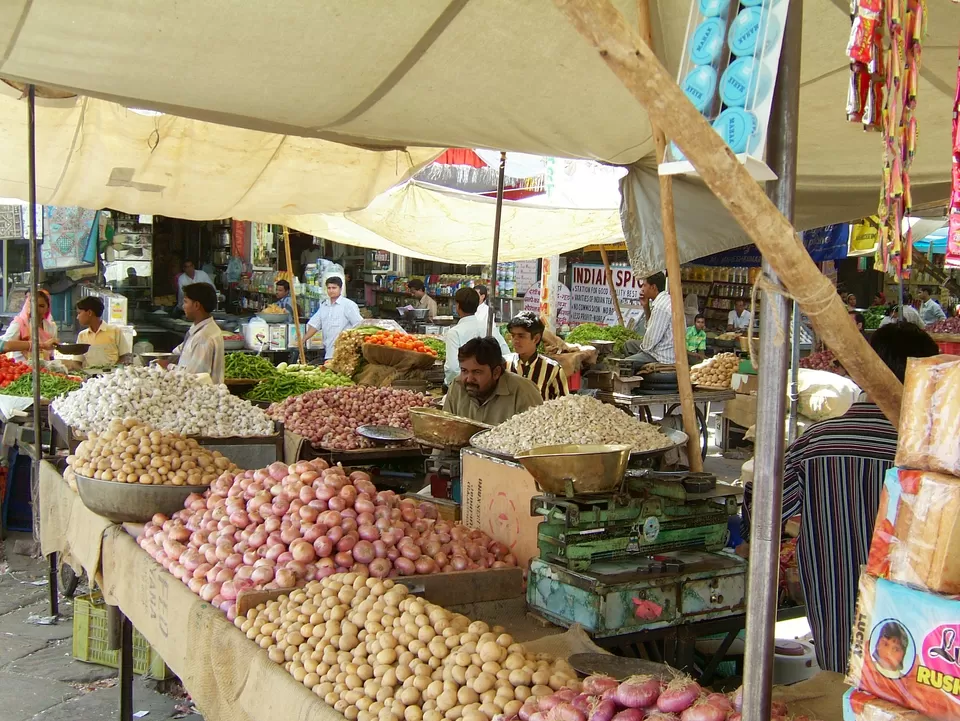 Vegetables and spices spread out in the Sardar Market of Jodhpur
Where in Jodhpur : Near Clock tower, Rawaton ka Bass
Timings : 7:00 am to 9:00 pm
Did you know that India had and still does have a market that's run solely by women. The Ima market of Imphal, Manipur is what we're talking about. Selling a whole lot of things ranging from textiles to foods and spices, the Ima market is where you'll find hundreds of women-traders going about their thriving businesses.
Manipur's government started this completely woman-run market in the late 1700's and ever since then, the market has been operating or rather blooming with it all getting only better and bigger with each day.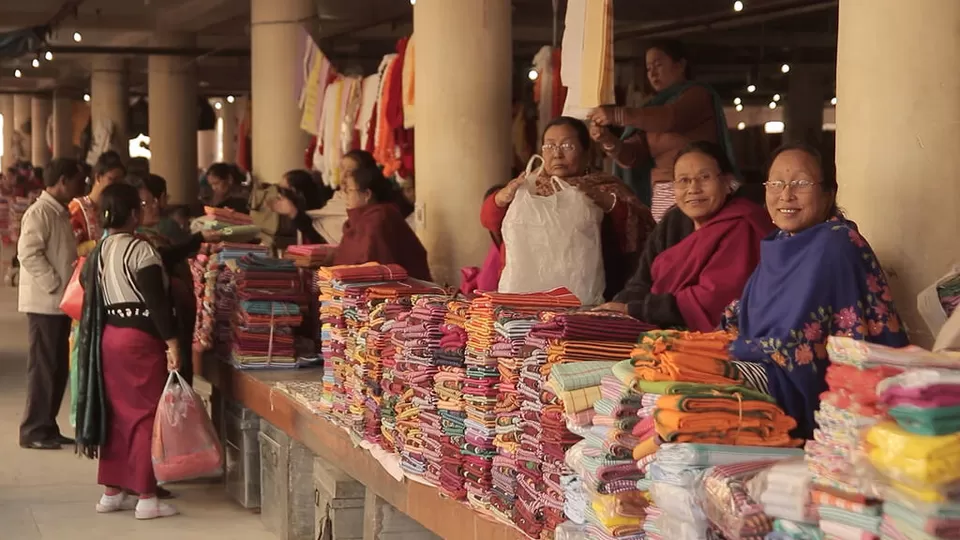 Scenes from the women-run Ima Market of Imphal
Where in Imphal : Bir Tikendajit road
Timings : 3 :00 am to 7:00 pm
The first thing we remember when we get to hear the name Kannauj is Kannauj Ittar. And that's precisely what the Kannauj market is famous for – attar and tobacco. As of today, we find a lot more things in this market.
So how old is this perfume bazaar really? While there are no records of it, it is said that it has been there since thousands of years and that there were mentions of it in Ramayana and Mahabharata as well. Now that's ancient!
Where in Kannauj : G T road
Timings : 10:00am to 5:00pm
Established during the rule of Chamaraja Wodeyar the 9th in the 1800s, the Devaraja market of Mysore is yet another one of those ancient markets in India that has its history linked to royalty.
Now as we wander the streets of this market, we find many collectibles such as natural oils, incense sticks, flowers, spices and herbs, all native to Karnataka.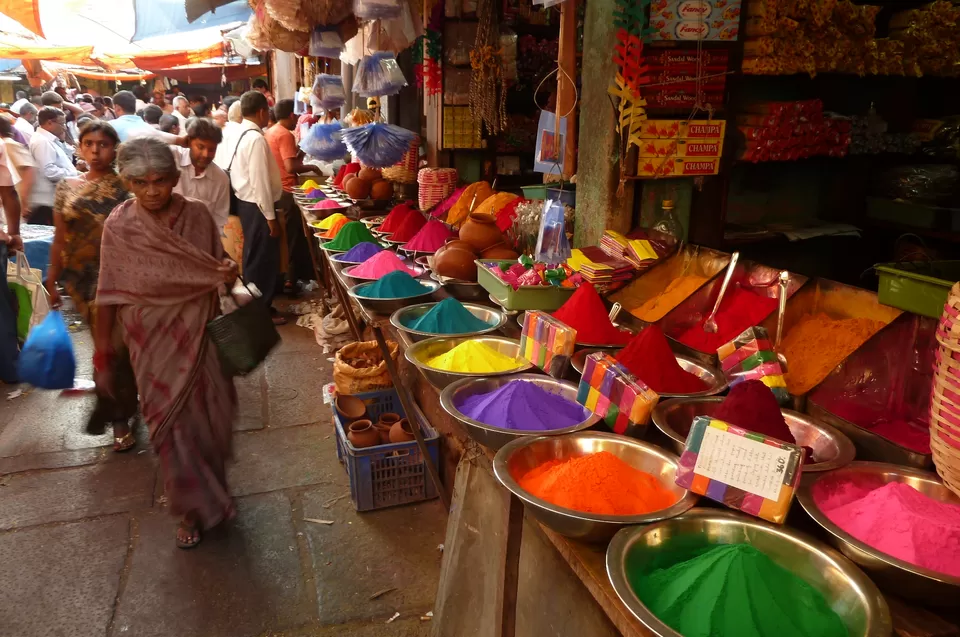 The streets of Devaraja market sprawled with colors, flowers and much more
Where in Mysore : Sayyaji Rao road, Shivarampet
Timings : 6 : 30 am to 9 : 30 pm
Know anything interesting about an ancient market in your city? Share your story with us here. Also, don't forget to check out Tripoto's Youtube channel for a lot more interesting stories like this one.