Imagine watching the cult movie Pulp Fiction under the light of a thousand stars?
Or the evocative horror-thriller The Silence of the Lambs with your entire gang in an open air theatre under the star-lit skies!

Well! If you live in Delhi, thank your stars because your much-fancied dream is all set to become a reality.
Drinksonme and Sunset Cinema Club are organising the first-ever open air movie festival in Delhi to break from the confines of a movie theatre by screening your favourite films under the starry sky. 

Movies & Chill – a three-day festival is being organised at One Golden Mile, a performance art theatre in Chanakyapuri from 7 April – 9 April, 2017.
After a poll on their Facebook event page, the final shortlisted movies that will be screened are Pulp Fiction, Silence Of The Lambs and Top Gun.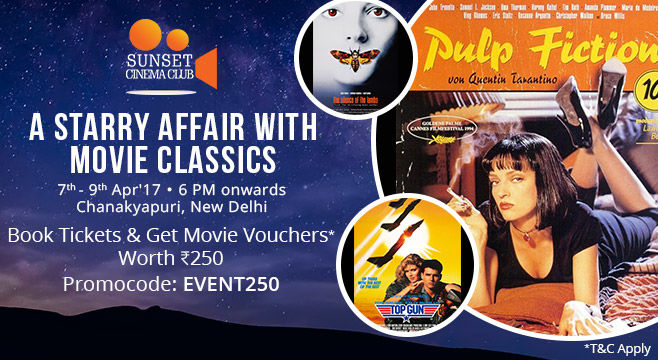 Apart from a therapeutic cinematic experience, the movie festival will also have food trucks, exotic cocktails, a themed decor and more.
Excited to watch movies under the stars with food and drinks to amplify the experience? Book you your tickets here.

When:
• 7 April, Friday: Pulp Fiction
• 8 April, Saturday: Top Gun
• 9 April, Sunday: Silence Of The Lambs
Time: 6:00 PM onwards
Where: One Golden Mile, Shaheed Sudhir Tyagi Marg, Off Africa Avenue, Chanakyapuri, New Delhi
Tickets: Book Now
P.S. You should be 18 years and above. Limited seating capacity to be filled in on first come, first-serve basis.

Give us a sneak peek into your adventures, share your travel stories on Tripoto.
Further Reading: 9 Fun & Almost Free Things to Do in Delhi With Your Friends