Street art has long been appreciated for its bold, extemporaneous and striking nature. From being considered a rebellious form of art, to being embraced for its beauty and message, street art has come a long way from the ghettos of New York to the streets of New Delhi. One of the most famous street art forms, graffiti is one that remains relevant even today, for its underlying socio-political messages. Other than being a form of expression, graffiti attracts thousands for making streets picturesque, quirky and even interactive. So grab your gang, walk along the streets of the city, observe majestic pieces of street art and see what Delhi yearns to express. Here are the best graffiti walls in New Delhi that you must see!
While the main street of the Hauz Khas Village is an amalgam of pubs, cafes, and designer labels, its rear is donned in gorgeous graffiti walls. The juxtaposition of capitalist ventures in the main lanes alongside the democratic expression of art in the by-lanes is truly a wonder to witness.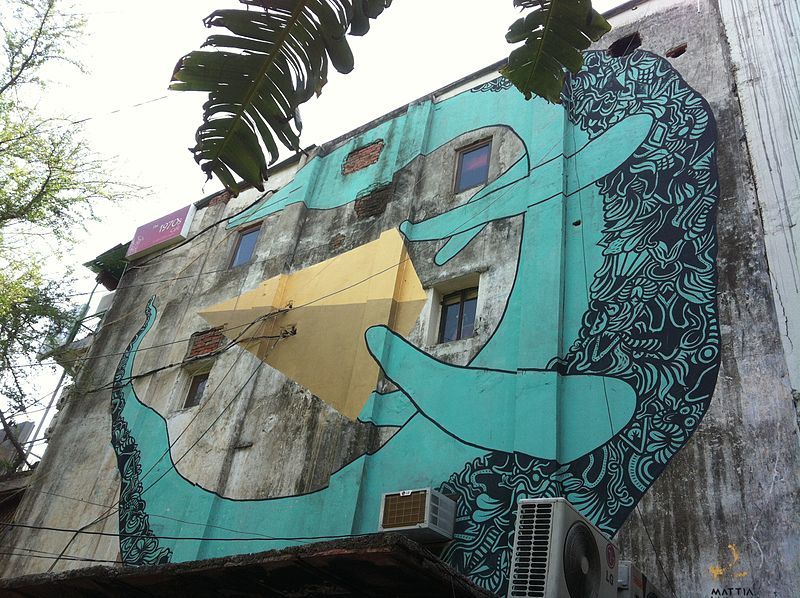 Lodhi Colony became Delhi's first open air public art district, by St+Art, an NGO that aims to make art accessible to everyone. There are around 26 walls between Khanna Market and Mehar Chand Market that have been taken over for this project and are canvases to bursts of colours, thoughts and emotions. In addition to these walls, there are also installations and murals that depict extraordinary expressions. Do not miss out a beautiful mural of a thousand birds flying up on an archway here.
This building is beautified by a painting of a face split in two, created by artist Okuda. Okuda's work is inspired by the relentless force of capitalism in our lives. His graffiti at Lok Nayak Bhawan depicts a face split in two, with one face depicted as the night sky, and the other with rainbow colours. This piece of art and its open-ended interpretation is sure to inspire you to think and create.
Shahpur Jat is a colourful arena, where walls if not done up with graffiti, are painted in bright pinks, yellows and blues. This riot of bright colours has attracted photographers and models alike. The graffiti at Shahpur Jat, which can be found at every other corner, depicts a modern take on mythical characters, severed heads and nature.
Khirki Village is the location where the street art festival started by Foundation for Indian Contemporary Art (FICA), Extension Khirki is held. The festival brought together several street artists on one platform to convert the dull walls of Khirki village into talking walls. The project aimed to celebrate self-expression and positive thinking, and is a must-visit. Oh, don't forget to spot the wall art of a Buddha-like face wearing a mask in this vicinity!
In the Azadpur sabji mandi lies Delhi's biggest cold storage market which received a huge makeover by artist Axel Void. The piece, bright in colour, featuring fresh fruits and vegetables is a complete contrast to the concept of cold storage. Again, this work of art is open for interpretation, and makes for a good Sunday exercise.
So, whether you want to indulge in an intellectual conversation about interpretations or are out for a photowalk, the streets of Delhi and its various characters await you.
Know more hidden haunts that are decorated in street art in Delhi and around the country? Share your explorations with us on Tripoto.
Frequent Searches Leading To This Page:-
Unique places in delhi, weekend getaways from delhi, weekend day trip in delhi, getways from delhi, a day trip to unique places of delhi