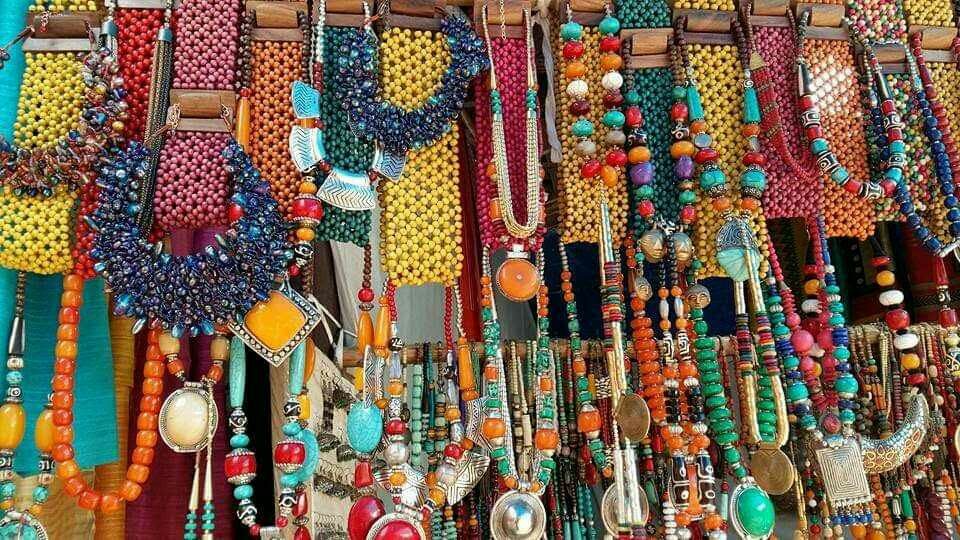 Delhi winters are just perfect to visit this colourful destination that defines what India is -a melting pot of cultures. Dilli haat showcases the actual regional artisans who sell some superb regional Indian handicrafts, jewellery and fabrics. This is just the perfect weather to go browse this place and pick up some great stuff. If you are not a local and are visiting Delhi you may want do all your souvenir shopping from here.
Dilli Haat is being run by the delhi Tourism Board and is a great craft bazaar which also showcases some great regional foods. The Delhi Tourism board organises various craft festivals periodically so that artisans from across the country can visit and showcase their craft. The craftsmen keep circulating and pay a nominal fee since this is a Govt run establishment.
When one visits Dilli Haat one is transported to a different world in the hustle and bustle of this fact paced city. You can savour some some regional food at various state food stalls and pick up some great show pieces and also enjoy some great cultural dance and music shows at th same time. What's great is that Delhi Tourism has opened a couple of more Dilli Haats in the city for the lovers of regional crafts and regional food. Besides INA, Delhi has two more Dilli Haats in Janakpuri and Pitampura.
The flagship Dilli haat in INA market still remains the most popular one amongst patrons of Delhi and those visiting Delhi. There's a nominal entry fee of INR 30 making it affordable for everyone. One can visit on a Weekend afternoon and enjoy not only some great regional food and family time together but also shop for some authentic regional goods.
Since this is an open air place, winters or months when the temperatures are bearable are perfect to visit. The place is well connected by Delhi Metro too so you don't have to worry about parking.
Whether you are a lover of Papier mache from Kashmir or Madhubani art work from Bihar or some great Bamboo artefacts from the North east this is your one stop shop. Shop for some pure cashmere or pure pashmina or some great regional jewellery or some great Fabrics from MAHESHWAR Madhya Pradesh or shop for Banarasi, Tanchoi, patola or chanderi Saree's and you can vouch for this authentic stuff. You can shop for some great rugs, carpets, duvet's, mat's, comforters, bed covers at great prices. The tip however is to visit during a crafts Festival like Dastkaar Haat and you are bound to get a great deal.
I have always loved the food at Dilli haat whether it's the Pav Bhaji, the momos the waazvaan, the fruit beer, the vada pav, dabeli, Rajasthani Thai, mirchi vada, dosas and everything else. Get some Mehandi / henna tattoo made or enjoy a puppet show or bioscope
This vibrant cultural hub in the heart of the capital city of New Delhi should be your prime attraction for an outing to see the handicrafts from across India. In short this place gives access to India on a platter so what are you waiting for? Take a trip to Dilli Haat real soon.
© Follow Sam on Instagram - Search for sgkatoch
© Follow Sam on Twitter - Search for @GanjuShambavi
© Follow Sam on Zomato - www.zomato.com/shambavi
© http://whatsamsaysabout.blogspot.in/
© What Sam says about________ ?