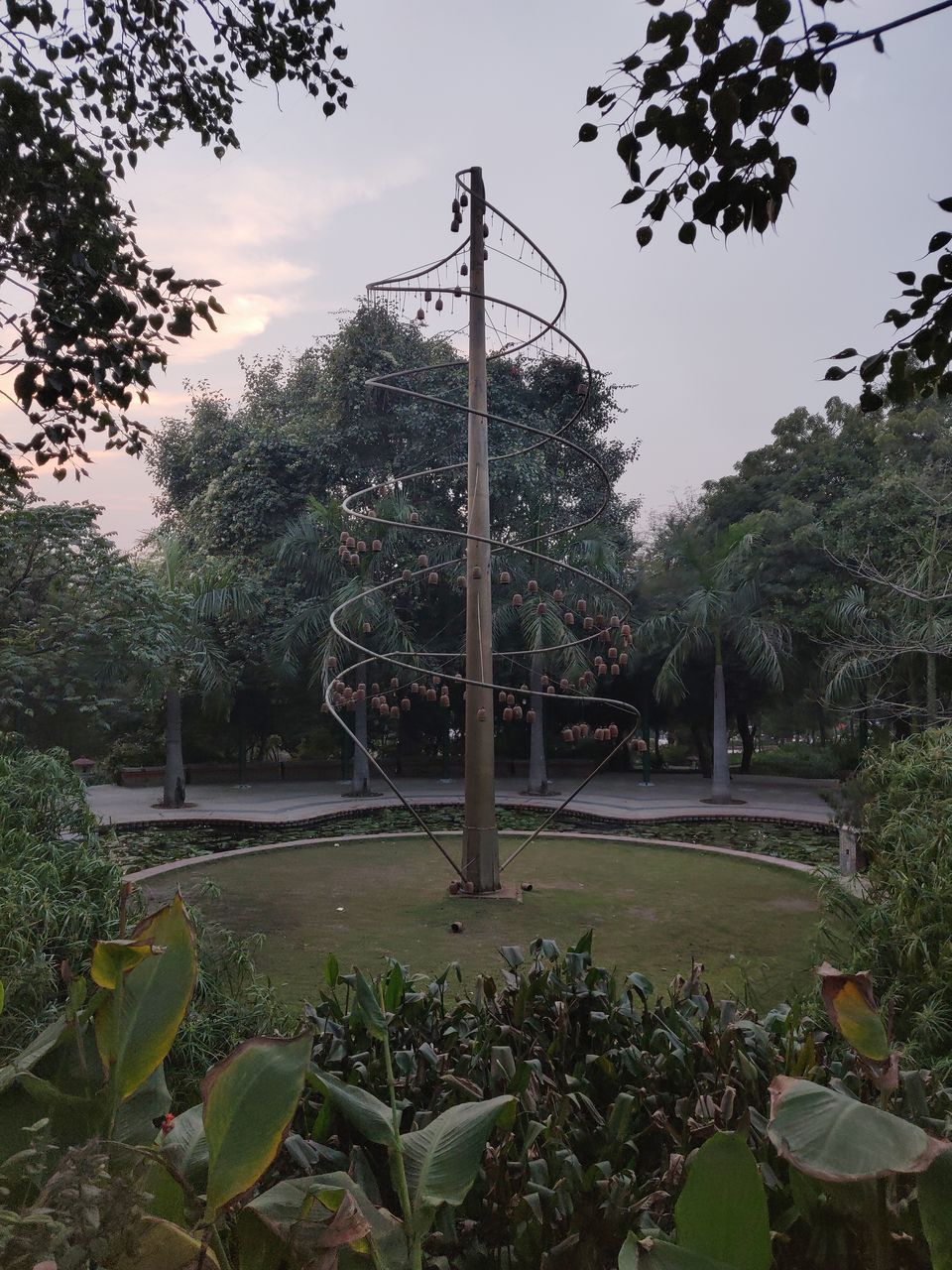 Exploring Delhi, had been an everlasting desire for quite a few years and when a personal trip happened coupled with lean time at work, I chose to make the most of it.
As I was put up in the Parsi Dharmshala (located near Connaught Place) for a function, I chose to make the most of the opportunity. Researched well, had my to-do list ready with preferences (keeping travel distance and location vicinity in mind) and caught hold of a family member's car so that I spent less time working out the commute.
I started at about 10:00 AM and reached Bangla Sahib Gurudwara, about which I had heard a lot and also seen some mesmerizing pictures online. Located in midst of city, yet spread across a water body- a Gurudwara is always spic and span with hands ready to help. In spite of the cold weather, there was a queue for Darshan. The inside of the Gurudwara was beautifully designed in Gold and Silver and offered unparalled solace. Walking down the steps, sitting by the waterbody under the rays of sun was such soothing experience.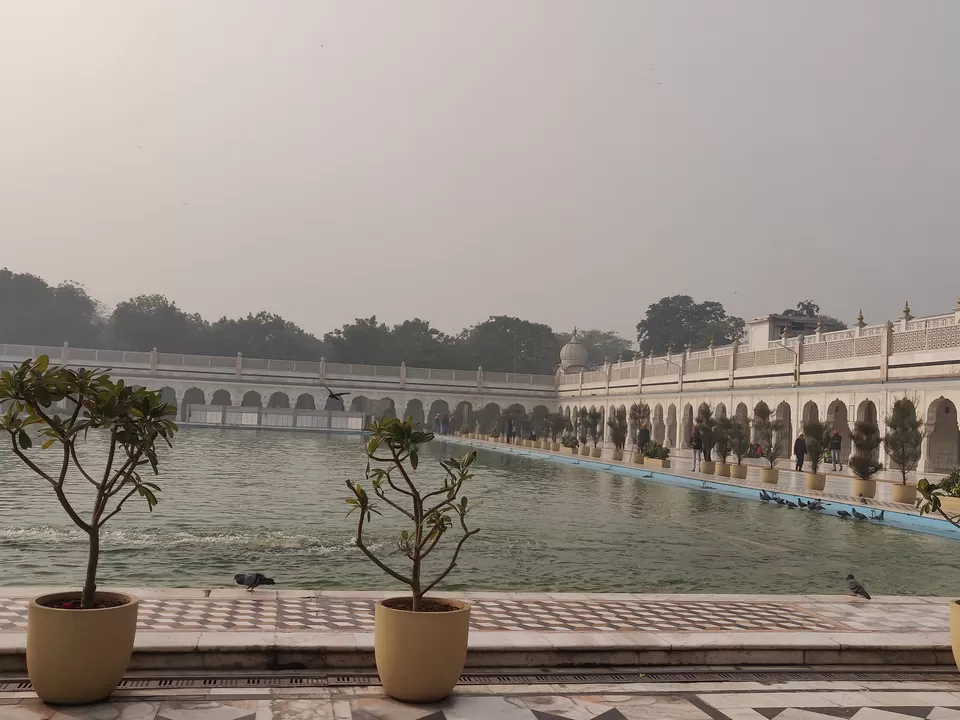 A friend of mine, met me at my next destination – Agrasen Ki Baoli, which is a historical landmark located near Hailey Road, CP. This site has been declared as a protected monument by Archaeological Survey of India. It is believed to have been created in Mahabharata times by Raja Agrasen to provide continuous water supply to his junta. It is a 3 storeyed stepwell with 108 steps leading to the deep dungeon of water. From a faraway distance no one can guess the depth of this body. As this goes inside the earth, there is reek of pigeon poop and one does witness lots of pigeons fluttering around. From an architecture standpoint, there is nothing unique but still a great place to click nice pictures on account of symmetry.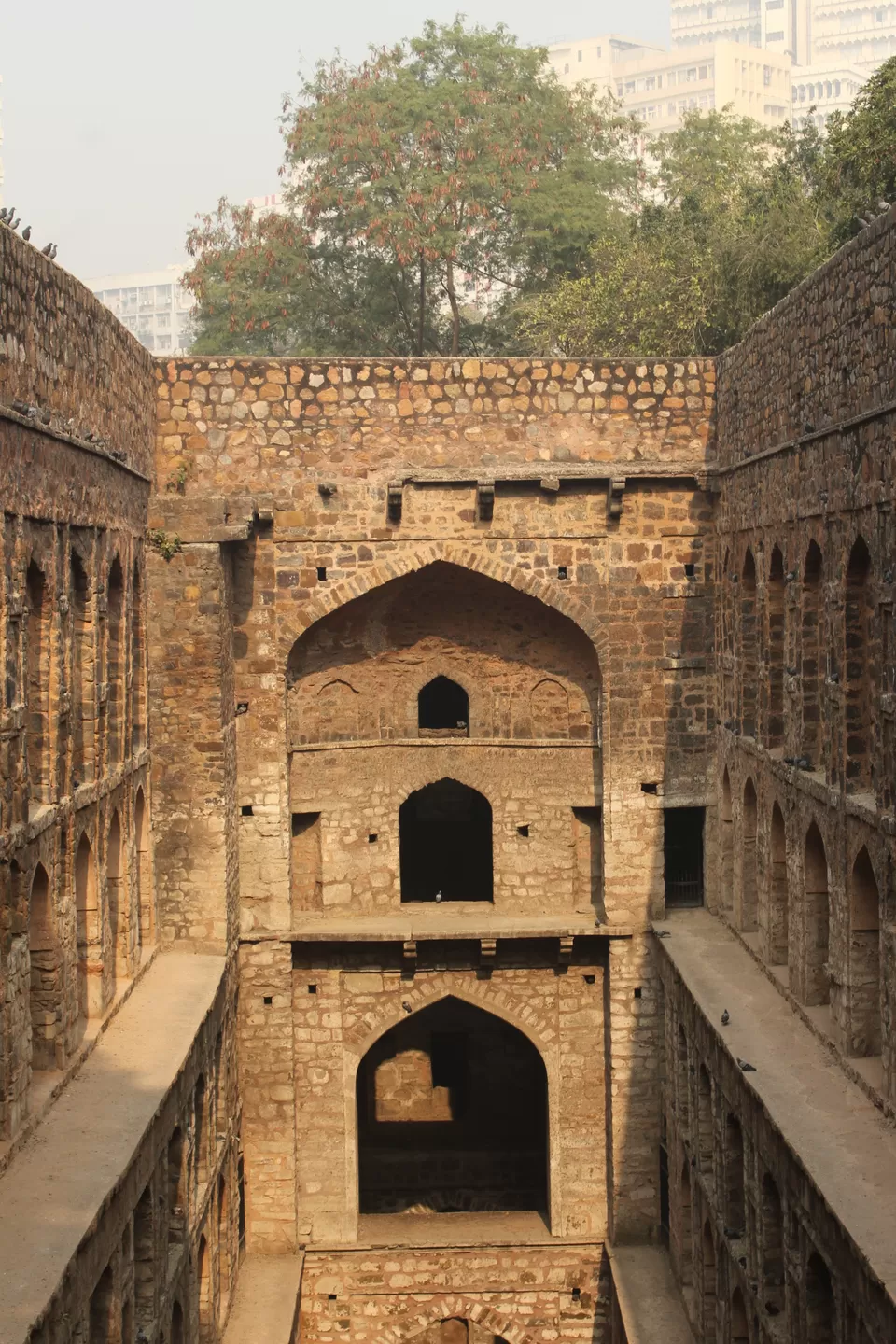 Then we moved on to visit the much hyped about museum of toilets- known as Sulabh International Museum of Toilets, located in Palam Dabri Marg- Mahavir Enclave. We reached about 1 pm and had difficulty in locating the premises of this museum as it was caught between a school and an office. After some asking around, we finally bought the tickets to this museum. As soon as you enter, you will witness huge pits talking about various types of sanitation and drainage system- depending on the size of household/ society. The museum is spread in one small room, which is maintained decently. It boasts of medieval Indian sanitation systems to western systems and then latest technologies in making shitting a pleasurable affair. Some sayings/ posters/ shitting techniques will ensure that you keep engaged for the next half an hour. Ask for a guide to help you understand various systems, else you will come out dissatisfied.
From there, we went to "Champa Gali" located in Saket. It is on the same lines as Hauz Khas Social, but of much smaller size. There is quirk and pop art around corners, which are lined by small eateries. After a dose of sandwiches and coffee at Jugmug Thela we quickly moved to our next destination, which was set to close by 6 PM.
We reached Garden of 5 senses at about 5 PM. On the face of it, it looks like a well maintained garden but if you go around- you will see a medley of stone/ rock structures, figurines in Yoga poses and metal structures depicting the 5 senses. There definitely is a scope of improving the upkeep and more than that of security. When in north- one can't be averse to eve teasing and this place has become a lover's point with useless guys loitering around and there was one guy who started following us and we literally had to come out in the open to shoo him away. This place can definitely be given a pass.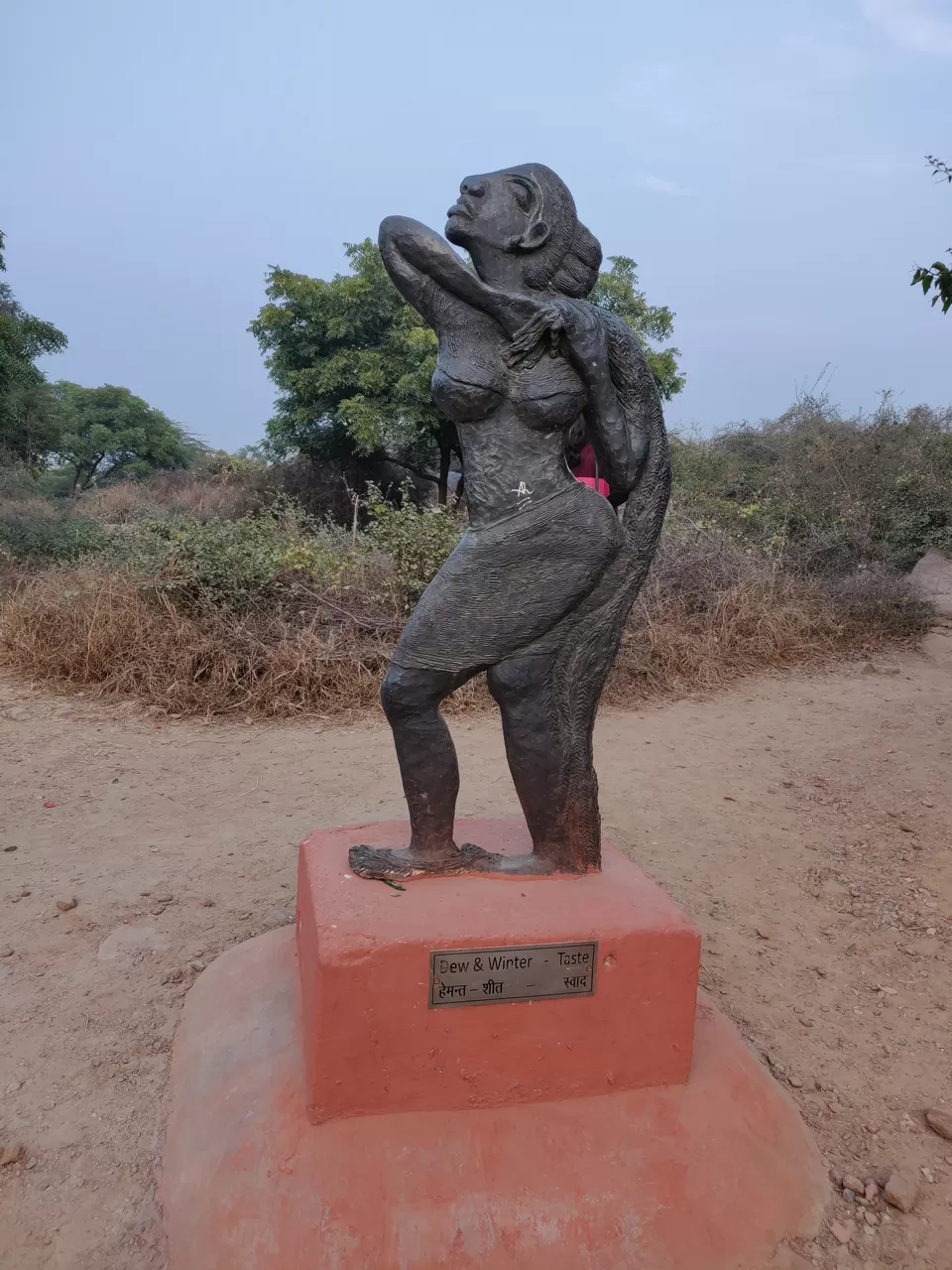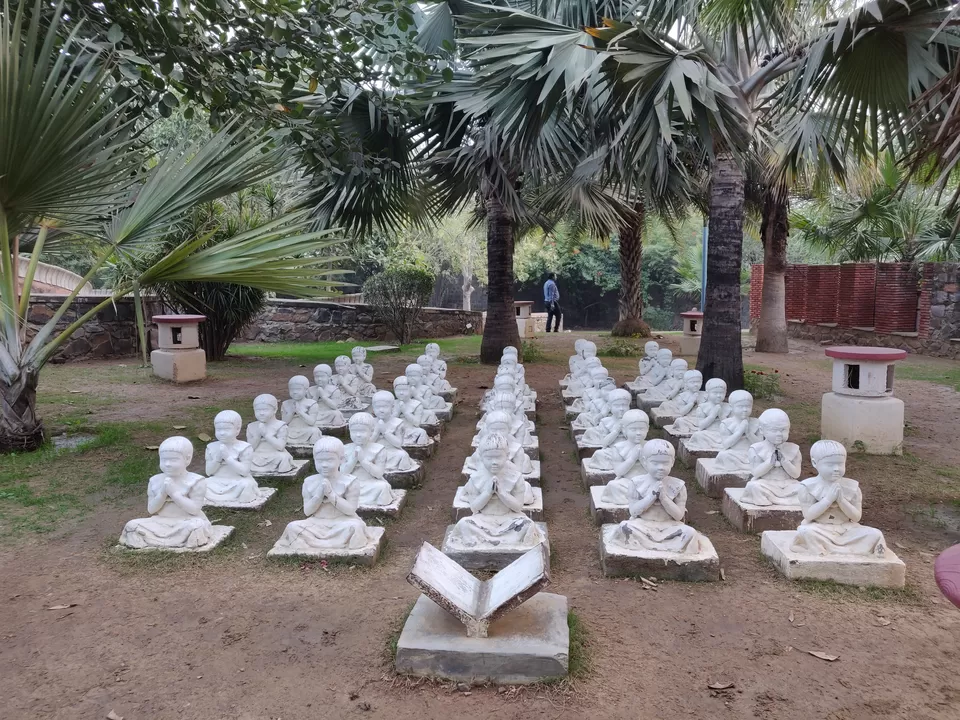 We then found this quaint restaurant - Fio, located inside the Garden and was beautifully lit due to Christmas.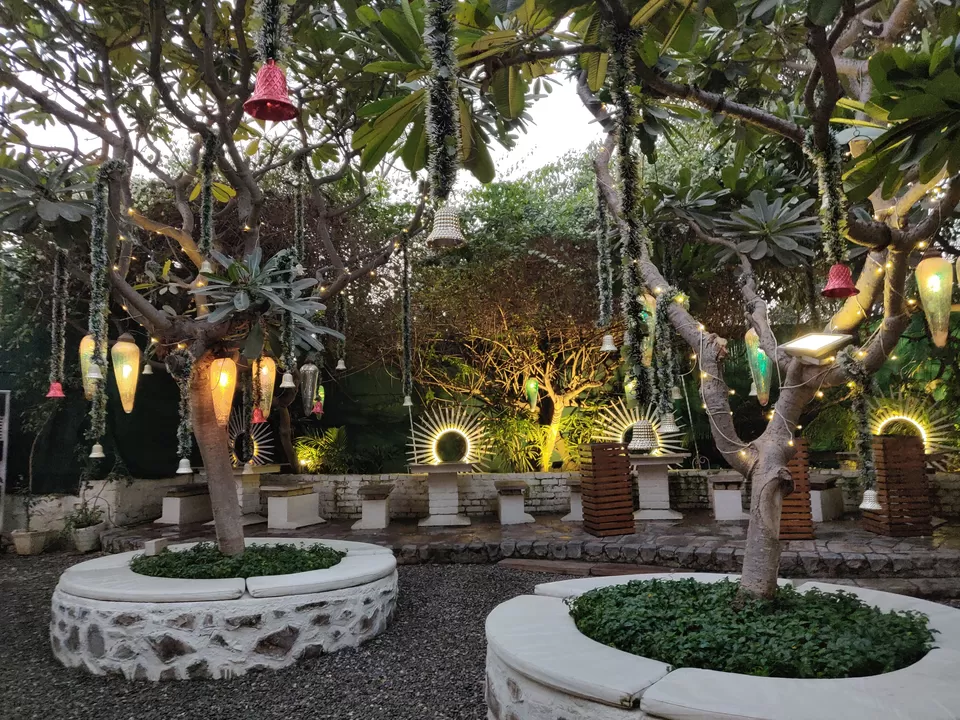 We spent some nice time chatting and sipping coffee, enjoying the greens and then started back home at about 6 PM.