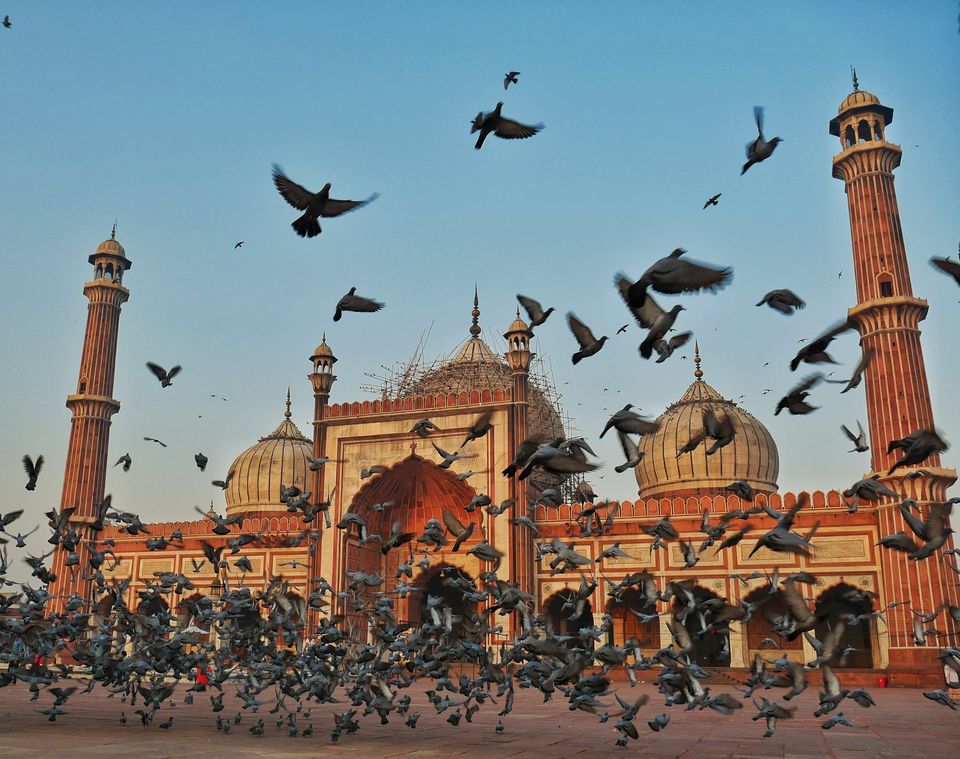 Originally called Masjid-i-Jahan Numa, meaning 'mosque commanding view of the world', Jama Masjid, in Delhi, needs no introduction.
Commissioned and built by the Mughal Emperor Shah Jahan between 1644 and 1656, this was his final architectural opus.
Its popular name, Jama Masjid, is derived from the word 'Jummah', referring to the congregational prayer observed by Muslims on Fridays.
TIP: Try visiting either before sunrise, or during the Namaz ceremony.
Jamali Kamali
Located in the Mehrauli Archaeological Park are two monuments besides each other. One is a mosque and the other a tomb of two people by the names of Jamali and Kamali.
A famous and highly regarded Sufi saint, Jamali lived during the pre-Mughal rule. Kamali on the other hand was an unknown person, but he was associated with Jamali. The tomb and mosque in the complex have been named together as "Jamali Kamali" since both people were buried next to each other.
There are a few stories about the two being associated in different ways, but I haven't been able to find a verified source for the same.
Adjacent to the mosque is the tomb, which is a flat structure adorned with red and blue paint and inscriptions from the Koran and verses from Jamali's poems.
P.S.: If you find a verified source / story about the association of these two, kindly let me know. I would update this with all due credits. You can comment here, or send me a DM on my INSTAGRAM.
The Safdarjung Tomb also referred to as 'Safdarjung Ka Maqbara' is a garden tomb in New Delhi, India, made of marble and sandstone. It was built in 1754 as mausoleum of 'Safdarjung', a statesman who remained the Wazir ul-Hindustan (Prime Minister of India) during the reign of Ahmad Shah Bahadur.
Safdarjung's real name, which many don't know, was Mirza Muqim Abul Mansur Khan. He ruled over Avadh was an independent ruler of Avadh as viceroy of Muhammad Shah. He was very rich and most powerful. With the death of Emperor Muhammad Shah of Mughal Empire, he moved to Delhi. When Mohammed Shah Ahmed Shah ascended the throne of the Mughal Empire in Delhi in 1748, Safdarjung was made the Prime Minister (Vizier) of the empire with the title of Wazir ul-Mamalk-i-Hindustan and at that time the empire was on decline as their rule extended only to North India.
This mausoleum, built by Safdarjung's son Nawab Shujaud Daula, remains the last monumental garden tomb depicting Mughal architectural style.
Built in the shape of a lotus flower, Bahai Lotus Temple is the last of seven major Bahai's temples built around the world. This spectacular structure is made up of pure white marble and around its blooming petals are nine pools of water, which light up in natural light.
And as its lights are turned up during dusk, this spectacular place looks even more beautiful.
TIP: Visit in the evening, and try to be the last person to get out, to be able to see it lit up.
Humayun, in his time, was the most powerful man in Northern India. He gained an expansive one million square kilometer area, stretching from Afghanistan to Agra, making him rule over more territory than he was set to conquer.
On the 24th of January, 1556, at the age of 47, he was finally at peace. having tumbled down a staircase within his walls, he smashed his head on the edge of a stone, that left him unconscious for 2 days, and making him succumb to his injuries on the third day (27th January, 1556).
The tomb of Humayun was built by the orders of Humayun's first wife and chief consort, Empress Bega Begum between 1565 and 1572 AD, and it is where the great emperor now rests.
It is of particular cultural significance as it was the first garden-tomb on the Indian subcontinent. It inspired several major architectural innovations, culminating in the construction of the Taj Mahal.
Who needs a canvas, if you have an entire colony as one.
Take a walk around Lodhi Road region. The houses on the little streets near Khanna market have been turned into canvasses by the artists and they have displayed some meaningful work. From graffiti to innovations, you'll see it all.
Considered at the most haunted place in Delhi, there are many stories that surround the Bhooli Bhatiyari ka Mahal.
Gladly I came across one I didn't find on the internet. And I believe it as it was told to me by the security guard posted there.
Ferozeshah Tughlaq used to come to this place for hunting.
One day, he spotted a pretty girl in the forest (A bhatiyarin - a tribal girl from Rajasthan), who had forgotten her way and ended up there.
The King liked her at the first glance, and built this Mahal for her, where she started staying. Hence the name "Bhooli Bhatiyari ka Mahal".
The King used to visit her frequently, on pretext of hunting.
One day, the Queen followed the King, and saw them together. An argument followed between the two.
Looking at the two arguing, the girl took the Queen's knife, and killed herself.
It is believed that that her soul is still present there. It makes whispering noises in the night. And this has been confirmed by security guards, and some people who have visited the place at night.
It is close to huge Hanuman Murti near Karol Bagh. The place has been kept a secret. Everyone suggests to keep away from it after sunset. The cops try to shoo away people from there, even during daytime. There's surely something in there.
You'll read a few other versions of the story behind this place including this being the abode of "Bu Ali Bakhtiyari", a curse of some Faqir that ruined this place and so on. Which one to believe is totally up to you.
Consisting of 103 steps made of red stone, Agrasen ki Baoli is among a few of its kind in Delhi. The Baoli was originally built by Maharaja Agrasen, in the Mahabharat era, and later rebuilt by the Agrawal community in the 14th century, most probably during the Tughlaq period.
Located on Hailey Road near Connaught Place in Delhi, it is a protected monument by the Archeological Survey of India.
Rajon ki Baoli
Believed to have been built in the Lodi era by Daulat Khan, the enclosure also includes a mosque and a tomb. With three storeys completely below ground level, it appears to emerge and unfold as one gets closer. The baoli remains cool in the summers, and mostly remains serene.
An favourite building of artists, Mati Ghar (in Indira Gandhi National Centre for Arts) has been made with many firsts of its time. But soon, artists won't be able to hist their exhibitions there, as there are plans to demolish this iconic earth blocks structure.
Better to pay it a visit soon.
Envisioned by architect Sanjay Prakash, it took 164 days to complete this structure. Built in 1989, Central Vista Committee only gave permission for a temporary structure at the time. But, it became a favourite place for artists to showcase their work, and continues to stand pretty, even after 29 years. .
An audit done by CPWD with structural engineers from IIT Delhi reported the structure to be dangerous, and would now soon be demolished. The dates for its demolition have not been finalised yet.
Lit up candles and the fragrance of incense sticks. Bowls of milk being offered. Letters being written and kept at the fort. This is a usual Thursday at Feroz Shah Kotla. But unlike offering prayers to the almighty, people do it to appease the Djinns (Jinns), wishing for their wishes to come true.
Unlike human, who are created out of sand, Djinns are created out of fire and they live in a parallel world to that of humans. Believed to be shapeless beings, Djinns have the power to cross-over between worlds.
Everyone who has visited Leh (and even hasn't) knows about the Shanti Stupa there. Surprisingly, not many know that Delhi has it's own Shanti Stupa located in the heart of Delhi in the Indraprastha Park.
The purpose of the Shanti Stupa is to provide a "peace haven" for all and to develop programs that promote peace-building efforts all over the world with an emphasis on ahimsa, or nonviolence.
The Shanti Stupa has become a symbol of universal peace and acceptance over the centuries. Nipponzan Myohoji was founded by Most Venerable Nichidatsu Fujii (1885-1985) with the mission of building Shanti Stupas all over the world as a way of creating peace and transforming people's mind and heart. This order has built more than eighty Shanti Stupas all across the globe.
Taking photographs with a camera is prohibited here, but you can use your mobile phone to click pictures.
A place where thr day begins at 3AM. .
Where you could practise, or try your bargaining skills.
Where you could see the world coming together: at least in terms of flowers from all over the world.
A botanist and a photographers delight.
Welcome to Gazipur Flower Market.
Tip: Try visiting it in the wee hours of the day. The fragrance and the colours of the place would leave you spellbound.
There are many more places you could visit in Delhi.
Guess, visiting these would tire you enough in a day. If you want to know about more such places, drop in a comment, or connect with me on my INSTAGRAM.
Follow my journeys on my social Media Handles
"The more books you read, the more learned you would become. The more you travel, the more human you would become." Saurabh Sabikhi