xLOST MONUMENTS OF Delhi
Delhi has been an epicenter of political powers since generations. It has seen the birth and fall of many rulers and hence the history of Delhi is so diverse. There are different versions of stories and facts about the history of Delhi. We don't know which one is right. But one thing is sure and that is - Delhi has stood by the test of time. Like a Phoenix the city has risen from the ashes several times. Today it is one of the most developed cities of India. But in this course of development, there are lots of loss that city has seen. One of the losses is its lost monuments. There are some monuments that have been completely unknown to people. Lost amidst the hustle and bustle of this capital city, they are lying unnoticed.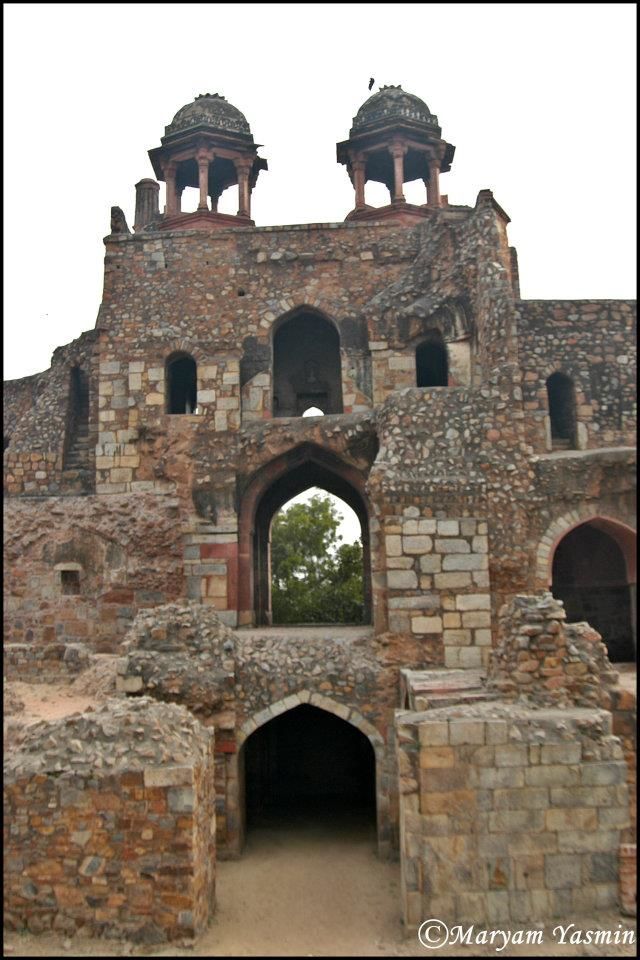 Let's start with the Old Fort. Though Old Fort is not actually lost, I have included this fort in lost historical places in India as it is really underrated and unnoticed. Though located on Mathura Road, just next to National Zoological Park, which has huge influx of local people on weekends, the Old Fort is visited only by three kinds of people today.
Firstly, couples who have made this historical place a dating spot (unfortunately), secondly by some locals who came here with their kids for an evening boating ride (in pond that is outside the fort) and thirdly people like me who loves to visit historical places in India. The saddest part of this fort is the couple visitors who have shamelessly made this beautiful historical place a dating spot. I wish government could do something about it.
Anyways coming back to the beauty of this fort, it is spread over 2 kilometres and surrounded by green gardens. Build by Sher Shar Suri the fort houses- A lake, Stepped Well (Baoli), Qila-i-Kuhna Mosque and Humayun's Library known as Sher Mandal. Though most of the structures are not maintained the green gardens are quite maintained. Most of the structures are closed and you cannot go inside, other than a small museum just beside the main gate. Thankfully every year, one or the other musical festival(s) are held here which invites decent number of visitors.
Khairul Manazil, a Mosque and later a Madarsa built by Maham Anga, stands opposite to the Old Fort. Lying unnoticed there, it is still surviving. It remains open for Friday prayers.
Another beautiful ruin that has survived the course time is Firoz Shah Kotla monument. I know the world knows Firoz Shah Stadium, but only few have heard of this monument. But just beside this stadium lies the fortress built by Sultan Feroz ShahTughlaq.
One can find the remains of the fifth city of Delhi, the Famous Ferozabad, at the Feroz shah Kotla near Bahadur shah Zafar Marg amidst New and Old Delhi. The Fort of Feroz Shah at Kotla was built by Feroz Shah Tuglaq in the year 1354. Like many other monuments of Delhi, it is lying there unnoticed.
Unlike Old Fort it is visited by families. Originally it was a fortress built by Sultan Ferozshah Tughlaq to house his version of Delhi city called Ferozabad. A large enclosure of high walls, Feroz Shah Kotla was the grand and opulent royal citadel of the city. Many visitors like Timur and others have given splendid descriptions of this fortress. But unfortunately, most of its beauty is gone today.
It houses Palaces, Pillared halls, a pigeon-tower and a Baoli (stepped well) some of which are still in good condition. But the two most interesting structure personally my favourite are The Jami Masjid and The Ashoka's Pillar.
Beside these, the most interesting fact about this place is that people come here to light up diyas and incense sticks. It is considered as the abode of Djinns or spirits. I don't know from where and when this belief has come into existence, but it's very evident. Believers come here to ask for the completion of wishes. Some people even leave written requests. The fixed stream of believers assures that wishes are being granted by the Djinns. This fort has also been mentioned in William Dalrymple's books.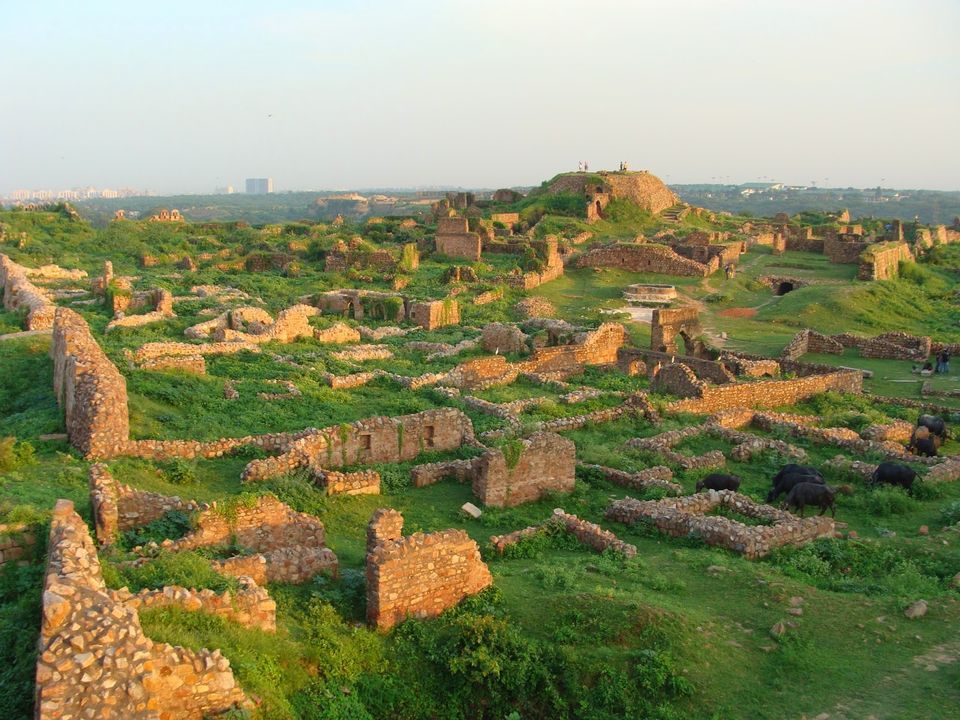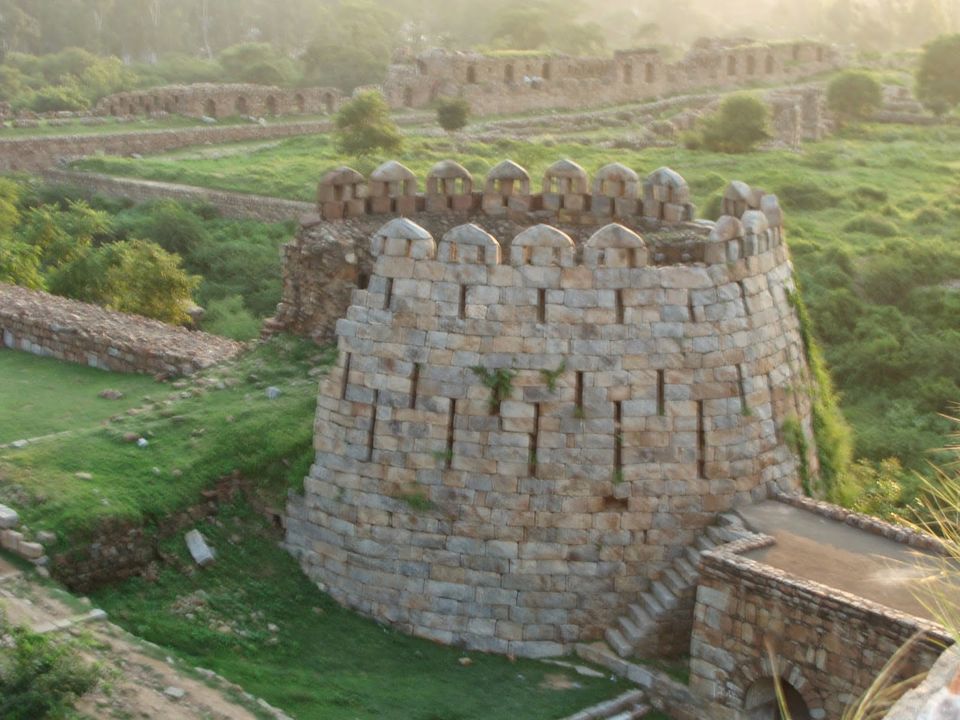 Lying in isolation, this fort is in an extremely deplorable condition. It's crumbling, yet massive ramparts standing a silent witness to a change its builders could never have thought. The Tughlaqabad Fort was built by Ghiyas-ud-din Tughlaq, the founder of the Tughlaq dynasty.
The fort is spread over an extensive area and a piece of architectural genius. I saw the walls of the fort when I was passing through that area and then I decided that I have to visit this place. Its architectural beauty is very well defined in William Dalrymple's book (the famous travel writer).
Legend says that this historical place in India is cursed. For completing this fort Ghiyas-ud-Din ordered that all the workers of Delhi to work for this fort. This drew the rage of the Sufi saint, Hazrat Nizamuddin Auliya, who found work on his baoli (well) interrupted. And hence he cursed this fort, saying, "May the fort remain unoccupied, or else may herdsmen live here."
True to this, today fort is just a mere ruin.
The tomb's architecture resembles the structure of Humayun's Tomb. First time I went there was because it used to house the office of Archaeological Survey of India and had to interview an officer there. Till that time even I had no idea about this fort. Known as the "The Last Flicker in the Lamp of Mughal Architecture", this monument is not visited by many tourists today as most of us don't know about it. I am sure it is not even listed in many websites that show places to visit in Delhi. This magnificent monument was completed in 1754 as a memorial of Mirza Muqim Abul Mansur Khan, popularly known as Safdarjung by his son Nawab Shuja-ud-Daulah of Awadh. Located in the in the western end of Lodhi road, it is lying unnoticed there.
The Jamali Kamali mosque and tomb is located on the Mehrauli road. The mosque was built in 1528-29 during the rule of Babur. Named after the famous Sufi saint Jamali and his not so know disciple Kamali, this place is quite isolated. Other than the localites who came here with their herds and a guard, I hardly found anyone there. The most surprising story about this place is that it is haunted. Though I did not experienced anything like that. I only felt one thing and that was how badly this place has been ignored.
Frequent Searches Leading To This Page:-
historical places in delhi, offbeat places in delhi, delhi offbeat holiday package, offbeat places tour of delhi, Unusual Things to Do in Delhi