Khari Baoli cannot be an unknown place to you, if you have taken long walks on the streets of old Delhi. The largest spice bazaar in Asia, seated very close to the magnificent Red Fort, adjacent to Fatehpuri Masjid - this place is not only a wholesale market for masalas, but is also a very popular tourist destination. To watch how spices of different colours, aroma and flavor are loaded by rusty hands, carried and unloaded - is a magical marvel in itself.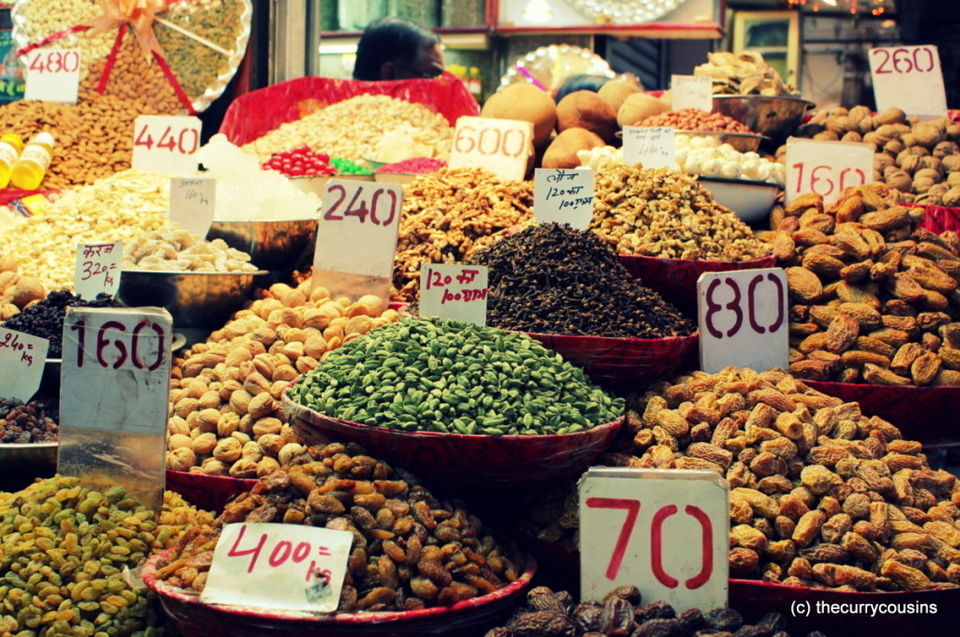 Here are some facts about this glorious market that you should know:
Age of Khari Baoli:
History claims, this bazaar was initiated in the 17 th century; built in 1650s by Fatehpuri Begum, one of the wives of Emperor Shah Jahan. The name 'Khari Baoli' means salty step well (Khari means salty, and Baoli means a step well). It was thus created for the purpose of bathing. But like they say, that is all history now. Today, this place is home to countless spices.
Keeping the name:
Even today, there are many shops that have retained their old names from the ancient times. 'Chawal Wale 13', '21 Number ki Dukaan', and many more. Today, these trades are being continued by the ninth or tenth generations. Every shop is laden with stories from the bygone era. There is history and mystery in every lane - some known and some still to be unveiled.
One of the most organized markets:
Like any other local market in Delhi, at first sight Khari Baoli may come across as overtly chaotic and unsystematic. You may also form a judgment that this place is utterly untidy. However, the truth is very different. Every day thousands of traders are doing business in the heart of this bedlam - this is one of the most systematized and orderly places for executing trade.
Richness of spices:
From basic to exotic, spices are galore. In fact, you will be surprised to see the intense knowledge the shopkeepers have about each and every spice - from their origins to how they should be consumed, and from their historical significance to medicinal values, the stories are everlasting. Some will flaunt their dried mulberries brought all the way from the lands of Afghanistan, and some will plead you to devour dried plums from the heart of Kashmir. The experience of scoring spices from this place can leave you spellbound. They also specialize in dry fruits. From unrefined pink salt to variety of herbs, from grains of assorted shapes to pulses of different kinds - this place is the Hogwarts of Spices.
Mixed Bag 1650, 17th century, adjacent, Afghanistan, age, ancient, aroma, Asia, assorted, basic, bathing, bazaar, Blogger, blogger life, bygone era, colours, culture, Delhi, Delhi Blogger, Delhi lifestyle blogger, Delhi travel blogger, Delhi Winter, devour, dry fruits, Emperor, everlasting, exotic, experience, Fatehpuri Begum, Fatehpuri Masjid, flaunt, flavor, galore, generations, glorious, grains, heart, herbs, historical, history, Hogwarts, India, Indian lifestyle blogger, Indian tourist, Kashmir, Khari Baoli, lifestyle, Lifestyle Blogger, local market, long walks, magical, magnificent, market, marvel, masalas, medicinal, mulberries, mystery, names, Old Delhi, orderly, organized markets, pink salt, plums, popular, pulses, Red Fort, richness, rusty, salty, Shah Jahan, shapes, shop, shopkeepers, significance, specialize, spellbound, spice, spice bazaar, spices, step well, stories, streets, systematized, the lifestyle potpourri, thousands, times, tourist, tourist destination, touristy attractions, traders, trades, travel, Travel & Weekend, travel blogger, travel bug, travel daily, travel forever, travel India, travel journal, traveler, traveling, truth, unrefined, values, wanderlust, wholesale, Wholesale Spice Market
This blog was originally published on 'The Lifestyle Potpourri'
Frequent Searches Leading To This Page:-
whole sale markets in delhi, shopping places in delhi, delhi wholesale markets , spice markets in delhi, old delhi wholesale market