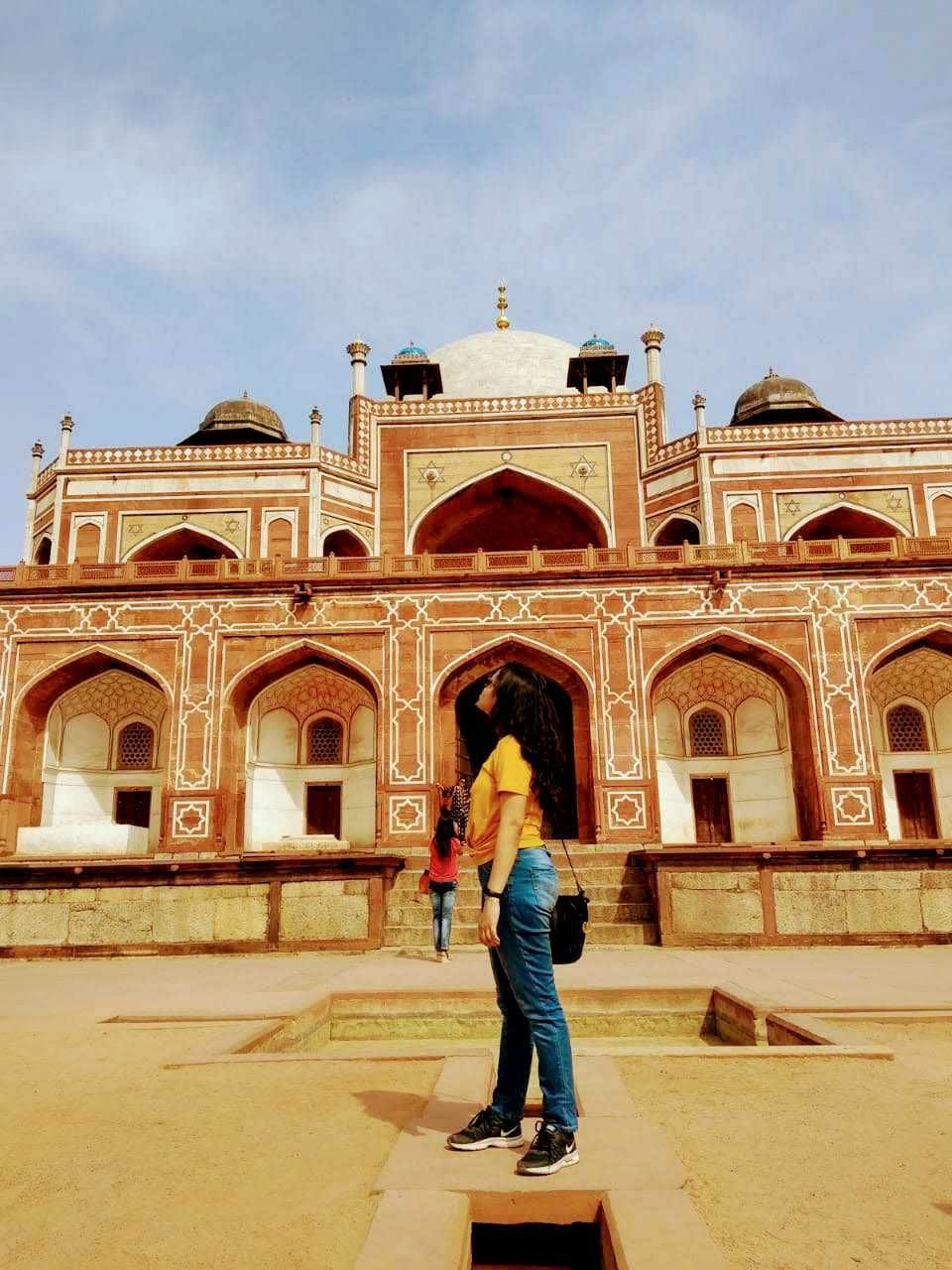 Yes and it was Delhi...As I stepped in the Royal heritage of India I was full of Inhibitions and doubts about the city which was going to change positively.
I got the opportunity to travel to Delhi because of my sister as she recently moved to the city. And even being the younger one, yes as always I convinced her to take wherever or whatever I wanted to do.😉This is the first time I was traveling to Delhi. So I am going to give you my perspective and how I experienced all the touristy places more than the history which every one can just Google.
Hauz khas Fort
I was roaming alone in the Hauz khas village.My sis joined me later as she had some work.I saw 2-3 tomb complexes as I was approaching the Hauz khas fort. I went inside one of the Tomb. The structure was centrally located with perfect symmetry and central Dome. I sat down on one of the benches facing the structure, The platform is little elevated i.e once you would sit on the bench your eye level and the platform height would match. As you sit there admiring the structure with no one around, you might feel some weird peace and inturn you would start observing yourself more.
I started approaching the Hauz Khas Fort..along those narrow lanes,balconies are jutting out,fancy restaurants are calling out loud with colorful signages and interiors.
Hauz khas fort is at higher level overlooking the lake. I sat there in one of the arched doorway for quite a long time.it was just a start of summer Delhi is heating up, so that place became my distraction.
I headed up to Haus khaz social to chill,I would really recommend this place especially terrace floor facing the lake.Also you can witness the lake with the beautiful backdrop of sunset.
Kutub Minar Complex
Most interesting thing is kutub Minar looks amazing from different angles and frames or archways. The height of the structure is so overwhelming and it would have been nice to go on top and adore the city. The iron pillar which is a symbol of Ashok empire is totally subdued. The extensive use of stones and the height would make you wonder how humans have evolved to create symbols just to mark their power of existence.
Humayuns Tomb
This is also a very big complex. Adorned with central waterbody and a massive platform on which the tomb stands.Use of red sandstone with lush green grass looks so fresh and royal.
Red fort
As you make your way through parathewali galli and chandi Chowk ke colorful fabrics, one really has to be patient and tolerant to the surrounding. Personally I had heard a lot about parathas and kachori but those really didn't lure me.
Going back to the history one has to imagine Red Fort without all these hustle bustle and a grand avenue road either trees and a big archway to enter the Red fort city. One can see the one storey and balcony from where vendors would sell their things.
All these monuments and their complexes are so big but evidently very less space to sit under the shady trees. It is just open lawn where you are not allowed to sit as if you might want to settle down there itself. But true as all these places are visited by infinite people, they don't want people to linger on. And a negative side is we cannot sit back & observe the beauty of these structures through history and the present surroundings.
BUT
DELHI.. Eventually I fell in love with you.