Next day was equally exciting as I had decided to meet my college friends working in Delhi. Since, Saturday is a luxury after a week of hard work, asking them to accompany me in my early morning shenanigans felt a little selfish.
So after deciding on my itinerary for the next day I was all ready for an early morning treat to Safardarjung tomb. An hour long blue line drive and I was at the bustling Rajiv Chowk. From there I routed to Yellow Line and had decided to get down at the Jorbagh stop. The Safdarjung Tomb is 1 minute or less walking distance from Jorbagh Metro stop. And believe me, an early morning visit will do you good. With a nominal entry fee you can enjoy the beauty of this monument and beautiful campus.
After spending an hour at this peaceful site, I took the magic metro- thanks to the budget/timely travel. From the present point metro I went back to Central Secretariat and hopped to Purple Line where I got out at JLN Stadium. Since I was waiting for my friend to join me I had ample time to view and adore the wall designs within this metro station, which mainly display different sports and related tile designs.
Humayun tomb is a bus ride away from the station. It is a garden tomb built by Humayun's wife Bega Begum. It is said that Taj Mahal was an inspiration from this structural marvel. It is a beautiful campus just to stroll around or sit and relax. The area also has several smaller tomb complexes including one of the royal barber to Humayun- OMG.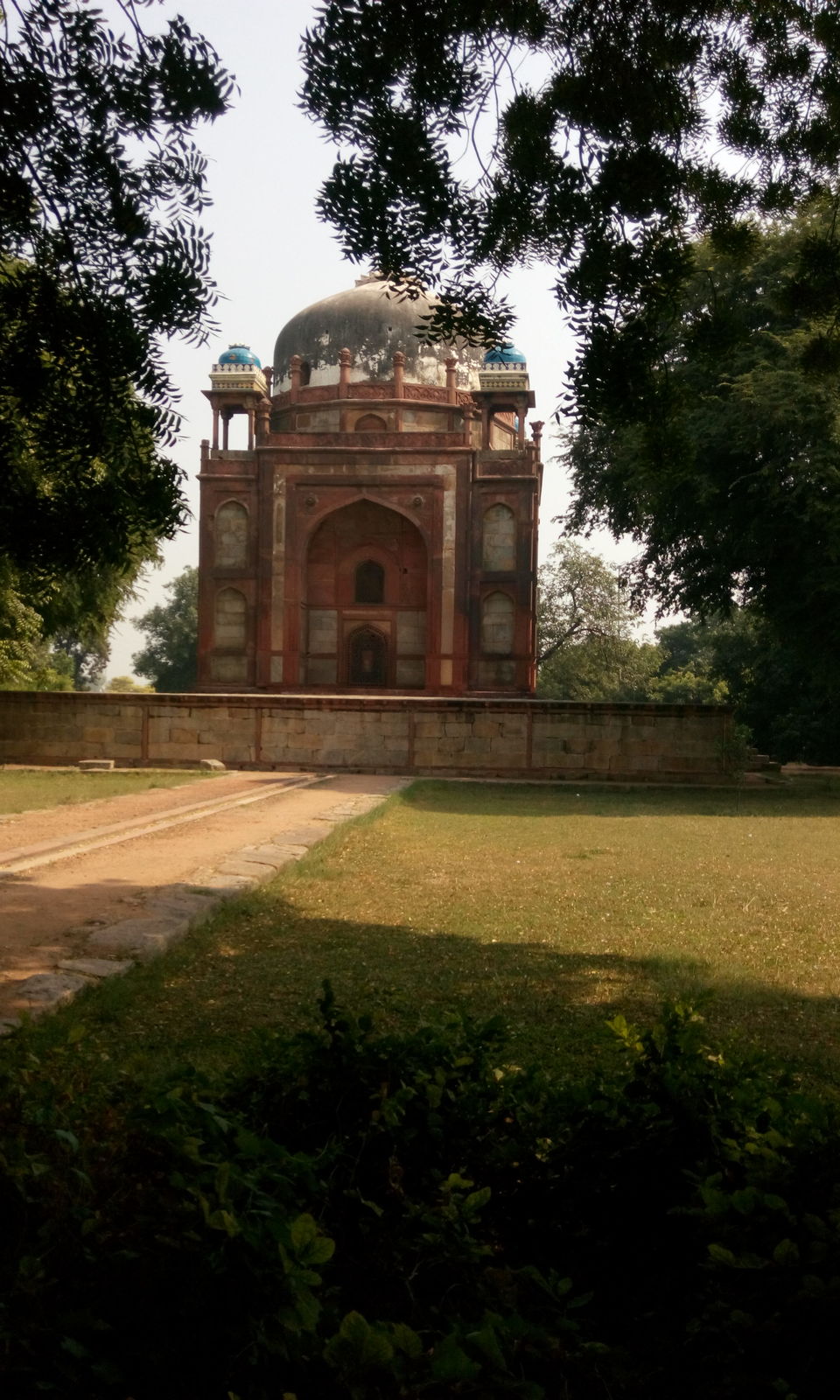 This is a great spot to sit down and have deep meaningful conversation or may be a picnic (just do not dirty the grounds). An hour of this serene and breezy moment I made a move to Hazrat Nizamuddin Dargah. A minute or more from the tomb. Traffic is like hell so be little careful.
Dargah is a sacred place.It has witnessed people from all faith coming in. Known for the soulful qawali's (which I am checking in my next visit) it is a place to where chaotic mind can get a well deserved intermission and clarity .
But beware of the vendors on the way to the dargah, which is a long walk inside ( PS- do not leave your slippers at the beginning of the road itself as the hawkers would suggest, it is a longggggggggggg walk). But on your way out you can always have a good haggle over perfume and other simple goodies.
From here we went to Connaught place via yellow line-Patel chowk metro and it was buzzing busy. The road side was not just a side but this huge arena filled with local fashion guru's trying to coax maximum from the delhi school/college kids. It was like a mass maha kumbh gathering, where people were taking dip in the Everest pile of fashion or as you may say.
A delicious chicken later I went to visit my 1st baoli ever- Ugrasen ki baoli/ a stepwell. I had never expected something so beautiful hidden amidst the overcrowded life of Delhi. You may not get your Amir Khan movie moment but it is a cool place to hangout and add in your digital memory.