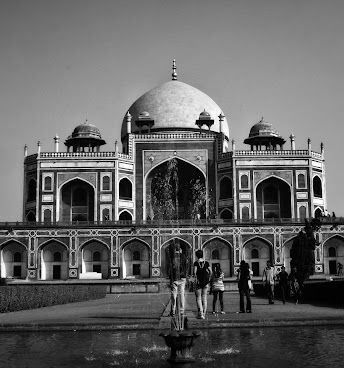 December 2016, the Dharamshala trip had ended and I was back in the bustling metropolis of New Delhi, the weather was perfect and thankfully I did not get to experience the ''Smoggy Delhi'' which we see every winters live or on our lovely news channels. I had chalked out a small plan to explore the city as much as possible and for that I only had 3 days. I was at my Mausi's (aunt) place in Rohini and she gave me a rough idea where and how to go, the itinerary was clear now and all I had to do was figure out the Delhi Metro which I later found out was quite systematic and easy.
Next morning after breakfast, I ventured out with my sole companion i.e. my DSLR and boarded the metro to JLN Stadium Metro Station. The greatest and the most important rule when you are travelling in a metro is ''carry your earphones" and I had broken that rule and had enrolled myself for a very boring journey. Finally, after changing a couple of trains I reached the JLN Stadium Metro Station and decided to walk towards my first stop of the day which was The Humayun's Tomb. Google had failed me and it turned out to be a 15 minute walk instead of the 5 minute which it was very confidently showing. After making some unsuccessful turns, I ditched the maps and asked for directions from the Rickshaw guys, a couple of them offered me to drop but I thanked them and just requested for the directions to which they obliged humbly.
I reached the tomb, got my entry ticket for 35 bucks and asked if there are any extra charges for DSLR photography (apparently in some places when you are clicking from your phone, it is free but if you are willing to use your DSLR or digital camera, they charge you extra). The guy at the ticket counter replied "Nahi Sir! aap ko jitna photo lena ho lo (No Sir! Take as many pictures as you want) and his answer made me very happy, I gave him a thumbs up and entered the huge campus surrounding the tomb. The beautiful Humayun's tomb was in front of my eyes but the first thing I noticed was the gorgeous Mughal gardens with lush green grass and the central fountain which was supplying the clear water to its many channels effortlessly. I took a round of the garden and clicked the tomb from various angles, then I went to explore it from the inside. I am a big fan of symmetry and I was so pleased to look at this monument from every angle, the sky was clear and the sun was also shining keeping the temperature in check so I decided to rest for a while in those well kept Mughal gardens.
After a 10 minute breather, I headed out for my next stop - The Hazrat Nizamuddin Dargah, I had always wanted to visit this place after watching Rockstar's "Kun Faya Kun" song.
Again, rickshaw walas came to my rescue and gave me the directions and I reached the dargah within 5 minutes. If you go to any religious place in India, there will be vendors who will make you go mad by continuously shouting in your ears to buy stuff from them and the same happened to me but for a change I kept my cool which I am absolutely not known for.
I made my way by dodging all these people and reached the Dargah, it was crowded and I was under some wrong expectations to see a group singing Qawwalis (Expectation Courtesy - Bollywood). Anyway, I went inside the Dargah for darshan and a huge bee stung me in the thumb and that made me shriek in pain, the priest who was taking care of the the place asked me to rub my thumb to the door and I followed his advise and that give me some extra couple of minutes inside. I paid my respects and came out holding my thumb which had turned a little purple but I ignored it for good and clicked some pictures of the holy place and ventured out.
With a paining purple thumb, my initial thought was to go home but I decided to go to The Red Fort and if possible check out the Chandni Chowk and the Jama Masjid also.
I boarded the metro and reached the very crowded Chandni Chowk Metro Station and went directly to the Red Fort which was heavily guarded, after a proper security check the entry was permitted.
Red Fort has a very huge campus and the closing time was nearing so I had to satisfy myself with just a short round of the complex, I gave myself 45 minutes and tried to cover most of it.
I came out of the fort famished, headed directly to Chandni Chowk to eat some tempting food. I found a street side vendor selling typical " Dilli ke Chole Bhature" and boy they were so good. Now, my stomach was full, I asked a rickshaw wala to drop me to The Jama Masjid. On reaching there I found that the entry was not allowed for some time due to unknown reasons and that made me feel dejected.
As no alternative was there, I asked the same guy who dropped me there to take me back to the Chandni Chowk Metro Station from where I went back home.
I headed out again the next morning and took the metro to Qutub Minar Metro Station and this time I had not broken the "Rule of Metro." I got my entry ticket and went inside the complex and clicked some pictures. While I was busy clicking pictures, a guy with a thick Australian accent tapped on my shoulders and asked "Mate! Can you help me?" I asked him whatsup and he asked whether I can click a picture of him and his girlfriend. I took his camera and clicked their pictures and they seemed to like them. He thanked me and we introduced ourselves, his name was Alexander and his girlfriend's name was Selena, they were on a 2 month long vacation trip in India.
He told me how much he liked India and after a 10 minutes discussion we were talking about Cricket, he was a hardcore Ricky Ponting fan and absolutely hated me when I said "We have Virat Kohli now."
Finally, that conversation ended and he asked where was I headed to, I told him I am going to Connaught Place (CP) and then Gurudwara Bangla Sahib. Selena asked me of any Starbucks nearby and I told her that there is one in CP but none nearby. The couple asked me if we can go to CP together, I agreed and we went to CP Starbucks directly. After an hour of chit chats, I bid adieu to them and went to Gurudwara Bangla Sahib.
The sermons were going on, the vibes were very positive and after a good cup of brew I was feeling content. It was not a very busy day so getting the darshan was easy, I paid my respects and sat down in a corner listening to the sermons which were going on, I do not understand punjabi but they seemed so soothing to the soul. I sat there for half an hour, ate the very delicious prasad and went back home as it was evening already.
We came back to CP and I told her whether she wants to go to Palika Bazar but she had to leave as it was getting late for her, I said her goodbye and went to Palika Bazar. I was strolling around in the Bazar when a guy asked me to buy something from his shop, I said I am just walking around but he was very adamant and said to me "Sir! Hum Dilli wale hain, Dil bohot bada hai humara. Aap nahi loge kuch bhi to bura nahi maanenge" (Sir! We are Delhites and we have a big heart, if you won't buy anything, I will not feel bad). I said Ok! Show me what you got and in an excited manner, he showed me some t-shirts and stuff, I hesitantly said that I do not want anything, he replied "Koi baat nahi sir, aap aaye accha laga" (It's Ok Sir, it felt good that you came).
He shook my hand and that is when I saw a poster in his shop, it was written " DIL DILLI" in it and I told him "Dil hai to bada Dilli walo ka" (Delhites do have a big heart). That put a smile in his face and he said Thank you and Bye to me. I came out of the Palika Bazar with this little encounter thinking about all the happy faces that helped me whether I was asking them for directions or anything, no one shied away and helped me with a smiling face.
With all this on my mind and many fond memories, I said to myself "Dil to Dilli Hi Hai" and boarded the metro again and went back home and my 'Delhi History Walk' came to an end.
Ciao!