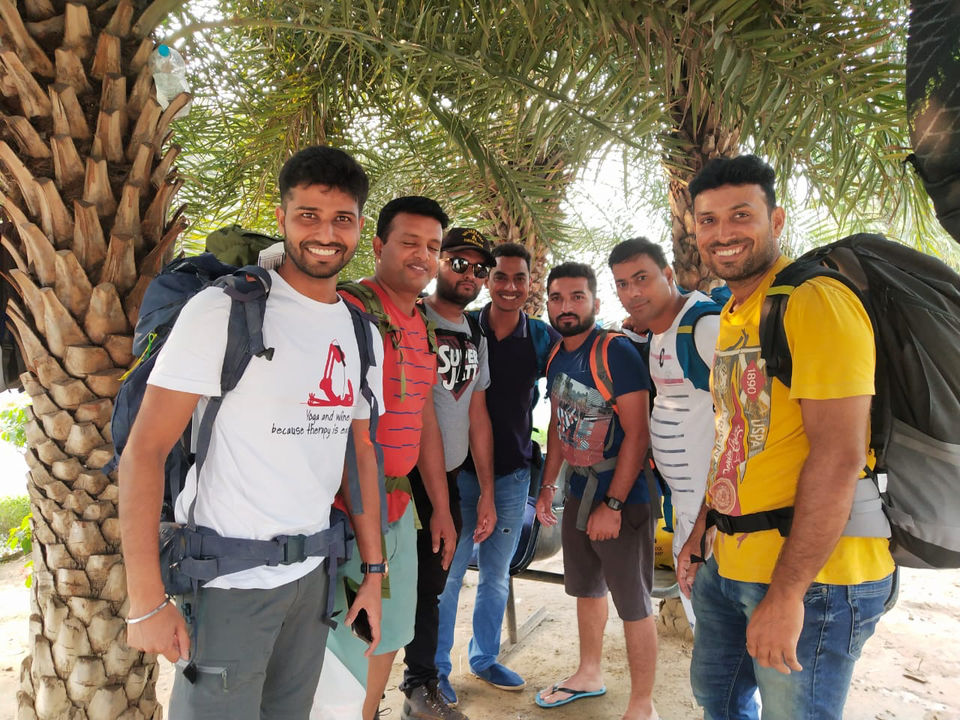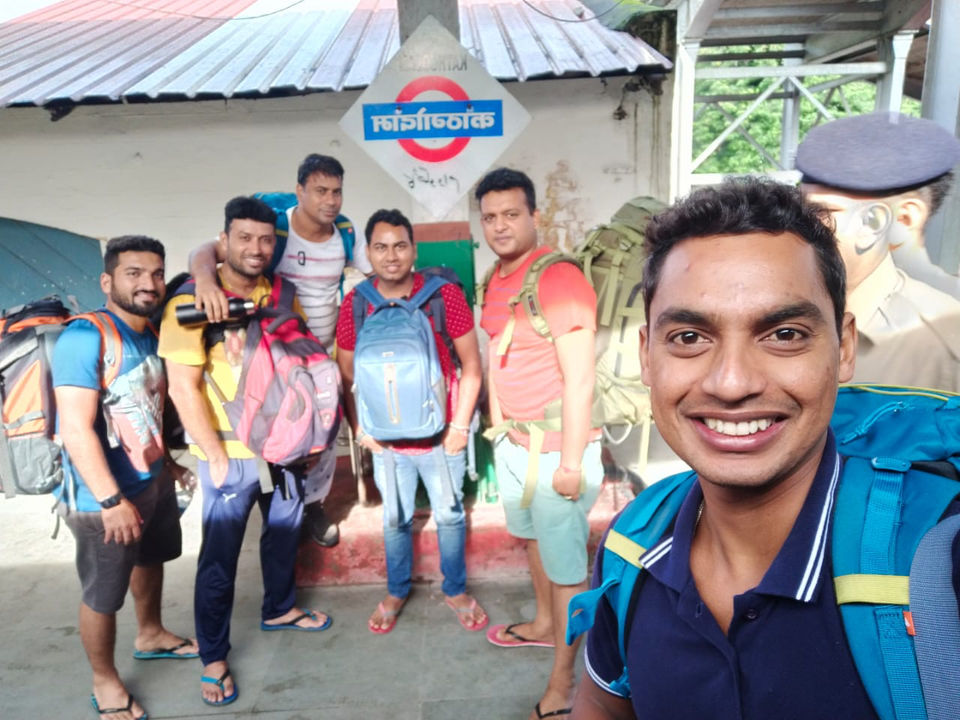 Me with my 7 seniors from school time having a bond of more than 15 years left from our origin Ahmedabad via flight to Delhi and then we boarded the train.
Our test of patience began from Delhi station as our train was running late by 4 hours and we boarded the train at 2 am. We reached at kathgodam railway station at 8:30 am and left for lohajung (our base camp) by 9:00 am.
We booked a tempo traveler for our further journey and our driver told us the experience of the mountains we were going through and religious relations of mountain ranges and few mountain tops.
As we are good bunch of boys we had a lot of discussion from our school life about whatever we did there and how that time taught us to be independent. I don't know when and how we will go on a trip again as all of us are working in different sectors and fortunately we planned this together.
We also took few stops where we did breakfast, took bath on a riverside and had some snacks.
Craziest part of the day came when we were 20 kms away and it started getting dark and elevation increased on the roads. We came to know that the headlight of our traveler is not working. It took us to surprise as we thought that we can't go ahead like this. As we have come with good amount of preparation so we have torches and phone lights with us which we used as a catalyst to cover next 20 kms.
So, one member from our group Rohit paji took the torch in his hand out of the window and showed the way through. to the driver. We thought of pasting the torch above headlight as it was difficult for him to carry for more than half an hour. But he decided to continue with the same flow and we moved on.
I tried contacting the base camp guy (our trek leader from tomorrow) but when he called me we proceeded already. It was night now and clouds can also be seen in front of us and visibility was less but slowly and steadily we moved. Also, when we were 10 kms away from lohajung we got the help from a bolero driver who was showing us the light by moving his vehicle ahead of us.
After 10 hours of breath taking journey we finally reached our base camp where me met our trek leaders. They briefed us for tomorrow's proceedings and then we had dinner. It was pretty decent if we compare with our expectations. After having dinner we started packing our bags for tomorrow as we need to start at around 9 am. Then we played some cards for a while and I lost among a group of 6 people who were playing. So I need to give a treat to them after we come back to this base camp.
So, that's all from day-1. Excited and josh is as usual high for my first trekking experience. :)
Day-2 began with early morning breakfast and getting ready for the the trek. We started at 9 am to get to our today's base camp. It's around 10-11 kms from lohajung.
We got through many waterfalls and rain was also there in between where the importance of rain coats, water proof shoes came into real use. We took our first break after around 3 kms from lohajung and from there on we needed to go downhill for next 3 kms and then the steep elevation of 3-4 kms to reach our next base camp.
Today's main task started when we started on the steep elevation where one of my team-mate had vomit. Also, one of the guy was bitten by a leach. Thus. We needed to take break after every 50-100 m of trek.
We reached the base camp at around 2 pm and then had pudina water to de toxic ourselves. Almost all of us were badly tired and wanted to sleep. We took lunch and then directly went to our dormitory. It was actually required as the legs were screaming.
We also went for a small walk of 1-2 kms in the evening just to make sure that our body shall not get more rest than needed.
It is going to be a tough day tomorrow also. I hope now everyone is acclimatised and raring to go. Now no network for next 3-4 days!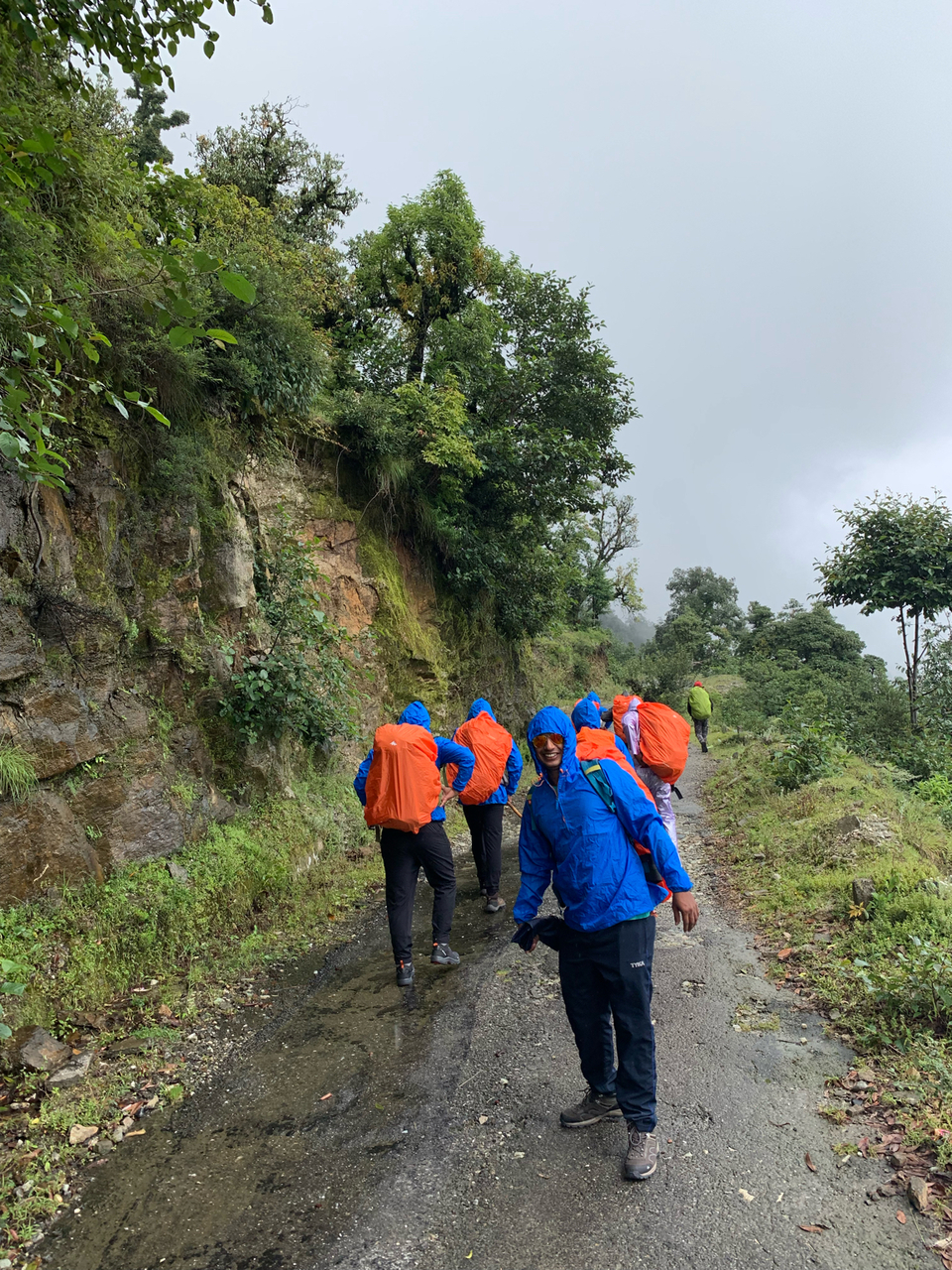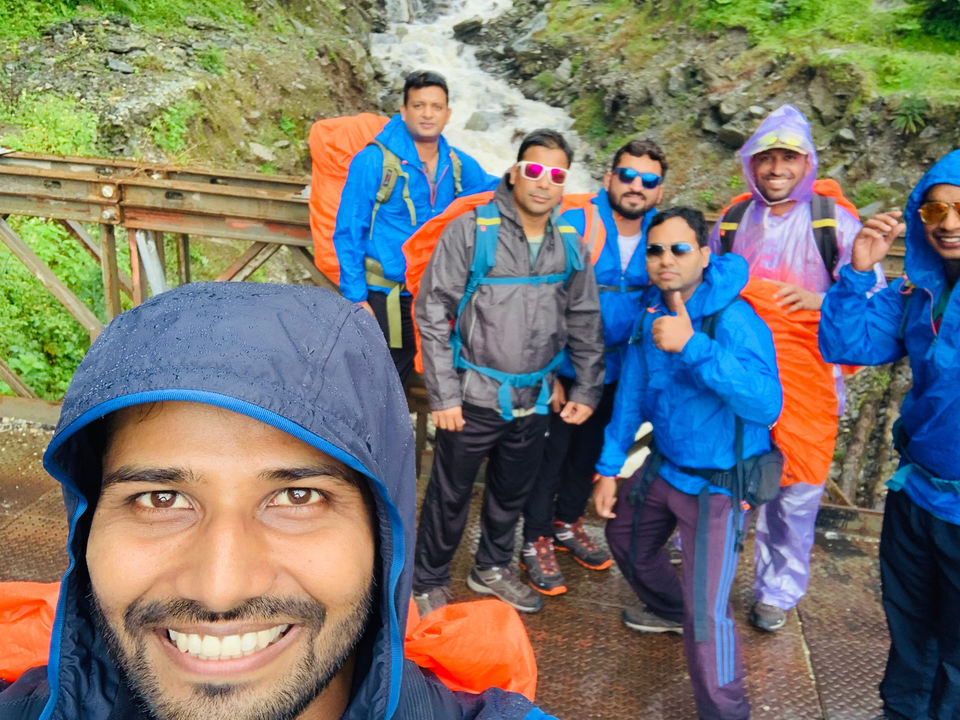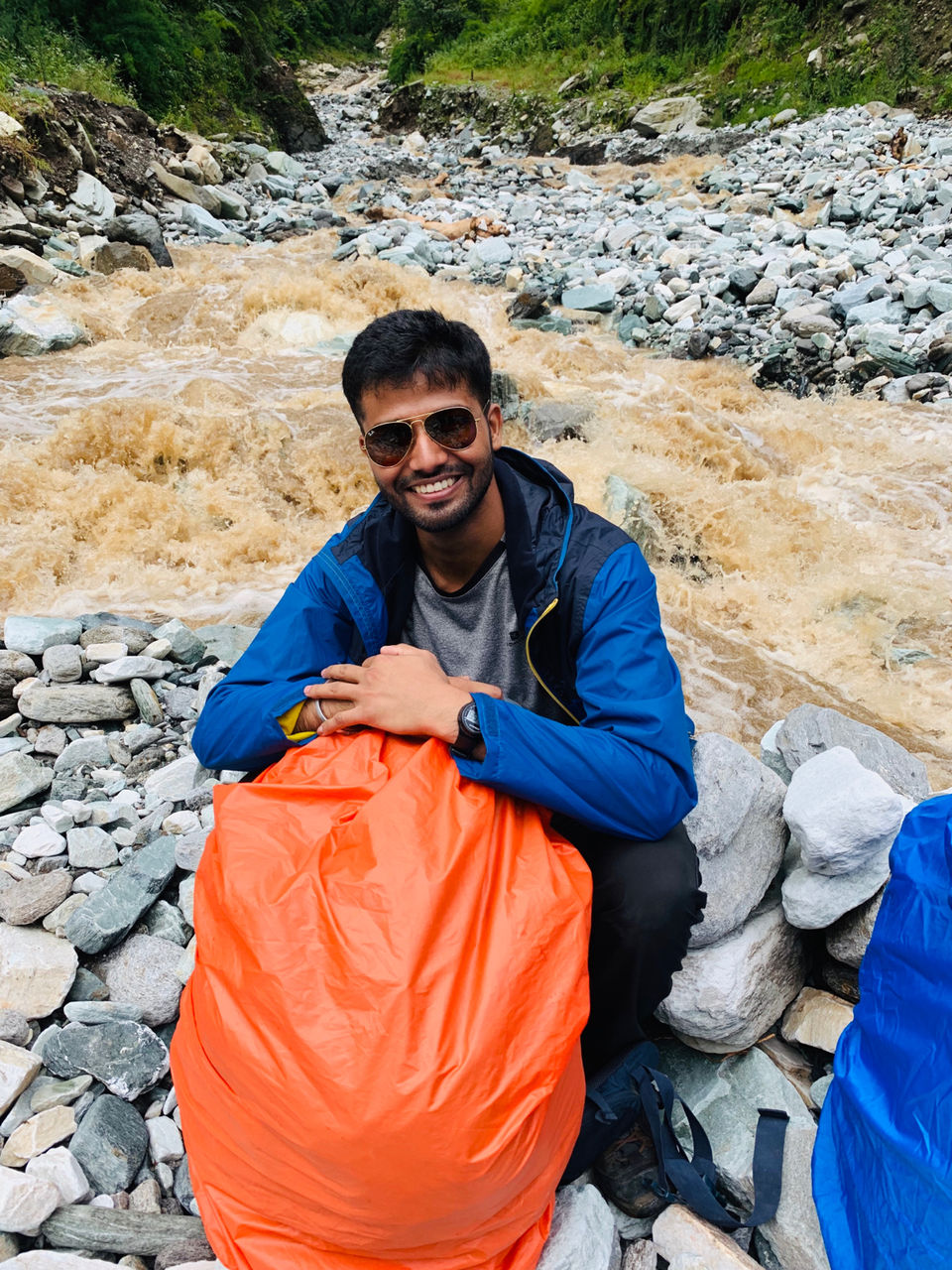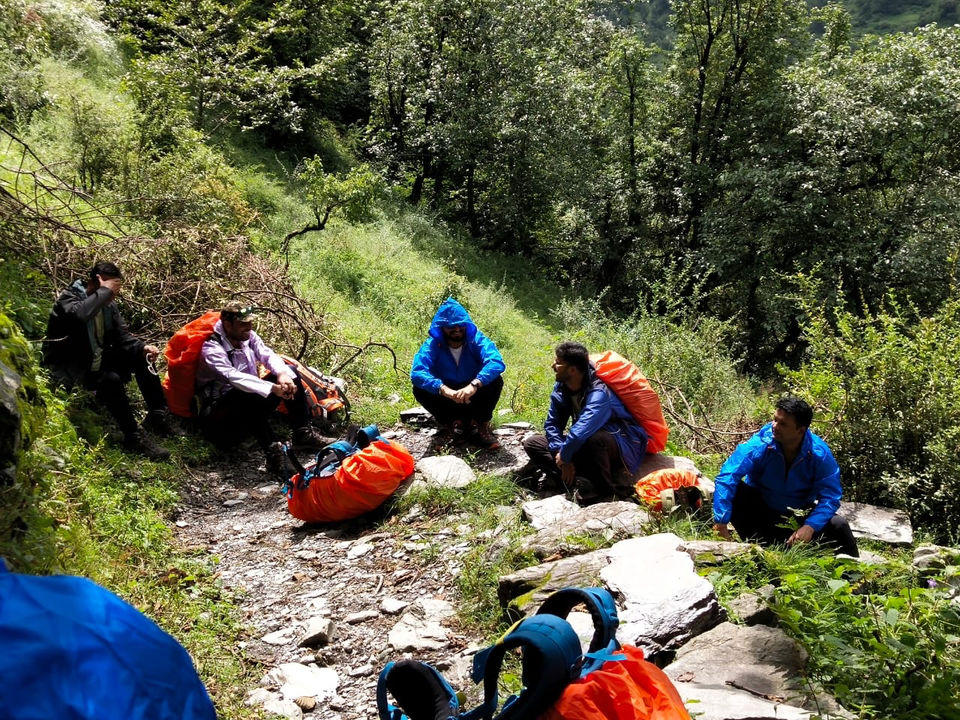 Hey. Now there is a twist in the tail. The enjoyment will get less and thrill began. I could smell that the journey will get tougher than previous day but it was not communicated just to make sure everyone's moral is high.
Today we started at 8 as it was confirmed that we only need to cover 8-9 kms where 4 kms being the elevated road and 4-5 km being plain roads in a meadow.
We already had two casualties before we started as one of my senior vomited yesterday and one was suffering from a bad stomach. So, it was not at all easy to complete the day. I again started walking at the end of my batch and as expected we were slower than what our pace should have been. Ashish (who was suffering from bad stomach) took break at every 10-15 min to attend the nature's call and hence, it took a lot of time for us to reach half way. Because of him, we came to know about the importance of carrying wet wipes on the trek. ????
As we were getting to the top of the mountain the temperature also started reducing and we can feel it. So, I took out my rain coat and wore it. Though it was still not that cold where I need to wear a jacket.
We had sufficient dry fruits and chocolates for instant energy and recovery which we were having at every half an hour break. It was a long walk through the mountain forests for 4-5 kms as it was dark, muddy (due to previous day rain) and visibility was also less due to cloudy weather. Our halfway stop came after around 6 kms on a meadow where we spent around half an hour to give rest to our body and stay active. We clicked good photos and had ORS/electoral.
Then we again started towards our destination for the day but since we did 6 kms now I knew that it's not 8kms today but more than that. ????
Fortunately, no casualties till now but you never know what's waiting for us. Now the way wasn't that steep, weather was also favourable and we started walking through at a constant pace to make sure we reach to the final point ASAP.
We clicked good photos and finally we reached our today's destination at around 1 pm.
So from today for the next 3 days we have to spend our nights in tents in which I am sure everyone will not be comfortable with.
Now this tip has given me an opportunity to learn one of the game of playing cards and I've become a master of it ???? as I've started winning few games. Now, the temperature really has gone down for around 5 degrees from the previous day. So we need to wear at least good warm clothes to make sure the body doesn't catch cold at night. We were 8 so we had 3 tents in which we needed to sleep. It was clearly told to us that if anyone wants to go to washroom then someone should go with them as the washroom tent was a bit far away and we need to make sure that we put enough sand and grass on our own shit so that it doesn't effect the next person using it. ????