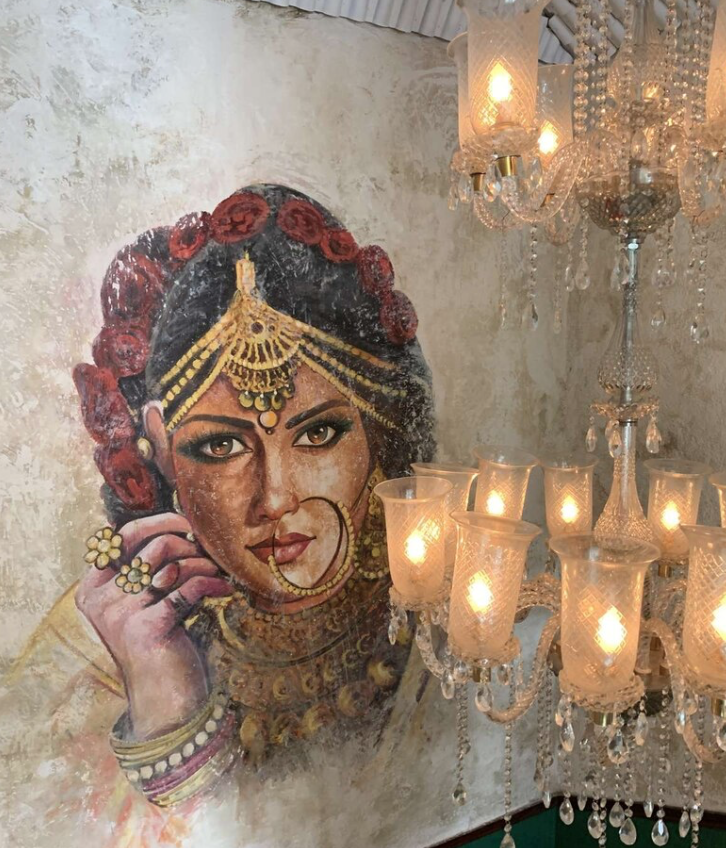 Khan market is a bustling and a crazy place with a lot of great food outlets. It is a jam-packed street with most of the elite and South Delhi cafes that you can ever imagine. It's really hard to have tried them all. I recently went to Khan Market to explore the area and I visited BAAR BAAR which is a quaint cafe with modern and chic interiors. It took me back to the movie Great Gatsby where everyone is minding their own business but there is still an interesting energy between the all the people at the different tables. It's that place where everyone else feels very approachable but still very elite. With laughter and the dizziness of drinks, I checked out their menu.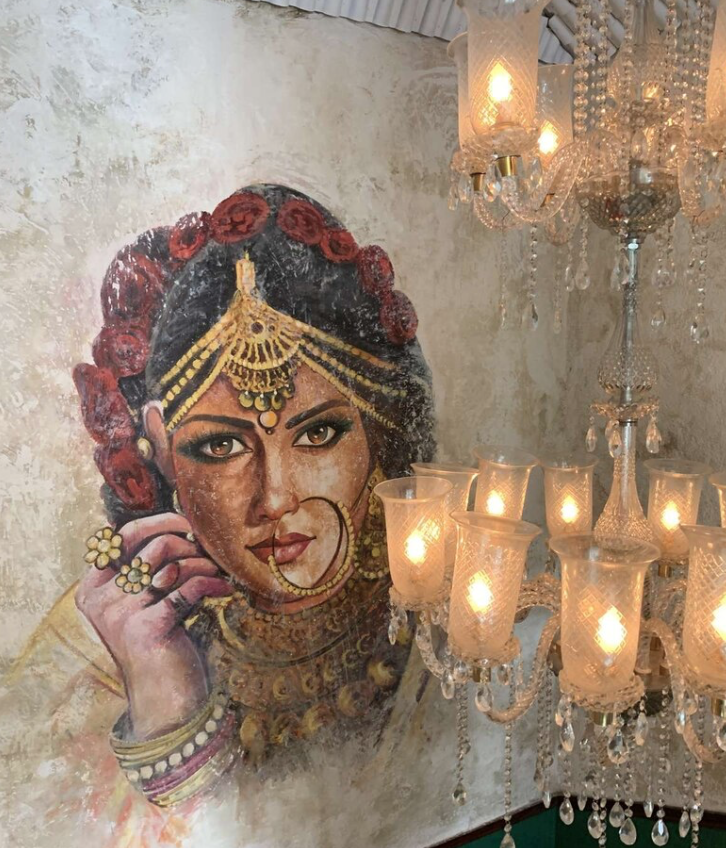 They specialise in modern Indian fusion dishes. I tried their Kulcha ,it was filled with Amul cheese, caramelised onions and tomato filling. It was also topped with Manchego cheese. It was the cheesiest dish that I tried there. It is surely a better alternative to Pizza which I am super bored of eating.
I also tried their Aloo Tikki. The quirkiest addition to their Aloo tikki was that they had fried Kale chips around it. The tikki also had hung curd up which made it very tasty. The dish surely wouldn't be the same without the curd flavour. This is my personal favourite and a must try. Then I tried their Paneer Chilly, which was plated in the most beautiful and surprising way. It had a crispy layer of fried vermicelli wrapped around it and it was served with chilli mango chutney.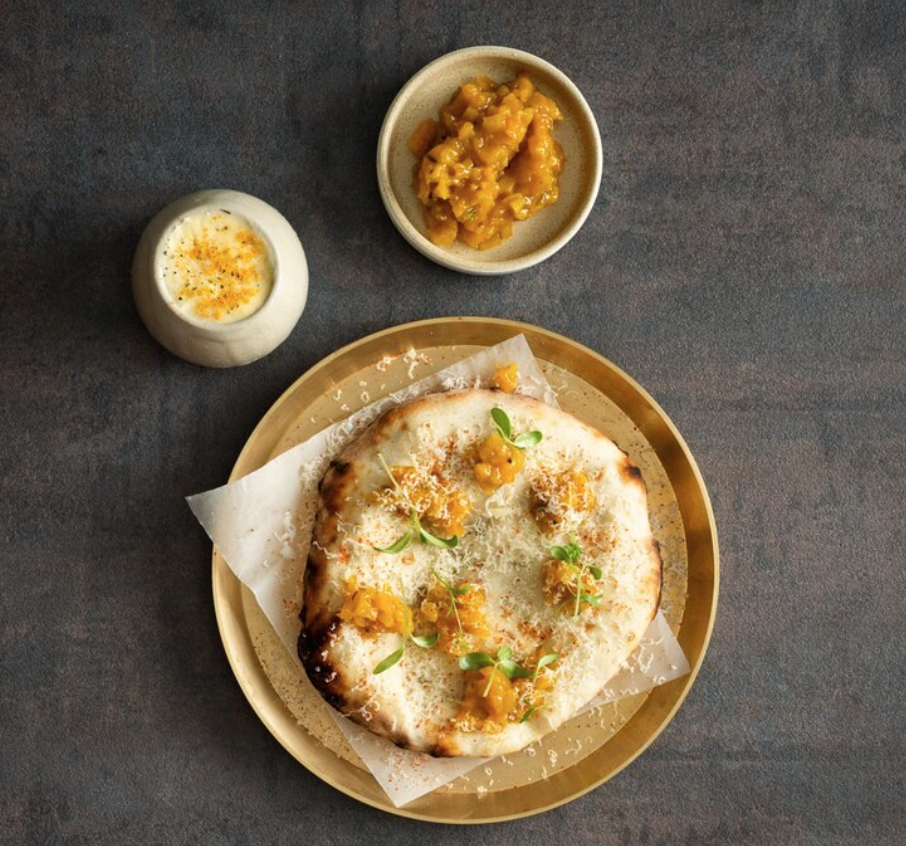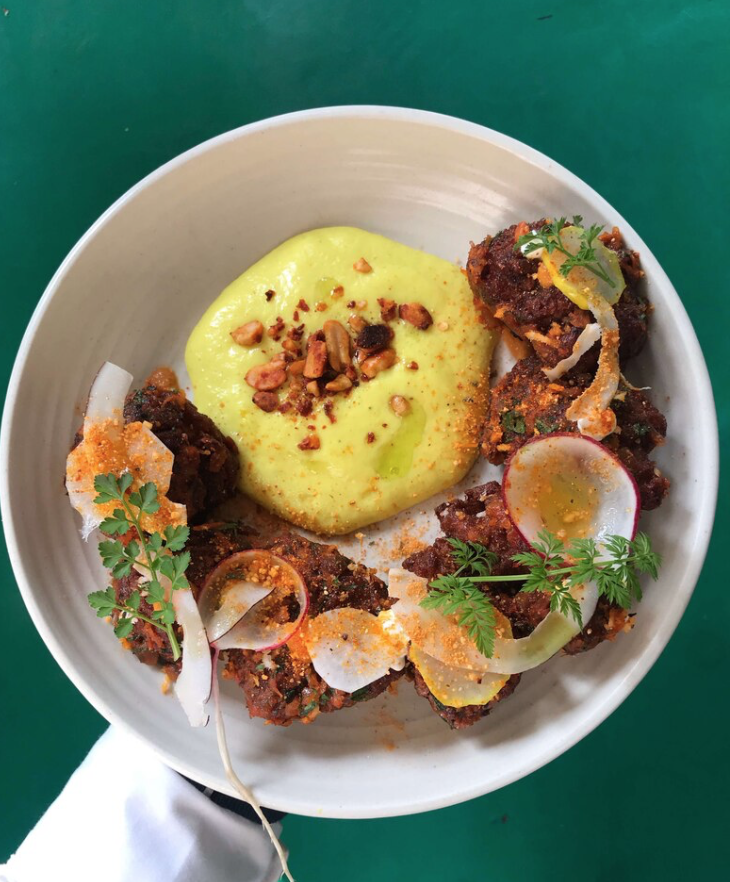 I liked their starters so much and was overwhelmed by the plate decor. I decided to go all out and tried their beetroot and peanut chops. They were beetroot filled, light and crispy balls which were served with 3 different types of chutneys. It was super exquisite and delicious.
Finally, I tried their Malai Broccoli and their pumpkin. This was served with a sauce which tasted like parmesan cheese in every bite. It was a parmesan flavoured sauce which I never imagined having in India. I don't think many places offer this. It is surely one of the most different and quirky dish on their menu. Worth every penny.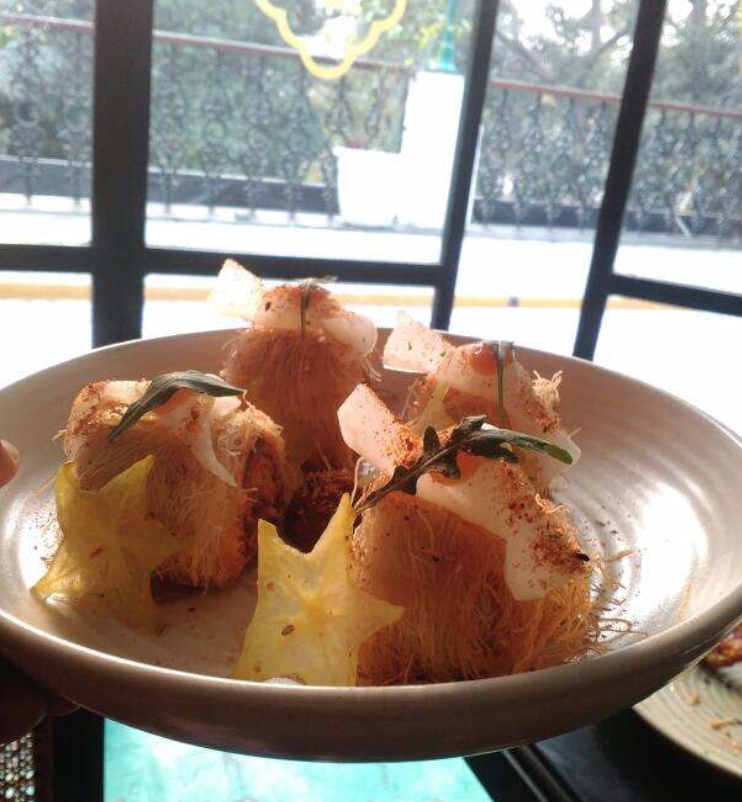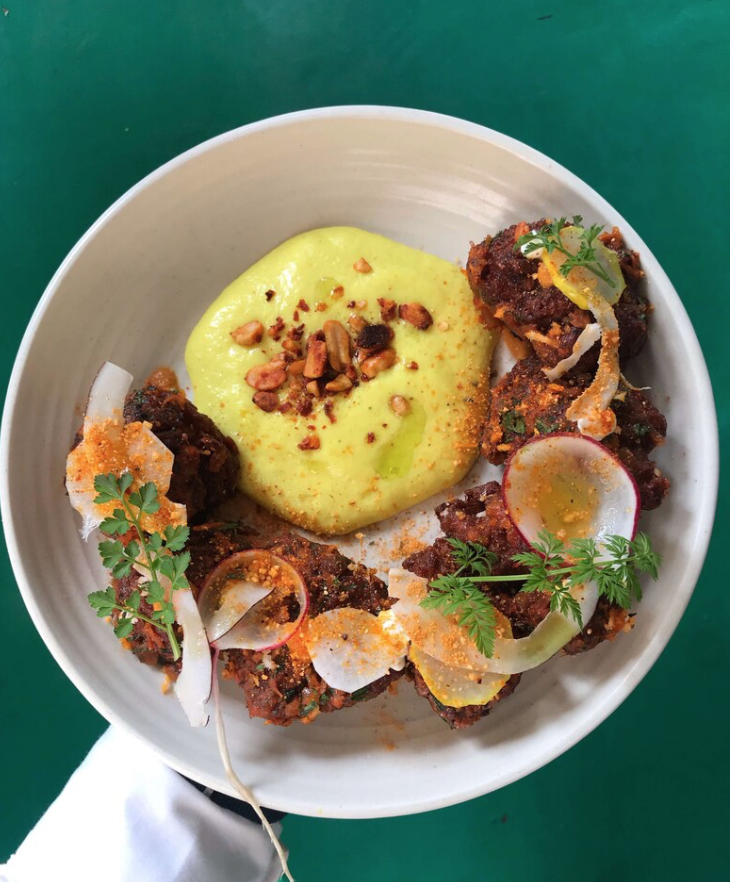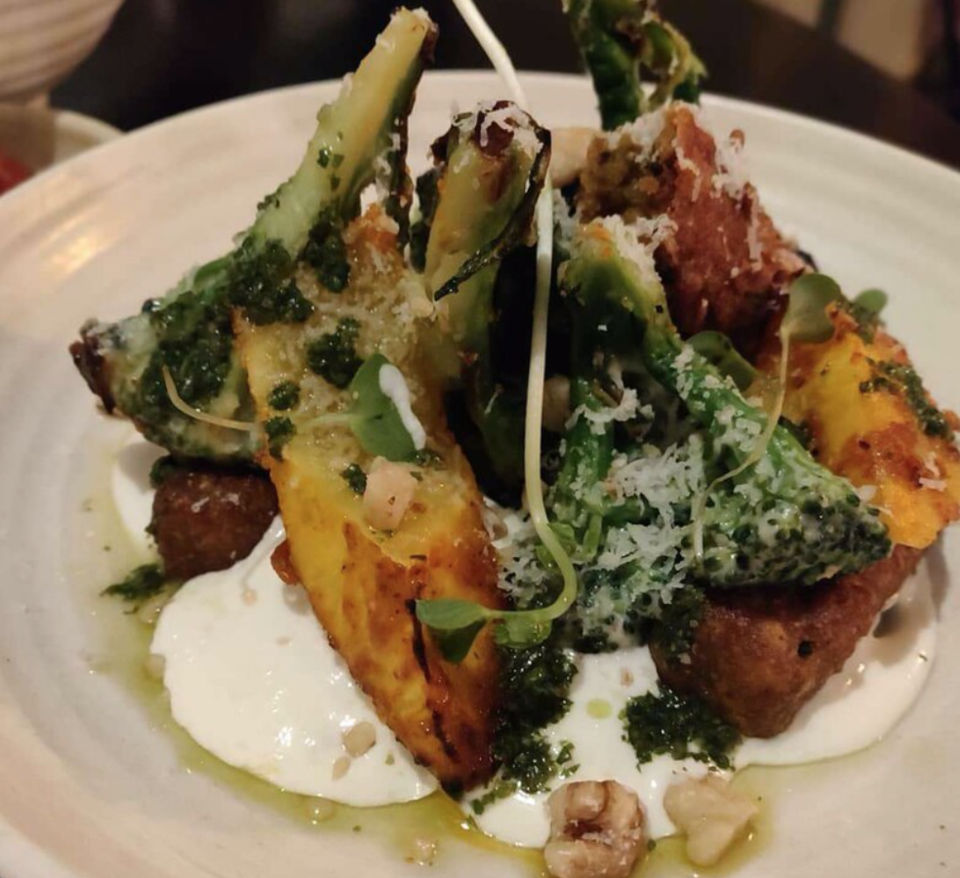 What's some good food without a couple of drinks? I had 4 drinks at this place and my friend tried a few others. Here's a list of the drinks which you have to have. You are super lucky to have this list with you since its compiled with some of the best cocktails at the restaurant.
1) Beetroot Kanji - This is a tasty beetroot drink which has a shot of tequila that is served with it.
2) Leh Berry Collins - This is a smooth, gin based drink, which looks really pretty and it light to go with. It is not strong at all.
3) Kairi Mule - This is a light drink as well but is slightly stronger than the Leg Berry Collins. It tastes like Raw mango and the vodka hits you hard.
4) Calcutta Cup - This is probably the strongest tasting cocktail. It has bourbon and Islay Whiskey. Definitely not for the ones who like their drinks light and soft. If I were to be sexist, I would call this a man's drink.
5) Last Lemon Drop - This is basically a fancy looking vodka shot that is topped with lemon. Will surely you make you relive your teenage days and will remind you of the time you almost passed out.
6) Pickle back shooter - This is a crazy shooter. If you like Jaegerbomb, you will love this. It is a shot of bourbon followed by another shot of a pickled drink. Basically messes your mind with the strangeness of bourbon and the childishness of a pickled juice drink. You have to have both shots back to back.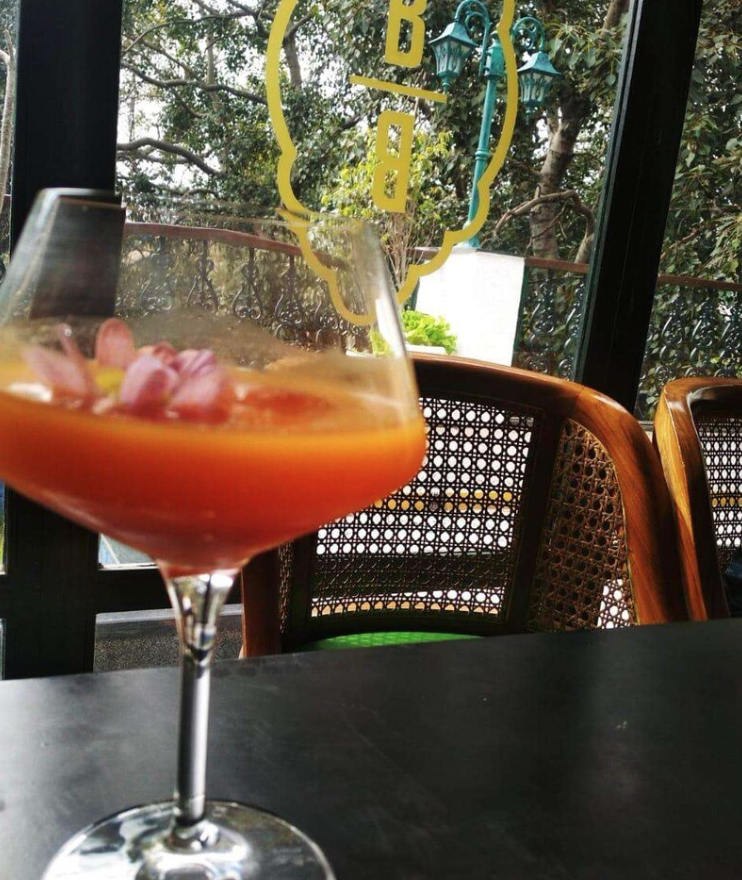 Basically this place is the best of both worlds. It's perfect for your family if they're into Indian food but feel bored of eating the same dishes. These fusion dishes will make them go crazy. It's also the best for an outing with friends where you really want to enjoy some good alcohol, get sloshed and have a crazy night.
Brownie points for you if you guess the names of the dishes right!
The food here was great, but the cocktails were surely punching the sky. For some of the craziest cocktails, you should surely head to this place. It is likely to set your mood right for the night with some DJ tunes, retro yet modern ambience, world class food and some fantastic cocktails to get you sloshed. BAAR BAAR in Khan Market was my latest find in Delhi, let me know about yours in the comments!