I must say this is one of the coolest ambiance that a place has that I've visited in recent times. Standing on the Nande-Balewadi Road, It is quite far away from the reach of the usual crowd. But, The fact doesn't go away that this place is still worth visiting without a doubt for the coolest ambiance. Having a huge outdoor sitting, the place also has some small huts around the edges which adds to the total feel of the place.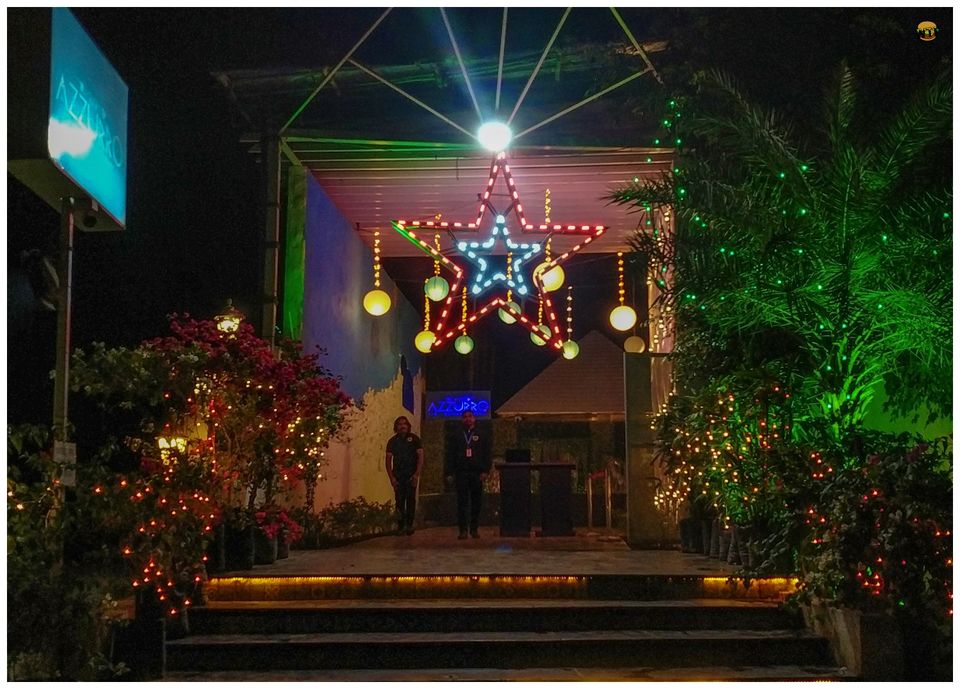 The entire place is decorated with the coolest paintings on the walls which has totally got me stuck on them, and I'm visiting them again for sure maybe just for the ambiance they have.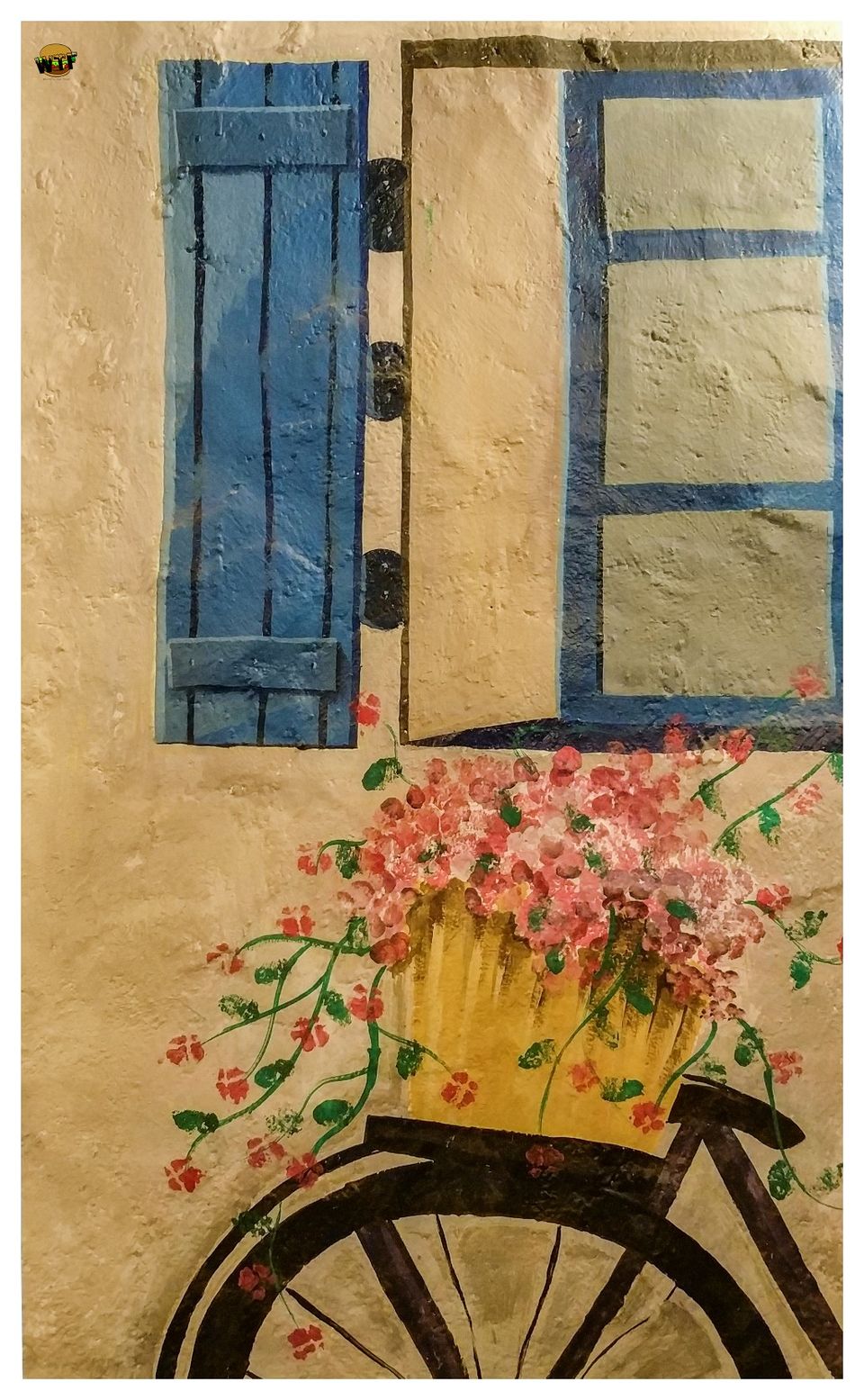 Azzurro has plenty of space to incorporate a pretty decent bar and a Lounge that adds to not just the services but as well as the beauty of the place too.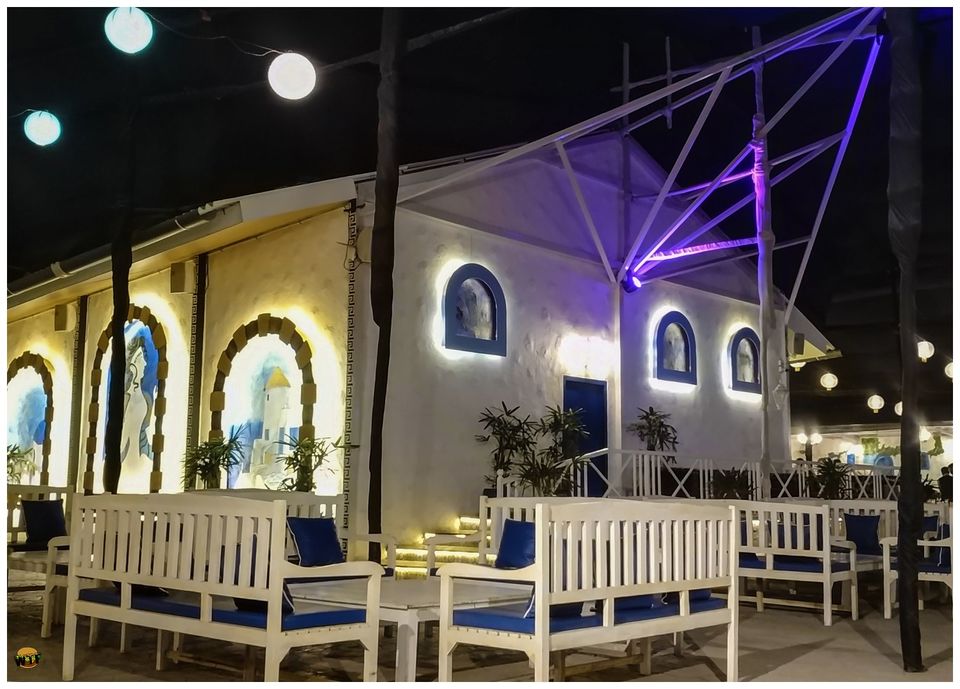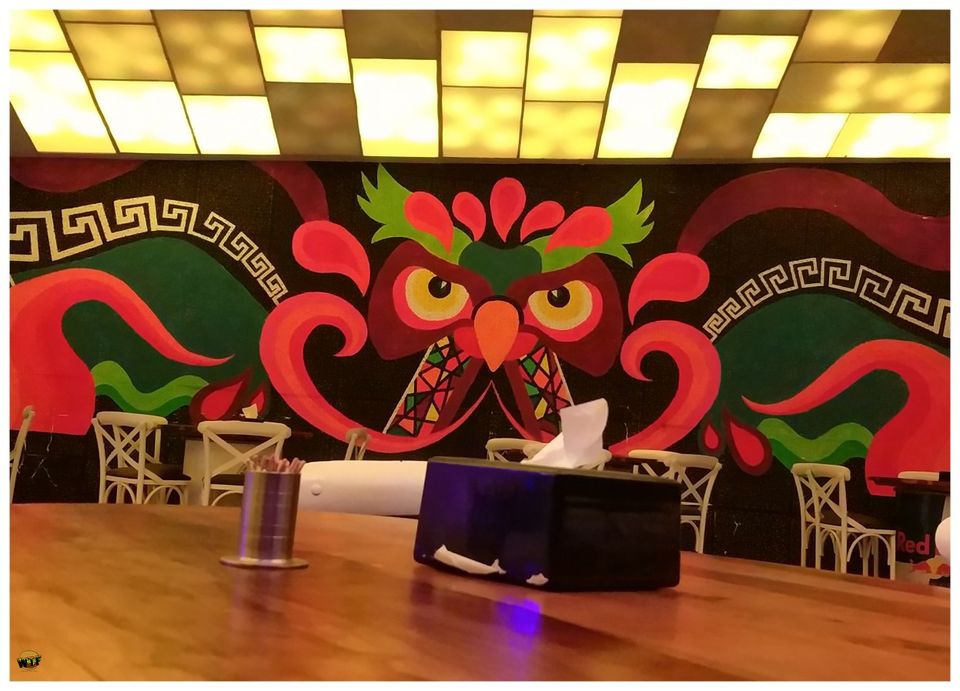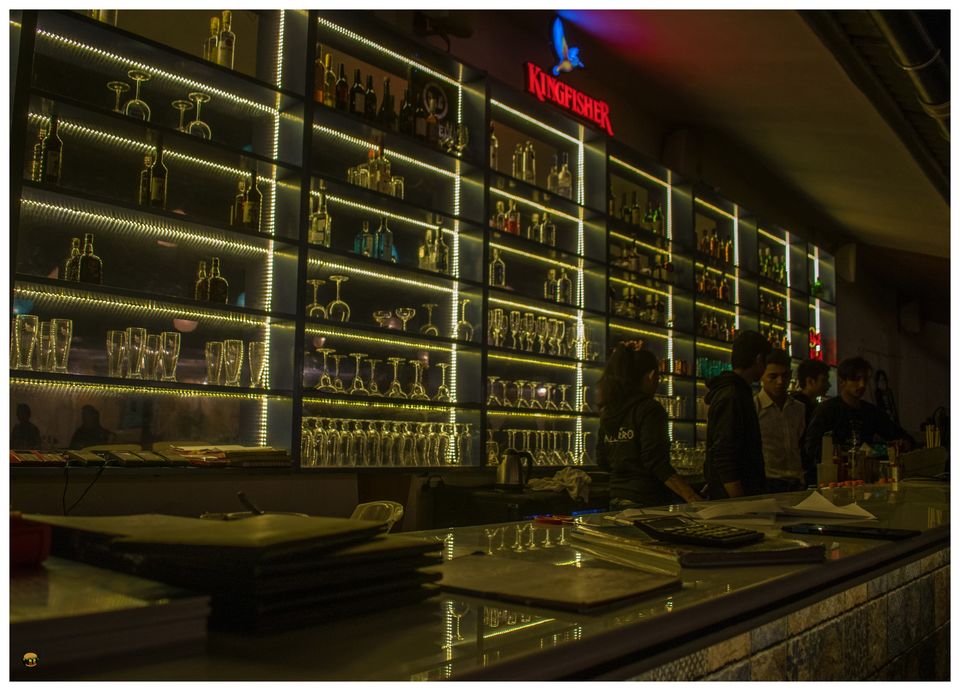 This recently opened restaurant has a pretty exquisite menu for food and drinks too. And, I was recently invited for a tasting here. Given below is a list of some of the amazing dishes that I got to try my hands on:-
MOCKTAILS:-
Azzurro Special Mocktail (189 INR):- Having a quite noticeable presence of Kiwi, this was an amazing start for the evening.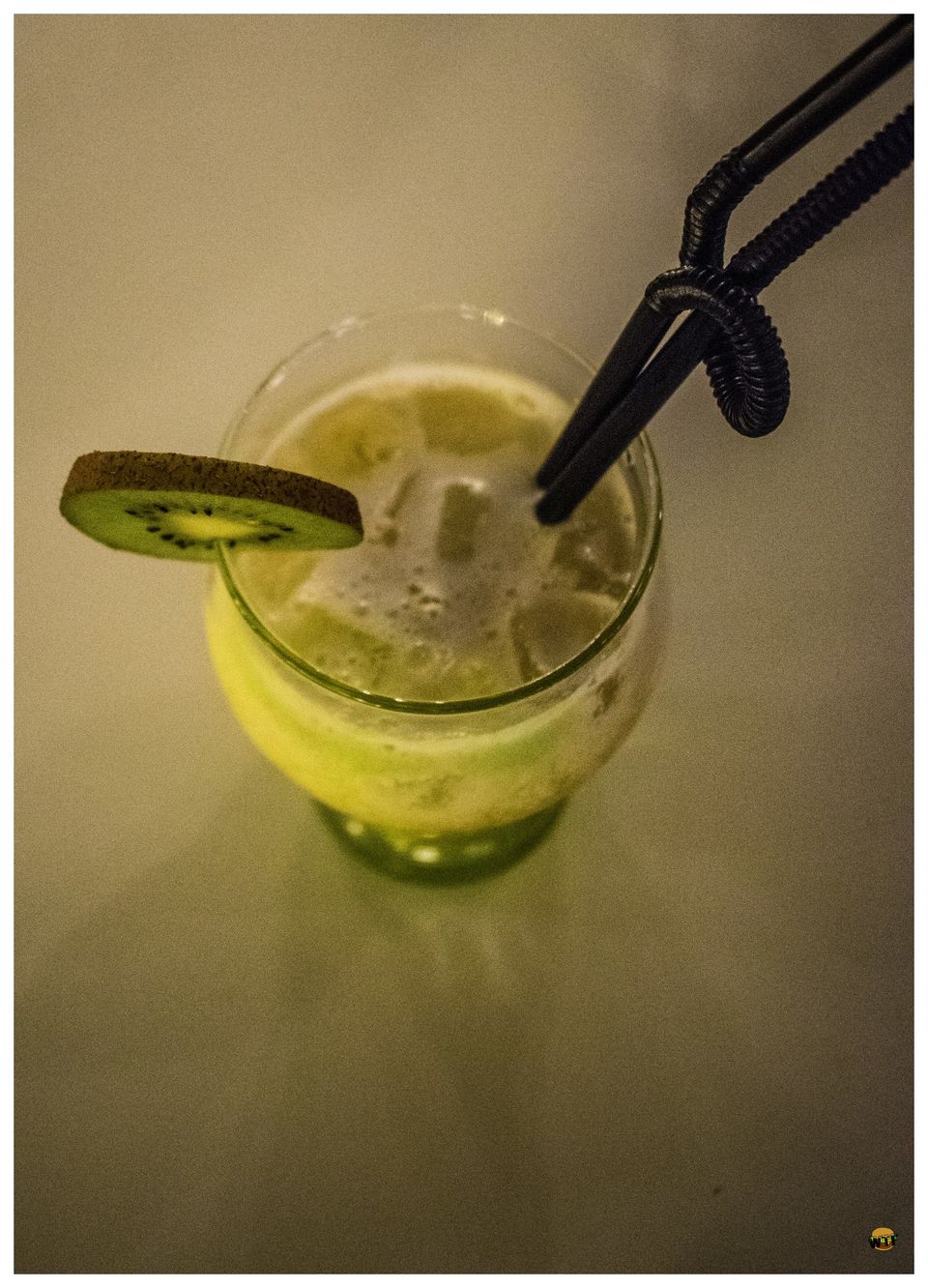 Mama Mia (189 INR):- A mango based drink that I choose to continue with for the rest of the evening promised more of the taste of a fruit(mango) juice but was still serving the needs lol.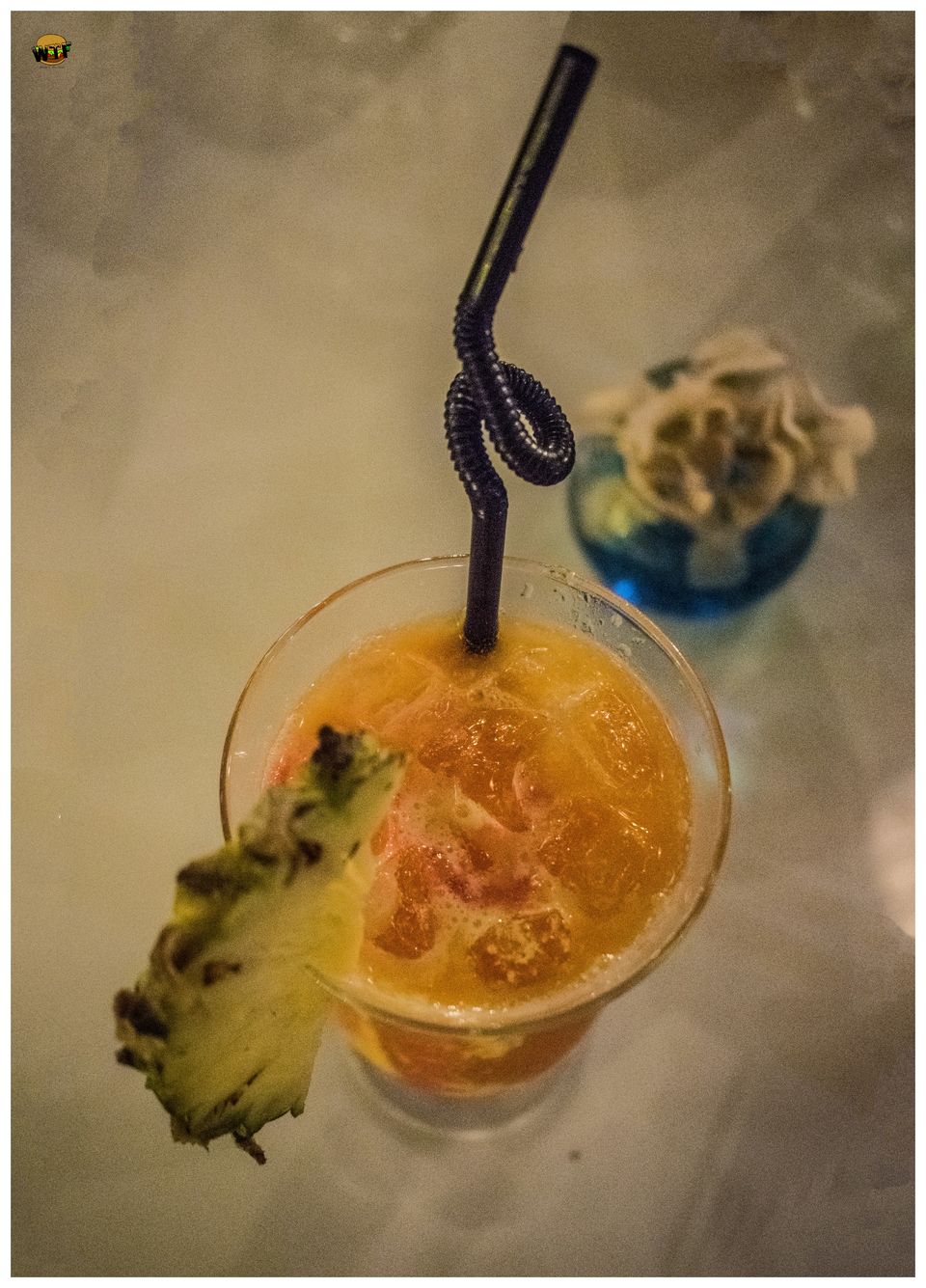 SOUPS - CONTINENTAL:-
Broth Soup (159 INR):- This thin soup stock based with vegetables was the first to come after the drinks but lasts still in memories for how amazing it tasted.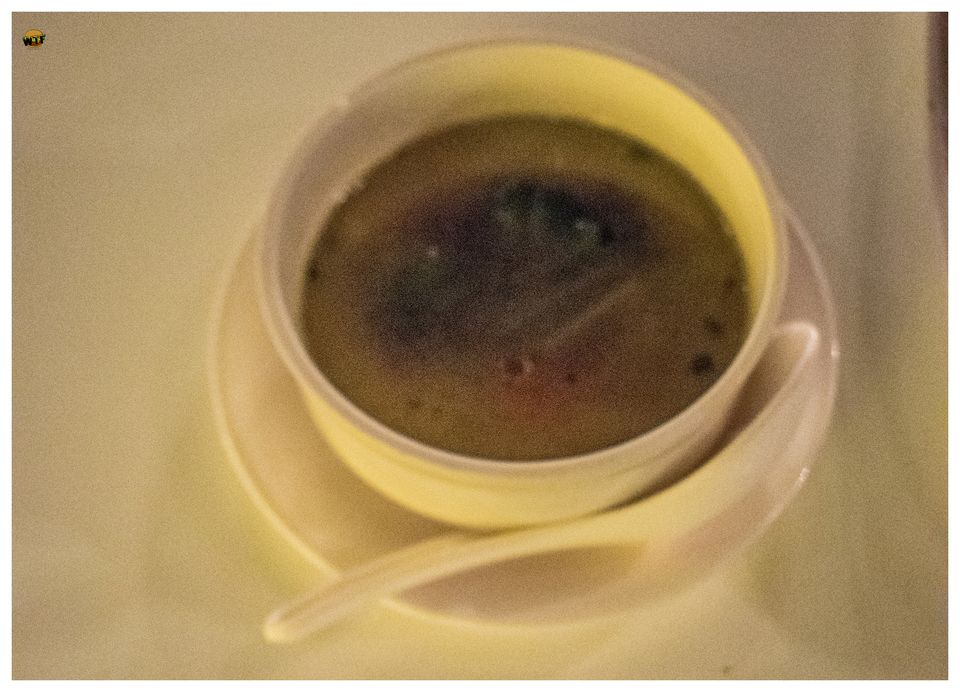 HORS-D-OEUVRE:-
The Paneer Shaslik (239 INR):- This serves a totally different taste of Paneer. You can feel the spicy presence of bell peppers along with the cream cheese on top of it.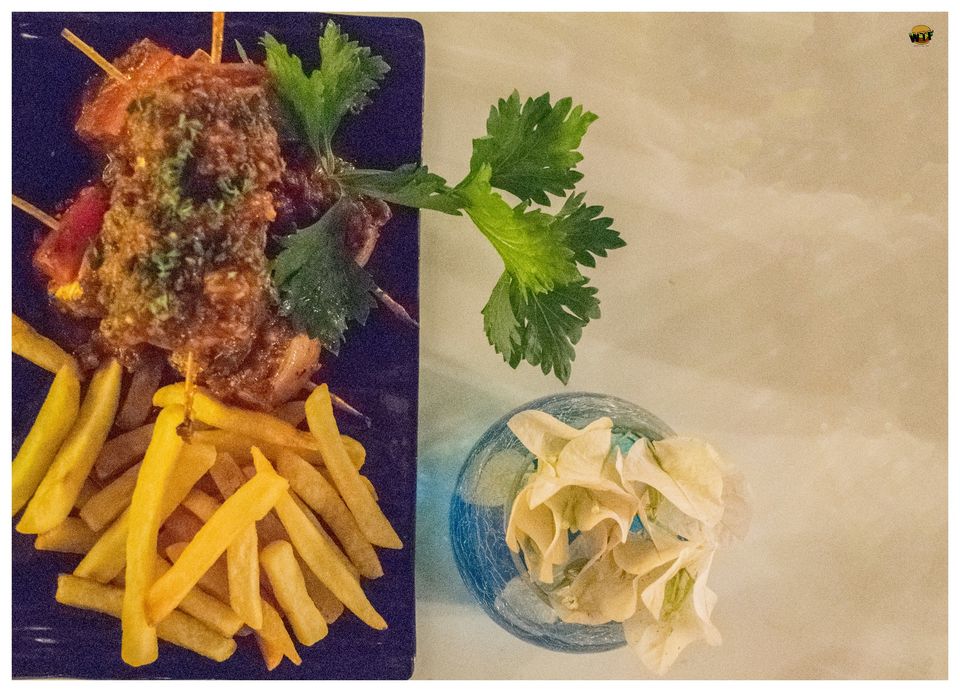 Loaded Nachos(VEG/CHICKEN) (229/259 INR):- Azzurro is indeed game with their homemade nachos. These Nachos are well served with fondue cheese, jalapenos, olives, mexican salsa with portions of veggies or chicken. While having both on the table, I felt to ignore Chicken Nachos over Veg Nachos, Surprised Right? Me too. :o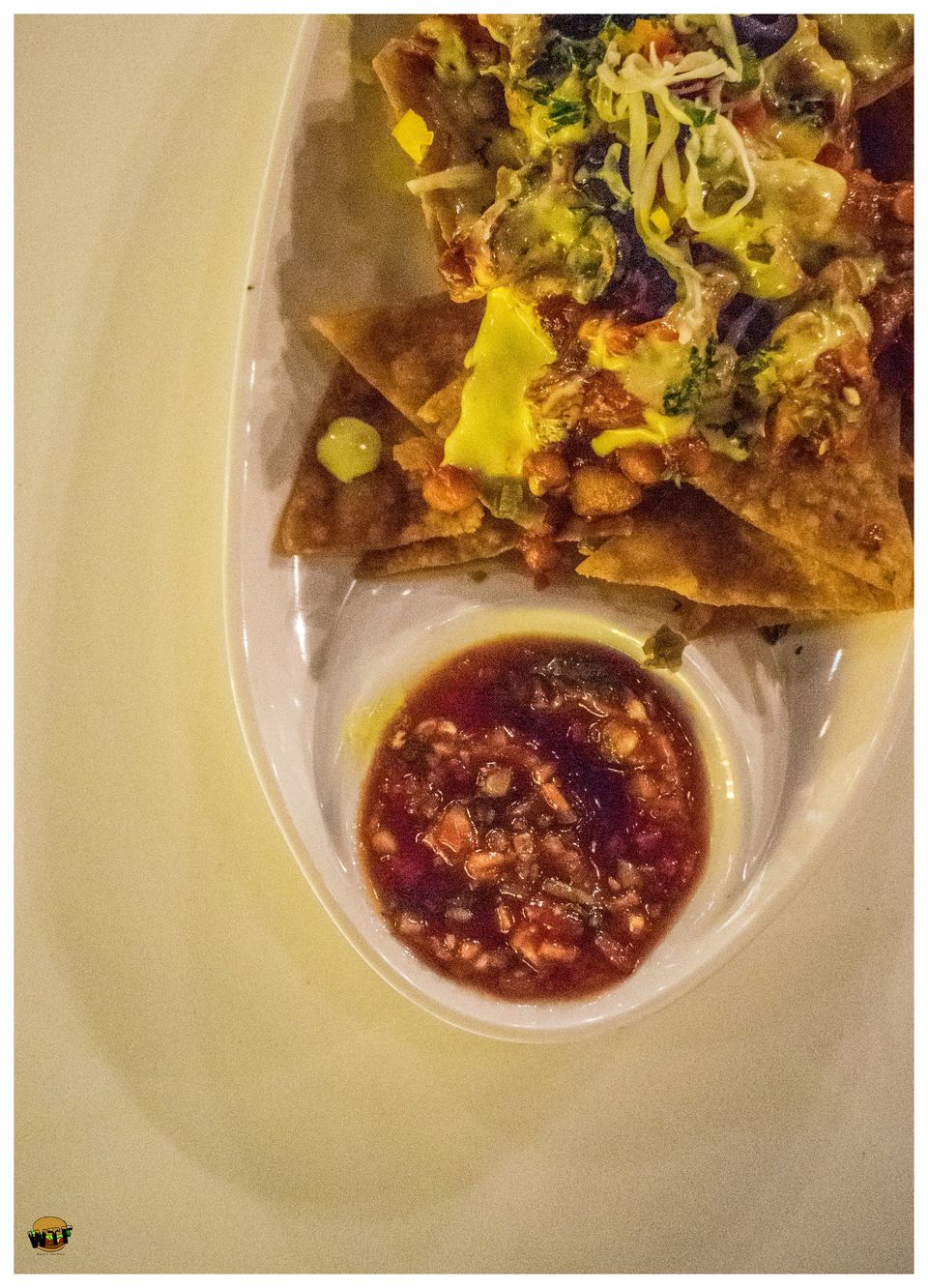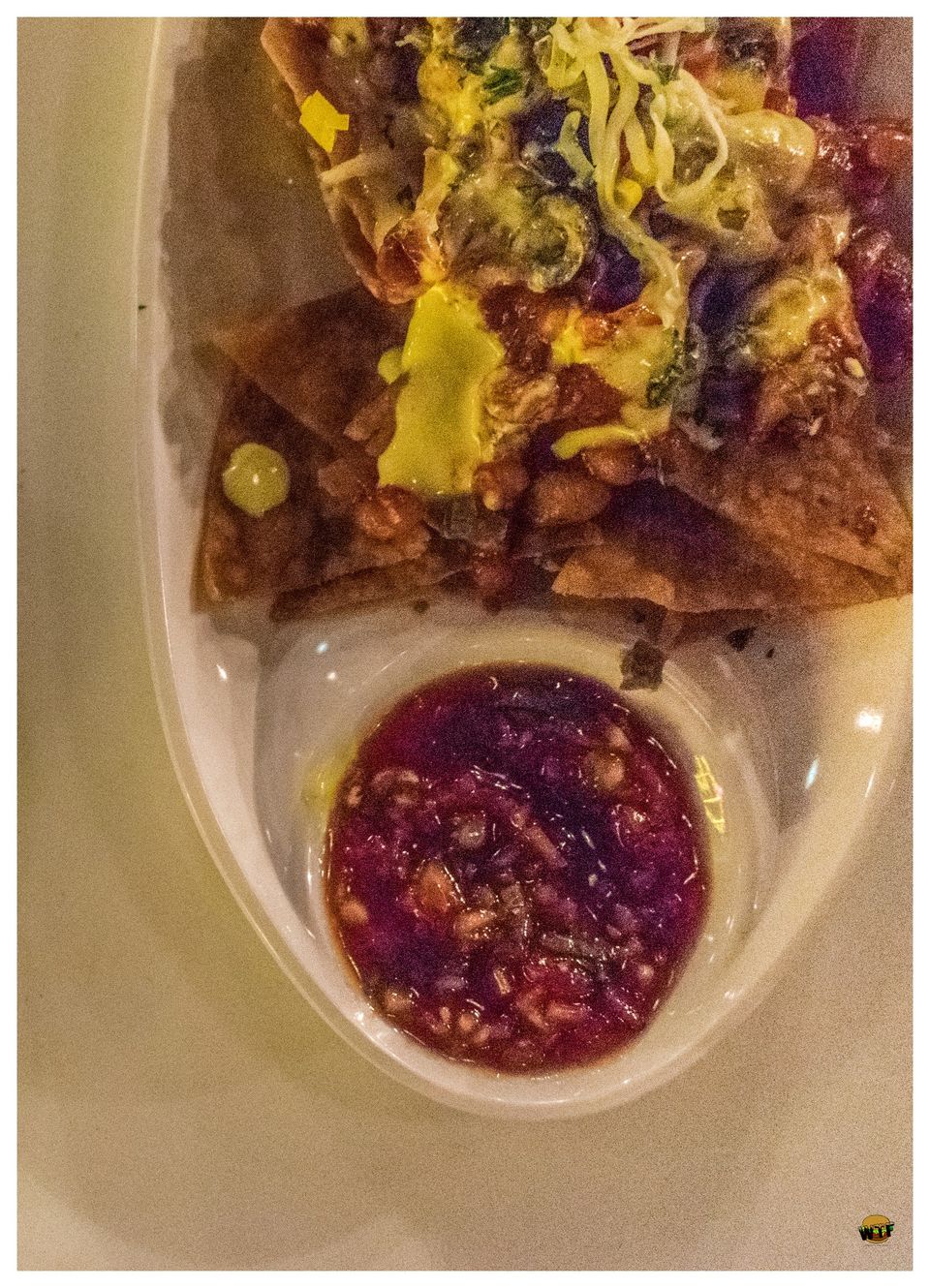 Broccoli Florets (279 INR):- I have always been a sucker for broccoli. But the one that I had at Azzurro was just some another level shit. They are just game when served with lots of cream cheese on it.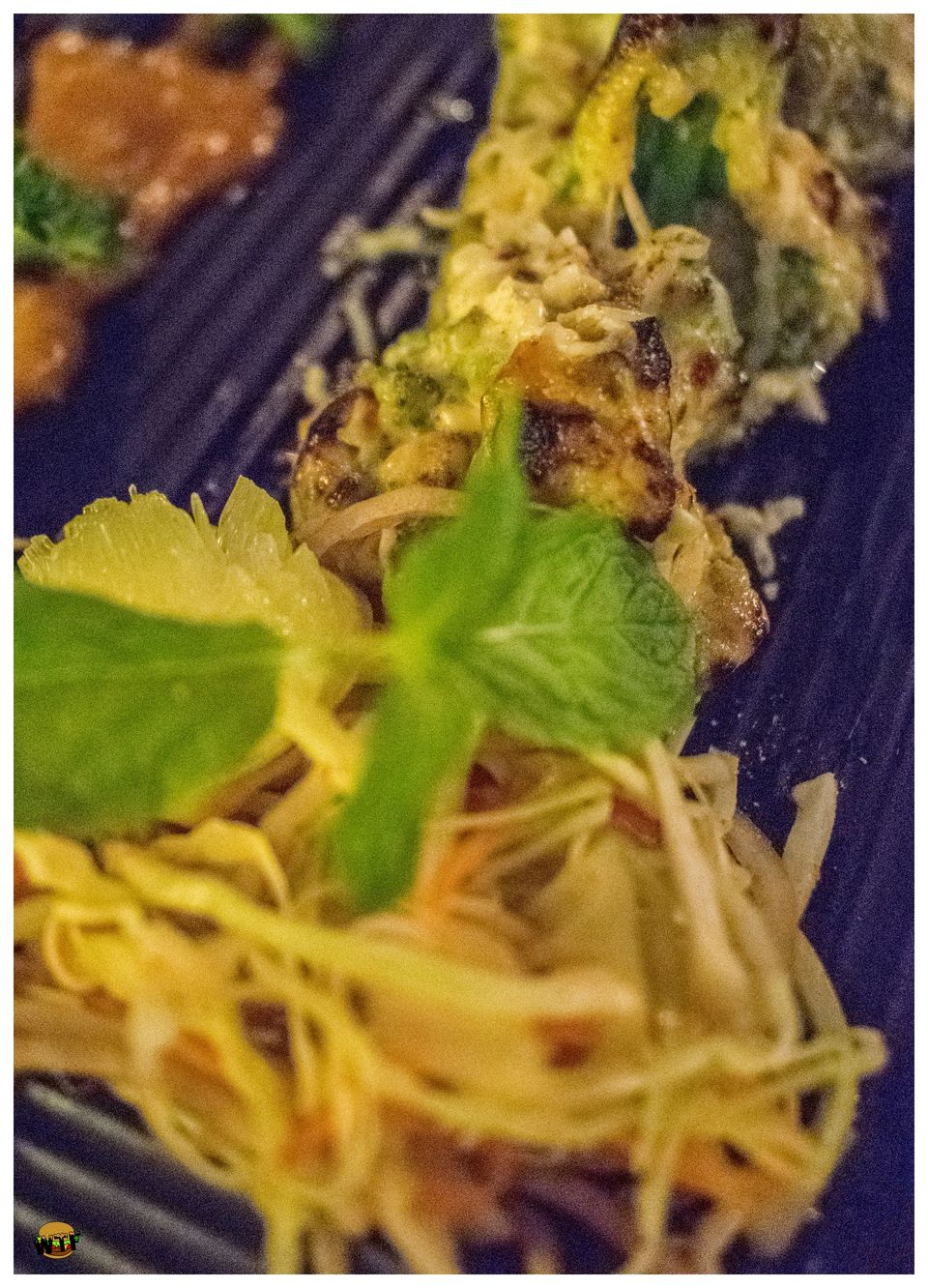 Mango Basil Prawns (299 INR):- Ah! The love is here, right here! Just in this one dish, sometimes I feel like why do I even need to write about Prawns and then I think because it's just not the Prawns that makes me crazy but what else can you do with it. And, The chefs at Azzurro should be appreciated indeed for this one, cooked in the madras curry, they have done an amazing job with presenting them with the black olives and cherry tomatoes. And while I couldn't just stop biting on prawns, others were drinking from the shot glasses of dip lol, maybe because it was just wow. Was it? idk, ask @freakyfoodiepune.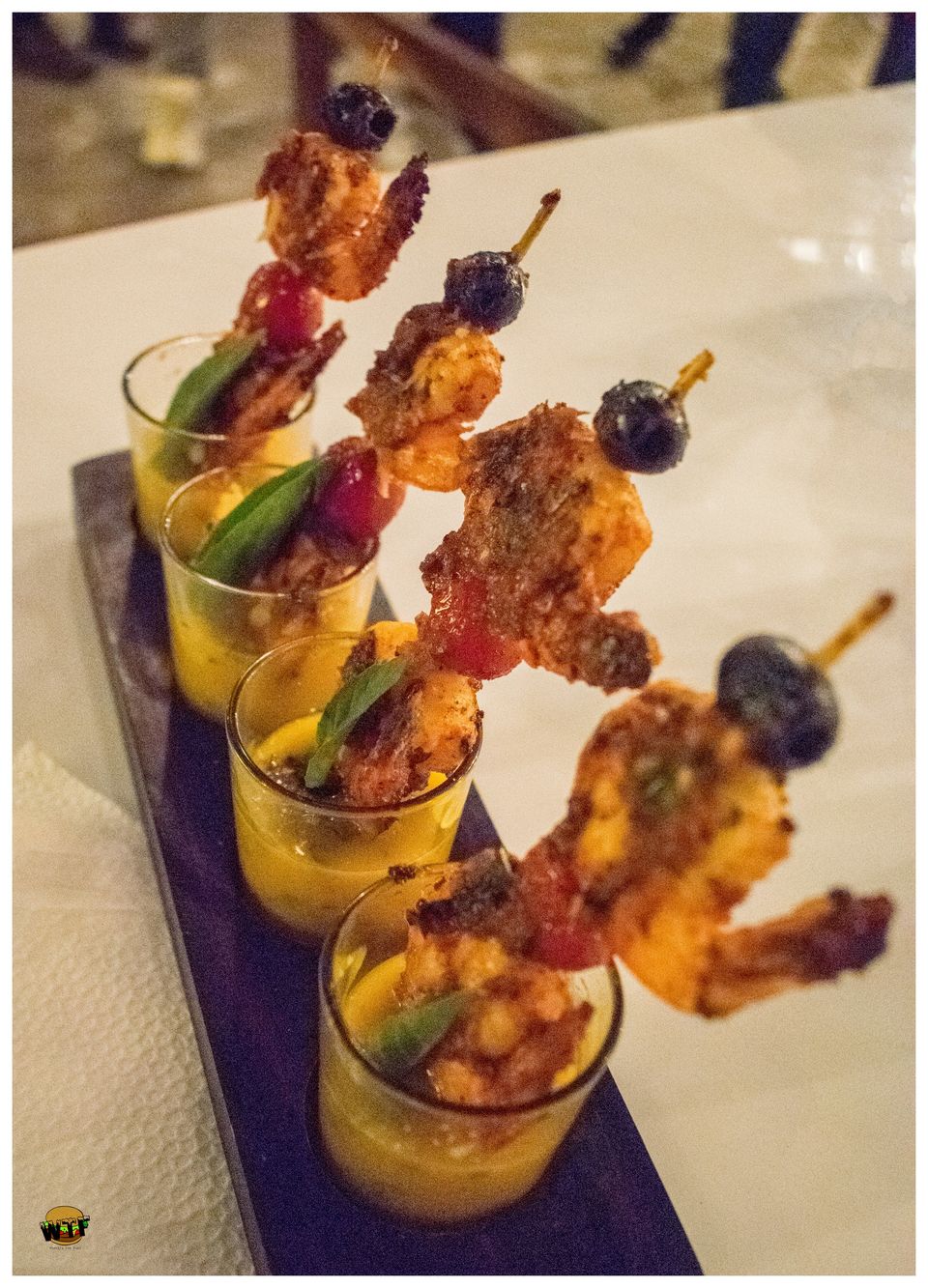 TANDOOR (APPETIZERS):-
Azzurro Special Paneer (279 INR):- I have been pretty happy with the paneer games lately. This one with white marination was a perfect juicy treat to me.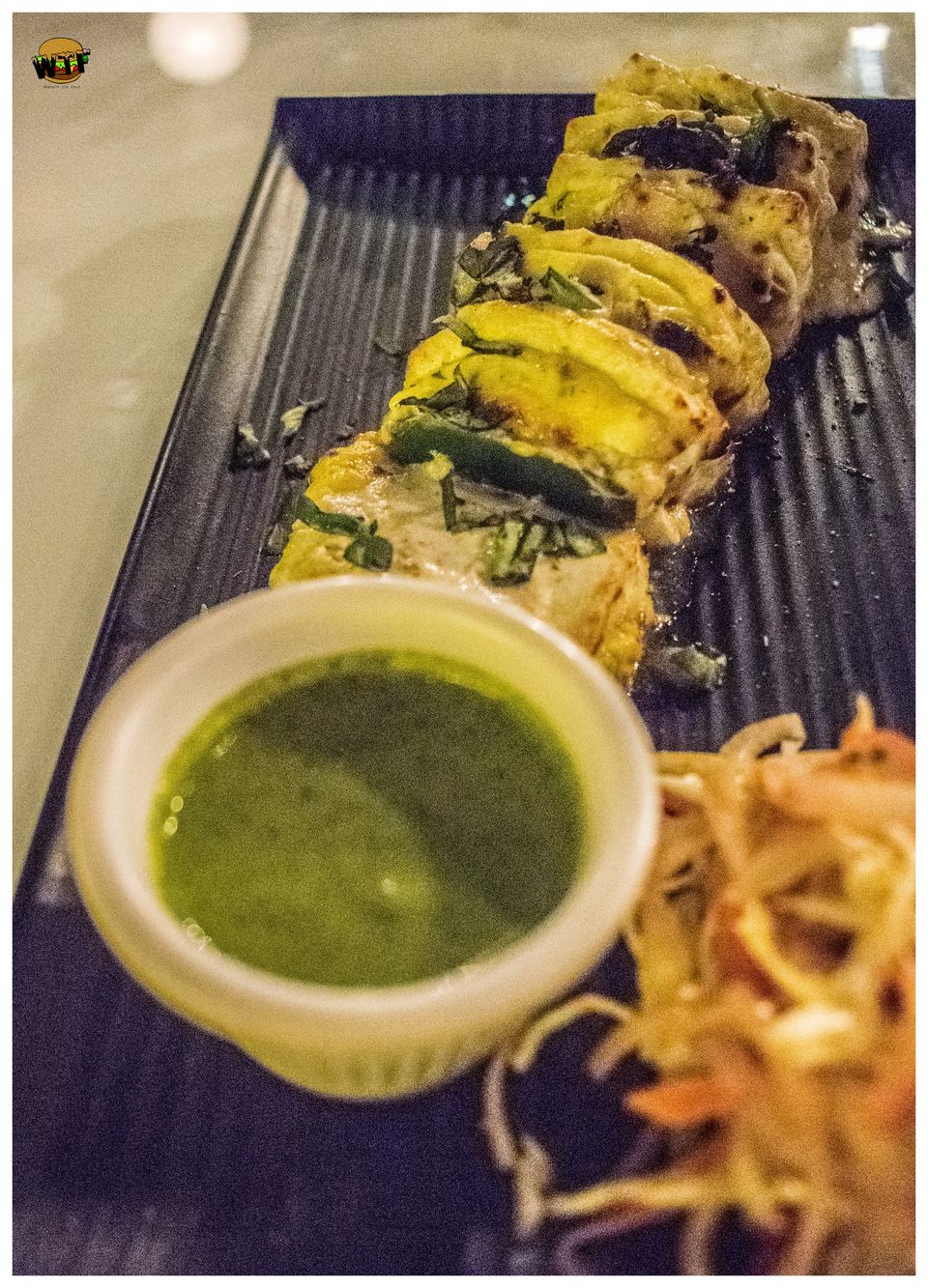 Banno Ke Kebab (329 INR):- However, It occured a little dry to others, I could find it just doing good for me as long I was focused on the stuffed chicken that was game for me. They said cooking the dish take 25mins, but understanding the concept took me 10mins myself. :D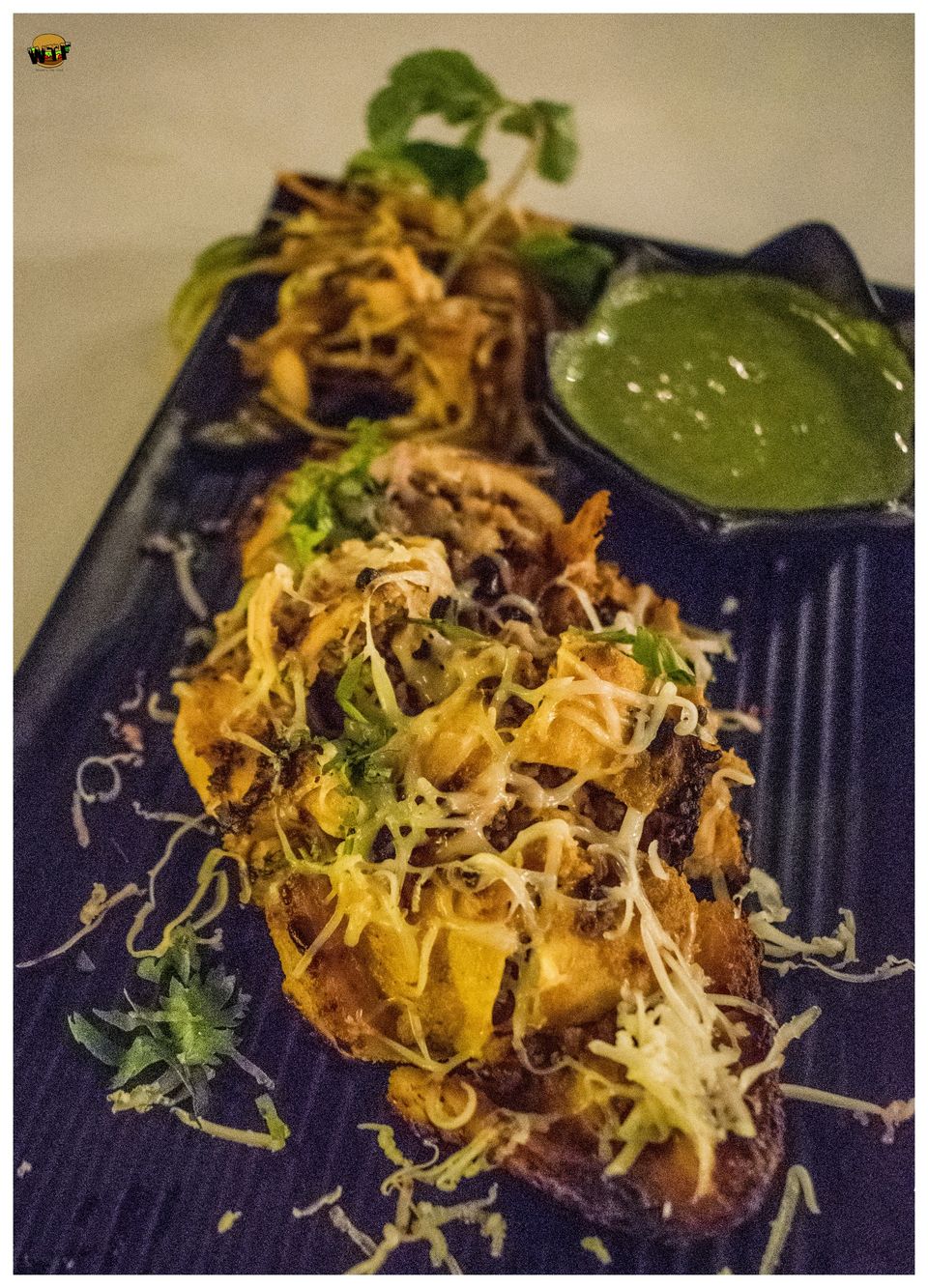 Tandoori Mushrooms (239 INR):- I don't talk much about mushrooms but once in a blue moon they come to me with a you can't resist lingo. And, these button mushrooms did the same to me, a perfectly cooked dish on the place was worthy enough to have more than a bite or two.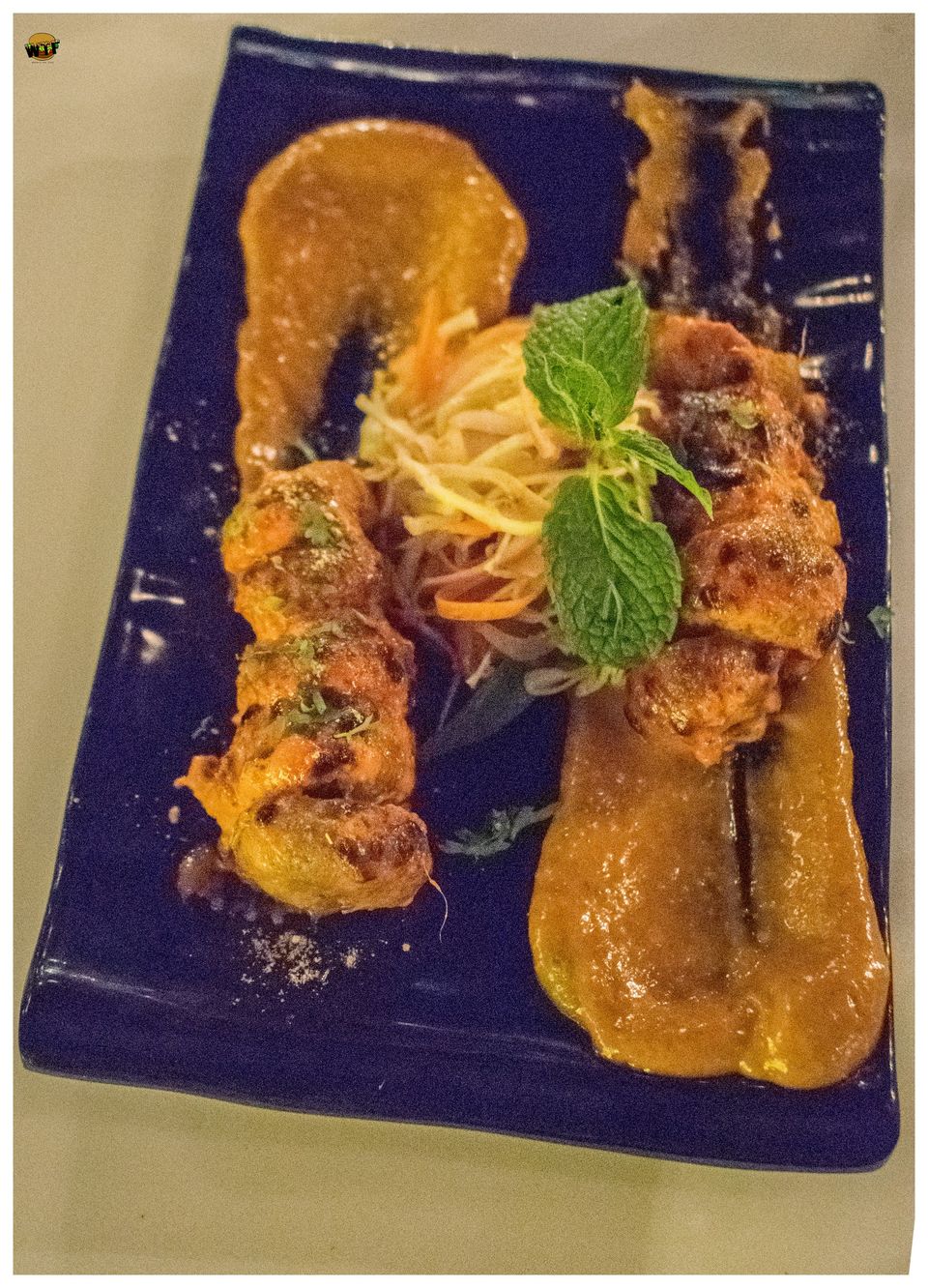 INDIAN (STARTERS):-
Murgh Chukandari (319 INR):- Chicken Chunks marinated in beetroot juice for that extra blood red colour adds a new taste to the chicken and brings a unique flavour to our taste when served with Mint and Beetroot chutney.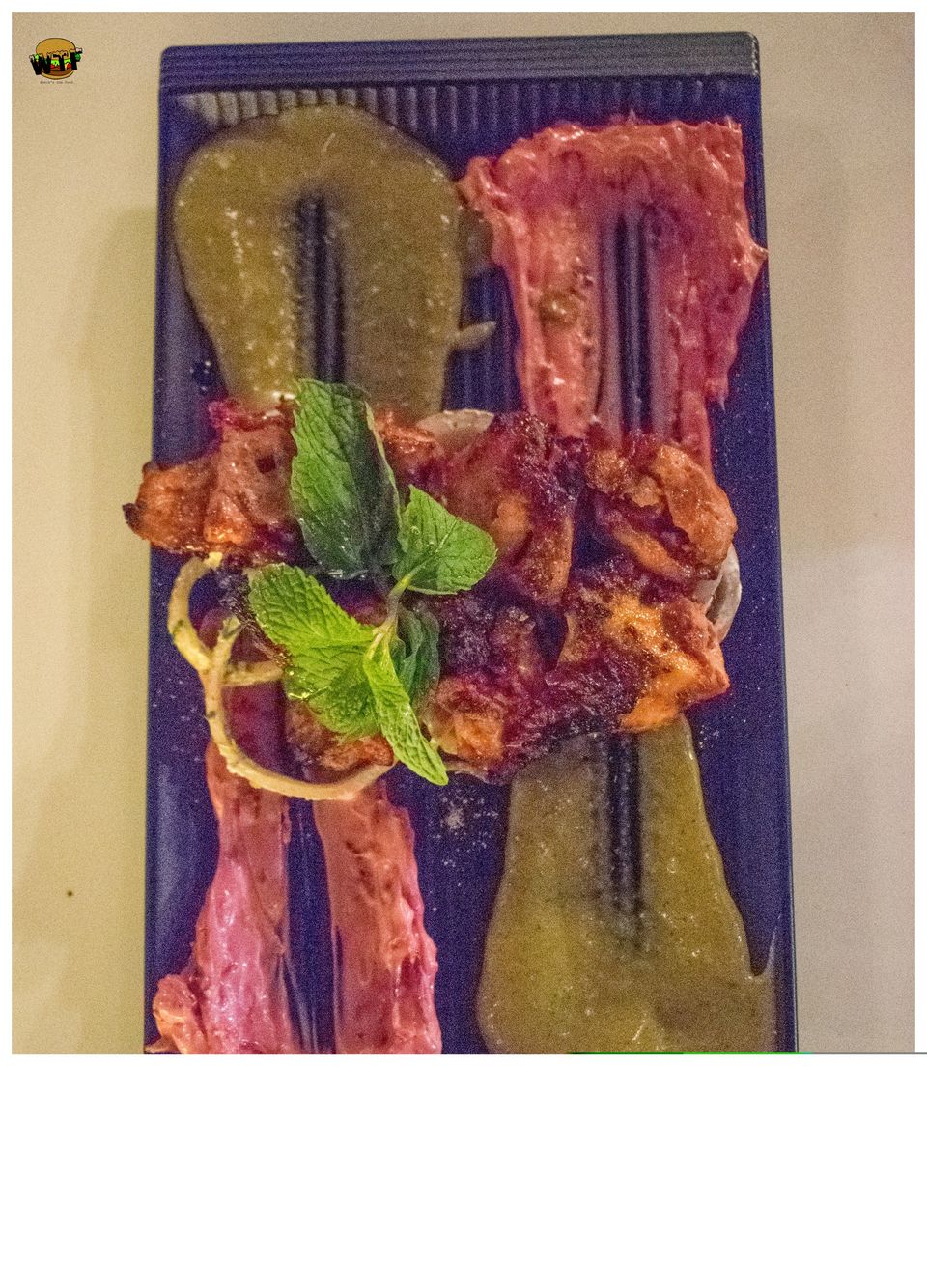 Malwani Fish Kuraw Zatra (249 INR):- I have not been much into fish or seafood except Prawns, but exploring all this while I have confronted some amazing recipes of all time, One of them was this Basa perfectly cooked to an extraordinary taste and can bring your jaws to the awe while you explore how can they be perfectly crunchy from the outside and perfectly tender from the inside at the same time.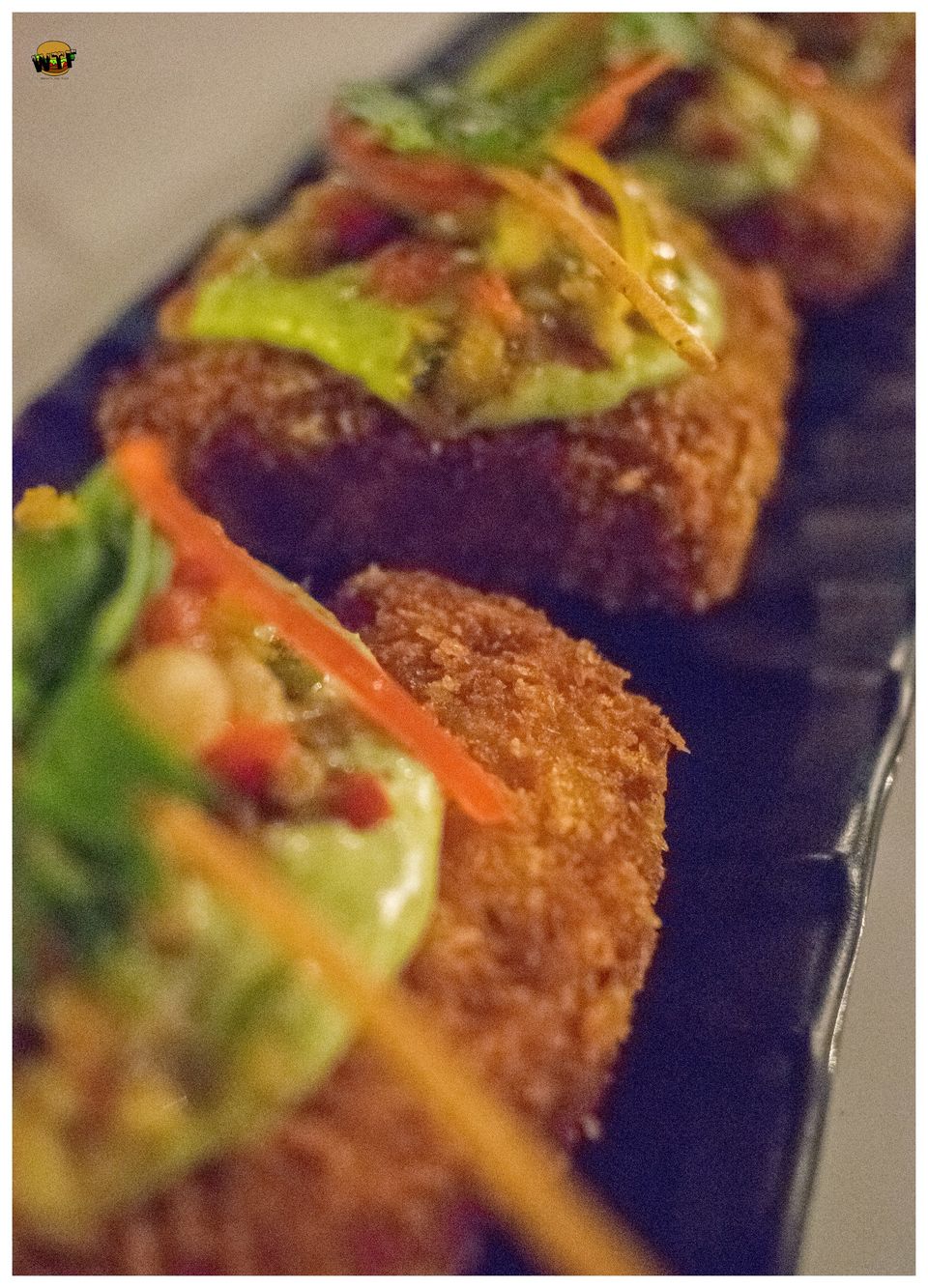 MAIN COURSE:-
Cottage Cheese Steak With Pilaf (369 INR):- It's been a cheesy journey for me at Azzurro especially when I'm not a sucker for it. But trust me when I say this, I never felt to stop or not having any dish that was served at table, even this dish where Cottage Cheese cubes with cajun marinade were served with veggies and a perfect portion of pilaf.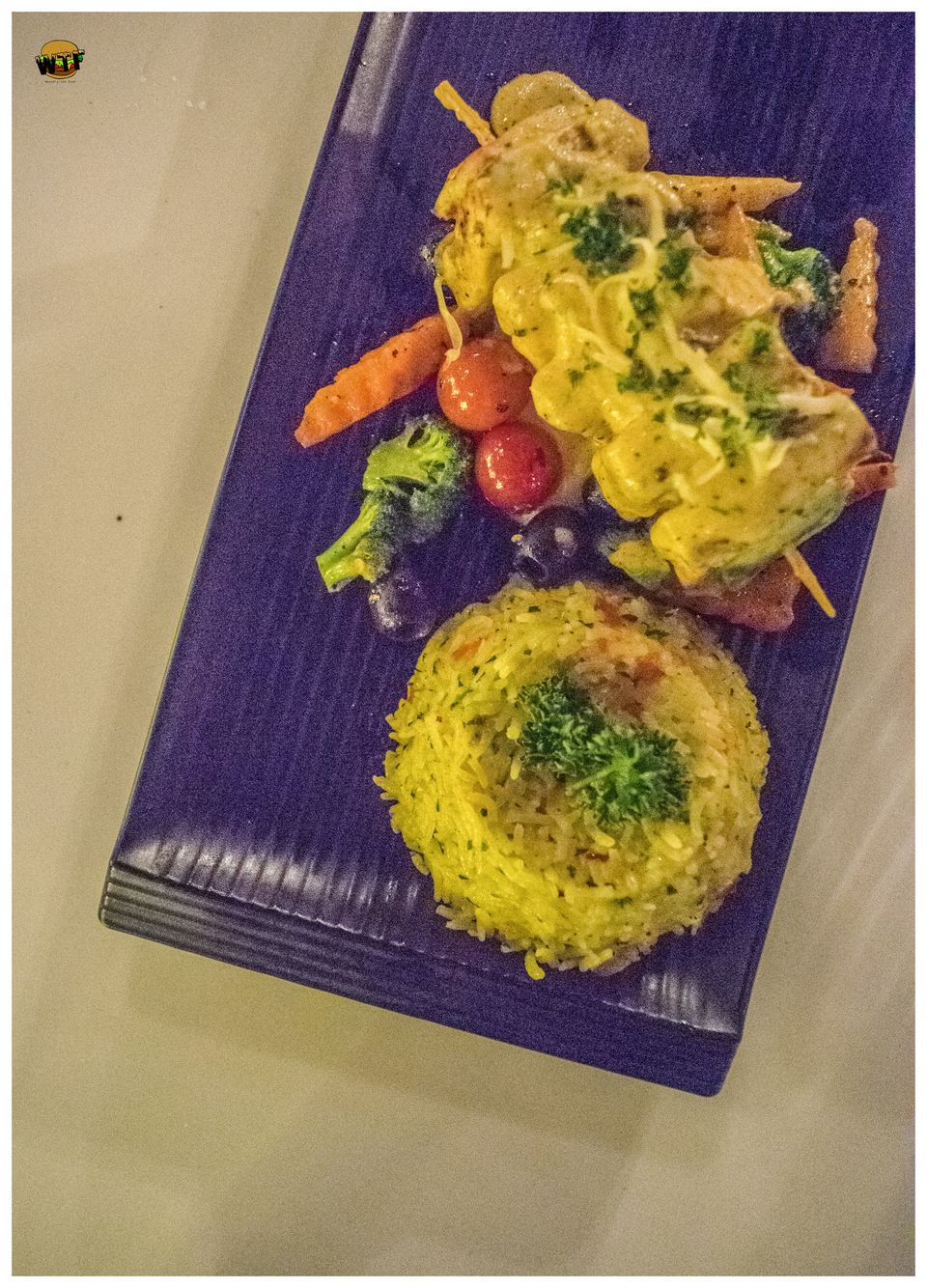 Pot Roast Chicken With Mashed Potates (429 INR):- Didn't get to take bite on every item included in the dish, but I must say The chicken worked out for me again while others on the table thought It was overcooked. I guess, I am so much deeply in love with the dishes coming in that sometimes, I may ignore to notice if the meat is overcooked. P.S; Chicken is love but Prawns is BAE.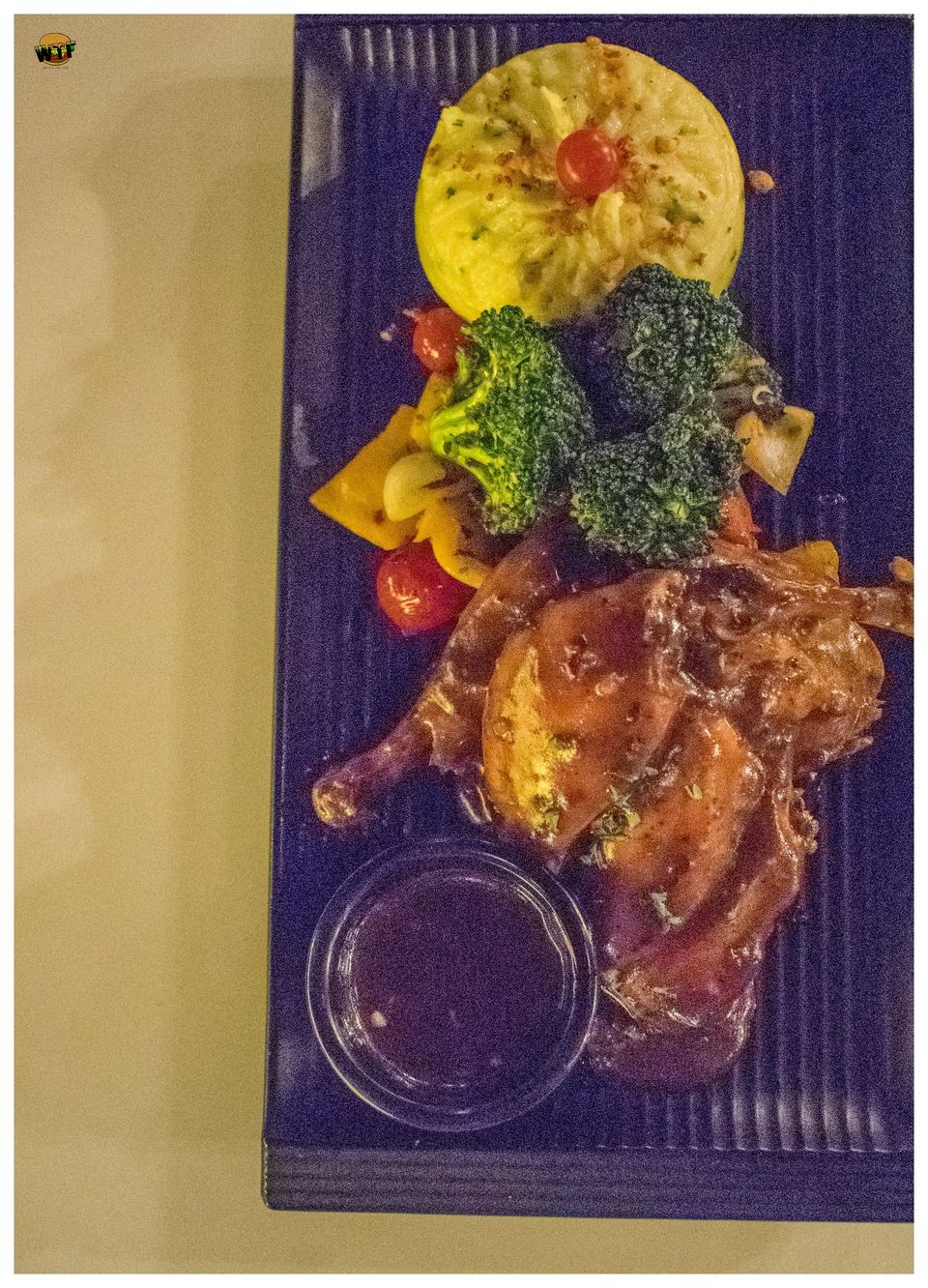 Ghee Roast Mutton (499 INR):- Still thinking on how could you make your mutton this tender, I mean how? As the name suggests, the mutton pieces roasted in ghee serves well as a Manglorean dish to your cravings with Parathas, but still how.....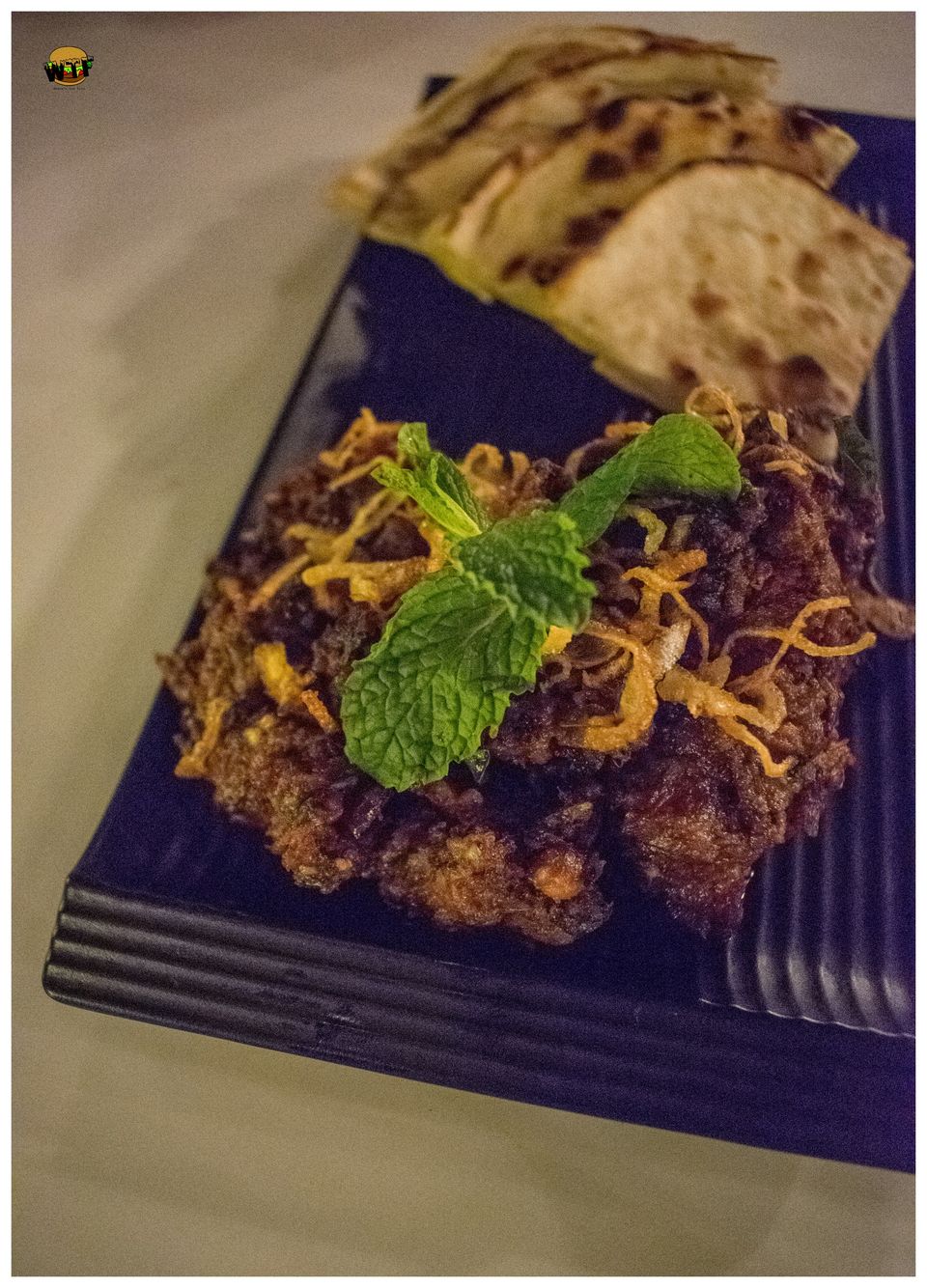 Pan Seared Tequila Chicken (429 INR):- After I say that the so called bloggers took 20mins long to take photos of this dish, Do I also need to say this looked gorgeous af? Placed on a layer of pea mash and cream black pepper sauce, these were the pan seared chicken cubes in tequila, and this is how a gorgoues looking dish became a tasty treat to everyone.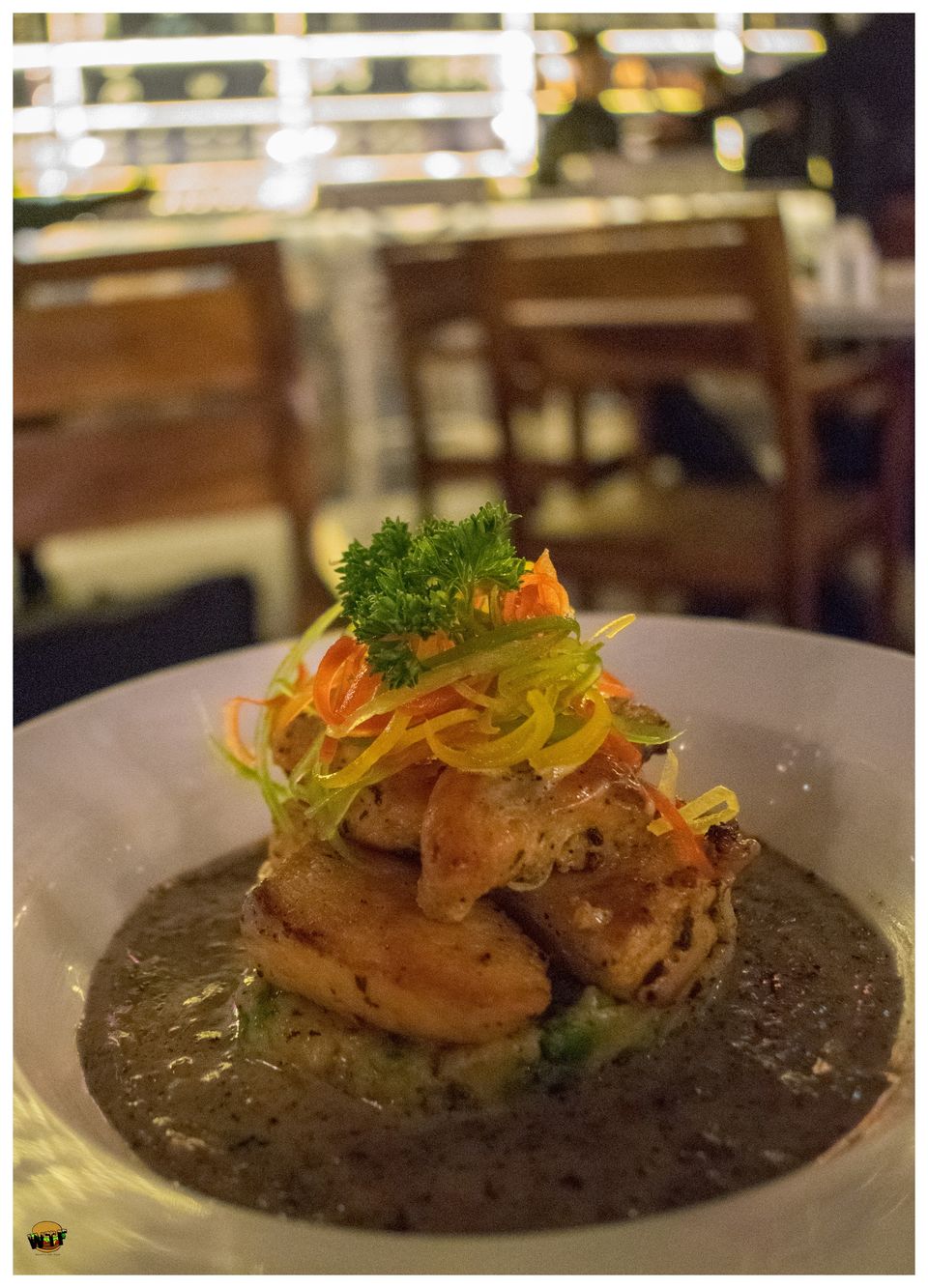 DESSERTS:-
Baked Pulashka (249 INR):- I'm a total teetotaller except I drink Peach Ginger Melomel at Effingut at times, and breezer at times, and alcohol in form of food at times, too. So, what I'm trying to say is I don't drink, and hence I was skeptical about taking a bite from this, But I ate a whole piece out of this dish full of sliced apples drenched in Rum and Bailey's and topped with enough of whipped cream. Okay Okay, Stop It, I ate two, but FYI I don't drink.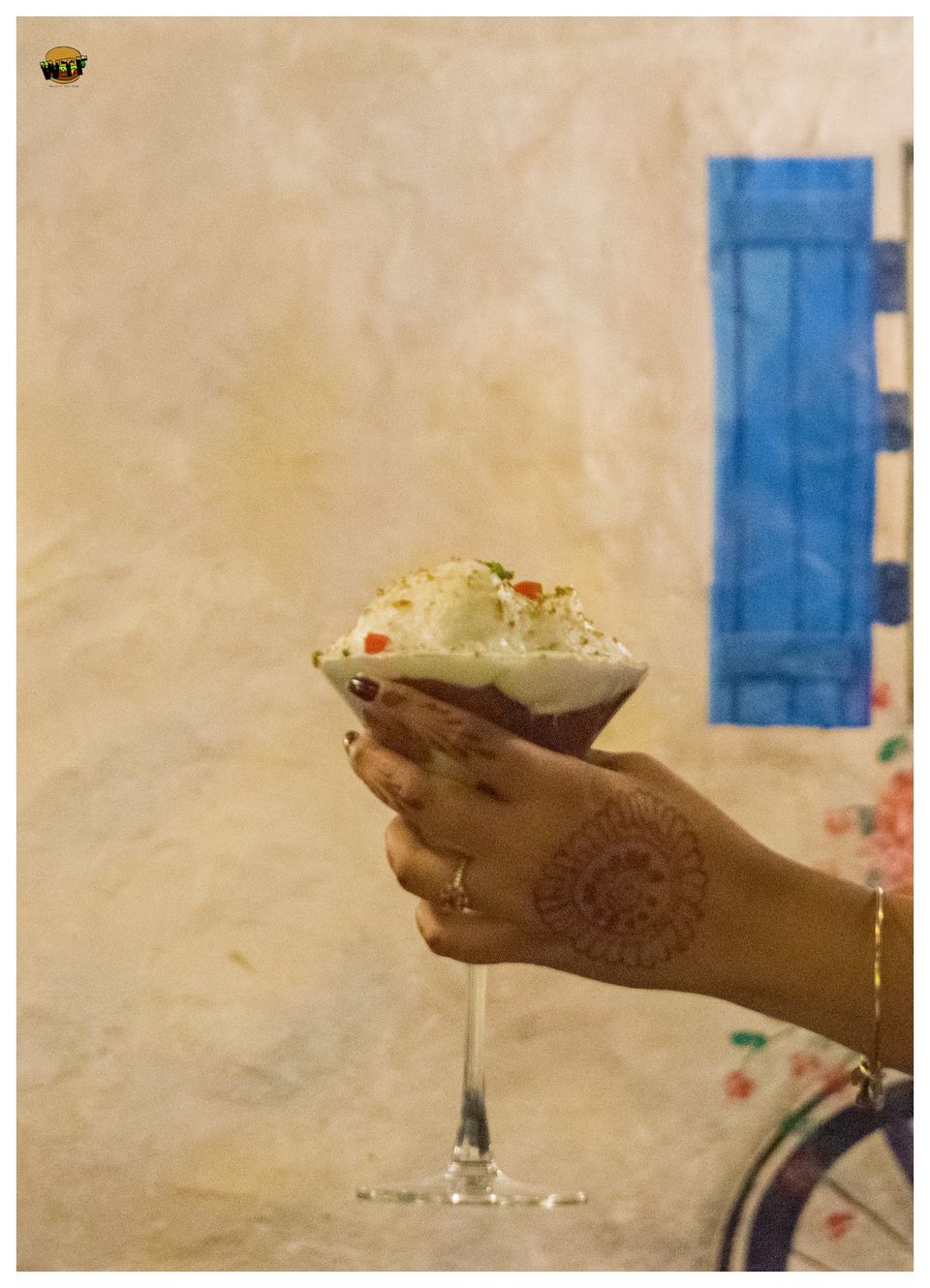 Away from a marginal distance from the city streets, This place is worth driving to. A couple, friends or family dinner can just take away your usual stress at the beautiful ambiance, delicious food, sipping at bar, or dancing at the Lounge.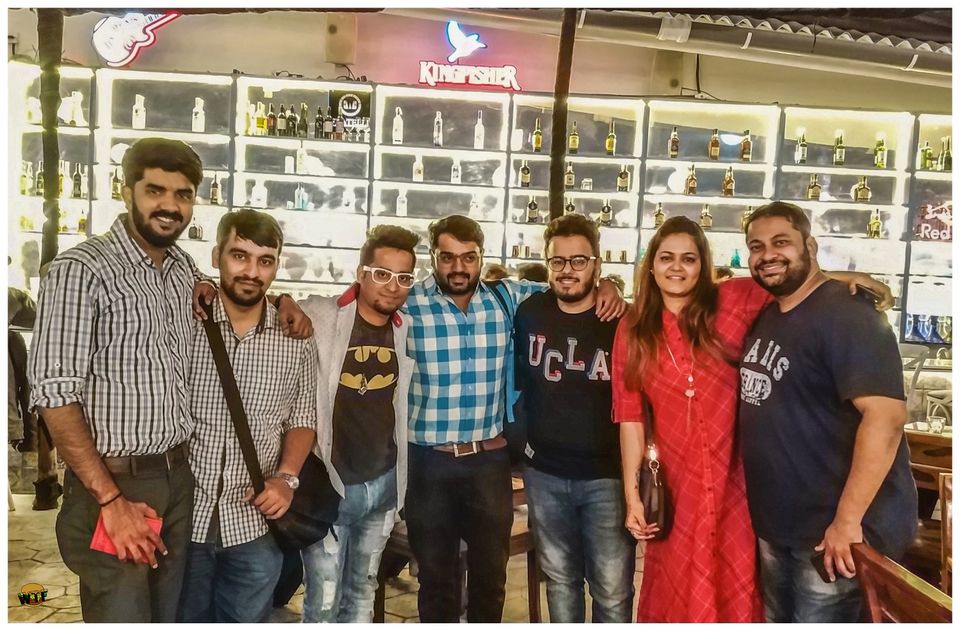 Thank You Urrvashiv Soni and Maanas Shah for extending the invite and Thank You Team Azzurro for hosting us.