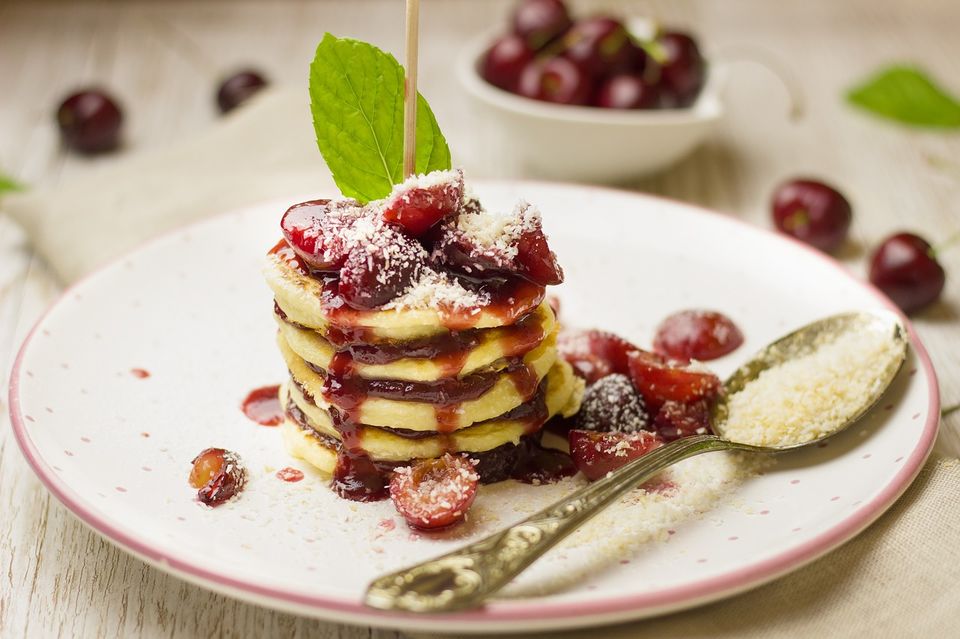 Smeared in butter, drizzled with syrup and piled high and fluffy—there's something orgasmic about a good stack of pancakes. Dressed with rich maple syrup or loaded with oodles of whipped cream and fresh fruit, a stack of pancakes fresh-off-the-girdle, is perhaps the best start to a weekend.
Here's a lowdown on the best places in Delhi-NCR to head to for pancakes.
With its floral curtains, engraved silverware, ivory china, and crocheted table decor, Elma's Bakery is like an English tea-house, an American cafe, and French patisserie rolled into one. If there's only place you could choose as your go-to for a sumptuous stack of pancakes, this is it. They are the right amount of fluffy and have just the right amount of dressing and toppings. You can choose from an array of bananas, pineapples, chocolate, berries and apples and you will not be disappointed.
Where: Hauz Khas Village
Cost for two: Rs. 1,900
What else should you try: You should try everything on the menu at least once – but the red velvet cake, scones and cheesecake are to die for.
What can you expect from a famous American breakfast chain, if not the most delicious pancakes? They apparently keep the recipe for their batter a secret. Choosing between the options they have to offer, is when the real work begins. Having to decide between the original buttermilk pancake and the New York cheesecake pancake can be compared to a mother having to decide who her favourite child is. Yup, they're that good. Next time you're at Cyber Hub, make sure you hop in for a snack here.
Where: DLF Cyber Hub, Gurugram
Cost for two: Rs. 1,200
What else should you try: Omlette, coffee and the chicken crepes.
A classic favourite, this is the place everyone went to for a taste of the American life, before other cool joints opened up in the NCR region. The All American Diner serves a wholesome breakfast that will instantly transport you to USA. You could opt for the scrumptious chocolate chip pancakes or go for the pancake combo including eggs, bacon and sausages on the side. Make sure you order a refreshing iced coffee for a caffeine-kick.
Where: India Habitat Centre, Lodhi Road
Cost for two: Rs. 1,000
What else should you try: The chicken pot pie, brownie sundae and sandwiches are a must-have.
This might just be a small eating joint in a busy market in Amar Colony, but it has just so much to offer. It is probably the only place on the list to offer more than a dozen options for customisation on your favourite pancakes. And the best part is, it won't burn a hole in your pocket. The blueberry and Nutella waffles are a favourite among customers. Go eat your heart out the next time you're in the area.
Where: Amar Colony
Cost for two: Rs. 300
What else should you try: Oreo shake, crepes.
Although more famous for waffles than any other thing on the menu, the pancakes at DiGhent are just as amazing, if not more. And their customisations will make you feel like you're at an elite French café — whether it's the banana and orange caramel sauce or the one with wild berries compote and mascarpone, you will not be disappointed. Oh and if you were looking to try savoury pancakes, this is the place for you.
Where: Cross Point Mall, Gurugram
Cost for two: Rs. 1,700
What else should you try: Mushroom soup, tiramisu, and the cappuccino.
Getting a meal at Echoes is like getting a couture dress for the price of a street wear brand. You just can't go wrong here. And while the savoury food is just delectable, not many know that it serves equally amazing pancakes and waffles, that too for very cheap. If you're looking for fluffy-sugary goodness on a rainy afternoon, hop on over to this place and have your fill. The one with Nutella and whipped cream is my personal favourite.
Where: Satya Niketan
Cost for two: Rs. 600
What else should you try: Peri Peri chicken, momos and mocktails are recommended.
With its two-page long breakfast menu, this European-style eatery clearly takes its early morning diet quite seriously. And we all know what the breakfast of champions is — pancakes of course! Go for their classic stack with butter and syrup or experiment with some of the delectable savoury picks.
Where: Khan Market
Cost for two: Rs. 1,700
What else should you try: Waffles, Chipotle cheeseburger, savoury crepes.
Tried any of these places yet? Share your experiences with the community.
Frequent Searches Leading To This Page:-
best pancakes in south delhi, best places for pancakes in delhi, best pancakes in cp, best desserts place in delhi, best dessert places in south delhi, weekend getaways from delhi