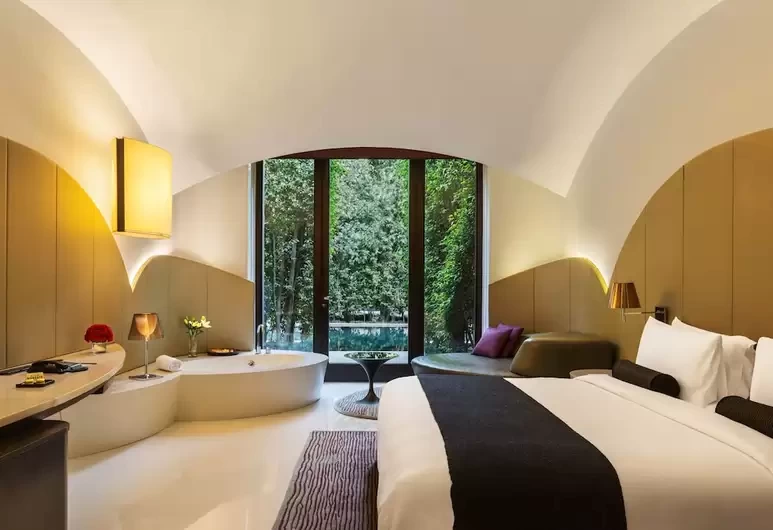 Welcomed by wild flowers and tiny tea-light lamps neatly stacked on the stairway, I took my first steps into Roseate, Delhi. I couldn't resist taking a look all around and above me, as what had been presented after the unfolding staircase, demanded my full attention. The light-gold interiors, I observed, could only be a timeless piece of art, away from the understanding but not appreciation of anyone who comes to witness it. Larger-than-life columns spiraled into a tall ceiling from where you could feel the warm sunshine entering, but couldn't point to its origin.
The entire area was built in a way that any point in the day felt bright like the first shades of a sunrise. So ambient, so refreshing. And, this was just the reception area. I couldn't even guess what I was in for, but as I stepped out from the main area to walk to my room, I knew. I knew that this was going to be my favourite property.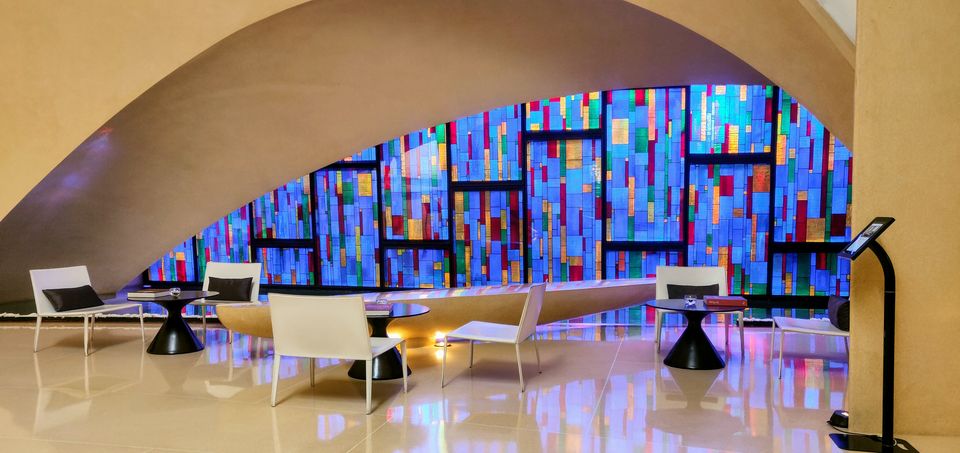 It was hard to believe that just minutes after being off the busy NH-8, we'd found paradise – how else would you describe eight acres of lush green landscapes embellished with unadulterated water bodies?
After crossing tiny bridges, hundreds of trees and a few staircases overlooking the mighty Kiyan, (the restaurant behind Roseate's monumental pillars) I reached the sacred corridor that led up to my room. The beautifully lit passage with a pleasing aroma kickstarted my love affair with this charming escape.
The room
If it is your first time at Roseate, everything will surprise you. Its breakaway from a predictable hotel-setting to a bold redefining of luxury, is something you can only see to believe. We stayed at their finest, what they call the Roseate Pool-View and it was the warmest, most romantic experience one can ever have.
Picture hot tub baths with a glass of wine or spending quality-time at a private deck by the pool that's been hidden from the world with green meadows.
Who knew that the modern in-room facilities (including full control of the room from an iPad!) could blend so well with a natural ambience like this? We were falling more in love every minute and there were still more surprises to be had.
As we stepped out to our deck for the nth time that night, our sloppy steps and wine-induced humming led to an unintentional dance under the moonlight. But guess what? We had music. Not ours, not something playing in the room, but some melodious jazz tunes playing even at 3.00 am! I only realised it later that as soon as I set foot into this sweet haven, the background music had turned on. Mingling with the setting so well, it hardly comes to notice but definitely makes the whole experience quite dreamy.
The pool
You'll find it difficult not to jump into the long stretch of crystal-clear water body, resembling a fresh-water lake obscured on a mystical mountain-top.
Covered in reflection of leaves from the large green walls surrounding it, the unperturbed chlorine-free pool at Roseate is not a usual swimming experience at a high-end hotel. It's free from crowds, directly accessible from the deck outside your room and offers a perfectly blissful dip on a hot summer afternoon.
Step out, find your corner
The best part about staying here is that the outdoors are as inviting as the beautiful interiors. Inspired by the five elements of Hindu philosophy – air, water, fire, earth and sky, you'll find yourself lost amid the tranquil greens, smoke-free air, 102 metre-long water streams running across the length of the resort and hundreds of candles illuminating your path. There are quaint corners with relax-beds beneath magnificent trees, waiting to be explored. I've been to this property over four times but had a new favourite spot to call my own, each time. Just lay back and break-free from all the noise with 650,000 leaves of the ficus insulating the city sound.
Spa
Aheli, the spa at Roseate transcends any and all expectations from a spa experience in Delhi and maybe even elsewhere in the world. Right from its location that is designed to make you feel like you're visiting a healing centre in a deep, nurturing forest to the bespoke list of services it offers, this wellness centre will work wonders for your city-wrecked soul, even before the treatment begins. The experts are quick to recommend therapies based on your needs and make sure you feel comfortable throughout. Don't miss the Aheli signature or the couple suite to indulge in a truly regal treatment.
Breakfast
It all comes to a fitting end when your morning-after begins with the breakfast buffet at Kiyan. The open-air setting overshadows everything else, even the food. All we wanted to do was grab a plate, get our fills and sit out to enjoy the green-views that we'd already strolled around, the previous night. You can choose from a variety of juices, cereals, fresh fruits, bakery delicacies and Indian dishes.
Apart from the property which I don't get tired admiring, even the staff at Roseate is extremely polite, well-accommodating and friendly in a way that's not too interfering. They're always up to share recommendations, show you around or help out, even with odd requests (if any). I will forever cherish the time spent here and to be honest, it's the only place in town where you can escape to, for that well-deserved break from our polluted city without even leaving it.
The Roseate prides itself on maintaining excellent air-quality within its premises and has won many laurels including Satte Awards: Innovation in Hotel Design 2017, Conde Nast Traveller Readers' Travel Awards, World Luxury Hotel Award and Best New Hotel - Travel Leisure India's Best Awards, since its inception in 2014.
So, if you're planning a sweet escape from life, Delhi's terrible AQI, or want to have an out of the ordinary experience with your loved one, you definitely shouldn't miss staying at this award-winning property!
Think we missed out on something? Tell us about it in the comments below. Or write about it here on Tripoto and earn Tripoto Credits!
Get travel inspiration from us daily! Save our number and send a Whatsapp message on 9599147110 to begin!