As the holiday season approaches, our minds race faster in order to find the perfect destination, the perfect hotel / resort and most importantly to experience a luxurious place that eases you out with its warmth and calm, while taking away the stress of a mundane lifestyle! With some peace and quiet that you deserve, I bring to you a destination which is amidst thick greens, impeccable service, delicious savouries and totally worth the money that you spend.
THE BIRTH STORY OF MADHUBHAN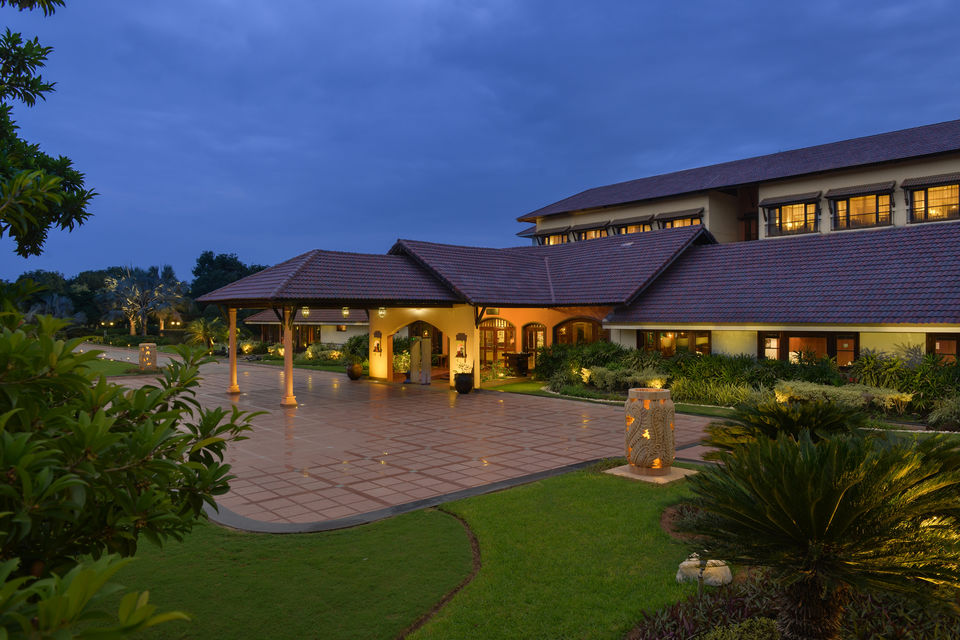 Owned by Mr. Prayasvin Patel who is also the Chairman and Managing Director of Elecon Engineering Co. Ltd emotionally named the resort after his parent's names by merging 'Madhu' (Mother's name) and 'Bhanu' (Father's name) to make it one beautiful name as 'Madhubhan'! Originally, the land on which the resort is currently built was an orchard where the idea was to build a small hotel to fit in guests of their company. Their over-view was to build a luxurious hotel for these guests with impressive facilities and thus engaged Mr. Tony Joseph as their architect. Tony Joseph is an institution in himself and he is the brain behind what Madhubhan looks like!
The crux of what Madhubhan should look and feel like was that of a village concept (Amba-vaadi), based on which Mr. Joseph drew the structure and based the resort's ambience just like that of Sardar Patel's residence. As the construction progressed, the idea was to build the resort around the existing trees rather than damaging or cutting them off completely. Successfully, the plan worked out and as a matter of fact, the entire resort was strategically built around 1150 orchard trees and sustained the nature supplies as well as kept all the bird-nests intact! The most positive fact about Madhubhan remains to be that the resort is a Green Initiative and inspite of it being built amidst an industrial estate, the place is a full of pure and fresh air! Thanks to the founders who initiated the plantations of over 5500 saplings till today.
MADHUBHAN – A GREEN INITIATIVE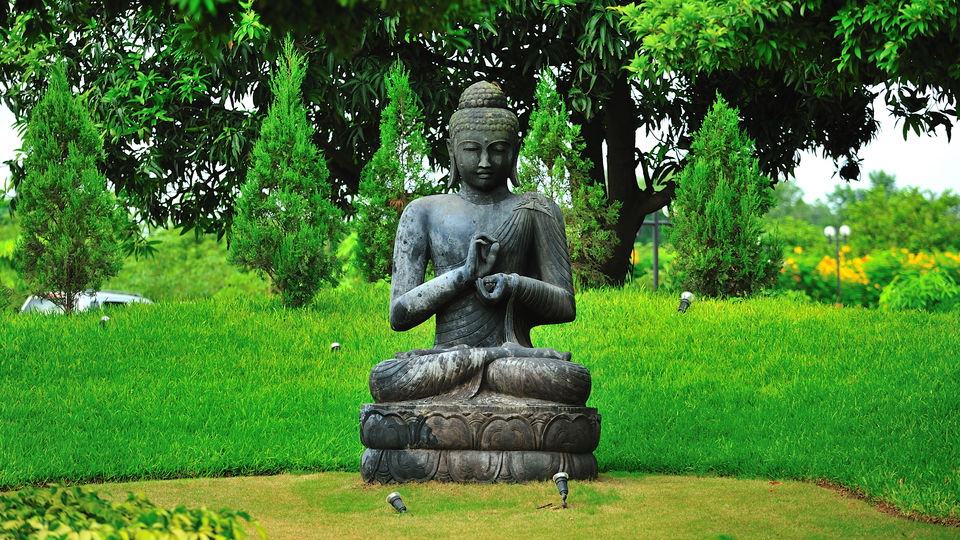 Mr. Joseph's architectural concept is based on the primary understanding that the evolution of design should be firmly rooted into the region's traditional authenticity, and only then will the true structure with utmost honesty be formed. The resort is a green initiative and thus the founders and staff has been putting in their best efforts to save energies in whatever way they can!

Madhubhan consists of borewells that suck out ground water for the use of the premises. However, there wouldn't be a day too far when we all have used away all the ground-water! And for that, the resort employed the concept of rain-water harvesting along with an STP (Sewage Treatment Plant) Plan which makes it full-proof and useful. The resort produces over 500 kgs of organic waste and 1 lakhs litres of water waste and thus all this waste gets re-directed to their STP which churns the waste and is used as organic manure for their farm that produces organic vegetables, enough to feed their staff of 350 people.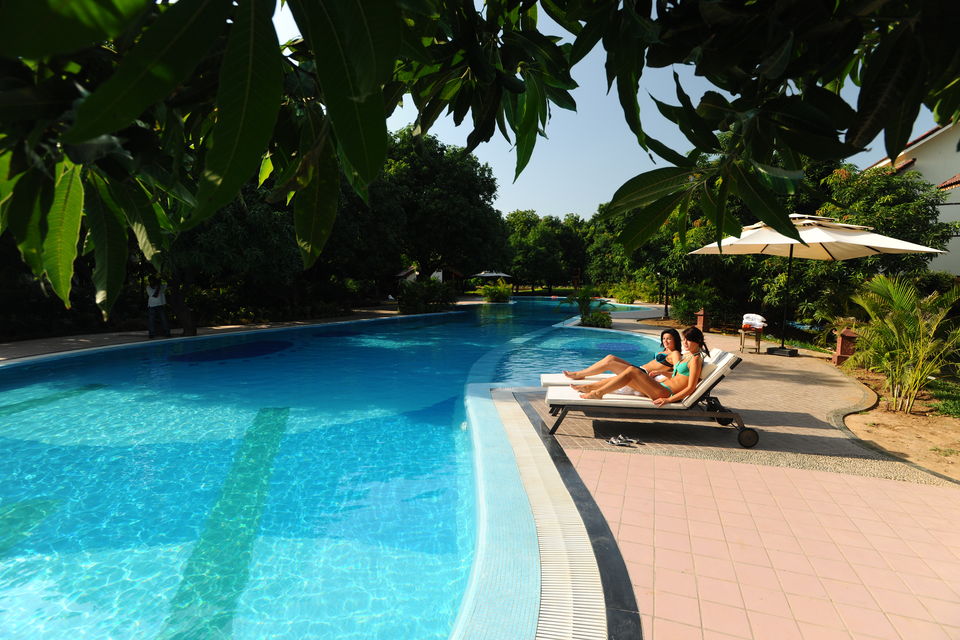 On the other hand, the resort also houses Solar Panels that are used as sheds at the car-parking, thus generating hot water for the staff and driver's rooms and six air turbines that makes use of the wind energy, enough to be used as the kitchen vacuums rather than electric chimneys that require high voltage of electricity.

Interestingly, the kitchens of each restaurant do not have any dustbins, which means that organic wastes are directed to the STP while extra food is given away to poor families (the resort has tied up with them for a daily pick-up) from a nearby area who pick-up meals from the resort every-day and uses it among their village. On the other hand, the water that is being consumed by customers or staff and those who leaves glass half-full, the water is directed to a small vessel which channelizes the water to the fish pond thus producing zero food and water waste in all!
The last and best cherry to the cake is a very interesting initiative wherein the resort is trying to make 'Saving Resources' a 'Practice' among its staff and customers. With occupied rooms of travellers that do not ask for a towel and bed-sheet change everyday are those that get reimbursed with the amount of money that they helped the resort saved and thus it encourages one to save up on water energy, electricity, detergents and wastage on a singular basis.
ACCOMMODATION
The resort has been laid out in a very beautiful village-like concept and strategically gives privacy to each kind of room category in its own way. With a total of 106 rooms currently, Madhubhan has seven types of rooms spaced into four categories: Deluxe, Cottages, Deluxe Cottages & Suites and The Presidential Suites. All the room categories are around 350 sq. ft, 450 sq. ft & 500 sq. ft respectively and their prices range from Rs. 6000 – Rs. 10000 (non-peak season). The Presidential Suites are higher and has to be booked on request basis.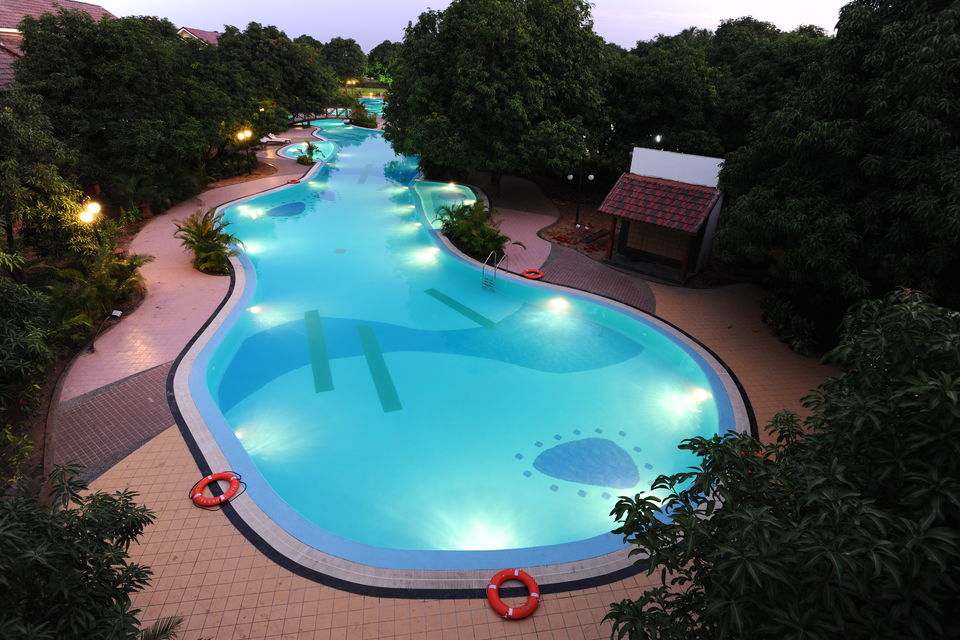 The rooms are delicately laid out to provide serene views of their gardens, refreshing views of their swimming pool which is notably the longest and biggest swimming pool in Gujarat. Thus, travellers could be assured of a relaxing atmosphere no matter which type of room they consider booking. The resort makes sure that each of its rooms have the best in-room facilities, all the basic necessities and best of all – the warmth and pride with which they treat each of their guests is commendable.
RESTAURANTS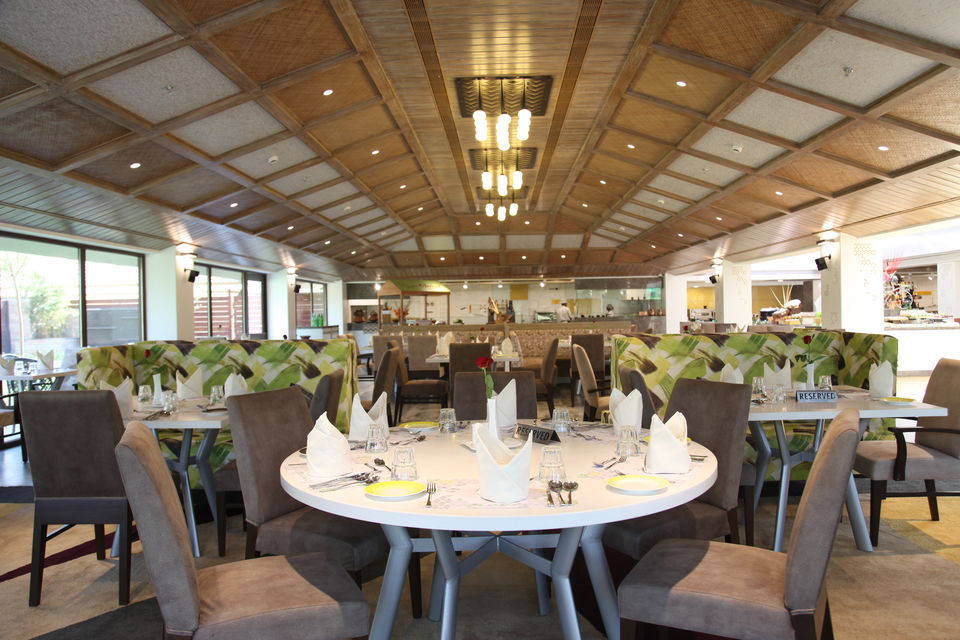 Food is one of the major attractions in any stay facility because that's what travellers are there for! To eat, sleep, relax and unwind. Madhubhan makes sure that they are able to serve their guests with a wide variety of cuisines and cater to different taste palates. The resort houses four main restaurants namely: Kouzina that serves Italian and Mediterranean food, The Banyan Tree which is multi-cuisine, The Coffee Shop (24/7) which serves a buffet and is also open all night for coffee and snacks and Tapas which is a Mexican based eatery.
The resort also has an interesting set of snack eateries such as the Chai Bar / Chai Ni Laari that serves Indian chai and Gujarati savories like pakoras that are suitable for tea-time and is a lovely experience to have Indian tea in the local way. The Wellness Bar is another extension where they serve fresh juices that are blended into a healthy mix of vitamins and minerals, all good for your body and is delicious too.

With the zero-dustbin policy, the resort is doing a remarkable job at zero wastage of food. Another interesting effort that they take is to have completely different kitchens for vegetarian and non-vegetarian food for each restaurant. The cutlery and cooking utensils are completely different and thus travellers who are pure vegetarians are at peace of mind that they wouldn't be cheated in any way whatsoever. The resort takes their quality management seriously and that is why they have faced minimal complaints till date!
OTHER FACILITIES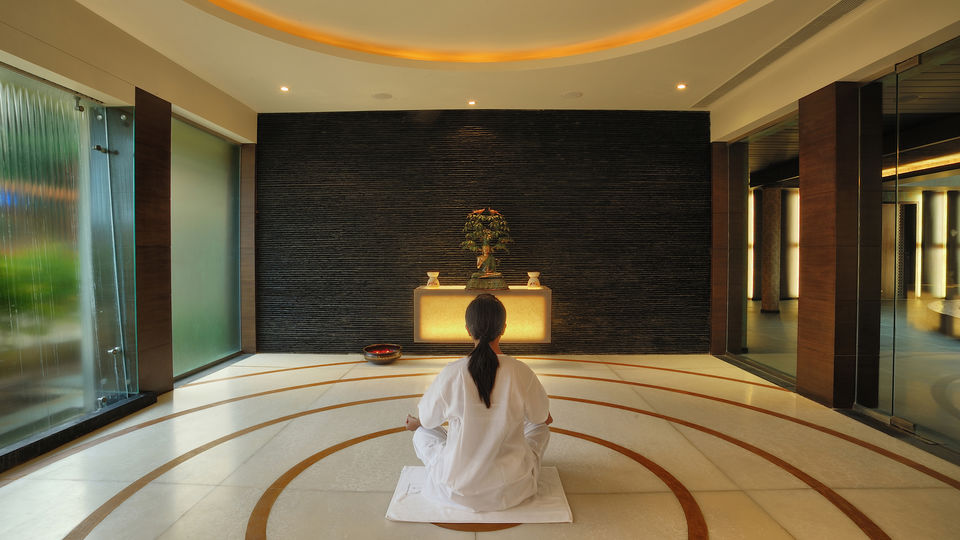 Madhubhan hosts a wide variety of activities that are set to engage different age-groups over their stay at the resort. There are a healthy mix of indoor and outdoor activities that designed for all age-groups. Indoor activities consume of board games, home theatre experiences, table tennis and an activity centre where you could book your spot for a certain activity per day. Outdoor activities include of swimming, water-polo, nature walks, tennis, cricket, badminton, volleyball, yoga, amphi-theatre experiences and a kid's zone. All these activities have supervisors and is definitely a good space for kids to make new friends, learn new activities; for adults to take up baking classes, watch a movie or learn yoga!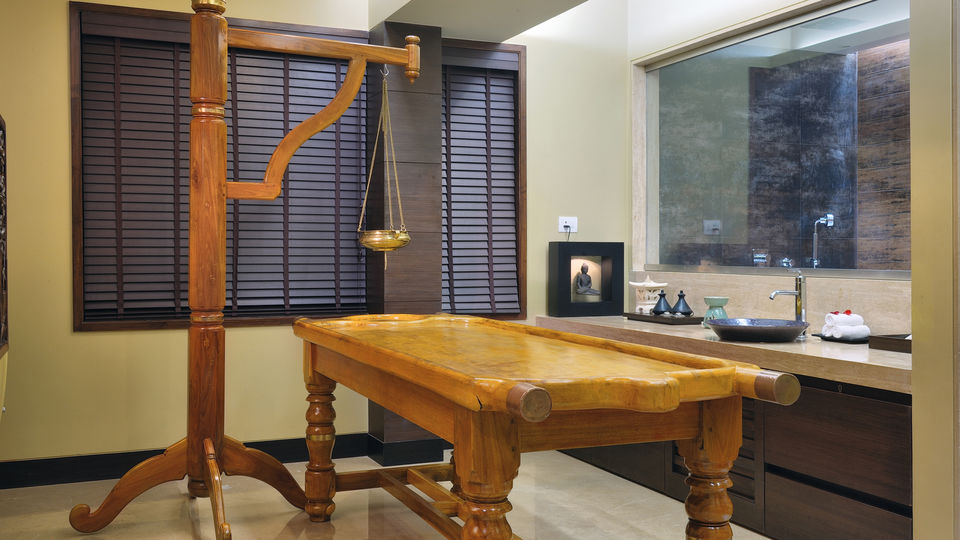 One of the best facilities other than the above remains to be their well-known Spa and Wellness section. Madhubhan has its own brand of Spa under the name of Rejou which specializes in Naturopathy that not only offers the usual body massages but also have week-long sessions that induct you into living a healthy lifestyle. With experienced professionals from Bhutan who performs massages, the resort also houses a professional doctor who has in-depth knowledge about naturopathy and wellness.
AWARDS
Madhubhan has been able to bag prestigious awards within such a short span of time and it is admirable to see how well the brand has been doing. Some of the famous awards that they have won are:
- Best Wedding Destination in India – By Asian Lifestyle Tourism Awards 2017 & Travel Awards 2017
- Best Luxury Resort – By India Hospitality Awards 2017
- First 5-Star Deluxe Resort of Gujarat – By HRACC in 2012 & re-classified in 2017
- Excellence in Environmental Sustainability – By Satte Awards 2018
- Green Hotel Award – By Assocham Tourism & Hospitality Awards 2018
- Best Luxury Resort of the Year – By ET NOW, Rise with India Modi Awards 2018
MY EXPERIENCE AT MADHUBHAN
Madhubhan feels like a second home to me! Considering that Gujarat has been my hometown, I have been able to experience the resort at length in terms of staying at the property, my weekend meals, using the pool for relaxing and the spa for rejuvenation.
However, without being biased I would say that Madhubhan is a luxurious resort that is dipped in tradition with impeccable service, warmth towards their guests, a friendly approach towards making the experience better and being perfect in what they are! Inspite of Madhubhan not being a brand name like The Taj and The Marriot, it is commendable to see how high their quality standards are and how equally successful they have been at climbing the charts of becoming one of the best resorts in the five-star category!
Disclaimer: The article is solely based on my opinion and experience at the resort. It is an unpaid activity. I have taken help for some inputs from Mr. Sudip Kumar Maity, General Manager of Madhubhan Resort & Spa.
Frequent Searches Leading To This Page:-
Best Tour Packages for Gujarat, Best Travel Packages for Gujarat, Best Gujarat Trip Packages, Gujarat Holiday Tour Packages, Top Gujarat Packages for Family, Gujarat Honeymoon Packages from Delhi, Places to Visit in Gujarat