Hello everyone ! I am Utkarsh bhatt,a proud citizen of India .This trip blog is going to be my very first here in tripoto . i will be sharing my recent trip which also had one of my friend ,that will save me from going mad all alone .Me and my friend departed from pathankot,punjab . That is where i currently live , it may sound very easy about how we palnned and executed this trip.Believe me it took us 1 whole year since our thought about this trip.Anyways we headed towards mcleodganj , which is a picturesque town situated in dharamshala district,Himanchal pradesh . Moreever the name sounds cool right, literally it was brain freezing cold because we were going there on the last week of december ,2 days before christmas to be exact. We had got our ticket for the bus ride from Pathankot to Dharamshala which was very cheap as we had boarded the Himanchal tourism bus from isbt,Pathankot.It took us 4 hours to reach Dharsmshala .To be frank i was sleeping during the entire bus trip.After 4 hours we were in Dharamshala , and this beauty cant be defined by words.Sourrounded by massive Dhauladhar ranges, it provides a perfect getaway for anyone who might wanna escape to silence and serenity.After few minutes of absorbing the vibe of our adventure we began looking for taxi from Dharamshala.Guess what, we hired a jeep for 400 rs just to get ourselves to mcleodganj which was merely 12 km away letting the locals making fool of us.so we had reached Mcleodganj . I definetly dont need to mention the excitement of my friend who will be seeing the snowcapped mountains for the very first time.And because of all the journey we were completely exhausted.Ooh i forgot to mention about mcleodganj . This place was occupied by thousands of refugees from tibet. The exodus of the tibetians because of cruel practices of China . Yes ,this place is filled with tibetians who safely practice their religion.so back to out trip,we were comoletly exhausted and what is more better than having local delicacies . In this case is was Tibetian, we had tsigmo ,momos,thukpa and were completely full till our neck. Now after this must of eating we definitely had to burn those calories . You wouldn't be worried about that as it has got lots of uphill ways ofcourse. We started searching for affordable hotels to put our bags and explore Mcleodganj freely. OYO ,a hotel booking app helped us out with that, and boy we couldn't have got a better option.we had bokked ourselves tents in between nature with various ammmenities such as bonfire .we had freed ourselves from the hassel of carrying our bags and headed towards Bhagsu fall,a nearby attraction .The trail to Bhagsu was already testing our will for the main trek that we had planned because we were already out of energy main trek was even more tiring. We still continued our walk to bhagsu and it was worth the exertion . we also visited a cafe which was few meters far from bhagsu known as shiva cafe we got ourselves upstream , sat there and enjoyed the sunset. Now it was time for dinner but guess what , it was already dark and we were able to spot many shooting stars perfect icing to the cake right! After that spectacular sight, we got ourselves cozy in a nearby restaurant and had our dinner .Mind you it was 0°c and i was wearing only one sweater and after having our dinner i started regretting that . So we hurried towards our tent and had a sound sleep equally to important for the energy required for the next day.
We got up early and started looking for brokers,who are gonna provide us with a package that includes overnight camping at triund top,dinner,breakfast and a guide . It costed us ₹1200.we had got ourselves a guide who told us that we will be taking a challenging route contatry to the convectional route that includes pickup and drop service saving you from the aclivity .The starting point was from Bhagsu fall . We had started our trekking by 9 am ,the initial part of the trek was very steep and our guide trekking like nothing really had us in pressure . we treked for around 3km and found a prefect meadow with a shop where we rested for a while had tea and snacks and started our trekking our next point was the half point which was 5 km from the point we had started the journey .Yes the trek was of 10 km .We were climbing the mountain which obstructed the view of the dhauladhar ranges ,on reaching the half point you get welcomed by the grandeur view of the range,as the half point was situated at the top of the mountain that we wer climbing we had saved ourselves from the aclivity for the rest of the journey which meant that we were now going thriugh the ridge of that range to reach our tent spot . we reached our camp site by 6 pm and enjoyed a mindblowing sunset,by 6:45 it was completly dark and we got ourselves some wood from nearby to start a bonfire. There were as much as 200 people at the top. That is the thing that made our trip more memorable by listening to stories and experiences of the fellow mates who came from diffrent culture and background. Imagine spending a night at the top of mountain facing the himalaysn range no surprise that it is going to be cold , it was -9 during midnight.we were provided with warm sleeping bags which helped us stay warm and also rajma chawal for dinner which helped us gain the energy required for the next day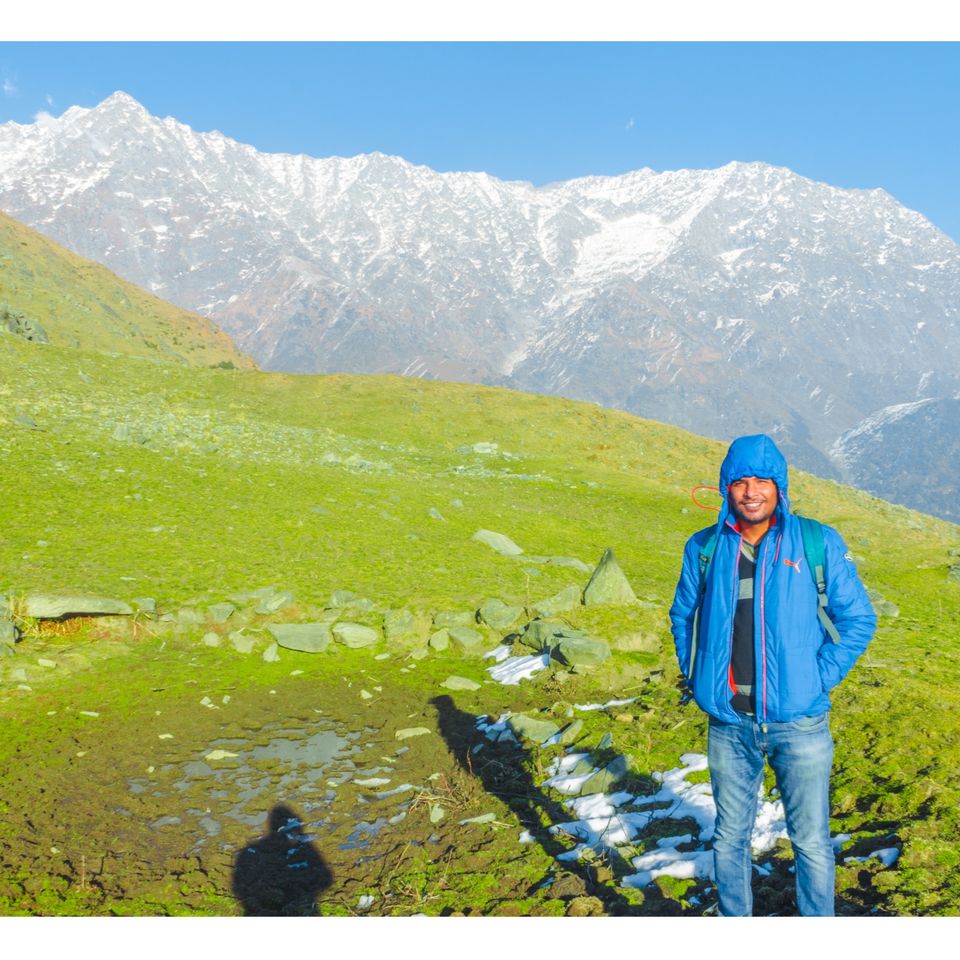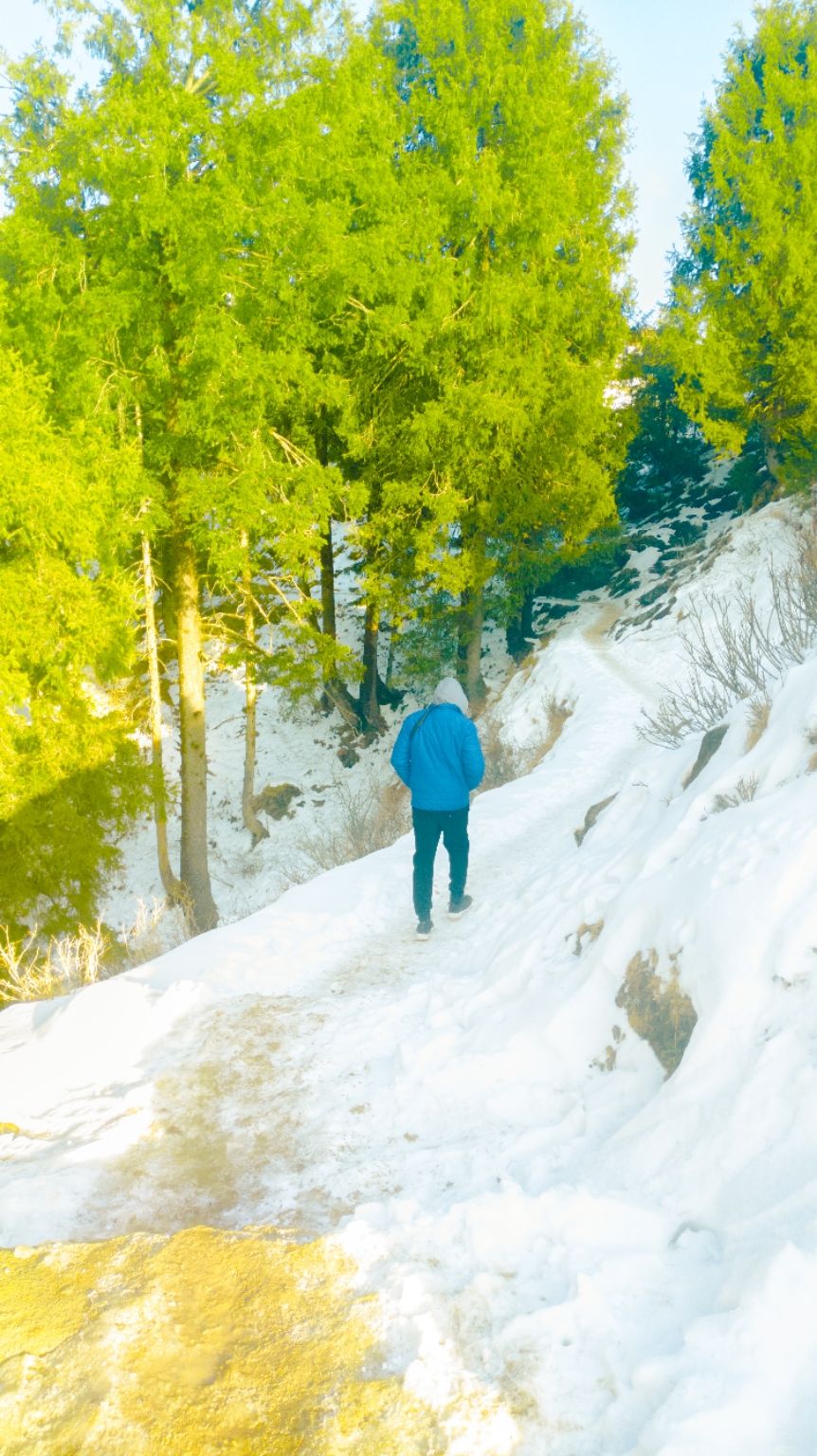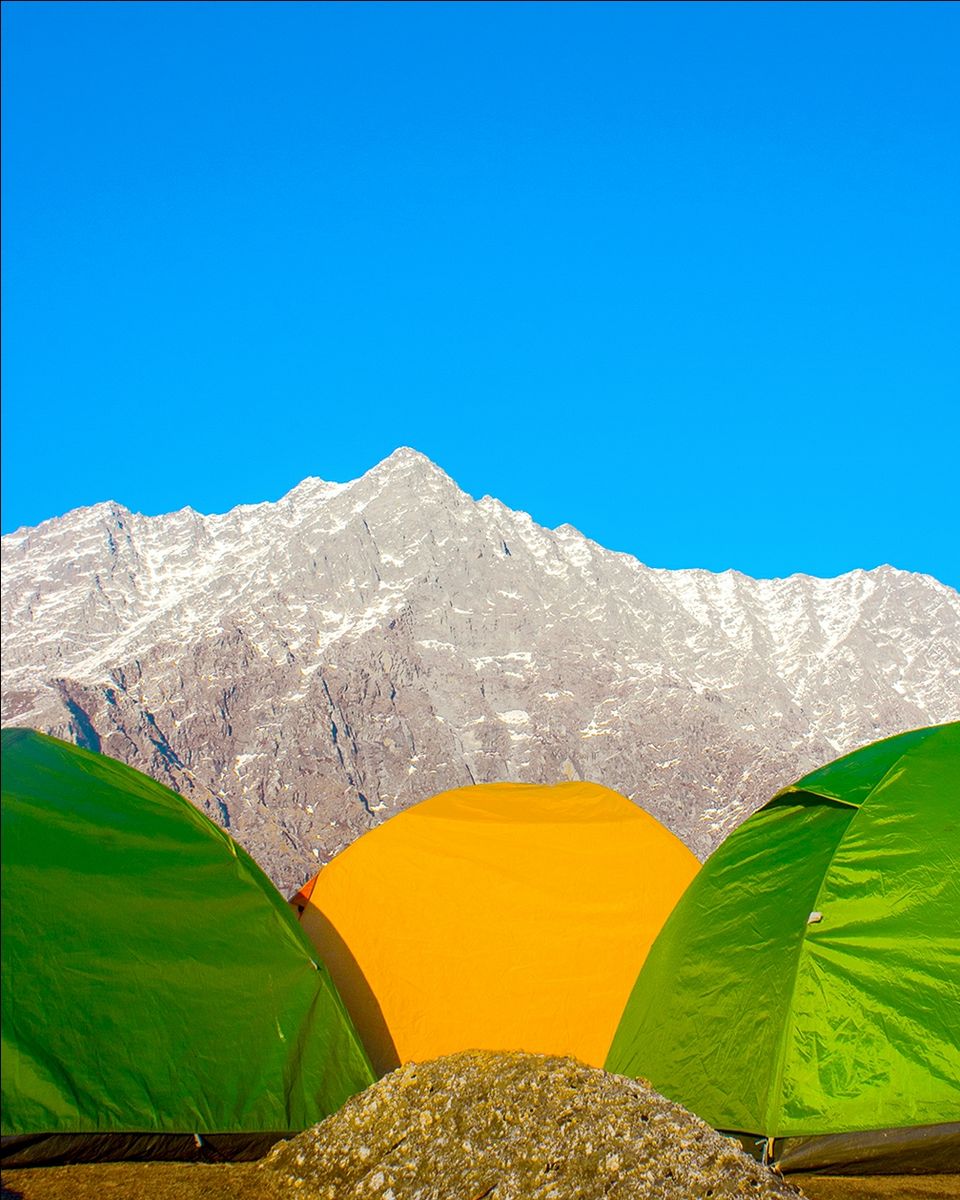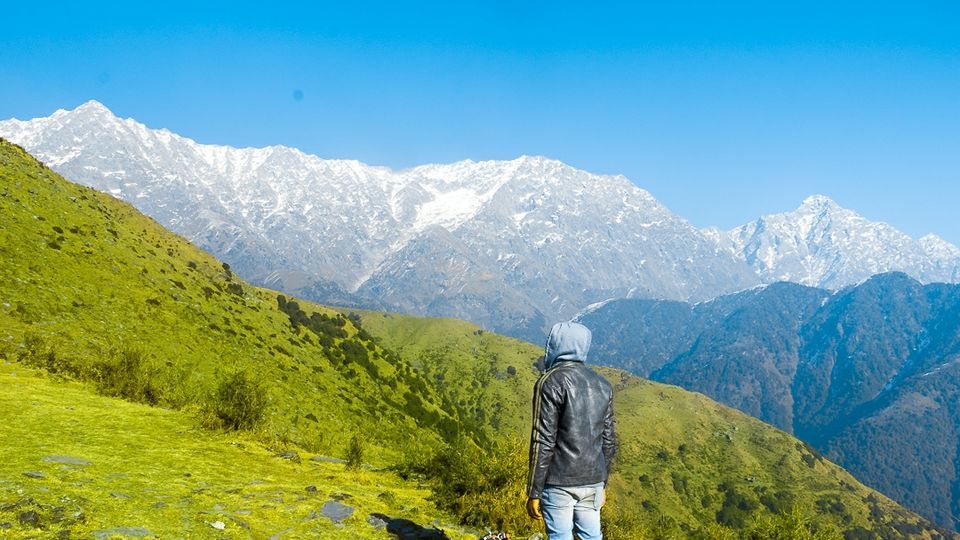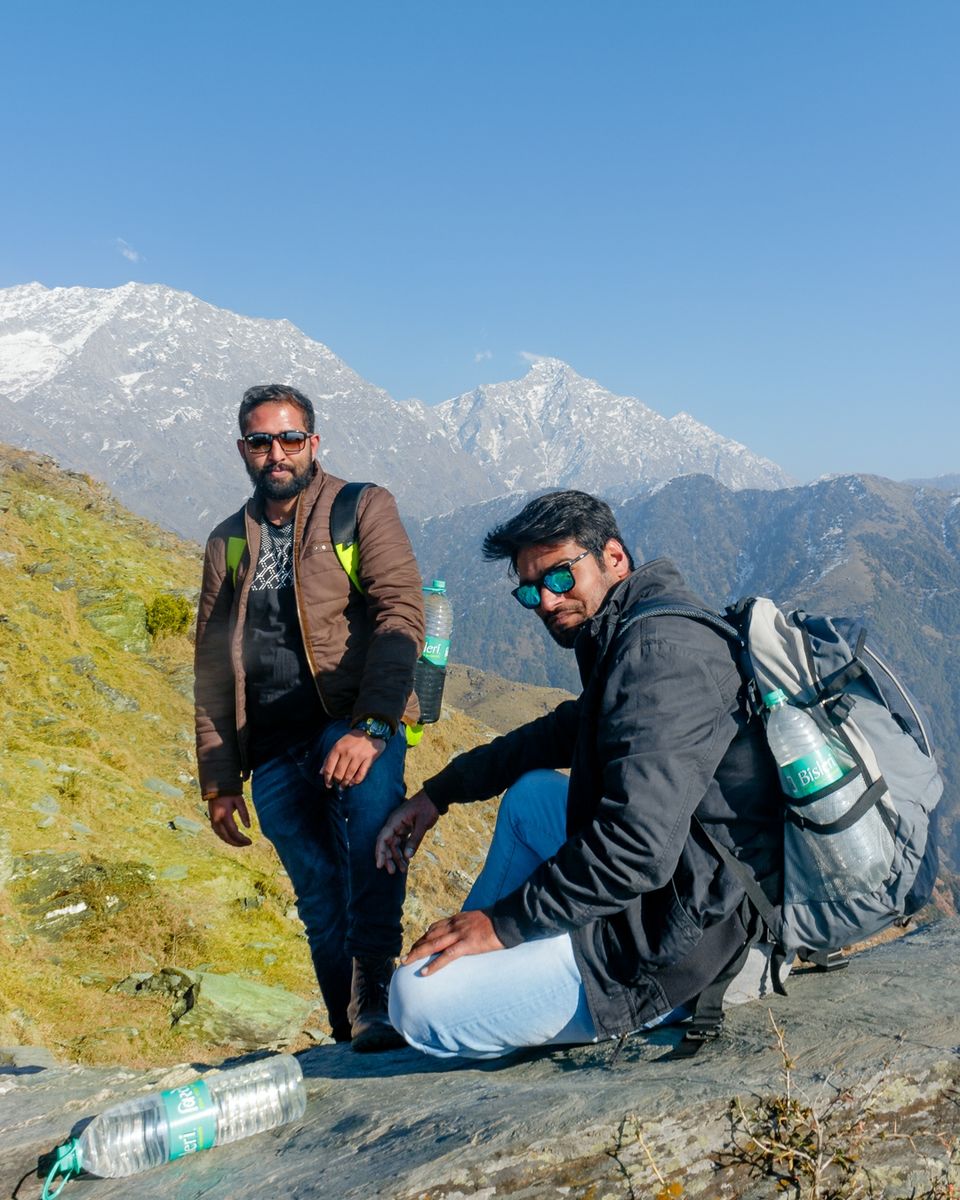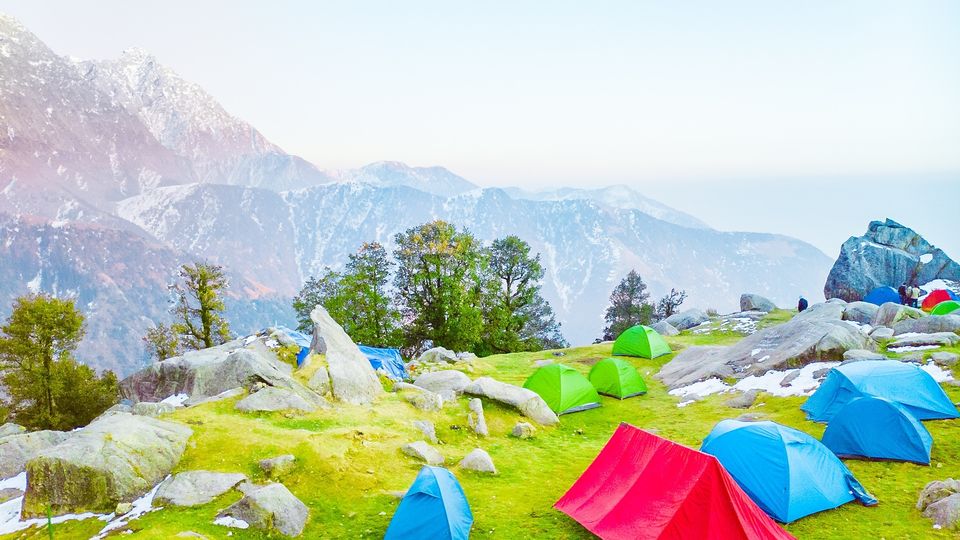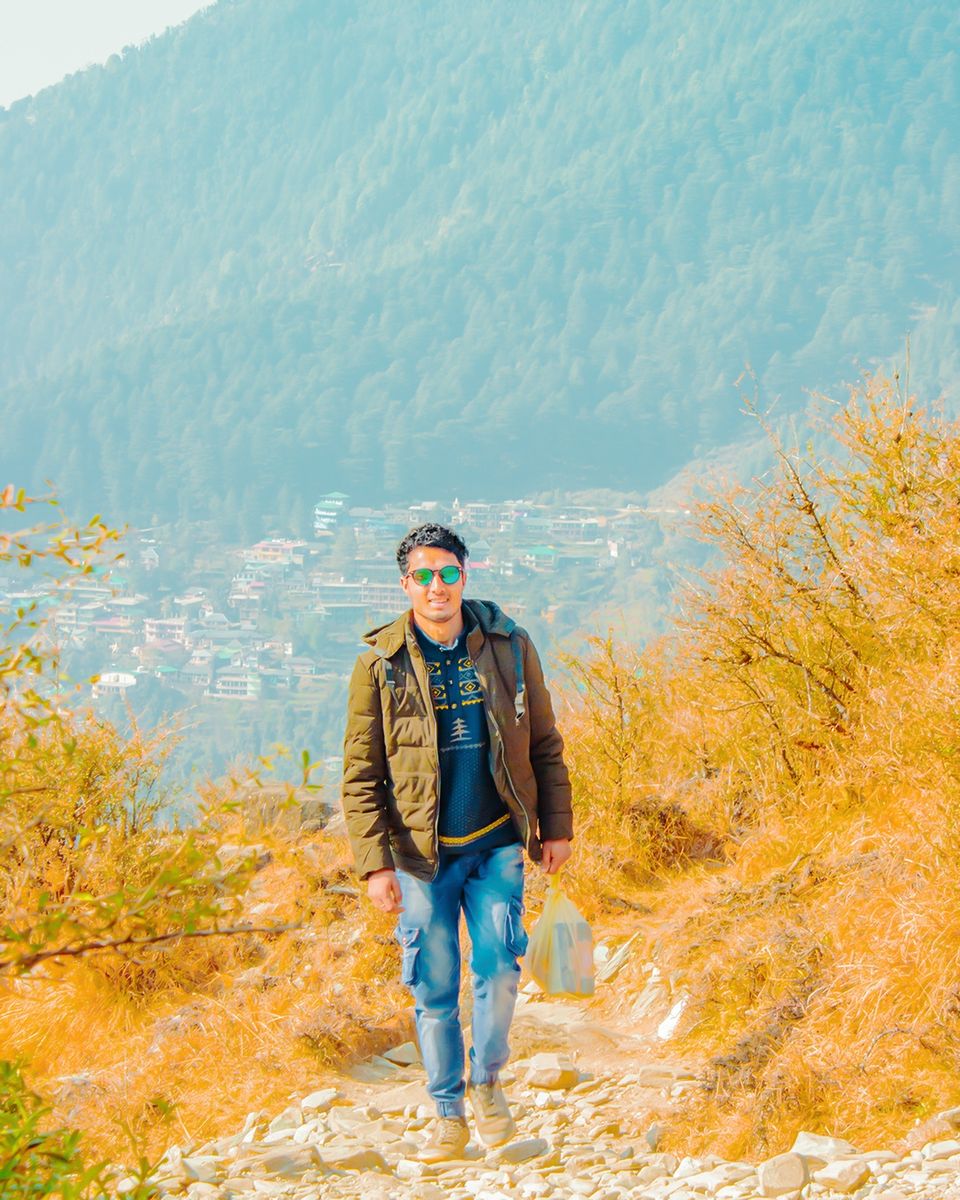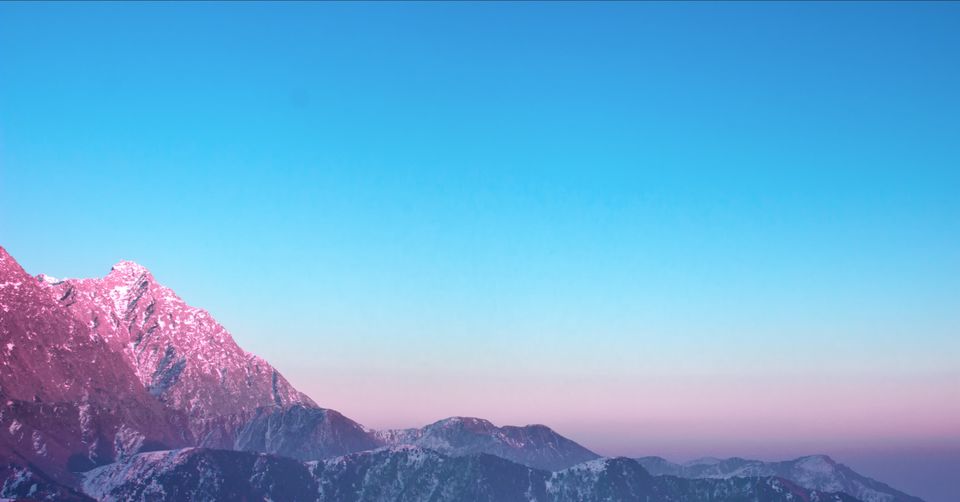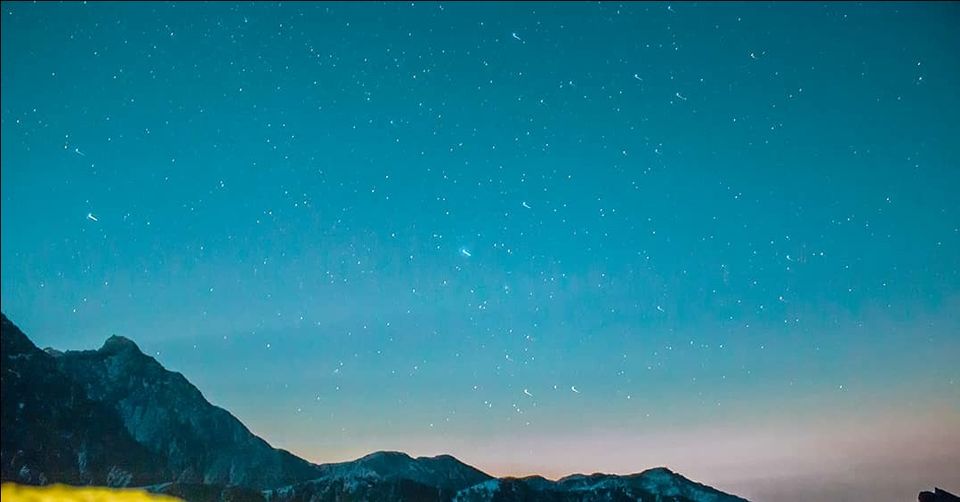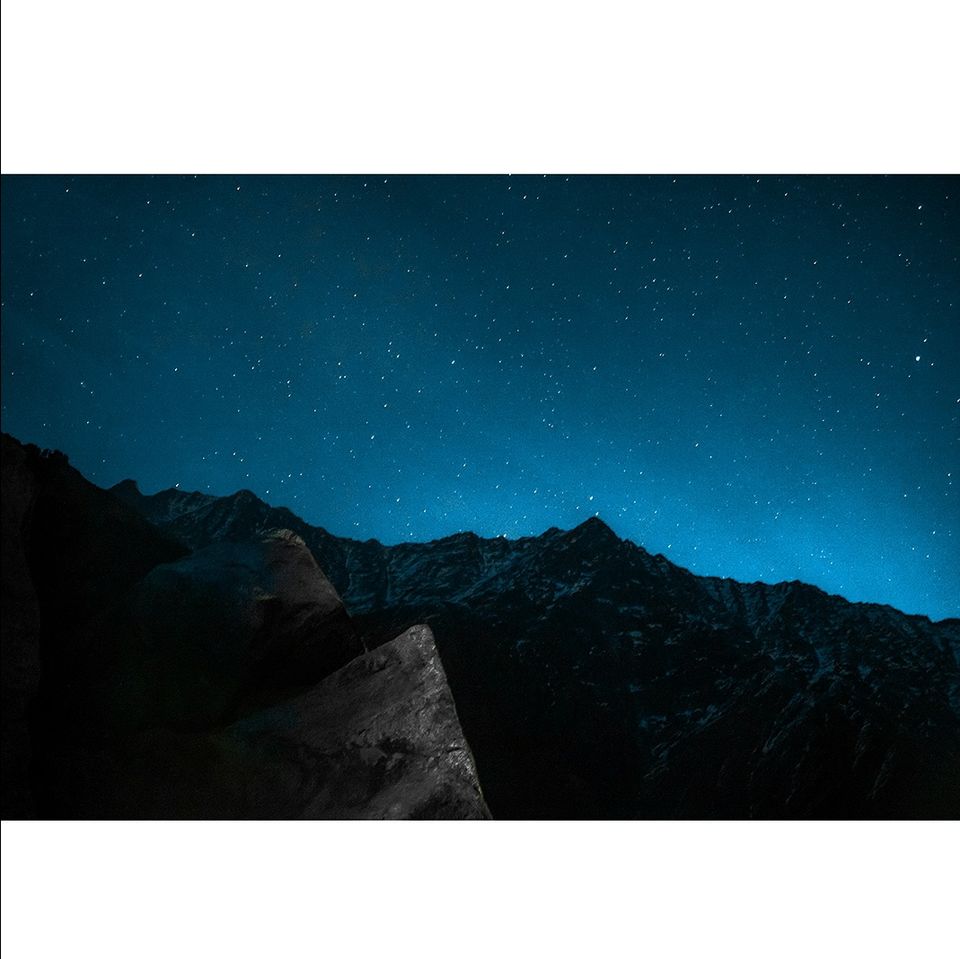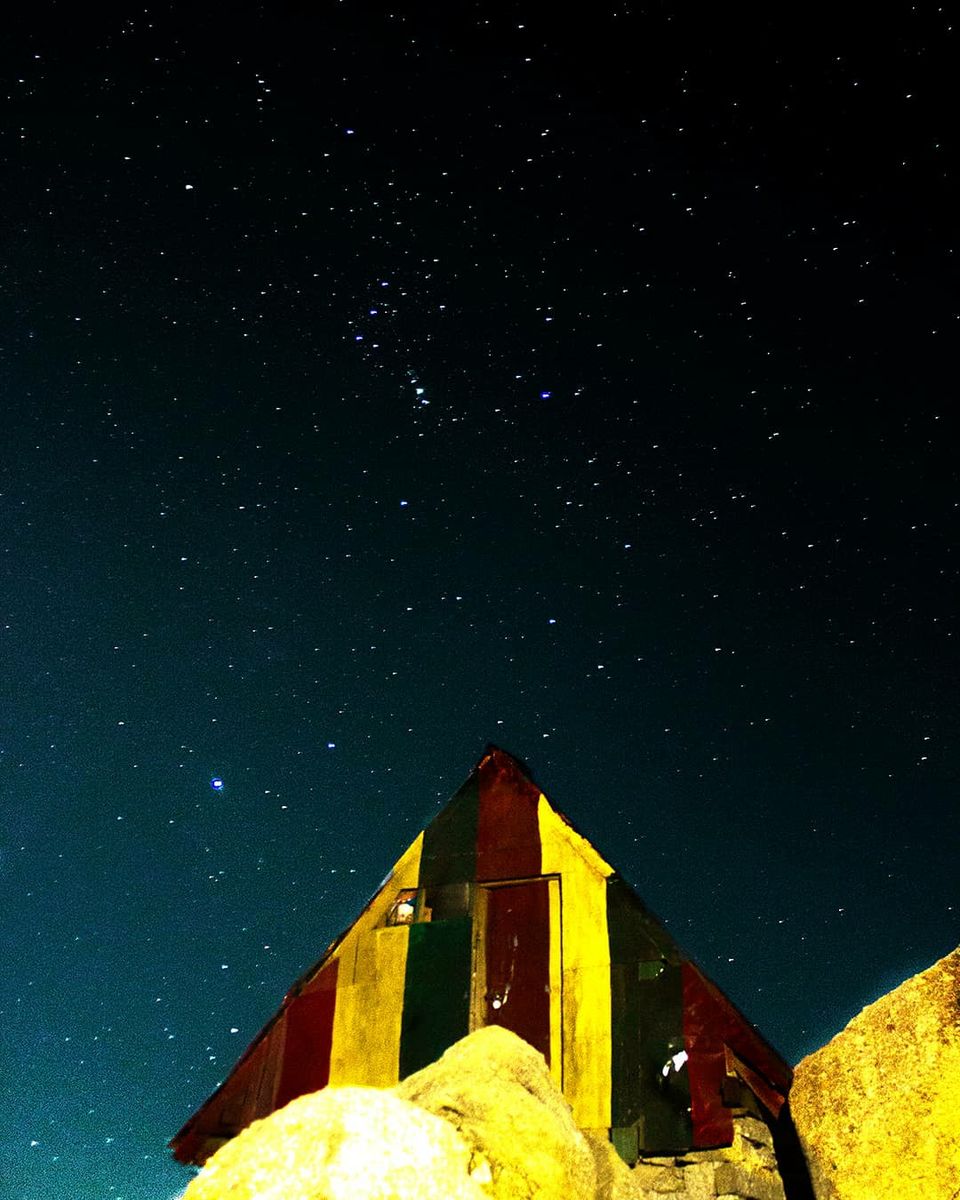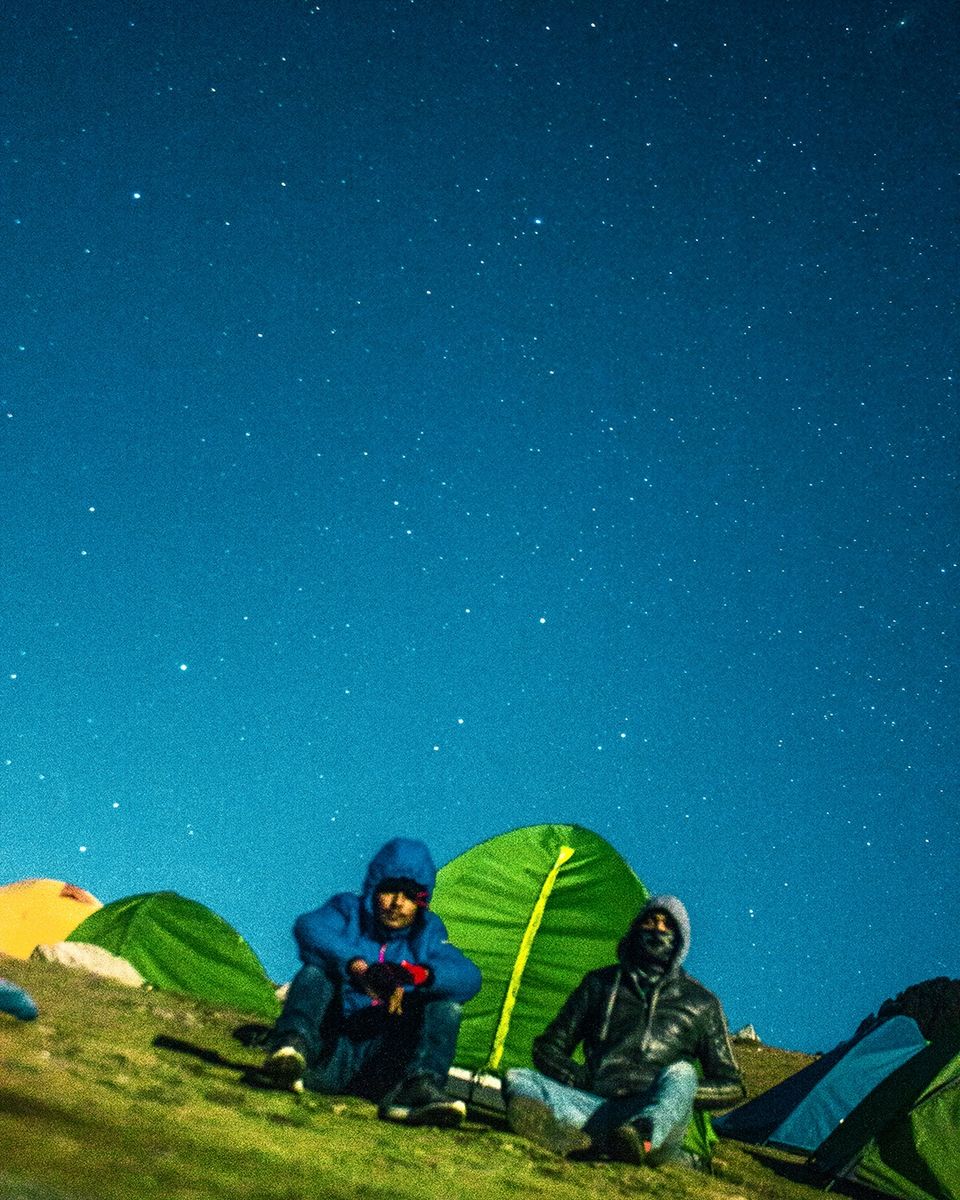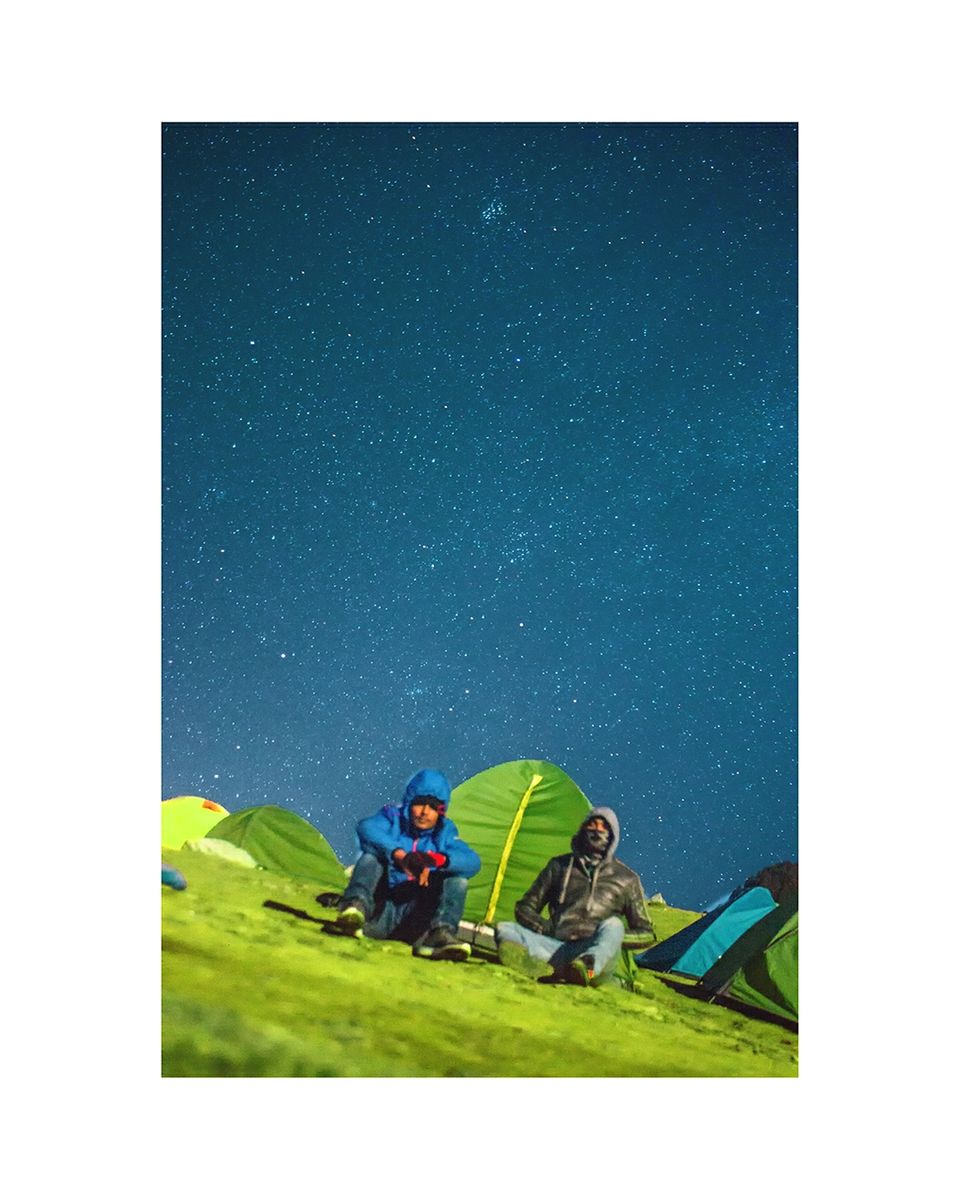 We started our journey back to mcleodganj from the top at 9 am after having breakfast which was included in the package . we decided to skip the the next destination which was laka glacier another 4 km from triumd top. During our way back we met some foreigners who were experiencing one of the most difficult trek ,not really as the only difficult part will be to get yourself to the half point once there you can catch some breath for the rest of the journey. It took us 3 hours to get down.we quickly checked out of our hotel and started heading back to Pathankot.Our trip was over within 3 days and we had ample of time to get rest and also explore the place .